Coolest European Hostels For Your Next Backpacking Adventure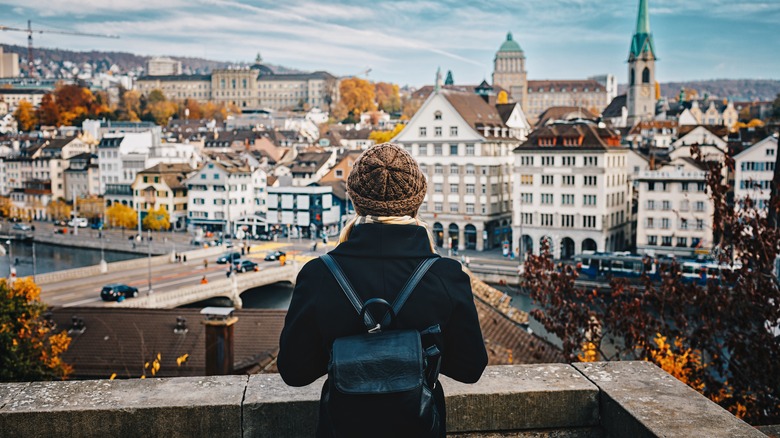 mcroff88/Shutterstock
There's really nothing better for the soul than a Eurotrip, and though country-hopping may seem inaccessible to most, it's actually more attainable than you may think. Lodging regularly takes up over a third of a vacation budget, but traveling abroad doesn't have to completely wreck your wallet. Hostels offer an affordable way to stay in some pretty amazing places.
If your heart sinks a bit at the mention of "hostel," don't worry! Hostels have had a certain reputation for a long time, but cheap doesn't have to mean dirty and dangerous. Hostels have actually come to be some of the coziest and most creative places to lay your head while backpacking across Europe. Some even offer luxury amenities at bare-budget prices.
Also, hostels can be so much more than just a place to hang your hat — they can act as their own attraction and become one of the best parts of your chosen destination. You'll be staying in style at these hostels, as they are some of the coolest in Europe. They all offer unique experiences and atmospheres that will make waking up during your next backpacking adventure that much more exciting.
Jumbo Stay in Stockholm, Sweden
Attempting to sleep on a plane is one of the worst parts about traveling, but this Swedish hostel may just be the exception. At Jumbo Stay, guests share space on a jumbo jet but don't worry, you're guaranteed to stay on the ground throughout the duration of your stay. The hostel is appropriately located right out front of the Stockholm airport, adding to the authenticity of the experience. You can even see planes taking off on the other side of the airport.
If you've had enough of being a passenger on an airplane, one room within Jumbo Stay allows you to play pilot. The jet's cockpit has been converted into a private suite with its own bathroom that fits up to two guests. All the controls are still there, so you have all night to play out your "Top Gun" fantasies. The engines have been turned into their own private, albeit barebones, rooms as well. The only way to enter these engine rooms is via private staircases on the plane's exterior, making them the ideal accommodation for travelers wanting to keep to themselves.
Jumbo Stay offers both male and female dorm-style rooms with up to four beds for a more traditional hostel experience at a much cheaper price. The seats have been removed with dorm rooms constructed in their place, so you'll recognize the small porthole window in these rooms. Instead of the window seat, you'll be fighting over that bottom bunk.
Hans Brinker in Amsterdam, the Netherlands
Hans Brinker Hostel prides itself on giving its guests an experience, but not necessarily a good one. Their one goal is for you to leave their walls with a story to tell, and with their close vicinity to Amsterdam's Red Light District, you'll likely do just that. First and foremost a social hostel, Hans Brinker doubles as a party venue and actually throws some ragers in its basement nightclub. Amsterdam itself is a party-hard European city, so if you are looking for accommodations that will allow you to take the party home with you, this hostel certainly fits that bill.
What makes Hans Brinker truly one of the coolest hostels in Amsterdam is its personality. Formerly the self-proclaimed "Worst Hostel in the World," the unconventional hostel has rebranded as an infamous place where the untamed can have an extraordinary trip that they probably shouldn't write home about. Hans Brinker uses the long-beheld bad reputation of hostels to play at being an uncouth place where legends are born, and who doesn't want to be legendary?
Castle Rock in Edinburgh, Scotland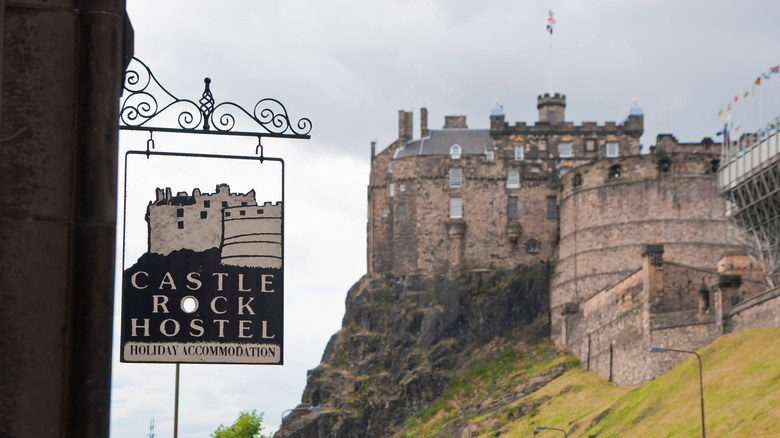 Joaquin Corbalan P/Shutterstock
A trip to Scotland isn't complete without seeing at least one castle, and while Castle Rock doesn't technically fit that description, one of the most famous castles in the world is right outside its doors. Step right over the threshold and you'll be face to face with Edinburgh Castle, and you can't get much better than that for the budget prices of a hostel.
The interior of Castle Rock doesn't play down this connection to medieval castles and you'll kind of feel as though you've entered a thrifted Hogwarts. The main lounge area gives off Hufflepuff common room vibes, and the way up to the dorms offers a different kind of spiral staircase, equipped with guardian suits of armor.
While Castle Rock does offer private rooms, the entire hostel can sleep around 300 travelers, and some dorm rooms can hold up to 16 people. If you are looking for a quiet experience where you won't run into too many people, this hostel isn't for you. It's important to note that while their capacity is large, Castle Rock is not cramped. Large dorm rooms have creative dividers, and there are many spacious lounge areas for guests to carve out their own space. The social hostel also organizes events for travelers and is a great resource for connecting with other travelers while experiencing some Scottish culture.
Urban House in Copenhagen, Denmark
Urban House will speak to the souls of tattoo lovers. Its walls are covered in various styles of art, from graffiti and mixed media collages to word art with clever and quippy messages. What really sets this hostel apart, though, is its amenity spaces — its tattoo parlor, in particular.
Yes, you can actually sit for a tattoo while staying at this Danish hostel. Wisdomless Tattoo Club is beneath Urban House and has an old-school vibe with leather furnishings and offers traditional-style tattoos. The hostel also features a game room, library, and restaurant that makes the building like its own miniature city with practically everything you need in one place.
And good news for musicians on a budget, as you may earn a night by playing on their stage, and guests who aren't musically inclined are treated to live music while staying affordably in quite stylish accommodations. Urban House also offers special perks for traveling families because, unlike a lot of hostels, explorers of all ages are welcome, and family rooms are available for booking. The result of this meshing of individuals is the creation of a community that reflects the outside world in the best way.
Gallery Hostel in Porto, Portugal
Art lovers visiting Porto will likely find themselves drawn to the Art District, so why not make the creative district your home away from home, too? Gallery Hostel's prime location in the art-laden area adds to its air of individuality, but it would stick out anywhere in the city thanks to its creative concept. As its name suggests, Gallery Hostel is basically an art gallery and hostel hybrid.
The walls throughout the hostel showcase new creations from local artists that change every couple of months, bringing Portuguese artists exposure to guests from all over the world. The building often complements the art and becomes part of the exhibitions themselves. Exposed vintage tile, stained glass windows, and timeless architectural details all add to the personality of the work shown here. You won't find any run-of-the-mill hotel artwork, and the bones of the historic building are just as unique as the rotating art found within.
Lavender Circus in Budapest, Hungary
Visiting Budapest is like walking into a fantasy world with its unreal architecture and intense cityscapes. Lavender Circus Hostel continues this mystical experience right into its common spaces and dorms. You don't need to count sheep when you've got marvelous murals to explore before your eyes finally fall shut. During waking hours, you can get lost in the intricate murals, many of which make you feel as though you've stepped into the pages of a storybook.
The concept and execution of the wondrous hostel walls are undeniably cool, but what is truly beautiful about Lavender Circus is that it is a continuously ongoing work in progress. More pieces of the make-believe world shown all throughout the hostel are being created each year to expand the already impressive landscape of strategic magic marker doodles. The drawback? Going from the whimsical 2-D world to the very real and equally magical streets of Budapest may be a little jarring.
Kadir's Tree House in Olympos, Turkey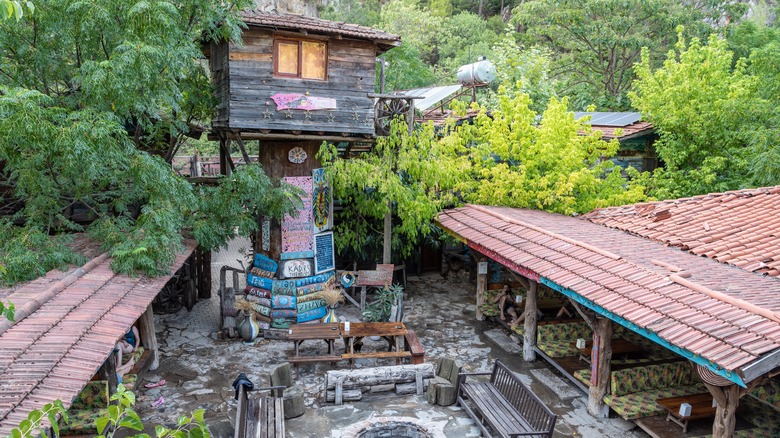 Alizada Studios/Shutterstock
Who needs a cabin in the woods when you could have one in the trees? Kadir's Tree House takes guests up into wooden cabins that are lofted into the trees themselves, and while the outside of the hostel looks like a well-worn structure straight out of "Tarzan," the inside of the rooms are polished and ready for a nice night's sleep.
It's hard to pinpoint which is cooler, the hostel itself or its epic location. Olympos has so many exciting things to do and see within walking distance from Kadir's Tree House, like an ancient city and the crystal-clear waters of Olympos Beach. Diving, rock climbing, boating, and hiking are popular here, but it is a visit to the nearby Yanartaş that may take the cake for the coolest activity. The rocks here are the site of a natural phenomenon that keeps a continuous fire going, and with a sky full of stars, nighttime at this rare spot is nothing short of magical.
Coming back to Kadir's Tree House after your explorations is ideal for anyone who doesn't want to completely pack it in for the night. With bars and common areas that are perfect for nighttime socializing, it's easy to make connections over the campfire and exchange tales of your adventures.
KEX Hostel in Reykjavík, Iceland
KEX is a drifter's paradise and looks as though an interior designer was challenged to decorate an entire hotel with thrifted goods only. The vibes here are immaculate, and traveling bibliophiles will find solace in the lounge's reading corner, drink in hand from the onsite bar. You can even get a haircut in KEX's salon, which is an unexpected yet very much appreciated perk to staying at the hostel.
What makes KEX so amazing is its ability to keep things simple while also standing out. They have taken everything a hostel is, at its very core, and perfected it, focusing on how to keep travel affordable while offering a safe home on the road. Whether your goal is to clean up, recharge, and refuel before heading out again or to stay a while in Reykjavik, one of KEX Hostel's large dorm rooms is the perfect place to start out your Icelandic adventure.
Caveland in Santorini, Greece
Santorini has become world famous for its white- and blue-domed buildings, a theme that has somewhat continued with added pops of pink in one of the island's best hostels. Caveland is a former winery that has been converted into a hostel with a central location in Santorini.
Only a 25-minute walk from the capital city of Fira, you won't absolutely need a car if staying at Cavelands. If you wish to explore other parts of Santorini, it's about 25 minutes via car to either side of the island vertically. Up north is Oia and down south is Perissa, both desirable cities on the island. The hostel's midway location to these cities makes it the ideal place to stay for travelers wanting the freedom to see the whole island.
A good portion of Caveland is built in actual caves, but you won't have to worry about bats or other creepy critters. These caves are man-made and actually don't look particularly like caves at all, so you will not be staying surrounded by rock walls and stalactites. The dorms are actually quite trendy and contain more charm than even some nicer hostels. With vibrant colors stark against the white walls, Caveland truly embodies the very aspect of Santorini that brings in countless visitors.
Generator Hostel in Rome, Italy
There are Generator hostels all over the world, all of which offer chic and creative decor for budget stays. Rome's Generator Hostel offers comfort and amazing designs in one of the biggest tourist destinations in the world at prices that can't be beat — and we can't think of anything much cooler than that.
The rooms themselves are higher luxury for a hostel, which should lead to a better night's rest — something you'll absolutely need when the next day consists of exploring Rome. Generator is within walking distance to Rome's must-see attractions, like the Colosseum. For destinations that are technically walkable but would wear your shoes out quickly, the hostel is only a few blocks from the Roma Termini train station, which will quickly get you anywhere in the city with ease.
Staying here will not only make for an affordable vacation, but also a quickly adapting one. The city is easy to navigate and is made even easier at Generator, where a community of travelers share advice and knowledge of getting around to the best attractions and hidden gems. The hostel's common areas and bar offer a relaxed atmosphere that encourages these lasting connections.
Sir Toby's in Prague, Czech Republic
At first glance, Sir Toby's is your typical, no-frills hostel option. Though the common space and rooms are simple and unassuming, they are well put together and appealing. The cool thing about Sir Toby's is actually underneath it, in the hostel's basement bar. The cellar pub will give most American speakeasies a run for their money. Heading down below for a brew may not even cost you anything, as those who book directly with the hostel can score a free welcome drink.
Keeping to hostel etiquette is especially important when free alcohol is involved, but getting along with fellow travelers should come easy at Sir Toby's. Prague is a beer city, so connecting to fellow travelers over a pint is to be expected and one of the best ways to celebrate being in the vibrant city. You can extend these newfound relationships by taking advantage of one of the various activities around the city that the hostel promotes or crafting and sharing a meal together in the guest kitchen, the "Kitchen of the Missing Spoons." Overall, Sir Toby's is a humble hostel with a pretty great vibe.
Dock Inn in Rostock, Germany
You probably don't have sleeping in a shipping container on your world travel bucket list, but Dock Inn makes that not only possible; it's pretty desirable. The hostel leans into its location on a harbor by design and execution, as the entire building looks like a futuristic cargo ship and the interior is a conglomerate of strategically placed containers.
An ingenious design, each room is a cargo container that has been laid out for the most comfort. Suites contain a sitting area and private bathroom in addition to a sleeping area, while dorm rooms consist of bunk beds, a larger living area, lockers, and a split bathroom. Even though each room has its own living space to hang out, Dock Inn goes above and beyond with its common areas and facilities. Included in these common areas are a co-working space, a theater, and a rock climbing room. You could spend a fulfilling vacation taking advantage of what Dock Inn offers its guests, and that's an impressive feat with Germany waiting right outside its doors.
Sagrada Familia in Barcelona, Spain
Sagrada Familia, or Sacred Family, by Sant Jordi Hostels is a skater's dream and the very essence of the word "cool." Skating is not only allowed through the halls of the hostel; it's fully encouraged — there's even an indoor skating room with its own ramp!
The hostel's design is reflective of the urban art scene in Barcelona, and vibrant designs are plastered on walls throughout Sagrada Familia along with skateboarding memorabilia. The Spanish city is known for Romanesque art and modern art styles like Cubism and Realism, but the people of Barcelona never stopped creating. Street art and graffiti are found everywhere here, creating some of the most striking and creative parts of the city. The street art's juxtaposition against the perfectly blocked city layout and Barcelona's gothic cathedrals makes its presence even more beautiful.
While the hostel puts a focus on skateboarding, roller skates and bikes are also welcome. If you are unable to bring your personal skating or biking gear with you on your travels, the hostel also offers rentals for exploring Barcelona in your preferred method of transport.