Solo Travel: Your Guide To Exploring Barcelona Alone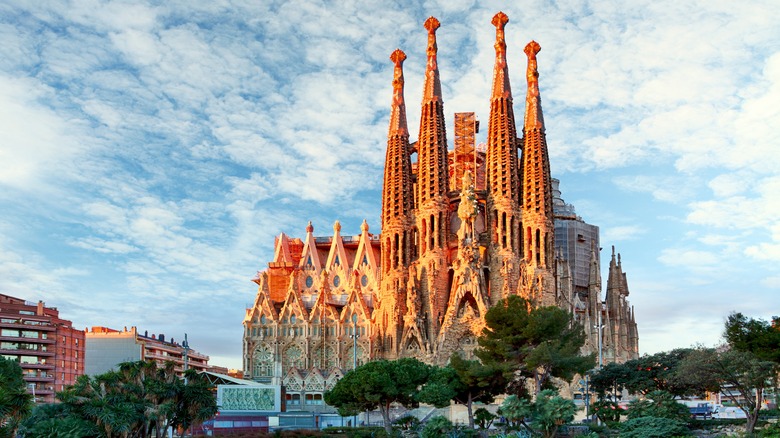 TTstudio/Shutterstock
Barcelona is one of the top travel locations in the world for solo wanderers looking for a culture-rich and affordable adventure. Known for its Catalan culture, awe-inspiring art, cuisine, and quality of life, the city of Barcelona is a must on any lone traveler's "where to next" destination list. Not only does this gorgeous capital city of Catalonia, an independent region in Spain, have a little something for everyone, but Barcelona also has a wealth of solo-friendly accommodations. So, if you are looking for a new and vibrant landscape to explore that is also safe for solo wanderers, then you should definitely book your ticket to Barcelona now.
With so many attractions, great activities that you can enjoy alone, and easy-to-use public transportation, immersing yourself in this great city and its culture is not hard to do at all. Barna (which is what the city is called by the locals) has amenable weather, nine beaches, impromptu festivals, and street parties. Plus, this lively European city is always teaming with excitement — so your party of one is bound to get much more interesting — fast. That said, here is your comprehensive guide for exploring Barcelona solo.
Practical Solo Tips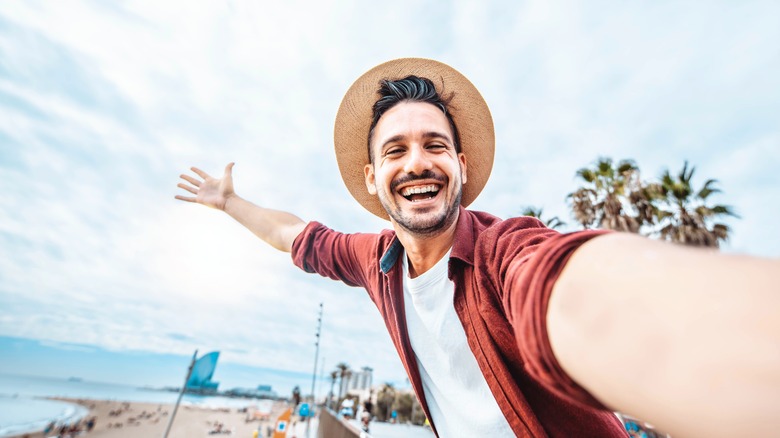 DavideAngelini/Shutterstock
Safety is key, whether this is your first solo getaway or your umpteenth. Though Barcelona is a relatively safe location for all tourists and visitors, you must remember a few things, especially when staying in shared accommodations. For solo wanderers, staying in hostels is budget-friendly and one of the best ways to make new friends while galavanting across the globe. Still, it is important to do your research as there is more than one type of hostel lodgings available — youth hostels, co-working, and more. Once you figure out what hostel stay works best for you, splurge a little and book a private room for more peace of mind. 
Even if you book your solo adventure stay in Barcelona in one of the best neighborhoods (La Ribera, Gracia, Barceloneta, or Poble Sec), stay vigilant. Lock up your valuables, opt for guided tours, and try to avoid going out solo at night. Overall, Barna is a popular European vacation spot and a big city, so using your discretion, especially when it comes to being mindful of your belongings, is a must, especially due to the increase in pickpocketing in such destinations. Other practical solo tips like using common sense, avoiding sketchy-looking areas, particularly at night, or not being distracted in crowded touristy hot spots will help remedy most of these concerns. And packing essential items like an anti-theft bag, an RDIF wallet, a portable safe, and a few AirTags for any destination are all also highly recommended.
Spanish and Catalan phrases to brush up on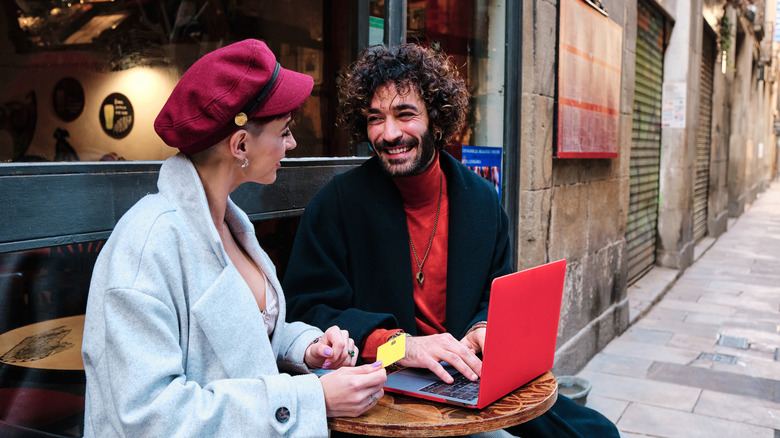 Alvarog1970/Getty Images
Many first-time Barna or Barcelona visitors may be surprised to learn that this amazing city actually has several official languages, with Catalan, Spanish, and English being the most prominent. So, even if you took Spanish in school or studied abroad in nearby destinations, it pays to know a few phrases for both Spanish and Catalan. For starters, 'hola' (hello), 'bon dia' or 'boba tarda' (good morning or afternoon in Catalan), and 'buenos días' or 'buenos tardes' (good morning or afternoon in Spanish) are all key phrases to know. 'Bona nit' (goodnight in Catalan) or 'buenos noches' (goodnight in Spanish), as well as 'adéu' (goodbye in Catalan) or 'adiós' (goodbye in Spanish), should also be added to your vocabulary.
Other helpful phrases like 'merci' (thank you in French/Catalan) and 'gracias' (thank you in Spanish), plus 'on es' (Catalan for where is) and 'dónde está' (Spanish for where is), will go a long way on your solo adventures. Besides these basic pleasantries, asking how much does this costs in Catalan ('quant costa això?') or in Spanish ('cuánto cuesta esto?') is another phrase to know. Likewise, being able to ask anyone if they speak English — 'parles Anglés?' (Catalan) or 'hablas Inglés?' (Spanish) — can make exploring this wonderful city much easier. That said, English is widely spoken here, but it never hurts first to attempt to converse with locals using their languages as they appreciate it immensely.
Take a tour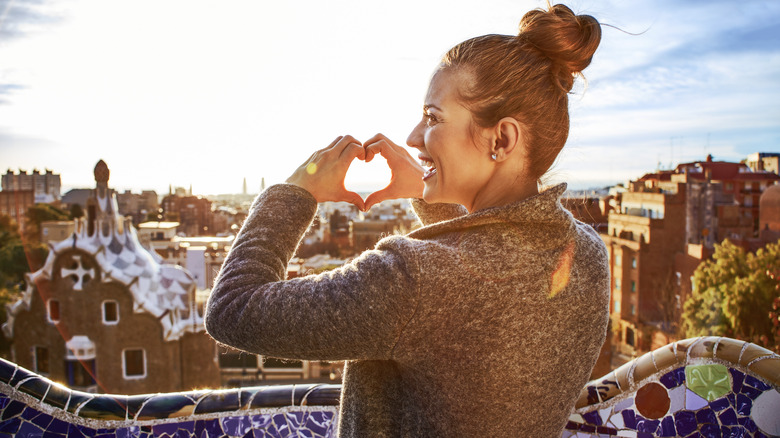 Alliance Images/Shutterstock
After learning a few key phrases, solo explorers can get their bearings here by taking a tour of the city. Unsurprisingly, there are more than a few options available when it comes to experiencing Barcelona. So whether you opt for one of the many hop-on and off buses, motorcycle and sidecar tours, scooter rentals, group bike outings, or walking tours, get out there and enjoy a grand city excursion. 
While on your city trek, you can check out some top attractions, such as the Gothic Quarter, El Born, La Sagrada Familia, and Casa Mila. Art and history enthusiasts should also make it a point to appreciate Casa Battló and Montjuïc Castle. Once you have checked off some of the major city sights, a stop by Las Ramblas is definitely in order. Here, solo wanderers can get the full tourist experience as this bustling street is filled with touristy shops and neverending fun. And if you start to feel a little hungry, head on over to La Boqueria and Santa Catarina food markets for some tasty eats and even more shopping.
Hit the beach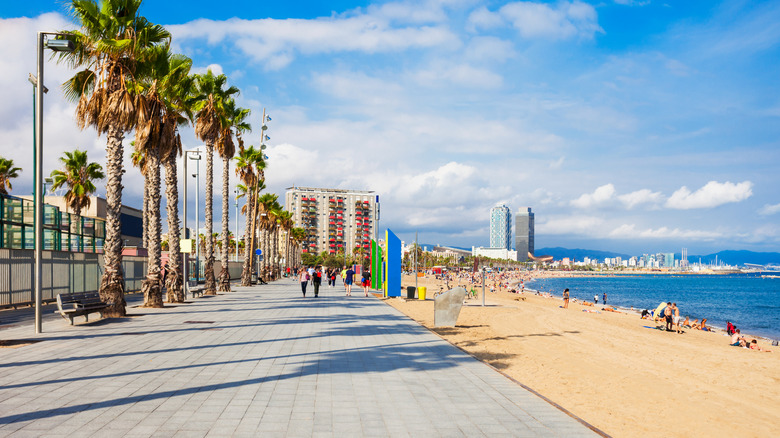 saiko3p/Shutterstock
This particular city center is adorned with stunning architectural feats, divine sculptures, artistic flare, beautiful Basilicas, hidden gems, and so much more — all of which solo explorers can delight in via a self-guided or group tour. But that's not all Barcelona has to offer. There is also a plethora of golden sandy beaches with brilliant blue waters just beyond the city center. Of course, solo travelers who visit during the summer can bask in these picturesque seaside paradises to the fullest, lounge on the beach, or join in on some fun in the sun.
Even if you are not vacationing in prime beach season, Barna's 60 miles of sand-covered coastline is a real treat you should not miss. Overall, the weather in Barcelona is fairly mild in the wintertime, with daytime temperatures, around 12 degrees Celsius (53 degrees Fahrenheit) or higher. Plus, there is a beach for almost every activity imaginable.
For instance, beaches such as Somorrostro (partying), Nova Lcària (beach volleyball), and Nova Mar Bella (skinny dipping) are excellent options for extroverted solo travelers. And Barceloneta (stunning architectural views), Mar Bella (swimming), Sant Sebastià (people watching), and Bogatell (bars and seaside cafés) are great beaches for more introverted parties of one. So, solo travelers can enjoy a relaxing beach outing or some leisure time here pretty much any time of the year. Beachgoers can also swim all year round. However, lifeguards are only present during the summer, so it is best to test the waters then.
Spend some leisure time in Park Güell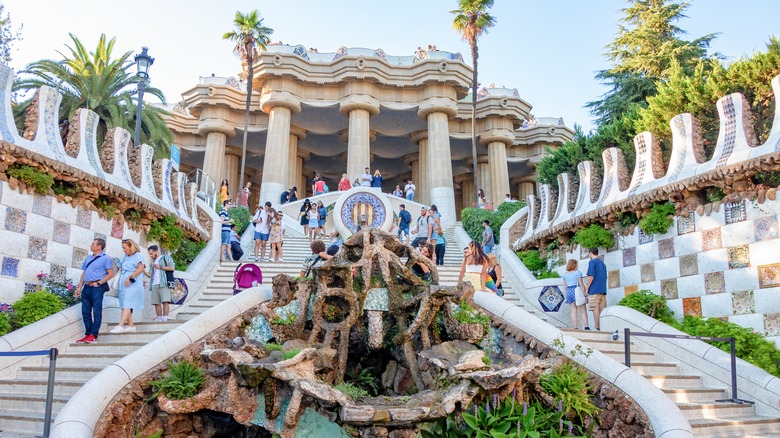 agsaz/Shutterstock
If you are not a big fan of the beach, that is perfectly okay. Barcelona still has several splendid outdoor spaces that you can visit, no matter the season. One spot in the city that is a must-see is Park Güell. This Antoni Gaudí creation is distinctive and eye-catching, much like his other architectural works you can marvel at in Barna.
In addition to being a visual delight with its shimmering sea of colorful mosaic tiles, Park Güell has eccentric sculptures, wonderous city views, and fascinating history. Originally designed to be a neighborhood for the elite, this particular Gaudí masterpiece allows parkgoers to take a closer look at the creative mind and life of the man himself. In roughly three hours or less, you can explore this passion project, marvel at the various works of art in the park, and people-watch to your heart's content. Even after thoroughly touring this magical place, solo wanderers can find a spot here and simply enjoy this park's unique vibe. All in all, this whimsical outdoor space marries nature, Catalan modernism, and architecture so breathtaking that spending some leisure time in Park Güell, or at least scheduling a tour, should be on your to-do list anyway.
Go on a day adventure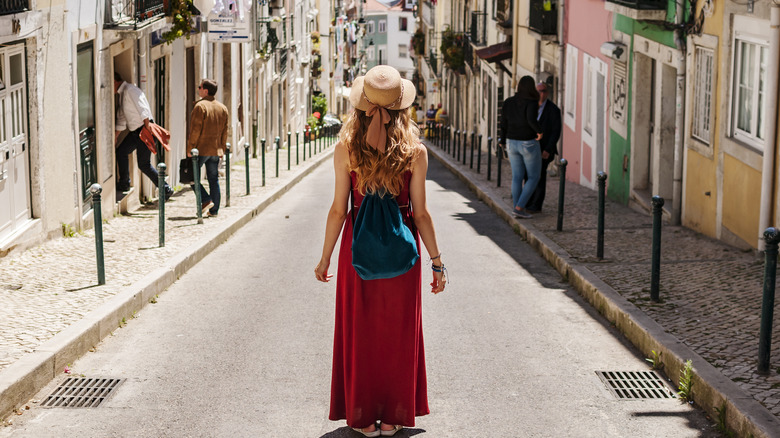 seligaa/Shutterstock
Solo explorers who plan to spend a week or more in this fantastical city should definitely have a day adventure or two to nearby attractions on the roster. Catalan living beyond the city limits is just as awe-inspiring, and venturing outward is absolutely worth every penny. From towering mountains, glorious hilltops, and even more colorful cityscapes to castles, seafront sunbathing, coastal cliffs, ancient ruins, and then some, calling this a day adventure does not even begin to describe the possibilities.
Here, solo wanderers can book a group tour to see Montblanc, a medieval walled town, and Montserrat, a monastery above the clouds. Barna visitors can also enjoy a group tour to Castell de Sant Ferran, an 18th-century castle in Figueres, have lunch at a 1000-year-old winery, and go for a pleasant stroll along the Costa Brava coastline. Other notable day trips to consider include a visit to the Roman ruins in Tarragona, a buried treasure hunt in Colónia Güell, a relaxing escape in Sitges (a popular and fancy seaside resort town), and a hike across the mountainous terrain in Andorra — just to name a few. Multiday and half-day trips are also available for closer attractions. So, do yourself a favor and venture out of the city for a spell, if not for a day or two, then maybe just for a half day — regardless of what you decide to do, you definitely will not regret it.
Enjoy some tapas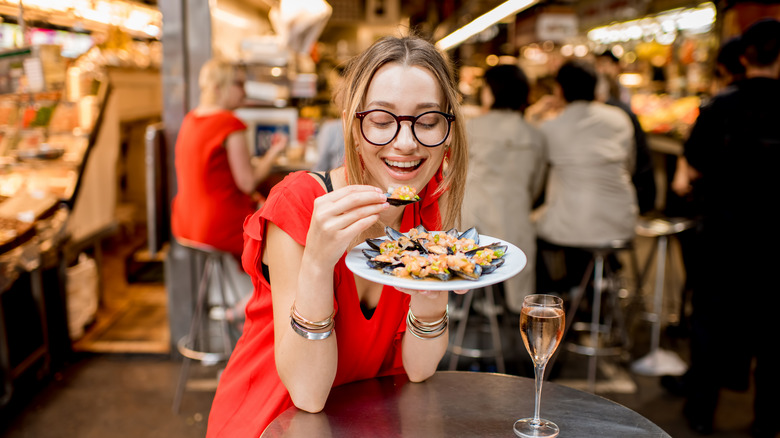 Rosshelen/Getty Images
Eating alone in any city can seem daunting. But, the nice thing about many European cities is that dining solo is not newsworthy. People need to eat, and if their main mode of transportation is walking or some other form of public transit, working up an appetite on the go is to be expected. In Barcelona, eating in large groups is common, and sharing multiple snack-sized phenomenal eats (tapas) is a part of the dining experience. But that does not mean you need to panic.
Firstly, tapas are simply delicious –- so delicious, in fact, that sharing may be the last thing on your mind. Tapas are also extremely affordable eats that will not break your vacation budget and are great dining options for a party of one. So try not to spend all your time eating on the go or at your hostel. Instead, you should make it a point to indulge in as many of these tasty gastronomic and culinary delicacies as possible. Solo diners can easily pair their tapas with a nice glass of wine and some good old-fashioned people-watching for a truly exquisite time. Plus, there are more than a few tapas and wine tours that offer solo travelers a carefree way to eat, drink, and be merry with a small group.
Check out the nightlife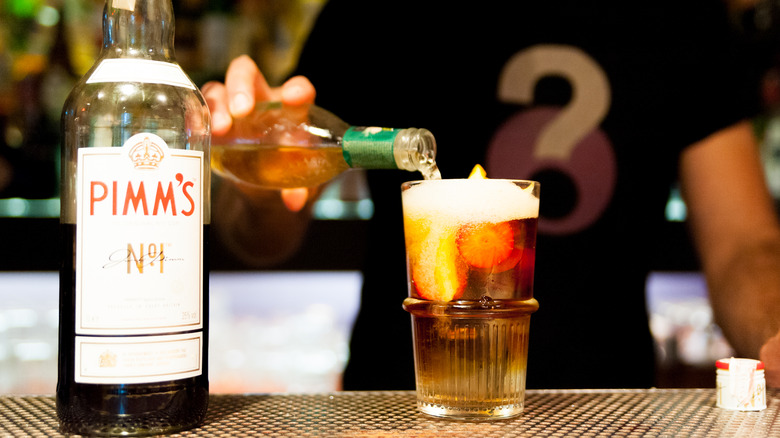 davide bonaldo/Shutterstock
After a nice round of tapas, solo explorers can treat themselves to a taste of Barcelona's legendary nightlife. Known as one of the most amazing party cities in the world, Barna is brimming with fun after dark. A simple trip to Las Ramblas at night will confirm that Barcelonians are serious about their nightlife. Still, as a solo traveler, going out partying or for late-night drinks can be tricky anywhere, especially if you are a female wanderer. But, as long as you are mindful of your surroundings, do not leave your drink unattended, or put yourself in potentially dangerous situations, there is no reason you cannot have a great time out at night in most big cities.
In Barcelona, there are numerous solo traveler-friendly bars (some located in hostels). This means you can stay close to your accommodations to play it safe, check out Las Ramblas with another hostel guest, or head to the bars in the area that understand most solo travelers on an adventure do not want to go to bed at 9 p.m. You can add the following stops to your itinerary if you are all for nighttime fun as a party of one — CatBarCAT, Bar Betty Ford's, La Whikería, and La Bombilla. Solo explorers can also sign up for guided pub crawls if they want to go out with a small group and a knowledgeable local.
Appreciate the arts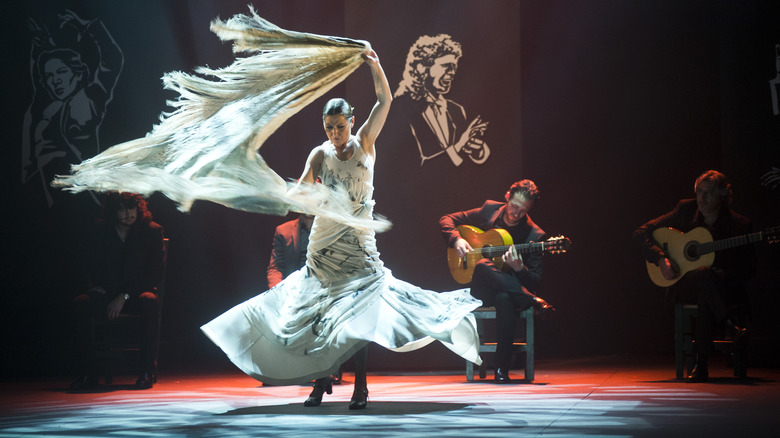 Jordi Vidal/Getty Images
Yet another great way to explore this thrilling city is to spend the afternoon or an evening appreciating the arts. Not only does Barcelona have more than a few renowned museums that are absolutely worth checking out, but Barna also has quite the theater scene. So for solo wanderers looking to marvel at fine art and history indoors, the Picasso Museum, Museu Fredric Mares, and the Barcelona History Museum can all be added to the activities list.
Many museums also have late-night events and exhibitions, so if you want to enjoy a night out on the town in a more cultured way, then see what nighttime happenings are on the events calendar for any of these fantastic museums. Alternatively, solo explorers can buy tickets to a variety of theater productions, live entertainment, and shows. From Flamenco shows and sunset Jazz cruises (dinner packages are available for both) to immersive Viking dinners with fire shows, finding a non-partying nighttime activity is only a few clicks away here.
Book a photoshoot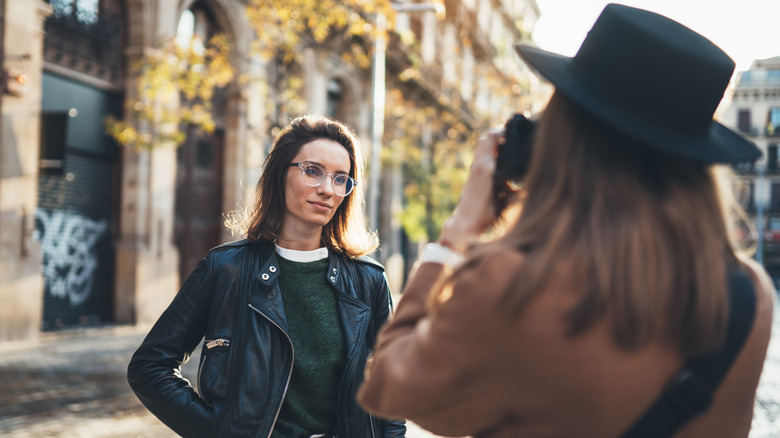 A_B_C/Shutterstock
Gone are the days of selfie sticks and poorly taken photos — this is your solo adventure, so why not let someone else take the pictures for once? Many people believe booking a vacation photographer is for couples or some kind of celebratory occasion, but that could not be further from the truth. You actually do not need a reason to hire a professional, and if you do, then isn't stepping outside your comfort zone on a solo getaway reason enough?
So, if you want gallery-worthy pictures and memories that will last a lifetime in one of the most gorgeous cities in the world, then book that photo shoot. The benefits of booking a professional vacation photographer are endless, and looking your best in pictures just became a whole lot easier. Remember, this is your photographer's craft, so they know all the good spots, where the lighting is stellar, and what time of day is right for you to take that iconic "solo and loving it" photo. You also do not have to lug around all your own camera equipment and picture-taking accessories or run down your cellphone battery. And the best part is you can focus on enjoying Barcelona to the fullest instead of trying to capture that perfect moment for Instagram.
Explore at your own pace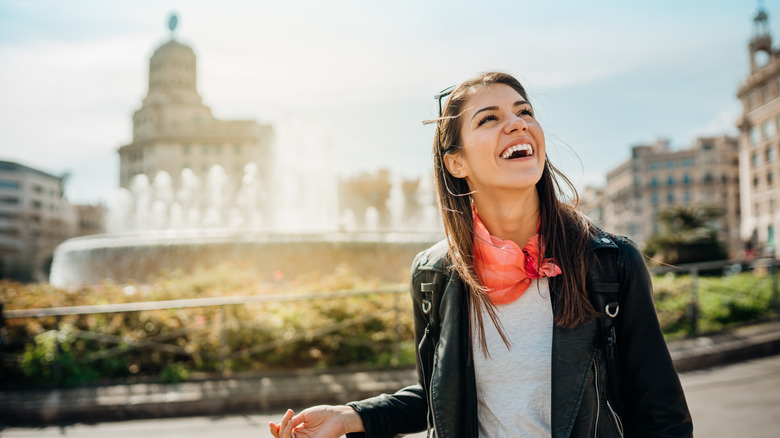 eldar nurkovic/Shutterstock
With so much to see and do in Barna, having an epic solo getaway is more than a possibility — it is a reality — if you play your cards right. Whether you are new to the whole traveling party of one movement or taking off for parts unknown alone is your personal calling card, it can be very tempting to overbook yourself in destinations that are jam-packed with sights and sounds. Remember, this entire trip is about you and what you want, so avoid self-sabotage and do not let all the planning, booking, reserving, and roaming go into overdrive.
At the end of the day, Barcelona is best explored at your leisure or your own pace. And doing so will ensure that you do not miss a minute. Plus, every getaway itinerary needs some room for rest and relaxation. So, just because it may seem like you can see all the sights in a single day on paper does not mean this is the case. Even if you are short on time, decide what are must-sees for this trip and save anything you cannot get to this time around for your next visit.