Here's How Much It Costs To Backpack Through Different Regions Of Europe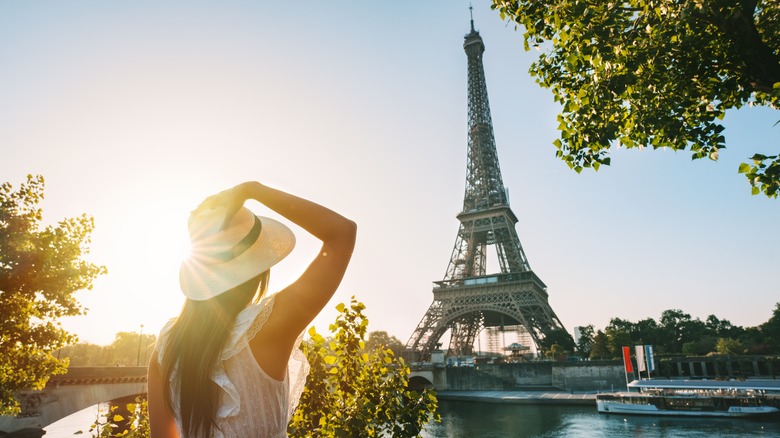 Creative Cat Studio/Shutterstock
Backpacking Europe is a bucket list trip for many, but the continent is large and varied, thus so are the budgets you'll need to backpack the different regions! That's what is so wonderful about Europe, you can essentially create your own adventure. Maybe you've always dreamt of Paris, so you splurge there but then make up the rest of your budget by visiting more affordable places. Don't fret — every corner is worth visiting, even if some aren't the stereotypical colorful streets Americans envision on a Eurotrip.
The popular choices of France, Italy, and Spain are wonderful places to explore. But keep in mind that in general, the more popular the destination, the higher the price tag. If you're looking to pinch pennies a bit more, try the Balkans or Eastern Europe. We've organized this piece in descending budget order, so the most expensive regions are explained to start with the costs decreasing to the cheapest at the end. Hopefully, it'll make planning your Europe backpacking trip that much easier!
Budgeting for a Euro trip — things to keep in mind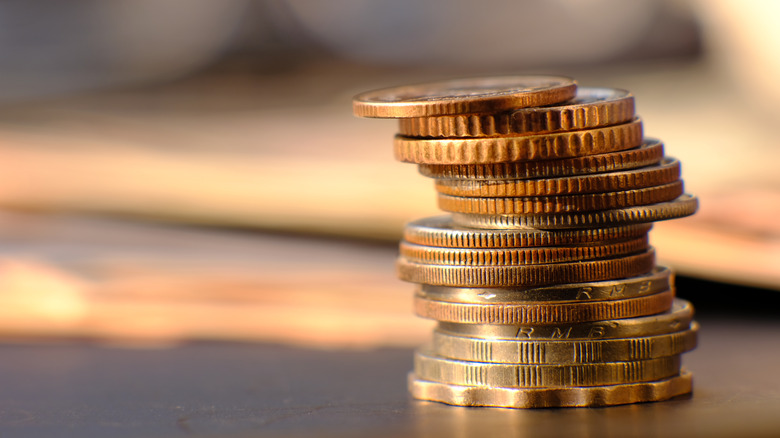 ING Studio1985/Shutterstock
The recommended budgets in this article take into account the basics for daily backpacking, including hotel accommodations, meals, transportation, and activities. Of course, these costs vary on what type of traveler you are, but it's assumed that backpackers will be more on the budget-friendly end of the spectrum. This means staying in hostels or budget hotels, eating street food with occasional meals at nicer restaurants, taking public transportation, and booking tours in lieu of renting a car and exploring individually.
However, keep in mind these budgets have been made with the assumption that those going on a trip have already acquired backpacking equipment. So, if you don't already have a good pack, power adapters, power banks, a reusable water bottle, towels (not all hostels provide them for free), flip flops (for those dorm showers), and travel locks at a minimum, make sure to factor that in. You can expect to spend between $100 and $300 for a good backpack, power adapters average around  $20 online (luckily you'll only need to purchase one for all of Europe, or two if you're heading to the UK or Ireland), and the rest you can find for fairly cheap.
The Nordics will do the most damage to your wallet, but are worth every penny!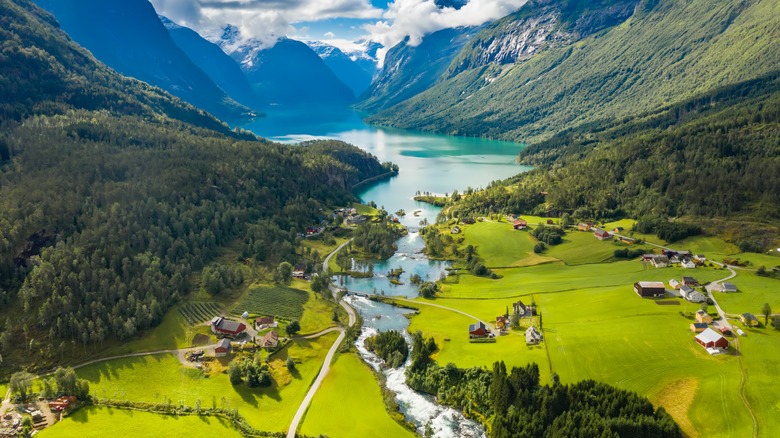 Andrei Armiagov/Shutterstock
Iceland, Norway, Finland, Sweden, and Denmark are known for cosmopolitan cities, outstanding nature (especially in winter), high quality of living, and unfortunately, wallet-draining prices. This is easily the most expensive region in Europe, so if you have a limited budget, it's probably best to skip it. However, if you're willing to splurge, there's so much to see in this beautiful part of the continent. Accommodation and food will set you back the most here, a dorm room in cities like Oslo or Stockholm can go from $25 to $50 a night for a bed and shared bathroom. Cheap meals are also difficult to come by, so if you're staying at hostels, try and cook occasionally and take advantage of free breakfasts! In general, expect to spend between $150 and $200 a day here.
The most expensive time in the far north of Europe is of course when the weather is nicest — summer. However, this comes with the caveat that if you're willing to camp, it's free and summer is pretty much the only time you'll be able to do so in these famously chilly locations. Spring and fall are more affordable overall and have fewer crowds. Winter is again more expensive, due to tourists visiting for Northern Lights and winter sports. As for individual countries, Norway and Iceland are the most expensive, followed by Sweden, Finland, and Denmark.
Switzerland will blow your mind, in both scenery and price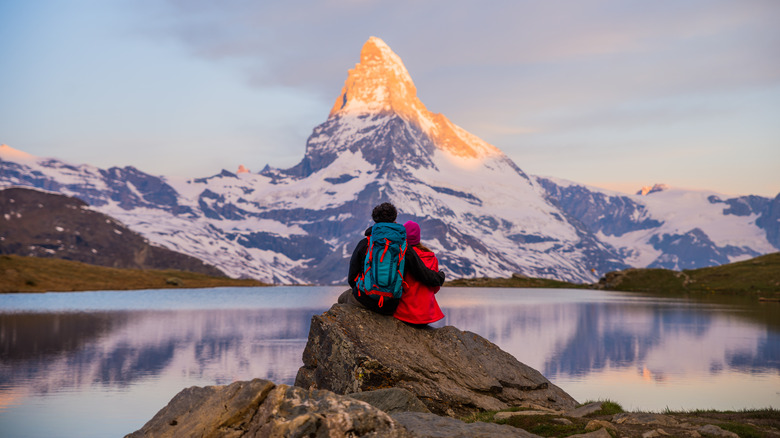 Ioana Catalina E/Shutterstock
One of the continent's most scenic countries is also one of the most expensive to visit. Thus, Switzerland is in a category of its own. The mountainous land isn't quite as expensive as the neighbors to the north, but not quite cheap enough to be included in the rest of Western Europe. Hostel beds will range from $30 to $50 a night but will be your most affordable option. A meal at a restaurant will start at around $40, so try to not eat out too often (although once or twice is a must in a country with so many great restaurants!).
Public transport is Switzerland's saving grace and you'll be able to get by easily from mountain top to city to another mountain top without needing a car. Trains, trams, buses, and cable cars dot the country — but they don't come cheap. One train from Zurich to Geneva can cost around $60 if you book last minute. If you're spending extended time in Switzerland, consider a Swiss Travel Pass. You can book a 3 to 15-day pass and it comes with free rides on all buses, trains, and boats in the country, as well as free transit within Swiss cities and free entry to many museums. The most expensive time to visit is when the outdoor activity season is at its peak — so summer (June – August) and ski season (December – February/March).
UK and Ireland — pricey but worth it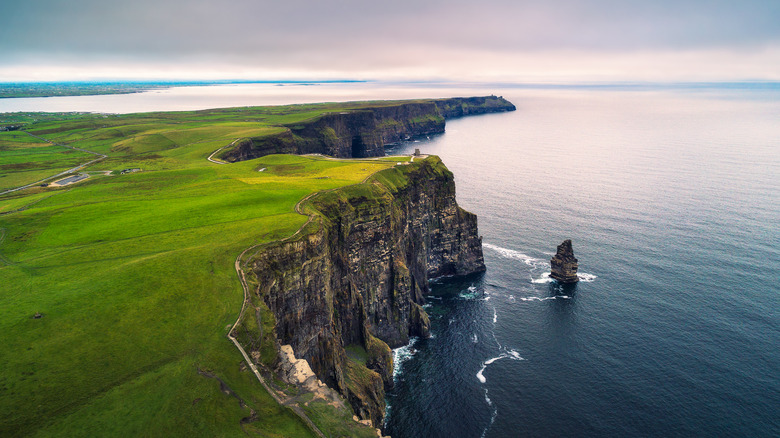 Nick Fox/Shutterstock
The off-continent neighbors aren't exactly budget-friendly, but they are worth every penny you will spend. The UK and Ireland vary widely — dorm beds in London and Dublin can start at around $50, but budget hotels in other parts of the country can be much cheaper, around $20 a night. Food is a bit higher overall than in the rest of Europe (besides Switzerland and the Nordics), so you'll want to budget around $15 to $25 for cheaper meals in restaurants.
Transportation is something neither area does cheaply. You'll want to book trains far in advance, otherwise you could be stuck paying three or four times the original ticket. Coach buses are also popular and can be a bit cheaper than the train (but often take a bit longer), internal flights can be quite cheap, but keep in mind the carbon consequences. The most expensive seasons to visit both countries are summer — particularly August (many festivals in the UK) and Christmastime. Try spring or fall for decent weather without crowds or price increases. For both the UK and Ireland, plan to spend between $100 to $150 a day.
Western Europe is the most popular region — and the prices reflect that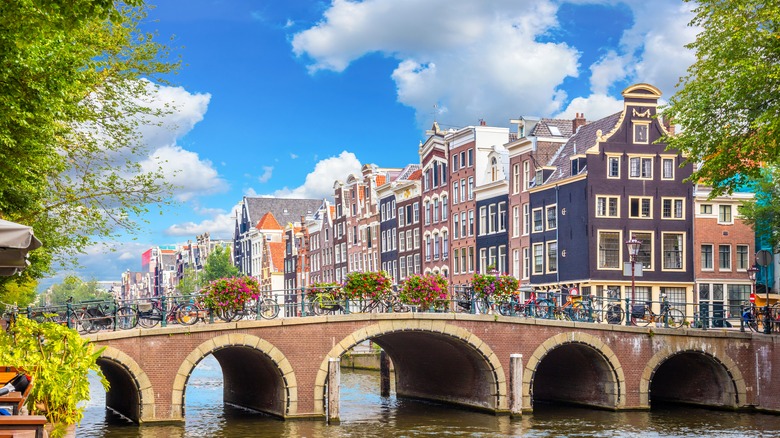 Taiga/Shutterstock
Germany, Austria, Italy, France, Spain, the Benelux (Belgium, the Netherlands, and Luxembourg), and Portugal are the most common destinations for American travelers' itineraries. All are great places to visit and have so much to offer, which is why you'll find the highest concentration of tourists in these countries. Thus, they're not exactly budget destinations but can be done cheaply. There's also the most variation in these places for cost. In general though, expect the highest accommodation and meal prices in major cities like Amsterdam, Berlin, and Paris, and more affordable options in smaller cities and the countryside. The same goes for food — you can usually find cheap falafel, noodles, or bakery sandwiches in Western Europe.
Transportation can be a bit of a mixed bag. The train network is extensive, but can also be expensive if you don't book in advance for high-speed long-haul trains. Look into a Eurail pass for extended, multi-country trips. If you're traveling regionally, buses and trains are usually quite affordably between $2 and $10, depending on the length and country. In general, the Benelux, Germany, and Austria are more expensive than Spain, Italy, and Portugal, and France falls in the middle, depending on what part you're traveling in. The peak seasons of summer, especially July and August, and the holidays (hello Christmas Markets!) are the toughest budget seasons. Try fall or spring and expect to pay between $75 and $125 on daily expenses.
The Baltics make for affordable getaways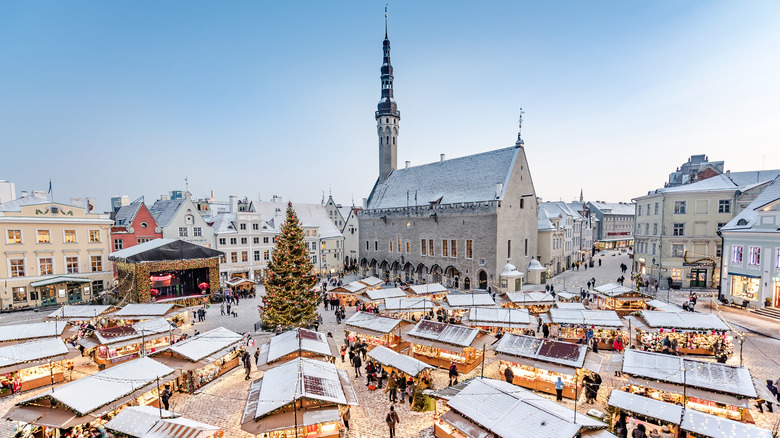 snowflakediana/Shutterstock
Not to be confused with the southern neighbors, the Balkans — former Soviet states of Estonia, Lithuania, and Latvia — are great destinations where a bit of cash will go far. While they aren't the cheapest budget destinations, prices here generally range a bit cheaper than say France and Germany. You can find decent accommodation for between $20 and $50 a night and enjoy meals out for around the same price, with markets and street food offering cheaper options. 
The bus will be the main mode of transport while you're in the Baltics and can be quite affordable ranging from $10 to $25. As for seasonality, summer is popular. Additionally, Tallinn in Estonia is known for its amazing Christmas Markets, so that will be a busier and more expensive time to visit. September and October are nice off-season options, where the weather will still be good without crowds. A budget between $60 and $125 per day should be plenty in this region.
The Med on a budget: Turkey, Cyprus, Malta & Greece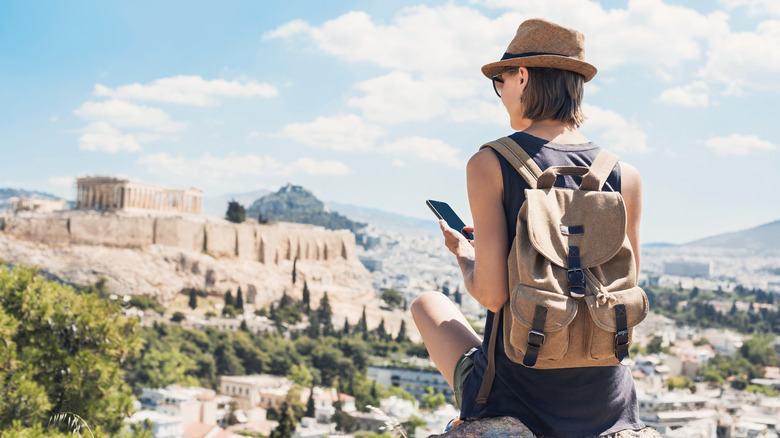 Kite_rin/Shutterstock
The Mediterranean is a dream destination with some of the bluest water, tastiest food, and the most relaxed atmosphere in Europe. Cyprus is much cheaper than Western Europe, even though there aren't many hostels on the island. You'll want to check private Airbnbs or guesthouses for the best prices. Still, expect at least $30 to $40 a night for accommodation alone. You can eat out for less than $30 and much lower than that if you avoid fancier places. The one thing that might push you over budget is the need for a car to explore the entire island. This starts at around $25 a day for a stick shift, or $50 for an automatic.
In Malta, you can still get by on $60 to $110 a day if you're careful. Greece is a bit friendlier on the budget, at $60 to $90 a day to be comfortable. Dorms for Malta and Greece will be between $20 and $40 depending on the season. Turkey is the cheapest of all, and you'll definitely be fine with $50 to $60 there. In all three countries, buses will be your main mode of local transport and cost under $3. Food will likely stay under $20, maybe $30 in nicer parts of Greece. Summer in the Med is definitely peak season, so it's best to avoid July and August if you want the best prices. September and October are still warm enough to swim, but prices are a bit lower.
Central Europe is a great value region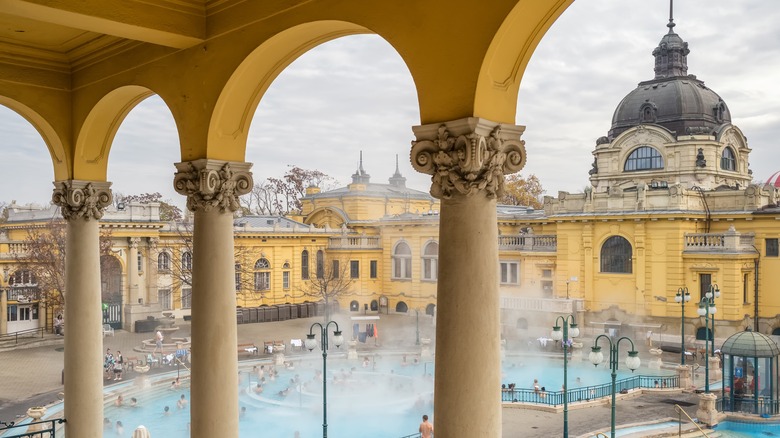 Mazur Travel/Shutterstock
Poland, Czechia, Slovakia, and Hungary pack a lot in a small area. Much of what you'll find in Western Europe can be enjoyed here, often for much less! The main cities like Prague and Budapest can be closer to Western European prices — around $20 and $30 starting prices for a hostel (although you can likely find cheaper ones) and up to around $60. 
However, staying in smaller cities and towns costs much less, and food in the region as a whole shouldn't be more than $20 for a decent meal. The trains and buses are extensive and slightly cheaper than the counterparts to the west. Although, as with most regions in Europe, high-speed, intra-country trains are always more expensive and should be booked in advance. The high season is summer into early fall and the best budget time is winter — although be prepared for frigid temps! You can get by easily on $50 to $100 a day here during the off-season.
The Balkans are the next up-and-coming part of Europe, go now before prices increase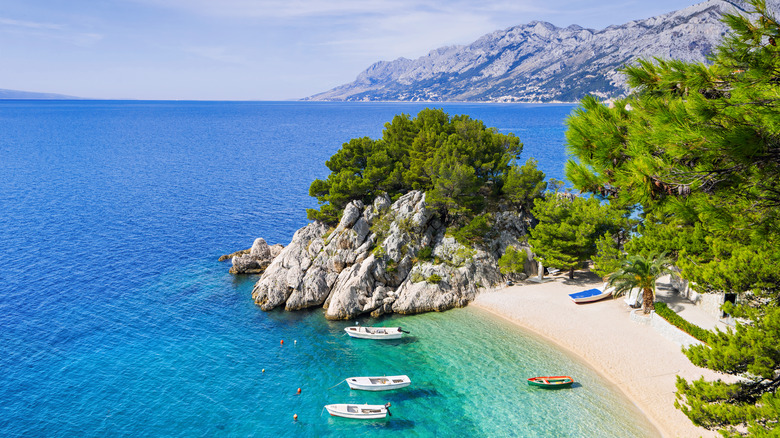 Kite_rin/Shutterstock
Croatia, Slovenia, and more recently, Montenegro have been touted as hidden gems of Europe in recent years. Thus, none are as cheap as they once were — particularly post-Game of Thrones in Croatia, but budget travel is still possible if you explore regions outside of the most obvious tourist traps. In Dubrovnik and the Dalmatian coast, hostels these days can set you back at around $30 to $40 starting price and food will be around $15 or $20 per meal. For deals, head north to Istria or cities like Zagreb and Zadar. In Slovenia, don't just visit Ljubljana and Lake Bled, try the coast in Slovenia or the eastern wine region! And Montenegro is a bit cheaper than both, with accommodation under $40 still possible. On average, these three require a budget of $75 to $100 a day.
However, the rest of Yugoslavia shouldn't be missed! Albania, Bosnia & Herzegovina, Serbia, North Macedonia, and Kosovo are wonderful budget destinations where $75 a day will get you far. Accommodation can easily be found for under $30 and meals will rarely be above $15 if you're careful. The entire region bursts with visitors during the summer months, so try any other time of the year if you can!
The Caucasus are undiscovered and easy on a backpacker's budget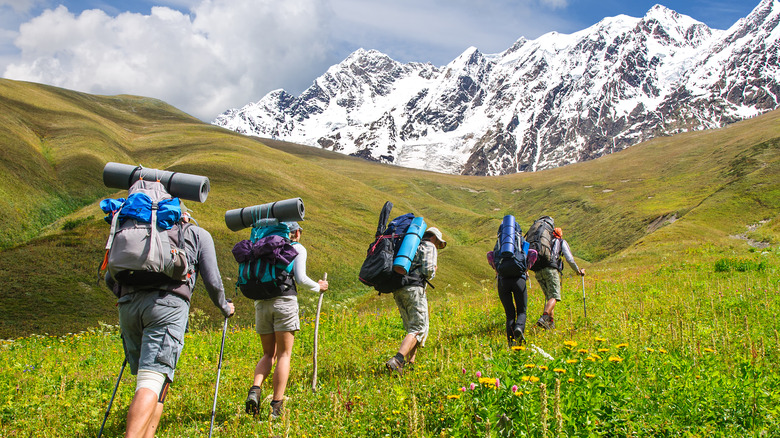 Rosliak Nataliia/Shutterstock
Armenia, Azerbaijan, and Georgia are some of the most off-beat places in Europe one can backpack and the low budget required definitely reflects that! You'll be able to explore interesting cities, unique cuisine, amazing landscapes, and unexpected wine country, all for a fraction of the price of the rest of Europe. You will easily find hostel rooms for under $15 a night, mostly in Georgia as Armenia and Azerbaijan are still becoming acquainted with backpackers. The most common form of budget accommodation, especially in smaller towns and mountainous regions is family-run guest houses. This comes with the added bonus of having a connection to the community and (usually) enjoying a home-cooked meal! If you opt to eat out, you'll only need to budget around $5 to $10 a meal.
Transportation will likely be via train or bus, but you can plan to spend no more than about $5 per journey. The one thing you should watch out for budget-wise is wine consumption, it's cheap and wonderful, but can add up! On average, plan to spend around $50 to $65 a day in the region. Also, keep in mind the high season is July and August, like most of Europe, thus prices will be a bit inflated during this period. However, if you're planning to hike, this is the best time. Other good alternatives are late spring and September and October — should season prices, but still possible to partake in outdoor activities.
Eastern Europe is cheap, but that doesn't mean it's not a wonderful part of the continent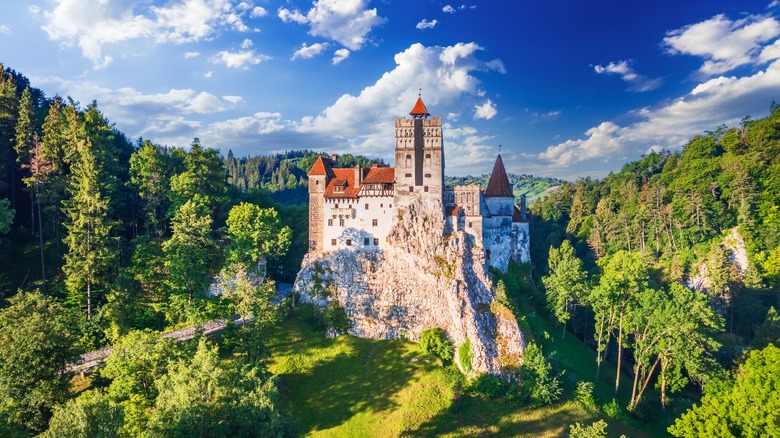 ecstk22/Shutterstock
Bulgaria, Romania, and Moldova are definitely off-the-beaten-path, but amazing destinations not to be missed! As less popular than much of Europe, the budget required in this region is especially backpacker-friendly. You will easily find hostels for under $20 a night — in fact, that'd be quite high in this area and likely a mid-range hotel or private room. Food as well will rarely be over $10 and that would be for a decent restaurant meal. The cost of transportation (usually a bus) will rarely be above $5, trains maybe a bit more. A budget of around $50 is more than sufficient for backpackers' standards.
Like most of the continent, the high season is July and August, especially in the Black Sea region of Bulgaria where many travelers head to cool off in the summer. Also, note a lot of accommodation will be un-airconditioned, so if you're not a fan of heat, it's best to consider other times of the year. Winter is another extreme, where the temps are bitter and crowds low, but it is definitely a bargain. Spring and fall are lovely times of the year to visit the area, with reasonable prices and less intense weather. However, in general, the region is always a bargain.