Visit These South American Countries For A Budget-Friendly Vacation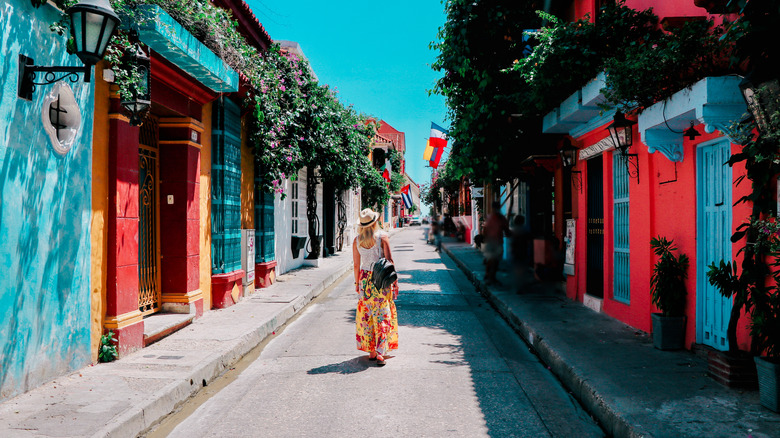 Yuki Mao/Getty Images
Getting the passport out and hopping on a plane to a brand-new destination is an exhilarating experience. For some, this means exploring Europe's most romantic getaways or traversing the souks and beaches of Dubai or Qatar. Yet, for others, a trip south of the equator is in order, and South America is one of the best options for travelers looking for budget destinations. While many may chase a trip whenever they get a spare few days or weeks, the practical aspect of financing a trip is another consideration. Fortunately, South America brims with incredible, varied destinations that can accommodate budget-conscious travelers. 
The continent is rich in history and natural splendor, with plenty of modern cities and idyllic towns. Although scheduling complexity stemming from time zone hopping and a lack of airline options can make flying into the continent more expensive than you might expect, public transportation and ground routes are abundant throughout much of the sprawling continent. While most South American trips can be done on a relatively slim budget, these particular countries can really provide budget-friendly yet memorable experiences, especially for those happy to strap on a backpack and dive into the adventure.
Bolivia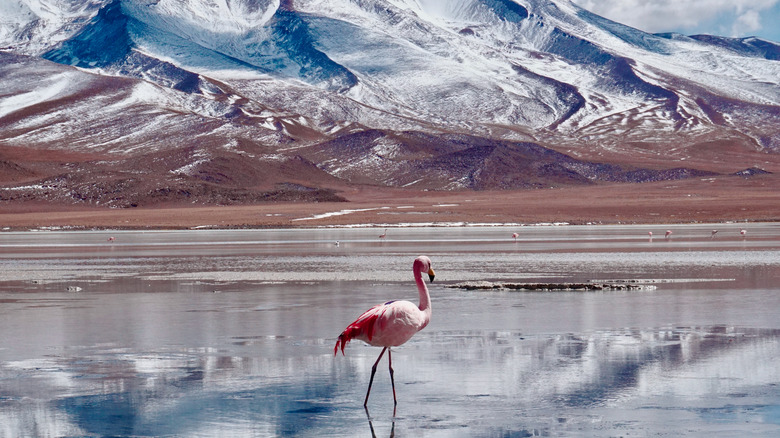 CamRosPhotography/Shutterstock
Bolivia is an underappreciated destination in South America. Found nestled within the central interior of the continent, it borders Brazil's rainforests on the eastern edge and Chile and Peru to the west. Visitors can explore the Uyuni Salt Flat, the largest in the world, or take in a relaxing day at Biocentro Guembe Mariposario Ecological Park in Santa Cruz de la Sierra. Add to it the magical spectacle that is Lake Titicaca and the Tiwanaku ruins from a civilization unique from Incan or Mayan spheres of influence. 
The Andes Mountains cut through the western half of the country, with the Amazon taking shape in its east; the result is a richly diverse country that has a huge amount to offer any traveler looking for a budget-friendly and rewarding visit to someplace new. The cost of living is almost 50% cheaper than in the United States, with a local beer ringing up at just $2.13 (almost 60% lower than the U.S. equivalent), and a typical meal costing just $3.44.
The South American destination combines breathtaking highlands with tropical scenery that's unmatched by many places on this Earth. And yet, the country has an acutely low cost of living, but with enough amenities to create a memorable experience. Taking busses to get around the country will drastically reduce the cost of a vacation in Bolivia, and with street food on the menu for many of your meals, you'll get delicious eats without breaking the bank.
Colombia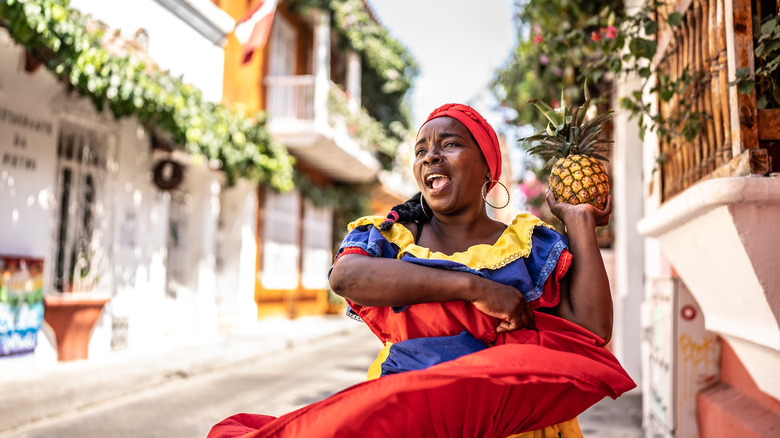 Frazao Studio Latino/Getty Images
Although a mega-biodiverse country (one of just 17, including four others in the Amazonian region surrounding it), Colombia is often overshadowed by a combination of the popularity of its neighbors and its own checkered history of intense drug warfare. But Pablo Escobar's hippos and tense Netflix series are the most tangible remnants of that time. Within Colombia itself, the community across the nation has settled into the relaxing paradise that dominates the landscape. Fortunately, this is also a massively budget-friendly destination, too, with a basic meal costing nearly 85% less than that in the U.S. (just $2.71 on average) and transportation ringing up at 45.5% lower.
Diving excursions on either the Caribbean or Pacific coasts and hiking inside Colombia's Parque Nacional Natural Los Nevados, Valle de Cocora, or Tayrona National Park remain hugely popular options for visitors. All over the country, outdoor activities reign supreme, and fortunately, many of these activities are also free or inexpensive to access. 
You can also take in the sights and sounds of Colombia's towns and cities, like Cartagena's Old Town or Medellin, to eat street foods and get some rest in local hostels or other generally inexpensive accommodations. From Medellin, you can also visit Guatape Village and the amazing scenery that surrounds it, including the Rock, a gigantic protrusion that rises up from the Earth before Guatape's serene hills and lake.
Paraguay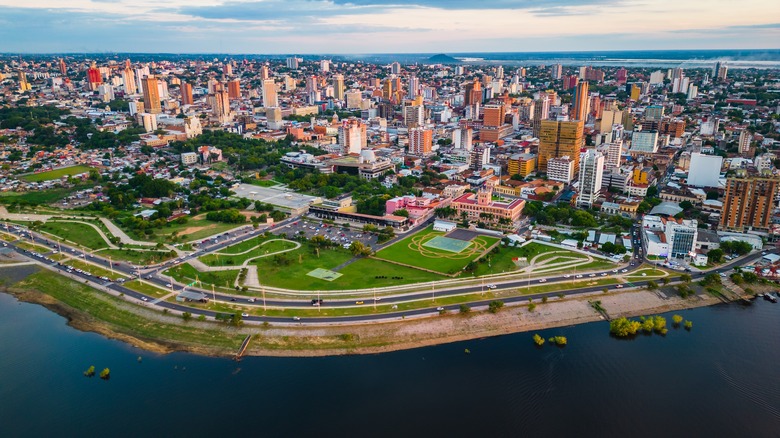 Michele Ricucci/Shutterstock
Paraguay is one of the most beautiful countries on the planet. The nation is overflowing with natural sites that will take your breath away. Its three national parks – Defensores del Chaco (a notable place of "Outstanding Universal Value" by UNESCO), Tinfunqué, and Teniente Agripino Enciso — make ecotourism a huge part of the country's admittedly underappreciated total tourism draw. Here, you'll be able to spot all kinds of animal life, like capybaras, tapirs, and even jaguars and pumas. Paraguay isn't gifted with stunning beach expanses, but the landlocked country boasts incredibly lush jungle environments. Moreover, tourists who find their way to Paraguay often congregate around the Eco Reserva Mbatovi, an additional and spectacular natural feature that's sure to make your vacation truly magical.
Another unique piece of Paraguayan history lies in the fact that its capital, Asunción, is one of the oldest cities on the continent. It's tucked in alongside the Paraguay River and nestled within a hilly part of the landscape that rises up at the capital city's back. Across the river, you'll be treated to views of neighboring Argentina. Paraguay is marked by a very low cost of living alongside a community of mostly economically poor citizens. 
For tourists visiting Asunción to the country, a daily budget of just $42 should suffice, depending on your travel style. However, public transport costs just 49 cents for a typical one-way ticket, to give you an example. This doesn't diminish the charm of the city or the nation that surrounds it. Within the capital, you'll find ancient colonial architecture and a budget-friendly space that's perfect for travelers looking for something unique and rewarding.
Ecuador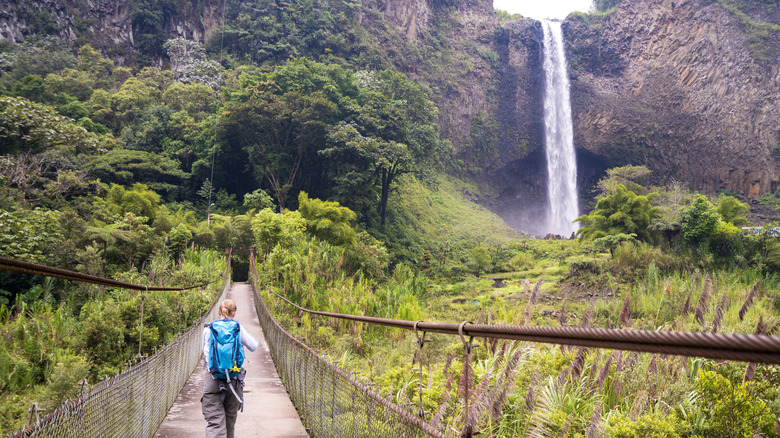 Davorlovincic/Getty Images
Ecuador is another seriously low-cost destination that travelers can take in without breaking the bank. You can expect prices 54% cheaper in restaurants, 55% cheaper for hotels, and 40% lower for transportation than in the United States. A lunch should run you somewhere in the neighborhood of $4, and a beer typically costs just $2.30. This South American country sits on the Pacific coastline and includes the Galápagos Island chain that lies farther offshore. 
Ecuador sports a low cost of living that rivals many other nations on the continent, but one thing that sets Ecuador apart, however, is the fact that the U.S. dollar is its currency. This means that a trip to the South American haven of outdoor marvels won't require Americans to swap currencies, allowing U.S. citizens to save some money by avoiding rough exchange rates.
Apart from the obvious majesty of the pristine Galápagos Islands, a visit to some of Ecuador's lesser-explored cities, like Cuenca, will bring you into direct contact with the nation's colonial past, as well as the country's vibrant, expressive culture. From Cuenca, travelers can explore some of the nation's most awe-inspiring archaeological sites like Ingapirca or Parque Nacional Cajas. Ingapirca is the most famous Incan ruins in the country, but the site actually showcases a fusion of Cañari culture with the ruling Incan empire of the era. From jungles to archaeological history that spans centuries, Ecuador is a budget-friendly place of wonders.
Peru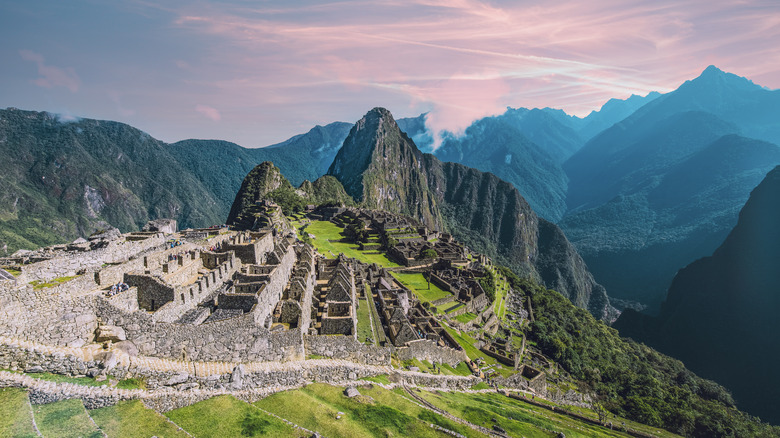 Tobiasjo/Getty Images
Peru is a true gem among South American destinations. The Incan history of the Andes comes alive in this coastal yet mountainous amalgamation of land. Traveling to Machu Picchu is a must for any traveler visiting Peru, and a hike up to the Incan remains can take just a day or span a multi-day hike and camping excursion. Once you're up on the mountain, taking as much time to explore as you can is advised. However, due to issues of over-tourism, you'll need to plan ahead to schedule your guided visit to the ancient wonder. 
A tour of Machu Picchu won't be cheap, averaging roughly $100 per day, but there are options to reduce this price tag. Beyond this amazing tourist draw, Peru is full of stunning things to see, as well as great eats and amazing things to do, and other components of a trip to Peru will typically be much more budget-friendly. For instance, a basic meal here will run you just $2.98 (84% lower than in the United States). While maybe not for everyone, sticking to street food and local transportation can also boost your cultural experience while giving your wallet a break after you've stretched the budget to explore the Incan citadel.
Other fantastic stops in Peru include the massively biodiverse Peruvian Amazon jungle. Since Peru is home to the Amazon River basin, which gives life to the rest of the rainforest and extends much of the way eastward across the continent, you'll find incredible biodiversity in the region, especially in Mano National Park. Visitors will also want to check out Colca Canyon, a spot where condors traverse the mighty cliffsides that form one of the world's deepest crevices.
Argentina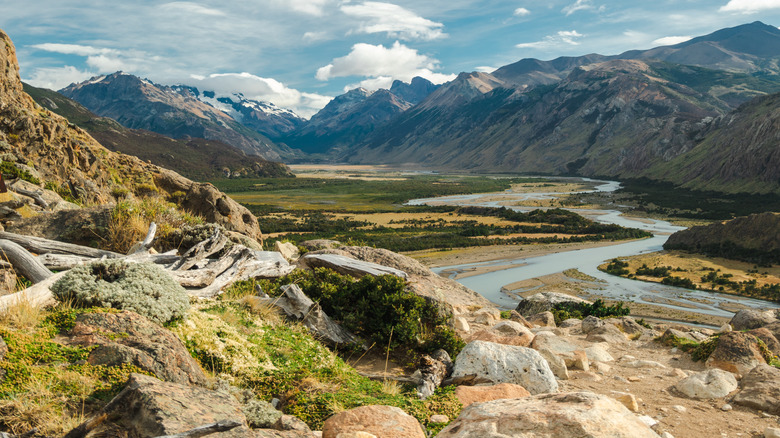 Jacquesvandinteren/Getty Images
Argentina extends all the way down to the southern extreme of the continent. It is dotted with destinations that can appeal to virtually any traveler, providing all sorts of adventure opportunities. Skiing in Argentina, for instance, will take you to places like Las Leñas or Cerro Bayo, near the Chilean border that pairs iconic ski slopes with the rainforests that dominate the South American landscape.
The country is famous for many things, but its indulgence in wine and dancing, national enthusiasm for soccer, and the gaucho culture that characterizes much of the rural farmland are Argentine highlights. A trip to Buenos Aires can be done much cheaper than you might think, if hostels and local transportation form the backbone of any travel plans. For those looking to enjoy a world-class destination without breaking the bank, Argentina delivers with a typical daily expenditure requiring only $26! Of course, luxury can be found nearly anywhere, and in Argentina, you'll be able to take in the luxuries of fine dining and excellent amenities if you want to.
Natural scenery is abundant here, and sights like the Iguazu Falls, which sit in Argentine territory along the border between Argentina and Brazil, make for a spectacular nature-focused adventure. The semicircular falls have been on the UNESCO World Heritage List since 1984, and it's easy to understand the inclusion. Located in one of South America's most incredible national parks, Iguazu National Park, the falls drop around 262 feet from top to bottom and make for a sonically and visually awesome scene. Glaciar Perito Moreno is another must-see opportunity, with the might of glacial movement occurring like clockwork.
Chile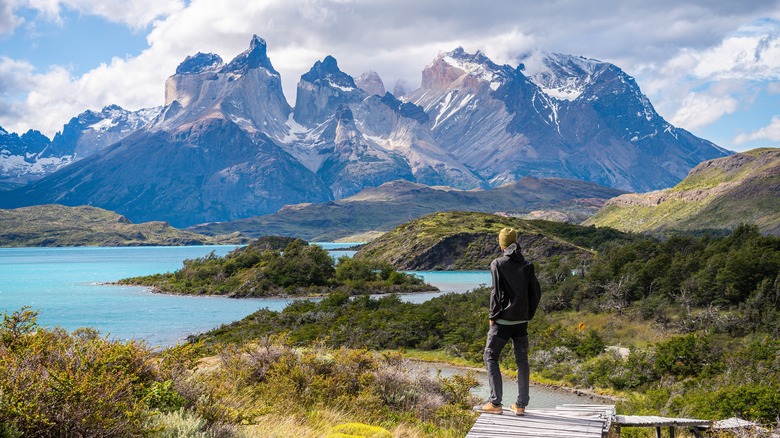 Jon Chica/Shutterstock
Chile finishes out the lower portion of South America. Visitors here can traverse all the way down to the southernmost point of the entire continent. Hotels in Chile can be a little more expensive than some other locations in South America. However, food, transportation, and the cost of activities can still be inexpensive. You may want to budget roughly $113 per day on a Chilean adventure, which is still pretty budget-friendly, but you could probably also slash this down to around $70. Chile is a place you can swing on the cheap, or not, depending on your plans and budgetary restrictions.
Chile is yet another major wine producer, alongside its neighbor to the east, Argentina. Like France as an Old World destination, Chile is blessed with sumptuous grape varieties that make for powerful reds and crisp, refreshing whites alike. The Colchagua Valley is home to row after row of Carmenere grapes, a Chilean signature in red wines, and the Casablanca Valley supports mind-blowing sauvignon blancs. The best part about wine tourism in Chile is that the best bottles tend to stay here. They're not typically exported to the global market. This means that if you're a lover of Chilean wines, you're likely to enjoy a transformative experience when you actually make it down to the vineyards yourself.
Chile isn't just a center of grape cultivation, though. It's home to around 2,000 volcanoes, and the Atacama Desert houses around two-thirds of the Earth's astronomy equipment. For many, stargazing in the Atacama Desert is a trip highlight, especially when paired with a nice bottle of wine. 
Uruguay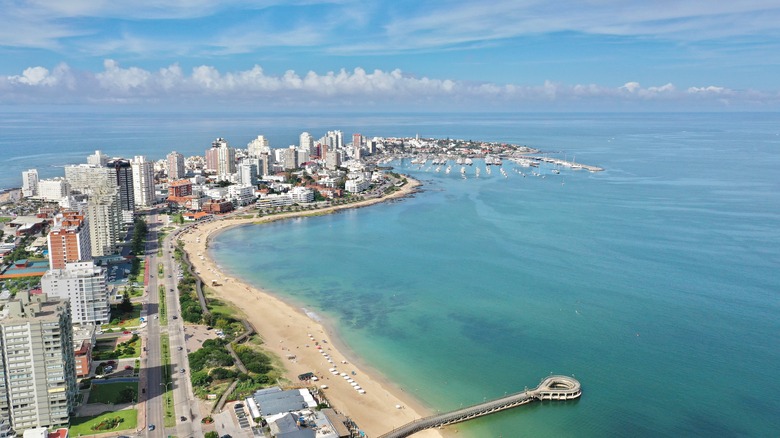 Marcia Cobar/Shutterstock
Uruguay may be one of the most expensive destinations on this list, but it's still far removed from the most expensive travel options in South America (like Guyana or Suriname). For example, you can expect a basic meal to run around $15, still about 20% less than the average in the U.S. Travelers can splurge on some fancy digs, or keep it simple and budget around $50 per day here with ease. 
Uruguay explodes with history and culture, just like many other South American destinations. Colonia del Sacramento is one example, which was a revolving door of Spanish and Portuguese influences over the years. The city's historic quarter is a UNESCO World Heritage Site, and the city views over the Uruguay River make it a place that feels crystallized in a bygone era.
The country is also home to a number of hot springs that house spas, water parks, and other forms of tourist infrastructure, allowing visitors to enjoy some geothermal pampering. If you're on a multi-country trip in South America, Uruguay may be the perfect stop to relax and take a breather. Spending some time to chill out in Uruguay may be a great way to unwind at the end of your vacation or serve as a repose between other exuberant experiences. Uruguay is also home to some of the most beautiful beaches in South America, especially around Punta del Este.
Venezuela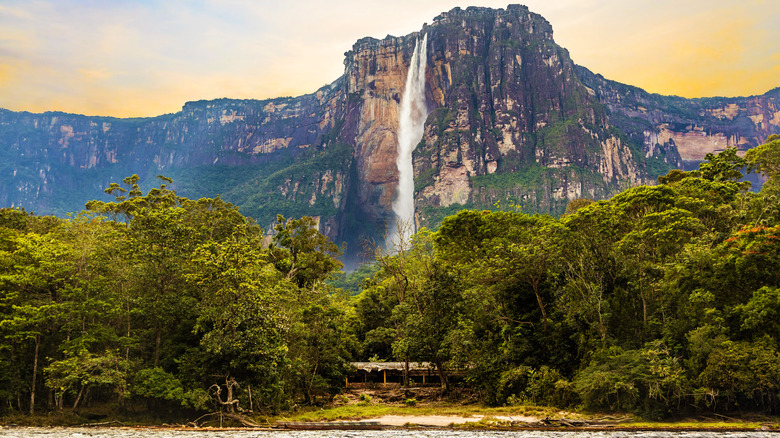 Gummybone/Getty Images
Venezuela can be a difficult country to square when considering a typical budget. On one hand, the cost of living is significantly lower than in many other places, but on the other, the community has just gone through a multi-year currency shock that saw the Bolivar sink in value to essential worthlessness for a time. Inflation remains a significant barrier to economic mobility, even after the worst of the crisis has subsided. This makes Venezuela a place that can give you extremely high buying power, but also one in which instability can skyrocket prices without warning. You should expect to budget between $30 and $50 per day, while things like a local beer will cost you just $1.30, 75% cheaper than in the U.S.
Still, if you're game for a trip to Venezuela, expect some of the most spectacular sights you're likely to ever see. Angel Falls comes to mind, here. This is the tallest waterfall in the world, dropping 3,212 feet from peak to trough. The waterfall sits in Canaima National Park in the heart of the country, and many visitors opt to fly over the spectacular scenery on special charter flights. 
Venezuela is also the least expensive destination in South America to showcase a lengthy Caribbean seashore. As such, visitors are able to soak in the sun next to perfectly blue Caribbean beaches in an atmosphere few are lucky enough to experience. Since the country is far less built up than its neighbors, the beaches are totally unspoiled by concrete jungles that dominate some other Caribbean coast communities.
Brazil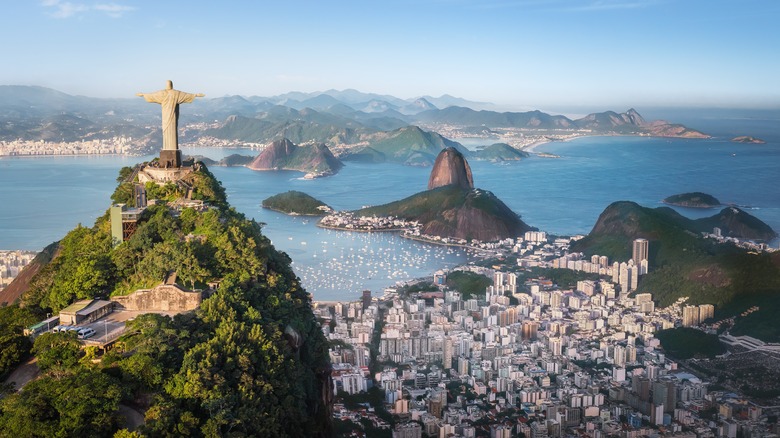 Diego Grandi/Shutterstock
Brazil is a bit of a toss-up. The country is home to massively diverse outdoor experiences. You can explore the miles of Atlantic beaches that encompass Rio de Janeiro, visit the coastal cities and towns just outside São Paulo, or move inland to take in the jungle climes of the Amazon Rainforest. There's no denying the magnetic attraction of Brazil to virtually any type of traveler. However, it can be hard to stick to a shoestring budget when exploring the electric atmosphere of this fascinating country. 
That said, if you move off the beaten path, it's entirely plausible to put together a budget-friendly travel plan in Brazil. A basic meal will run you just under $5, which is a serious 73% discount off the U.S. equivalent, and a day in the country can range between around $40 to $120, depending on the itinerary you put together. Street food and local eats are one primary element of a budget trip to Brazil. The food culture here is exceptional, and you can get great food at a decent price.
Outdoor experiences are a must when exploring Brazil. After all, it's home to the Amazon and all that comes with it! From Brazil, you can see another side of the Iguazu Falls (called Iguacu, here), as well as visit Pantanal to explore magical wetlands and catch a glimpse of local wildlife. Brazil is a fabulous destination and one that you can explore without breaking the bank, as long as you take the time to plan out a comprehensive travel itinerary and compare various transportation and sleeping options.