Beautiful Destinations For Your Next South American Beach Vacation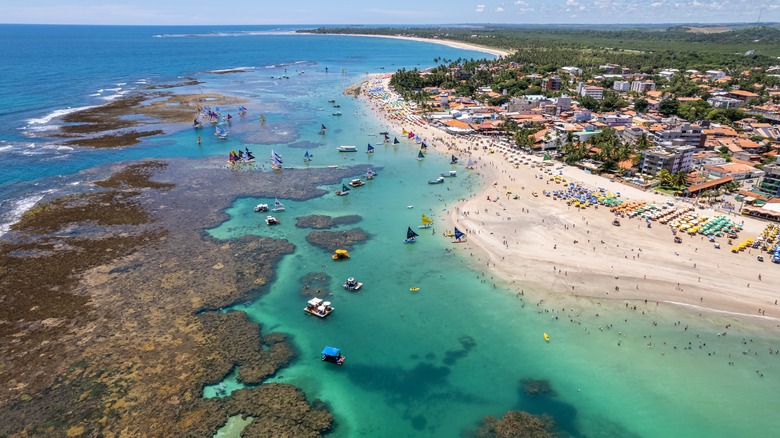 Brastock/Shutterstock
South America is a place of great geographic diversity, with the largest rainforest on the planet fed by mighty rivers, seemingly endless expanses of high desert, towering waterfalls, and soaring peaks. It also has long strands of shoreline, with more than 15,000 miles of coast wrapping around South America, some rugged with sheer drop-offs, some gently ceding to the oceans beyond. Along these edges, the continent is home to scores of beaches, some hovering on the cusp of sprawling cities, offering dwellers easy escapes into nature, while other remote reaches feature distant strands that kiss the Atlantic or Pacific.
U.S. residents might look to more obvious options for beach holidays, as U.S., Mexico, Central America, and Caribbean beaches are closer to visit, but you shouldn't overlook South America. Sure, it's hard to know where to start, and the choices can be bewildering. But some beaches, like those below, stand out. These strands of South American coastline are worth considering when planning your next beach vacation. 
Barú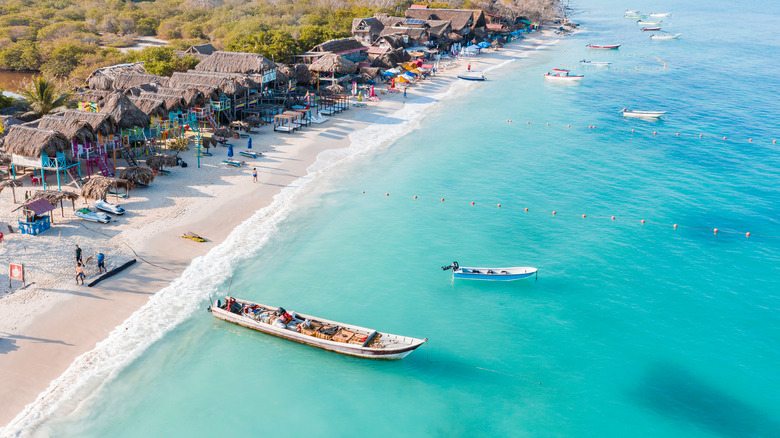 gastonr.greco/Shutterstock
One of the most popular destinations in Colombia, Cartagena is a marvel for the senses. Set on the sea, the city is filled with entrancing colonial architecture and colorful houses while promising visitors great nightlife, deep cultural experiences, and fabulous food. For visitors to the city, this destination is an easy trip to the southwest, located less than an hour away by car. Barú is actually a peninsula, even if many refer to it as an island, a headland that gets very skinny in its middle, with lagoons along the way as it extends out into the Caribbean Sea. 
There are many beaches along the peninsula, but they are unified by the enviable trait of sugary sand (sometimes white, sometimes pink) and clear waters that are a hallmark of the Caribbean. Some areas of the coastline feature mangroves, which serve as playgrounds for juvenile fish that then head out to deeper waters. Expect healthy marine life along the coast, with part of the peninsula set aside for the National Natural Coral Park of Rosario and San Bernardo, where some of the most comprehensive coral areas in the country prosper.
Cariló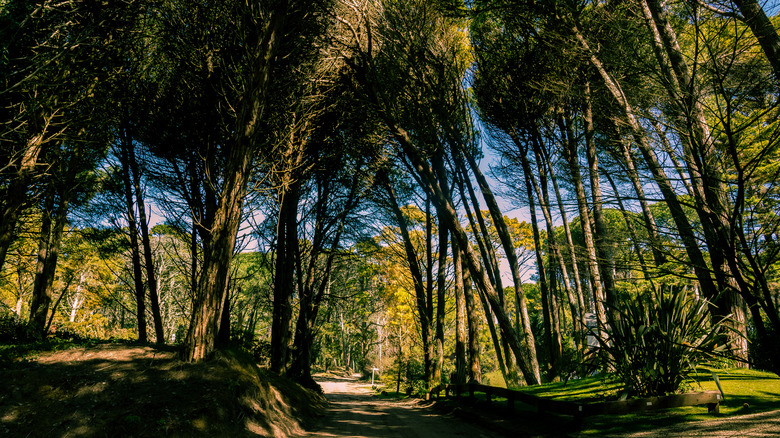 lili raijel/Shutterstock
The beachfront town of Cariló resides within Buenos Aires province, but the Argentine capital is some distance away — four hours to the northwest by car. Nevertheless, the beach retreat is a popular destination from Buenos Aires, drawn by the gorgeous strip of waterfront sand. What, perhaps, sets apart Cariló from many other standard beach destinations is the unexpected terrain, which is a key part of the experience here. The town sits within a manmade forest, as forestation began in the 1920s to change the landscape of dunes and farmland. This isn't a typical beachfront retreat where blocks of soaring condos and squat holiday homes line a glimmering waterfront, a pattern that replicates block after block behind the beach. 
Step a short distance away from the water and visitors may feel like they are in the countryside, where shrubs, pine trees, and patches of grass are just as fitting to the location as a wide strip of soft sand. Even the main business strip, Avenida Divisadero, is a narrow road with sand lining its side, a refreshing change from the blatant commercialism that is commonplace in many other beach towns. While relaxing and swimming are a key part of the beach experience, some visitors like to carouse on the sand and play soccer, volleyball, and rugby, three popular sports in the country.
Costa de Oro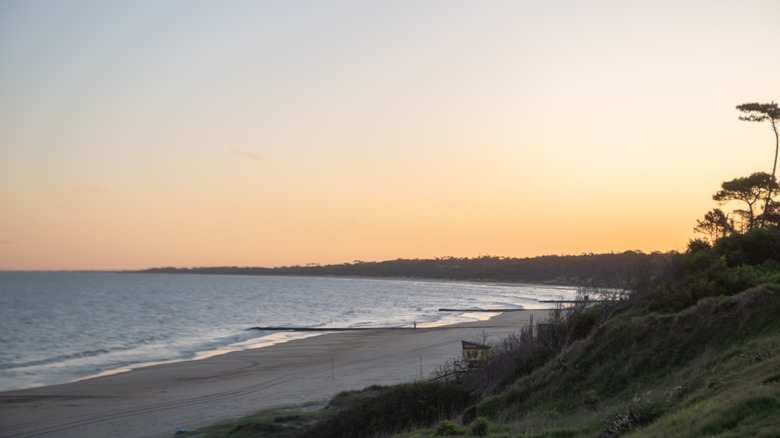 martin SC photo/Shutterstock
Translating to the "golden coast," Costa de Oro is a string of sleepy beaches in Uruguay that are lightly visited, even in peak summer. Better yet, they are easy to reach from the capital, Montevideo. Places like Lagomar and Parque de Solymar are close to the capital, yet the beaches of Costa de Oro can be completely secluded on some days.
Perhaps one of the most attractive bits of the waterfront is El Pinar, named for the skinny pine trees found along its shore. The long strand of beach features large dunes that are popular with vacations who want to test their skills at sandboarding. El Pinar is also bordered by Pando Creek, adding a little more interest to the scenery, and where the creek meets the Atlantic, the water gives off a gorgeous turquoise sheen. The banks of the creek are also a fine spot for a picnic.
Easter Island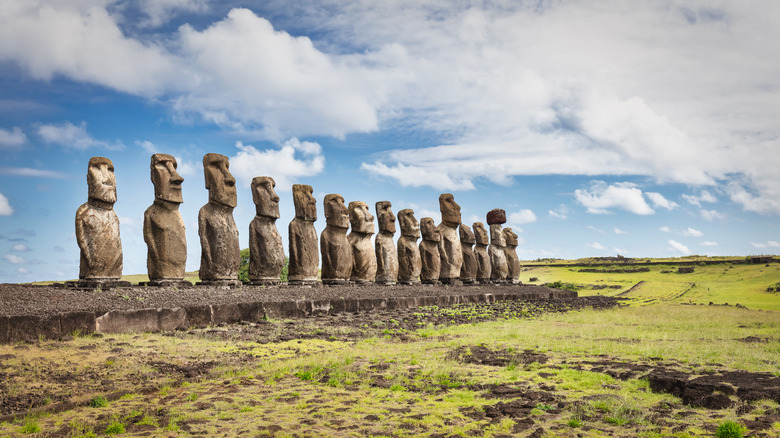 Mlenny/Getty Images
Look at this Chilean island on a map, and the first thing that might strike you is how detached it is. Moored out in the Pacific all alone, Easter Island is thousands of miles due west of Chile. And yet, Easter Island, perhaps because of its remoteness, is a travel bucket list place for a lot of travelers. Much of that interest is due to its moai, or giant stone statues that rise up to 80 feet in height. Made from volcanic ash that has cooled and hardened, these sculptures have been an issue of debate, as it's hard to imagine lifting and transporting these heavy megaliths without machinery. 
Of all the beaches on this small, volcanic island, Anakena Beach is possibly the most alluring. The beach is also part of island lore, being the place where the first king landed on the island, more than 1,000 years ago. Anakena manages to embody the image of a tropical beach, with powdery white sand and clear turquoise water that, despite being in the middle of the Pacific, is lovely and calm. What makes the beach extra special is the array of moai nearby, set a little back from the beach, as well as platforms used during ceremonies.
Fernando de Noronha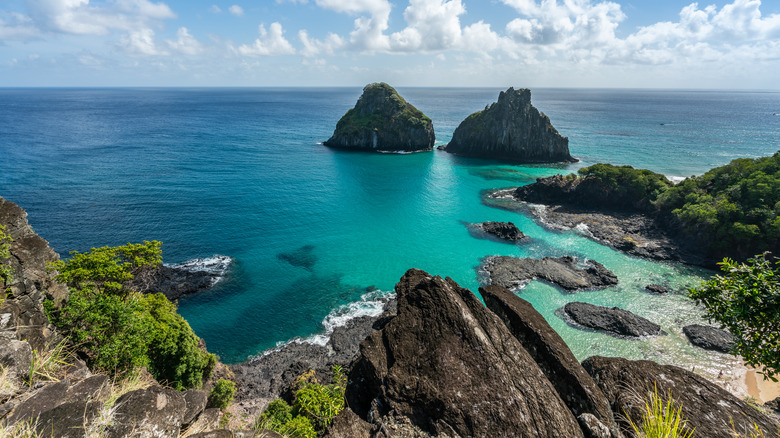 Paula Montenegro Stock/Shutterstock
An archipelago consisting of 21 islands, Fernando de Noronha is part of a UNESCO World Heritage Site, along with other Brazilian islands in the Atlantic. Visitors can expect amazing marine life and fantastic beaches on the islands, with lovely tan-colored sand and clear waters further adding luster to the destination. While sunbathers prize the islands for their waterfront strands, the isles are also lauded for their excellent snorkeling and diving, and travelers who take to the water have the chance to see healthy coral, sharks, turtles, dolphins, and more. 
During the months from December to February, the area becomes a magnet for surfers, where waves along spots like Cacimba do Padre and Conceição can rise up more than 15 feet. While every visitor will have their own favorite beach, many rate the luminous Baía do Sancho above them all. A perfect crescent of sand, backed by sheer cliffs and topped by dense forest, the beach might be described as a paradise on earth.
Las Grutas
At the northern bit of Patagonia, that wild, untamed part of Argentina that's a dream destination for outdoors enthusiasts, beachgoers will find the scenic beach town of Las Grutas. The waters here are noticeably warmer than at beaches farther north, with currents of warm waters flowing into the Gulf of San Matías while keeping away the cold currents that flow up from the south. Adding to that thermal bonus, the water is also deeply blue and hypnotically clear, and with high levels of salt and iodine, has beneficial medicinal effects. The beach itself is long, perfect for taking an extended stroll.
The name of the town takes its cue from cave formations that have been eroded across the eons, shaped by the constant battering of wind and water. The appearance of cliffs is part of that process, and local daredevils and fearless tourists take leaps from them into the wild, blue yonder. For anglers, Las Grutas also offers some excellent sport fishing opportunities, whether you choose to fish from the shore or take a boat charter offshore.
Maraú Peninsula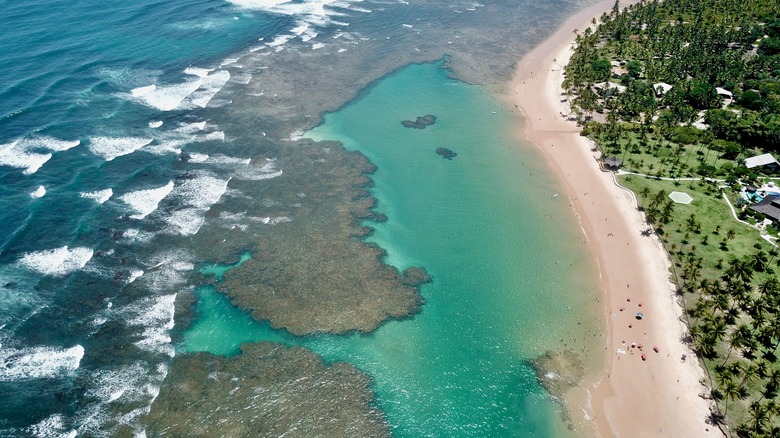 Erika Cristina Manno/Shutterstock
Located in the state of Bahia, and southwest of the city of Salvador, the Maraú Peninsula of Brazil promises visitors empty beaches and crystal-clear seas. Most of the action centers around the small settlement of Barra Grande, a place with simple bars and restaurants. Many travelers arrive by boat, and the village itself is an unfussy, classic beach refuge where streets are covered in sand, coconut palms tower overhead, and time seems to slow to a more manageable pace. 
There are many fine beaches here, but perhaps the crown jewel is Taipu de Fora, a gorgeous stretch spoken in tones of hushed awes among the beach cognoscenti. The beach is lauded for its ridiculously clear turquoise waters and the natural pools that form when the tides advance and recede. At certain times of the year, the beach is also a popular haunt for surfers. Snorkelers should head to Praia do Cassange, which offers a soft, sandy oceanfront, and a little behind the beach, a calm freshwater lagoon. 
Montañita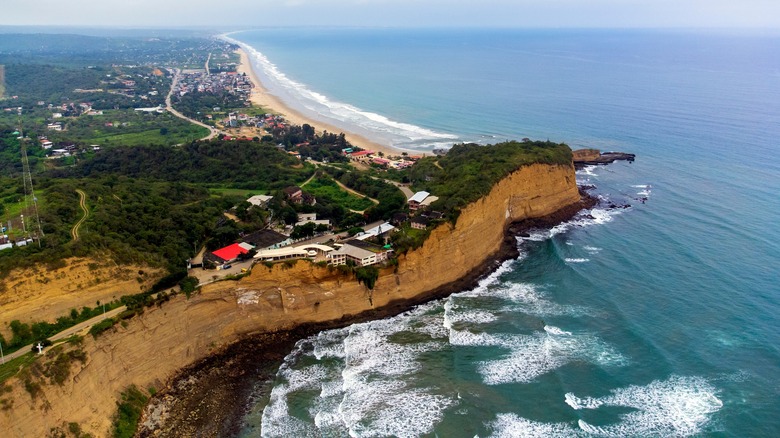 false/Shutterstock
A three-hour drive from the city of Guayaquil, the Ecuadorian beach town of Montañita is known for its party scene. The former quiet beach retreat has attracted the backpacking crowd and has morphed into a city that welcomes a bit of revelry. However, partying is only a part of Montañita, and visitors are just as likely to enjoy a yoga session at sunrise or to sip a quiet drink while admiring the scenery. So, while Montañita has a bit of a party reputation, you can choose to partake or not. 
And the scenery is magnificent. The long stretch of beach essentially continues into the neighboring villages, and surfers will enjoy consistent breaks. Pioneering tourists were initially drawn here for the surf, and this is one of the country's best spots to hit the waves. At Balsa Surf Camp, which also offers accommodations, packages can include surf lessons, as well as yoga instruction and Spanish classes.
Palomino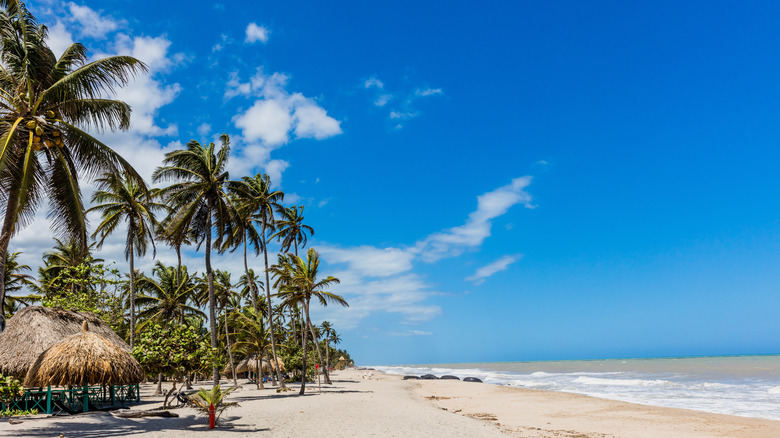 OSTILL is Franck Camhi/Shutterstock
East of the popular beach destination Santa Marta, the small town of Palomino on the northern coast of Colombia combines beautiful beaches with plenty of hiking opportunities. Positioned by the Sierra Nevada de Santa Marta, Palomino is a smart choice for travelers who want to do more than just sit on the beach, though beach lounging is totally understandable. The sea here is calm and turquoise, and a number of rivers make their way to the sea, including the Palomino River right by the town and the San Salvador a little to the east. 
These waterways are perfect for exploration, either on extensive boat tours or by taking a floating or tubing day trip. For adventurers who like their fun a little more high octane, operators lead tours to waterfalls where participants can rappel, while river rafting excursions provide plenty of bumps and thrills. Ornithologists will happily make the short detour to Los Flamencos, a bird sanctuary where residents include white herons, cardinals, and, as the name suggests, flamingos.
Paracas National Reserve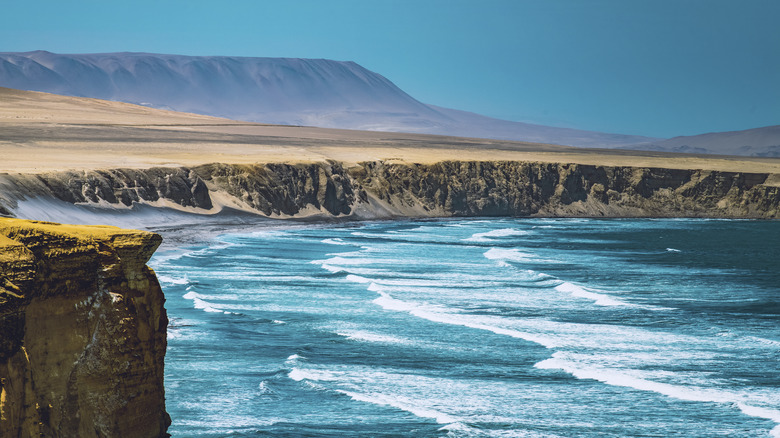 Tobiasjo/Getty Images
A coastal reserve in Peru, Paracas National Reserve is a slice of nature that features some outstanding biodiversity. Split between land and marine realms, the reserve sits about 150 miles from the Peruvian capital, Lima. A living, thriving ecosystem, the reserve is home to more than 200 species of birds, over 30 species of mammal, and a huge range of marine life, such as octopus, the Humboldt penguin, and fur seals. 
Venture farther out to sea, and the humpback whale or dusky dolphin might make an appearance. There are even archaeological sites within the reserve's boundaries, tracing the lives of the fishermen who lived here centuries ago. While there are plenty of beaches at the park, not surprising given its setting, few compare to La Mina. Set on a small bay and backed by cliffs striated in different hues, the water here is calm and clear, and combined with the rocks all around, the place has a real end-of-the-world, castaway feel.
Punta del Este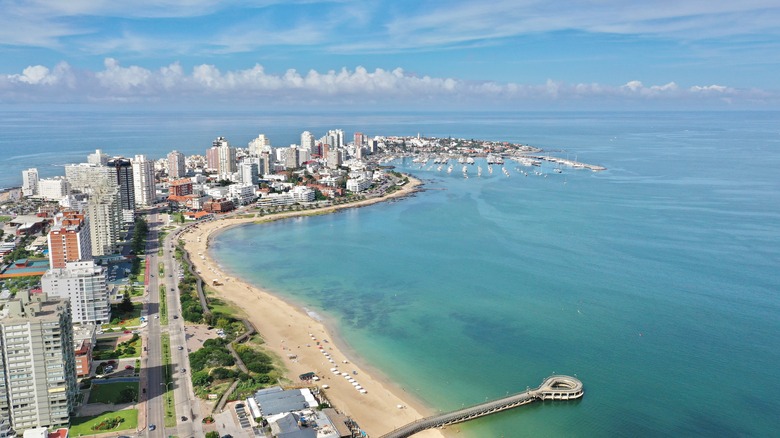 Marcia Cobar/Shutterstock
The lively spot of Punta del Este on the coast is where many Uruguayans descend when they like to let loose, with partying a key part of the scene for the jet-set crowd. But Punta del Este isn't a one-dimensional destination, and it offers plenty of other attractions. Close to the center of town, the Caminos de la Vid y los Olivos is an area that feels almost rural, with oil presses and vineyards laced throughout the countryside. The port is an enjoyable place for a wander, with masts tinkling as the water below the boats sway, and the lighthouse, which rises about 150 feet in the air, is pretty enough for a postcard. 
Adding to these gems are the beaches, with many fine strands along the coast. Perhaps the most seductive is Playa Brava. It's a comely stretch of sand, deep and broad, but there are a couple of other factors that make it stand out from the pack. On this bit of waterfront, visitors will find a selection of large sculptures known as Paseo de las Americas, oversized pieces of art that, combined with the sea and sand, make for a novel scene and some fun photo opportunities. Playa Brava is also home to Ocean Club, one of Punta del Este's most happening nightclubs, where music keeps guests dancing until the wee hours.
Punta Sal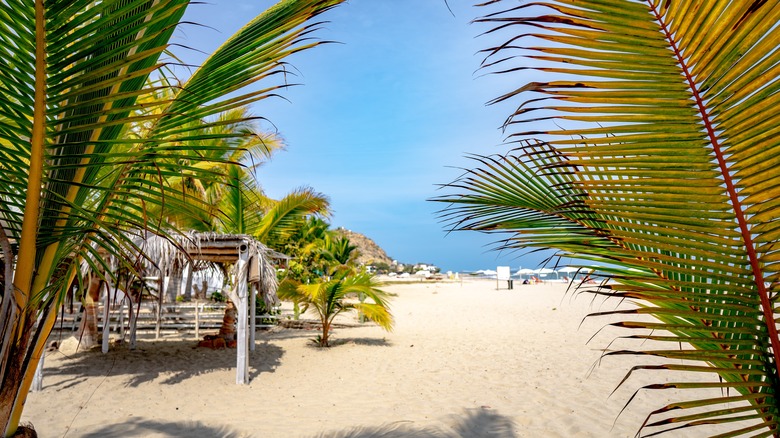 Tomasz Jacek Baranowski/Shutterstock
In the northern part of Peru, and not far from Máncora, which draws surfers, Punta Sal is laid-back and promises travelers some breathtaking sea and sand. The crescent-shaped beach yields to a tranquil part of the Pacific, so swimmers of all ages and abilities can feel comfortable taking a dip. Sometimes thrill-seekers take dune buggies out onto the sand for a spin, but generally, the vibe here is calm with a capital "C." But there is much more to Punta Sal than the simple (if irresistible) pleasures of sunbathing and swimming. 
For a few months beginning in June, humpback whales trawl the waters here to mate and deliver their progeny before heading back south to Antarctica. Boat trips, usually on private charters, can take travelers out to see these gargantuan mammals. For a more intimate encounter with a giant marine creature, visitors can also swim with whale sharks, usually done in concert with research conducted by local organizations, an experience that travelers are likely to never forget.
Rio de Janeiro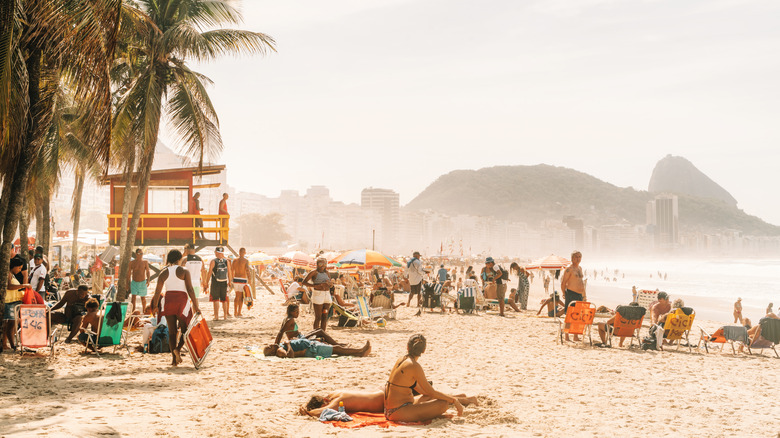 Nikada/Getty Images
The biggest country in South America sure has plenty of beaches to choose from, and the natural beauty of the Brazilian coastline pulls in sun worshippers like an irresistible beam. While some shorelines offer rugged solitude, for a real urban beach scene, it would be hard to beat the iconic Rio de Janeiro beaches of Ipanema and Copacabana. The former is one of the most lively parts of the city's waterfront, a beach in a pricey neighborhood that spawned its own globally renowned hit song by Astrud Gilberto. Ipanema is a cosmopolitan part of the city, with cutting-edge art spaces, independent booksellers, and jewelry stores.
While sunbathing and swimming are beloved pastimes of the beautiful people here, there is always something going on at the beach, whether it's playing beach soccer, volleyball, or frescobol, a game that uses tennis racquets but no net. At Copacabana, the boardwalk area has a pretty design that emulates the waves on the water, curling lines of black made from Portuguese stones. The water here is pretty tranquil, and since the beach stretches for more than two miles, it's a big draw for both Cariocas and curious travelers.
San Andrés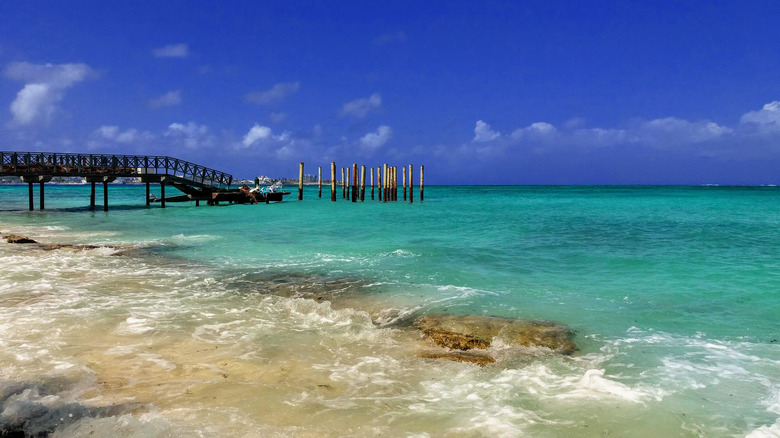 Norbertomarques/Getty Images
Closer to Nicaragua, the Colombian island of San Andrés has tons of gorgeous beaches. Coupled with the nearby islands of Santa Catalina and Providencia, San Andrés is ideal for beach-loving tourists and is part of a UNESCO-designated reserve. This part of the country lures divers, thanks to the huge range of diving sites around the islands, but non-divers can also enjoy the region. Arriving on these shores, visitors will encounter brilliant beaches with dazzling white sand, archetypally clear Caribbean water, and slender palms that complete the tableau of the tropical paradise. 
On San Andrés, the local Creole mixes vernaculars of English, Spanish, and certain parts of Africa, creating a complex, interesting patois, and that hybrid extends to the fun music visitors will hear across the island. Arguably the finest beach on the island is Spratt Bight, near the island's main shopping drag. The area extends for more than a mile and is close to plenty of places to eat and stay. For a memorable excursion, a short boat ride from San Andrés brings travelers to Johnny Cay, a small island with equally mesmerizing beaches.
Shell Beach
A huge natural reserve in Guyana, Shell Beach is a long strip of protected coastline that might not have turquoise waters, but the ecosystem here is incredibly rich. An area that extends for more than 70 miles, and that mixes sandy beach with expanses of mudflats, Shell Beach is not a classic sun and sand beach haunt, where visitors soak up the rays before heading for a dip. But it is a fabulous destination for its natural wonders. For example, the beach draws its name from the crushed, eroded shells that are dotted all along the shore. 
Venture back from the water, and visitors can explore a huge mangrove forest that spreads along the coast and into the inland rivers and seasonal wetlands. The area is home to a range of animals, from its many fish species to flamingos, manatees, dolphins, and even jaguars. Other residents include sea turtles, which include the endangered Hawks Bill and Olive Ridley species, which come to the beach mostly during the first half of each year to nest.
Viña del Mar
Diegograndi/Getty Images
It takes less than two hours to drive northwest from the Chilean capital of Santiago to reach the seaside city of Viña del Mar. Once here, visitors will enjoy a sunnier way of life. The vibrant Viña del Mar has beaches that look onto the skyline, and, past that, the hills that rise up behind it into the distance. There is plenty of green space, with some residents referring to the destination as the Garden City, and all that affords plenty of opportunities for outdoor activities. Locals and visitors commonly stroll along the waterfront promenade, especially as dusk falls, to enjoy wonderful sunset views. 
For architectural wonders, castles and palaces appear throughout the city. Some sites are tourist attractions, while others have been converted into museums. Revelers gravitate to the beachfront Reñaca, an area with plenty of high-rise buildings along the water. The district also features a good mix of clubs and night haunts that keep tourists and locals entertained all night.