Incredible National Parks To Visit In South America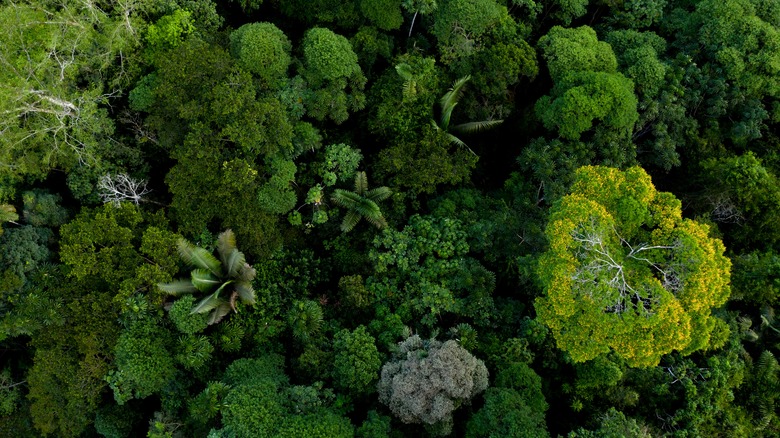 Panga Media/Shutterstock
The continent of South America is teeming with natural wonders. For starters, the continent is home to the Amazon Rainforest — a vast, yet threatened, expanse of ecosystems that unfurls across 2.6 million square miles. To put this in perspective, the Lower 48, by comparison, is 3.8 million square miles. Visitors to South America can sun themselves on grand beaches, trek up jagged mountains, and travel across vast arid plains. 
National parks, tracts of preserved, protected land that expand across many of the continent's regions, bring all that geographic diversity into sharp focus. There are over 300 national parks in South America. From the coastline of Colombia to the ancient glaciers of Patagonia, each national park features its own unique ecology, and many parks are home to endemic biodiversity. To help adventurers visiting South America not feel so overwhelmed by the sheer amount of choices, here are some of the continent's most appealing national parks. 
Amacayacu National Natural Park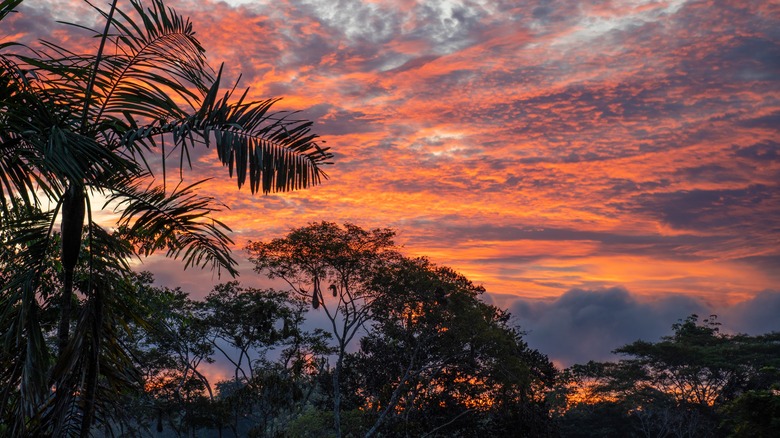 MatthieuCattin/Shutterstock
Created in 1975 in the heart of Colombia's Amazon region, and enlarged just over a decade later, Amacayacu National Natural Park comprises tropical forests as well as woods that flood from time to time. Visitors to the park will delight in the possibility of spotting lion tamarins (a small primate whose face is surrounded by mane-like hair), turtles, grand butterflies, and many flowers, including the largest lotus in existence. Ornithologists might think they are in dreamland, with around 500 species of bird found at Amacayacu, and government literature posits that one-third of the country's entire bird population lives in the park. 
Part of the park is land that is the domain of the Tikuna indigenous tribe, an ethnic group that survives through agriculture, fishing, and increasingly, via the income provided by eco-tourism. Offshore, the waters support the pink dolphin and manatees, just a couple of the many species of marine creatures travelers will encounter here.
Cabo Polonio National Park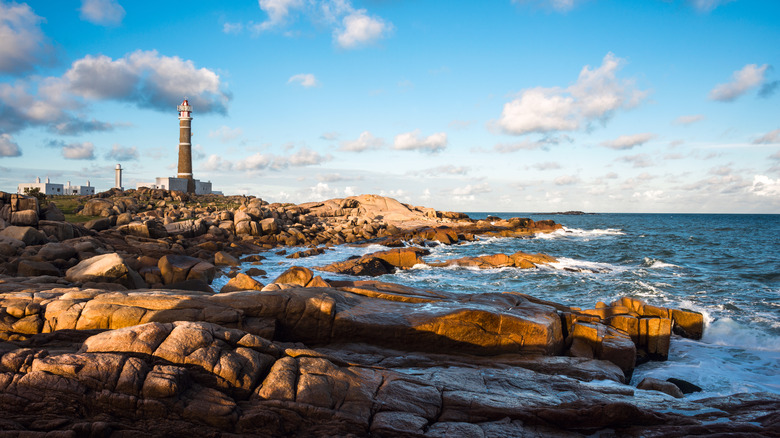 Xeni4ka/Getty Images
This coastal part sits a little over two hours drive from Punta del Este, the buzzing party town that is popular with wealthy Uruguayans. At Cabo Polonio, the wilderness is clearly the draw, with a topography that is hypnotic for its variety. There are vast sand dunes that will have visitors almost believing that they are in the midst of an enormous desert, but also large boulders that sit beside, and on top of, each other, as they have for centuries. Look carefully on the rocks, and you might see sea lions basking in the sun, warming up their fur, especially in the area near the lighthouse. 
Behind the park's dunes and rocks is a small village, but these are no mega-mansions built to take advantage of the incredible surroundings. Instead, they appear as simple homesteads without electricity or running water, minimizing their impact on the beautiful terrain along this rugged part of the Atlantic coastline.
Central Suriname Reserve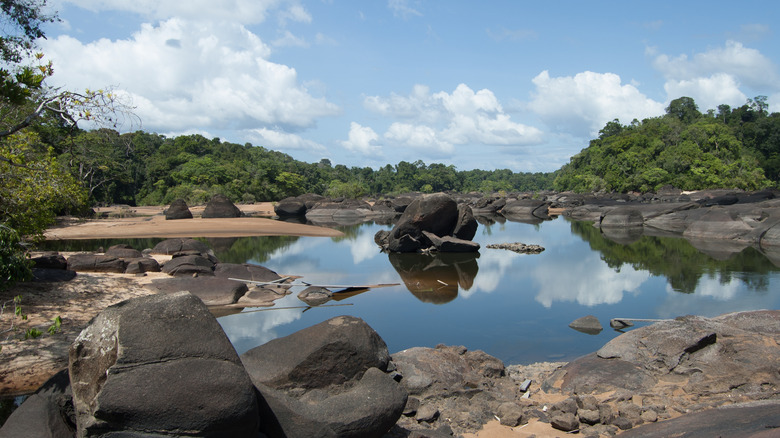 Arjen de Ruiter/Shutterstock
As the name suggests, Central Suriname Reserve is located in the middle of the country, an expanse of forest that extends across nearly 6,2000 square miles of Suriname's interior. The reserve plays an important role in safeguarding a key number of waterways, including the Coppename River. It's also a vital environment for local flora, with 5,000 species of plants found here. What might be the biggest draw to adventurers, though, is the rich animal life, with giant armadillo, tapir, jaguar, and 400 bird species living within the reserve's borders. 
And yet, the terrain isn't all flat jungle or rolling forest; visitors will also notice towering granite formations, including a table-top mountain, and the highest point in the country a little to the south, at Juliana Top, sitting 4,200 feet above sea level. Such is the importance of this reserve, which requires some effort to explore, that it was added to the UNESCO World Heritage Site list in 2000.
Chapada dos Guimarães National Park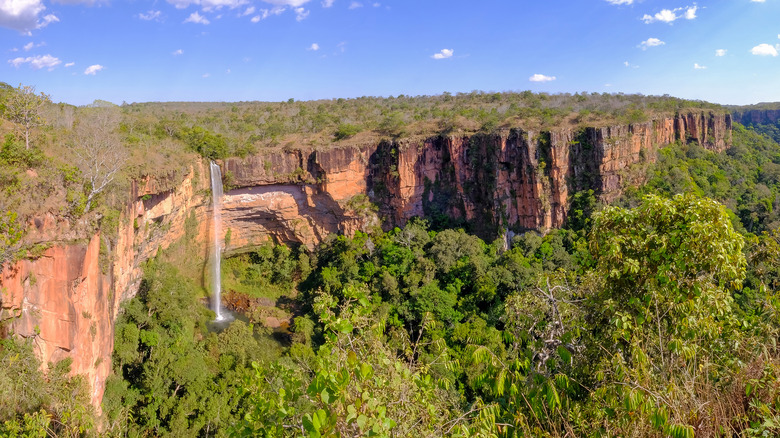 reisegraf.ch/Shutterstock
A number of rivers crisscross the interior of this park and play a key role in the local ecosystem, some providing the primary water source for the nearby town of Cuiabá. The waters are also important for the existence of the flora and fauna within, from the 44 species of fish to more than 240 species of birds, and yet, this place has been part of the sea, and also a desert, in the distant past. 
The scenery can be quite spectacular here, and features include high plateaus that seem to extend forever, but that can suddenly abruptly stop to form a cliff-face. From the top of one cliff, a waterfall makes its sheer drop, its form sharp and clear, almost like a faucet shooting a tube of water down into a giant sink, although, in this case, that "sink" is a large plain filled with forests and greenery.
Eduardo Avaroa National Reserve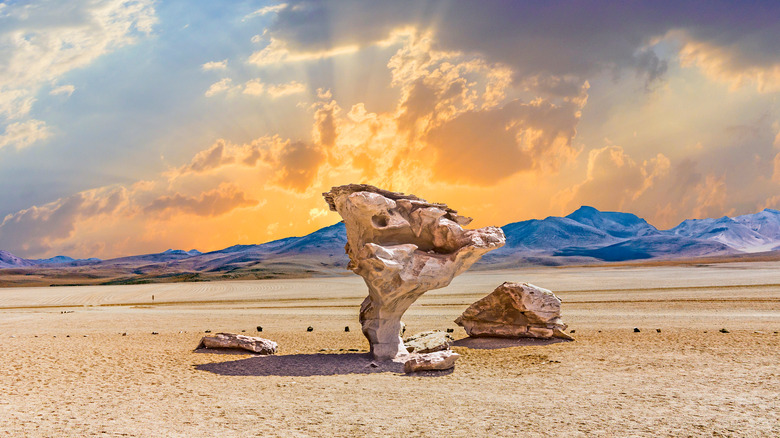 travelview/Shutterstock
South of Bolivia's Uyuni Salt Flat, one of the country's most famous natural attractions, the Eduardo Avaroa National Park features an almost unworldly landscape. You'll find unique Andean fauna, ancient volcanos, turquoise lagoons, and wide expanses of deserts. The air is thin, since the reserve sits more than 13,700 feet above sea level, topping out at 19,700 feet. It's often also cold, and less than half an inch of rain falls annually, as the terrain is characterized by cold and arid deserts, salt lakes, and seasonal wetlands. And yet, in this testing terrain, a number of animals eke out an existence, including the vicuña (it's like a llama) and three types of flamingo. Snapping photos of colorful flamingos against the sparse terrain is quite something. 
While the national park offers plenty to see, the nearby Uyuni Salt Flat is arguably the region's largest draw. The seemingly endless plain of salt is the remnant of an ancient lake. When dry, the salt forms in strangely uniform hexagonal shapes, and when wet, the flat acts almost like a mirror. Due to its high altitude and expansive horizons, the area also offers some of the best stargazing opportunities in the world.
Galápagos National Park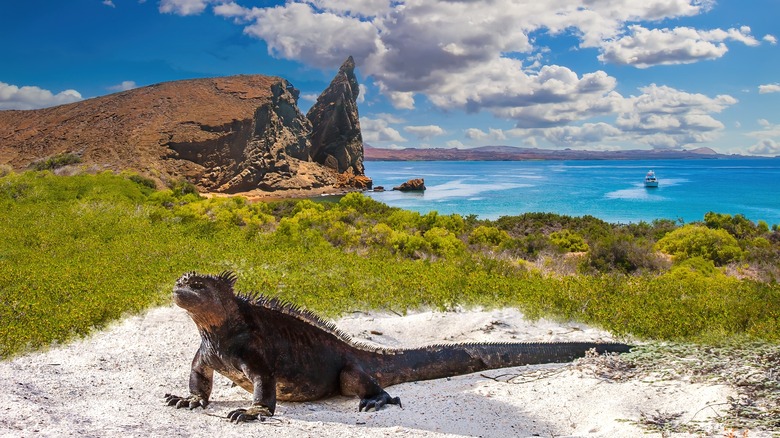 FOTOGRIN/Shutterstock
A protected area with incredible diversity, Galápagos National Park is a bucket list destination for many people with a global wanderlust. Part of Ecuador but far from the land mass of South America, the islands are considered a natural phenomenon unlike any other on the planet, a place where the process of evolution is evident for all to see. Charles Darwin made the islands famous, and today many visitors come here to see animals that are endemic, like the land iguana. 
The numbers are quite astounding. There are 45 species of bird, 42 types of reptile, and 15 species of mammal that are not found in nature elsewhere on the planet. The same goes for the huge trove of flora that is unique to the islands. Travel to this UNESCO World Heritage Site is strictly controlled, so as not to damage the delicate, pristine ecosystem, and this has ensured the continued health of all things living here.
Iguazu National Park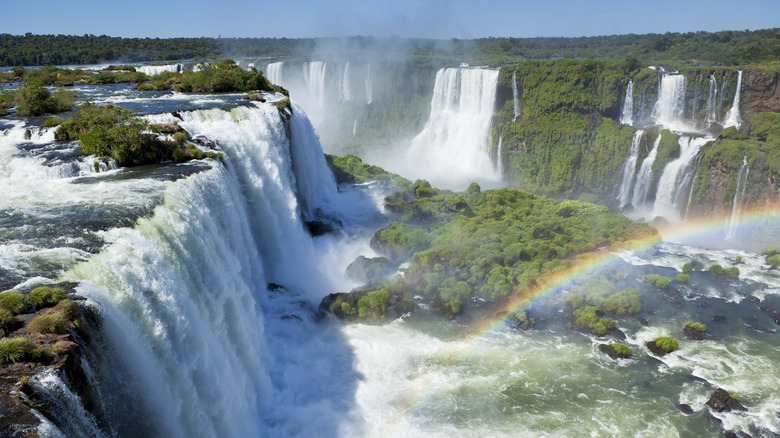 Grafissimo/Getty Images
Iguazu National Park in Argentina is named for the breathtaking falls shared with neighboring Brazil, which also has a park with a similar name. It's a sight to delight, a UNESCO World Heritage location that is actually formed by an array of different falls that are all spectacular in their own right, but that make it hard to know where to look, such is the breadth of choice. The main lure, the one that most people come to see, is the semicircular section of waterfall that is more than 250 feet high, and just massive at nearly 1.7 miles across. 
It drops over a bed of basalt, some of it sitting in Argentina, some of it in Brazil. Beyond, on either side of the Iguazu River, a rainforest spreads out along the river banks, which is home to monkeys, caymans, and jaguars. The name of the cascades is fitting, as it translates to "great water" from the local indigenous language, though for visitors, that label might be a huge understatement.
Kaieteur National Park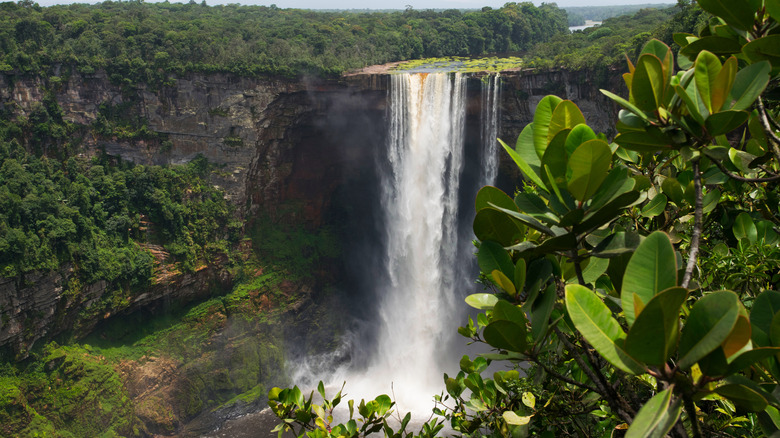 528hz Photos/Shutterstock
Kaieteur National Park, an amazing rainforest in Guyana, is famous for its stunning waterfalls and exotic biodiversity. Created in 1929 and now encompassing 240 square miles, the Kaieteur was the first national park within the Amazon region, helping to protect the park's unique wildlife. The verdant, tropical park is home to the metallic blue tarantula, giant otters, and South America's largest butterfly.
Set in the Guiana Shield, the higher terrain of the country, the park is where to encounter flat-topped mountains, sitting within the Pakaraima Mountains. Many visitors consider Kaieteur Falls the park's highlight. Reaching a height of 741 feet, with another lower part that drops to the jungle floor, Kaieteur Falls is often considered the biggest, single-drop cascade on the planet by water volume. Orinduik Falls is also a visitor favorite. While not as powerful as Kaieteur Falls, the multi-level cascades of Orinduik Falls feature refreshing and scenic swimming holes.
Lençóis Maranhenses National Park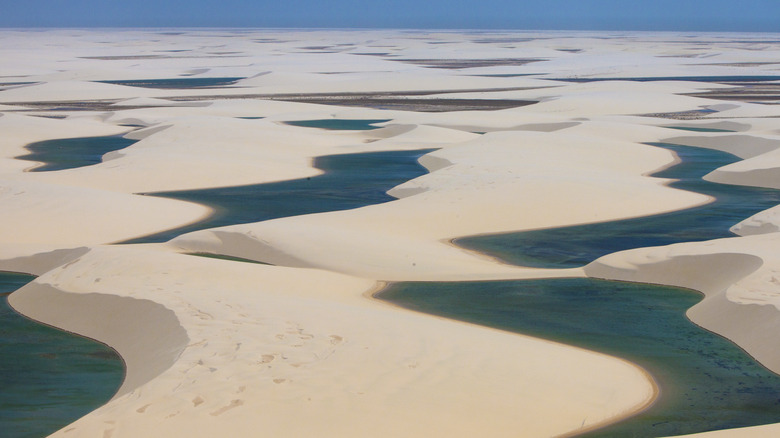 Virginia Yunes/Getty Images
Wander around this park, and you might think that you are in a dream, in a mirage of sorts, detached from reality. This is because the white sand dunes at this coastal Brazilian park are otherworldly, spellbinding, hypnotic, and almost alien in their size and appearance. This is the most expansive area of dunes anywhere in the country, and depending on the time of year that a traveler comes here, the experience can be wildly different. 
Adventurers can walk along the dunes, or travel over them on authorized vehicles, and while white might create the main hue, glimpses of clear blue can also come into view. During rainy periods, areas in the dunes flood to create lagoons with crystalline waters, clean and primed for a swim. The contrast between the shimmering blue lagoons, which peak in depth after the February-May rainy season, and the brilliant white sand, makes the scene feel eerily pre-historic.
Los Glaciares National Park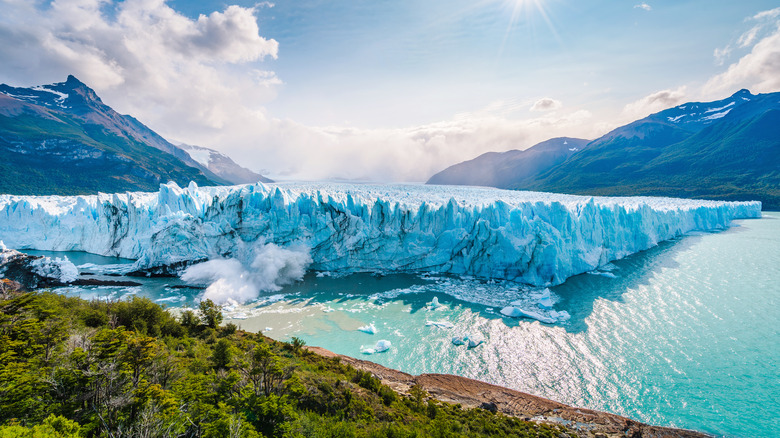 R.M. Nunes/Shutterstock
Looking over the ice-blue glaciers at this Argentine park, visitors should take a few moments to marvel at how these formations took many centuries to take shape, and are also more than a millennia in age. The UNESCO World Heritage Site first opened in 1937, located in Patagonia, and together with the giant rivers of ice, it features still lagoons, placid lakes, and rolling hills, with snow-capped mountains — a regular part of the view. 
Many travelers will make a foray onto Perito Moreno glacier, since access is easy and ice often breaks off it, making the spectacular spectacle even more special. Winters here are cold, and summers can get very windy, so spring is a favored season for travelers, a time when wildflowers bloom. Wildlife exists, and guests can try to spot condors, the Patagonian woodpecker, the black eagle, the puma, and the huemul, a local deer that lives in the Andes.
Pantanal Matogrossense National Park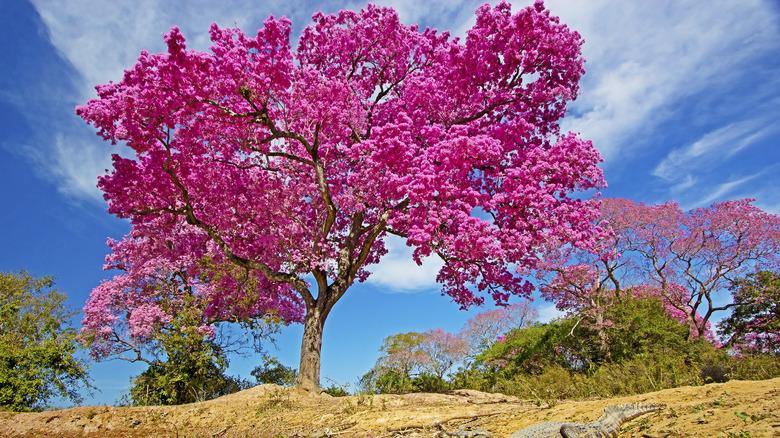 Roberto Tetsuo Okamura/Shutterstock
In Brazil's northwest, and more than 500 square miles in size, Pantanal Matogrossense National Park was founded in 1981. While visitors can come here year-round, the conditions are markedly more pleasant during certain parts of the year. From May, for a few months, the rainfall is less prevalent, and the mosquitoes, which began to appear in droves in December, are less famished. Wildlife spotters should consider appearing a month early, in April, when the rainy season ends and the waterways begin to dry out a little, making the fauna easier to spot. 
The park is a huge wetland, with the word Pantanal a derivative of the Portuguese word "pantano," which translates to swamp, and its soggy terrain captures water from the Andes Mountains. During the rainy season, almost all of the park is damp, and the flowers and plants come to life. For fauna fans, look out for ocelots, giant anteaters, armadillos, and jaguars.
Rapa Nui National Park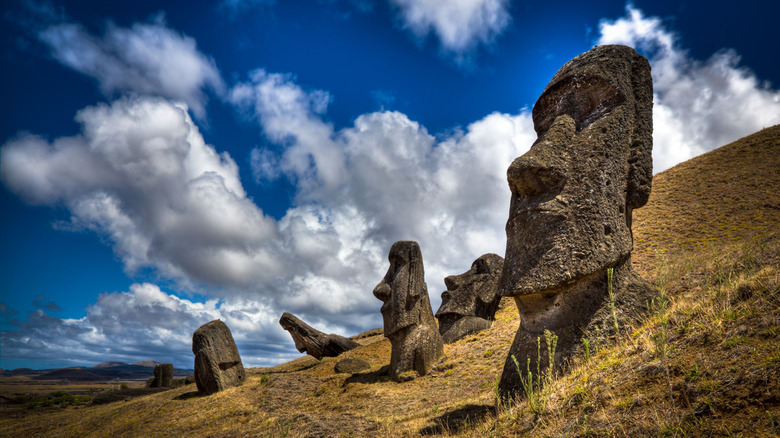 Onfokus/Getty Images
A hugely remote bit of the world, Rapa Nui, also known as Easter Island, is a part of Chile that sits moored thousands of miles off the coast. Visitors come here for giant statues, or "moai," that defy belief. A UNESCO World Heritage Site, it was first inhabited almost 2,000 years ago by people from Polynesia, and during their time here, most notably during the period 1100-1700, they erected these mammoth sculptures, as well as ceremonial shrines and platforms. 
There are more than 1,000 of these statues dotted around the volcanic island of Rapa Nui, and hundreds of "ahu," or places where ceremonies are held, as well as thousands of petroglyphs, making this a center of great historical and cultural significance. One of the most magnetic sites is Tongariki, where the largest statues on the island can be found, and a vast altar provides a window into the practices of this ancient society that existed in extreme isolation.
Sajama National Park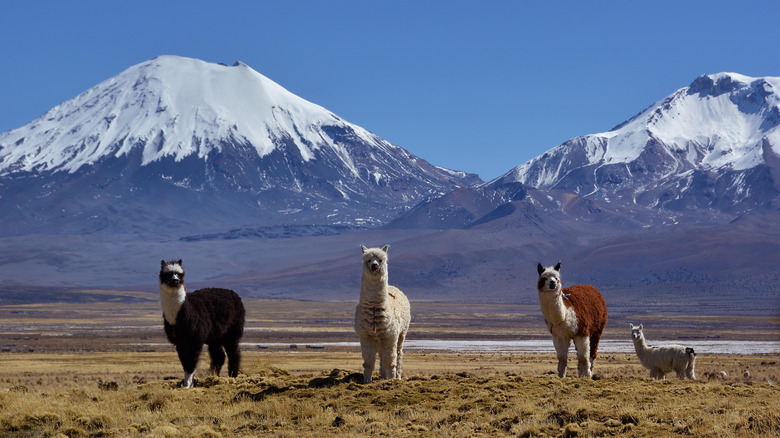 imageBROKER.com/Shutterstock
There is so much to excite visitors at this UNESCO World Heritage Site in Bolivia, from fascinating plants to abundant wildlife, from hot springs to ancient buildings that date to the era before colonization, and where the dead were buried. In Sajama National Park, there are even multiple examples of cave paintings, representing early expressionism from a distant era. An alpine forest, the park also features a local shrub called kheñua on its slopes. 
The main population here is the indigenous Aymara Indians, whose traditions and practices remain very much intact, having changed very little over the past five centuries. Many of the indigenous tribal people still find their livelihoods tied to herding and textiles. The land isn't wildly fertile here, and the cold and dry conditions make the growing of many crops impractical, but quinoa and some potatoes manage to survive the conditions. On a trip here, travelers will see huge, scrubby plains, and giant, snow-capped mountains that dominate the horizon.
Tayrona National Natural Park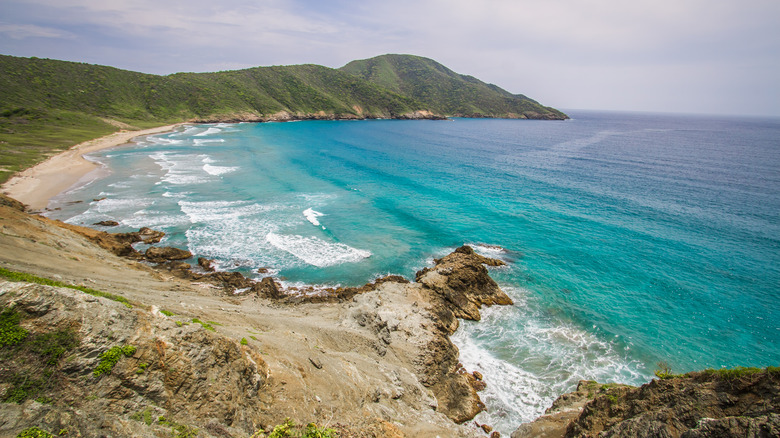 Rodrigo Marck/Shutterstock
Visitors looking for an archetypal tropical paradise would be wise to head to this coastal park when they're a tourist in Colombia. With curling beaches blessed with sugary sand, backed by deep forests, and bordered by clear turquoise water that's great for swimming, Tayrona National Natural Park is certainly easy on the eye. It sits by the lower reaches of the Sierra Nevada mountains, and the combination of sand and peaks is really riveting. Yet, it also boasts an anthropological aspect, since a number of indigenous communities live in this part of the country, among them the Wiwa and Kankuamo peoples. 
For visitors of Santa Marta, the Colombian city on the Caribbean Sea, this park is an easy day trip, with buses taking less than an hour to reach Tayrona. Of all the park's beaches, Playa Cabo San Juan seems to be the fan favorite, with Insta-worthy views that never fail to delight. While swimming isn't allowed on every beach, snorkeling in certain spots is immensely rewarding. To explore the park's cultural side, hike to Pueblito Tayrona, where the trails feature paths and bridges that were laid hundreds of years ago.
Tierra del Fuego National Park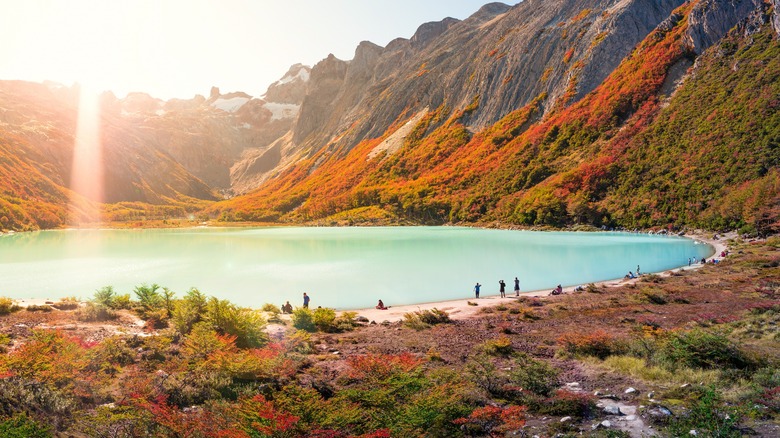 Oleg Senkov/Shutterstock
Tierra del Fuego National Park is an unforgettable part of Argentina, where the Andes mountains, the Patagonian forest, and the chilly Atlantic all come together to create a sweeping, sumptuous tableau of peaks, greenery, coves, fjords, and even a vast lake. The hiking here is out of this world, and thankfully, for novice trekkers, many of the trails are easy. For those who like their walking a lot more challenging, longer trails test their limits, and their calves. 
Sporty types might like to try their hand at kayaking and canoeing on Acigami Lake, or on the rivers that weave through the park, though this activity requires pre-booking, as there are no on-site rentals. Some parts of the park feel like the end of the Earth — and in a sense, they are — such as vistas that look over the Beagle Channel, right at the southern end of the continent. Keep an eye out for foxes and soaring albatrosses.
Torres del Paine National Park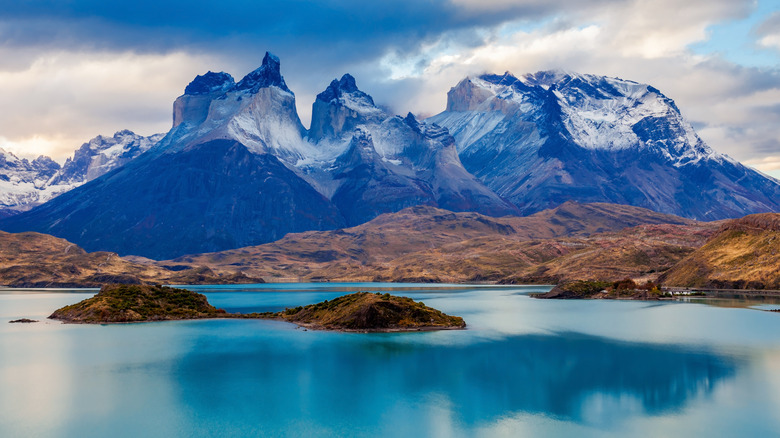 saiko3p/Shutterstock
This park in southern Chile is, without a doubt, one of the most spectacular places in the world. The scenery is so outrageous, so dramatic, that, at times, it might feel like it was created for a movie. Jagged peaks rise above baby-blue alpine lakes, and at dawn and dusk, the sun paints the tips of towers of rock in a warming glow. During the summer months, late December to late March, daylight is visible for about 17 hours, and the hiking is unparalleled. 
During walks, visitors can see condors gliding, while animals on the ground include huemuls, pumas, and guanacos, similar to llamas. The trail known as the W route, which takes a number of days to complete, hits the park's highlights — the Ascencio, Francés, and Grey Glacier Valleys, letting hikers fully take in the park's iconic formations and views. Walkers will see forests, come across viewpoints that look across magical scenery, and weave up thigh-burning slopes. Longer trails promise richer rewards, and, despite the pain, they are worth it.
Utría National Natural Park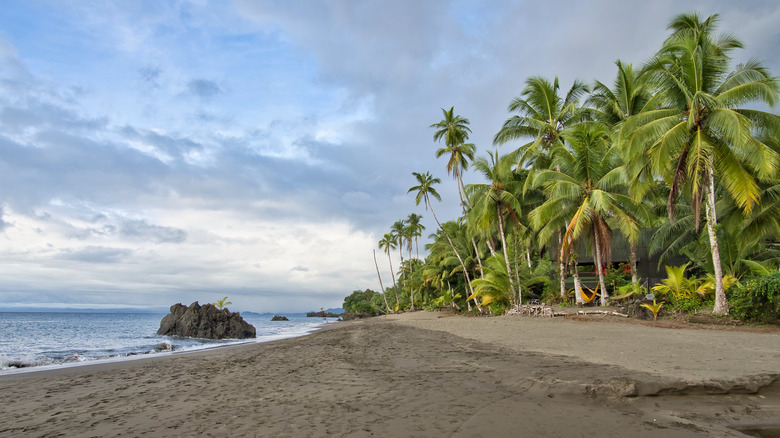 Judith Engbers/Getty Images
Due west of Medellín, this Colombian destination promises travelers a healthy variety of flora and fauna. Utría comprises a range of geographical features — steeply sloping foothills blanketed in thick jungle, and topped by layers of mist, seem to almost tumble right into gorgeous turquoise seas. The waters here are generally tranquil, always warm, and while good for swimming, they also attract nesting turtles, migratory birds, dolphins, and even whales that birth young in Utría Cove during the months of August, September, and October. 
Coastal mangroves also act as training grounds for young fish, juveniles that later push out to the coral reefs that lie just offshore. Fish range from small to mammoth, with whale sharks swishing through the waters at certain times of the year. The interior waterways are just as resplendent, with rivers and streams starting right here in the park. Explorers of the jungles could see spider monkeys, cougars, sloths, giant anteaters, and delicately limbed rodents called agouti.