Best Money-Saving Tips For Using Ride Share Apps While Traveling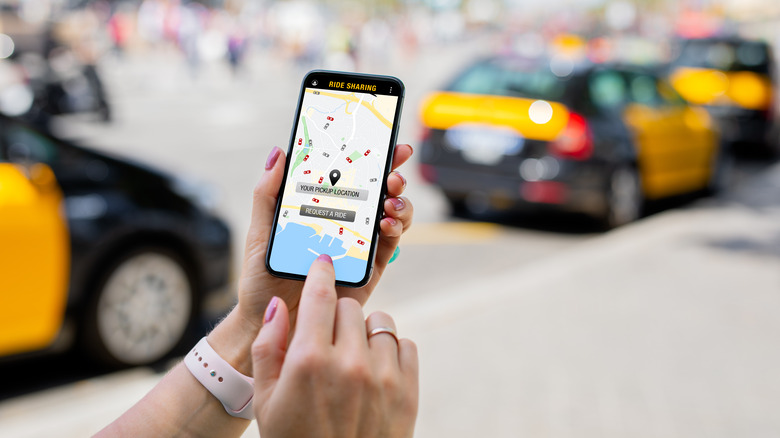 Kaspars Grinvalds/Shutterstock
Rideshare apps used to be a cheap option for hailing a ride, but prices have seemingly skyrocketed over the last few years. Luckily, there are several apps that you can bounce between to get the best value for your ride, no matter where you are in the world. However, you should be mindful that not all rideshare apps will be available when you travel abroad, so be sure you have local rideshare apps of your destinations downloaded if you're headed on an international adventure.
Depending on where you're traveling, taxis may still be the cheaper option or public transportation may be the way to go. However, by knowing the local rideshare apps, avoiding surge pricing, utilizing discounts, and shopping around, you can help ensure you aren't paying an arm and a leg for rideshares when traveling to new places. 
Utilize RideGuru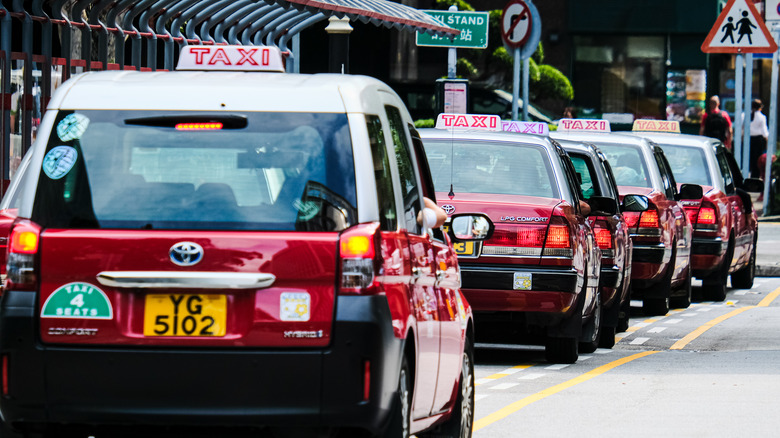 Sawayasu Tsuji/Getty Images
If you are traveling abroad, it can be hard to keep track of the various local rideshares on top of the ones you are familiar with. That's when an app like RideGuru, available in 70 countries, comes in handy. It's a comparison app that you can use to hail a ride once you find the best price available to you.
RideGuru compares all of the local rideshare or taxi options for you in the area you're visiting, helping you save time and money. Utilizing this app means not having to sift through all of the apps yourself and hoping that the prices don't change as you toggle between them. The app also frequently runs promotions — and not just on your first use or for referring users. Lastly, the RideGuru promotions page on its website uploads discount codes for individual rideshare companies, so even if you aren't utilizing the RideGuru app to hail a ride, you can still check them out to score discount codes for your favored rideshare. 
Use discount gift cards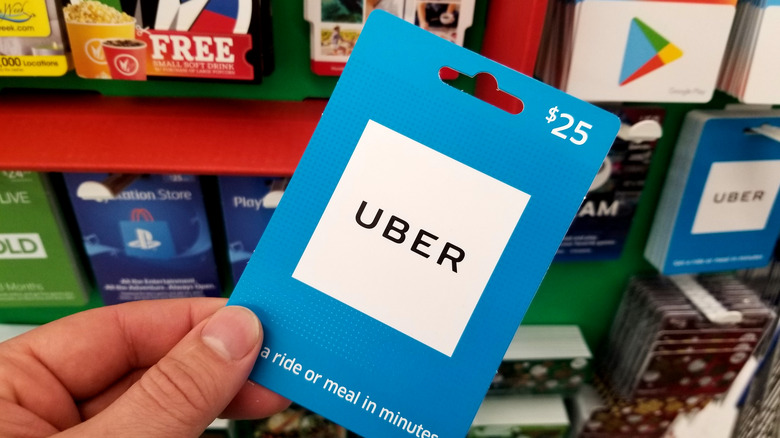 dennizn/Shutterstock
This is money-saving advice for nearly all elements of travel. Like buying discount Disney gift cards to pay for an expensive trip to the "Most Magical Place On Earth," you can purchase discounted Uber or Lyft gift cards to make your ride a little cheaper. Discounted gift cards are almost always available at shops like Costco, BJ's, or Sam's Club, or at Target when you use your REDCard.
Another way to score even better deals (with a little luck required) is to follow sites like Raise or CardCash. These sites allow users to sell their unused gift cards at a discount, allowing you to save another 5-10% on rideshare gift cards at the shops we mentioned previously. Those deeper discounts aren't consistently listed on the websites, so it's worth keeping an eye on them. Once those big discounts pop up, you have to grab the gift cards quickly because they'll sell insanely fast.
Avoid high-traffic locations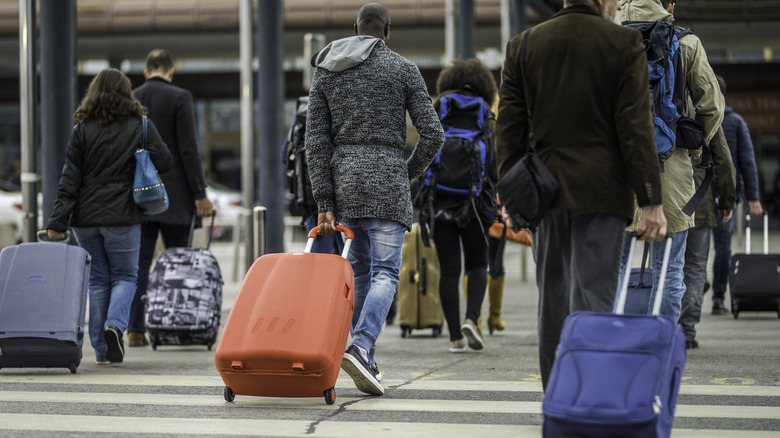 Vm/Getty Images
You aren't imagining things when you notice higher rideshare prices to get to airports, tourist hubs, or theme parks. Rideshares can charge more when going to or from these locations simply because of demand. You're better off trying to get a little further away from these spots before ordering a ride to save money. Although it may take a little bit of time and effort to navigate away, the savings could be huge.
One tried-and-true method for this is to make your way to an airport hotel and grab a ride from there. It will take more time to navigate to the hotel or grab a shuttle (often free) to one. However, if you're looking to save money wherever possible, it's worth the extra time. This writer has seen price jumps as high as $25 just from the airport versus a nearby hotel. Surge and convenience pricing are no joke.
Schedule rides outside of peak hours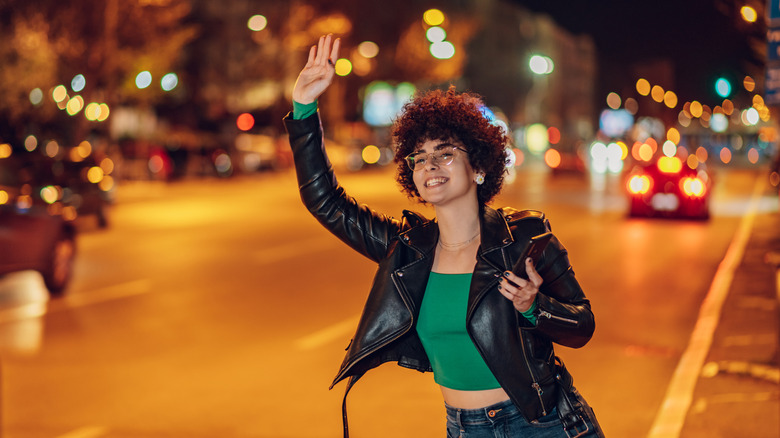 Zamrznutitonovi/Getty Images
As with priority locations like tourist hubs, surge pricing of rideshares can depend on the day of the week, time of day, and holiday status. For example, you'll be paying out the nose if you want to get a ride at 1 a.m. on New Year's Eve. If you can avoid hailing rideshares on Friday and Saturday nights, during party holidays, and near local events, you can save a lot of money.
Prioritizing a ride around local schedules does require a bit more planning than you may otherwise put into your vacation. All it takes, though, is to check the calendar of wherever you're going and make sure you aren't trying to get a ride as the crowds depart The Royal Edinburgh Military Tattoo, for example. Hailing a ride during a huge event might not result in significant cost upcharges, but if you're trying to get an Uber just as a Taylor Swift concert lets out, we've got bad news for you.
Opt for a pool or shared option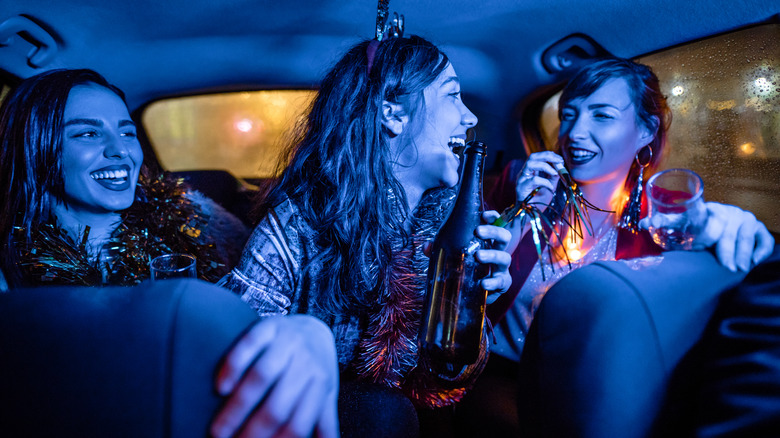 Hobo_018/Getty Images
Not every app offers a pooling or sharing ride option like UberPool, but those that do could save you a significant percentage on your ride. If no one's going in your direction, you may not necessarily get a pool ride in a timely manner, but it's still an option worth considering.
Even so, with an app like Uber, even if someone else doesn't join you, the pool pricing is guaranteed for what you'll be charged. If you'd rather not pool with a stranger, you can also split the fare with a friend, even if they're not headed to the same place you are. Adding a nearby stop to a ride will result in a slightly higher fare (often a dollar or two), but if you split the fare in the app with a friend or send one another money after the fact, it'll still be cheaper than going alone.
For long trips, try Ride Pass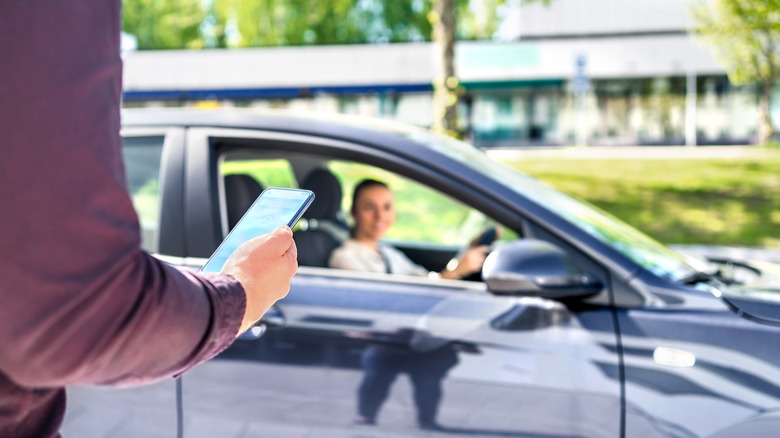 Tero Vesalainen/Shutterstock
This is specifically a tip for Uber, but the app's Ride Pass program allows you to save 15-20% on each ride and more for a monthly subscription fee. If you aren't from a city where you use Uber often, you may want to sign up for this program for the time you're gone. If you use Uber frequently on the trip, you'll save a lot of money, even with the fee.
Like with any subscription program, though, the cost savings are only there if you diligently watch your subscription use. If you don't use apps like Uber frequently at home, you need to remember to cancel the subscription after your travels. Forgetting and having the subscription continue to charge you month after month is how many of them survive. So if you need to, you can mark it on your calendar or set an alarm to cancel it to avoid additional charges for a service you're not using.
Refer new users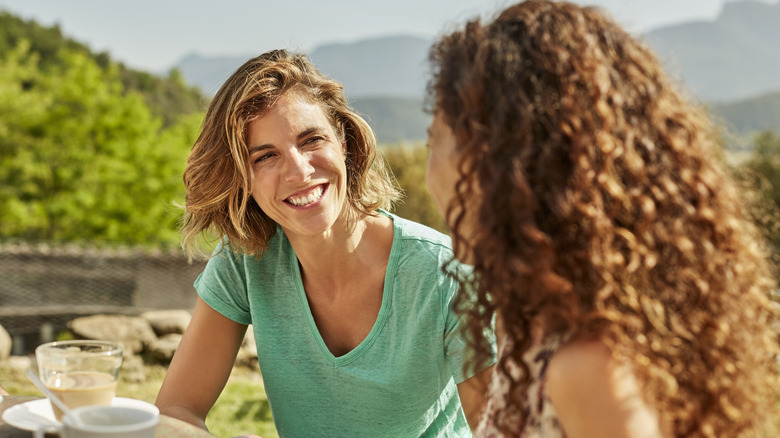 Morsa Images/Getty Images
This tip can be tricky since so many people already use apps like Uber and Lyft; however, you can still earn some sweet vouchers or cash kickbacks from referring new users. These referral programs often reward you and the new user for signing up by way of a discounted ride. Especially if you're traveling in a group, sharing codes among yourselves can help save everyone some money.
One way to utilize this strategy is to have everyone in the traveling group compare what rideshare apps they already use. That way, you can exchange codes in advance and have the new-to-you or them apps installed and ready to go before travel. A simple spreadsheet is one way to keep track of everyone's apps and new user codes. Even if just one of you hasn't used a certain app and can get a free or significantly discounted ride, the person you get the code from will also get a reward. So, in that way, you'll be saving on two rides rather than just one.
Rack up those reward points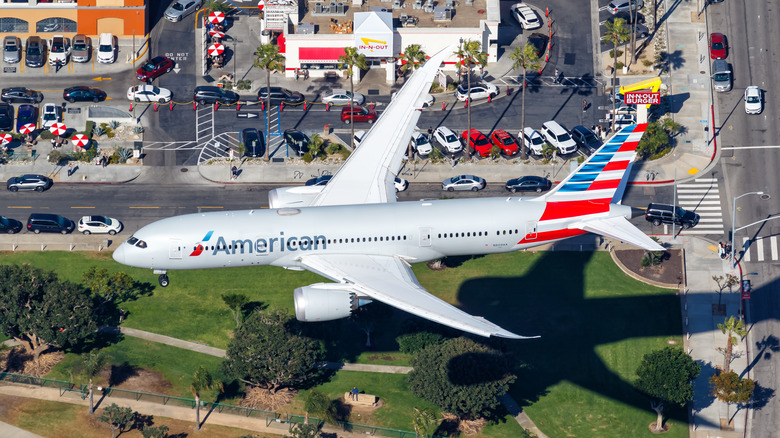 Boarding1now/Getty Images
While not necessarily a way to save in the short term, a lot of reward cards have partnerships with rideshare companies. Utilizing these apps in conjunction with those cards will help you save a lot of points to save money later on. For example, the Hilton Honors loyalty program partners with Lyft. You can earn three Hilton Honors points per $1 spent on solo rides or two points per $1 for shared rides.
Reward credit cards also have some significant points to be earned or perks that can be used towards rideshares. The American Express Platinum card gives each cardholder credits toward Uber rides, while the Delta Skymiles card helps you earn miles for each ride you take with Uber to save on future airfare.
Other major companies and cards partner with rideshare companies as well. Some of the significant current or past partners of Lyft include World and World Elite Mastercard, Hilton Honors, Delta, and Walmart+, while some of the major current or past partners of Uber include Marriott Bonvoy, Capitol One, American Airlines, and Southwest.