Ride-Share Vs. Taxis: The Pros And Cons Of Taking Each From An Airport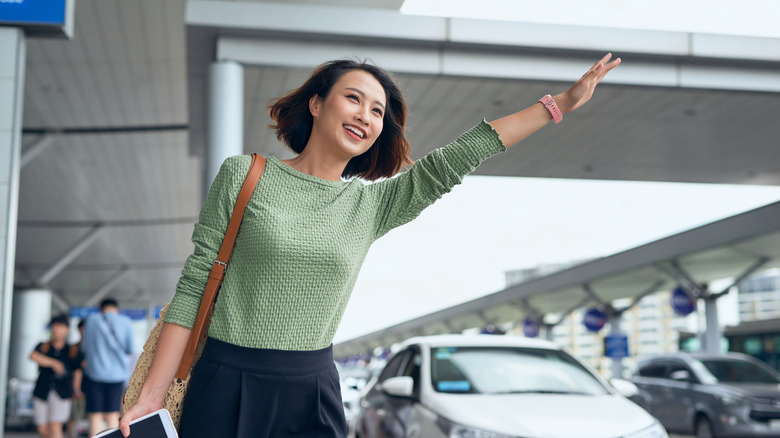 Makistock/Shutterstock
Whether you're touching down at your vacation destination or coming home from a work trip, if you don't have a ride arranged upon your arrival, you will have to consider how you're going to get from point A to point B to finally get your head on a pillow. Deciding on whether to take a ride-share versus a taxi can be a whole hand-wringing, potentially stressful process. Fortunately, there are many potential aspects to consider.
You also need to keep in mind that the answer might change depending on where in the world you are. In some countries, ride-shares like Uber are banned or have been priced out in favor of local or regional ride-share apps. While this doesn't always lead to taxis being the better option in these places, there are situations where taxis are more accessible and well-regulated, leading to them being more convenient, better priced, and comfortable.
Pros and cons of taking a ride-share from the airport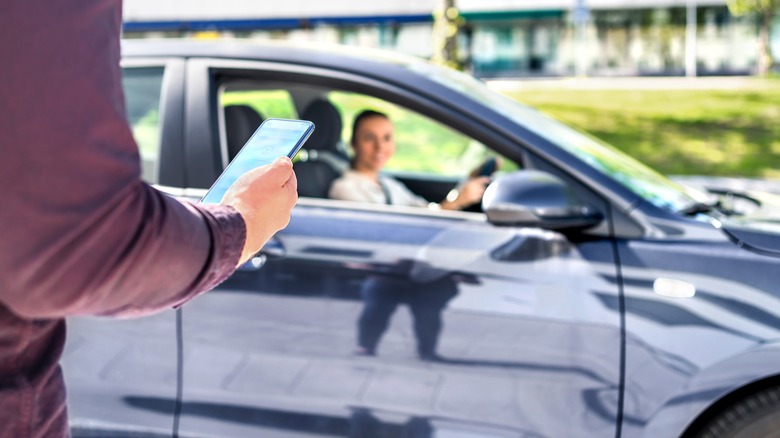 Tero Vesalainen/Shutterstock
According to Ridester, ride-shares have been soaring in popularity since 2009. Today, apps like Uber and Lyft dominate the field, but this doesn't mean there isn't competition. Some ride-share apps — like DiDi in Oaxaca — serve just one country or region and have diversified their offerings to compete with Uber, or simply just undercut them in price. So make sure to do some research on the options in the area. It may surprise you.
Perennial over-packers can confirm, though, a con for requesting ride-shares — especially in countries where they aren't that common — is the fact that you aren't always guaranteed to get one that can fit your group and all your luggage (even when you request a larger ride-share). This is one aspect where airport taxis can outperform their competition. By being able to choose from a fleet of taxis, you can be 100% certain you will get the vehicle you need to carry you, your friends, and all your luggage.
Thanks to ride-shares' popularity, however, they are now incredibly common and many airports, like the San Francisco International Airport, for example, even have designated ride-share pickup areas. This makes it extremely convenient to get a ride-share and makes the trip home or to your accommodation a stress-free event.
Pros and cons of taking a taxi from the airport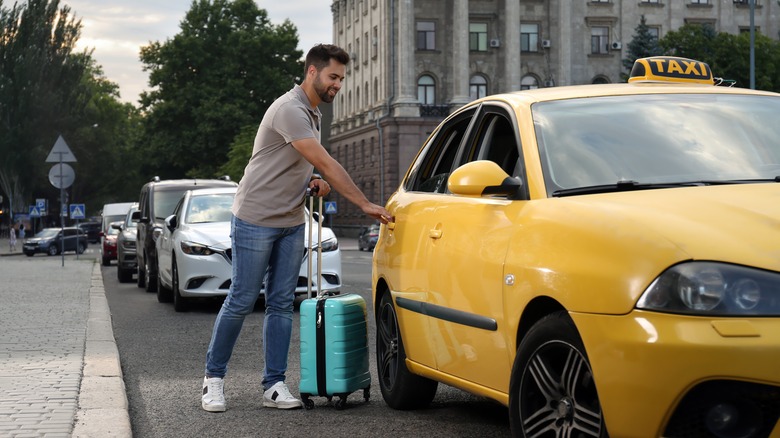 New Africa/Shutterstock
When you think of taxis, New York's yellow cab taxis might come to mind. They are as iconic as they are famous, and define what many expect from an experience with a taxi. Essentially, they are convenient but expensive. However, in some places, taxis are adapting to change, combining the ride-share experience with the taxi service. In Europe, for example, apps like Free Now are becoming a popular way to safely and conveniently catch a taxi.
At the same time, in places like Rome, getting a taxi at the airport the "traditional way" (i.e., getting in the taxi line) is a guarantee you will get the flat rate from the airport to the city as opposed to what you might be charged if you take a ride-share. Charm them with your bad Italian? You may even get a discount.
Jokes aside, keep your wits about you: agree on a price; pay in advance if you can; confirm if they can take cash or card if you pay at the end; and keep an eye on your belongings. This will make for a stress-free start or end to your trip.