Historical Mansions That Are Frozen In Time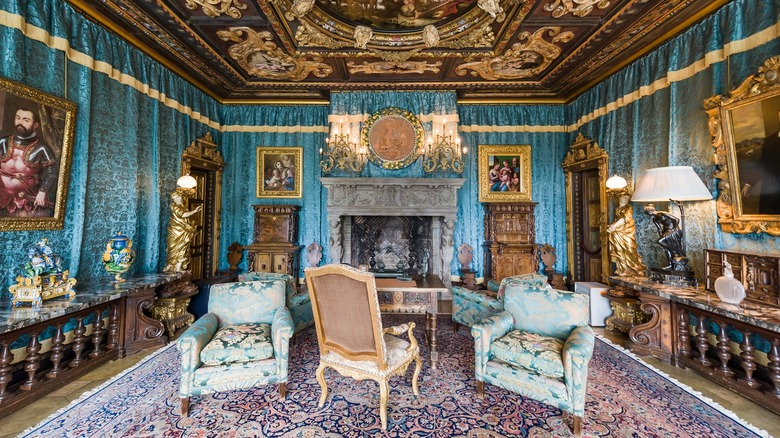 © Wai Chung | Dreamstime.com
There are plenty of massive mansions around the world to admire from afar. While some are adorned with the newest technology and modern furniture, others are frozen in time, still decked out like the long-gone era of their heyday. Elvis Presley's iconic Graceland still rocks to the beat of the 1970s, with its quirky, tropical Jungle Room and funky furnishings. It's a far cry from the white-gloves-and-servants elegance of England's Highclere Castle, the famous manor home of "Downton Abbey." Travel through history by flipping through these photos of stunning mansions stuck in time.
Biltmore Estate (Asheville, North Carolina)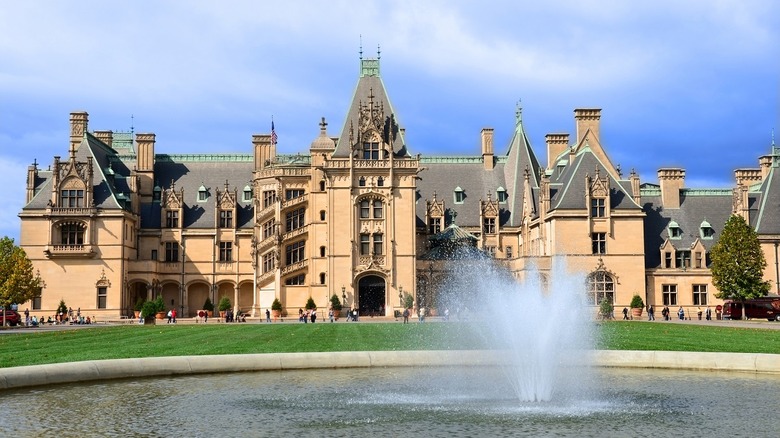 © William Wise | Dreamstime.com
The Biltmore Estate, the largest privately owned home in the nation at a jaw-dropping 178,926 square feet, is one of the biggest mansions in America. George Washington Vanderbilt II built the 250-room French Renaissance chateau between 1889 and 1895 as his country retreat from New York City. When completed, it contained 35 bedrooms, 43 bathrooms and 65 fireplaces. During World War II, the estate protected priceless works of art brought there from the National Gallery of Art in Washington, D.C.
Graceland (Memphis, Tennessee)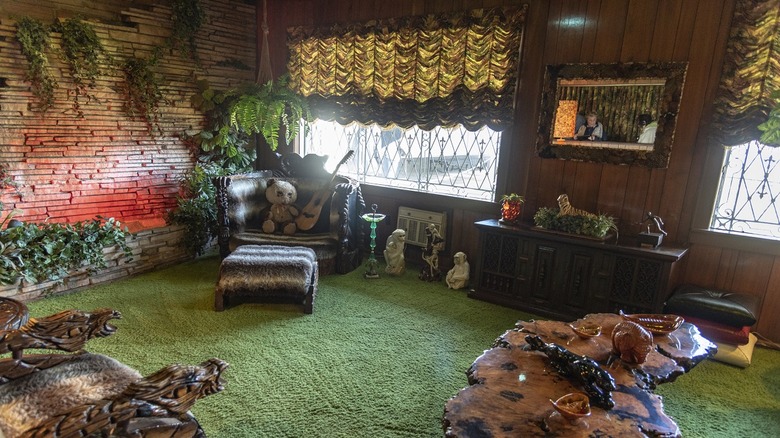 lainhamer | Dreamstime.com
Graceland is a true time-warp. While it's no longer a place where you'll regularly spot celebs, this Memphis mansion became famous when singer Elvis Presley bought it in 1957 for just over $100,000. Elvis expanded the home and decorated it to his own very distinct tastes, including the famous Jungle Room, which is decked out with green shag carpet and a built-in waterfall. From giant old-style TVs to the pool table room with its fabric-covered walls and ceiling, Graceland's larger-than-life kitschy decor still screams 1970s, leaving tourists "All Shook Up."
Winchester Mystery House (San Jose, California)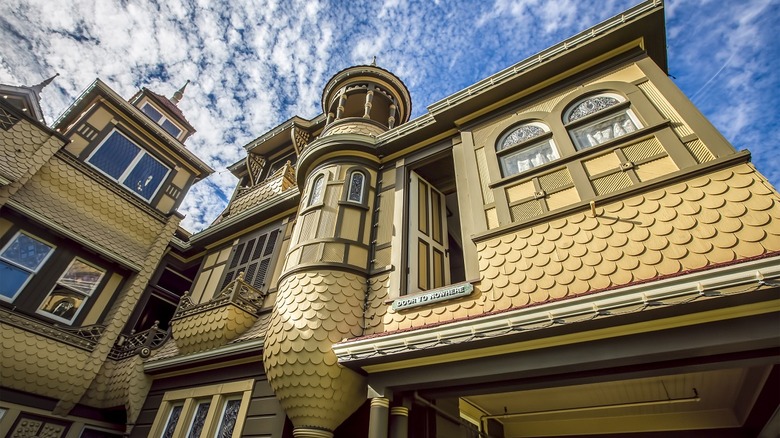 © Scott Griessel | Dreamstime.com
Few houses have such an intriguing history as San Jose, California's Winchester Mystery House. Sarah Winchester, the widow of firearms magnate William Wirt Winchester, bought it as a regular farmhouse in 1886. And from then until her death in 1922, construction on the house never stopped. The farmhouse became a seven-story, 160-room giant maze, complete with stairways and doors that go nowhere. No one will exactly say the house is haunted, though even its official site admits that since 1923, "many guests and employees have experienced strange phenomena while inside Sarah Winchester's beautiful mansion."
Mercer Williams House (Savannah, Georgia)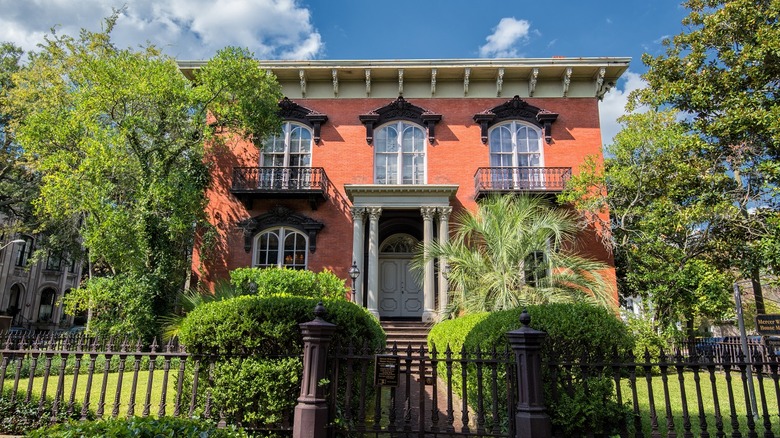 © Rolf52 | Dreamstime.com
Historic, photogenic Savannah found itself in the headlines in 1981 when antiques dealer Jim Williams shot and killed Danny Hansford in the study of Williams' stately home, Mercer House. The house had a history before that, though. Songwriter Johnny Mercer's great-grandfather designed it, and Williams had worked for years to restore it to its historic beauty. Now called the Mercer Williams House, the home includes antique furniture, art and other items from Williams' impressive collection.
Glensheen (Duluth, Minnesota)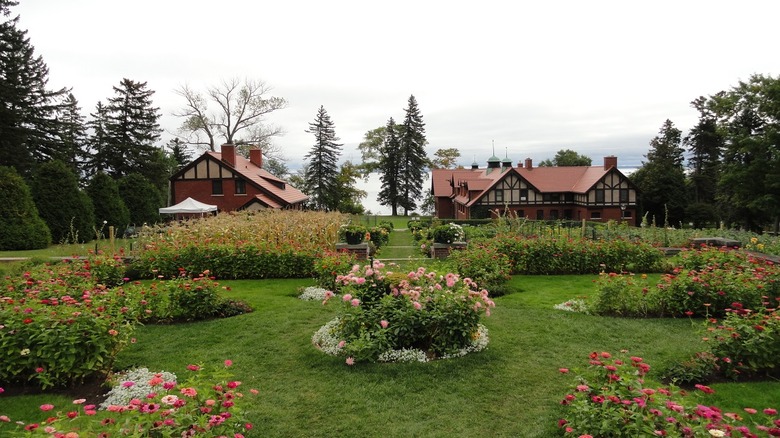 © Jacqueline Lee | Dreamstime.com
Glensheen Mansion is the most-visited historical home in Minnesota, featuring 39 rooms and 27,000 square feet spread across 12 acres of breathtaking shoreline along Lake Superior waterfront. Built from 1905 to 1908, the mansion was once the home of wealthy lawyer Chester Congdon and family, but now is run as a museum by the University of Minnesota. Tour guides take groups through the period-decorated home, but they don't discuss the 1977 slaying of heiress Elisabeth Congdon and her nurse.
Bishop's Palace (Galveston, Texas)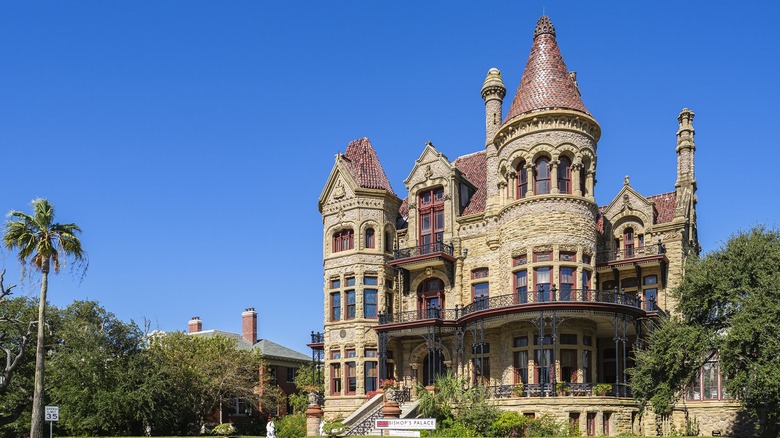 © Fotoluminate | Dreamstime.com
There's a breathtaking castle, complete with fairy-tale-like towers, located in Galveston, Texas. Bishop's Palace is an impressive Victorian-style stone mansion that dates back to around 1892. Built from granite, white limestone and red sandstone, the home features many striking rare woods.
Hearst Castle (San Simeon, California)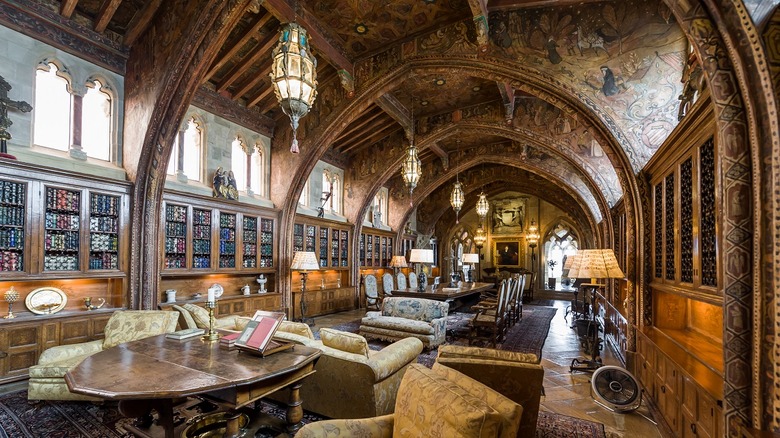 © Wai Chung | Dreamstime.com
Some may know Hearst Castle better as the inspiration for Xanadu, the fictional estate of publishing tycoon Charles Foster Kane in Orson Welles' 1941 film "Citizen Kane." But sorry, it's not a movie filming location you can actually visit. Just as the character of Kane was satirizing real-life publisher William Randolph Hearst, Xanadu was standing in for the sprawling Hearst Castle. In 1947, the mammoth home comprised 165 rooms and 123 acres of gardens, lavish pools and terraces.
Monticello (Charlottesville, Virginia)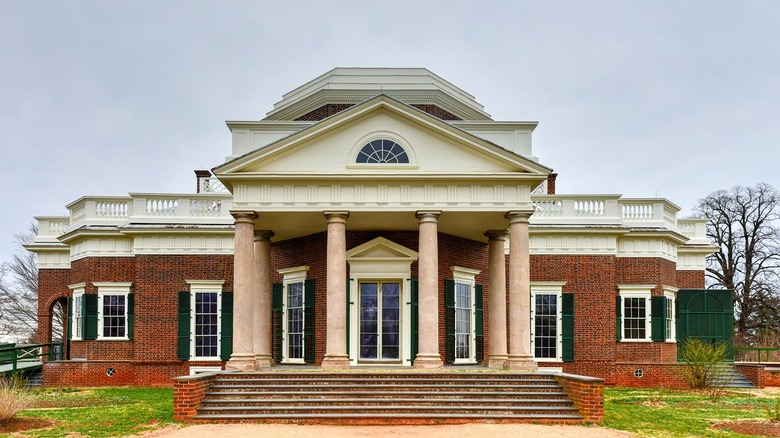 © Demerzel21 | Dreamstime.com
Thomas Jefferson designed Monticello's neoclassical main house himself, decades before he became the third president of the United States in 1801. About 60% of the furnishings of the home — an American destination every history buff should visit — are or may be items owned by Jefferson, including the Alcove Bed in which he died, 50 years to the day after the adoption of the Declaration of Independence.
Mount Vernon (Mount Vernon, Virginia)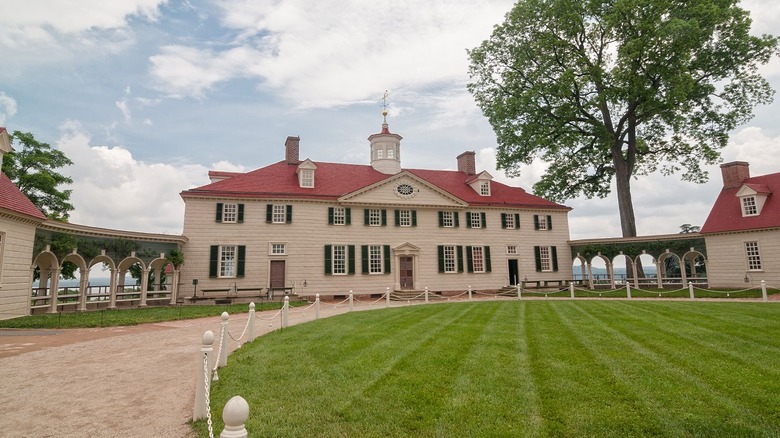 © Ekaterina Hashbarger | Dreamstime.com
George Washington's famous plantation, Mount Vernon, began as a one-and-a-half story home built by the first president's father. Over 45 years, George himself expanded it to an elegant 21-room residence. The restored front parlor, where Martha Washington presided over tea service, once hosted such acclaimed names as the Marquis de Lafayette and Thomas Jefferson.
James J. Hill House (St. Paul, Minnesota)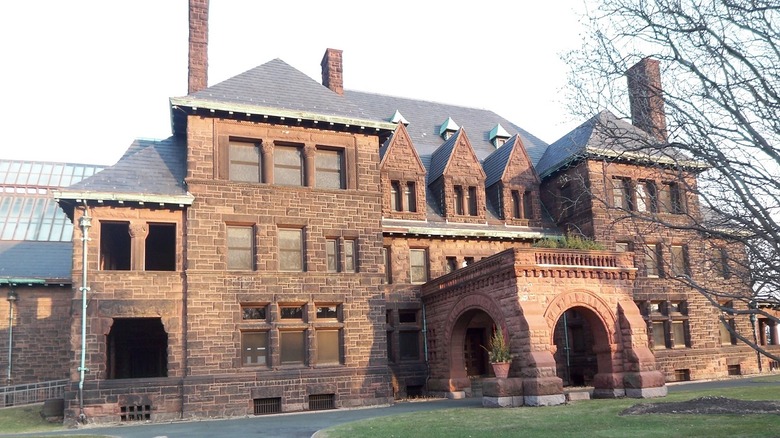 © Curtis Heideman | Dreamstime.com
The James J. Hill House stakes out a prominent part of Minnesota's Summit Avenue, home to the longest stretch of Victorian-era homes in the United States. When completed in 1891, the 36,000-square-foot, five-story home included 13 bathrooms, 22 fireplaces, a two-story art gallery, three-story pipe organ and 16 cut-glass chandeliers. Today, it's owned by the Minnesota Historical Society, which shows off everything from the impressive library to the bathtub.
Schuyler Mansion (Albany, New York)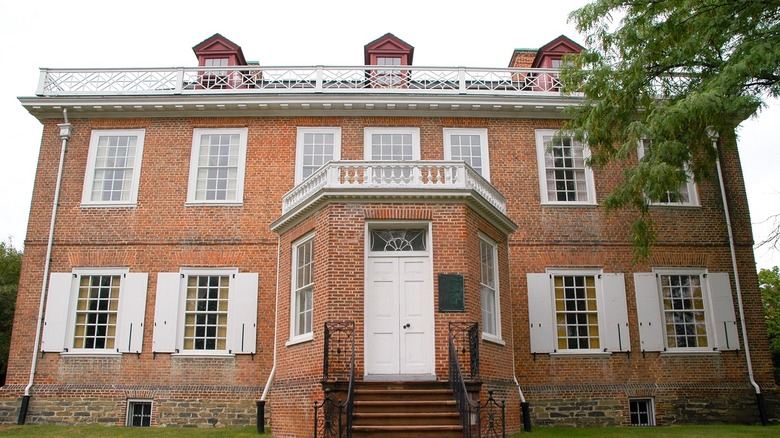 Jeffrey M. Frank/Shutterstock
The Schuyler Mansion was best-known as the home of Revolutionary War General Philip Schuyler. Then the Broadway blockbuster "Hamilton" came along, and the good general was pushed aside by the fame of his three daughters, Angelica, Eliza and Peggy, subjects of the song, "The Schuyler Sisters." Eliza was married to founding father Alexander Hamilton, and their wedding took place here in 1780. Today, the Georgian mansion has been restored as closely as possible to the way it looked in the Schuylers' day, right down to the wallpaper and carpet.
The Wrigley Mansion (Phoenix, Arizona)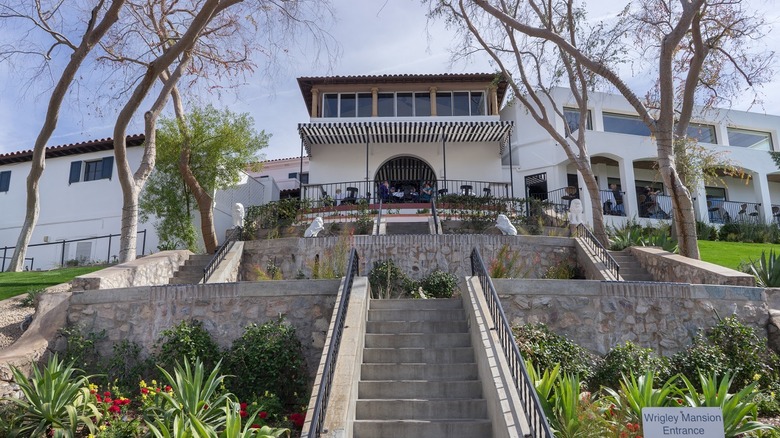 © Phartisan | Dreamstime.com
Wrigley's Juicy Fruit gum is a treat that has been around for more than 100 years, so it's no surprise gum magnate William Wrigley was able to build a hilltop landmark as a 50th anniversary gift for his wife in 1932. You can chew-chew-choose to go back in time here, as the gleaming home has been restored and now operates as a private club that hosts weddings and other events. The mansion's original tiles were shipped from the family's Catalina Island tile factory and had to be carried up the hill by donkey cart.
The Breakers (Newport, Rhode Island)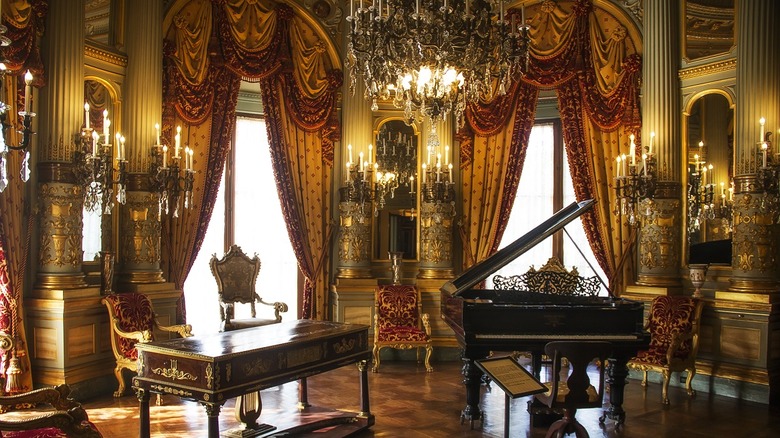 © Benjamin Paquette | Dreamstime.com
The Breakers, once the Italian Renaissance-style summer home of Cornelius Vanderbilt II, chairman and president of the New York Central Railroad system, is one of America's most amazing man-made marvels. Built in the 1890s, the 70-room palazzo in Newport, Rhode Island, was inspired by the 16th-century palaces of Genoa and Turin and overlooks the Atlantic Ocean. The restored stable and carriage house gives visitors a glimpse into a long-gone world, where 12 grooms and stableboys prepared and provided horse-drawn carriages for the Vanderbilt family.
Swannanoa Palace (Afton, Virginia)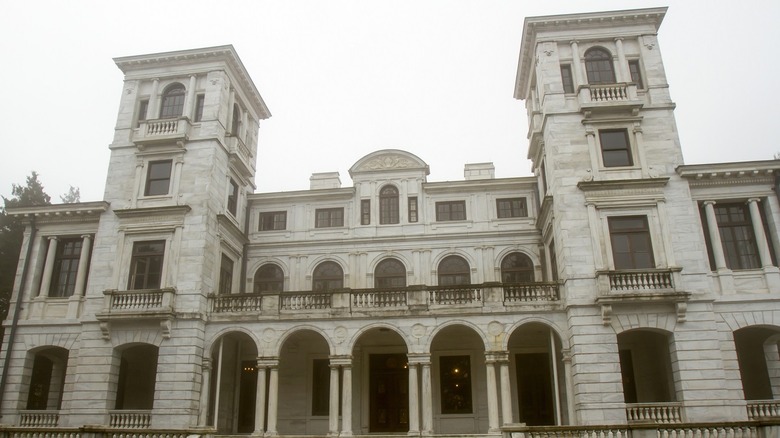 © Karen Foley | Dreamstime.com
Railroad executive James Dooley built the 52-room Swannanoa Palace in 1912 for his wife, Sallie May. He placed it high atop Virginia's famed Blue Ridge Mountains, known for some of the most breathtaking views in America. More than 300 artisans were hired to create the mountain retreat as a replica of the Villa de Medici in Rome. Don't-miss elements include a 4,000-piece Tiffany stained-glass window and a domed ceiling bearing Sallie May Dooley's likeness.
Highclere Castle (Hampshire, England)
© Thomas Dutour | Dreamstime.com
If you're a "Downton Abbey" fan, Highclere Castle is one of the places you need to see abroad in your lifetime. Indeed, fans will recognize Highclere Castle in Hampshire, England, from its role as the main filming location for the Emmy Award-winning show. Today, the 8th Earl and Countess of Carnarvon live there, and the home is open to tourists. Tours include some of the first floor's 12 bedrooms, decked out with period furniture and art, while what was once the staff dining room and scullery now feature Egyptian artifacts and replicas. Why? The 5th Earl of Carnarvon accompanied famed archaeologist Howard Carter on his discovery of King Tut's tomb in 1922.
Pabst Mansion (Milwaukee, Wisconsin)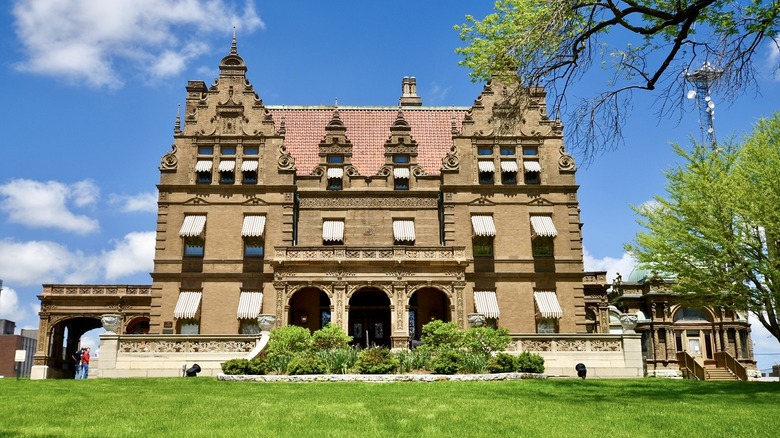 © Jim Roberts | Dreamstime.com
The price of beer has changed over time, but you can call this spot the house that beer built. The Captain Frederick Pabst Mansion in Milwaukee was constructed for the beer baron and his family in 1890. This mansion ranks among famous places you won't believe were almost demolished. It was almost torn down in the 1970s to make way for a parking lot. Now, using a family photo album from 1897 as a historical guide, the Pabst palace has been restored to its 19th-century glory.
Pittock Mansion (Portland, Oregon)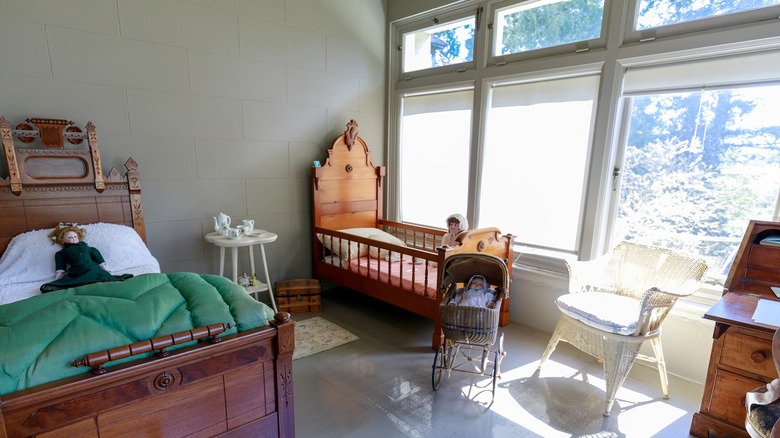 © Yooran Park | Dreamstime.com
Period furnishings and artifacts ground Portland's Pittock Mansion in the early 1900s. It was built in 1914 for the family of Henry Pittock, publisher of the Oregonian newspaper. The mansion features panoramic views of Portland, where you can see majestic mountains such as Mount Hood, Mount St. Helens, Mount Adams, Mount Rainier and Mount Jefferson on a clear day.
Mark Twain House (Hartford, Connecticut)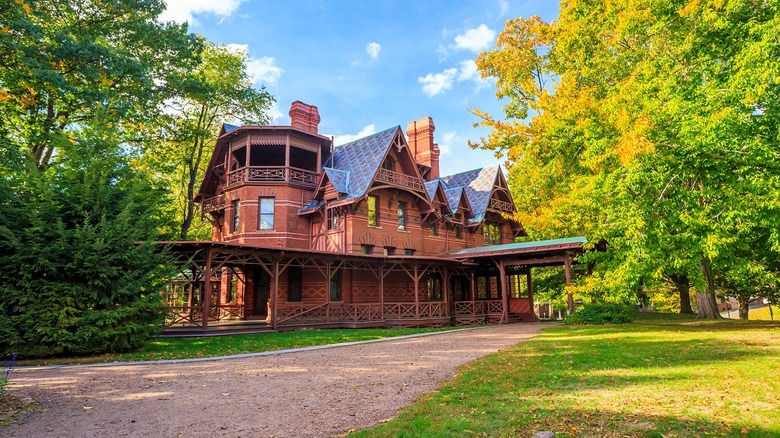 © F11photo | Dreamstime.com
Beloved American author Mark Twain (real name: Samuel Clemens) lived in an 11'500-square-foot home in Hartford, Connecticut, from 1874 to 1891. It is here he wrote classics such as "Adventures of Huckleberry Finn" and "The Adventures of Tom Sawyer." It's now being restored to reflect that time period, with curators collecting authentic items from that era.
Vanderbilt Mansion (Hyde Park, New York)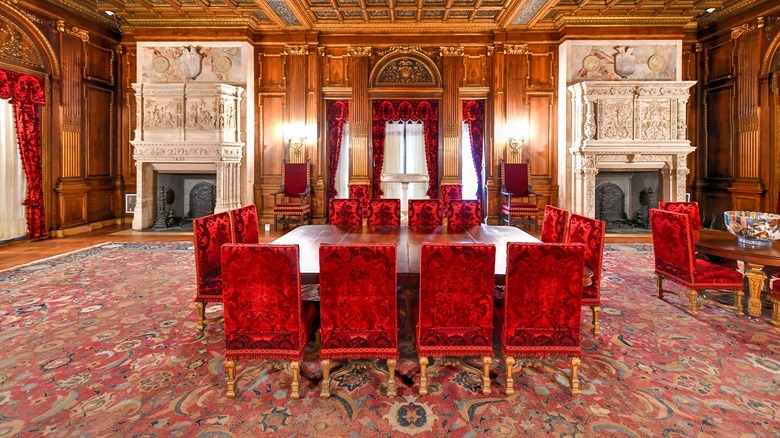 © Demerzel21 | Dreamstime.com
Go back to the Gilded Age at Vanderbilt Mansion National Historic Site in Hyde Park, New York. This masterpiece of American Beaux-Arts design sits on a bluff above the Hudson River. The 211 park acres are full of breathtaking gardens.
Taliesin West (Scottsdale, Arizona)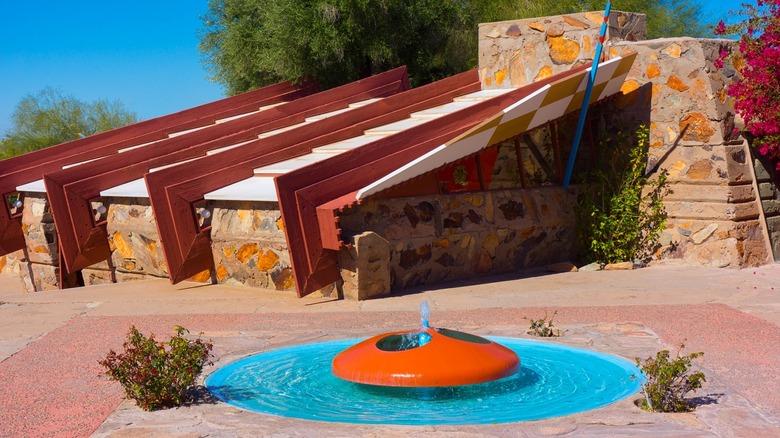 © Michele Kemper | Dreamstime.com
Taliesin West, architect Frank Lloyd Wright's beloved Arizona winter home, is snuggled in the foothills of the McDowell Mountains. Wright thought Arizona needed its own style of architecture to fit in with its desert landscape, and Taliesin West's low-slung, flowing style reflects the eternally flowing desert sand, making for some beautiful photo opportunities.
Edsel and Eleanor Ford House (Grosse Pointe Shores, Michigan)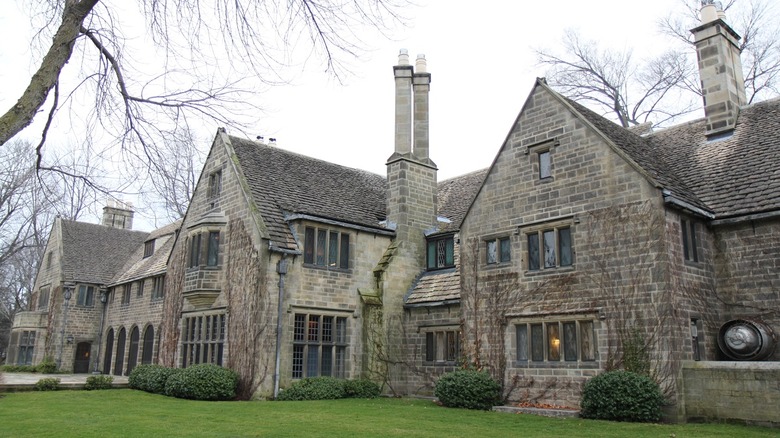 © Zachary Zuchowski | Dreamstime.com
Edsel Ford was the only child of Ford founder Henry Ford. Edsel and his wife Eleanor had multiple houses, but the Ford House in Grosse Pointe Shores, Michigan, is a lakeside estate that was their true home where they raised their four children. Designed to resemble a cluster of charming Cotswold village cottages, this home whisks visitors back in time to the Roaring '20s and features exotic hardwoods, built-in radios and even leather-paneled walls.
Fallingwater (Mill Run, Pennsylvania)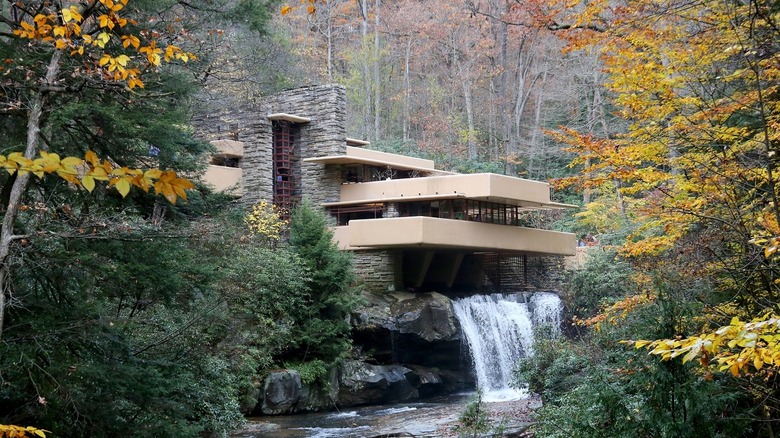 © Greg Payan | Dreamstime.com
Frank Lloyd Wright's Fallingwater may be one of the most famous places in the nation, an architectural masterwork both jutting out of and blending into the Mill Run, Pennsylvania, countryside. The acclaimed architect designed it in the 1930s as a weekend home for the Kaufmann department store family, but threw in a huge surprise. While the Kaufmanns had expected Wright to place the home in view of an impressive waterfall, instead, Wright cantilevered the stunning home directly over the picturesque waterfalls.
Casa Loma (Ontario, Canada)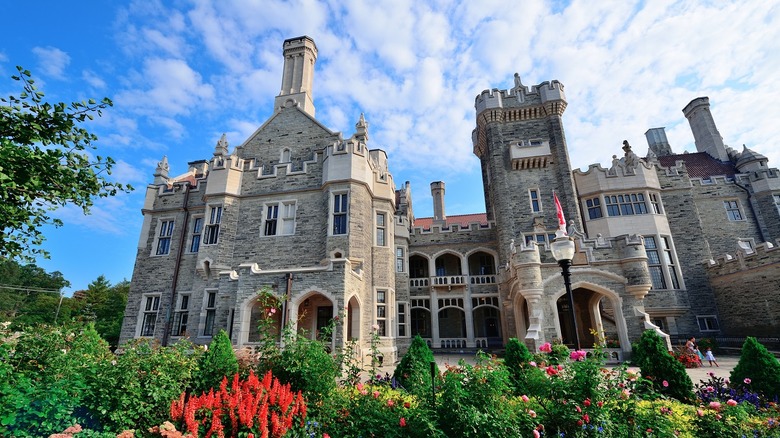 © Songquan Deng | Dreamstime.com
The turreted Casa Loma in Toronto looks like a dreamy throwback to the days of armored knights and fair maidens. Built in 1914 by Canadian financier Sir Henry Pellatt, Canada's fairy-tale castle features gothic revival architecture and breathtaking gardens that just may inspire you to grow your own garden.
Molly Brown House (Denver, Colorado)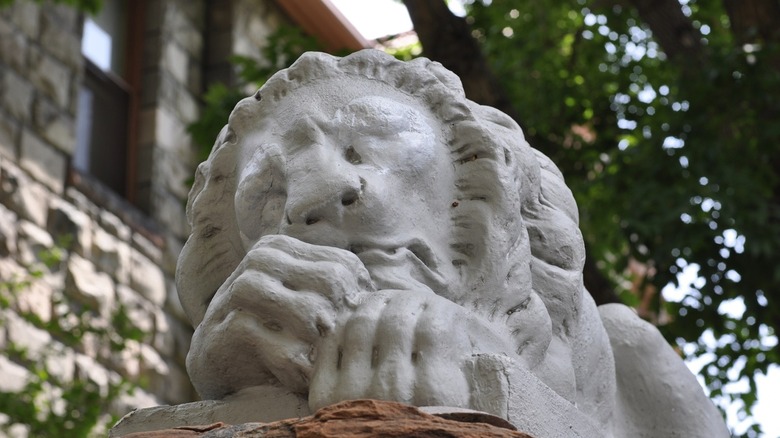 © Clarelund | Dreamstime.com
Philanthropist and activist Molly Brown may be best known for surviving the 1912 sinking of the RMS Titanic, but she had a stunning home in Denver. Designed and built in 1889, Brown's home, which combines Classic Queen Anne and Richardsonian Romanesque architecture, is as much of a survivor as she was. The Colorado landmark was saved from the wrecking ball in 1970 and now features exhibits honoring her life and the world of Victorian Denver.
Vizcaya (Miami, Florida)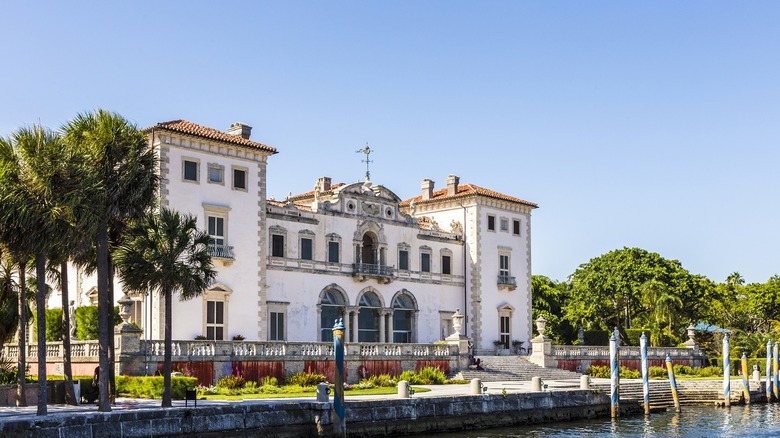 © Meinzahn | Dreamstime.com
The Vizcaya Museum and Gardens, previously known as Villa Vizcaya, has a stunning tropical setting to go along with the breathtaking estate. The sprawling mansion sits on beautiful Biscayne Bay in Miami's Coconut Grove neighborhood. The main house, completed in 1917, spans 45,225 square feet and contains more than 50 rooms. You may have seen the impressive exterior in "Iron Man 3" and "Ace Ventura: Pet Detective." As the home to enormous mansions like this one, it's no surprise that Miami is one of the most expensive travel destinations in America.