Visit This US National Park To See Epic White Sand Dunes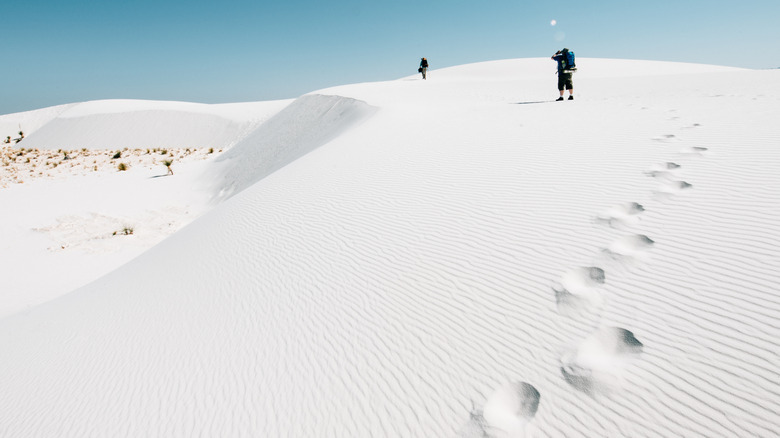 Ferrantraite/Getty Images
The USA's Southwest region has a climate that can act as a serious "dupe" for several nations around the globe. Don't confuse Saudi Arabia or Jordan with the jarring red rocks in Utah's Arches National Park, or Bolivia with the otherwordly salt flats in California's Death Valley National Park. For a truly one-of-a-kind place, however, head to the national park that is completely covered in white sand, which, with the right wind patterns, creates mesmerizing ripples and dunes, resulting in some seriously stunning scenery. White Sands National Park in New Mexico is the place to be if you want to experience this breathtaking destination for yourself.
Located in southern New Mexico, the park is approximately 95 miles north of the Mexico border. The nearest airport is in El Paso, Texas (ELP), and from there, the drive is about one hour and 30 minutes. Renting a car to get here is necessary, and the ride is totally worth it.
Planning your visit to White Sands National Park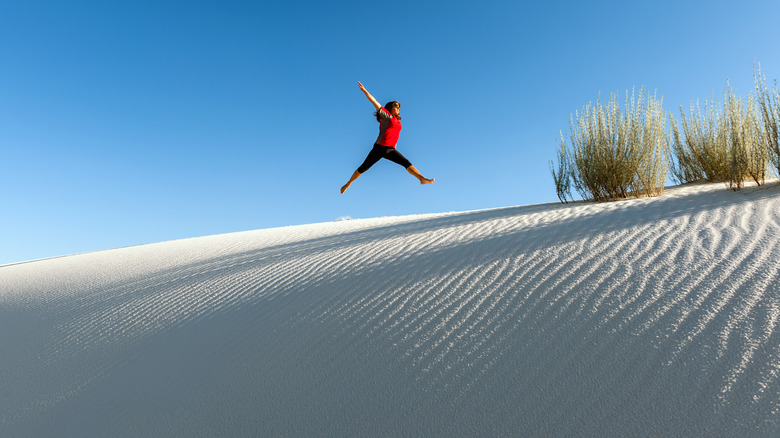 Pavliha/Getty Images
If you choose to not visit White Sands National Park as a day trip, you'll need a place to stay in Alamogordo, the town where White Sands is located. One of the best choices in town is The Classic Desert Aire Hotel. If you decide to visit with a dog, like so many people do when visiting national parks, both The Classic Desert Aire Hotel and White Sands National Park are dog-friendly.
To enter White Sands National Park, there is a $25 per private vehicle fee, a $15 per person walking in fee (applicable to those who are not in a vehicle), or a $20 per motorcycle fee. Some dates, however, are fee-free entry days, which vary by year. Next door to the park is a missile-testing facility, and the park occasionally closes during testing. The best way to keep up to date with both fee-free and closed days is by checking the park's website.
It's easy to assume White Sands National Park is always extremely hot because of its location in New Mexico, but you'd be surprised to know it can get a little chilly especially in the winter. More notably, this park can get windy, and with sand being extremely present here, you'll want to ensure you protect your eyes. Good sunglasses (and doggy sunglasses, if applicable), sunscreen, lip balm, a hat, close-toed shoes, and a jacket if the weather calls for it are all must-bring items.
What else to do in Alamogordo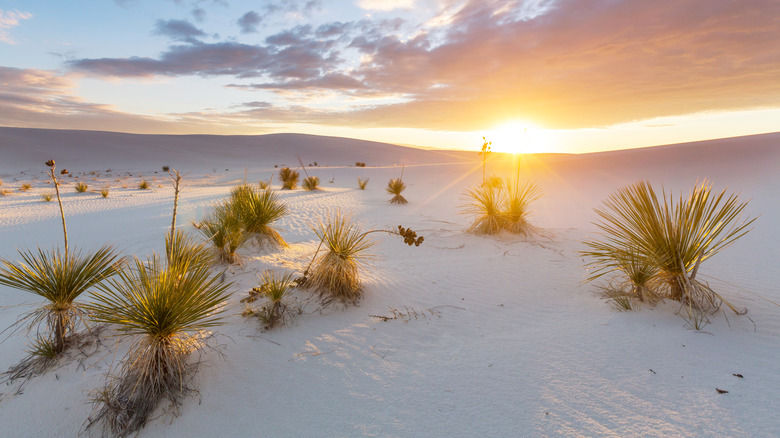 Galyna Andrushko/Shutterstock
Alamogordo might best be known for White Sands National Park, but this quirky New Mexico town has so much more to offer. It is surprisingly a booming wine destination. Heart of the Desert Pistachios is a great place to stop after your long day at White Sands National Park to sample some local vino. They also have a specialty shop, selling spices and a wide variety of pistachios. New Mexico is one of the only three U.S. states that grow pistachios, as the state's hot climate allows for these green nuts to thrive.
Speaking of green produce, no visit to New Mexico is complete without trying some New Mexico green chiles. Even if you're not a spice lover, green chiles are so prominent in New Mexico that each year, the state holds the Hatch Chile Festival in Hatch, New Mexico, located about 100 miles west of Alamogordo.
Alamogordo is also home to the New Mexico Museum of Space History, so if you need an indoor activity, whether it's to take a break from hot summer weather or, perhaps windy conditions, this is a great option. If you thought White Sands National Park felt otherworldly, wait until you see the International Space Hall of Fame inside the museum.