Breathtaking Views In The US To Add To Your Bucket List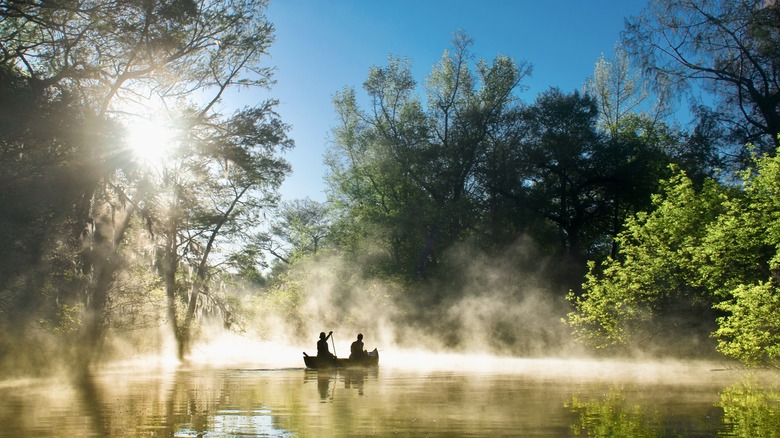 Douglas Rissing/Getty Images
The U.S. is brimming with stunning landscapes, phenomenal outdoor spaces, and many sights that will leave you awestruck. From national parks, historical sites, and coastal paradises to iconic skylines, pristine wilderness, natural wonders, and more, so much true beauty awaits. In fact, with so many gorgeous spectacular locales and grand attractions in this country, chances are something amazing is literally just around the corner.
Of course, wanderers can also travel far and wide to see all that this nation has to offer. The most alluring places in America are vast and diverse — showcasing towering mountain peaks, lush forests, turquoise blue waters, white sandy dunes, flowing waterfalls, and urban cityscapes. So, if you have been dreaming of magnificent and unique vistas but are not quite sure where to start your impressive scenic sightseeing tour, here are some of the most breathtaking views in the U.S. to add to your bucket list.
Dry Tortugas National Park, Florida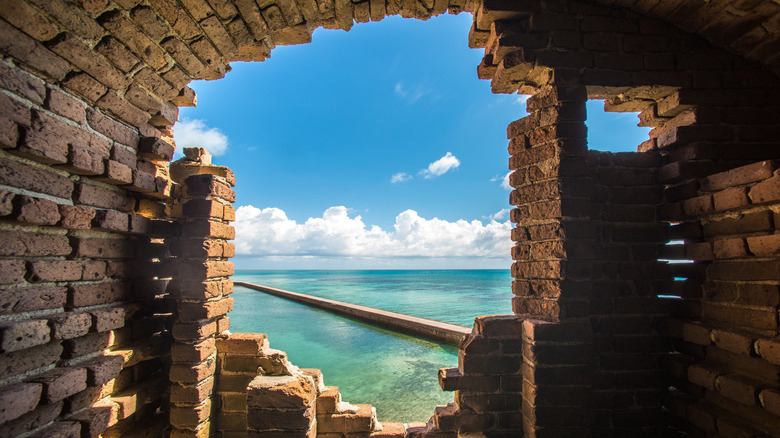 Phillip Sunkel IV/Shutterstock
Known for its sparkling blue waters, historical sites like the 19th century Fort Jefferson, abundant wildlife roaming about, and more, Dry Tortugas National Park in Florida is definitely a view you do not want to miss. A perfect addition to a Florida Keys getaway, Dry Tortugas National Park is a 100-square-mile slice of paradise that is comprised of seven remote islands. With pristine beaches, panoramic ocean views, and captivating coral reefs, this national park is definitely a feast for the eyes.
One spot in particular that is worth checking out when visiting the Dry Tortugas National Park is Fort Jefferson, located on Garden Key, the second largest isle in the park. Despite Garden Key only being a mere 14 acres, this deep water anchorage played a pivotal role in North America's defense of the narrow channel that encircles this island. Parkgoers can access Garden Key and any other beautiful areas of Dry Tortugas National Park via seaplane or boat. That said, the views of this historic fort and its surrounding backdrop are truly mesmerizing and seem almost endless.
Big Sur, California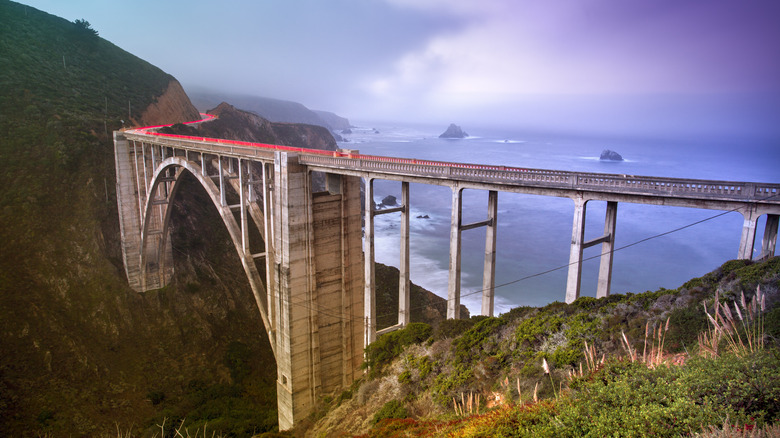 Pgiam/Getty Images
If you love beautiful, jaw-dropping shoreline vistas, you needn't look any further than Big Sur in California. Touted as California's most scenic drive along Highway 1, this region will surely dazzle you with its rugged mountainous beauty and epic ocean views. With towering rock formations, golden sandy beaches, crashing waves, picture-perfect overlooks, and then some, Big Sur is undoubtedly a coastal treasure worth marveling at for a spell.
Spanning over 90 miles, this enchanting seascape is striking and has more than a few incredible points of interest. In fact, several notable sights in Big Sur include the McWay Falls waterfall — with an impressive 80-foot drop — at Julia Pfeiffer Burns State Park, the untouched wilderness at Point Lobos State Natural Reserve, and the otherworldly scenery along the Garrapata Trail and Beach. Nevertheless, a definite showstopper here that is a favorite among many is Bixby Bridge. This iconic overpass offers phenomenal 360-degree views of the coast with its lush terrain, towering cliff face, and ocean vistas. The Bixby Bridge is simply a delightful spectacle, especially when the sky is ablaze with vibrant colors during sundown.
Sequoia and Kings Canyon National Parks, California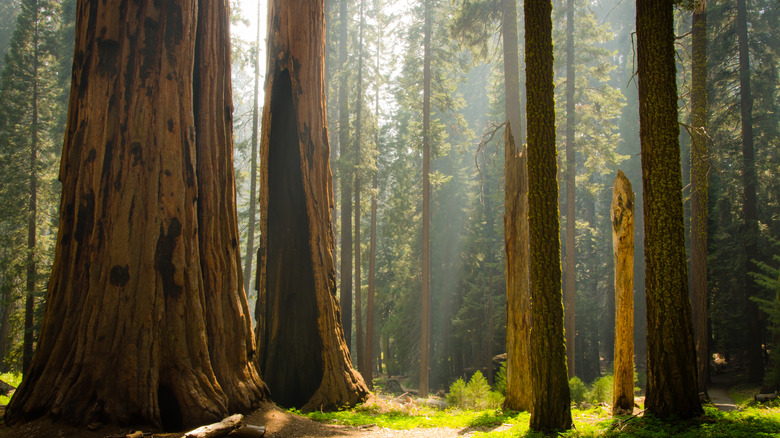 Hans Debruyne/Shutterstock
For nature lovers searching for ethereal forested lands, rugged foothills, and the largest trees in the world, Sequoia and Kings Canyon National Parks in California will not disappoint. With more than a few picturesque drives, including the Kings Canyon Scenic Byway and the Generals Highway, these side-by-side parks are visually stunning. Here, parkgoers can also marvel at all the diverse topography, remote groves, the 14,494-foot-tall Mount Whitney, wildflowers bursting with color in the summertime, impressive ravines, and abundant wildlife.
Of course, the real attractions in this area are arguably the towering trees of old that reach almost unimaginable heights. Though the scenic drives will take you through the woods for up-close and personal views of the world's only sequoia groves, it is highly recommended that you go on a walkabout via the Big Trees Trailhead or the General Grant Tree trails to catch a glimpse of the old-growth forests. There are also numerous hiking footpaths and backpacking routes for anyone looking to fully immerse themselves in the surrounding flora while roaming about the dramatic timber giants.
Nā Pali Coast State Wilderness Park, Hawaii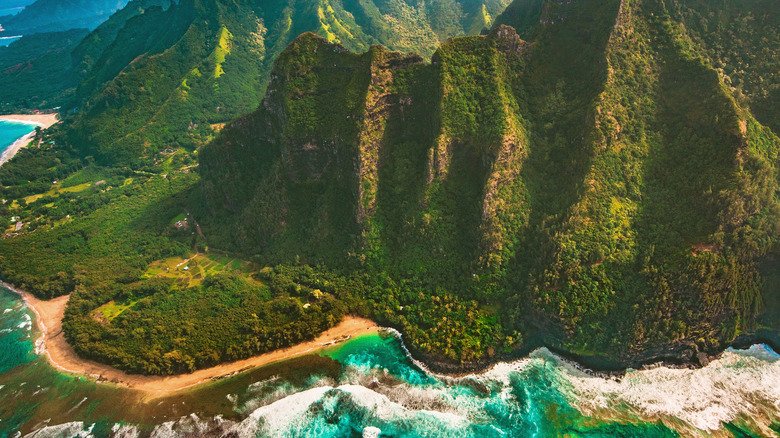 Abbie Warnock-Matthews/Shutterstock
The Nā Pali (or High Cliffs) Coast State Wilderness Park, located off of Kauai's northern shore in Hawaii, is revered for its astonishing beauty. This sacred spot on the map is the magnificent result of long-term erosion and ranks high on the list of the world's most gorgeous coastlines — just one glimpse of this place, and visitors will quickly see why. With vibrant-colored sea cliffs, greenery all around, immaculate beaches, caves, remarkable valleys, and the Pacific Ocean in all its glory, making your way out to this viewpoint is a definite must.
Roughly a 17-mile stretch, the Nā Pali Coast itself is also home to some of the world's most stunning waterfalls, such as the Hanakapiai Falls, the Rainbow Waterfall-Pirates Cave, and the Waiahuakua Falls. Many of these overflowing cascades can be seen from the 11-mile Kalalau Trail, a truly challenging and bewitching hike. In addition to hiking about this vast and beautiful Hawaiian landscape, visitors can take in as much as possible of this dreamy location via camping or kayaking. Still, no matter how you choose to experience the Nā Pali Coast, one thing is for sure — you can expect to be mystified by this remote destination's radiant and untouched scenery.
Olympic National Park, Washington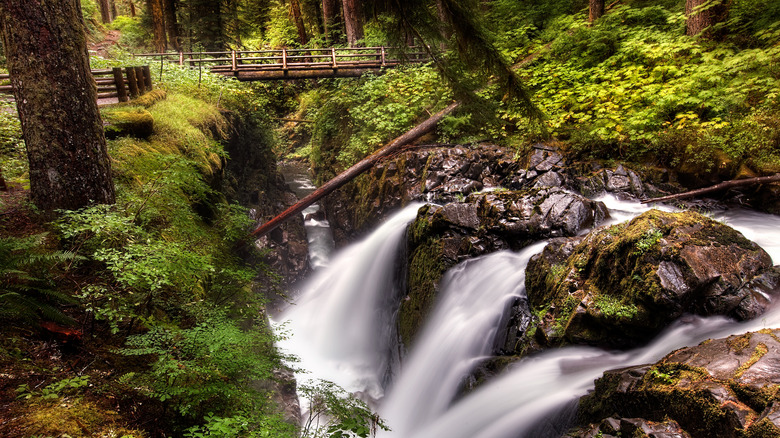 IG Digital Arts/Shutterstock
Yet another national park to check out for incredible views is Olympic National Park in Washington State. Known for having one of the most dramatic landscapes, Olympic National Park is Pacific Northwest wilderness at its finest. With its glaciated mountains, shimmering lakes, rain forests, alpine meadows, rugged beaches, and then some, this park is teeming with grand sights and natural wonders.
Almost 1 million acres in total, Olympic National Park's scenic beauty can easily be explored via various scenic driving routes, including the Pacific Coast Byway, the Hurricane Ridge Road, and the Hidden Coast Byway. Parkgoers can also check out this expansive preservation area on foot for some of the most breathtaking vistas of the great outdoors. Still, one of the top attractions here is the abundance of bridges, which come in all shapes and sizes. A popular catwalk that is beyond picturesque, in fact, is the Sol Duc Falls Bridge. Not only does this overlook allow one to marvel at the surrounding lush setting, but it also offers front-row access to one of the great waterfalls in the park — Sol Duc Falls.
Lake Tahoe, Nevada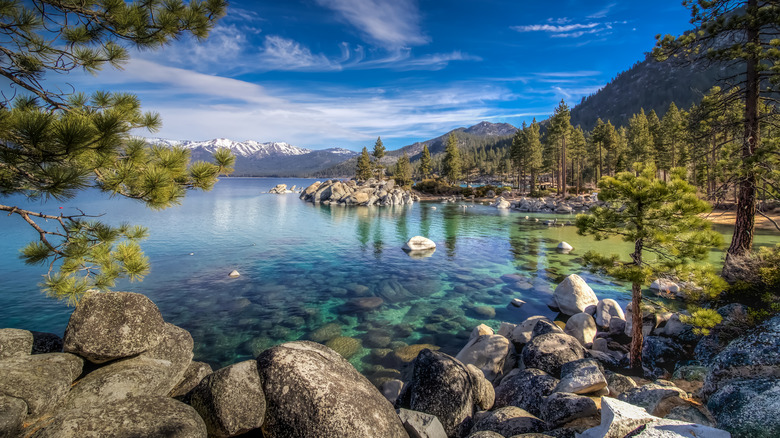 Chris Demonbreun Photography/Getty Images
A true national treasure, Lake Tahoe actually spans two states — Nevada and California — and as a whole is just one more scenic spot in the U.S. that will take your breath away. Here, lake goers can relish the view in a variety of ways, though driving and lakeside fun tend to be everyone's go-tos. Nonetheless, whether you opt to take the lengthy drive around this famous body of water for pristine vistas or decide to test the crystal blue waters, you will quickly find that Lake Tahoe is definitely easy on the eyes.
That said, early September is the best time to head to Lake Tahoe if you want to appreciate this natural wonder sans the crowds. Lake enthusiasts have several lovely vantage points that should be added to the itinerary, like Emerald Bay and Sand Harbor Beach. Emerald Bay is a peaceful-looking inlet of Lake Tahoe that can be seen via a boat tour (a sunset tour is highly recommended), while enjoying various recreational activities, and from Highway 89. Sand Harbor Beach, however, is the place to be if you want to enjoy stunning panoramic views of it all — the enchanting lake, lush forested land, rocky shores, incredible coves, and, of course, the clearest water around.
The Palouse, Idaho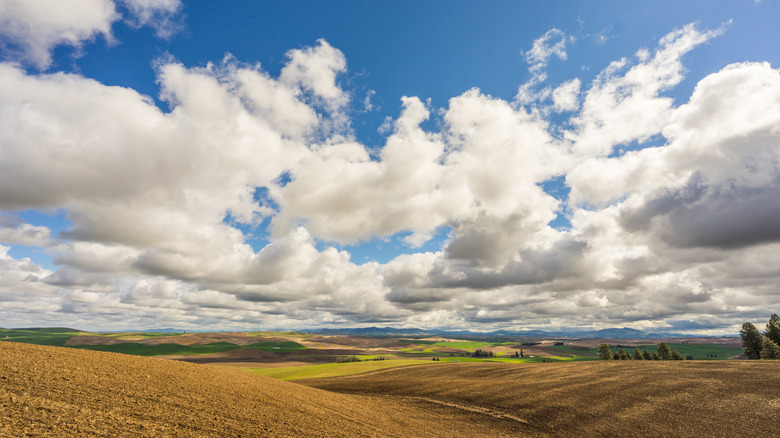 Roman Khomlyak/Shutterstock
The Palouse region is actually a tri-state gem that can be found in Idaho, Washington, and Oregon and is absolutely worth a look-see. The Palouse vistas are almost unmatched, with rolling hills, olive gardens, picture-perfect vineyards, fertile farmland, and the photogenic Kamiak Butte State Park in Washington. Considered a pastoral wonder, this thriving area is as beautiful as it is serene.
For the best sights, scenic lovers should make their way to this heavenly area around mid-June to July (the harvest begins in late July and August, so make sure you get there before then). It is during these months that the Palouse region is overflowing with hues of green and yellow. In order to enjoy a unique juxtaposition of farmland to forested land, Kamiak Butte State Park is a great place to start your viewing adventure. From the park, multiple vantage points allow for unobstructed views of this glorious farmland. Alternatively, Palouse visitors can survey the land via the Palouse Scenic Byway, a 208-mile journey through and around the rich rolling hills, farmland, and state park that is nothing short of spectacular.
Antelope Canyon, Arizona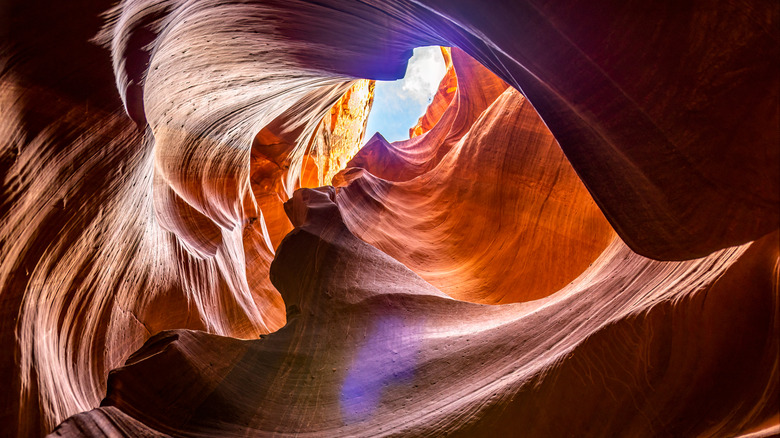 Eloi_omella/Getty Images
The Antelope Canyon in Arizona is a bucket-list-worthy experience and definitely has a view. Together the Upper Antelope Canyon and the Lower Antelope Canyon are absolutely captivating in their own right —though a heated debate about which canyon is more stunning rages on. Here, curious landscape explorers can marvel at the wavy orangish-red sandstone rock formations that seem to envelop one another. Touted as the southwest's most photographed slot canyon, Antelope Canyon was shaped over millions of years by wind and water erosion.
The Upper Antelope Canyon, or "The Crack," however, tends to steal the show since it looks like it belongs in some distant galaxy and dazzles countless visitors with golden sunlight beams from above. Usually visible from mid-morning to mid-day, this otherworldly light display is something you do not want to miss. As a whole, the Antelope Canyon is a shining example of the U.S.'s natural beauty and makes for some truly phenomenal sights and photos. So, if you do not have this one on your must-see list already, now is the perfect time to add Arizona's most beautiful canyon to your roster.
New River Gorge, West Virginia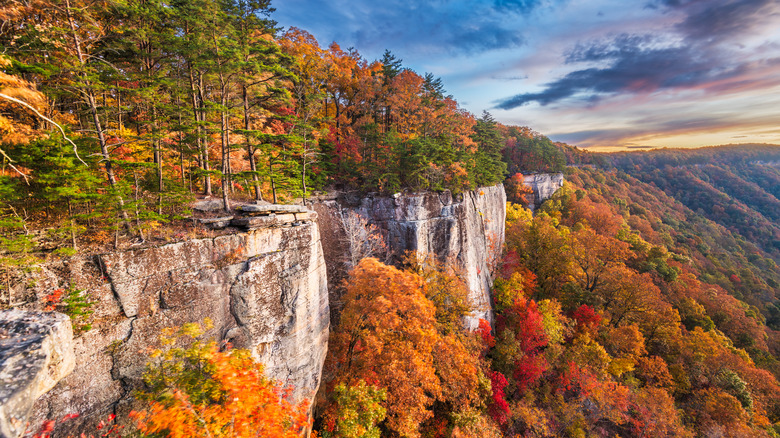 Sean Pavone/Getty Images
A beloved destination for outdoorsy folk, the New River Gorge in West Virginia is a scenic landscape with impressive vistas from practically every angle. With the Appalachian Mountains, lush valleys, hiking trails, iconic waterways, natural history, and more, this wilderness area is full of things to see and do. Though scenic lovers could spend hours simply appreciating the New River itself, this splendid spot in West Virginia is home to stunning waterfalls, the New River Gorge Bridge, and magnificent overlooks like Diamond Point.
In fact, New River Gorge visitors should take some time to hike the easy-to-moderate Endless Wall Trail, which takes you directly into the forest and is the easiest way to check out Diamond Point. Once at this main lookout point, you can enjoy one downright amazing view of the river, abundant greenery, and the sheer rock cliffs that seem to have no end in sight. After soaking up this superb backdrop, you can also survey old mining sites, partake in some wildlife watching, and possibly consider crossing the 876-foot-tall New River Gorge Bridge.
Lake Willoughby, Vermont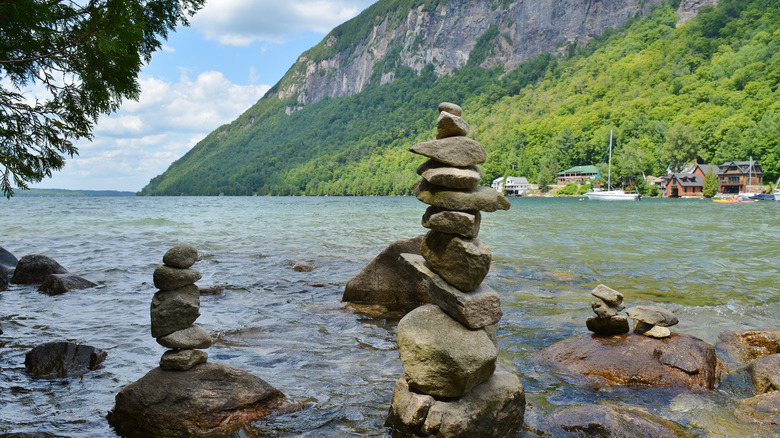 Lucile Purnell/Shutterstock
Yet another equally impressive body of water is Lake Willoughby in Vermont. Known for its clarity, depth, and overall cleanness, Lake Willoughby is a popular weekend getaway, especially in the late summer. This hidden gem is partially surrounded by towering glacial-formed granite cliffs of Mount Pisgah and Mount Hor, vibrant woodlands, and a delightful boating community.
Thanks to its stunning greenery and utterly serene mountainous backdrop, Lake Willoughby truly has some next-level vistas. But that's not all — this 300-foot-deep lake also has golden sandy beaches (on the north and south sides), rugged shorelines, and ample wildlife. Undoubtedly a picture-perfect inland sea, there are a handful of quaint lodges and cozy inns lining the edge of this ancient lake that only add to its natural beauty. And with phenomenal views from all sides, you may just forget that Lake Willoughby is a great recreational haven that you can enjoy to the fullest — with activities ranging from boating, swimming, and watersports to fishing, ice-skating (in the colder months), and more.
Acadia National Park, Maine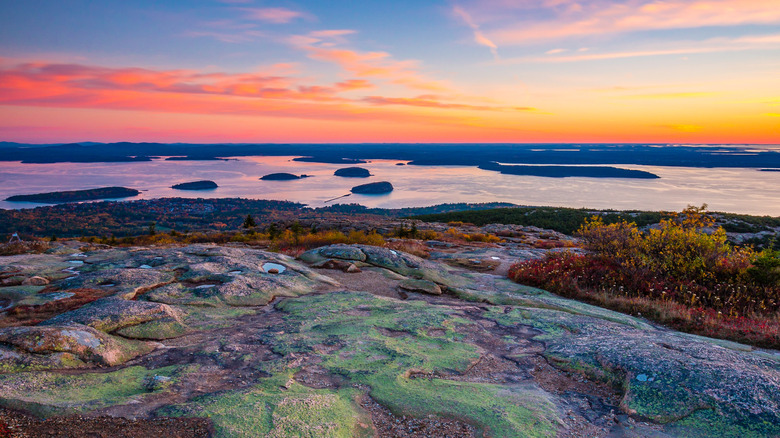 Winston Tan/Shutterstock
Acadia National Park in Maine has some of the most incredible views along the East Coast. No matter the time of year, it's always an excellent choice if you are in need of stellar vistas of distant islands, rugged coastlines, towering lighthouses, lush greenery, and first-rate views of the heavens above. With more than a few spots in the park that are beyond gorgeous, Acadia National Park should definitely be high on your must-see list.
One of the most beautiful locations in this particular national park is, in fact, Ocean Path. This wonderous walking trail allows parkgoers to revel in both the beauty of the park and the Atlantic Ocean, which the footpath runs right alongside. So you get two amazing backdrops for the price of one. Of course, if you prefer a bird's eye view of the entire area, then you should absolutely head to the scenic overlook from the highest peak in the park, accessible by driving up the Cadillac Summit Road. Atop the famous Cadillac Mountain, Acadia National Park visitors can and should expect to be blown away by the pristine beauty that awaits them.
White Sands National Park, New Mexico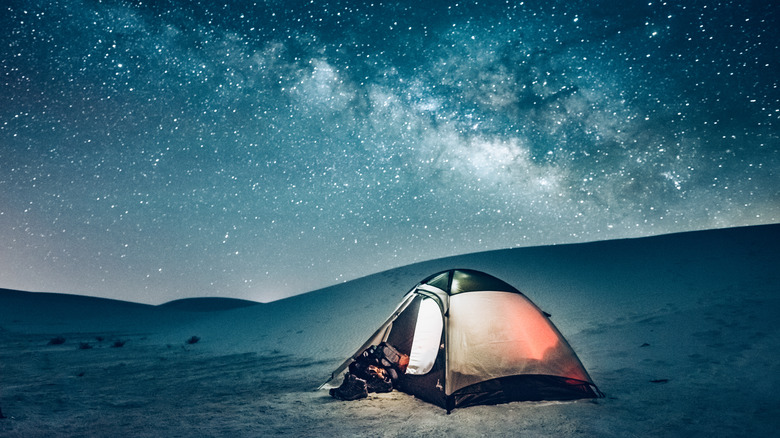 Ferrantraite/Getty Images
A trip to White Sands National Park in New Mexico is also in order for scenic lovers who are craving a one-of-a-kind experience. Once at this unique desertscape, there is virtually nothing but brilliant white dunes as far as the eye can see. Classified as one of the world's great natural wonders, these white sands are simply astonishing.
Approximately 176,000 acres in size, the White Sands National Park and its gypsum dunes can be admired via a scenic dune drive or guided tour as well as on bikes, hikes, or even by sled. Any way you opt to go, the White Sands National Park offers a view you will not forget. There is also the Interdune Boardwalk for anyone who prefers to take it easy in the land of the dunes. Under a half-mile, this boardwalk showcases the sandy-covered landscape, lovely wildflowers, and local wildlife (birds, lizards, and more). But by far the best view in White Sands National Park is at night on a Full Moon Hike, where you can enjoy the sand, the moon, and the stars.
New York City, New York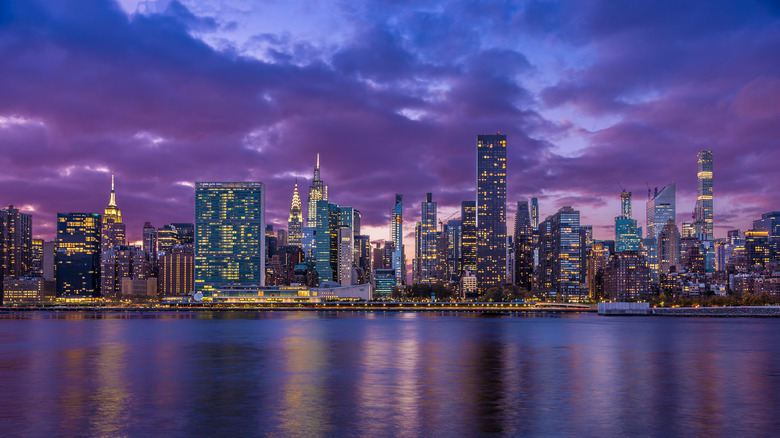 Olegalbinsky/Getty Images
Lastly, the New York City skyline is a wonderful sight that should not go unnoticed. Since unbelievably beautiful vistas come in all forms, it makes sense that such an iconic and exquisitely designed cityscape should make the must-see list. In fact, some would argue that this ever-changing skyline is one of the many incredible splendors to behold in the U.S.
With the Empire State Building, the Spiral, Times Square, the Brooklyn Bridge, the city's five boroughs, the Statue of Liberty in the distance, and its own fair share of notable parks, New York City is an urban landscape with some serious visual appeal. For the finest views of this city, Big Apple visitors needn't go far — New York City and its surrounding areas are full of skyscrapers, rooftop bars, and optimal viewing platforms like the Edge, the SUMMIT One Vanderbilt, and the Liberty State Park.