Why A New Mexico Vacation Is A Must For Spice Lovers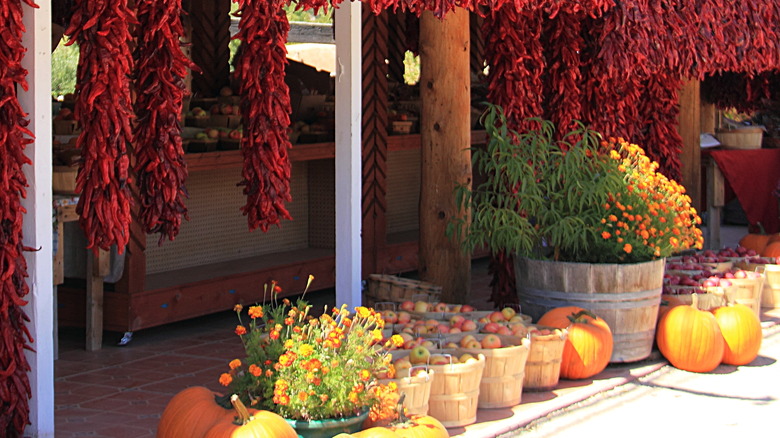 Faina Gurevich/Shutterstock
It's always Christmas in New Mexico — that is, if you want it to be. You might prefer just green or simply red. We're talking about chiles, of course. The prize for chile production in the U.S. goes to the Land of Enchantment. In 2021, the state produced 60% of the U.S.'s chile pepper crop, and the plants have been cultivated there for hundreds of years. 
Plus, roasting chile is the official scent of New Mexico. Yes, seriously! The smoky aroma of roasting green chiles drifting on the warm summer air is so close to the hearts of New Mexicans that in March 2023, it was adopted as the state's official aroma. If you want to catch this scent, visit in late summer or early fall. The regular season for harvesting and roasting Hatch chiles is fairly short, typically from early August to late September. Red chiles are best harvested in October and are often dried. 
The heart of chile growing in the state is Hatch, a small agricultural town in southern New Mexico that calls itself the Chile Capital of the World. However, there are many other places in the state where the humble chile is celebrated. And there is a ton of variety in New Mexican chiles, too. From the gentle NuMex Heritage 6-4 to the stumpy but incredibly hot NuMex Bailey Pequin, there's a variety for you. Spice lovers of the world, unite and visit New Mexico on your next vacation.
Chile festivals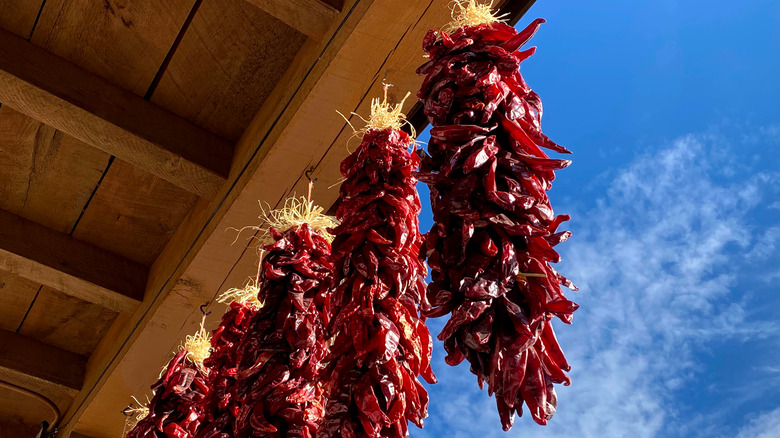 Jana Poe/Shutterstock
If you're looking to indulge in some fiery, smoky goodness, head to New Mexico in August or September and enjoy the chile festivals. The number one destination on your list should be Hatch, normally a blip on the drive from El Paso to Albuquerque, but a destination for over 30,000 chile lovers during its festival over the Labor Day weekend. In 2022, Hatch celebrated its 50th Chile Festival with a three-day chile-themed extravaganza of music, parades, and, of course, restaurants and stalls serving dishes full of the spice. 
If you don't make it down to Hatch, perhaps you'll be in lovely Santa Fe. Here, too, spice lovers can tickle their tastebuds at the annual Santa Fe Wine & Chile Fiesta, held in late September. The five-day event welcomes around 3,500 visitors annually, and over 60 restaurants participate. In 2022, one evening was dedicated to local chiles, with over 20 vendors serving chile-infused dishes as the distinctive scent suffuses the air. Ristras, the brightly colored strings of chiles you see everywhere, is also a big feature of the festivals. You can buy huge bunches of them and, in Hatch, watch a ristra-making demonstration.
Farmers' markets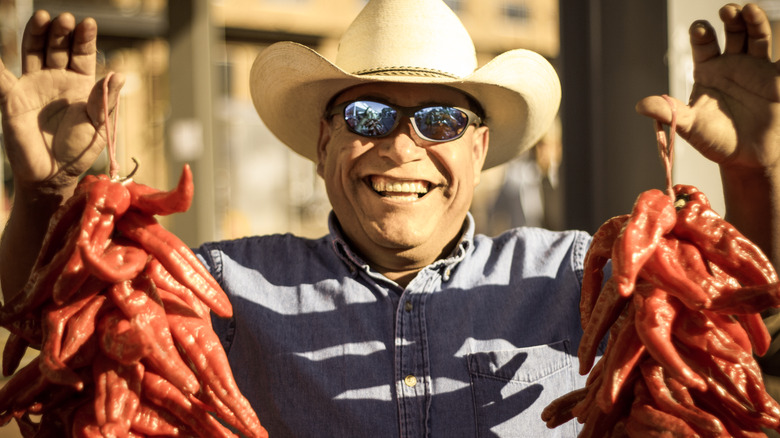 Jannhuizenga/Getty Images
New Mexico is home to many farmers' markets, so wherever you are in the State, you can indulge in local chiles. If you're in the state capital, the Santa Fe Farmers' Market runs in the city on Saturday and Tuesday mornings. There are stalls selling everything from local crafts to produce, and the latter includes chiles. Make a beeline for the vibrant ristras hanging over the stalls from the likes of El Jardin de Chile de Chimayo. 
If exploring more of New Mexico, consider stopping at the Sierra County Farmers' Market in Truth or Consequences. The town sits just 40 miles north of Hatch, so the market is abundant with local chile. It runs on Saturdays from June to October. Meanwhile, if you find yourself 40 miles south of Hatch, you'll be in Las Cruces, where you can drop into the Farmers' & Crafts Market. This award-winning market began in 1971 and operates Saturdays and Wednesdays; vendors include Zia Chile Traders, who sell Hatch Green Chile Sauce, and Green Chile Paddy Wagon, who proudly serve green chiles on just about everything. 
Finally, for those who come to New Mexico for Roswell's UFO connection, there's MainStreet Roswell Farmers' Market on Saturdays in the summer. In September, the market puts on the Chile Cheese Festival. Here, not only can you breathe in the heavenly aroma of roasting chiles, but you can also tour a local cheese plant. Chile + cheese? Yes, please. 
Restaurants and road trips
Any New Mexican restaurant worth its salt (or should that be chile?) will have chile dishes on the menu. And a quick internet search reveals that every city, town, and halt has its own top 5, 10, or even top 20 lists of must-visit chile restaurants. We're going to narrow it down a bit and pick some of the top places all over the state because New Mexico is made for road trips.
Firstly, if you're looking for a road trip theme, consider a green chile cheeseburger trail through the state. Because what could make a chile and cheese combination any better? Eating it in the form of a burger. You'll hit restaurants like Sparkys in Hatch, where the World Famous Green Chile Cheese Burger is a long-time hit, and Jerry's Cafe up in Gallup, where the burgers have been made the same way since 1976.
For chile con queso, Chope's in La Mesa gets shout-outs all over the internet; the breakfast burritos at Michael's Kitchen in Taos have locals lining up around the block. For red chile dishes, locals recommend Duran's in Albuquerque, an old-school diner serving traditional New Mexican foods. If you're visiting New Mexico and want advice from locals about where to eat, we recommend scrolling through or even posting on the r/NewMexico forum on Reddit. Passionate New Mexicans will swamp you with ideas on where to eat the best chile dishes in the state.