America's Coolest Desert Towns To Add To Your Bucket List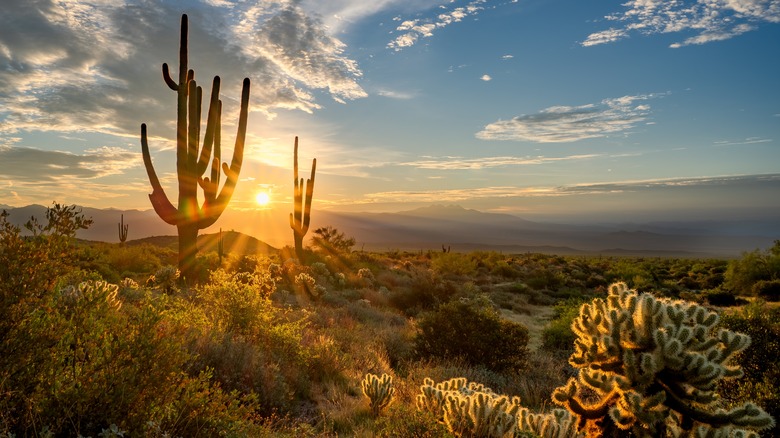 86Eric_Anthony_Mischke 86/Shutterstock
Middle of Nowhere, USA isn't exactly the first place you consider when planning your dream vacation, but heading out to one of America's four main deserts could actually make for a very cool and unique experience. Contrary to what you may believe, there's quite a lot to see in America's driest climates. Whether the drylands bring out creativity in people or creative people are just drawn to these barren lands, the truth is that some fantastic art can be found in these areas. Nature itself seems to follow this rule too, because Mother Earth has crafted some wonderful works of art out in the desert for those who venture to look.
Between striking landscapes, pops of vibrant color, and one-of-a-kind human touches, the West and Southwest's seemingly undesirable terrains contain a number of surprising hidden gems. Here are some of the coolest desert towns America has to offer, deserving to be on your ever-growing domestic or world travel bucket list.
Marfa, Texas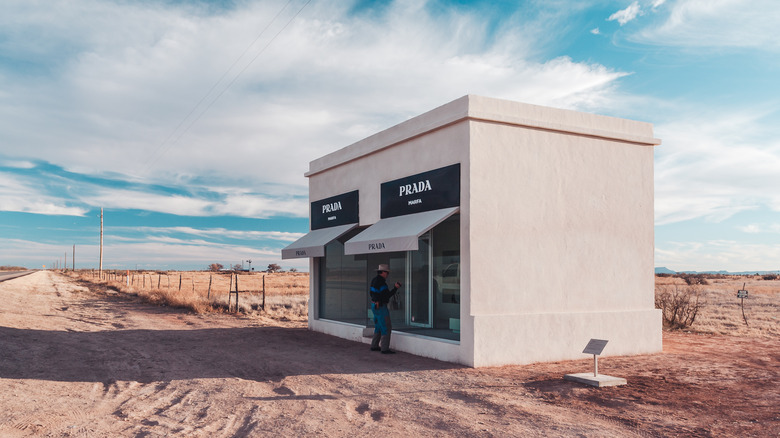 Jonathan Percy/Shutterstock
While you may have some concerns about traveling to a town that is surrounded by the Chihuahuan Desert and smaller than two square miles, the only real concern should be how long you'll be staying. Marfa, Texas isn't just a blip on the map, it's an established hub for creatives and is known for its art scene.
The surrounding area of the tiny town often incorporates its barren landscapes as an important part of art spaces and individual pieces. Marfa Prada, for example, is an interesting art installation that appears as if a Prada store just appeared in the center of an otherwise desolate land. Although it is not a real store, the juxtaposition of a high-end fashion brand in the desert is thought-provoking and somewhat jarring. Another large-scale installation is "Giant," a tribute to a film that was shot in the area that consists of painted plywood cutouts of the movie. The giant figures backdropped by a wide and open sky is an attractive sight.
There may even be a supernatural kind of visual artistry at work in the town, as the phenomenon known as the Marfa Lights has baffled locals and visitors for a number of years. Marfa isn't just a place where art exists, creativity seems to be interwoven into the land itself. A visit here will open your eyes to some of the magic the desert can hold.
Taos, New Mexico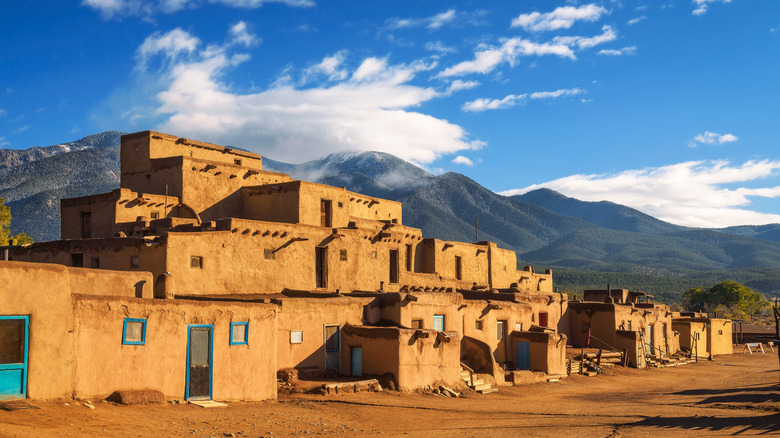 Nick Fox/Shutterstock
Another small town that needs to be on any art lover's radar, Taos, New Mexico impresses with its architecture and many art galleries. The influence of the Pueblo tribe on the town is obvious no matter where you look, and downtown boasts shops, galleries, and eateries that allow visitors to indulge in its Southwest charm.
About three miles from Taos is Taos Pueblo, a Native American world heritage site that will thrill history buffs. Miraculously still inhabited by the Pueblo people after over 1000 years, the traditional adobe architecture is well maintained and an authentic look into how the First Americans thrived in the desert lands.
In addition to the impressive and lasting structures found in Taos Pueblo, the area surrounding Taos is home to Earthships. These off-grid homes use anything they can to be as close to self-sufficient as possible and are made from recycled material by the residents themselves. The specially crafted homes are things of beauty and innovation. Between the historically significant Pueblo community and the futuristic Earthships, Taos is a town out of its own time.
Slab City, California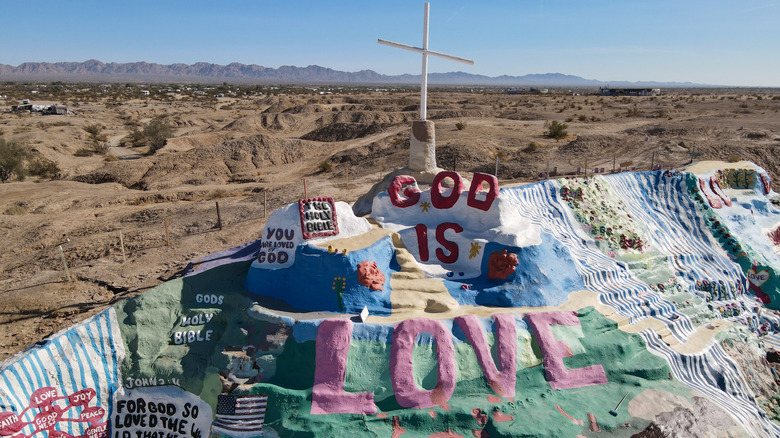 Unwind/Shutterstock
While not a town per se, Slab City consists of a group of free thinkers and artists who have turned an unwanted piece of desert into something truly mesmerizing. This collective of artistic squatters has created a community that has been widely considered America's only lawless community. Though police intervention does happen on occasion, the residents of this bizarre makeshift society largely govern themselves with a general code of mutual respect and minding one's own business.
Instead of buildings housing businesses and residences, the "town" is a mass of art installations and shelters made of recycled junk. The result is quite amazing, making a visit here a visual treat. Salvation Mountain is the most famous of these art installations and looks as though a small landfill was covered in adobe, painted, and adorned with words affirming God and the power of love. If the Bible were written by Dr. Seuss, it would look a lot like Salvation Mountain.
Less than a mile away is East Jesus, another community within Slab City that focuses on creating art out of unwanted items. If you plan to visit, announce your intent to visit, never show up after dark, and don't even think about leaving a cigarette butt on the ground. If you follow these rules, you'll likely have a lovely time admiring all the funky art, but be mindful, as disrespecting their guidelines for strangers could turn dangerous. Respect the art and the creators or stay out of Slab City altogether.
Las Vegas, Nevada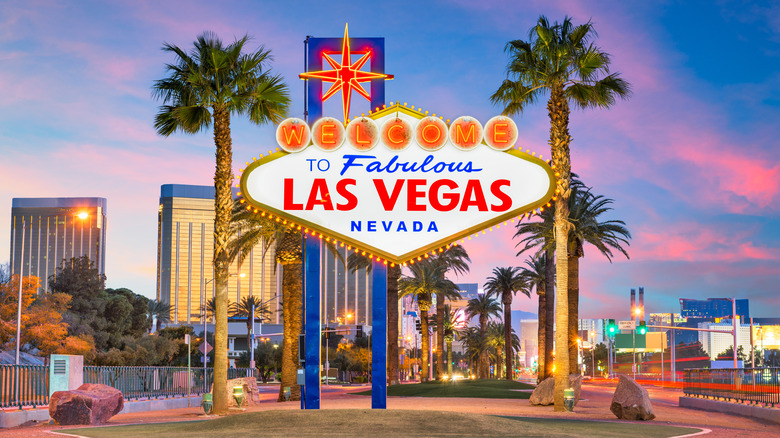 Sean Pavone/Shutterstock
Las Vegas is a neon star in the desert and the ultimate example of how the middle of nowhere can become one of the most popular and lively destinations in the world. Though it is known throughout the world for its themed casinos, there is so much more to exploring the Strip than betting on black. Travelers who like to take in a new city's sights will be happy viewing all the neon lights that light up the desert at night. Once you find some of the most iconic spots of the Strip, the Neon Museum has a collection of bright spots that decorated the city once upon a time.
Sin City is all about entertainment, and there are activities here for anyone. Whether you're into live entertainment like burlesque or magic, high-end experiences like racing luxury cars, or boutique shopping, you can do it all here and more. Even the outdoorsman has plenty of options when visiting, as the area surrounding the city contains some pretty amazing hiking spots. Las Vegas is a city unlike any other, which is pretty impressive for somewhere that was once just another stretch of desert.
Rhyolite, Nevada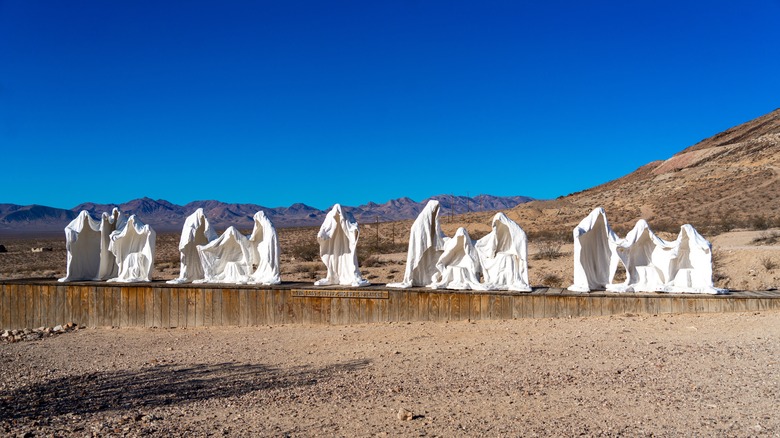 Gchapel/Shutterstock
While there is no one who currently lives in Rhyolite, the ghost town has not been forgotten. In fact, the intricate installations that have been created there have given what was once a thriving town new life. Just under two hours from Las Vegas, the ghost town makes a decent day trip from the neon strip. Bottle houses that have been crafted from thousands of old bottles and an eerie open-air museum make a trip to this deserted desert town worth the time and gas.
The Goldwell Open Air Museum leaves a haunting presence in the desert under a mile away from Rhyolite. One of the outdoor museum's permanent works is a rendition of Da Vinci's "Last Supper" and depicts a number of ghostly figures in similar positions as the original painting. The desert landscape surrounds the contrasting stark white figures for maximum creepy effect.
Rhyolite contains a number of bottle houses, the most popular of which was created by a man named Tom Kelly. With tens of thousands of bottles collected from the nearby abandoned bars, he built a full cabin that has turned into a popular work of art for people to admire. If you're going to pick one of America's abandoned places to visit, this one has plenty of after-collapse additions that have made it an art destination.
Amarillo, Texas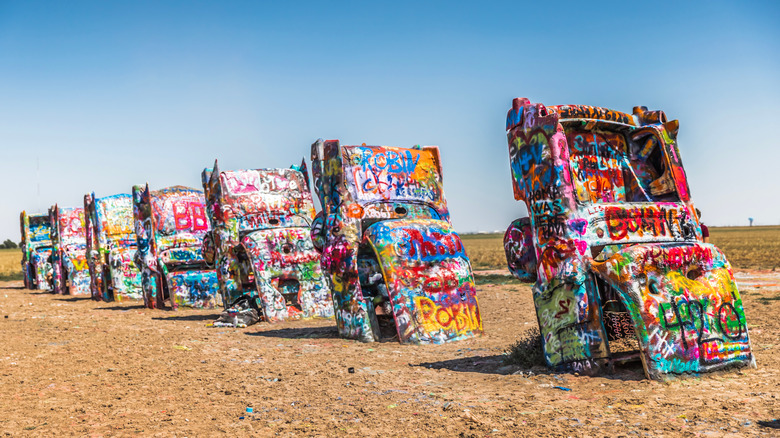 YuniqueB/Shutterstock
Located in the Texas panhandle and surrounded by prairie and desert, Amarillo has a little bit for everyone. The city has a fabulous art scene and an endearing Southwest culture that makes an experience here utterly unique.
With a lively city life as well as gorgeous red rock formations nearby, Amarillo makes for a vital stop along Route 66. Cadillac Ranch is a must-see for anyone along the timeless highway as well as anyone popping into the city for a visit. The massive art installation consists of 10 Cadillacs buried in the ground so that their tail ends are extended vertically toward the sky. The cars' paint jobs regularly change as visitors are permitted to spray paint them as they see fit, which makes the installation a very hands-on art piece.
Travelers looking for how Texas does it big in Amarillo can channel their inner Ron Swanson and head to the Big Texan Steak Ranch, where the 72-ounce steak challenge is waiting. Challengers have an hour to down a 72-ounce steak and sides without getting sick or else they'll be stuck with the bill.
Pioneertown, California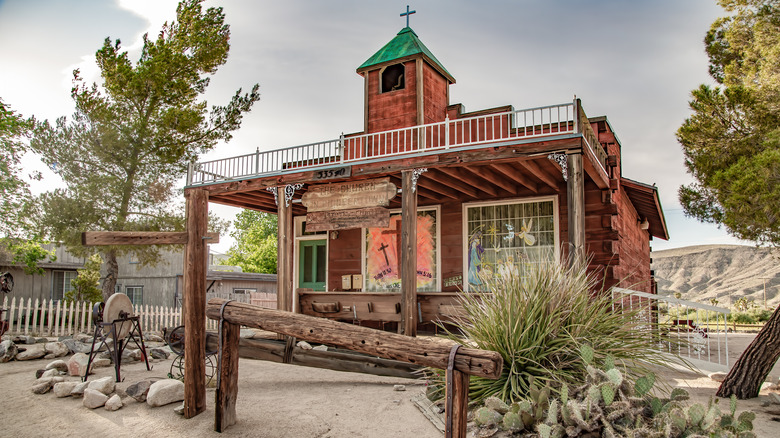 Steven_kriemadis/Getty Images
Visiting Pioneertown is like walking onto the set of a Western movie, probably because it has been used for shooting many of the films over the decades. Although it is largely a theme town, there are a few hundred people who call Pioneertown home. This, of course, means that some of the seemingly outdated salons and businesses here are fully functional. You can grab a drink and meal at the Red Dog Saloon and throw some clay at MazAmar Art Pottery, both of which are disguised as old Wild West buildings.
Though the businesses are real and exist in the here and now, the building facades are not the only pieces of history that Pioneertown showcases. There may not be movies regularly shot in the town these days, but shootouts and gunfights are apparently a regular occurrence out on the street. Don't worry, no cowboys are actually harmed, but Mane Street Stampede puts on a good show for visitors.
Tombstone, Arizona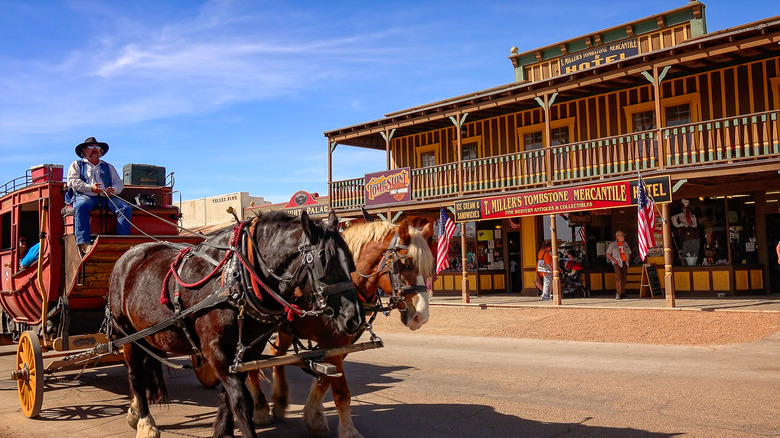 CrackerClips Stock Media/Shutterstock
While Pioneertown may make you feel as though you've entered a Western film, visiting Tombstone brings that Western vibe alive and inserts you into an actual living, historical Wild West town. Tombstone is known as the "Town Too Tough to Die," as it is still very much a community despite most similar towns being left behind in time. Although multiple fires have threatened its survival, and while Tombstone may be more of a theme town and tourist attraction, there are plenty of remnants of the mining town it once was.
Since Tombstone was an actual town in the Wild West rather than just created to look like one, it is wildly more authentic than Pioneertown. This doesn't mean that the novelty town doesn't give visitors what they want in terms of old Western experiences, though. There are regular shootouts and bar fights set up for casual viewing pleasure. If you head to the Bird Cage Theater, you may get lucky and run into an actual ghost, or at the very least, take a tour of the bullet-riddled building. You can imagine the violence that must have occurred in this Wild West town as you explore the various historic structures and hear their stories.
Bombay Beach, California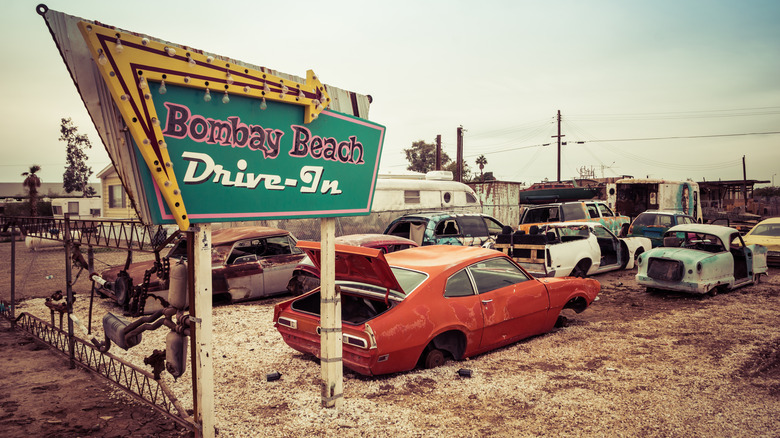 RMF/Shutterstock
If you've dreamed of sci-fi worlds and think you'd thrive in a dystopian novel, then a trip to Bombay Beach may be the perfect thing to tide you over until the end of days. A couple hundred people still live here, but what was once a resort town abandoned by the community, Bombay Beach is now comprised of intriguing art installations and dilapidated buildings filled with graffitied messages and portraits. Those who still remain at Bombay Beach have crafted sculptures, themed rooms, and makeshift hangout spots from things left behind and other unwanted items.
Highlights of Bombay Beach include its only real restaurant the Ski Inn, an old drive-in with vintage cars in various states of disintegration, as well as a collection of eerie sculptures on and near the water. A singular swing rests in the water just past a free-standing doorway to nowhere on the beach. These art pieces reflect a certain feeling of isolation around the town, but there's also a quirkiness to it all. Larger sculptures are found throughout the town, such as a huge metal fish with wings that stands outside one of the residences, and visitors are welcome to explore as long as they respect the residents, as well as the work they have put into making the town a creative space.
Arcosanti, Arizona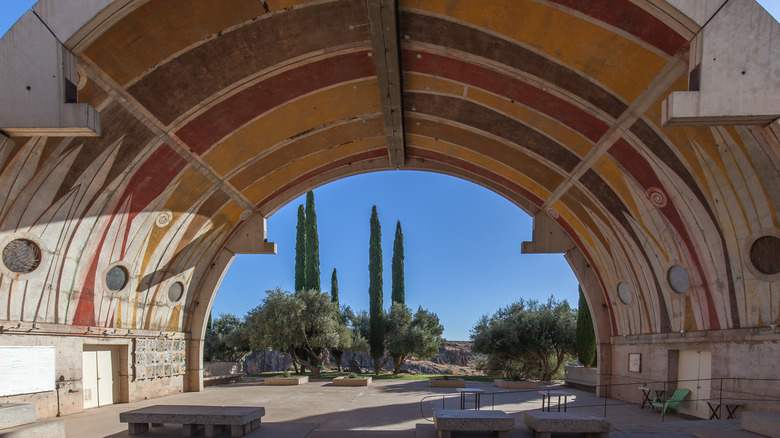 JHVEPhoto/Shutterstock
Speaking of towns that look to be of the sci-fi genre, Arcosanti has taken the fiction out of the name and created an experimental community with hopes of becoming some kind of utopia. There are only a few dozen full-time residents of the town, but more people come to live here as the seasons come and go, and there are even interns and volunteers who live on-site for the duration of their projects.
Arcosanti is mainly run by a small group of elected council members who come together every week to discuss the future of the community and any issues that have arisen. The community itself is tight-knit, and everyone works together to learn new skills geared toward leaving a smaller carbon footprint and battling consumerism.
The architecture is what makes Arcosanti truly stand out as an established community of skilled craftsmen. Originally designed and implemented by founder Paolo Soleri, the unique style of architecture here employs a large number of arches and circular elements. Said to be built from the top down, the wildly shaped buildings and structures that make up the town give Arcosanti the look of a futuristic world we still have yet to reach.
Silver City, New Mexico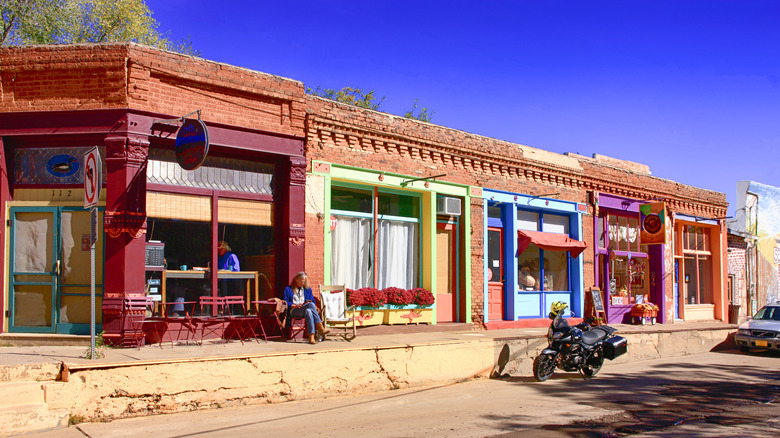 Csfotoimages/Getty Images
Walking down Silver City's Main Street is like exploring a Crayola box, and we mean that in the best way possible. Vibrant colors paint storefronts, and Native American influence can be seen throughout the town's historic downtown. Main Street is packed with art galleries and artisans who work with various mediums.
Pottery and clay art is prominent in Silver City, and the annual Clay Festival takes place for around a week every summer. The festival brings educators and creatives to the town, but gorgeous pottery can be found here year-round. Printmaking, textiles, painting, and jewelry crafting all have a place here, and visitors will not have trouble finding a work of art that they want to take home as a memento of their time in the creative town.
The architecture of Silver City is something to marvel at as well, and styles ranging from Art Deco to Gothic to Victorian can be seen here. An artful mix of old and new is found throughout the city, giving off a sense of timelessness that contributes to the good vibes felt by locals and visitors alike.
Moab, Utah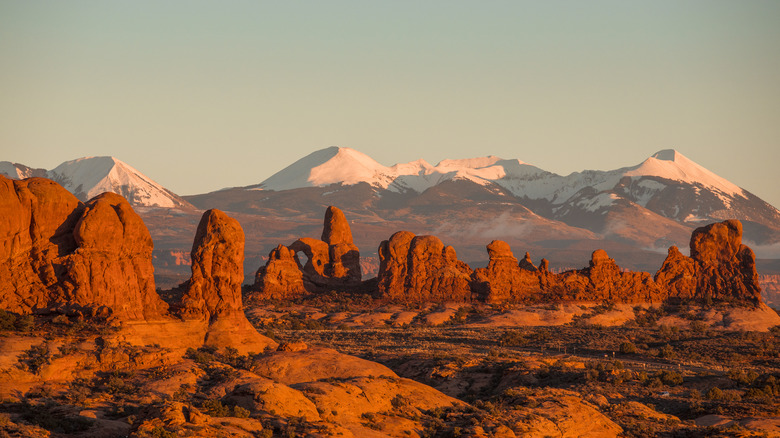 Visualcommunications/Getty Images
If you're just as interested in the surrounding desert as you are in the town itself, Moab is a perfect vacation destination. The red rock formations and arches of the desert are famous and provide some striking views. Keepsake photos taken here will keep the memories made during the trip fresh for years to come.
Travelers who love to hike and get outside will find Moab to be desirable, thanks to its many trails that lead to different spacious views of the desert and rock formations. Corona Arch Trail will take you in view of multiple arch rock formations, and Mill Canyon Dinosaur Bone Trail offers an excellent view of fossilized footprints of various dinosaur species. Moab is also near two national parks, Arches National Park just north of the city and Canyonlands National Park to the southwest, and for explorers tight on time, both parks are close enough to the city to be seen on the same day.
After your day of rock-scrambling is done, venturing into the city of Moab provides visitors with a surprisingly active nightlife scene. While you won't find any nightclubs here, Woody's Tavern is where you can mingle with the locals over a drink. You can also head over to the Moab Backyard Theater for a unique live entertainment experience.
Roswell, New Mexico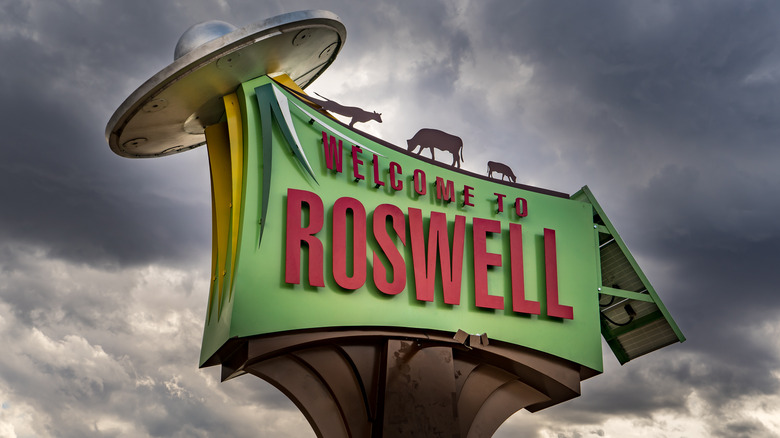 Steve Lagreca/Shutterstock
If you've ever been in a conversation with a conspiracy theorist or are one yourself, Roswell is probably a familiar name. The town in New Mexico is allegedly the site of one of the most famous extraterrestrial events in modern history, the 1947 UFO crash. Though this event didn't publicly end with us making contact with any alien life forms, it did result in the area being transformed into an unexpected tourist attraction for travelers interested in the unknown.
Individuals hoping for a close encounter flock to the town, and it's impossible to visit without seeing little green men everywhere. Everyone has a hand in the novelty of the extraterrestrial in Roswell, from a McDonald's shaped like a UFO to the International UFO Museum and Research Center. The tourist town is just plain fun. While you likely won't experience a real alien abduction, you could walk away from the town with a new, state-of-the-art tin foil hat.