The 14 Best Stops To Make On Your Trip Along Route 66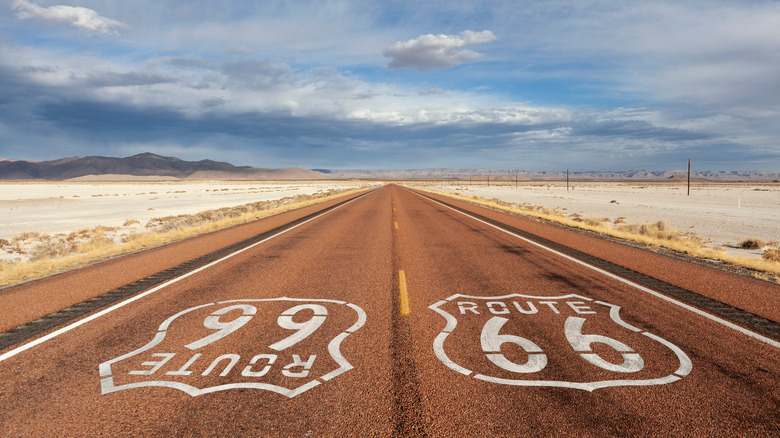 trekandshoot/Shutterstock
Out of all the crisscrossing roads across America, there is one stretch of highway that practically everyone knows — Route 66. Sometimes dubbed the "Mother Road" and "Main Street of America," Route 66 became famous in part due to its constant portrayal in music, television, and books. The other reason for the roadway's notoriety was that it was one of the few highways that were actively advertised, known for its slogan as being the "shortest, best and most scenic route" to get from Chicago, Illinois all the way to Los Angeles, California. 
Today, the 2,400-mile journey along Route 66 technically isn't considered a highway anymore, but it's still one of the most legendary road trips in the United States. If anything, travelers have only become more eager to hit the faux highway, spending over $132 million on Route 66 every year. One of the big reasons it's remained such a popular adventure across America is the countless intriguing, entertaining, or even odd stops to make along the drive. Some of the most unique places to see in the entire country are located near this famous strip of road. Out of all of the possibilities, these are the 14 best stops to make on your trip along Route 66.
Route 66 Hall of Fame & Museum (Illinois)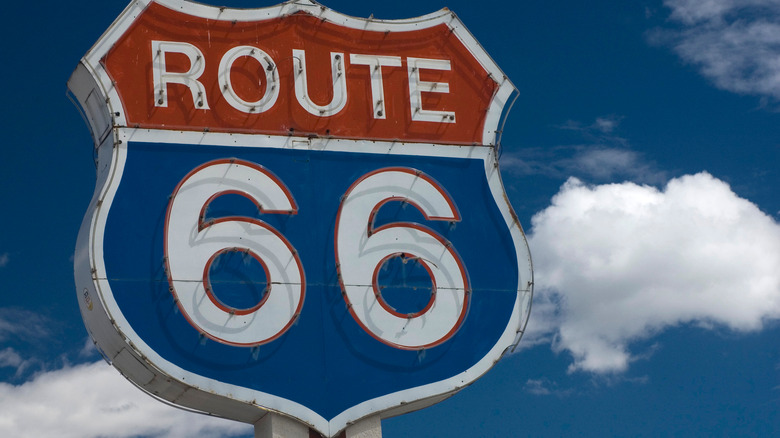 Michal Cypcer/Shutterstock
Most people start their drive on this iconic road from Illinois, so why not kick it off with a visit to the Route 66 Hall of Fame & Museum? It's home to thousands of different Route 66 relics and memorabilia pieces. Some of the coolest (and possibly most random) are booths from the world's very first Steak n' Shake and an antique Volkswagen hippie van that once belonged to a Route 66 legend. It's quite the experience.
However, the most useful thing for travelers at the museum is that they provide visitors with a slew of resources, tips, and recommendations for the famed road trip. That's why it's one of the best stops to kick off your Route 66 journey. The Route 66 Fall of Fame & Museum is open every day of the week except holidays and it's totally free! Making it the perfect place to check out for travelers on a budget. 
Gateway Arch (Missouri)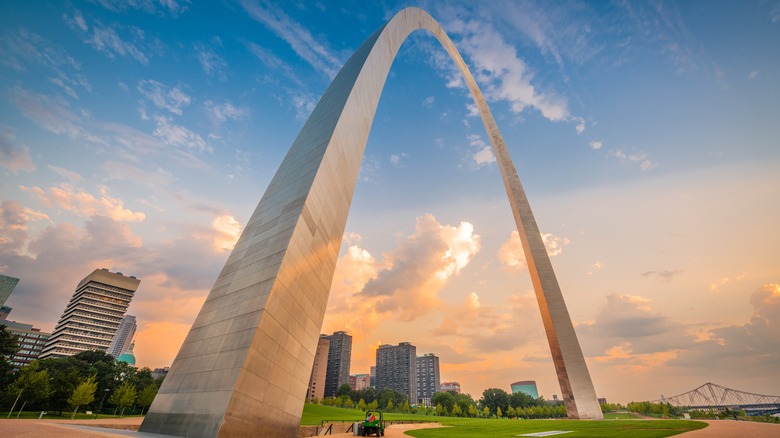 Sean Pavone/Shutterstock
This isn't just one of the most distinctive sites to see along Route 66, it's also one of the most recognizable monuments in all of Missouri. It also happens to be the tallest monument in the United States at 630 feet high. It's easy to understand why so many travelers hitting the open road for Route 66 stop at this record-breaking attraction. 
First, saunter up to the monument from the ground level, so you can experience how truly massive it is from below. Then, you can take a ride on the monument's tram all the way up the 63 storiesto the top. From all the way up on the peak of the arch, you'll be able to see 30 miles into the distance over the midwest. If you can manage to sneak up there right before sunset, you're in for an impressive natural show. 
There are a few important things to know about getting access to this beautiful experience, though. The tram ride up the Gateway Arch is actually free, but you will need a ticket and they sell out fast because of the attraction's popularity. Visitors should nab their tickets in advance on Gateway Arch's official website or by calling them at (877)-982-1010. There is also a 91-acre National Park around the arch to check out with a bunch of fun activities for kids and nice spots for walking off a bit of the Route 66 drive.
Meramec Caverns (Missouri)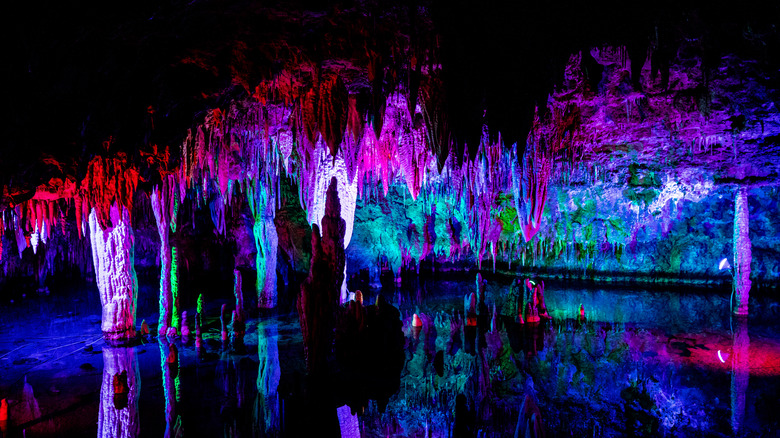 Mia2you/Shutterstock
Route 66 attractions take you everywhere, from hundreds of feet in the air to all the way on the opposite side of the spectrum deep underground. Nature lovers and adventure seekers alike will swoon at the Missouri Meramec Caverns right off Route 66. It took millions of years for this 4.6-mile complex of eerily beautiful caverns to form. Today, you have the opportunity to wander a piece of ancient natural history in all its rainbow-lit glory. 
After taking the plunge underground, you'll find some of the scarcest and biggest cave formations on the planet. It truly shows you how much of the world remains a mystery from your everyday life. Tours explaining the background and significance of the cave system in deeper detail are available for $27 per adult. There are also a handful of other intriguing things to do at Meramec Caverns, including watching the light shows against the formations, rock climbing, panning for gold, and even zip lining.
Pop's 66 (Oklahoma)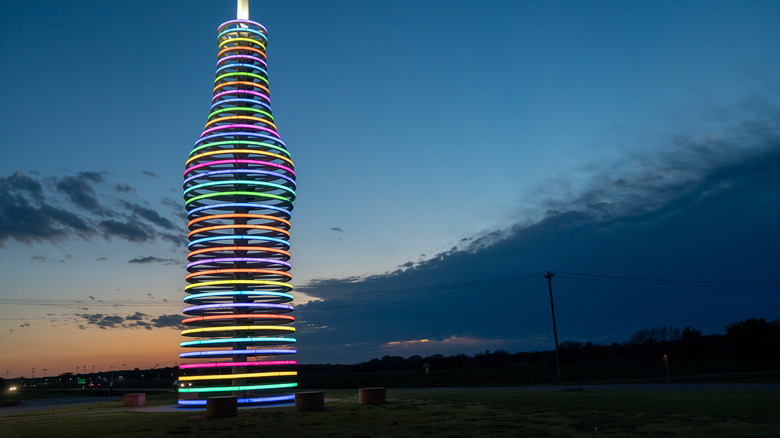 melissamn/Shutterstock
One of the most quirky, but extremely lovable and classic stops along the Route 66 road trip is Pop's 66. Located in Arcadia, Oklahoma, it will be hard to miss this restaurant/soda store thanks to its enormous, colorful light-up soda bottle on the front lawn. It's, fittingly, 66 feet tall and actually the largest soda bottle in the whole world. So, you'll be able to spot it from a mile away.
When you're jonesing for a highway snack, Pop's will satisfy every craving from breakfast to late dinner. They're open daily from 6 a.m. until 10 p.m. and serve up crazy good burgers, milkshakes, and egg sandwiches. However, that's not the thing that will stick in your mind after stopping by the notorious Pop's 66. 
The spot is most well-known for is their wide variety of soda — emphasis on "wide." The store carries over 700 different kinds of soda. This isn't your run-of-the-mill Coca-Cola and Sprite offerings, either. Pop's 66 has mind-bending flavors you'll never find anywhere else, like coffee, lemon meringue pie, buffalo wings, beef jerky, and dog drool. You could spend hours exploring the wacky varieties of soda available at this one-of-a-kind shop and it's a must-see along Route 66. 
The Blue Whale of Catoosa (Oklahoma)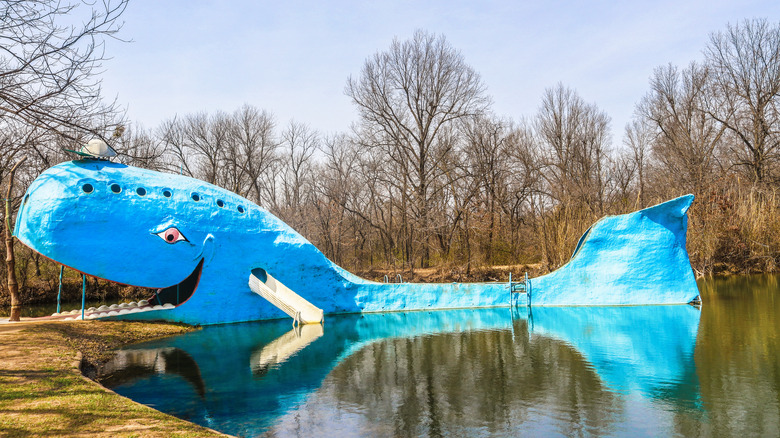 Vineyard Perspective/Shutterstock
When you search "Route 66 attractions" on the internet, one of the first places to always pop up is the Blue Whale of Catoosa, Oklahoma. The free-to-visit concrete whale is one of the more random places to stop along the Route 66 drive, but it's a quintessential attraction on Route 66 nonetheless. The friendly-faced Blue Whale sculpture is 80 feet long and a towering 20 feet tall. It was originally built over 50 years ago by a very determined and creative zoologist named Hugh Davis. He spent years developing the art installation next to a little pond, imagining it as a place his grandchildren would one day play in. 
 As it turns out, it would bring joy to way more people than just Hugh's family. Over the past five decades, the Blue Whale has become a world-known tourist attraction for Oklahoma and is still enjoyed by countless families. People are so supportive of the Blue Whale of Catoosa that it's even recently been getting some renovations to keep it in tip-top shape.
Cadillac Ranch (Texas)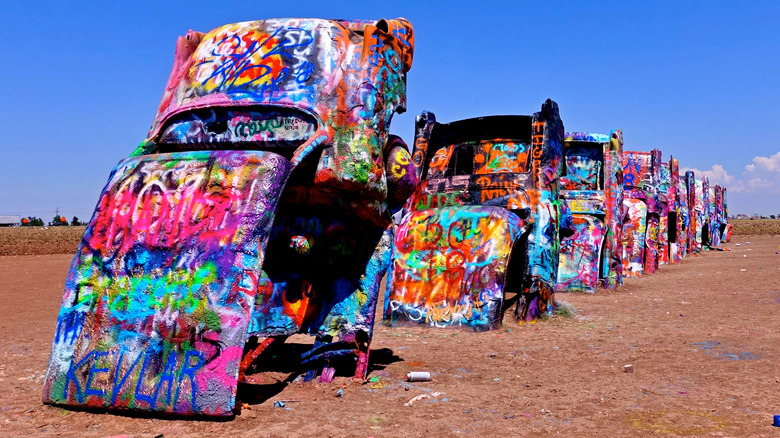 Erwin Widmer/Shutterstock
It's rare to guarantee that an attraction is unlike anything you've ever seen before, but that statement rings true for Cadillac Ranch in Texas. The Cadillac Ranch is a completely free, funky art installation and roadside attraction consisting of 10 semi-buried cars covered in vibrant graffiti. It sounds like something out of a twisted dream, but it's very real life on Route 66. It's a favorite stop along Route 66 for photographers because of the colorful burst of color it brings to an otherwise barren desert. 
The slightly confusing site was conceived from the mind of a local millionaire named Stanley Marsh who enlisted the help of several artists to bring it to life. Although the cars started off in their original prime and proper condition, people started vandalizing the cars with graffiti. As it turns out, Mr. Marsh actually preferred the new psychedelic effects of the visitor's spray paint additions. Since then, the cars have been completely caked with colors left behind by travelers past and visitors are encouraged to leave their mark behind by contributing a piece of spray paint art. You can even buy spray paint onsite from a souvenir truck.
Glenrio Ghost Town (New Mexico/Texas)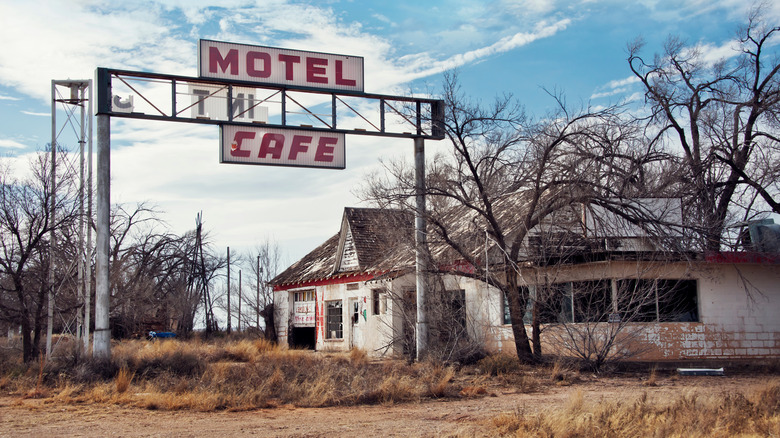 Svetlana Foote/Shutterstock
A ghost town might not be the first place you think will end up on your Route 66 itinerary, but this road trip is full of surprises. Sitting on the border right between Texas and New Mexico, you'll find the bones of a ghost town named Glenrio right off Route 66. There isn't much left of this railroad town after time has eaten away at it. All that remains is an old cafe, a motel, a deceased Texaco service station, a post office, and a few other structures.  
It's a spooky reminder of how quickly a town can go from filled with life to completely desolate. Visitors are welcome to drive through the abandoned ghost town and even stop along the way to snap the occasional photograph of Glenrio's architectural cadavers. However, it's important to keep in mind that these places are still owned by someone out there and most don't want visitors entering the structures. Respect the area and any "no trespassing" signs.
Blue Swallow Motel (New Mexico)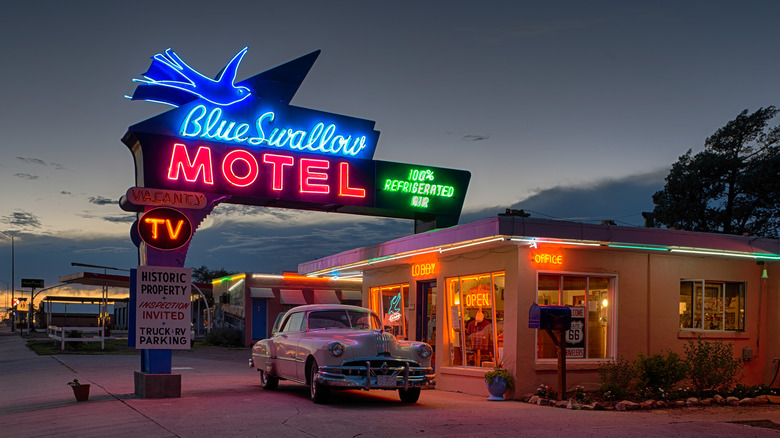 Nagel Photography/Shutterstock
By the time travelers reach New Mexico on a Route 66 road trip, they're usually exhausted and desperately in need of a relaxing night at a comfortable hotel. Luckily, you can have a place to rest your head peacefully and stop by an essential Route 66 attraction when you visit the Blue Swallow Motel. This little vintage-style motel has been taking in wayward travelers from Route 66 since 1939 and has no plans of ceasing any time soon. It's legally considered a historic place by the National Register, so its position is pretty solidified as a Route 66 legend. 
The rates range from $95 to $150 depending on the size of the room, making this retro hotel affordable for just about any budget. Even if you're not planning on crashing the night at the Blue Swallow, it's still worth stopping by just to see the place. It really does make you feel like you've been plucked out of the 21st century and transported back 50 years or so. Plus, the Blue Swallow Motel offers one of the most iconic spots to get a photo of the Route 66 sign painted on the asphalt with the hotel's bright, neon sign in the background. 
The Blue Hole (New Mexico)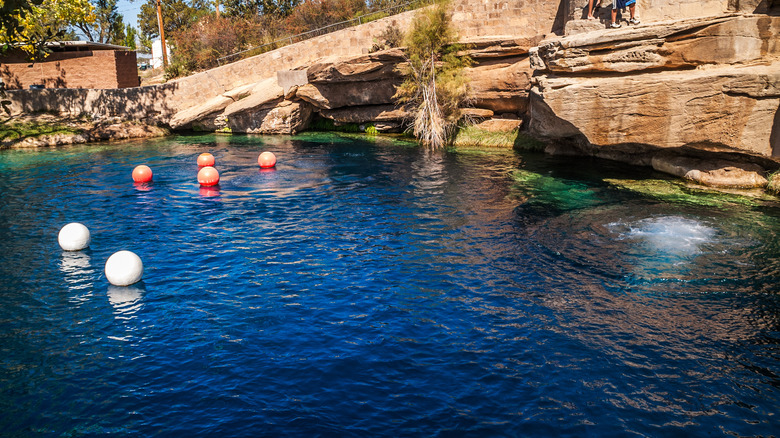 Sue Smith/Shutterstock
After spending hours on end trapped in a tin car with an endless road stretching ahead, you probably need a little retreat into nature. On Route 66, one of the most entertaining natural attractions to visit is the Blue Hole in New Mexico. The Blue Hole isn't your everyday, standard swimming hole that mostly appeals to young children and families, though. It's a miraculous luridly blue oasis smack dab in the middle of the desert that's great for swimming but mainly known as a prime scuba diving destination. Would you have expected to find scuba diving along Route 66?
If you want to partake in Blue Hole's top activity, you'll need to get yourself a one-week Scuba permit for $20 that you can pick up right at the attraction's dive shop and a skin-diving permit. You can also rent diving suits, goggles, and tanks at the dive shop. Visitors are welcome to dive all year round and winter is actually the most popular time to explore this aquatic world. 
If diving isn't quite your thing, there are a bunch of other fun things to do in Blue Hole, too. You can go swimming, snorkeling, scuba diving, and even cliff jumping if you have a bit of thrill-seeker in you. When you're thoroughly knackered from all the water activities, the nearby city of Santa Rosa has tons of delicious places to eat. 
Petrified Forest National Park (Arizona)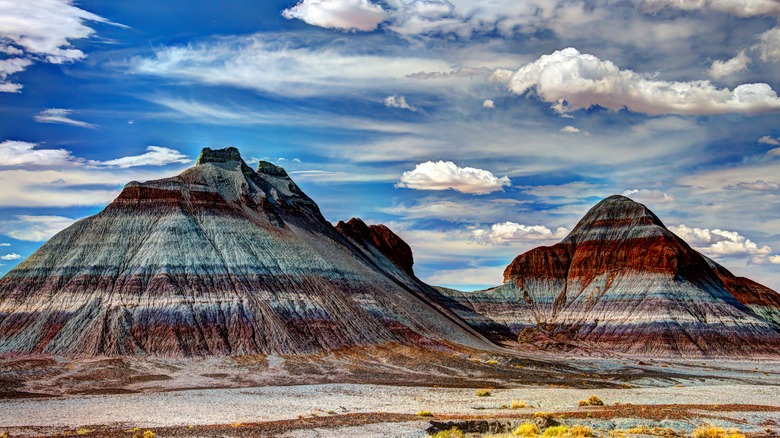 Larryknupp/Getty Images
Out of all the stops along Route 66, the Petrified Forest National Park is something that you must see with your own eyes to believe. Located in the desert of Arizona, this park is unlike any other you've been to before, distinguished by its petrified wood that paints the entire landscape in a wild, rainbow gradient effect. The petrified result came from different minerals, like volcanic ash, being sucked into the wood and crystallizing over thousands of years as the wood disintegrates. 
The range of colors here makes it one of the strangest, albeit stunning, national parks in the United States. That's probably why it's one of the most-visited national parks in the country and one of the top stops along Route 66. Visitors are welcome to hike, picnic, bike, take a tour, horseback ride, or even pitch a tent and camp for the night at the Petrified Forest. If you have a camera, you'll definitely want to break it out for this place. 
Hackberry General Store (Arizona)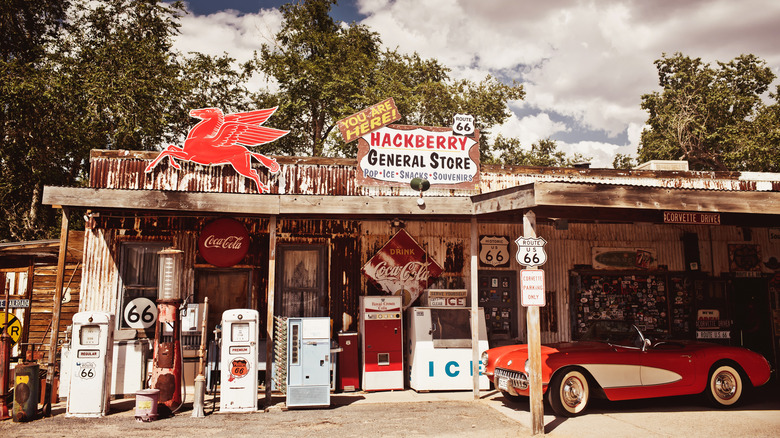 Andrey Bayda/Shutterstock
Wait! Don't drive right on past this little shop that looks like it might be on its last leg. At first glance, the Hackberry General Store might look like a jumbled mess, but it's actually one of the most cherished stops along Route 66. The store was given new life by a guy named Bob Waldmire in the 1990s, a well-known figure around Route 66 due to his family's legacy as the inventors of corndogs. 
As the saying goes, never judge a book by its cover. Even though it looks long abandoned, this nostalgic pitstop possesses a huge collection of interesting mementos from the 1950s to explore, like gas pumps, signs, and vintage cars. Plus, the Hackberry General Store is still open for business if you want to do a bit of shopping. They sell tons of unusual and fun souvenirs from pins to pocket watches.
Barringer Crater (Arizona)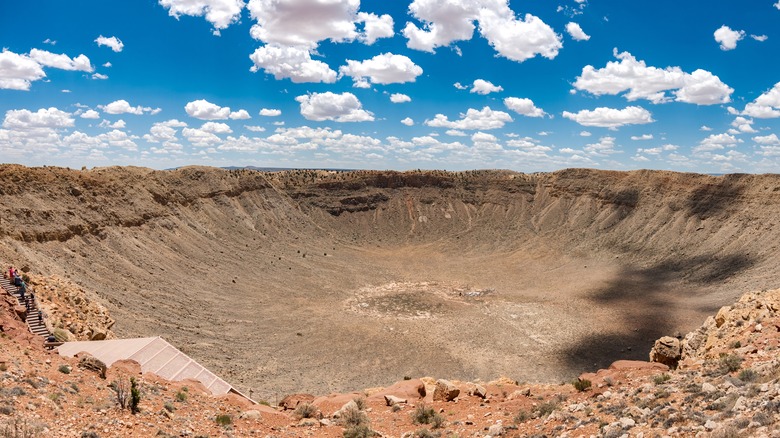 czitrox/Shutterstock
You never realize what a tiny speck you are in the universe until you come face to face with something absolutely massive like the Barringer Crater in Arizona along Route 66. This natural wonder was formed over 50,000 years ago from a piece of an asteroid colliding with the earth, leaving behind a cavity that's almost a mile long. It's a one-of-a-kind stop both along Route 66 and in the United States in general.
Travelers along Route 66 can explore the area around Barringer Crater by wandering the trails around the outer edges of the giant depression. It's wild to be right next to an impact that powerful. To get a sense of just how forceful the impact was, you can watch a 3D animation recreation of it at the on-site Meteor Crater & Barringer Space Museum. When you're done walking around the edges of the crater under the Arizona heat, you can check out the museum's 24 intriguing exhibits to learn more about space.
Elmer's Bottle Tree Ranch (California)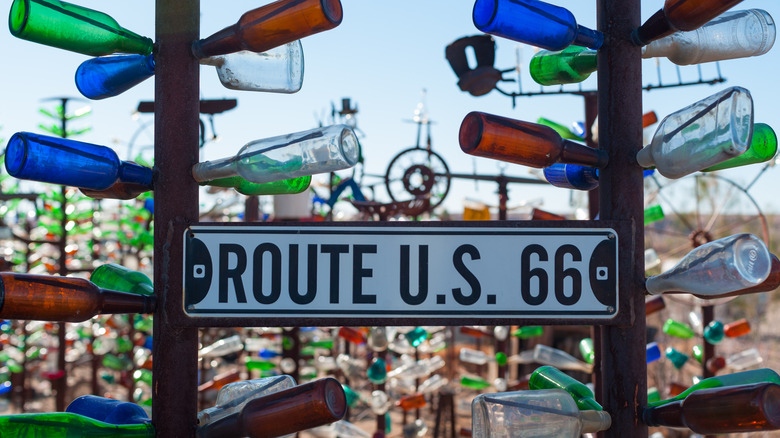 gabriel12/Shutterstock
The Elmer's Bottle Tree Ranch in California took glass bottles, stuff that most people would consider to be trash, and converted them into a priceless treasure of a roadside attraction near Route 66. This makeshift ranch is a maze of colorful bottle trees that might as well be a DIY stain-glass masterpiece when the light catches just right. You really do find the funkiest works of art along the famed Route 66.  
The odd Bottle Tree Ranch was a passion project built by an artist named Elmer Long, who had turned collecting bottles with his dad as a kid into a lifelong hobby. Sadly, the original creator passed away a few years ago, but his bottle ranch lives on and still welcomes Route 66 travelers with open arms. It doesn't cost any money to visit Elmer's Bottle Tree Ranch, but friendly donations are always accepted. Today, the extensive Bottle Tree Ranch remains one of the most unique and iconic places to visit and take photographs on Route 66.
Santa Monica Pier (California)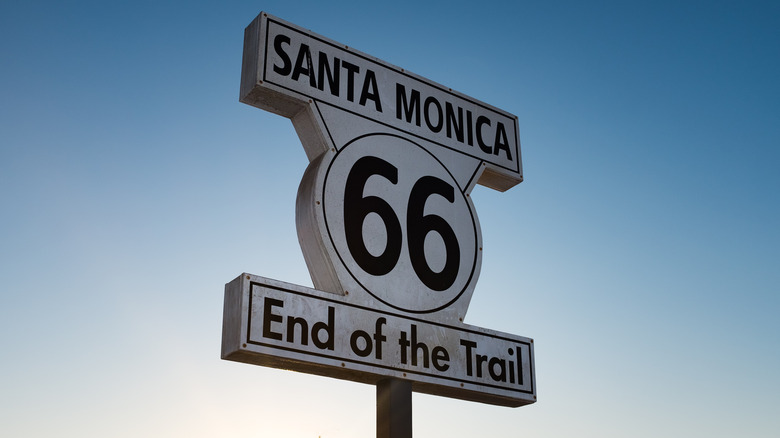 Epics/Getty Images
All good things must come to an end and that includes your Route 66 road trip. Before you call it quits on the adventure, though, finish it off the right way by stopping by the Santa Monica Pier. The Santa Monica Pier in California is the technical end point of Route 66, but once you arrive, there is still excitement to come. If you're traveling Route 66 from west to east, you can just start your trip with the pier instead. 
At Santa Monica Pier, you can get to know the area's rich history or spend the afternoon at the amusement park to ride on the beloved Pacific Wheel right on the coast. If you're feeling sleepy after embarking on such a long road trip, you can opt for a more relaxing day of fishing, lounging on Santa Monica State Beach, and tasting some of the pier's well-known desserts. Conclude your day at Santa Monica Pier by stopping to see the "End of The Trail" sign for Route 66. You can easily find it by walking straight on the pier, past Bubba Gump Shrimp Company, but before the Playland Arcade.