The Most Chilling Abandoned Places In America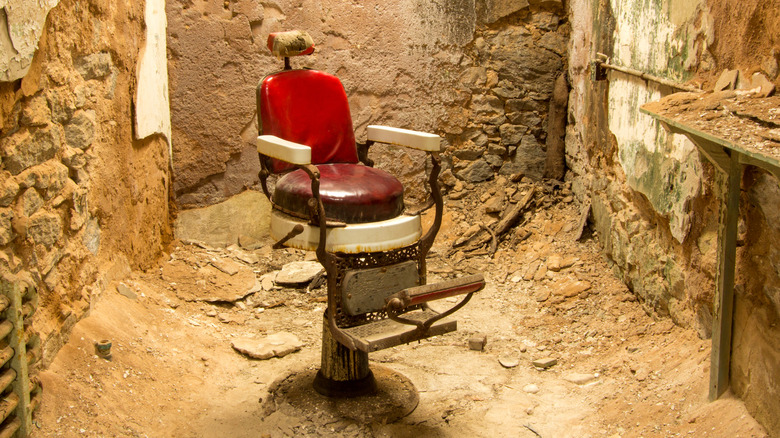 Brian Logan Photography/Shutterstock
Throughout history, people have built structures and then ceremoniously opened the doors of their new factory, hospital, prison, asylum, military fort or home. These buildings flourished with life inside them — families, patients, workers, soldiers and vacationers. But then at some point, everyone walked out and never came back. 
Deserted spaces are often demolished or revitalized, but some are simply left to ruin (and spooky spirits). From haunting mines and shadowy theaters to full-fledged ghost towns frozen in time, these are the most chilling abandoned places in America.
Atlanta Prison Farm (Atlanta, Georgia)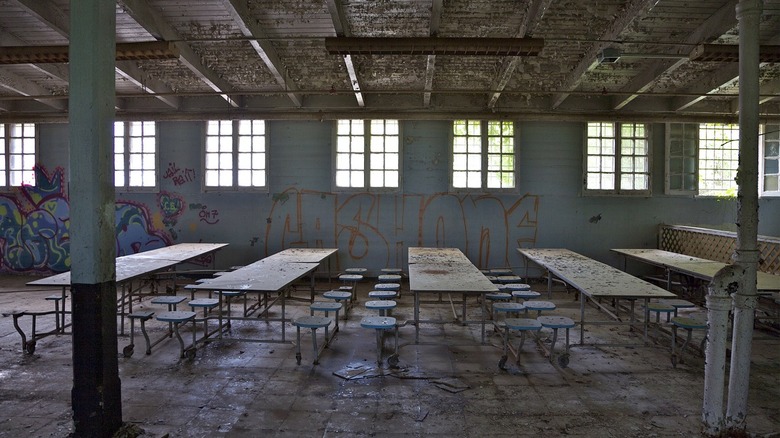 Shutterstock
Georgia's 400-acre Atlanta Prison Farm operated for more than 50 years before closing in 1995. It housed more than 700 criminals who helped maintain a working farm that produced dairy, livestock and canned vegetables. In October 2009, 14 years after the facility closed, the roof caught fire, and instead of extinguishing it, firemen let the blaze burn out. Today, the old correctional facility is damaged, decayed and covered with vines and graffiti. It's quite a ghoulish sight, so it's ill-advised to visit.
Salton Sea (Salton City, California)
Shutterstock
The Salton Sea is a salty, shallow lake located directly on the San Andreas Fault in Salton City, California. The area was barren until the early 1900s until workers carved an irrigation canal to relieve the Colorado River into the Imperial Valley. The water flooded a dry lake bed and the "miracle in the desert" was born. By mid-century, it was a popular American tourist destination, attracting 1.5 million annually to resorts and beach homes. As time passed, agricultural runoff, lack of outflow and the lake's increasing salinity rattled the ecosystem. Birds became ill, fish began to die and visitors took their pleasure elsewhere.
Ohio State Reformatory (Mansfield, Ohio)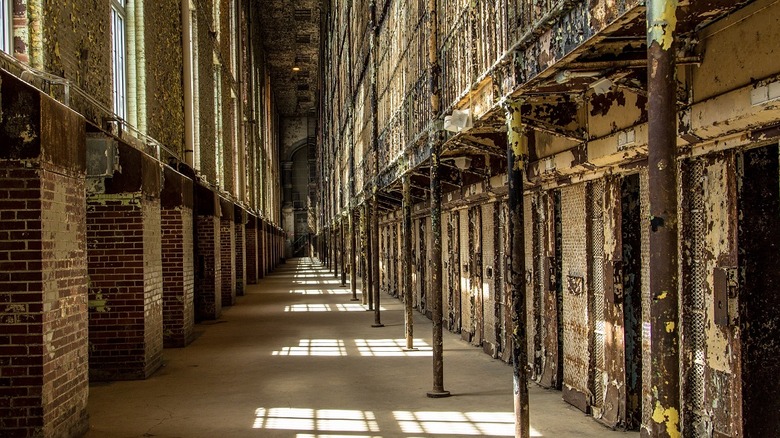 Shutterstock
The Ohio State Reformatory is a historic prison in Mansfield, Ohio. Construction on the facility began around 1886 and, after much delay, it officially opened in 1896 before shuttering in 1990 on federal orders. One of its most famous inmates was Gates Brown, who served time for armed robbery and then went on to play for the Detroit Tigers from 1963 to 1975. Another athlete, Cleveland Browns running back Kevin Mack, served a month for a drug conviction. In its final years, the allegedly haunted reformatory was featured in many movies, including the 1994 drama "The Shawshank Redemption" and music videos for Godsmack and Lil Wayne.
Lake Shawnee Amusement Park (Rock, West Virginia)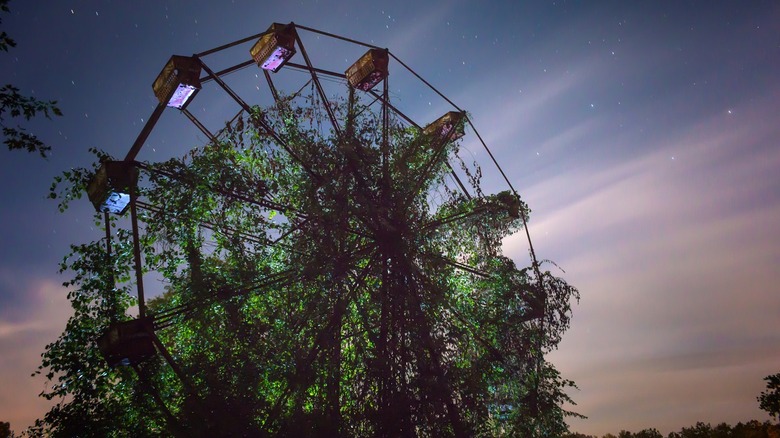 Dreamstime
Legend has it that this land in Rock, West Virginia, was once occupied by the Clay family, whose children were kidnapped and murdered by Native Americans while the father, Mitchell Clay, was out hunting. Lake Shawnee Amusement Park opened in 1926 and was abandoned 40 years later after a young girl died on the swing set and a boy drowned in the pond. In 1985, Gaylord White, a former employee of the park, purchased the land with plans to reopen it, but those dreams were thwarted after human remains were found buried on the property. There were 13 skeletons in total, and most were children. White believes the premises to be haunted and says he's seen the girl who met her fatal end after a truck backed into her on the swings.
City Hall Subway Station (New York, New York)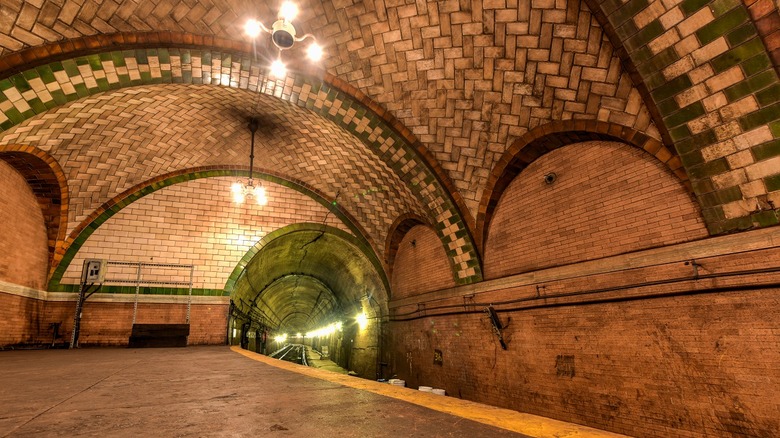 Shutterstock
In 1904, New York City's very first subway ride took off from City Hall Station, adjacent to the current Brooklyn Bridge stop in Manhattan. The platform and mezzanine were built to impress, featuring vaulted ceilings, profound tiling, skylights, stained glass and chandeliers. Unfortunately, the architecture wasn't exactly fit for functionality as the curved track could only accommodate five train cars. Ridership grew and trains lengthened, so the service was discontinued on the last day of 1945. Today, the station is used as a turnaround for the 6 train.
Rhyolite (Rhyolite, Nevada)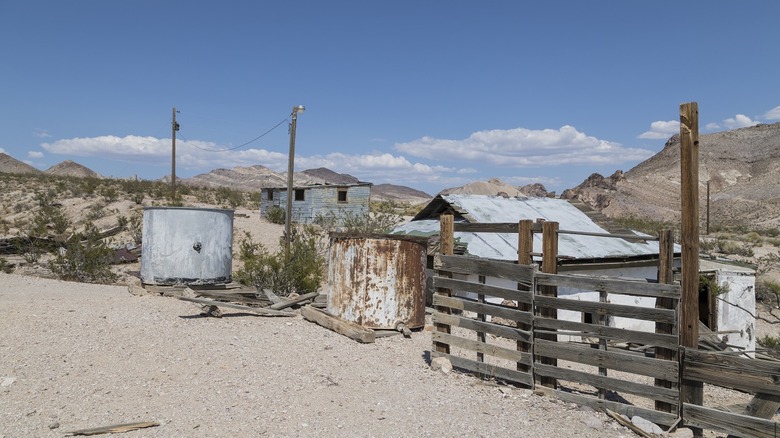 Dreamstime
Rhyolite, Nevada, was founded in 1904. By 1916, everyone who had lived there had gone. The draw was gold, and lots of it. Buildings sprung up everywhere — a school, stock exchange, hospital, newspaper, opera house, electric plants, stores, hotels and more — and one miner, Tom T. Kelly, built an entire house from 50,000 beer and liquor bottles. Life was good and the town was bustling, but when the financial panic of 1907 hit, Rhyolite began to flounder. The mine closed in 1911, and by 1920, the whole town up and left, leaving nothing but the skeletal remains of a once-flourishing mining town in the dust.
Fort Proctor (St. Bernard Parish, Louisiana)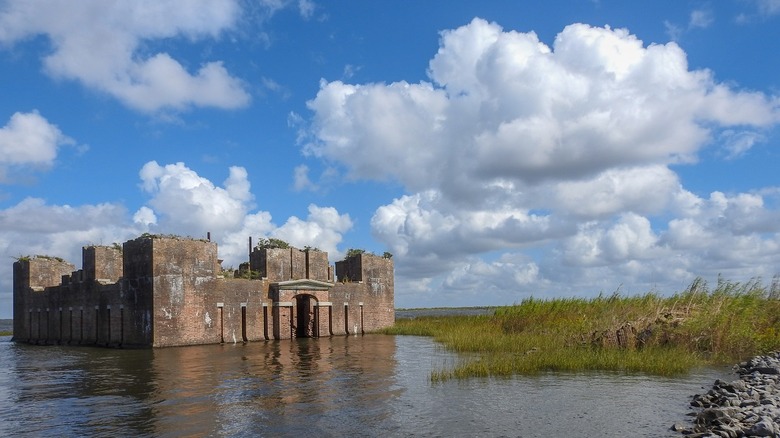 Shutterstock
Fort Proctor was built in the 1850s to help protect waterways toward New Orleans, but troops never employed the fort due to hurricane damage and the start of the Civil War. By the time the battle was over, military improvements deemed the structure obsolete and it was left in ruins. In the mid-1900s, it served as a hangout for teens in St. Bernard Parish, but now it's only accessible by boat because Louisiana's Lake Borgne crept up and swallowed it.
Old Car City (White, Georgia)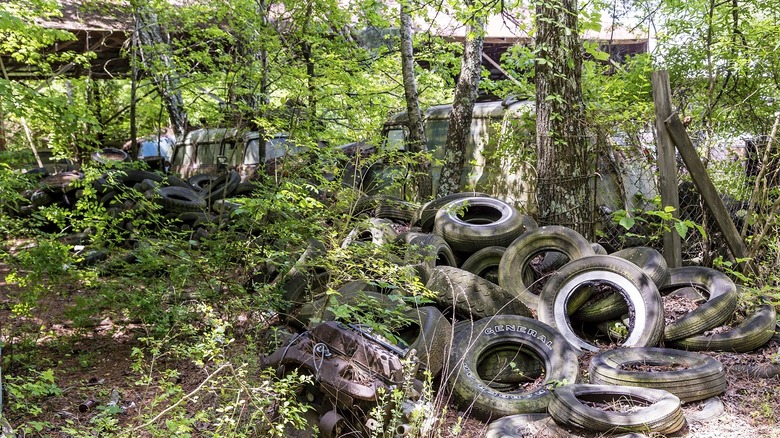 Shutterstock
Old Car City was once a general store and dealership, but today it's one of the world's largest automobile graveyards. Located in White, Georgia, the 34-acre land is home to more than 4,000 vintage cars, trucks, vans and school buses covered in leaves and moss. According to the company that owns the lot, Elvis Presley's last car (a 1977 Cadillac Seville) can be found there. Visitors can ogle at the colorful junkers for $20 per head or $30 if you intend on taking any photos.
Eastern State Penitentiary (Philadelphia, Pennsylvania)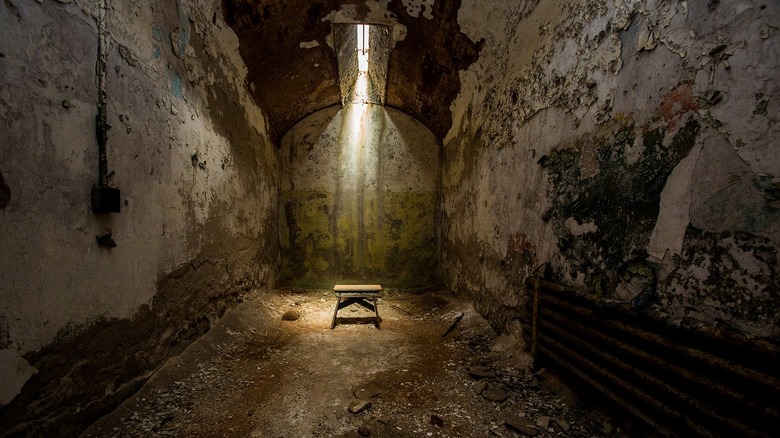 Shutterstock
The castle-like Eastern State Penitentiary in Philly operated from 1829 to 1971, and at the time of its completion, it was the most expensive public structure ever built in the U.S. For the first time in history, the "separate system" was put into effect, meaning that the prisoners were not allowed to interact with each other at any time. American gangster "Scarface" Al Capone and bank robber "Slick Willie" Sutton both did time at the facility, as did Pep "The Cat-Murdering Dog," an actual dog who was reportedly given a life sentence for allegedly killing the governor's wife's cat in 1924.
Michigan Central Station (Detroit, Michigan)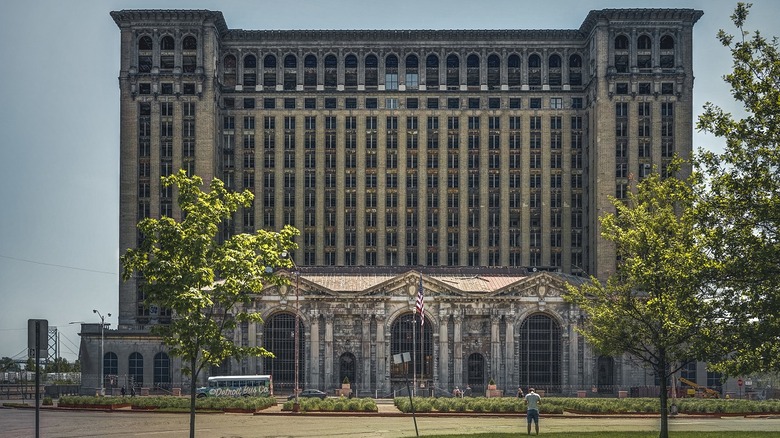 Dreamstime
The Michigan Central Station in Detroit opened in 1913 before construction was finished. The train depot, which featured two mezzanines and 13 stories of office space, was the tallest rail station in the world at the time of its completion. The Beaux Arts-style structure was designed by the same architects who worked together on Grand Central Terminal in New York City. After many successful decades, train travel began to decline and the company went bankrupt. The last train left the station in 1988, and in 2018, Ford Motor Company bought the building to build a new innovation campus.
Tillamook Rock Lighthouse (Tillamook, Oregon)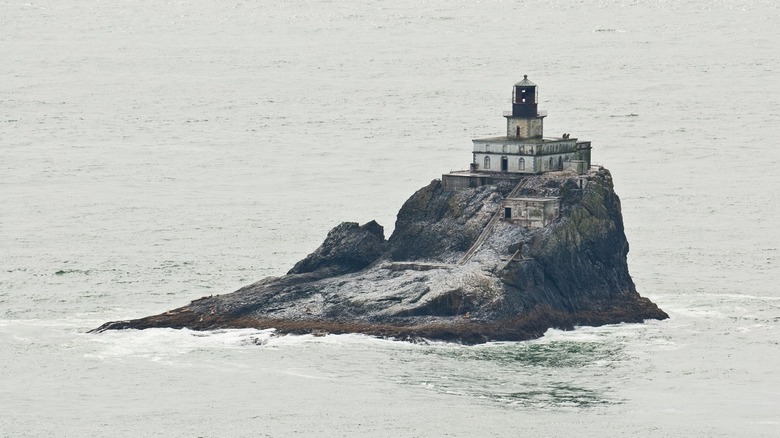 istockphoto.com
Tillamook Rock Lighthouse is nicknamed "Terrible Tilly" for a reason. The defunct lighthouse a mile off the coast of Oregon sits atop a jutting volcanic rock battered and bruised by massive crashing waves. Back in 1881 when the building was near completion, a boat dubbed Lupatia wrecked at the base, killing all 16 crew members. The only survivor was the crew's dog. In the coming years, heavy storms severely damaged the lighthouse and eroded the rock it stood upon. The structure was decommissioned in 1957 and currently houses urns containing the ashes of those who wished to rest at sea.
Laurelton State Village (Laurelton, Pennsylvania)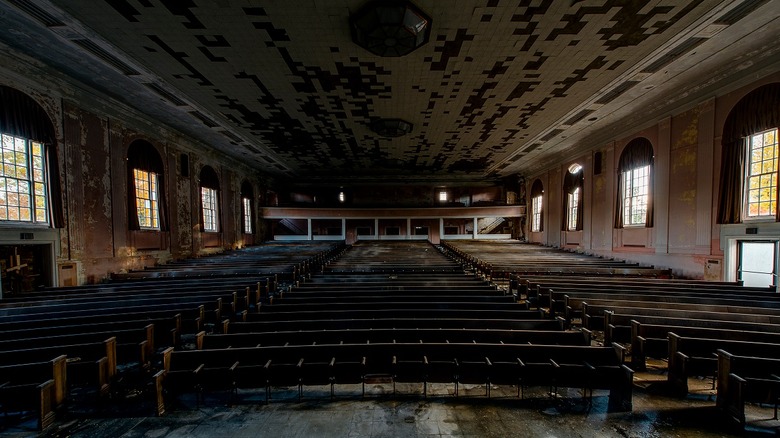 Shutterstock
Laurelton State Village in Pennsylvania was created in 1917 for women with various mental health issues. By 1938, 700 residents aged 16 through 45 reportedly occupied the space and another 600 were on the waiting list. As a self-sufficient community, the women spent most of their time canning, laboring in the kitchen, doing laundry or harvesting food from the surrounding farmland. In 1969, Laurelton State Village began accepting men into the institution, and it was renamed Laurelton State School and Hospital. The center would close 29 years later in 1998.
Slab City (Slab City, California)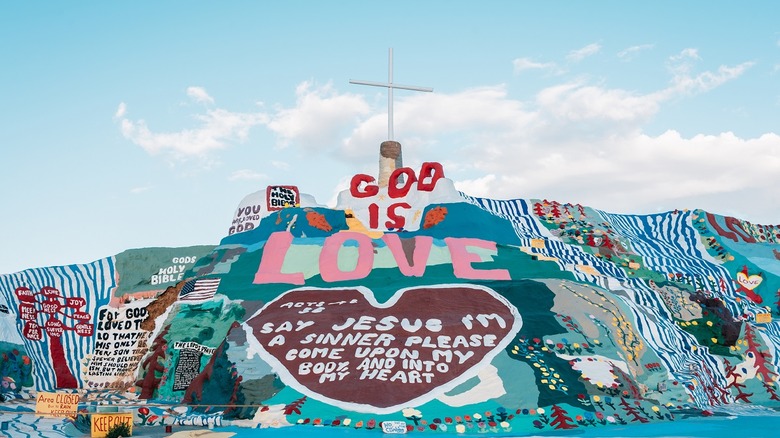 Dreamstime
Slab City, California, was previously a World War II Marine Corps base called Camp Dunlap, but now the abandoned property is a free living community for campers and squatters inhabiting rusted buses, RVs and shacks. Visitors might recognize the artwork from Ke$ha's music video for "Praying," which features the very colorful Salvation Mountain. Other installments around the property include East Jesus, made from recycled and repurposed waste, and The Range, an open-air nightlife venue. Most people come here for warmer weather during the winter (they're called "snowbirds"), but a handful of permanent residents (called "slabbers") stay all summer long, even though the temperature often climbs to 120 degrees. Slab City has no electricity, running water, sewers, toilets, trash service or law enforcement, and the closest town is four miles southwest in Niland.
Elkmont Historic District (Elkmont, Tennessee)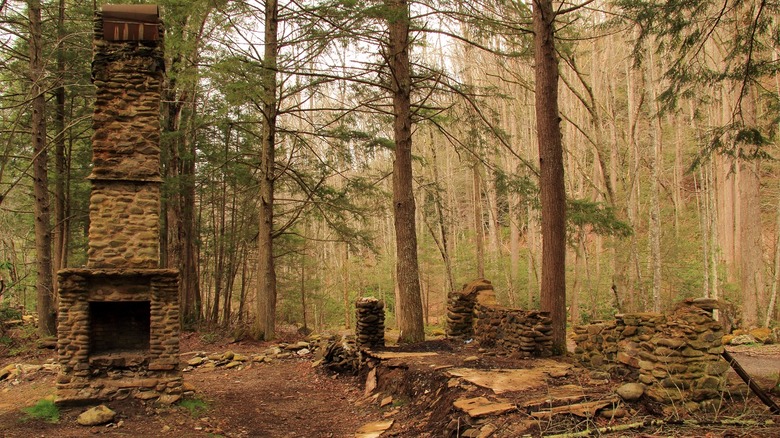 Shutterstock
Elkmont Historic District lies vacant in the Smoky Mountains of Tennessee. Back in its heyday circa 1910, it was a vacation community called the Appalachian Club, complete with cottages and a lodge. Shortly after its conception, the Wonderland Hotel was built nearby to accommodate more elite cityfolk in need of a woodsy retreat. In 1920, the national park movement took off and inhabitants were forced to sell their summer homes at half-price in exchange for lifetime leases. Most of those expired by 1992 and the National Park Service reclaimed ownership. The possibility of demolishing the structures was explored, but the Wonderland Hotel and several other properties were placed on the National Register of Historic Places and are therefore protected (though the hotel has since collapsed).
Letchworth Village (Thiells, New York)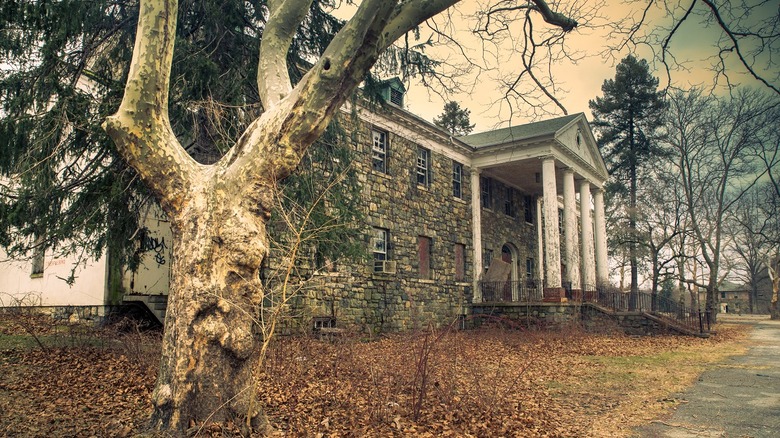 Shutterstock
Letchworth Village opened in 1911 to people of all ages who struggled with physical and mental disabilities. The state institution, located in Thiells, New York, was considered a humane alternative to asylums with more than 130 buildings sprawled over 2,000 acres of land. Able-bodied adults worked on the farms tending to crops, cows, pigs and chickens that would feed the entire community. Despite the effort to remain progressive, Letchworth became overcrowded and understaffed. It closed in 1996 after residents allegedly endured years of neglect and abuse. A half mile from the institution lies a memorial for hundreds of nameless victims who died at Letchworth. A large stone bears the phrase, "Those who shall not be forgotten."
Goldfield Hotel (Goldfield, Nevada)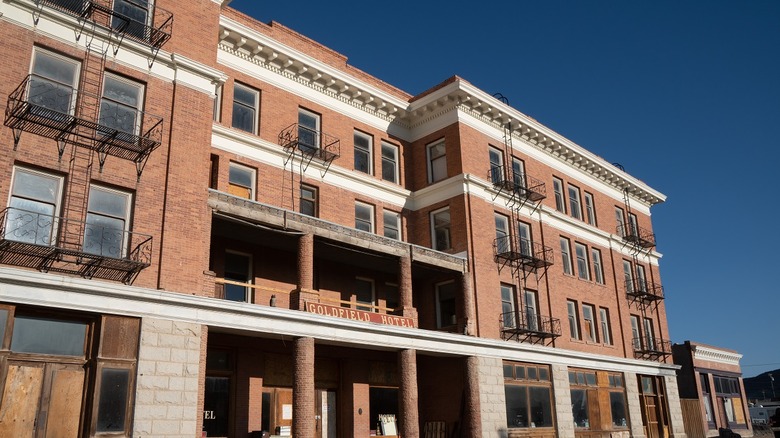 Shutterstock
The Goldfield is a historic four-story stone and red brick building that was once Nevada's most spectacular hotel. Built in 1908 in the old mining town it was named after, the lobby was decked out in elegant mahogany, gold ceilings, black leather upholstery and crystal chandeliers. The Goldfield was used until the end of World War II in 1945, with its last occupants being military men. After the doors closed forever, various rumors and tales have attracted ghost hunters, vandals and other thrill-seekers.
Forest Haven Asylum (Fort Meade, Maryland)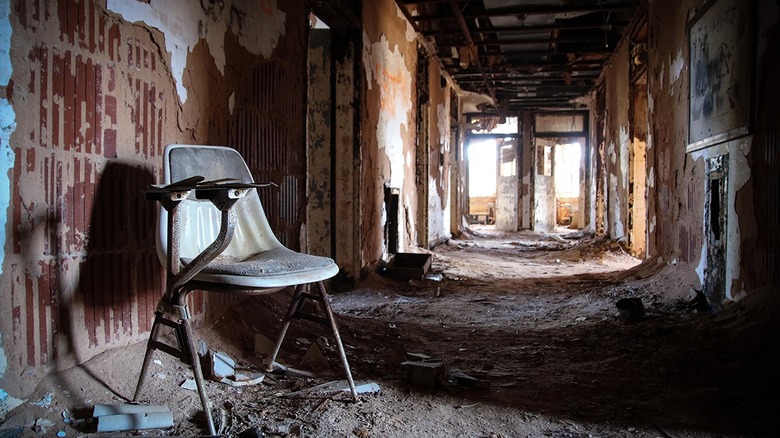 Shutterstock
Forest Haven Asylum opened in 1925 as a state-of-the-art facility for children and adults with intellectual and physical disabilities. The institution, located in Fort Meade, Maryland, featured 22 buildings on 300 acres of land and, at its peak, it housed 1,000 patients. In the 1960s, massive funding cuts led to staff reductions and the loss of recreational programs. Medical staff and other caregivers allegedly began neglecting and abusing patients, and many residents died at the hand of Forest Haven. Many of the deceased were buried in a mass grave. Whoever dug them did so carelessly though, as there have been reports of erosion and visible corpses.
Hudson River State Hospital (Poughkeepsie, New York)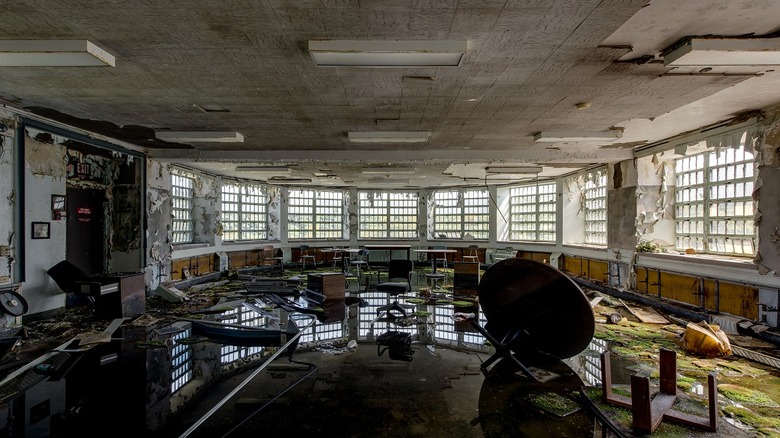 Shutterstock
The historic Hudson River State Hospital is a former New York state psychiatric hospital. The looming Victorian-style facility operated from 1873 to 2003. When it first opened, it was called the Hudson River State Hospital for the Insane and admitted just 40 patients. As time progressed, so did mental health treatment, and it was decided that most patients could lead lives without being committed. The center closed for good and fell into a state of disrepair. Today, the site has a new owner who's hoping to turn it into a $300 million mixed-use space called Hudson Heritage, which is expected to include 750 residential units, commercial space, medical offices, a hotel and a conference center.
Fort Wadsworth (Staten Island, New York)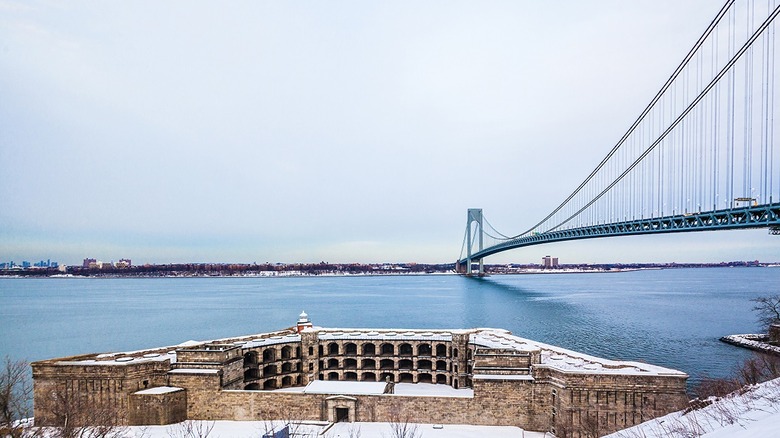 istockphoto.com
Fort Wadsworth is an old military installation on the northeastern shore of Staten Island, New York. Before it was turned over to the National Park Service in 1994, the 226-acre park protecting New York Harbor was the most continuously manned military site in the entire country. Fort Wadsworth was named after General James Wadsworth, who was killed in the Battle of Wilderness during the Civil War. By the time the war was over, weaponry had advanced and the fort was declared obsolete. Today, the gargantuan structure and its surrounding acreage is part of the National Park Service's Gateway National Recreation Area.
City Methodist Church (Gary, Indiana)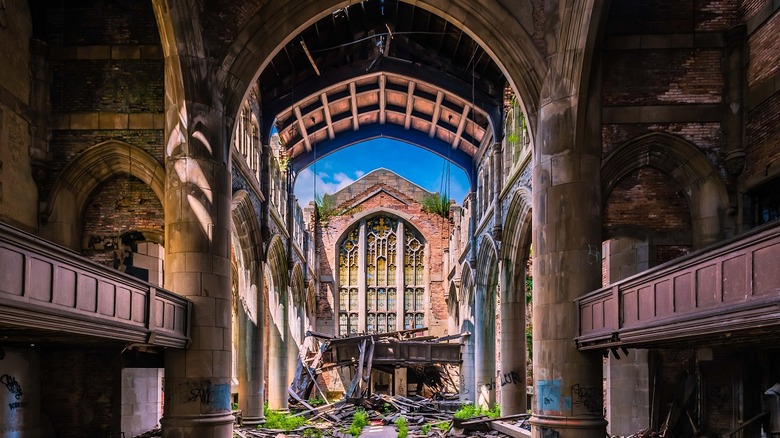 Shutterstock
City Methodist Church in Gary, Indiana, was the largest Methodist church in the Midwest until it shuttered just 50 years after its conception. Construction on the stone structure began in 1925, and the first service took place in October 1926. The place of worship at the forefront was part of an incredibly large nine-story gothic-style complex featuring a theater, corporate offices, a gym, a Sunday school and a dining hall. At its prime, City Methodist had nearly 2,000 congregants, but in the 1970s, the town's population petered out and the church's membership went from slim to none. Maintenance costs became too much to bear for the colossal sanctuary, and in 1975, it was forced to close and left to decay.
Six Flags (New Orleans, Louisiana)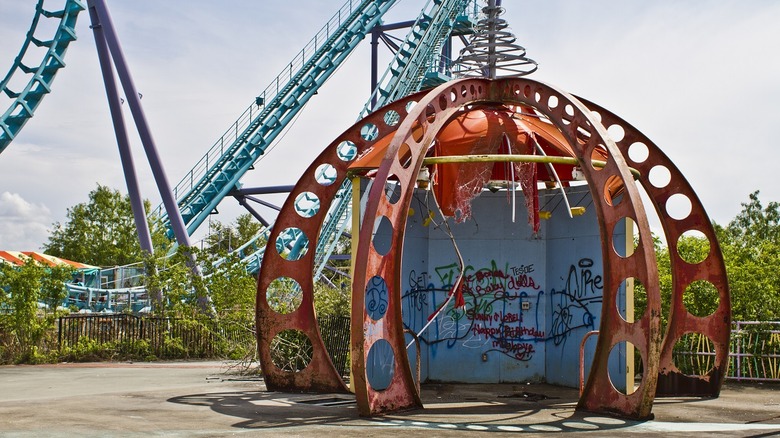 Dreamstime
This deserted amusement park in Louisiana first opened as Jazzland in 2000, and then two years later it reopened as Six Flags New Orleans. In 2005, Hurricane Katrina made landfall, flooding the property in seven feet of saltwater for more than a month. Some attractions were salvaged, but most were declared a total loss and the park closed indefinitely. In the aftermath, the ghostly lot became a popular filming location for movies including "Dawn of the Planet of the Apes" and "Jurassic World." The oil rig featured in Mark Wahlberg's "Deepwater Horizon" was built in the parking lot. Over the years, there were different redevelopment proposals (all of which fell through), and in the summer of 2019, mayor LaToya Cantrell announced that the city would explore the possibility of demolishing the site. This would cost an estimated $1.3 million.
Glenrio (Texas-New Mexico state line)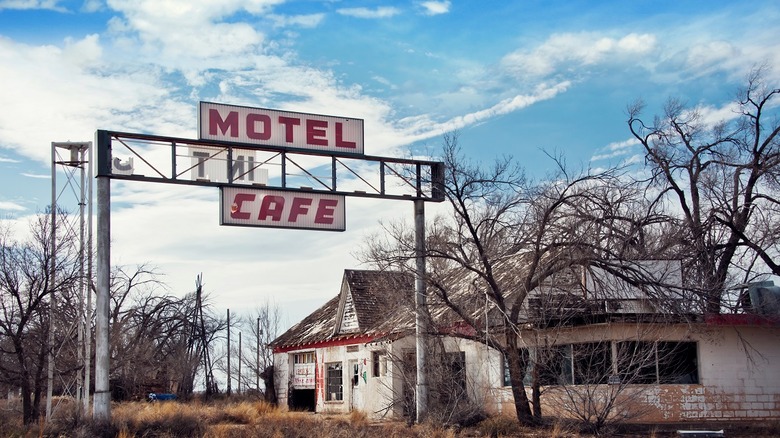 Shutterstock
Glenrio is a historic ghost town along Route 66 on the Texas-New Mexico border. The abandoned railroad town, formerly called Rock Island, was founded in 1901. It is named after the Scottish word for "valley" (glen) and the Spanish word for "river" (rio) even though it's near neither. In fact, it is smack-dab in the middle of a desert. Because Glenrio was in two states, business was a little wonky too. At one point, people would only gas up on the Texas side because it had lower fuel prices, but the Texas side was in a dry county, so all the bars were built in New Mexico. Eventually, the railroad shut down and Interstate 40 went up, hitting Glenrio where it hurts. By the 1980s, eight of the town's 12 residents had trickled out and soon after, the rest followed. Today, it's a graveyard for empty motels, cafes, diners, service stations, post offices and a few other buildings.
Packard Automotive Plant (Detroit, Michigan)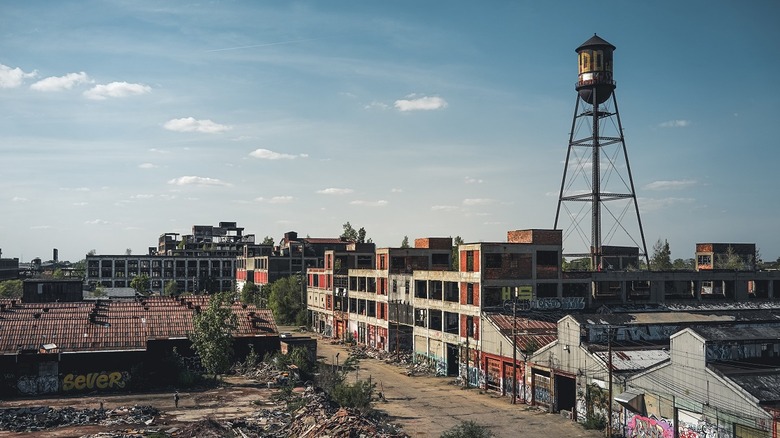 Dreamstime
Packard Automotive Plant was an impressive car factory back in its day. The 3.5 million-square-foot building in Detroit, Michigan, opened in 1903 and, at the time, it was considered the largest and most advanced automobile manufacturing facility in the world. While manufacturing honed in on luxury vehicles most of the time, production temporarily halted during World War I and II to help assemble plane and naval engines for the U.S. and its allies. Packard went out of business in 1956 and laid off its last caretaker just two years later, though the space was occupied by other businesses until the last tenant left in 2010. Three years later, international developer Fernando Palazuelo bought the property and is working on revitalizing it.
Scotty's Castle (Death Valley, California)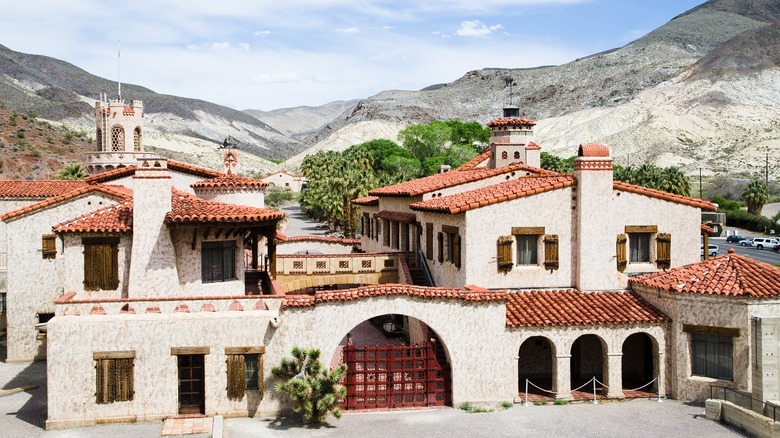 Shutterstock
Scotty's Castle, also known as Death Valley Ranch, is located in California's Death Valley National Park. The villa was named after prospector and conman Walter Scott, who allegedly bamboozled Chicago millionaire Albert Johnson into investing in a fake gold mine. Apparently Johnson was mad at first, but not for long. The two became friends and in 1922, Johnson and his wife Bessie started building their $1.5 million desert retreat. Now in cahoots with Scott, Johnson acted as his "banker" and claimed that the luxurious home was being funded by the fraudulent gold mine. Then in 1929 the stock market crashed, construction stopped and Johnson realized the land he had been building on was actually owned by Death Valley National Park. Though he was able to later buy the land, his insurance company went bankrupt and he was unable to finish the project. Scotty's Castle now belongs to the National Park Service.
Bodie State Historic Park (Bridgeport, California)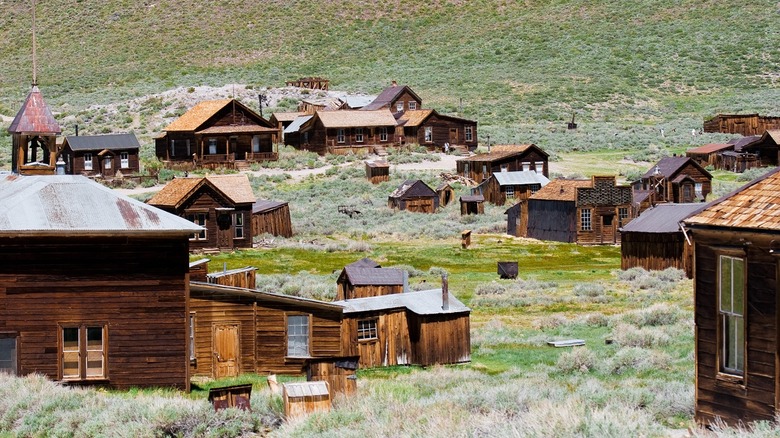 Shutterstock
Bodie started as a mining camp in 1859 after William S. Bodey discovered silver and gold in the area. He reportedly died in a blizzard a month later. By the 1880s, thousands migrated to the town and tons of buildings went up, including a Wells Fargo Bank, four fire stations, newspapers, opium dens, a rail depot, a jail and a whopping 65 saloons. Rumor has it that shootouts, murders, bar fights and robberies were commonplace. A grand total of $35 million in mining profits were pulled from Bodie, but eventually the California Gold Rush lured prospectors and their families to other parts of the state. The last mine closed in 1942, but the location can now be visited as a state park.
Penn Hills Resort (Analomink, Pennsylvania)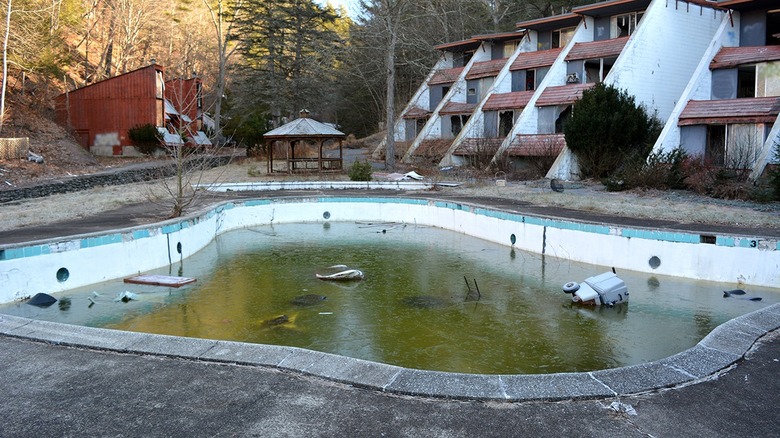 Shutterstock
Penn Hills in Analomink, Pennsylvania, was a resort for honeymooning couples until 2009. The Pocono Mountains getaway was first founded as a tavern in 1944 before growing by a hundred rooms with floor-to-ceiling carpeting, round beds and heart-shaped bathtubs in the 1960s. Outside the villas, newlyweds could use the ski resort, golf course and a bell-shaped swimming pool or take part in archery, skating and tennis. The "Paradise of Pocono Pleasure" closed for good in 2009, just two months after owner Frances Paolillo died at the age of 102. Employees were never issued their final paychecks and the resort fell into the hands of Monroe County due to unpaid back taxes.
Renwick Smallpox Hospital (New York, New York)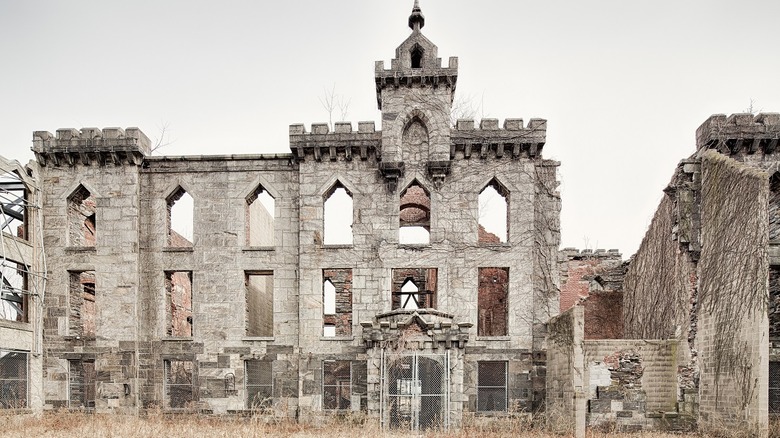 Dreamstime
The historic Renwick Smallpox Hospital opened as a 100-bed Gothic Revival-style facility on Blackwell's Island (now Roosevelt Island) in New York City around 1854. The facility's designer, James Renwick Jr., is also known for his work on St. Patrick's Cathedral in Manhattan. Although the smallpox vaccine was readily available at this point in time, the Big Apple often experienced outbreaks, some of which were attributed to infected immigrants. The hospital treated about 7,000 patients per year leading up to its closure in 1875, when the building was converted to a training facility for nurses. By the 1950s, the place was deemed useless and everyone vacated the property. Since then, the creepy, albeit romantic ruins have been featured in "Grand Theft Auto IV," the final scene of the 2002 film "Spider-Man" and "For Love or Money" starring Michael J. Fox.
Kennecott Mines (Kennecott, Alaska)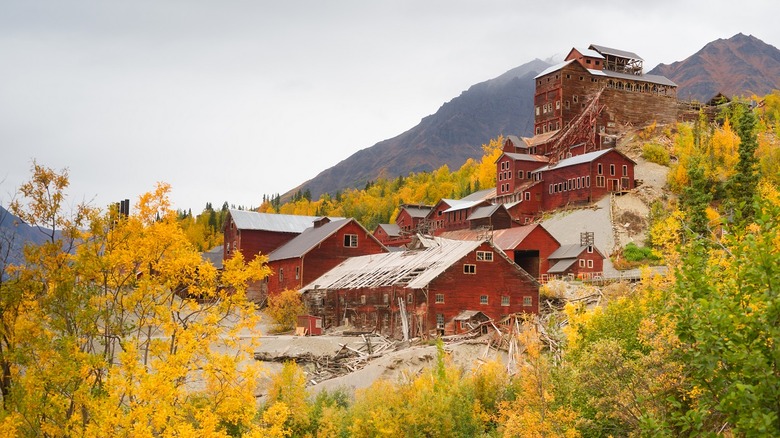 Dreamstime
Kennecott Mines is a former copper mining camp in the heart of America's largest national park, Wrangell-St. Elias National Park and Preserve in Alaska. After prospectors discovered that the land was rich with ore in 1900, approximately $25 million was spent on a 196-mile railroad and bridges so that people could actually get to the remote town. At its pinnacle, Kennecott Mines employed 600 men, and by the time operations shuttered in 1938, they'd extracted $200 million in copper.
Ellis Island Immigrant Hospital (Jersey City, New Jersey)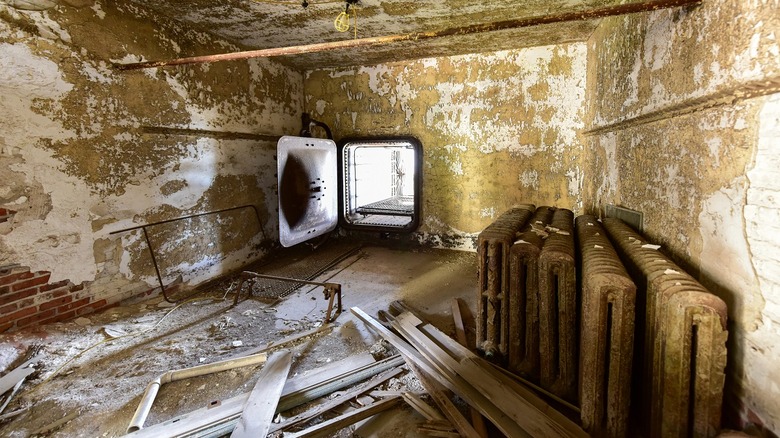 Dreamstime
Ellis Island Immigrant Hospital — which is technically a part of Jersey City, New Jersey, as per a 1998 court ruling — tended to international patients on two now-conjoined man-made islands (one that held a general hospital and another for those with contagious diseases). It was one of the first public-health hospitals in the country to employ a full-time female physician, Dr. Rose Bebb. From 1902 to 1951, it's reported that Ellis Island treated 275,000 patients (including 350 newborn babies). An estimated 4,000 fatalities occurred (half of which were children) and just 1% of 12 million entrants were deported for medical reasons. In 1930, new restrictions on immigration forced the facility to close down, and in 1954, it was abandoned completely. Today, visitors can tour the haunting halls.
Vulture City (Wickenburg, Arizona)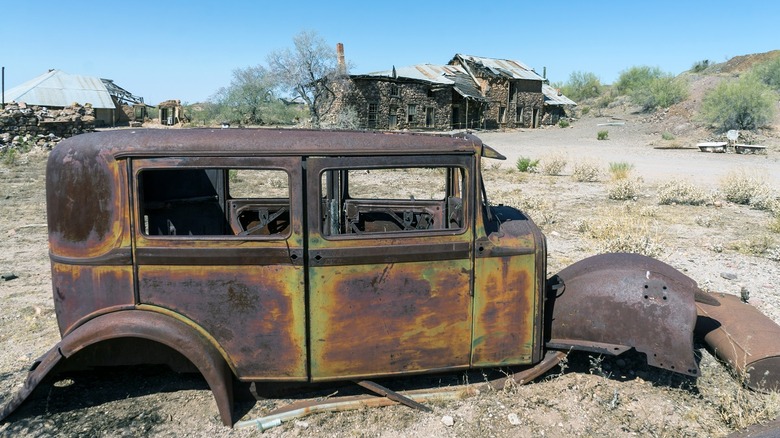 Shutterstock
Vulture City was founded by Henry Wickenburg in 1863 and came to be one of Arizona's most successful gold mines, home to frequent raids, hangings and robberies. Up until its demise, Vulture mine produced 340,000 ounces of gold and 260,000 ounces of silver, generating somewhere between $30 million and $200 million. In 1942, the government declared it nonessential and ordered its closure so that all available resources could be used to help win World War II. The town's 5,000 inhabitants deserted it shortly after.
Cape Romano Dome House (Cape Romano, Florida)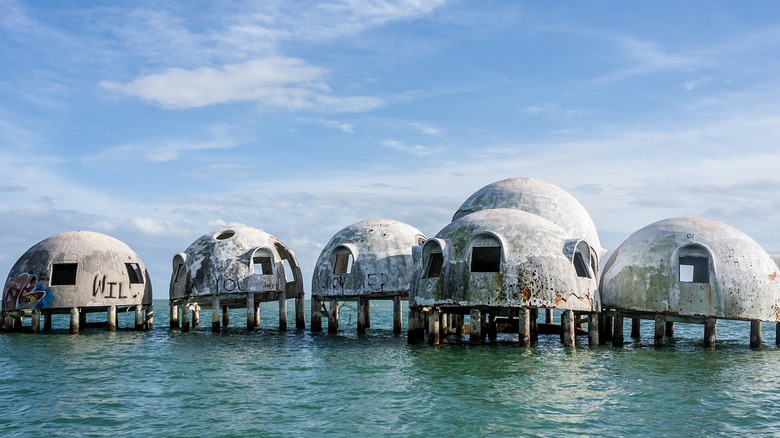 Dreamstime
The Cape Romano Dome House in Florida features six igloo-shaped structures on stilts that were once on Morgan Island. Years of erosion pushed them into the channel approximately 300 meters offshore of Cape Romano Island. The hurricane-safe modules were built in 1982 by retired oil producer Bob Lee. He used sand from the beach to make the concrete walls and installed gutters that would dump the rainwater into a purifier that would then pump the water back through the house to be used in sinks, baths and showers heated by solar power. Lee, his wife and their children stayed in the vacation home until they abandoned it in 1992. In 2005, a man by the name of John Tosto bought the structure, but it took to the sea before he was able to do anything, and now it's owned by the state.
Bannerman Castle (Cornwall, New York)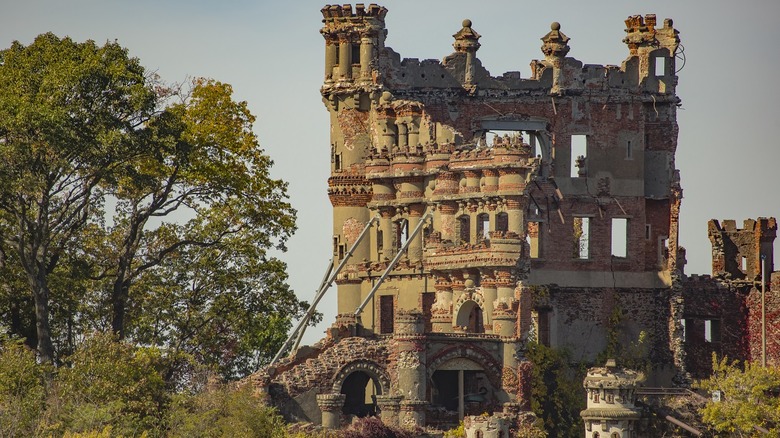 Dreamstime
Bannerman Castle lies in ruins on Pollepel Island in Cornwall, about 60 miles north of New York City. The structure was named after Irish immigrant Francis Bannerman IV, whose family emigrated to Brooklyn in the 1850s. When he was just a teen, Bannerman started his own business selling scrap metal and military supplies ranging from ammunition and canons to full-size ships. As his inventory grew, he needed a bigger space to store it all, so in 1901, he purchased Pollepel Island and built an arsenal. He also built another, smaller castle where he lived until his death in 1918. After devastating explosions and fires, the property was vacated and left to the state.
Igloo City (Cantwell, Alaska)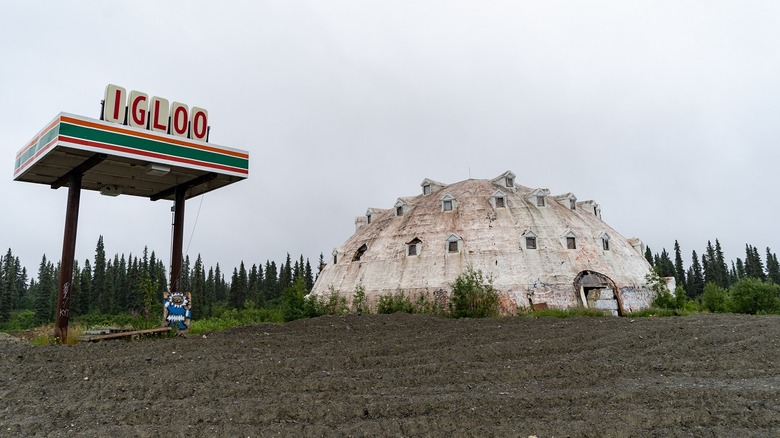 Dreamstime
Igloo City in Cantwell, Alaska, was supposed to be a hotel, but it never actually opened to the public. Construction on the four-story, dome-shaped lodge began sometime during the 1970s, but construction was put to a halt due to code violations and structural issues that were too expensive to update. If you visit today, all you'll find is a lonesome building covered in graffiti, and maybe a moose or bear too.
Willard Asylum (Willard, New York)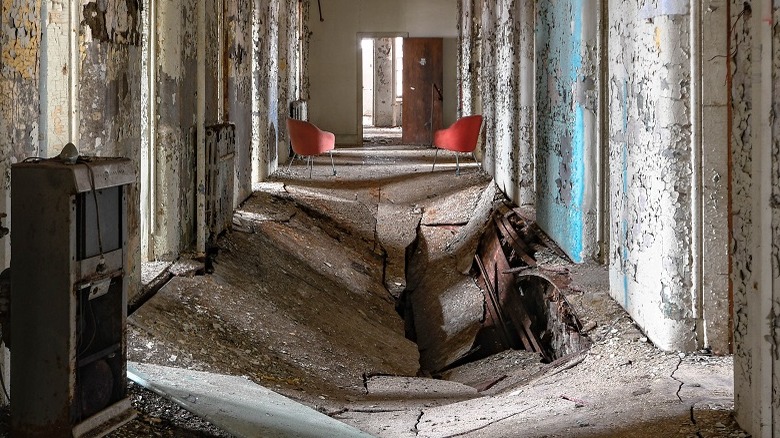 Shutterstock
The Willard Asylum for the Chronic Insane in Willard, New York, was built in 1869 as an alternative to other, less progressive and overcrowded facilities for those with mental incapacities and other dependant people. As the story goes, Willard's very first patient was a woman named Mary Rote who, for 10 years prior, was shackled to a bed with no clothing in an almshouse. One girl had allegedly been chained in a cell since childhood and one man even arrived in a chicken crate. The Victorian-style campus was divided between men and women, and the non-violent and violent. The hospital had its own farm, a bowling alley, a movie theater and a gym, though other areas maintained electro-shock therapy facilities, ice baths, operation rooms and a morgue. Thousands of unnamed patients were buried on the property, and because families never came to claim their belongings, 400 suitcases jam-packed with mementos were stored in the dusty attic. As time ticked on, institutions like this became obsolete, and Willard closed for good in 1995.
Broadway Theatre (Buffalo, New York)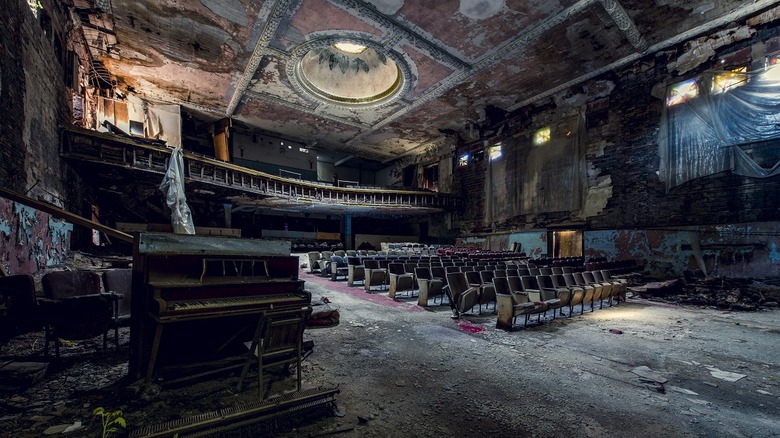 Dreamstime
The Sattler Theater in Buffalo, New York, was commissioned by John G. Sattler, who owned Sattler's Department Store just down the road. The 928-seat movie house opened its doors in 1914, and in 1920, someone else bought the place and renamed it Broadway Theatre (and later Basil's Broadway). Shortly after a new organ and stage were put into place, the theater closed to movie ticket holders and reopened as a series of houses of worship — Muhammad's Mosque 23, God's Holy Temple and the Joy Temple — before it was officially abandoned in 1996. Twelve years later in 2008, Western New York Minority Media Professionals purchased the building with plans to remodel it for film screenings, plays, concerts, live events, business conferences and dining. Very little progress has been made thus far, so the place is still pretty barren, but it's ghostly innards are closed to the public nonetheless. Looking for creepy buildings to explore? If you dare, thrill-seekers can brave the best haunted homes to visit in every state.