The Best Place For Fall Foliage Views In Japan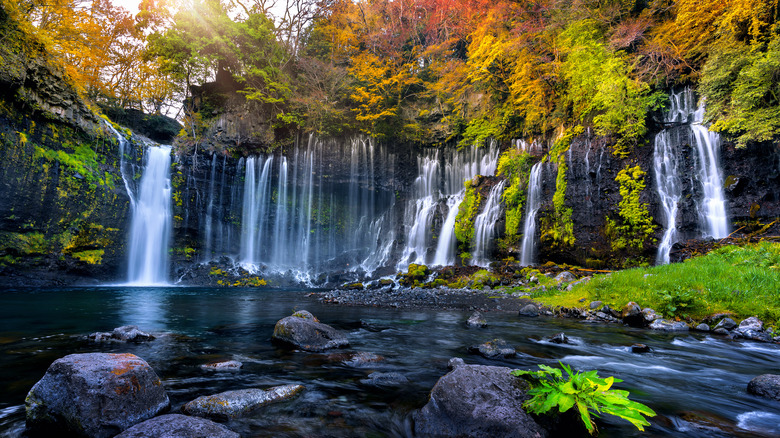 Guitar photographer/Shutterstock
Many travelers think of heading to Japan in the spring to catch sight of the famed sakura, or cherry blossoms, as it is known to many. There's no arguing that springtime in Japan is one of the most beautiful places in the world and well worth a visit. Still, it would be worth considering a stay in a different season. Winter is great for sports such as skiing and snowboarding, and summer is prime for seeing islands such as Okinawa and Hokkaido. However, fall provides aesthetically pleasing natural beauty throughout the country with its paintings of sunset-hued foliage.
If you plan a visit in the fall, one Japanese destination reigns supreme when it comes to fall foliage. The Shizuoka Prefecture, home to Mount Fuji, is one of the best spots in the country to leaf-peep. Immerse yourself in the amber paintings of Japan's fall foliage in this prime city, with Mount Fuji's dramatic peak on the canvas.
For the best fall foliage views in Shizuoka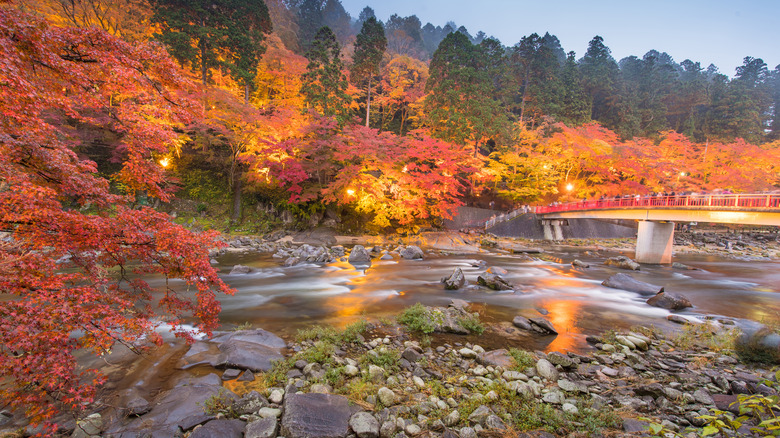 Primeimages/Getty Images
It's hard to find a spot in Shizuoka that won't offer stunning views of fall foliage, but some places rank slightly higher for the best of the best. Asagiri Plains is a spectacular option for getting close to Mount Fuji. Outdoorsy types will particularly love it for its plethora of activities, such as cycling, camping, golfing, and even paragliding with Sky Asagiri.
Lake Tanuki offers campsites at the foot of Mount Fuji, allowing visitors to wake up to the majestic views of Japan's biggest mountain. On clear days, Lake Tanuki has some of the most stunning views of Mount Fuji. And those vistas are even better in the fall with the vibrant leaves surrounding them.
Shiraito Falls never fails to disappoint when producing bright red foliage. Since 1936, the falls have been safeguarded as a Japanese Natural Monument. Shiraito Falls can be found in Fuji-Hakone-Izu National Park.
If hot springs are more your thing, Gotemba is your place. Gotemba not only offers onsens with a view of Mount Fuji framed by colorful fall leaves, but it is also home to several wasabi farms and is known for its expansive production of green tea. 
Weather conditions and what else to expect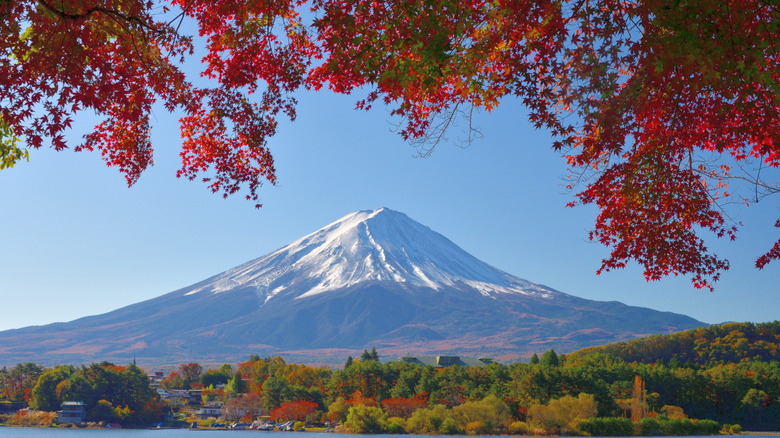 Magicflute002/Getty Images
To catch peak leaf-peeping season, you'll want to plan your trip to Shizuoka at the end of November. While it might be hard to nail down exact dates, unlike cherry blossoms, the fall foliage season in Japan typically lasts two to four weeks rather than just one. November can get chilly in Shizuoka, but it's rare for the temperature to dip below 37 degrees Fahrenheit. The cooler weather could help explain why November remains one of the most budget-friendly times to visit the typically expensive country.
The most convenient way to reach Shizuoka is by flying to Tokyo and using the Japanese rail system. With a Japan Rail Pass, you can get from Tokyo to Shizuoka in under two hours on their high-speed bullet trains. You can also fly into Osaka and take a bullet train from there, which also takes under two hours despite being further away. Hey, you've got to love those efficient Japanese train systems.