Where To See Beautiful Cherry Blossoms Around The World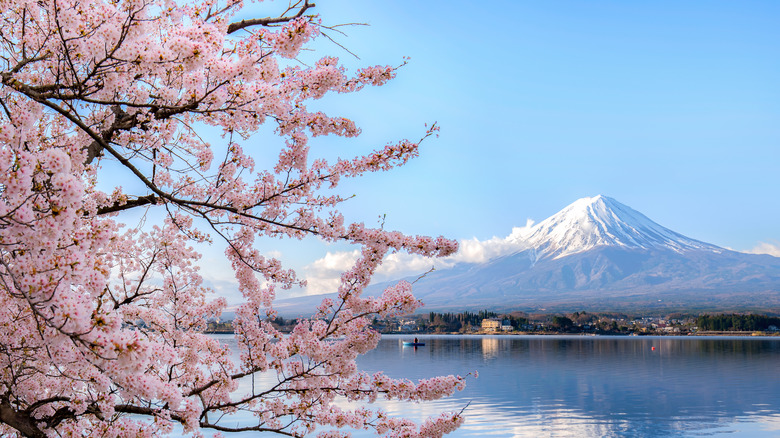 iStock.com/Phattana
No matter where you live in the world, there is one common theme of springtime: the regrowth of plants and flowers. Cherry blossoms are one of many flowers that have become a worldwide symbol of the changing seasons. These vibrant pink and white flowers are native to Japan but have since spread into different parts of the world. Though their beauty can brighten up any city, these delicate flowers usually only last around two weeks before their petals start to fall. So don't waste any time in visiting these cities where you may find these beautiful cherry blossoms flourishing.
Brooklyn, New York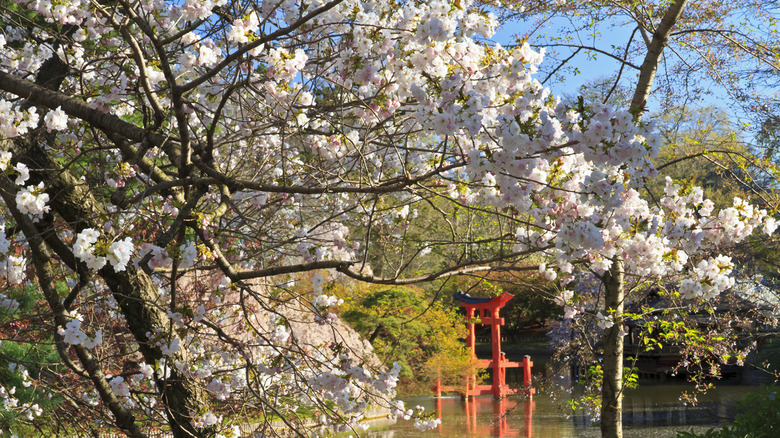 iStock.com/lightphoto
You might not think of the metropolis of New York City as an ideal spring vacation destination, but the beautiful blooming of the cherry blossoms at The Brooklyn Botanical Garden makes it so. Every year, this park holds its annual Sakura Matsuri, a festival to celebrate the blossoming of the light pink flowers and Japanese culture. You will mostly find the flowers in the Japanese Hill-and-Pond Garden, one of the oldest Japanese-inspired gardens in the United States. Locals and tourists can walk through rows of 26 different cherry tree species that the garden has cultivated, while also joining in different cultural events from tea ceremonies to creating origami.
Washington, D.C.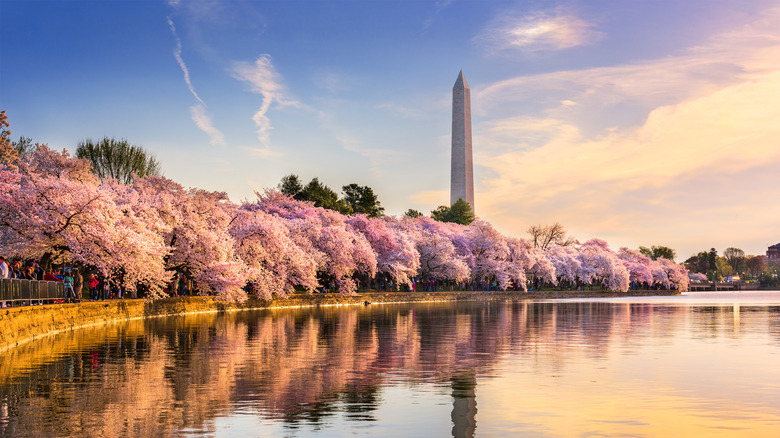 iStock.com/SeanPavonePhoto
Our nation's capital comes alive during the spring as visitors gather near Washington Monument for a three-week-long cherry blossom celebration. The National Cherry Blossom Festival commemorates the gift of 3,000 cherry trees from Tokyo's mayor to the city of Washington, D.C., in 1912. There are plenty of events that you and the family can enjoy, from kite flying to parades, but you definitely don't want to miss the view of the cherry blossoms surrounding the Tidal Basin, one of the most breathtaking sights in the United States.
Hirosaki, Japan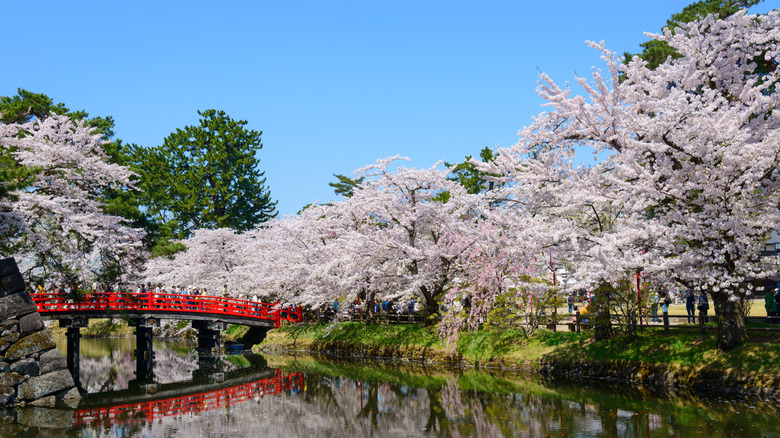 iStock.com/Hiro1775
You can't think of cherry blossoms without thinking about the place they originated from — Japan. Cherry blossoms are to Japan what pumpkin spice is to America. There is a whole culture built around it, from scented lotions to Starbucks drinks. If you want to experience the true beauty of these stunning flowers, Hirosaki Park in the city of Hirosaki is home to over 2,000 cherry trees from over 50 different species. Their annual Cherry Blossom Festival takes place from late April to early May so plan the best day to purchase your airline tickets accordingly.
Boston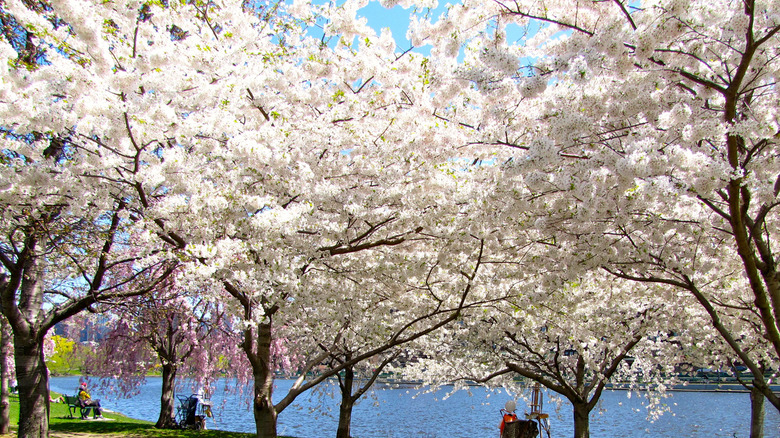 iStock.com/TerryRudderham
In addition to being one of those cities every American history buff needs to visit, Boston is also beautiful in the spring. It won't be too hard to spot pink and white hues in the Boston's Charles River Esplanade once spring makes its entrance. Cherry blossom trees are lined along the esplanade, which adds color to the city after a long, dull winter. If you're looking for the perfect date spot for you and your significant other, you might want to consider sitting underneath these charming trees and having a picnic. You can also catch the Brookline Cherry Blossom Festival that celebrates the gift of the cherry blossom trees to Brookline High School.
Paris, France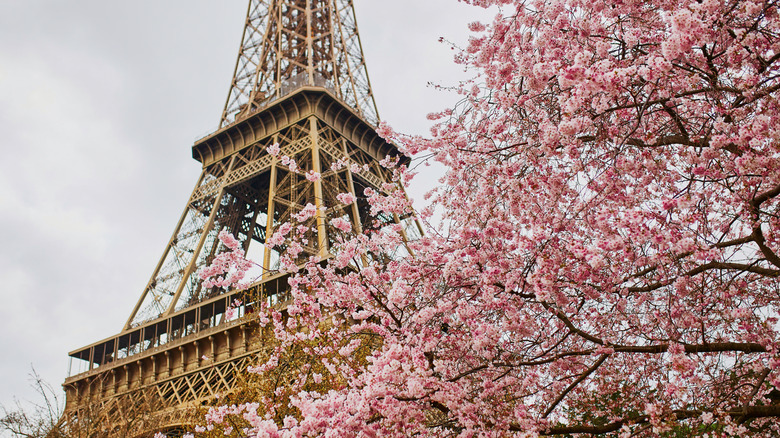 iStock.com/encrier
If you're looking for a place to check off on your world travel bucket list, the Parc du Champ-de-Mars should definitely be on it. Not only does this beautiful park gives you a wonderful view of the country's most famous landmark, the Eiffel Tower, but you can also find yourself surrounded by cherry blossom trees.
Stockholm, Sweden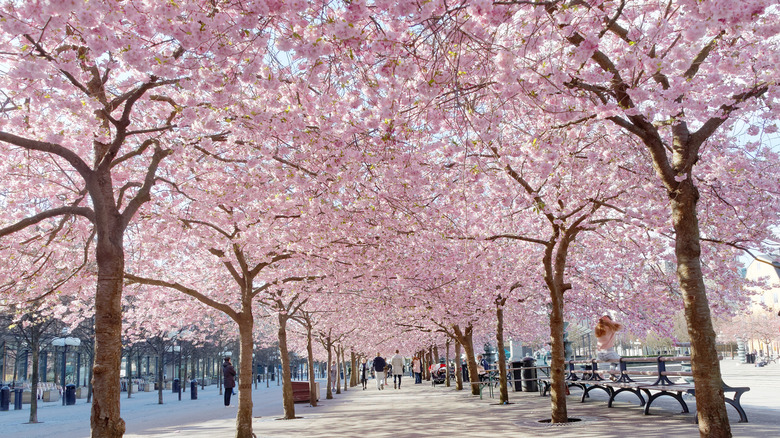 iStock.com/HasseChr
With cherry blossom trees planted across the city, it won't be too hard to find these pink and white flowers right in the heart of Stockholm. You can also catch the city's annual Japanese festival around mid-April in Kungstradgarden, or the King's Garden, as locals welcome spring into the city.
Vancouver, British Columbia, Canada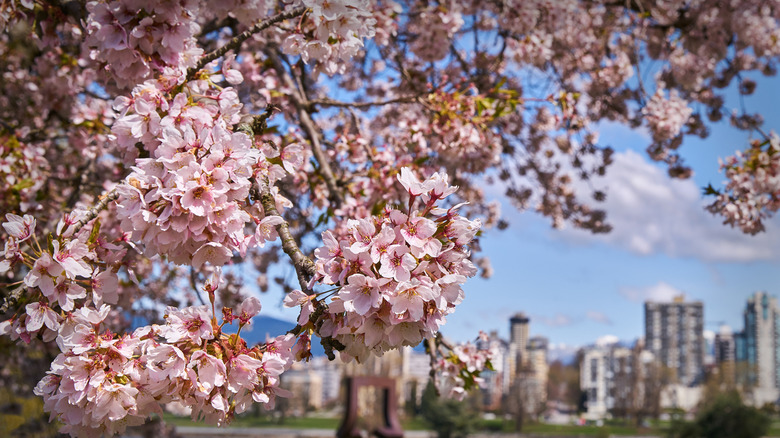 iStock.com/Maxvis
A burst of soft pink and white flowers captures the attention of Vancouver locals and visitors every year who celebrate the blooming of these Japanese trees. Queen Elizabeth Park is home to a variety of cherry blossom trees that bloom at different intervals from early March to late April. The Cherry Blossom Festival has been a signature springtime event for people to congregate and partake in the Japanese cultural tradition of flower viewing.
Macon, Georgia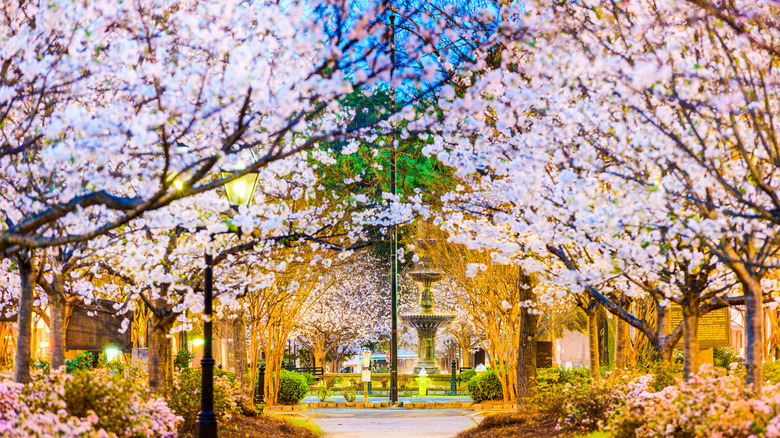 iStock.com/SeanPavonePhoto
Known as the "Cherry Blossom Capital of the World," Macon, Georgia, is a stop you'll want to make during the spring. Home to over 350,000 Yoshino trees, Macon has won numerous awards for hosting the International Cherry Blossom Festival, which perfectly displays the beauty of these delicate flowers. From amazing food trucks to fun amusement park rides, this event makes the perfect spring weekend trip.
Salem, Oregon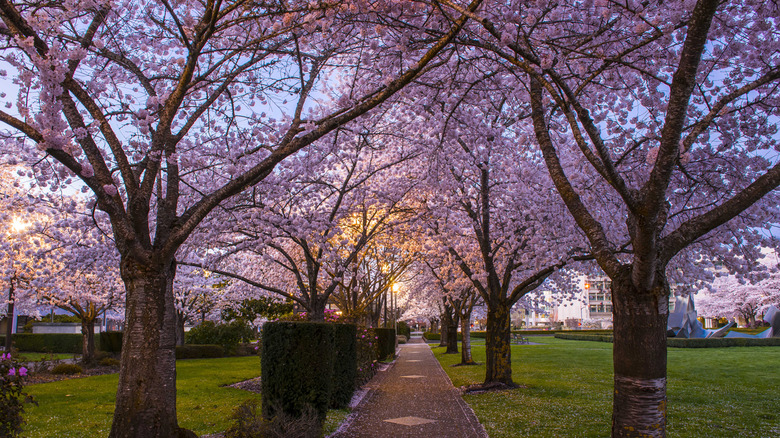 iStock.com/svetlana57
Portland may be one of the trendiest travel destinations of the 2010s, but you might want to give Salem, Oregon, some attention. The third Saturday of March marks Cherry Blossom Day for folks in this town, also known as the "Cherry City." Tourists are welcome to walk down rows of bright cherry blossom trees that fill up State Capital State Park while also learning about the impact of Japanese culture on the state.
St. Louis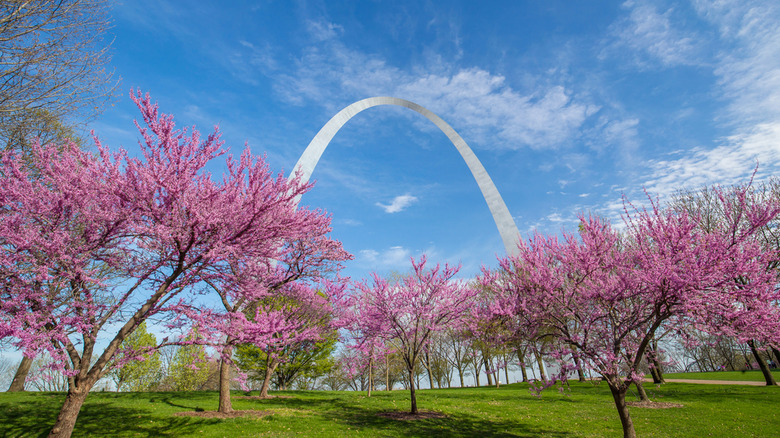 f11photo/Shutterstock
Around mid-March to mid-April, St. Louis is overwhelmed by the beauty of the cherry blossom trees. With its variety of cherry trees, Missouri Botanical Garden becomes blanketed with lush pink petals during the peak spring blooming season. People are encouraged to visit the garden's 14-acre Japanese Garden to see Yoshino and other variants of cherry trees.
Kinosaki, Japan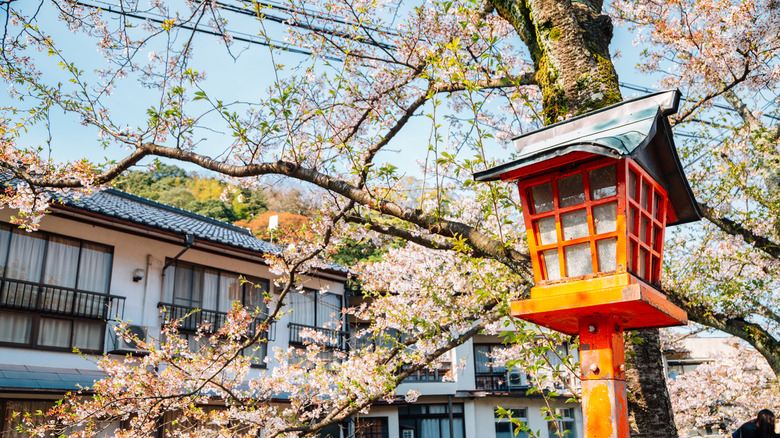 iStock.com/Travel and Still life photography
What's more beautiful than having a picnic with cherry blossom petals falling through the wind? Viewing these gorgeous flowers at night. The Otani River, which runs through the center of this hot spring town, has more than half a mile of cherry blossom trees planted along the river. The views are particularly remarkable at night — paper lanterns hung on the branches light up the flowers. This creates a dreamy effect that makes it an ideal Instagram-worthy spring destination.
Amsterdam, Netherlands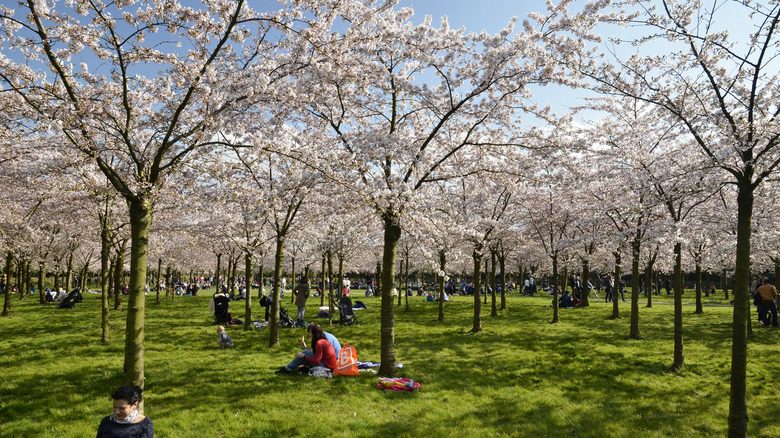 iStock.com/olmozott98
One reason Amsterdam should be one of your top travel destinations is its cherry blossoms. Both locals and tourists can picnic under a canopy of fresh pink flowers. Even though it's not one of the most popular flowers to grow in Amsterdam, you can find around 400 cherry trees planted at Bloesempark in Amsterdamse Bos or in Amsterdam forest.
Jerte Valley, Spain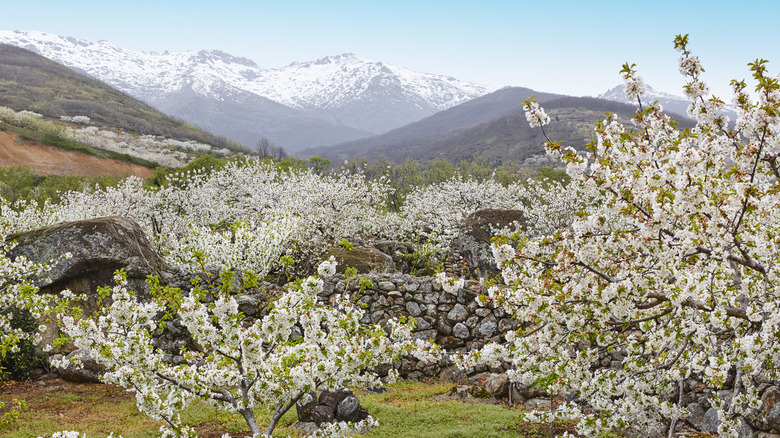 iStock.com/ABBPhoto
Each spring, over two million white blossom cherry trees cover the region of Jerte Valley, Spain. The blossoming of the cherry blossom trees is a real natural wonder you should definitely experience but make sure you act quick because these fragile flowers only last around 10 days. Meanwhile, you can join the locals in their spring celebrations in March.
Jeju Island, South Korea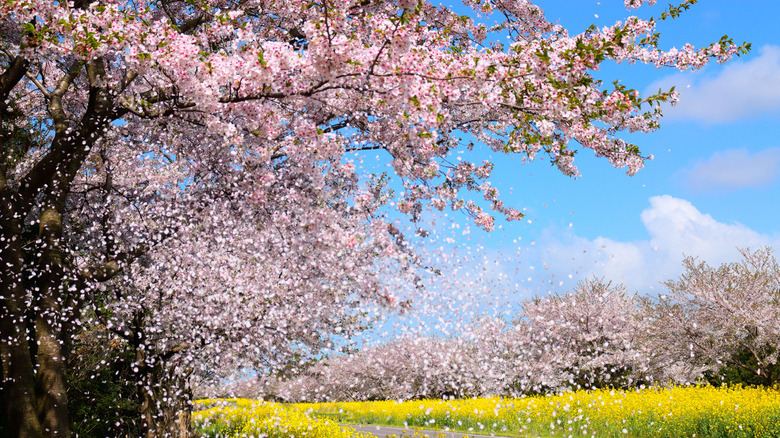 iStock.com/시선
You don't want to miss visiting Jeju Island, home to one of the beautiful coastlines in the world and its Cherry Blossom Festival held every spring. Jeju is home to the King cherry tree, which is a rare plant you can only find on this island. You can walk down the streets filled with beautiful light pink cherry blossoms while also tasting delicious street foods every traveler should try.
Curitiba, Brazil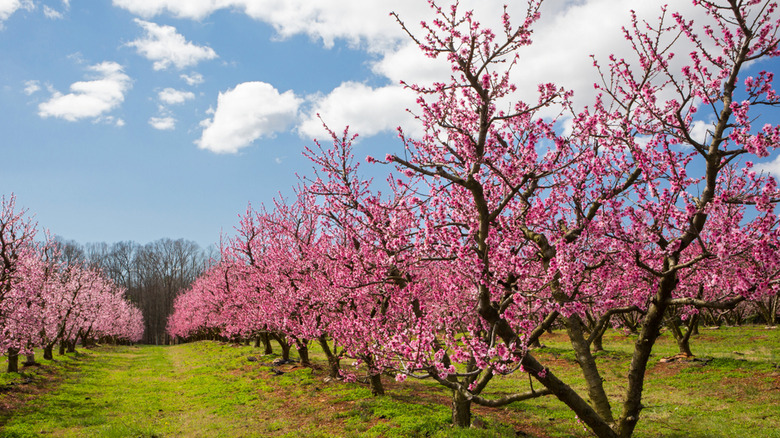 Kevin M. McCarthy/Shutterstock
Unlike most places, the peak blooming season for cherry blossoms in Brazil is actually during the summer. Brazil is home to many Japanese immigrants, and the rise of Japanese influence in the country makes it a wonderful place to watch the cherry blossoms bloom in the southern hemisphere. You can find cherry blossom trees planted near the walkways of the Curitiba Botanical Gardens.
Yangmingshan National Park, Taiwan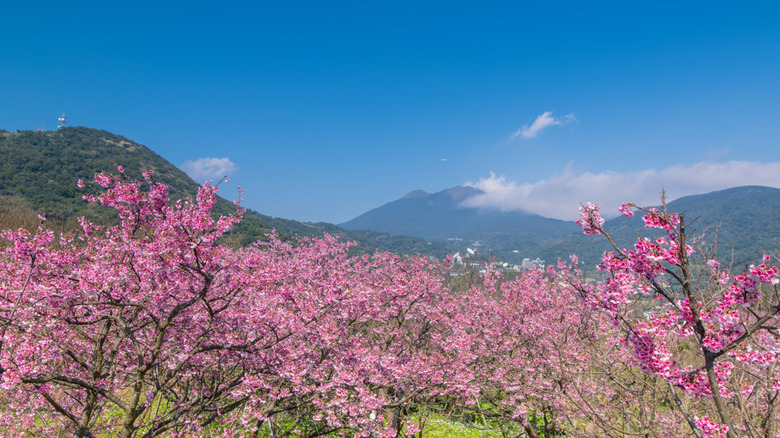 chuck hsu/Shutterstock
One of the most popular places to view cherry blossoms in Taiwan is in Yangmingshan National Park. The park cultivates different species of cherry trees, from Yoshino to Showa. Since these delicate flowers only have a short blooming period, make sure to plan ahead. This park also offers amazing hiking trails, hot springs and beautiful lakes that you can explore during the spring. The natural wonders here make Taiwan rank up there with the top 50 places you should visit before you turn 50.