Why November Is The Perfect Month For Budget Travelers To Visit Japan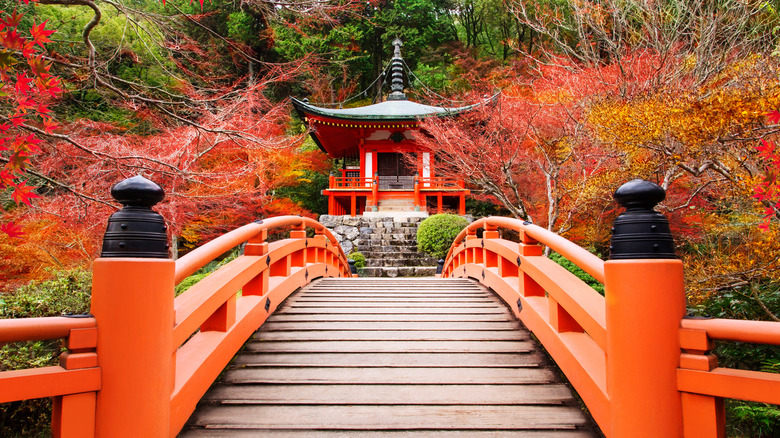 Moustache Girl/Shutterstock
Japan is one of those destinations where every season has something special to offer travelers. Summer in the north of Japan is a great time to explore nature, spring heralds the blooming of the Cherry Blossoms in April, and winter brings great opportunities for snow sports and paying a visit to a soothing onsen (hot springs). However, November in Japan has a little of everything and is a fantastic time of year to travel to this ancient and beautiful country.
During the autumn season in Japan, there are not only fewer crowds, cheaper stays, and discounted activities but you will be greeted with stunning foliage as the temps start to dip and the trees turn shades of red and orange. There are also plenty of festivals and events that are put on during this season that you will have a ton of fun taking part in! The climate during this time also offers the best of both worlds where you can enjoy cold weather activities like visiting an onsen and outdoor activities like hiking, which is enjoyed in the summer but much more pleasant during this time of year.
Best places to go in November to see Japan's autumn foliage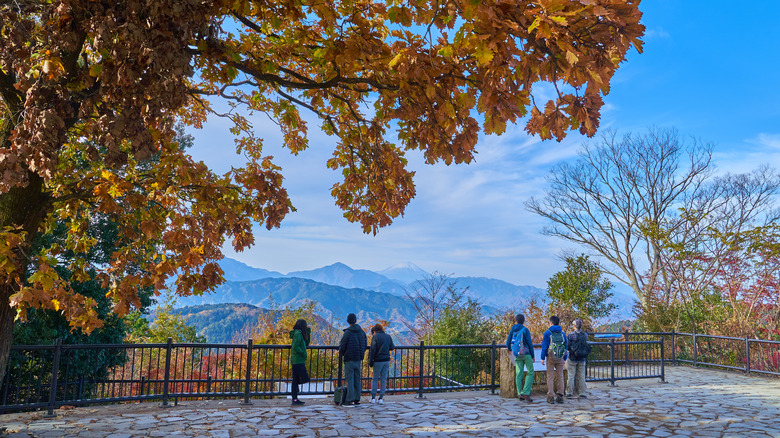 Q2PHOTOSS/Shutterstock
If you're looking to see a bit of everything but want to get the best views of the leaves turning colors, why not take a train ride that offers the best scenic views of Japan's countryside? You can see the entire scope of Japan's amazing nature from the comfort of a train, from the bamboo forests in the south to the beautiful pine trees further north. The East Japan Railway passes run between 10,000 to 27,000 Japanese Yen ($76-200 U.S. dollars) for three to seven consecutive days of travel — a great way to see some of the best areas of Japan in the fall that won't break the bank.
However, Tokyo Cheapo writes that if you find yourself in Tokyo in November and want to do more as the locals do you should head to Mt. Takao. At the top, you'll find some delicious snacks to refuel your energy for the hike back down and you may even be able to see Mt. Fuji amongst the beautiful fall scenery.
If you're looking for one of the absolute best places to experience the fall leaves changing color in Japan, Japan Wonder Travel writes that visitors need to head to Arashiyama in Kyoto for the Arashiyama Momiji Festival. Plan to arrive in mid-November to catch the leaves on their full autumnal display and walk along the Togetsukyo Bridge where you can see the Tenryuji Temple that sits near the river.
Fun festivals and events during November in Japan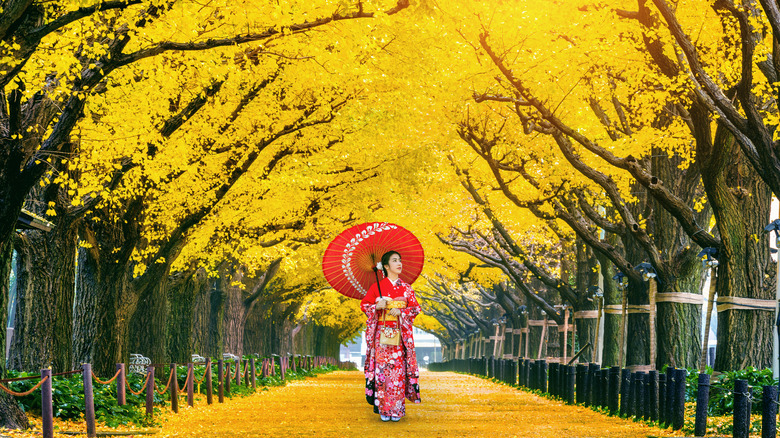 Guitar photographer/Shutterstock
Some of the most unique and fun events in Japan happen in the November and best of all they are budget-friendly. Check out the Jingu Gaien Ginkgo Festival in Tokyo which takes place around mid to late November during peak ginkgo season when the trees turn yellow. The festival occurs along the Meiji Jingu Gaien, a stretch of road that is lined with ginkgo trees and, in the fall, creates a tunnel of beautiful golden ginkgo leaves.
Japan Wonder Travel also suggests taking part in moon viewing — tsukimi or otsukimi in Japanese. Matcha writes this is an annual tradition that falls sometime between September and October and involves the gathering of friends and family to gaze at the moon while enjoying sweets called dango. To take part as a visitor you can head to the Sankeien Garden in Yokohama which hosts moon-viewing events.
Want to see Sumo wrestlers in action? You're in luck! The Grand Sumo Tournament in Osaka is held in November each year and tickets for an arena seat are around 3,800 Japanese Yen ($29 U.S. dollars). This is a great opportunity to watch and admire these incredible athletes as they use centuries-old traditional techniques to grapple their opponents.