13 Budget-Friendly Wine Destinations In The US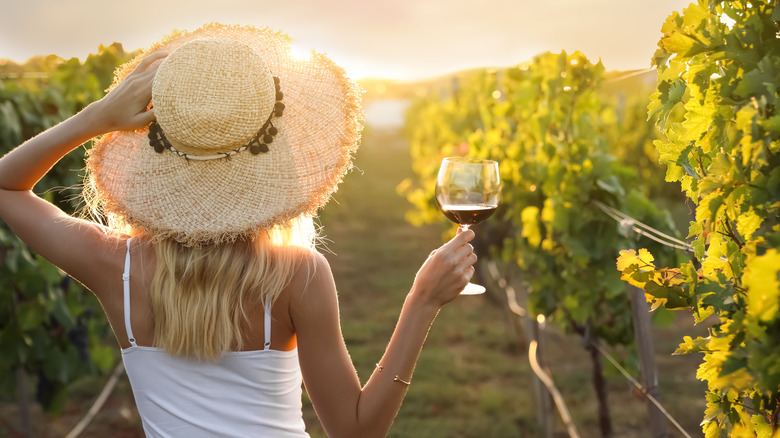 New Africa/Shutterstock
Weekend wine getaways are always a good time. However, visiting some of the top wine tourism spots in the U.S., like Napa Valley and Sonoma in California, can get a little pricey. Of course, California wine country is among the best for varietals, lavish resort stays, gourmet eats, and all-around mid-range to high-end wine getaways. But that does not mean you have to forgo first-rate wine tasting and tourism if you are not looking to splurge.
In fact, vino lovers can still enjoy a wine-themed escape without breaking the bank in more than a few locales throughout the country. So if you want to avoid the pricier parts of California's famous wine country, come home from a vino vacation with some money left to spare, or just enjoy low-cost wine tastings and tours closer to home, you absolutely can. And to ensure your winery weekend is still a delightful experience from booking to finish, here are 13 budget-friendly wine destinations in the U.S. that are definite crowd-pleasers.
Shawnee Hills, Illinois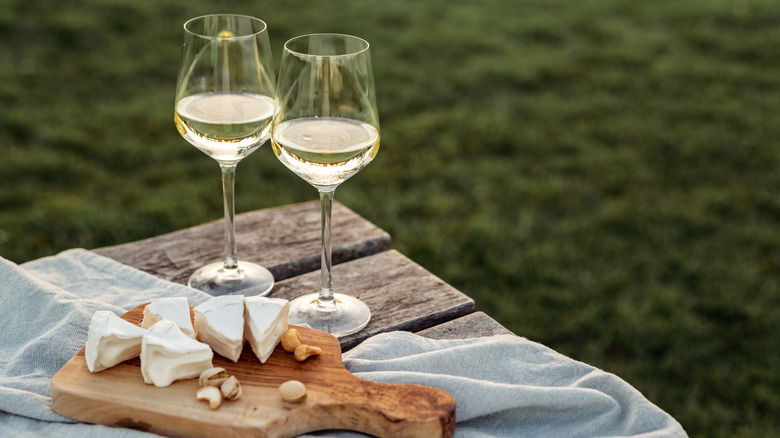 Slava Zolotko/Shutterstock
For frugal connoisseurs, Shawnee Hills in Illinois offers the most bang for your buck. Touted as the most affordable wine getaway in the states, Shawnee Hills is truly the place to be if you want wine on a budget. With over 55 vineyards, the Shawnee Hills Wine Trail, and more than twenty wineries (eleven of which are award-winning), wine enthusiasts can tour, taste, and enjoy all things wine-related and then some.
After getting in some serious low-cost wine time, visitors can opt to savor the surrounding landscape and hidden gems, especially in the lush Shawnee National Forest. Here, outdoorsy folks can partake in a lovely hike in the Garden of the Gods and marvel at all the incredible scenery. National Forest goers can also have a great picnic (possibly under the Golden Circle) paired with a new favorite bottle of wine, perhaps. That said, if you are not a big hiker or lover of the great outdoors, there is still a wealth of amazing touristy activities in and near Shawnee Hills. Plus, there is no shortage of inexpensive accommodations in this Midwestern wine region, so get ready to feel right at home here.
Lehigh Valley, Pennsylvania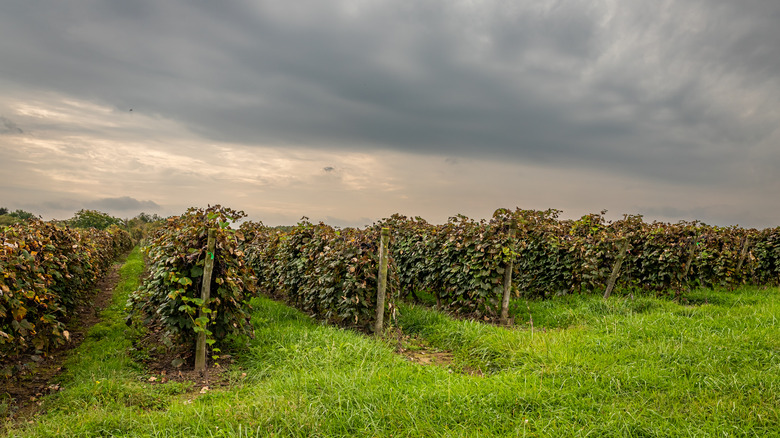 Different_brian/Getty Images
Yet another reasonably-price American Viticultural Area (AVA) worth considering for your next wine escape is none other than Lehigh Valley. Located in Pennsylvania, just under an hour from the famous Pennsylvania Poconos region, Lehigh Valley has roughly 30 wineries, the Lehigh Valley Wine Trail, food pairing events, and more, making it a perfect and affordable East Coast wine adventure. Here, visitors can enjoy almost every kind of wine, from Chambourcin and Pinot Noir to cotton candy-infused white blends.
Lehigh Valley is also packed with one-of-a-kind attractions like The Lehigh Valley Zoo, Wind Creek Bethlehem (a local casino and resort), Dorney Park & Wildwater Kingdom, Coca-Cola Park (in Allentown), and Jacobsburg State Park. This wine tourism spot on the map also has several fascinating museums and historical sites worth checking out. So, if you can somehow cross all 30 wineries in this part of Pennsylvania's wine country off your list during your visit, then you can definitely add any of these other points of interest to your itinerary to keep the fun going. In the way of lodgings, wine lovers who happen to be history buffs can opt for a pleasant and historic stay at The Sayre Mansion, book lovely accommodations at the Glasbern – A Historic Hotel of America or enjoy a few nights at the Historic Hotel Bethlehem.
Isle St. George, Ohio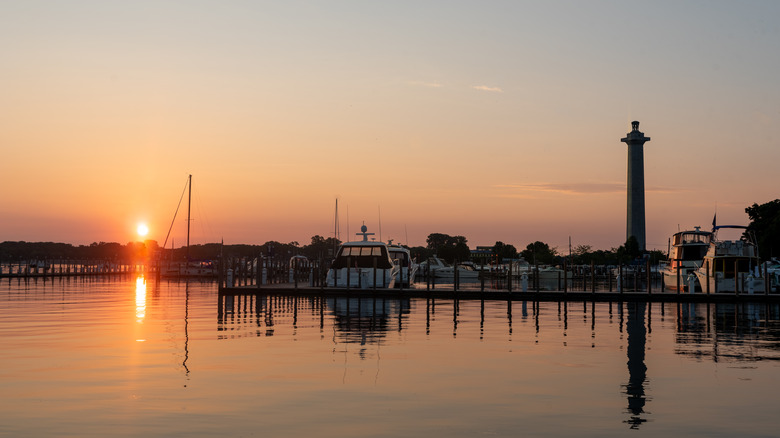 Bryan Huber/Shutterstock
Also a popular AVA, Isle St. George is located on North Bass Island in the western part of Lake Erie in Ohio. Home to four out of eight commercial vineyards in Ohio's Lake Erie Shores wine region, this little island is a quick and easy stop-off that is both scenic and inexpensive. So Chardonnay, Petite Sirah, Riesling, and Cabernet Sauvignon fans are in for a real treat when touring this vino island paradise.
Thanks to European settlers in the 1800s and the ideal maritime climate, Isle St. George is a Midwest gem that is basically covered in vines. Ohio, in general, has approximately 300-plus wineries worth visiting if you feel like going on a state-wide vino excursion. But if you are looking for something simple and sweet with one downright impeccable view, then head to this unexpected island. Here, visitors can make a weekend of it and stay nearby at low-cost lodgings like Bird's Nest Resort, Anchor Inn Boutique Hotel, the historic B&B known as Ashley's Island House, and the St. Hazards Resort — just to name a few great options.
Middleburg, Virginia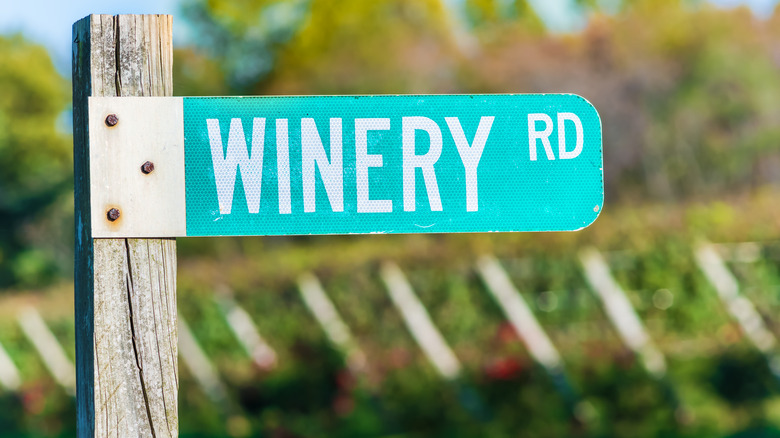 Andriy Blokhin/Shutterstock
For travelers looking to experience Virginia wine country on a budget, a trip to Middleburg, Virginia is in order. Here, visitors can enjoy the rich history, full-bodied wines, and an incredible equestrian scene to boot. Roughly 50 miles from the nation's capital, Middleburg is a relaxing wine destination in Loudoun County with picturesque views of the Blue Ridge Mountains and approximately 24 wineries.
With ample tastings available (many for less than $30 a person) plus cozy rustic stays, charming B&Bs, quaint historic inns, and the Salamander Resort & Spa, wine lovers can delight in a large selection of wine, indulge in divine food parings, and pencil in some much-needed downtime or good old-fashioned self-care. In addition to all this, visitors can check out the National Sporting Library & Museum, spend some time at Aldie Mill Historic Park, and even go horseback riding. And since this section of Virginia wine county is considered off the beaten path, pretty much everything one could get into here is still relatively affordable, so now is the perfect time to plan a trip.
Monticello, Virginia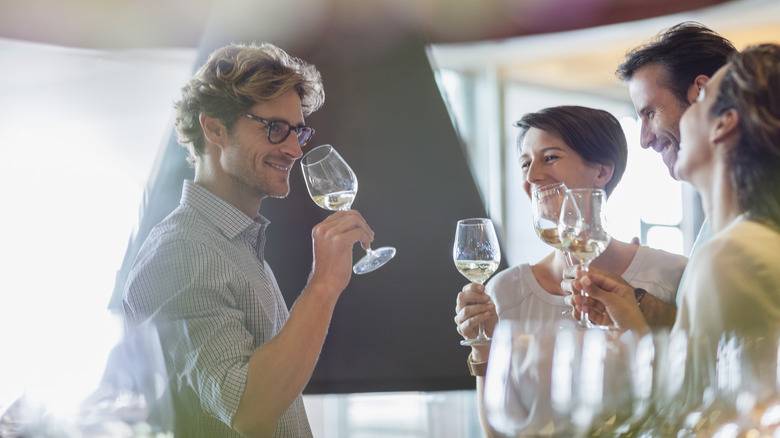 Caiaimage/tom Merton/Getty Images
Monticello is another region located in Virginia's renowned wine country with a long-standing tradition of making wine. Not only was this particular vino destination the brainchild of Thomas Jefferson, but this AVA is also where America first began its love affair with wine. Since this region is steeped in heritage and history, it is not unreasonable to assume that a nice winery weekend would be on the pricey side here. Well, think again — this region is basically a budget-friendly must, with its classic tasting experiences starting at just $10 a person, a hardy wine trail (which has a downloadable trail app), and low-cost accommodations (many in Charlottesville).
With over 30 wineries, phenomenal vistas of the Blue Ridge Mountains, and fascinating historical sites to peruse, Monticello is a great place to check out in general. This wine region also offers abundant outdoor activities, hosts various events, and has a great downtown district full of shopping, dining, and entertainment. And a bonus here is that Monticello is only a few hours away from Middleburg, so if you want to plan an inexpensive and extended vino vacation around these parts, then what are you waiting for? 
Paso Robles, California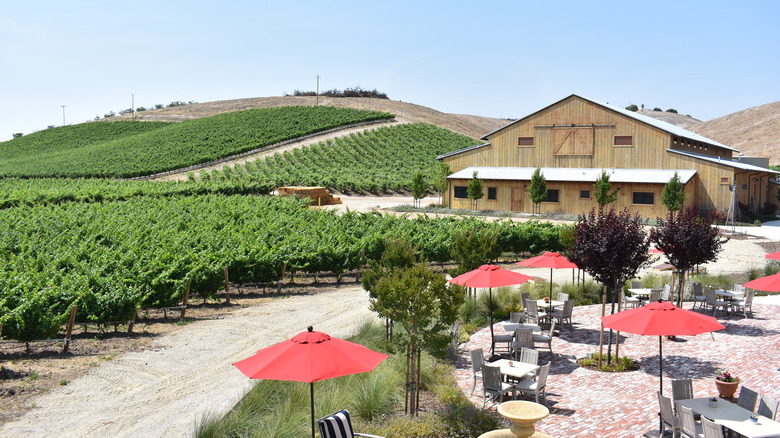 Wirestock Creators/Shutterstock
Wine aficionados who want all the perks of Napa Valley without the cost or crowds should absolutely head on over to Paso Robles in California. Here, visitors can indulge in quality wines without reservations, partake in low-cost tasting experiences, check out over 200 wineries, and find reasonably priced accommodations. There is also a wealth of restaurants, food trucks, and quaint eateries in this part of California's wine country.
In addition to having an enjoyable vino vacation in Paso Robles, tourists have their pick of non-wine-related activities. From hiking and adventuring to shopping and visiting the many museums, this destination definitely does not disappoint. Paso Robles also has a bustling downtown district and is pedestrian-friendly — making it a superb Napa Valley alternative. With a lush and more intimate setting, this AVA is perfect for couples, especially those who enjoy the great outdoors paired with affordable Cabernets and Zinfandels. So, if this sounds like your cup of tea or, rather, your glass of wine, then it might just be time to start planning your wine-themed escape here.
Hudson River Region, New York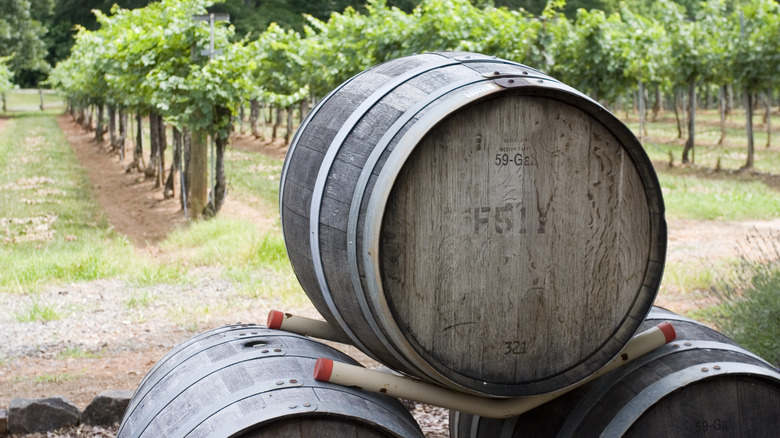 Jonathan Vasata/Shutterstock
Often when people think of the New York State's wine scene, they think of the famous Finger Lakes region. Well, for wine fans looking to keep their vacation costs down, the Hudson River Region is the next best thing. With countless wineries spanning from New York City limits to just outside of Albany, this AVA is not only an inexpensive getaway just waiting to happen, but this charming little vino region also has quite the history.
Home to one of the oldest wineries in the country and more than a few wonderful vineyards that surprisingly survived the Prohibition era, New York's Hudson River Region has been a prime location for winemaking since the early 1800s. Here, lovers of Seyval Blanc, Riesling, Cabernet Franc, and other French/American hybrid wines can enjoy tasting experiences and tours for less than $30. And with available lodgings under $150 a night, this wine destination is definitely not going to break the bank. Hudson River Region is also known for its whiskey distilleries and emerging culinary scene, so visitors are in for an all-around good time when they opt for a wine escape in this part of New York State's wine country.
Yakima Valley, Washington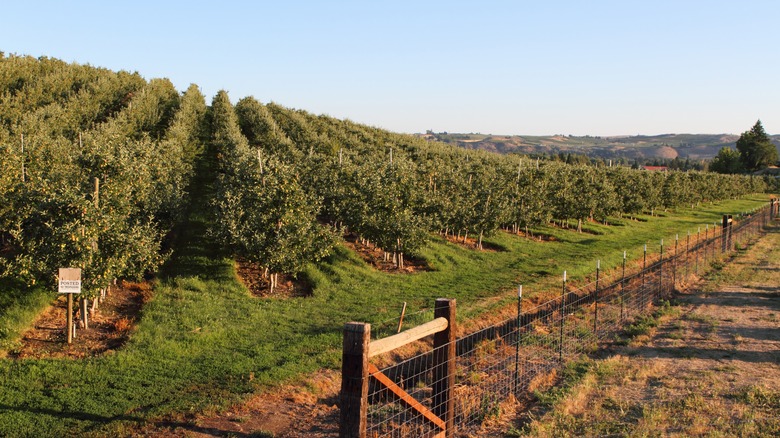 Behindthelens/Getty Images
Located in Washington State, Yakima Valley is known as the birthplace of the wine industry on the West Coast. With a lovely mix of roughly 30 urban and rural wineries (most of which focus on French-style wines and varietals), visitors can enjoy the best of both worlds while saving those vacation dollars. But that's not all that vino enthusiasts can partake in here — with several wine festivals and events, vineyard tours, wine-related history, and more, Yakima Valley is truly a treasure trove when it comes to wine.
After delving deeper into all things vino, visitors can opt to take a tour of the sights. Notable attractions in this section of Washington State's wine country include the Yakima Area Arboretum, Mount Rainier National Park, Franklin Park, the Yakima River Canyon, and the Cowiche Canyon hiking trail. Alternatively, for some indoor touristy fun, the Yakima Valley Museum, Yakama Nation Cultural Center, and the Capitol Theatre are great options here. This AVA also boosts rather impressive cultural, culinary, and nightlife scenes. Plus, there are plenty of options in the way of affordable accommodations — so Yakima Valley definitely checks off all the boxes here.
Cupertino, California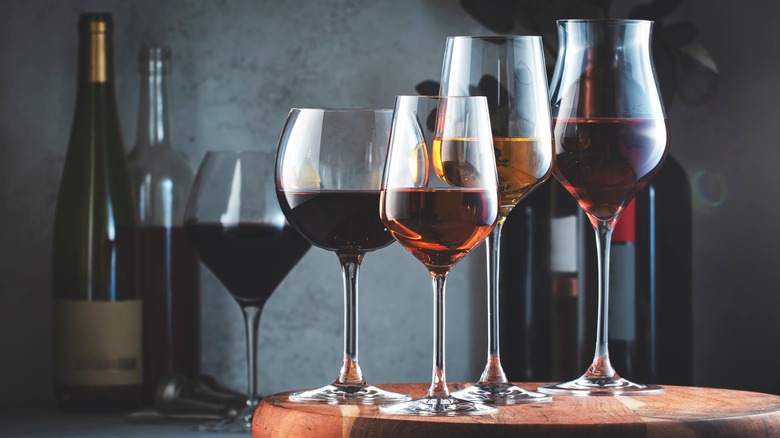 5PH/Shutterstock
Cupertino is just one more wine destination in California that has been crafting its winemaking skills for over a century. With just a handful of wineries and vineyards, Cupertino offers a selection of vino that is all about quality over quantity. That said, this quaint town and its historic wineries offer wine fans a more relaxed "vine-to-glass" experience — one that is truly affordable.
In fact, since there are so few spots for sampling vino in Cupertino, tastings are often grand affairs. Here, visitors can savor their fancy flights of wine while soaking up gorgeous unobstructed views of the Bay Area, and it is not uncommon to have a leisurely picnic when doing so, either. After your delightful wine and picnic experience, you can go horseback riding in Rancho San Antonio Open Space Preserve, stop by the California History Center, marvel at some interesting art at the Euphrates Museum, spend the day on the serene lake at Stevens Creek County Park, or get in a game of golf at one of Northern California's best courses. Cupertino lodgings are also fairly inexpensive, so if you are looking for a well-balanced and low-cost wine adventure in California's renowned wine country, you should absolutely consider Cupertino.
Verde Valley, Arizona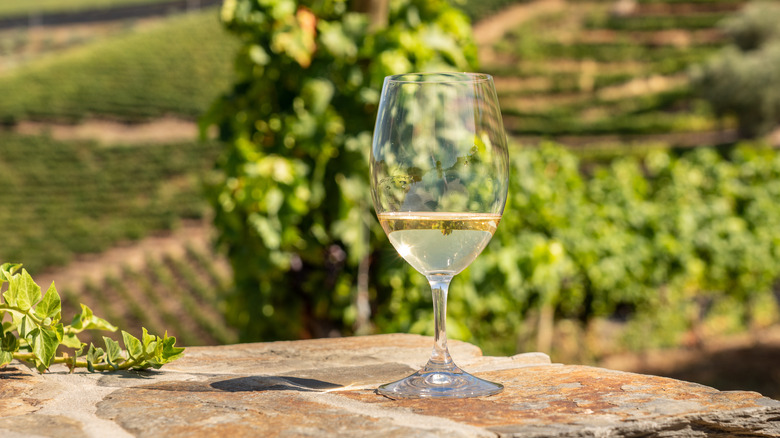 Steve Heap/Shutterstock
As suggested, practically every state has its very own wine country, and Arizona is no different. Thus, Verde Valley is the place to be if you are a wine lover heading to The Grand Canyon State. Located in a popular travel destination known for its dry climate, Verde Valley is surprisingly lush and provides the perfect setting for red grape varietals. In particular, Petite Sirah, Sangiovese, Tannat, and Syrah fans will be delighted with this region's wines.
Thanks to the Verde Valley Wine Trail and more than a few tasting rooms, all wine connoisseurs can partake in some budget-friendly indulgence. With a dozen or so wineries in this AVA, visitors can easily complete this wine trail over the course of a weekend. And when you are ready for after-wine activities, make sure you hop on board the Verde Canyon Railroad and get outdoorsy in the nearby parks (Red Rock State Park, Slide Rock State Park, and Fort Verde State Historic Park). Verde Valley also has a wealth of rustic lodgings, museums, and ample tourist attractions — all of which will make this affordable wine getaway one to remember.
Cape May, New Jersey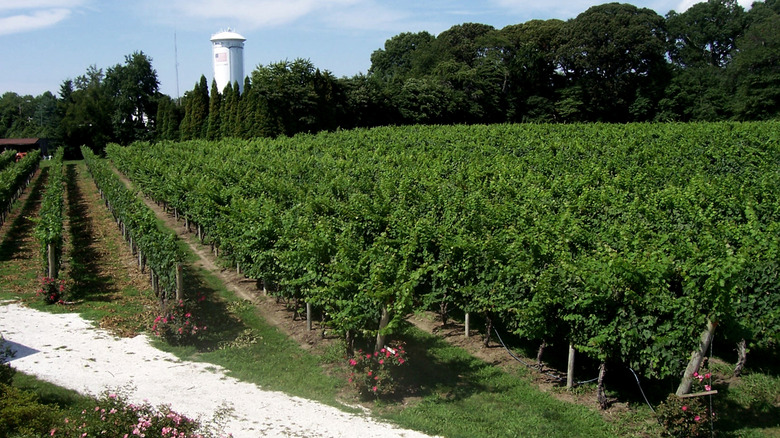 MCKaske/Shutterstock
Cape May is an East Coast fun-in-the-sun getaway that all travelers should experience at least once in their life. This oceanside paradise is brimming with beautiful scenery, ample history, music festivals, and even a few wineries— yes, wineries. Though the vino scene is up-and-coming here, it is still worth visiting, especially if you are looking for low-cost tastings and tours. From Sauvignon Blanc to Malbec and practically every varietal in between, Cape May has it all.
So, travelers who want to pair their relaxing beach vacation with a little wine time and a host of other leisure activities can do so in Cape May. An excellent choice for newer wine lovers, Cape May, has almost a dozen boutique wineries, large vineyards, and a handy wine trail. That said, Cape May is a summer hotspot. So if you want to extend your savings to accommodations, dining, and more, then it is highly recommended that you head to this emerging vino haven in the off-season or around the fall.
Haw River Valley, North Carolina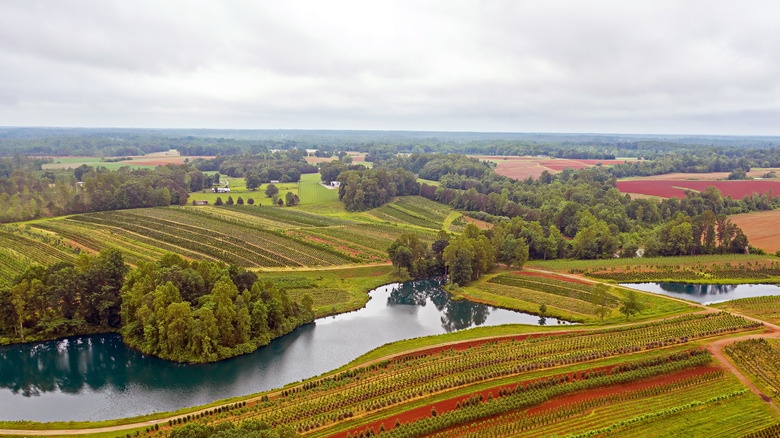 John Couture/Shutterstock
With countless vineyards and roughly six wineries, Haw River Valley has been making quite the name for itself over the last decade or so. Located in North Carolina, this AVA offers wine fans terrific and traditional tasting experiences for under $10 a person. Of course, if you want to kick things up a notch, you can also sample some vino while enjoying various outdoor excursions here.
From hiking and biking to paddling and horseback riding, your tasting experience can be whatever you make in Haw River Valley. Here, lovers of Traminette, Cabernet Franc, Chardonnay, and Syrah have everything they need. Alternatively, if you prefer to relax, snack, and maybe enjoy some live entertainment while sipping on these wines instead, you absolutely can. All in all, Haw River Valley is a good option for road trippers just passing through or anyone looking for a fun, spontaneous, and affordable day trip off the beaten path in North Carolina's wine country.
Chehalem Mountains, Oregon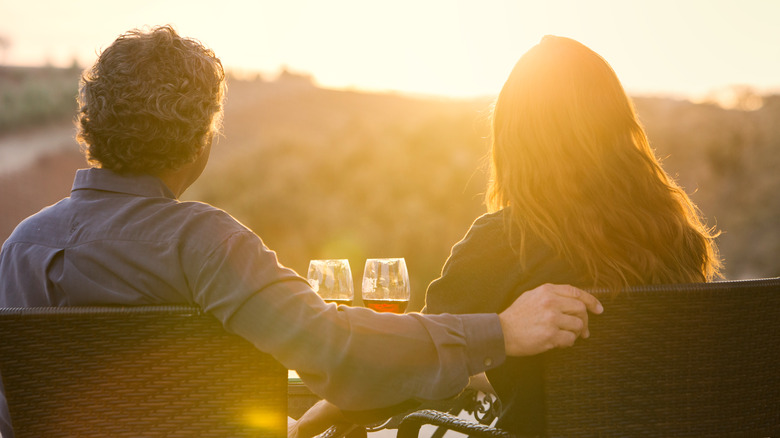 George Rose/Getty Images
Lastly, nestled in the Chehalem Mountains, vino lovers will find the heart of Oregon's wine country. With more than 170 vineyards and 50 boutique wineries, wine enthusiasts will find a tasting experience for just about every budget. So, if you happen to be heading to Oregon, do yourself a favor and check out the Chehalem Mountains for a truly one-of-a-kind wine adventure.
Located just 20 miles from Portland, this picturesque AVA awaits. Here, visitors can enjoy distinct blends, vino-related events, incredible restaurants, an abundance of mountain activities, and breathtaking scenery. In the way of lodgings, there are plenty of B&Bs here. However, this region is actually not too far away from Willamette Valley, so you can also book lovely wine-themed and spa resort stays if you are willing to splurge on accommodations. Either way, spending quality time in both of these spectacular wine destinations is highly recommended for an even more comprehensive and inexpensive wine experience.