Where To Visit The Most Beautiful Lakes In The Midwest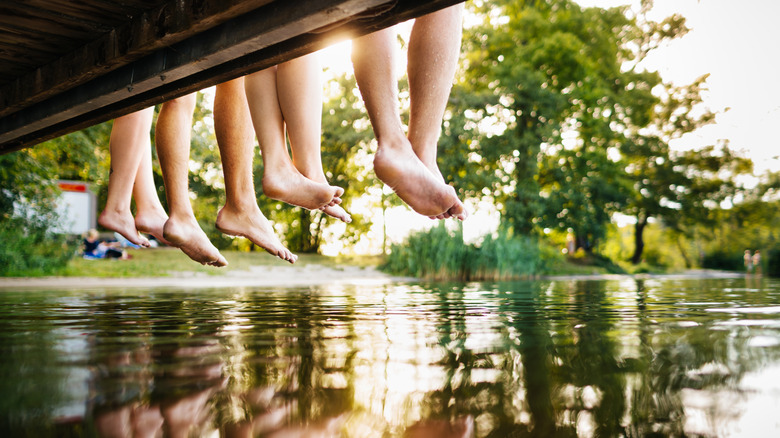 Tomml/Getty Images
A trip to the lake can be a relaxing and immensely enjoyable experience. From the boating and water sports typically engrained into lake communities to the amazing views that often surround a lake's glassy surface, travel destinations with freshwater waterfronts can provide a wealth of enjoyment for visitors. However, finding the perfect lakeside to begin your next vacation can be a daunting task. Fortunately, the Midwest is chock full of phenomenal, watery locations that offer something for nearly any type of visitor. 
Midwest lakes are home to a plethora of fish species, offering some of the best freshwater fishing spots in the world, while the shipwrecks on the bottom of the Great Lakes provide plenty of scuba diving opportunities. And, of course, launching a boat for a day of cruising is obviously fun. While fishing, boating, and diving are popular lake activities, these aquatic wonderlands and their surrounding landscapes typically brim with natural beauty. Many of the American Midwest's lakes, whether Great or a bit unknown, are must-see destinations, especially for the seasoned traveler looking for something new to dive into. 
Cruise the Lake of the Ozarks in Missouri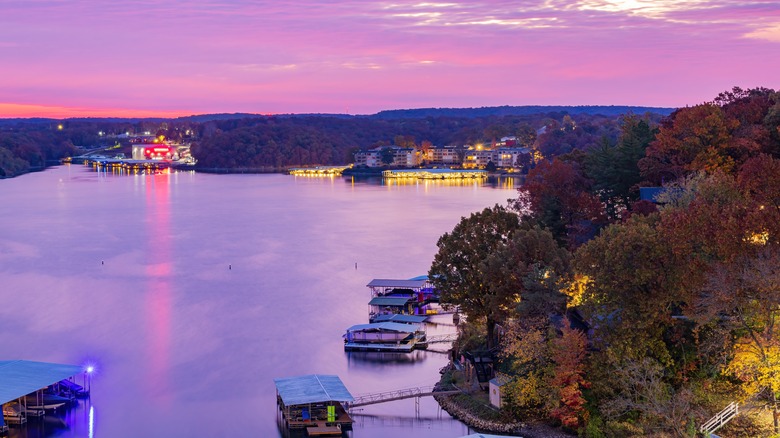 Kit Leong/Shutterstock
The Lake of the Ozarks is a premier aquatic destination in the Midwest. The lake was formed as the byproduct of intentional flooding around the Osage River while constructing the Bagnell Dam. It was officially completed in May 1931, but the area remained a sleepy waterway for decades. It was a quiet, if not vast, place to fish for locals. The lake cuts a slithering, jagged line through the Missouri countryside and is characterized by countless wandering fingers that spread off the main body of the lake.
Over the years, the manmade lake has evolved into a hugely popular summertime destination. Covering a surface area of roughly 55,000 acres, with 1,150 miles of shoreline, the Lake of the Ozarks weaves through numerous lakefront communities, delivering endless possibilities for excitement, peaceful relaxation, and everything in between. Boating and an array of watersports are immensely popular activities, yet thrills aren't the only thing the lake offers. The forested backdrop that dominates the Missouri landscape is the perfect place to unplug and unwind. Spending a few days or weeks on the lake is an excellent way to take in the majestic scenery of the (semi) natural beauty of the area and recharge.
Fish and scuba in West Okoboji Lake, Iowa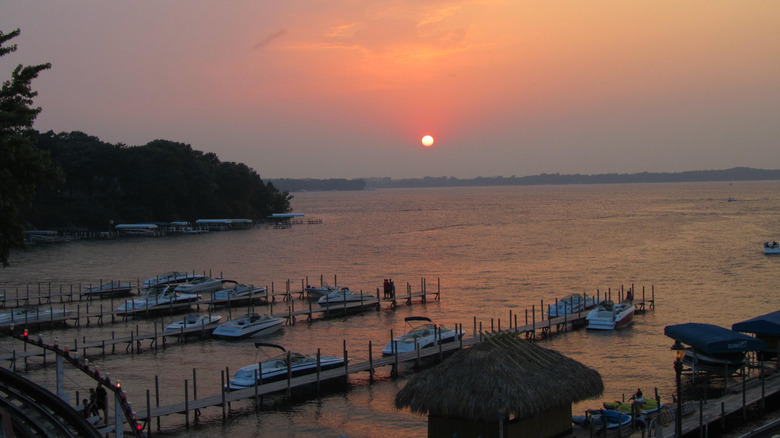 kbrighton/Shutterstock
Found in northern Iowa, East and West Okoboji Lakes converge to offer an excellent fishing ground and recreational area. West Okoboji Lake is particularly interesting. It's larger than its neighbor and is the deepest lake in Iowa, with a maximum depth of 136 feet. The towns of Okoboji and West Okoboji are also found on the western lake's shores, offering two hubs for your adventures on the water. Whether fishing to catch a meal or cruising at sunset, West Okoboji is a fantastic place to unwind in a truly magical marine environment.
West Okoboji Lake is characterized by seriously clear visibility, and there are many beaches and parks found along the lake's shores. Green's Beach is a particularly popular public swimming area, while Emerson Bay State Recreation Area offers convenient boat ramps, hiking trails, and an observation deck for bird-watching. Both areas make for an enjoyable lakefront that's great for gatherings with friends or family. After time on the lake, kids can enjoy Arnolds Park Amusement Park, while history buffs may appreciate a tour of the Abbie Gardner Cabin and Museum. There are also many other attractions that fill out the lake's persona as a wholesome vacation spot that epitomizes the American Midwest.
Open up to Door County, Wisconsin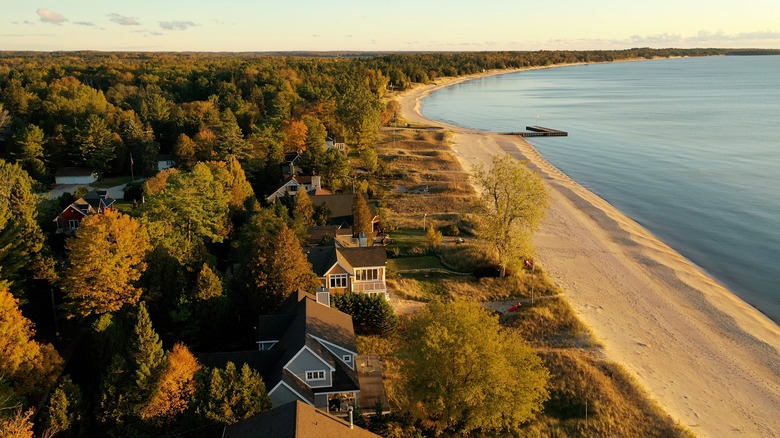 Lena Platonova/Shutterstock
Wisconsin exudes the Midwest ethos, as people in the state have a reputation for being friendly, welcoming, and laid back. It's perhaps a product of the environment, and nowhere will you find a lakeside environment that's quite like Door County. The county sits on a peninsula shooting northward into Lake Michigan. North of the city of Green Bay, Door County is flanked by Green Bay (the actual bay) to its west and Lake Michigan to its east. 
Door County has been called the "Cape Cod of the Midwest," and for good reason. Not only are there a number of beautiful lakes found within the peninsula — like Clark Lake, Kangaroo Lake, and Europe Lake — but the coastline is dotted with small towns and classic lighthouses. The scene is similar to an oceanic coastal community, and yet Wisconsin's contribution to the "Third Coast" is equally picturesque. To make the county even more abundant in rich, recreational waters, Sturgeon Bay cuts into the western side of the county, and a humanmade canal bisects the Door Peninsula, connecting Green Bay with Lake Michigan. While used primarily as a shipping lane, you can boat the canal to view two historic lighthouses. If you're a sailor or motorboat enthusiast, consider cruising up to Washington, Plum, or Rock Islands, all located just north of the main landmass, to view additional lighthouses and explore wildlife refuge areas.
Stay in Milwaukee to enjoy Lake Michigan's shores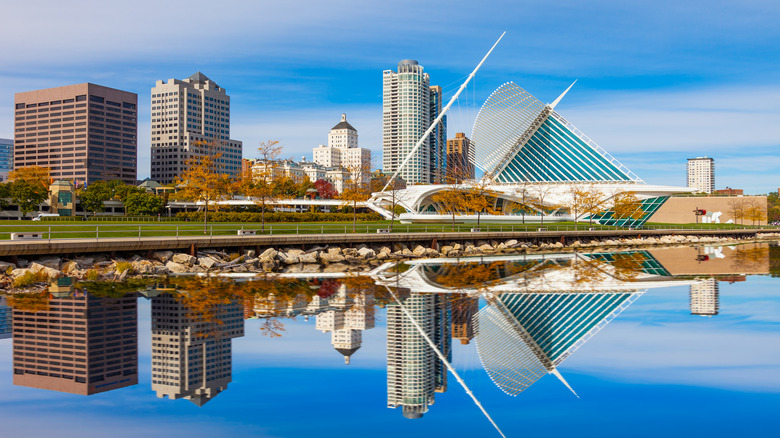 Ron And Patty Thomas/Getty Images
You don't always have to venture out into remote, rural communities in order to enjoy the relaxation that a lakeside area can provide. Milwaukee is a fantastic example of a bustling urban environment that offers the best of both worlds. Milwaukee is home to over half a million people, and yet it's a city that distinctly feels like a small town. The city sits alongside Lake Michigan, and its residents have integrated the waters of the lake into the fabric of their daily lives. While Milwaukee boasts the amenities of big city life, such as iconic sports franchises, a flourishing craft beer scene, and storied live music venues, the peace and calm of the shores of Lake Michigan help the city retain its unique small-town vibe.
After a day of taking in the sights in the city, you can kick back on the shores of Lake Michigan at one of many parks or beaches along the lake's blue waters. There are 1,400 acres of recreational shoreline on Lake Michigan in and around Milwaukee. These lakeside destinations are great for unwinding with a book or a few local beers. Milwaukee is also a great place to enjoy the lake directly from the city. You can kayak or relax on the sand in downtown Milwaukee at Bradford Beach, or take in city views cruising through neighboring waterways — a great change of pace from city life.
Visit Sylvan Lake after touring Mount Rushmore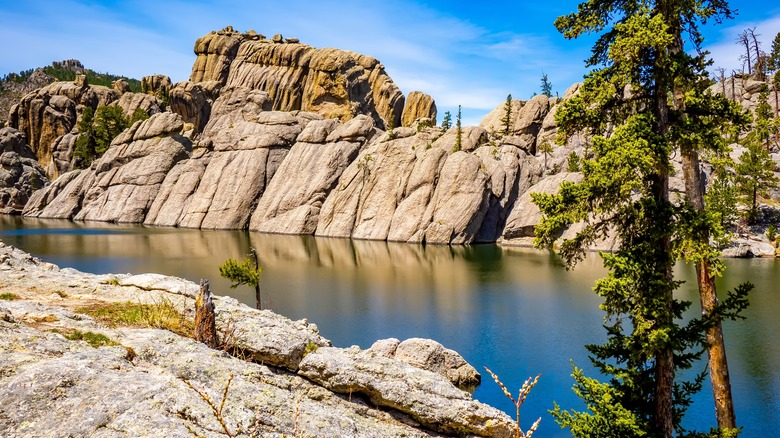 Jim Schwabel/Shutterstock
Just a few miles from Mount Rushmore, Sylvan Lake is a serene aquatic destination that's ideal for fishing, hiking, and watersports of all kinds. The lake is humanmade, as a result of the construction of a dam across Sunday Gulch in 1881. It's now a part of Custer State Park and acts as a picturesque destination for relaxation and fun. Distinctly scenic, this lake was actually a filming location in the second installment of the "National Treasure" movie series when the team finds themselves exploring the Black Hills.
Sylvan Lake is the most popular water feature in Custer State Park, and it's easy to understand the allure that draws people in. The pristine blue water and stunning rocky formations that surround the lake make for a beautiful piece of scenery that's hard to match. While often underappreciated and overlooked by visitors to Mount Rushmore, Sylvan Lake can serve as an excellent reprieve from the monument's bustling crowds. 
Ride rollercoasters on Lake Erie in Sandusky, Ohio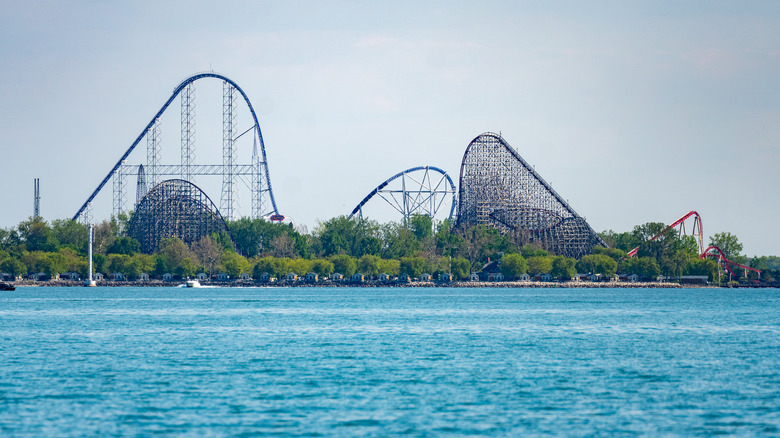 PhotosByLarissaB/Shutterstock
The second smallest of the five Great Lakes, Lake Erie is yet another beautiful lake of the Midwest, and a trip to Sandusky, Ohio can accommodate both a fun and relaxing lake vacation. Recently named the Best Coastal Small Town in America by USA Today, the amazingly versatile town is home to Cedar Point, a premier Midwest amusement park and popular destination for roller coaster enthusiasts. Some of the fastest and tallest in the world, Cedar Point's rollercoasters offer incredible thrills with amazing views looking out over Lake Erie's waters.
Nearly all of Ohio's northern edge sits along Erie's shores, so the area is naturally packed full of lakeside towns and cities, but Sandusky stands out as a relatively small community in comparison to other built-up areas. A visit to Kelleys Island is a great option for Sandusky visitors looking to explore the idyllic sights and sounds of the lake. The island boasts some amazing hiking trails to explore, and taking a rest on the island's lakeshore beaches can be an incredibly rewarding way to relax.
Take in Lake Superior from Grand Marais, Minnesota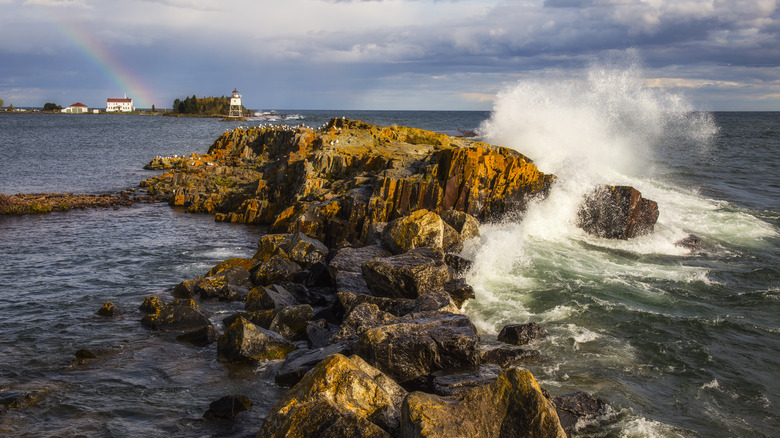 Jackvandenheuvel/Getty Images
Lake Superior is the largest of the Great Lakes, and a true visual spectacle to be sure. The lake creates wonderful natural environments up and down both its U.S. and Canadian coastlines, with awesome communities, parks, and vantage points to choose from when considering a visit to its shores. However, one of the most impressive places to explore Lake Superior is from Grand Marais in Minnesota's extreme north. 
A town near the Canadian border, Grand Marais boasts plenty of hiking trails, opportunities for outdoor adventures, and of course, unobstructed views of the majestic Lake Superior in all its glory. The town is home to just 1,400 people but is known for its thriving art scene. For intrepid outdoorspeople, Grand Marais is also a gateway to the Boundary Waters Canoe Area Wilderness. It's worth noting, however, that while some areas (during peak summer) may be okay for swimming, the water is notoriously cold, and you may want to stick to canoeing. The chill can overtake even strong swimmers.
Explore Leech Lake in central Minnesota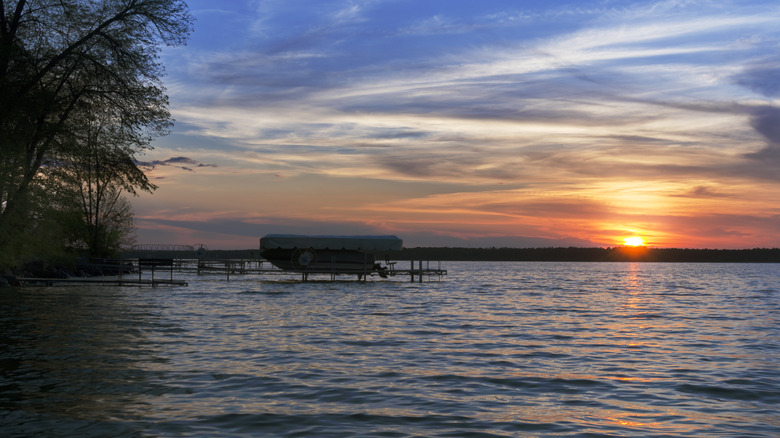 Sakkawokkie/Getty Images
Leech Lake is surrounded by reservation lands, and Minnesota has, in recent decades, moved to champion its Native American history. Leech Lake has been inhabited by the Ojibwe bands since the 1700s, though Dakota Indians had communities around the lake prior. If you're looking to incorporate some indigenous travel into your next lake trip, Leech Lake is an excellent option. 
Along with its rich history, the lake offers breathtaking scenery, and it's a popular spot for watersports, fishing, and boating. There is also a smattering of smaller lakes in the area to explore. To learn more about the area's Native history, you can visit Chippewa National Forest, which features over 3,000 archeological and historic sites, as well as plenty of hiking and mountain biking trails. Golfing and birding are also popular activities in the area. In fact, Chippewa National Forest is one of the largest breeding grounds for bald eagles.
Enter the wild at Michigan's Isle Royale National Park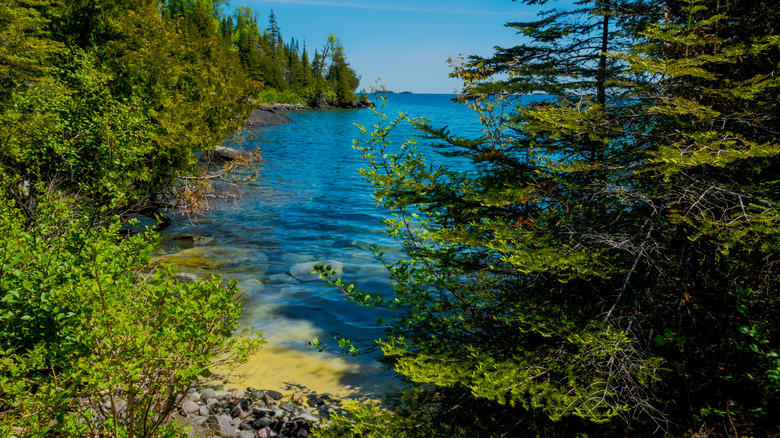 Arlene Waller/Shutterstock
Those looking to get away from the noise of daily life can truly escape at Isle Royale National Park. The park is located on an island in Lake Superior and sits within Michigan's state boundary (as a remote component of the Upper Peninsula). In fact, the island is so far out of the way that it's perhaps closer to Canada than the U.S., and it's one of the least visited national parks. However, this isn't for lack of splendor or beauty. Isle Royale National Park is fairly difficult to get to (you'll need to take a seaplane, book a seat on the ferry, or boat out to it yourself), but you'll be rewarded in spades if you make the journey across Lake Superior's chilly surface.
The park consists of expansive shorelines and numerous islands and waterways that make their way around the perimeter of the main island. The park features 165 miles of trails and not a single road —an outdoor lover's paradise! Water taxis can take you from one campsite location to the next, but from there, you're hoofing it in the depths of nature's untamed forestlands. This is the perfect place to explore Lake Superior's shores and hike through some of the most pristine forests in the country. Remote and off-grid, Isle Royale National Park is an awesome Great Lakes national park for adventure.
See the Northern Lights at Voyageurs National Park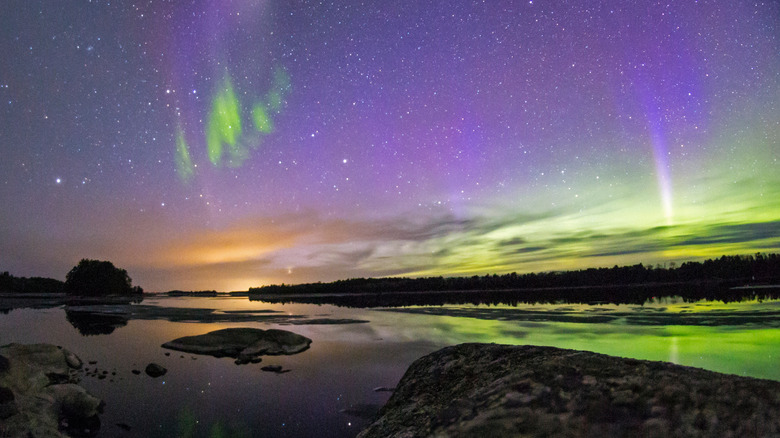 BlueBarronPhoto/Shutterstock
Voyageurs National Park in Montana is another destination that's far off the beaten path, making it an excellent spot to see the Northern Lights in the United States. The wide open space of the park's lakes, with little to no light pollution from traffic or cities, can provide stunning, 360-degree views of the phenomenon.
The park is situated on over 218,000 acres right along the Minnesota-Canada border and features a landscape of pristine lakes, a variety of streams and wetlands, and forested areas filled with exceptional hiking trails. You can choose to stay on a houseboat, but you can also camp in the backcountry of the park. The merging of wild aquatic landscapes with the rugged forestlands that rise up out of them offers a stunning example of nature's complex beauty, and camping offers a full immersion into the park's wild surroundings. If you've got the time to spend in this far-removed national park, the visit is well worth the effort.
Camp on Lake McConaughy's sandy shores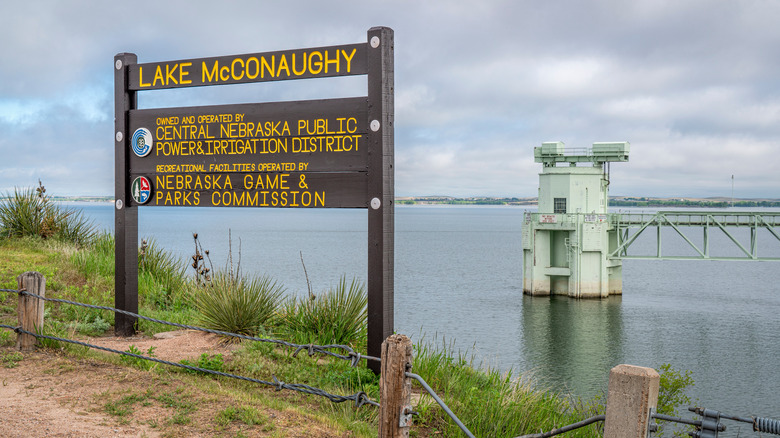 marekuliasz/Shutterstock
Lake McConaughy is the largest reservoir in Nebraska, and its shores include sandy beaches that might seem out of place this far inland. Even so, the aquatic environment fostered by the lake's environment is fantastic for relaxation and offers visitors a chance to unwind in style. Watersports are a common theme at nearly every large Midwestern lake, and Lake McConaughy is no exception. Lake McConaughy boats 30,000 watery acres, making it ideal for swimming, boating, and other popular watersports. The clear water also enhances the lake's appeal for scuba divers and anglers of all skill levels.
A huge feature of the lake (known to locals as "Lake Mac") is the ability to camp right along the water's edge. Setting up tents on the sandy shores and enjoying the sunset can be a phenomenal experience and bring you closer to nature in all its glorious beauty.
Escape the rat race on Mackinac Island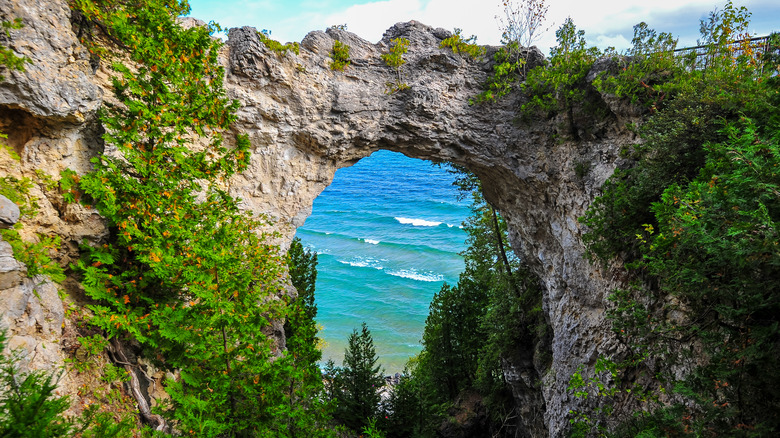 Narrow Window Photography/Shutterstock
Located on Lake Huron, Michigan's Mackinac Island has a magnetic allure. The island sits between the state's Upper and Lower peninsulas. With a very small resident community, Mackinac Island is another Great Lake island that hasn't been overtaken by the frenetic pace of human activity. There aren't any cars on the island, and moving about the community's ample greenspace is instead facilitated by bike, horse-drawn carriage, or the old-fashioned way — on foot.  
If you're seeking a landbound adventure with the lake sitting firmly in the backdrop, Mackinac Island is home to some amazing history. It was a frontline scene in the War of 1812, and Fort Holmes and Fort Mackinac are both particularly notable places to explore if you're a history buff. However, the best way to explore the island's natural scenery is probably by boat. Getting out on the pristine waters of Lake Huron will offer great vantage points to see the island's coastal treasures, such as its stunning arch rock formations and lakeside cliffs.