Why You Should Avoid This Budget Road Trip Hack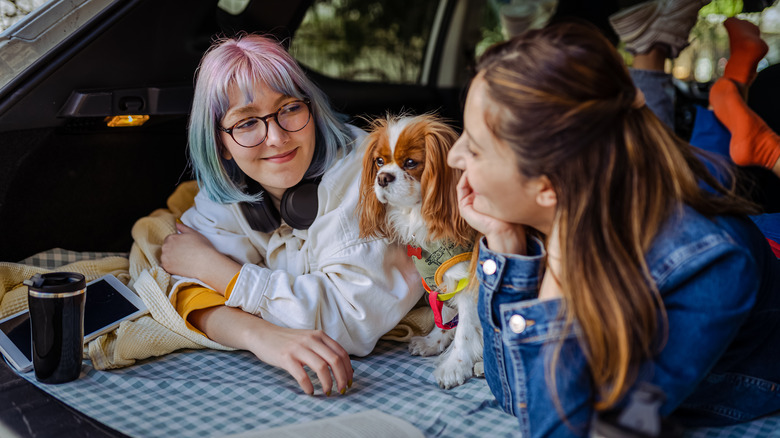 Kemal Yildirim/Getty Images
The excitement of hitting the open road is undeniable. Road trips offer the promise of adventure, the thrill of discovery, and the joy of freedom. After all, traveling by land allows you to savor each moment — taking in the vast landscapes and the roadside hidden gems that planes simply can't offer. But, just like any other journey, planning a road trip requires a great amount of research and caution.
And don't be mistaken: the planning doesn't stop at the route you're taking. Deciding where to rest for the night, for example, is also an essential part of any comfortable and safe overland journey. For some, the idea of pulling up into a store parking lot for a night's rest seems economical and straightforward. However — especially for women traveling alone or families with children — this can lead to more trouble than it's worth.
Whether it's the vulnerability of being isolated in an unknown location, the possibility of getting a ticket, or the unforeseen security risks ... sleeping in a parking lot isn't all it's cracked up to be.
The truth behind parking lot stops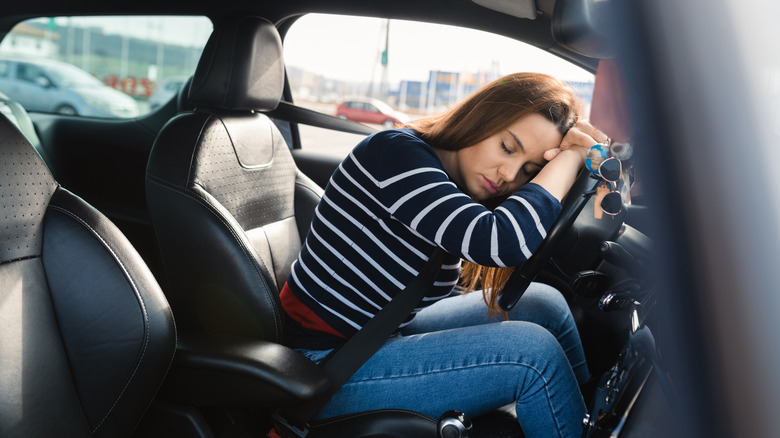 Mixmedia/Getty Images
Sure, an empty gas station or supermarket parking lot might seem like a traveler's dream pit stop due to its convenience and wide-open spaces. However, the reality is far from the idea.
Many cities and towns in the United States have ordinances against overnight parking, especially in business lots. For instance, in states like Florida, Georgia, and North Carolina, sleeping in your car in public places is strictly prohibited or restricted; this means you'll need to find designated areas and truck stops or book yourself into a roadside hotel to get that much-needed rest. In theory, these laws are in place to prevent unwanted disturbances and potential security threats — ensuring that both businesses and travelers alike are protected. And, at the end of the day, ignoring these rules can lead to unwanted run-ins with law enforcement — including possible jail time.
In addition to state laws, the truth is that empty parking lots aren't always the safest choice. According to the Bureau of Justice Statistics, parking lots and garages are common locations for property crimes — accounting for over 10% of nationwide incidents, (via Negligent Security Attorney). And the National Institute of Justice reported they're also the scene of roughly 7% of violent attacks, 16% of which are registered as assaults, according to Lot Guard. And while these numbers might not seem alarmingly high, the risk, fear, and potential for danger are still there — especially for women traveling alone.
Plan smarter, travel safer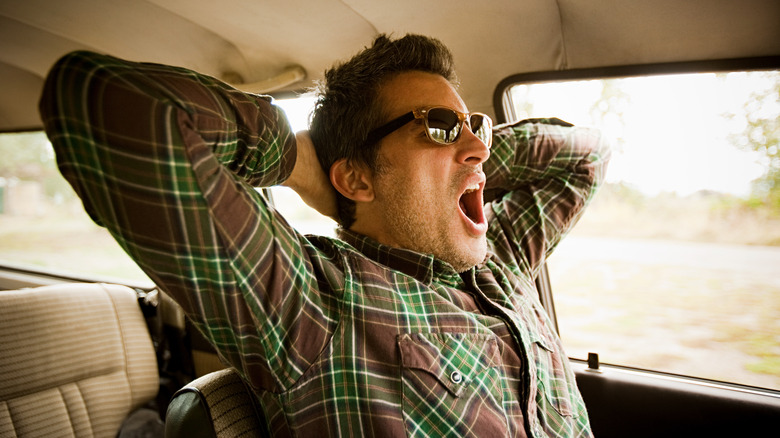 Image Source/Getty Images
Every good road trip starts with smart planning and making informed choices. Instead of parking lots, why not check out interstate rest areas? They're conveniently set up along highways just for travelers, and some of them — like the ones in Kansas, Nevada, Oregon, and West Virginia— even allow overnight parking, which makes the experience feel much safer than a vacant Walmart lot once the sun begins to set.
Heading west? Look into public lands managed by the Bureau of Land Management (BLM). They often let travelers set up camp so you're not only safe but also surrounded by the beauty of nature. Sure, some places might ask for a small fee to enter the park, but staying somewhere you actually feel at ease is well worth the small price tag. Basically, think of it as a small investment toward ensuring peace of mind and refreshing rest, both of which can set you up for the next day's journey.
And remember: hitting the road and staying at these places means you're around other travelers, too. Always be respectful when sharing a campsite, and make sure you're not inconveniencing your neighbors by playing loud music, leaving trash around, or occupying more space than necessary. Also, always observe the campsite's rules — whether it's regarding open fires, pet regulations, or vehicle parking. When traveling, every little act of kindness and respect can make the open road a better place for all.