How To Find Free Overnight Parking For Your RV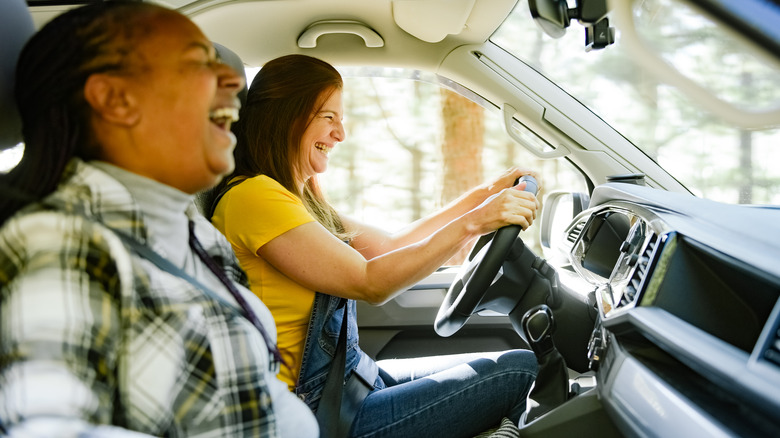 Gabriel Trujillo/Getty Images
There are a variety of reasons that adventurers choose to invest in an RV. For some, it's a symbol of freedom from the constraints of more traditional living standards. Living in an RV provides the opportunity to hit the road whenever you'd like. Embracing new places and experiences with every mile can be refreshing and exciting.
For other travelers, investing in an RV isn't as much of a full-time experience as it is an ideal option exclusively designed for vacation. Having access to an RV can mean added comfort on the road and more customized accommodations as you travel. It can also be a unique way to explore alongside family and friends.
Reduced travel costs also play a role in the investment. It's estimated that over 11 million households in the U.S. currently own an RV. Living in an RV full-time can cut down on utilities, rent, and mortgage expenses while vacationing this way can eliminate hotel costs. Those who are willing to look outside the box and consider even more strategic options will find they can reduce the cost of RV travel even further.
One aspect of RV travel that can really add up over time is parking costs. RV campgrounds can run anywhere from $15 to $40 a night. When you're looking to reduce or entirely eliminate this cost, it's worth considering some unexpected places.  
Finding a free destination and securing your place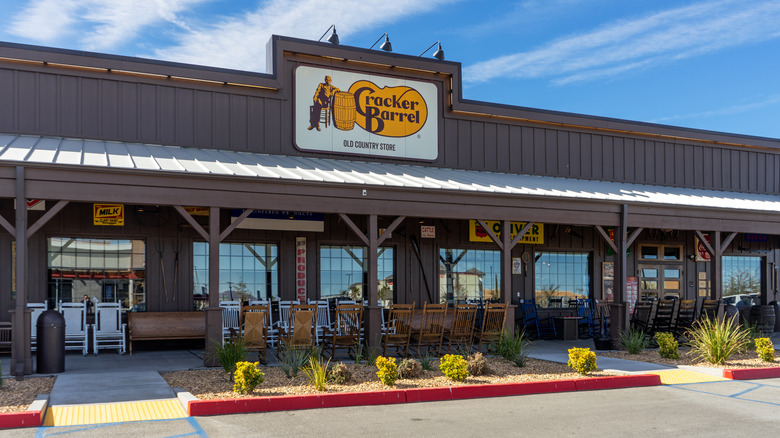 Felipe Sanchez/Shutterstock
Cracker Barrel may be loved for its many country-fried menu selections, but savvy RV travelers know it's also a place to find free overnight parking options. Cracker Barrel restaurants can be found in nearly every U.S. state but when in doubt, the official location finder is a great way to plan your travel route and overnight RV stops. Be sure to arrive before the restaurant closes and ask the on-site manager if overnight parking is available.
In most cases, managers will have no issue approving your free overnight parking request. Once you've received formal approval, let the manager show you exactly where to place your RV so you comply with any parking regulations. This is also the moment to ask questions about rules specific to RV awnings, generators, and leveling jacks.
If you can't find a Cracker Barrel along your particular route, Walmart is also a top spot for finding free overnight RV parking. There are currently more than 4,600 Walmart locations across the United States meaning there's a good chance you'll be able to find one near you no matter where you roam. Walmart notoriously has spacious parking lots giving travelers the option to park their RV on-site for several nights at a time if needed.
How to overnight park like a pro at no cost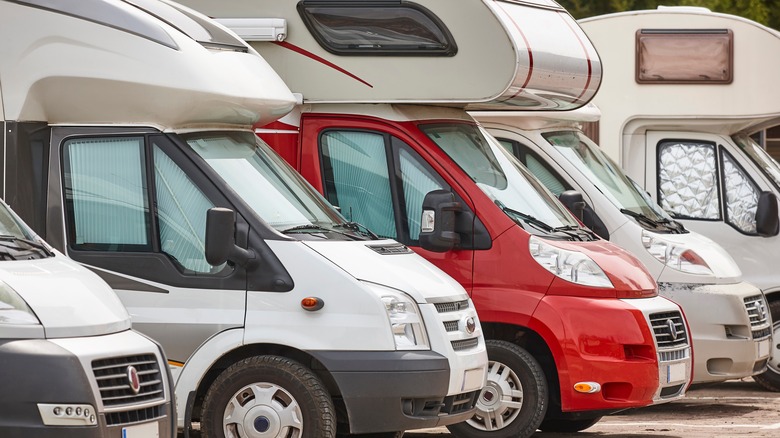 ABB Photo/Shutterstock
Finding free overnight RV parking is satisfying. Just knowing you have options adds flexibility to a trip. It can also enhance the fun depending on where you park.
If you love exploring outdoor stores like Cabela's and Bass Pro Shops, you're in luck. Both have sprawling parking lots and are known for being RV-friendly locales. Once parked, you can choose to linger in your RV or head inside to browse, bowl, or check out the aquariums depending on the location you select.
Travelers that are looking for free overnight parking paired with some good luck fun will want to consider finding options at local casinos along their route. Large parking lots offer up plenty of space to turn an RV around while the easy access to on-site fun is hard to resist. Just be sure to check with on-site management before parking to make sure you comply with local ordinances.
Costco is another option for free overnight RV parking that provides an opportunity for RV travelers to stock up on goods they might need. Keep in mind that if you're planning on shopping here, you'll need a membership in hand.
No matter where you park, keep RV etiquette in mind. At restaurants, be sure to make time for a meal. It's good form to thank the restaurant staff for letting you stay by investing in their product. At all locations, show respect by always cleaning up before you head out.