The Cheapskate's Guide To Planning A Road Trip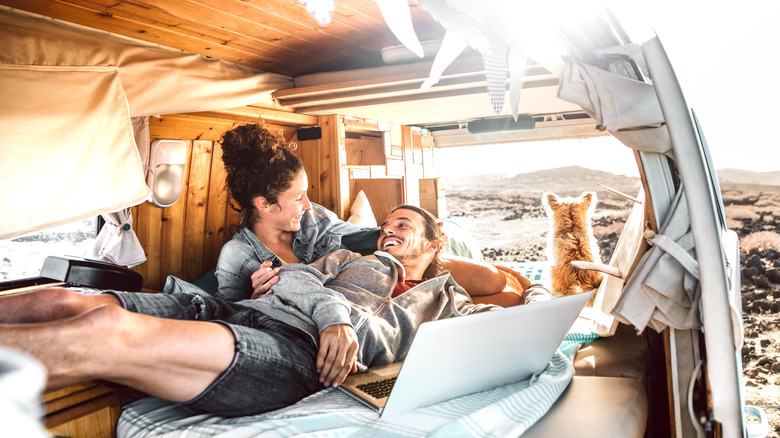 View Apart/Shutterstock
There's something liberating about hitting the open road. Whether you're planning an epic cross-country odyssey or a home-state excursion, road trips allow you to literally grab the wheel and steer your experience in whatever direction you choose. You're just as likely to uncover hidden gems on fun-filled diversions as seeing bucket list attractions highlighted on your itinerary.
Although the unexpected is baked into the road trip experience, there's one not-so-welcomed surprise to avoid while navigating the open road: running out of money. Road trips may seem like a more budget-friendly vacation than a far-flung trip to a tropical island — and they can be — but small daily expenses can add up quickly. And due to their sheer size, the U.S. and Canada aren't the cheapest places to explore.
But don't pump the brakes on your open-road dreams just yet. There are plenty of cost-effective ways to hit the road, and with a little planning and insight, road trips can be both epic and budget-friendly. When you plan like a road-savvy cheapskate, you pay less to drive further.
Avoid disaster with a quick tune-up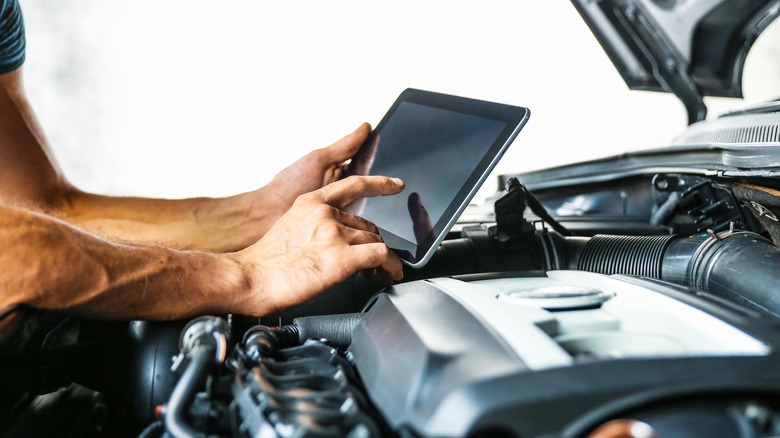 Petr Smagin/Shutterstock
Let's first differentiate between a road-championing cheapskate and a motoring miser. Road-tripping like a cheapskate doesn't necessarily constrain you to gas station meatsticks, car camping, and $2 roadside attractions (although this sounds fun, too). It just means allocating funds wisely. You cut costs here to spend up there. But while you can survive on meatsticks (for a while), your road trip can't survive without a reliable car.
Nothing ends a road trip quicker than car trouble. Before hitting the road, you'll want to hit pause on your cheapskate ways to kick the tires. If you're handy under the hood, great! If not, you should hire a professional to check your tire tread and pressure, fluid levels, wiper blades, lights, etc. A quick inspection and tune-up to prevent a roadside breakdown is probably the best investment you can make.
While a tune-up can help you avoid disaster, nothing is guaranteed. To avoid spending trip-ending money for a tow and repairs, you may want to consider joining a roadside assistance organization, such as the American Automobile Association (AAA). If your car does break down, the small monthly cost for roadside assistance could save your trip.
Plan your route wisely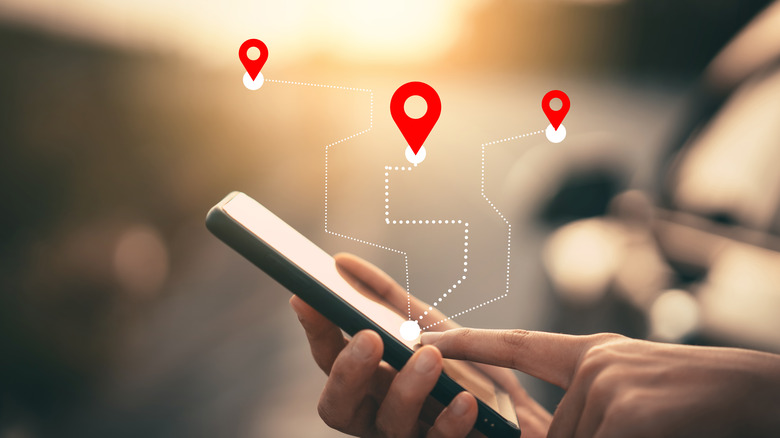 Tonktiti/Shutterstock
Mapping out a budget-friendly route will go a long way in saving you money. There are two main reasons why mapping your route before hitting the road can cut costs. First, you may find shortcuts and more fuel-efficient routes on any given leg of your trip. You may also find ways to avoid tolls and stop-and-start traffic near major cities by exploring alternative ways to go.
Secondly, your route will dictate the attractions and cities you'll visit. By comparing various routes, you'll discover that some points A to B involve more costly cities and attractions than others. This doesn't necessarily mean skipping parts of your trip, but you can at least perform a cost-benefit analysis of various itineraries. 
After mapping your general routes, you'll also want to utilize navigational apps to avoid getting lost. While detouring from best-laid plans is part of a road trip's appeal, getting completely turned around can cost you time and money. Along with navigational apps, we also suggest driving apps, such as iExit, to help you quickly locate gas stations, restaurants, and other quick stops. By knowing what's off the interstate, you can schedule more cost-effective road trip stops.
Be a fuel-efficient driver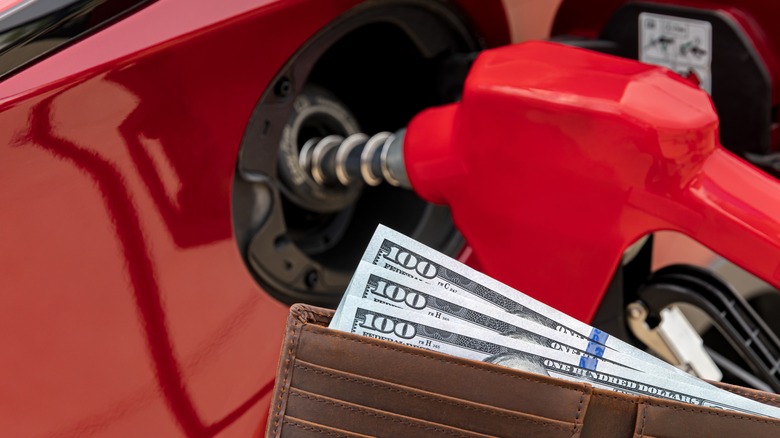 J.J. Gouin/Shutterstock
Fuel is one of the costliest expenses of a road trip, so you'll want to try cutting fuel costs however possible. To be fuel efficient, it's important to first remember that a road trip is a trip and not a race.
If you're not in a rush, then try to drive at fuel-efficient speeds. According to the U.S. Department of Energy, aggressive driving by constantly speeding, accelerating, and braking can lower your gas mileage by 15-30% at highway speeds. When you can, drive in cruise control and reroute to avoid traffic bottlenecks near big cities.
You can also maximize your mileage by packing effectively. Try to avoid overpacking, which will weigh down your car, and try not to haul stuff on your roof to keep your car as aerodynamic as possible. Finally, while not the most popular option for summertime road trips, opt to keep it naturally breezy by turning off your car's air-conditioner, which is a major gas guzzler.
Get creative and campy with accommodations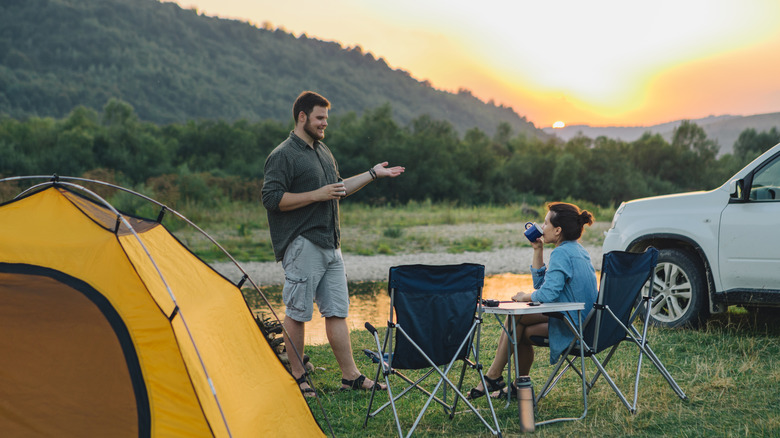 Vera Petrunina/Shutterstock
While there's no way around spending money on gas, you'll have a lot of budgeting options for accommodations. On the higher end, you can choose to stay at a motor lodge, hotel, or Airbnb, but if sticking to a cheapskate mentality, we'd suggest reserving these types of accommodations for urban exploring or when camping isn't an option. However, when you do stay in a hotel, take full advantage of its amenities, such as free breakfast, a hot shower, and fast Wi-Fi. Even the most seasoned traveler can succumb to road-weariness, and by occasionally booking a hotel stay, you can refill your personal gas tank.
That said, due to its cost, staying exclusively at hotels isn't in the cheapskate's handbook. Fortunately, the road offers plenty of options. Camping is a surefire way to lower the cost of your road trip, and there are plenty of places to camp for free. You can typically camp for free on state forest land and national forest land, and if you're road-tripping to the western part of the United States, you can camp for free on Bureau of Land Management (BLM) land.
But if you'd like access to bathrooms, grills, and other amenities, then national and state parks typically charge to camp on government-run campgrounds. As a bonus cheapskate tip, if you plan on routinely visiting national parks, you can save money by purchasing the National Park's America the Beautiful Pass versus paying for admission at individual parks. 
Eat, drink, and be merry (within reason)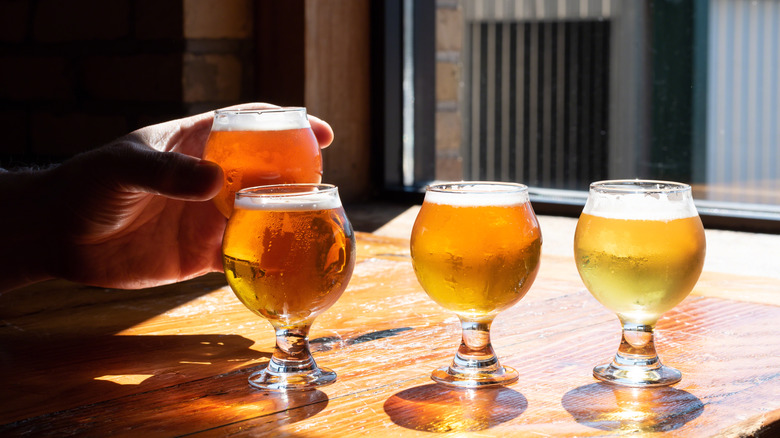 Kristen Prahl/Getty Images
Your road trip will present all kinds of fun opportunities for eating, drinking, and exploring. And that's the point! However, you'll need to be super-smart when it comes to spending money on meals and entertainment. One night at a bar with locals can completely derail your next week's accommodation or grocery budget. While splurging is splurging, there are plenty of ways to enjoy yourself without breaking the bank.
First, be smart about eating out. While trying regional cuisine is part of the fun, it's also expensive, so visit restaurants during lunch or happy hour to save money. Otherwise, prepare your own meals. A well-packed cooler and boxes of non-perishables are road trip must-haves. 
Secondly, when exploring somewhere new, get creative to avoid tourist-tiered expenses. Search for free events and concerts, visit a farmer's market, or explore the area's parks, trails, and natural attractions. Even things like tastings and tours at local breweries and wineries will typically cost you less than a night out.
While there's nothing wrong with splurging on occasion, thinking outside the box is part of the allure of road-tripping. By planning creatively and exploring on a budget, you're also sure to meet other like-minded cheapskates on the road, which is arguably one of the best parts of road trip adventures.