When, Where, And How To Sleep In Your Car On A Road Trip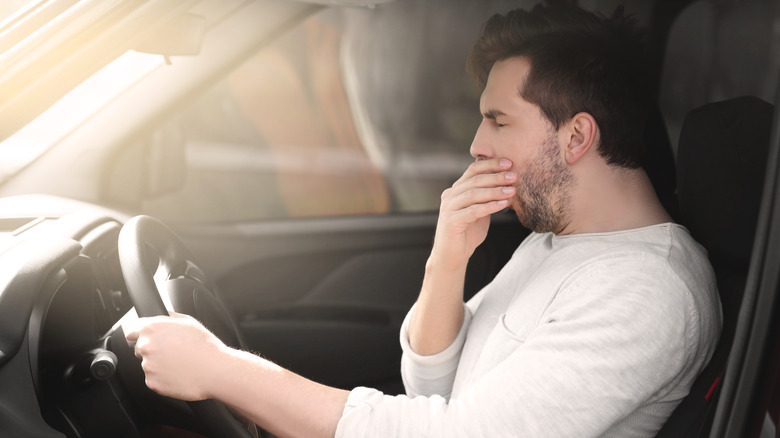 Africa Studio/Shutterstock
Did you know that if you snore, you're more likely to fall asleep at the wheel? The same goes for people who sleep six hours or fewer during the night, according to a CDC survey. But anyone can start to doze off while driving, and it can be extremely dangerous for you and everyone around you. In fact, the CDC estimates that more than 6,000 fatal crashes per year involve a drowsy driver.
So there are plenty of reasons not to drive tired. Whether you're in the middle of nowhere, don't want to pay for a motel, or just want to get an hour's shut-eye before continuing on your journey, you need to know how, where, and when it's okay to have a car catnap. Sleeping in a car is cheap, often free, and time-efficient, as you can simply pull in somewhere and crash out. We're going to give you some tips on choosing where to pull over for the night during a road trip, and how to make sure that you're comfortable and safe while you snooze.
When to sleep in your car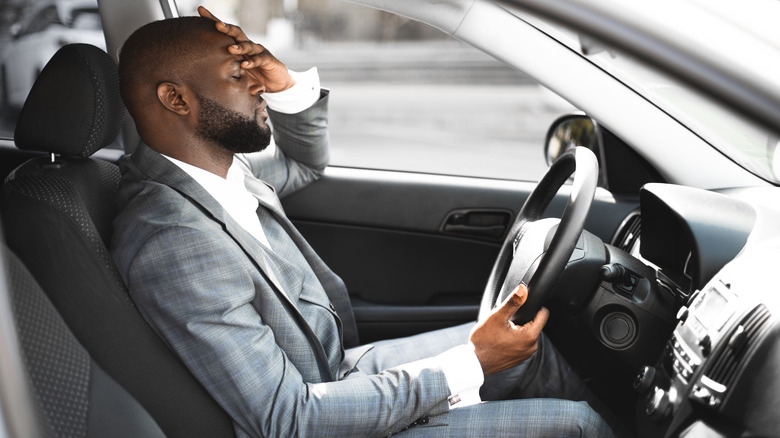 Prostock-studio/Shutterstock
There are times when you might plan to sleep in your car and others when the need for sleep creeps up on you and necessitates it. One of the main reasons to go to sleep in your vehicle is simply because it would be dangerous to drive any further. If you're in a remote location, you might not be anywhere near a hotel, so the car becomes your only option.
You might also not be able to pay for a hotel or motel — road trips are supposed to be cheap ways to travel, after all — or you may not want to shell out for a room. If you're pulling over to get a couple of hours of rest before continuing your journey, paying for a hotel will be a waste of money. It's easiest to sleep in your car after dark, so our recommendation is to wait until after the sun has set before you hit the hay. Or the backseat.
The best places to sleep in your vehicle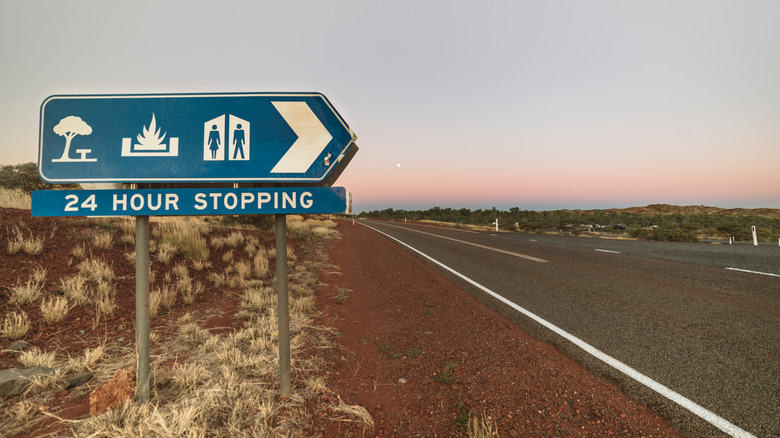 Alex Bascuas/Shutterstock
You can't just sleep anywhere in your car, nor should you. Part of the where to camp has to do with legality and another part is connected to safety. The most important thing is to check local laws and regulations to learn whether you can camp somewhere. Don't pull over on the side of the highway and go to sleep. This is extremely dangerous, not to mention likely illegal.
Some of the best places to pull over, particularly for a short sleep, are rest areas and truck stops. Here, you'll generally find 24-hour bathrooms, and perhaps other services depending on where you are. Other options include 24-hour stores as their parking lots are well-lit, and there are restrooms inside. You should go into the store before parking for the night and get permission from the manager. There are lots of sites that advise on where you can camp for free; Campendium is just one and is full of ideas, including Cracker Barrels and casinos.
If you're in a more rural area, or you want to sleep the whole night, check if there's any Bureau of Land Management (BLM) or Forest Service land around. Dispersed camping is generally permitted, though there won't be any facilities. Both organizations also run campgrounds, often with bathrooms and drinking water, for which the fees are usually very reasonable; $4 to $10 per night in Arizona, for example.
How to sleep in your car comfortably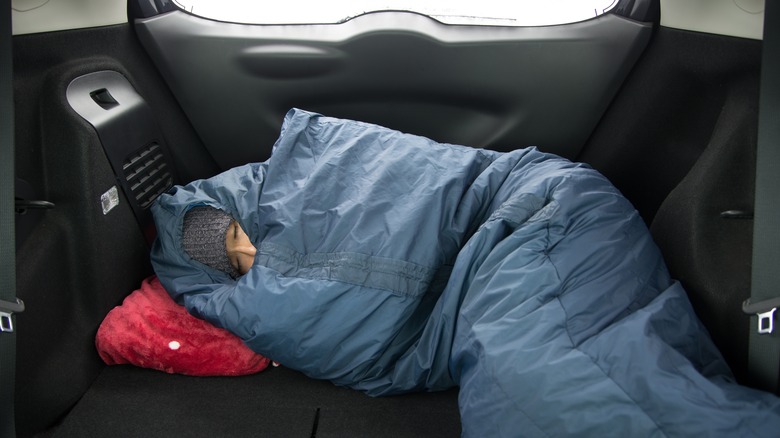 Alexander Knyazhinsky/Shutterstock
Now you've found a place to sleep, let's cover how you're going to get comfortable. If you're able to plan ahead, we strongly recommend bringing a blanket or sleeping bag and a pillow in the car with you. If not, use some clothing as a pillow and cover yourself with a coat, as temperatures usually drop during the night. If you can, cover the windows of your vehicle with sunshades, clothing, or towels.
The most comfortable place to sleep will be in the back of your vehicle, with the seats folded down so you can stretch out. If you have an air mattress or sleeping pad, put it down to lie on. If you can't sleep in the back, get in the passenger seat and lean it right back. Avoid sleeping in the driver's seat if you can: You don't want to scare yourself awake when your forehead hits the horn accidentally.
If you're stopping for a nap during the day, park in the shade so your car doesn't get too hot. And, whatever time of day it is, crack a window or the sunroof to ventilate the vehicle. Place some wire mesh over the opening if you're worried about bugs getting in. Just make sure it's safe to sleep with the window open.
Staying safe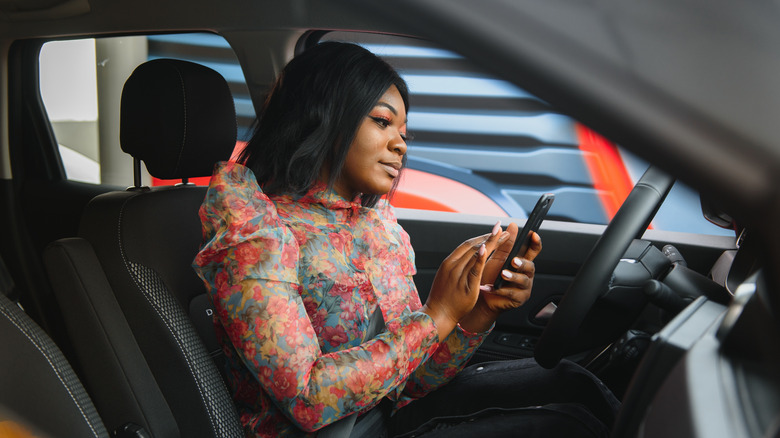 Hryshchyshen Serhii/Shutterstock
Speaking of safety, there's a lot to consider when sleeping in your car. The most obvious thing is to lock your doors and double-check you've locked them before you fall asleep. But there are other considerations. If you're at a designated stop or in a parking lot, park near other vehicles or RVs (but not too close, everyone wants some privacy) and in a well-lit area. Bring along an eye mask to block out the light.
Before you pull over, make sure your phone is charged and when you've stopped, text someone your location and let them know you'll message again when you restart your drive. Put all of your valuables out of sight, but keep your phone and keys close in case you need to move quickly. Finally, consider bringing a personal alarm; they usually fit on your keychain and are loud enough to scare anyone off who's sniffing around your car.
Etiquette for sleeping in your car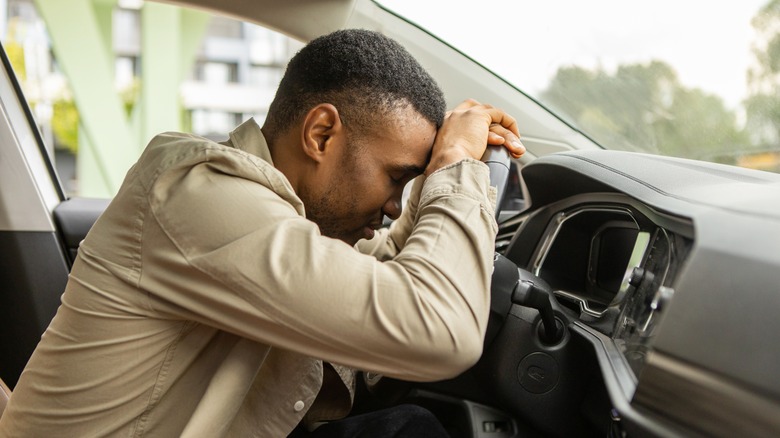 fast-stock/Shutterstock
Wherever you choose to sleep, you're going to be in a public area, so there's some etiquette to follow. Firstly, don't play loud music. If you've pulled over to sleep, everyone around you is likely trying to do the same thing. If you need music to nod off, use headphones.
Secondly, don't leave your car idling. It's bad for your wallet and the environment, and it'll annoy any neighbors you have. If you think you're going to get cold during the night, set an alarm and turn the engine and the heaters on for a while. Yes, this might annoy your neighbors too, but it's better than freezing to death. Next, check where you're parking before you stop. Don't sleep in spaces designated for disabled people, people with children, or any other group. Finally, dispose of your trash carefully. If there's no garbage can, take your debris with you.