The Best Pet-Friendly Hotel Chains Across The US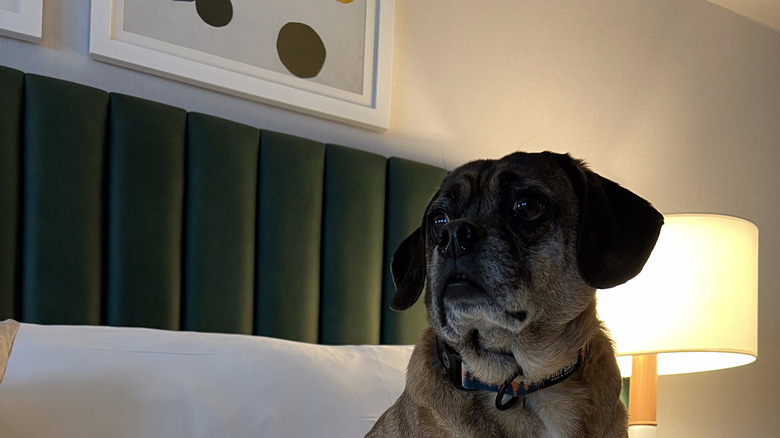 Amanda Finn
Traveling with your best furry friend can be a lot of fun, but finding pet-friendly accommodations is not. While many hotels are becoming more amenable to pet guests, it's still not the most common hotel amenity. Don't assume that your chosen hotel is pet-friendly. Even a hotel of a major chain may have exceptions to their general fur-friend rules. Always call ahead before trying to check in with your best fuzzy pal(s).
Even when a hotel is pet-friendly, pet fees can make your trip a heck of a lot more expensive. Our best advice? Aim for hotels that have a per-stay rather than a per-night pet fee. The former is much less common than the latter, but it's a huge money-saver. Nightly pet fees add up, particularly if you're staying somewhere for several days. You could easily add 25% to your hotel bill by the end of the stay.
While planning for pet-in-tow travel can be a bit complicated, traveling or vacationing with your pet is a wonderful way to explore the world. After some time on the road, you may even learn something about yourself and your relationship with your pets.
Sonesta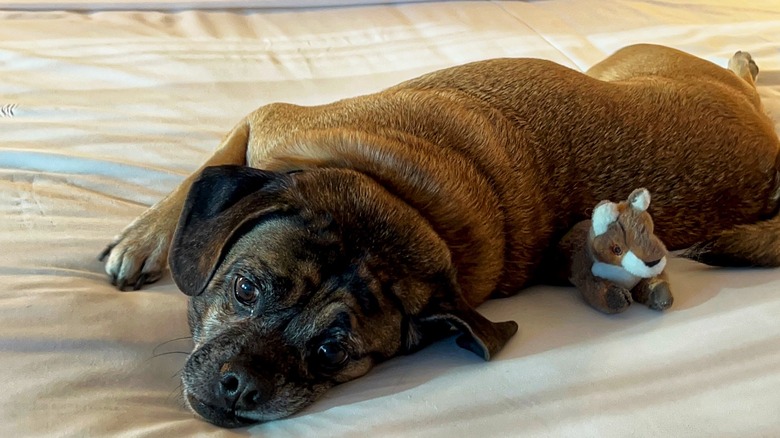 Amanda Finn
Hotels that allow pets are one thing; a hotel that caters to pets is another ballgame. At Sonesta Hotels, your pets are just as valued as human guests. Here, your pets receive a pet bed, dishes, and a waterproof feeding mat for their stay. You also get complimentary dog treats upon arrival in your pet-friendly room, making the hotel experience for your furry bestie top-notch.
This writer can attest to how incredible Sonesta Hotels are for fur pals. Puggsley thoroughly enjoyed his pupcakes upon check-in before diving onto the plush, king-sized bed with his fox toy. Plus, the best part of all, all Sonesta Hotels are pet-friendly.
Given that pet-friendliness is just part of the Sonesta brand, it makes sense that the hotels offer per-stay, rather than per-night, fees. There are no breed or weight restrictions, and guests are allowed up to two pets per room. Although Sonesta typically accommodates dogs and cats, if you're traveling with other kinds of pets, just give the hotel a call before check-in.
Canopy by Hilton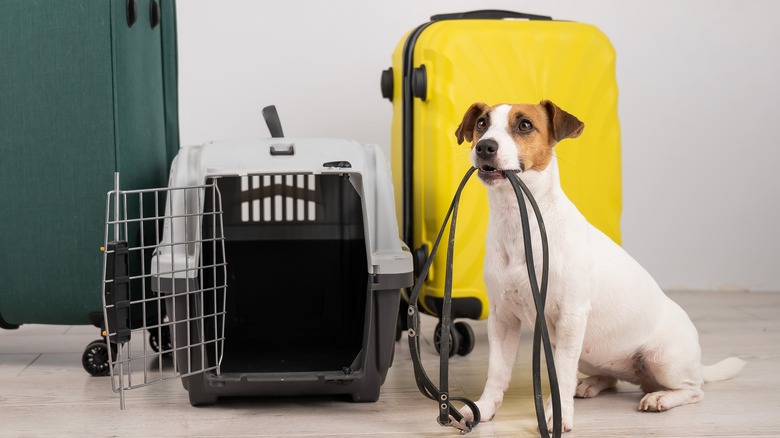 Reshetnikov_art/Shutterstock
Another hotel that treats pets like royalty is Canopy by Hilton. After arriving, your pet companion receives a doggie treat bag, a stuffy toy, poop bags, bowls, and a placemat. Plus, the hotels create a dog-centered concierge list of activities and doggie itinerary items to enjoy during your stay. Dogs and cats are both welcome at select Canopy by Hilton properties, with a general weight limit of 75 pounds.
Canopy by Hilton is often ranked highly for its pet-specific amenities and generous pet policies, reflecting its dedication to furry guests. There are over two dozen pet-friendly Canopy by Hilton locations around the country, giving you plenty of options to choose from wherever you end up.
What can be tricky for pet owners is that every Canopy by Hilton location has its own variation of the pet policy. This may include weight limits, though there are no noted breed limits among the Hilton properties.
Loews
Many pet-friendly hotels offer pets free treats or unique toys, but how many offer gourmet room service menus just for furry guests? While a lot of hotels cater specifically to doggie guests, Loews offers room service menus for both dogs and cats, so no one feels left out of the posh hotel experience. Sure, you could take Fido to a nearby pet-friendly restaurant, but it's a lot more special to order room service for yourself and your pet. 
Another thoughtful perk offered by Loews, that more hotels should implement, is the inclusion of pet in-room signs for staff. Not all animals like surprise visitors, so it's nice to have something that notes that there's an animal in the room. If your pet is skittish or a bit protective of its space, that little sign can make a big difference. It's beneficial for you, your pet, and the hotel housekeeping staff. 
Hampton by Hilton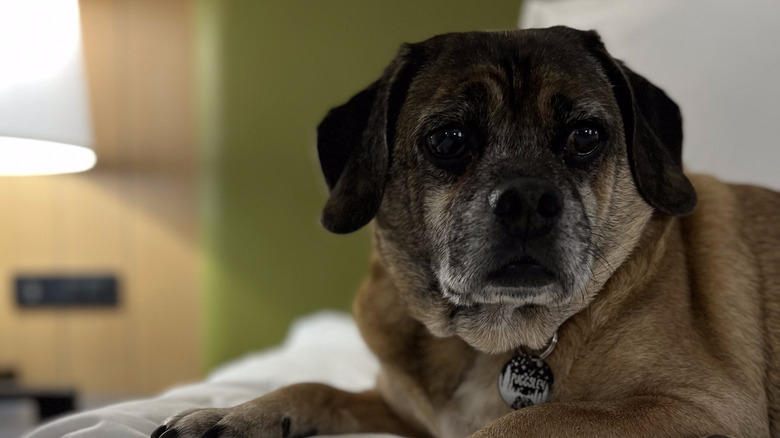 Amanda Finn
Most Hampton by Hilton locations are pet-friendly, though you need to be mindful that each hotel can have its own policies on allowing pets to stay. For example, one Hampton hotel may not allow pets over 25 pounds, while another Hampton may allow pets over 100 pounds. While the variety of weight limits may be a bit frustrating for planning purposes, Hamptons are excellent spots to bring your furry friends when you're on the go. You'll just need to check with the hotel before your check-in.
There aren't any big perks for pets staying at Hampton. However, there are over 2,700 Hampton locations in 31 countries, so it's comforting knowing there should be a budget- and pet-friendly Hampton hotel in many places you may travel.
While Hampton hotels do not allow pets to be left unattended, you should be okay if they're crated for short periods. If you need to leave your pet, take a little advice: Make the crate comfy with one of your worn shirts. This can help to ward off separation anxiety. But, to reiterate, Hampton's policy is to not leave your pet unattended. If you need to grab ice or something from the lobby, then no worries, but we would not recommend leaving your pet for extended amounts of time. 
Choice Hotels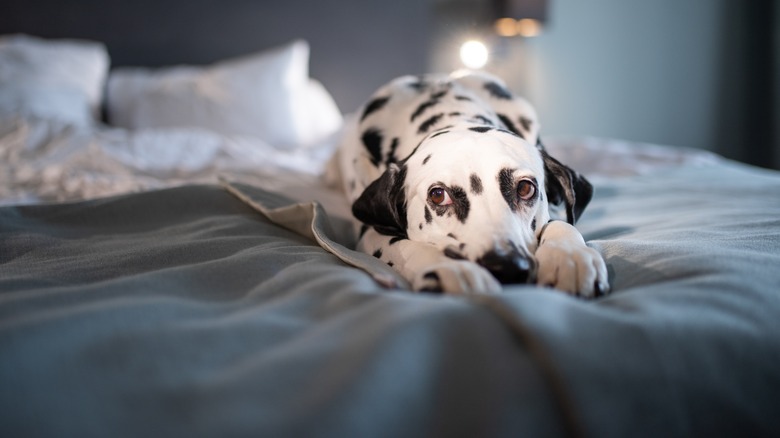 RavenaJuly/Shutterstock
Rather than listing out the various properties associated with Choice Hotels, we will give this whole brand a shoutout. Staying at a Choice Hotel can be a super-affordable option, and with over 3,500 pet-friendly properties in the U.S., these hotels can keep the travel budget for pet owners in check. If you're road-tripping with your pet, you will find Choice Hotel properties at many locations off the highways, making it both a budget-friendly and convenient option.
You won't find big pet perks at Choice Hotel locations. Even so, the hotels under the Choice Hotels brand, such as Country Inn & Suites, are cost-effective solutions for traveling with your pets. Also, due to their locations, Choice Hotels tend to have pretty large grassy areas around them.
Choice Hotels does have a no pets-on-the-bed policy. Which, frankly, seems a bit strange (and hard to enforce), but if you're keen on playing it straight, then you may want to carry a dog bed with you. 
AC Hotels by Marriott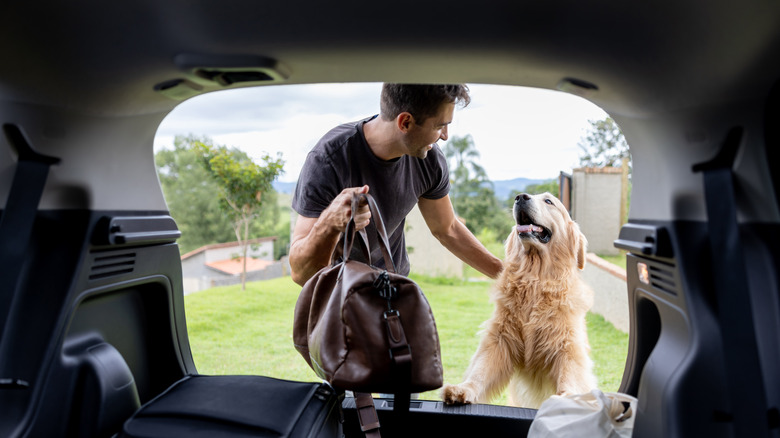 Andresr/Getty Images
Inspired by the minimalism of European hotels, AC Hotels are chic, modern, and (best of all) pet-friendly. Well, most of them are, anyway. Like many pet-friendly hotels in this list, the pet policies of AC Hotels can vary by the specific hotel. For example, some are cat-friendly, while others only allow dogs. Also, many AC Hotels only allow dogs (or just really big cats) up to 25 pounds. However, some hotels allow pets up to 50 or 75 pounds. So, no matter the weight of your fur baby, you'll need to confirm the hotel's policy ahead of time.
AC Hotels is in 170 locations across 20 countries, making it one of the pet-friendly hotel options that's available worldwide. The property's pet policy and its pet fee may reflect the specific country's general attitude toward pets. However, if you can find an AC Hotel that will accommodate your pet, these properties are moderately priced hotels with the amenities and aesthetics of much more expensive accommodations.
Best Western
While Best Western hotels have a per-day pet fee, it's less than most other chain hotels. On top of that, there are over 1,200 pet-friendly Best Westerns in the country and over 2,100 of these locations worldwide. The rule here is two animals per room, with a maximum weight per animal of 80 pounds. Dogs are a given for pet-friendly locations, while birds, cats, monkeys, snakes, and other animals may be approved on a case-by-case basis by the individual property.
Compared to other hotels on this list, a smaller percentage of Best Western hotels allow pets. To be fair, however, there are hundreds of pet-friendly Best Westerns around the world, while a few of the chains in this list only have a few dozen locations. Also, Best Western's pet policies regarding weight limits seem fairly standardized among its hotels, which may help with travel planning. We still recommend speaking with the hotel before checking in. 
Indigo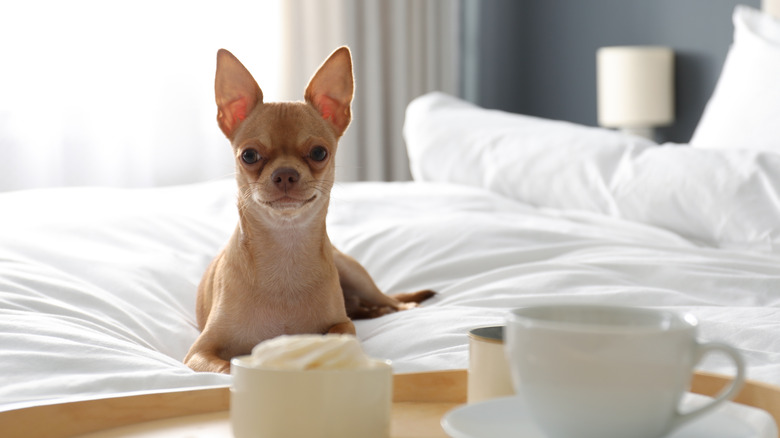 New Africa/Shutterstock
One of the smallest chains in this list, Indigo Hotels only has about 50 pet-friendly locations worldwide. Even so, the accommodations and amenities offered to human and non-human guests make these hotels sit above and beyond others. Despite having so few pet-friendly properties, Indigo is known for its unique pet amenities. 
Every hotel in Indigo's portfolio has a different pet perk, such as free food, treats, dishes, and even toys. Some even have a "wooftop" bar, allowing owners and pups to hang out for a happy hour moment after a long day of exploring. Maybe they should start having an In-doggo special. 
In online reviews, some pet parents have gone so far as to say that they couldn't have asked for a better trip experience with their pup than at an Indigo property. On Trips with Pets, one reviewer wrote, "It was our first trip travelling with our dog. We could not have asked for a more friendly hotel experience with our little guy. Everyone made us feel especially welcome, our dog included! It is a great property for walking our dog!"
Westin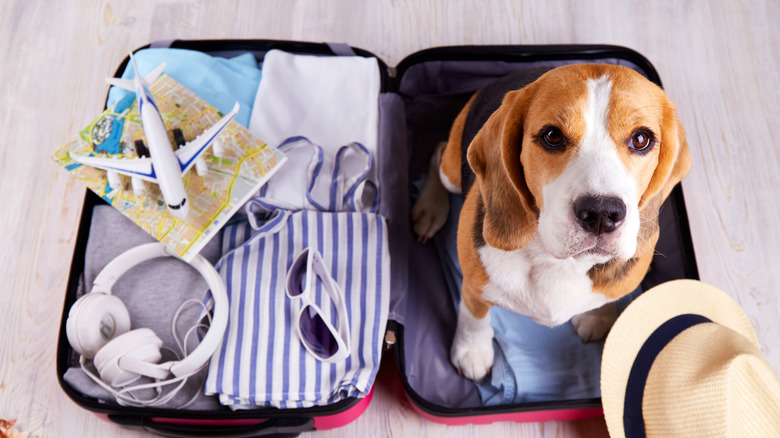 Viktoriya Telminova/Getty Images
At Westin Hotels & Resorts, pet pampering is the name of the game. Although not every Westin property is pet-friendly, the hotels that accommodate pets welcome them to a lap of luxury. These pet-pampering hotels offer doggie bags with everything your pup will need for a successful vacation, including ID tags, floor mats, dishes, and, of course, lots of pats. 
Pet-friendly Westin locations generally have a 50-pound weight maximum, though that can vary by property. If your pet is over the weight limit, the manager may have no problem allowing them to stay. Also, while some Westin hotels charge varying pet fees, other locations actually allow pets to stay for free. For the most up-to-date version of your given Westin's fees, call the front desk rather than hoping the website is accurate. Getting a bunch of surprise fees upon check-out is not a fun way to end a trip.
Graduate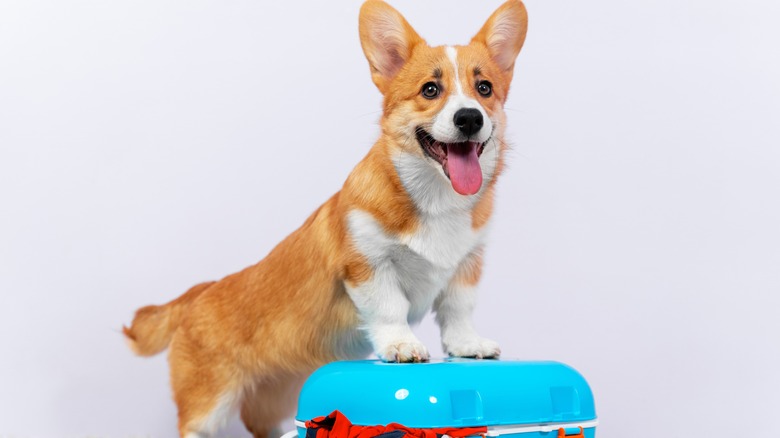 Masarik/Shutterstock
The smallest of chains in this list, with around 30 locations, each Graduate Hotels property is pet-friendly with reasonable per-stay pet fees. Pets also get the whole college experience by staying at a Graduate, as each hotel is college-themed, but they won't need to make any early morning philosophy seminars.
What makes Graduate Hotels a big draw for visitors, especially those looking for a unique stay with their pets, is that these properties are boutique hotels. None of the other hotels on our list are boutiques in any way, so Graduate is beyond special. Why wouldn't you want your pet to get the boutique experience you crave as a traveler? 
These hotels get their themes from nearby college campuses, and each hotel is located near them. So, with all of those collegiates around, your dog is bound to get a ton of loving from the local folks. That's living life to the fullest for a social pup.