The Best Labor Day Weekend Getaway Destination On The East Coast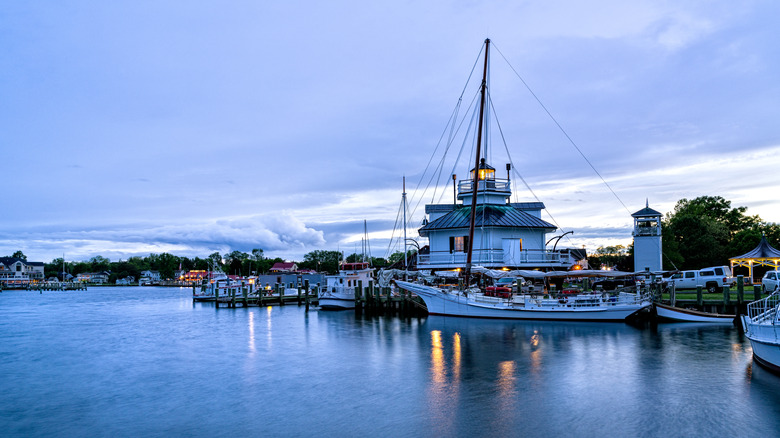 Adventure_photo/Getty Images
Labor Day weekend is the unofficial end of summer. From beach barbecues to rooftop parties and late-night bonfires to afternoon picnics, the long weekend is all about soaking in the sun one last time — all while throwing a quick getaway into the mix. And let's face it: what better way is there to spend this last hurrah than at a perfect East Coast destination? Luckily, we've found the perfect place for travelers looking to indulge in a mix of relaxation and adventure: St. Michaels, Maryland.
With a prime location on the Chesapeake Bay, St. Michaels is known for its rich history and relaxing waterfront activities. A place where you can shift gears, relax, and take in the beauty around you, it beckons East Coast travelers looking for a serene escape from the hustle and bustle and into nature's calming splendor.
But what exactly makes St. Michaels stand out? Think sailing on the Miles River, savoring the local Maryland crab, and having a plethora of activities — from golf to tennis — right at your fingertips, all while basking in the gentle breeze and mild temperatures (which range from 65 to 82 degrees Fahrenheit this time of year) that make this destination an absolute delight during early September.
Where historic charm meets modern allure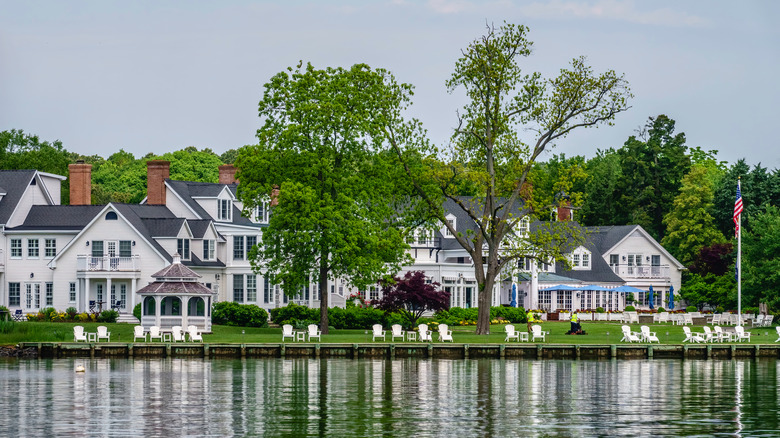 Ken Schulze/Shutterstock
Let's backtrack a little, though, because St. Michaels isn't just another pretty waterfront town. Boasting a rich tapestry of American history, this picturesque destination is filled with reminders of maritime tales and Colonial beginnings. With stories that trace back to the War of 1812 and the townspeople's involvement in fooling the British into redirecting enemy gunfire so it flew past above the town, it's no secret that there's plenty to see and learn — even if just for a few days.
From the small but mighty St. Michaels Museum — filled with artifacts that recount the town's history — to the Chesapeake Bay Maritime Museum — home to a collection of historic vessels and interactive exhibits on the region's naval history — you'll find plenty to immerse yourself in.
Then, there's the charming waterfront with its beautifully restored homes reflecting in the shimmering waters of the bay. Nestled among these is the iconic Inn at Perry Cabin, the epitome of luxury with its sprawling grounds and majestic views. Operating as a hotel since the mid-20th century, it transformed from a humble inn to a luxurious resort and a premier destination that offers guests access to top-tier amenities — including a tennis court, an outdoor pool, and croquet and bocce ball courts.
Getting your fill at St. Michaels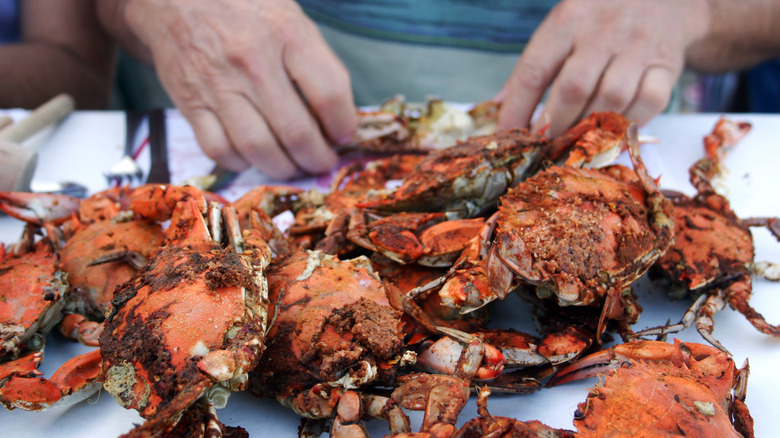 L. Kragt Bakker/Shutterstock
Beyond the museums and the charming boutiques, St. Michaels offers a refreshing break — and finding a comfortable place to stay is key to a perfect getaway. At the top of the list is the aforementioned Inn at Perry Cabin. With luxury guest rooms starting from $920 over Labor Day weekend — and a two-night minimum stay — it is definitely on the pricier side. However, for those looking to indulge, the splurge is well worth it. Families will be pleased to know it's both child- and pet-friendly. Plus, for those keen on some maritime fun, the inn offers on-site sailing trips that combine both dining and sightseeing for a unique Chesapeake Bay experience.
For those who wish to experience St. Michaels without making quite as huge a dent in their wallet, there's The Wildset Hotel. After opening its doors in 2021, this chic 34-room boutique accommodation has quickly become a visitor favorite due to its central location, modern amenities, and eclectic blend of vintage and modern style.
Last but definitely not least, foodies will also find plenty to rave about in St. Michaels. From indulging in locally sourced crab and craft beer at Foxy's Harbor Grille to sampling seasonal American cuisine at Ruse and living out your crab-cracking fantasies at The Crab Claw, St. Michael's culinary scene is a force to be reckoned with. So whether you're looking for waterfront views, a slice of history, or a culinary escapade, all of these come together in St. Michaels to create an unforgettable Labor Day weekend experience.