Keep Your Car Mess-Free While Eating On Your Next Road Trip With This Hack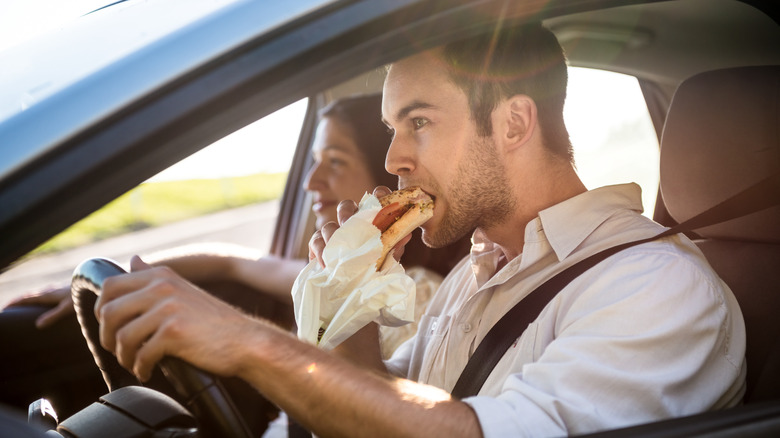 Martinan/Getty Images
Road trips mean spending time with family and friends, singing along to your favorite tunes, and exploring new places. It's all fun and games ... until someone drips special sauce from their burger onto their laps, the Cheerios pour onto the floor, and that extra large soda gets dumped into the center console. It's no fun being covered in food and drink with 20 miles to go to the next rest stop. Sure, there are products like a french fry caddy that fits into your drink holder or a dipping sauce cup that plugs into your air vents, but either they're not quite the right size, or they somehow slide under the back seat where they will remain for all eternity along with the petrified Cheetos and that one chunk of an old cupcake.
Luckily, it doesn't have to be this way. As part of your perfect road trip plan, make it a point to invest in a shower caddy. This is a great hack that will keep all your food off the floor and in one place so you can concentrate on having fun. Even better? It's not only inexpensive but very easy to find.
The best hack to keep your lunch off your lap
The next time you're planning a road trip, put some shower caddies on your list of things to buy to keep your snacks organized and safe from spillage. You can find these at online retailers like Amazon, in stores like Target, or even in discount dollar stores, particularly during the return-to-college season. They come in both plastic and mesh, and they have a bunch of compartments and pouches to hold different-sized items. For the kids in the back seat, the little plastic ones with the handle can hold a bunch of snacks, which you can put in individual baggies. There is a place for napkins and even wet wipes. 
The ones we love for the front seat, though, are the mesh caddies, which tend to hold things a bit tighter. A pocket on the side will work for your drink, with additional pockets for wipes, snacks, burgers, and, if you get a big one, a place to put your trash. The tighter fit means you're not going to have fries falling out all over the place in a fast food bag, and everything stays in one place. You can even use one of the pouches to house a sticky lint roller as it's great for picking up any crumbs that escape. 
A few bonus car snack hacks and ideas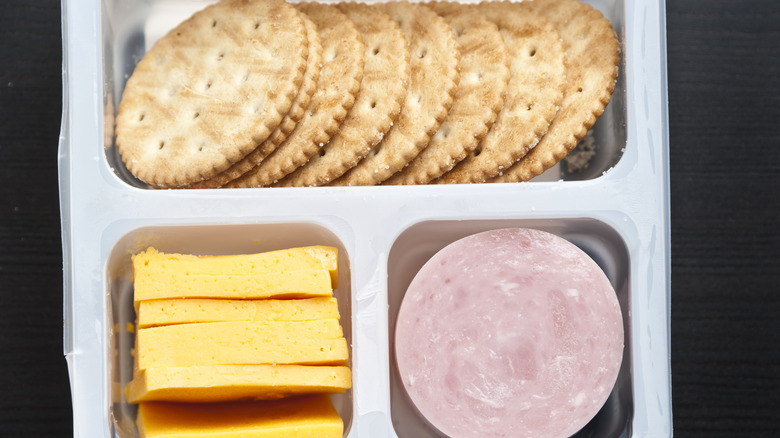 Juanmonino/Getty Images
You thought you were only getting one hack here? Perish the thought! Use that now-empty fast food bag for garbage. Need a tray? A sheet pan or a foldable tray is cheap at any discount store and can be kept between the seats easily. It also doubles as an activity tray for the kids. Attach a shoe organizer to the back of the front seats for garbage pouches, storage, and easily accessible napkins. 
Got an ice pack? Toss that in the caddy to keep food cold. You can also grab cheap makeup organizer boxes to hold smaller snack portions or even save the containers from portable snacks like Lunchables, which have individual compartments. Throw a silicone cupcake mold into your drink holder to catch the mystery bits of crumbs and debris that are impossible to remove later. Even a stray sneaker on the back seat can help stabilize drinks when you don't have a holder for them. Now go forth and see the country, enjoying all the regional snacks along the way!