14 Tools And Apps Beyond Google Maps To Plan The Perfect Road Trip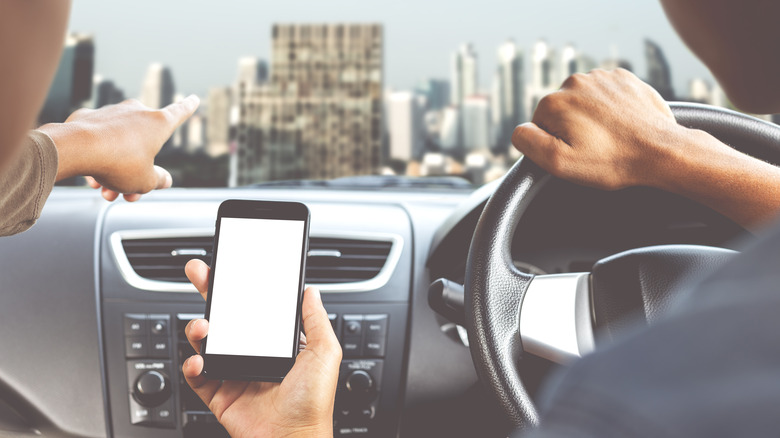 blackzheep/Shutterstock
On a road trip, the journey is just as sweet as the destination. You can admire the breathtaking passing landscapes; you choose where to stop and when; and ultimately, you have control over the things you explore along the way. Road trips are the most sought-after travel type — in fact, almost 80% of Americans planned road trips in 2022 (via Travel Pulse). 
Sure, road trips can sometimes feel a little long and tedious, but that's where digital tools and apps come in. A well-planned trip, with engaging stops to stretch your legs, can keep things exciting and running smoothly. These days, almost everyone knows how to use Google Maps — long gone are the days of printing out directions and hoping for the best. But there are many more apps beyond Google Maps that can help you achieve the road trip of your dreams. Let's explore the top contenders.  
Roadtrippers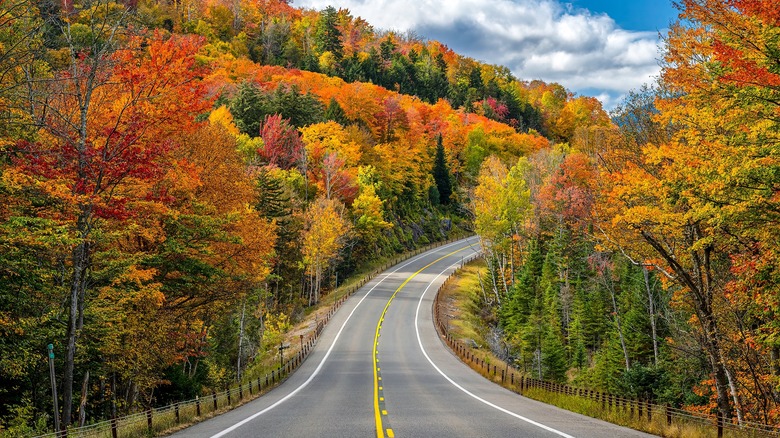 Nikolay Zaborskikh/Shutterstock
Your first step to a road trip is planning it. The Roadtrippers app helps you do just that. Not only does this app plot out your directions like Google Maps would, but it highlights places of interest along your route that come recommended by others. No need to exit out of your directions to franticly search Google Maps while you're driving for a place to eat or sleep for the night. The Roadtrippers app claims to have over "300 extraordinary places" in its directory, including campgrounds, attractions, nature destinations, hotels, activities, gas stations, rest stops, and more. Plus, you're able to sort the destinations along your route by category (per More Than Just Parks). 
There's also an RV mode that specifically shows recommendations for those driving recreational vehicles. The app also provides free travel guides and suggested itineraries based on where you're going, and you can even share your travel plans with others through the app. 
Waze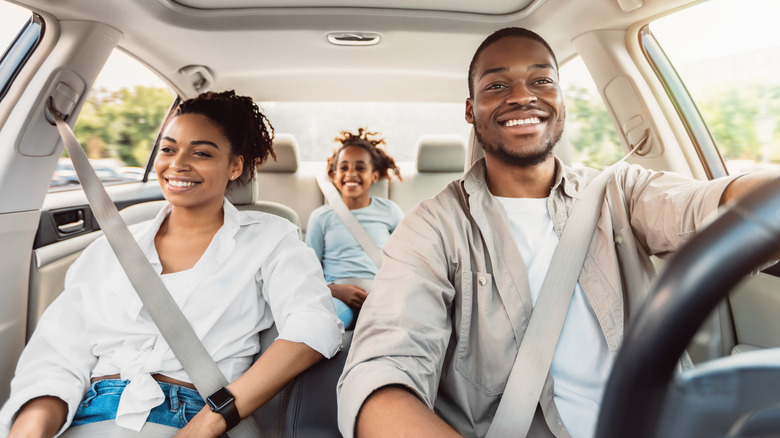 Prostock-studio/Shutterstock
Even the best-planned road trip can get a wrench thrown in it from unexpected construction or road closures. The Waze app was created to help you navigate the roads with real-time information, including notifications about upcoming traffic, construction, car crashes, and more along your route. Waze is the second most popular navigation app, right after Google Maps, with about 13.4 million downloads in 2021 (via Investopedia). Just plug in your destination and if something comes up along the way, the app will automatically change your route to the fastest option, so you can focus on the road and not your ETA. 
If you've ever found yourself wondering what the speed limit is while behind the wheel, Waze is your new best friend. You can opt-in for notifications of things like obstacles in the road; sudden slowdowns; and most importantly, speed traps (via More Than Just Parks). And to top it all off, Waze is free. The only downside is that it gathers real-time road information from other users, so if you're road trip is along remote rural areas, it may not be as useful. 
GasBuddy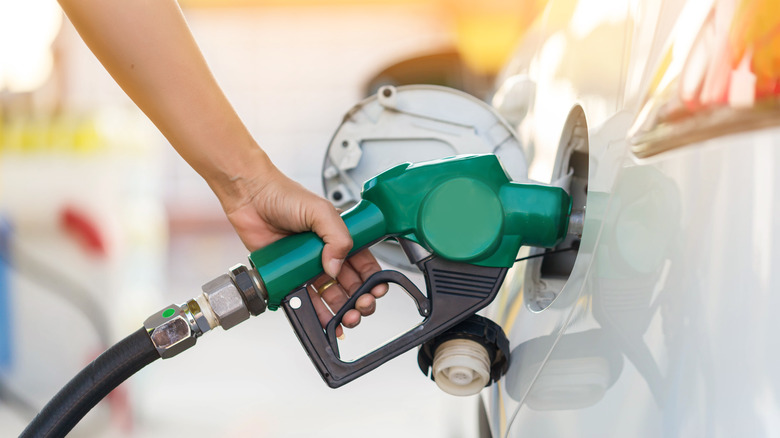 kckate16/Shutterstock
A road trip inevitably requires some gas, and with the current volatility of gas costs, finding the cheapest price is essential. GasBuddy is a website and app that offers many tools to help you save money on gas. The app is completely free and not only shows you the gas stations near you but their prices as well, highlighting the best deals in your area. You can also search for gas stations and prices according to zip code or city. Users can view results on a list or map to see which gas stations are along their route and how far away they are, and the app will even provide directions for you.
One of the handiest features for road trip planning is GasBuddy's trip cost calculator, which helps you stay within your budget by figuring out how much gas might cost for your upcoming road trip. And if you sign up for their free rewards card, you can get even more savings (via Forbes).
AllTrails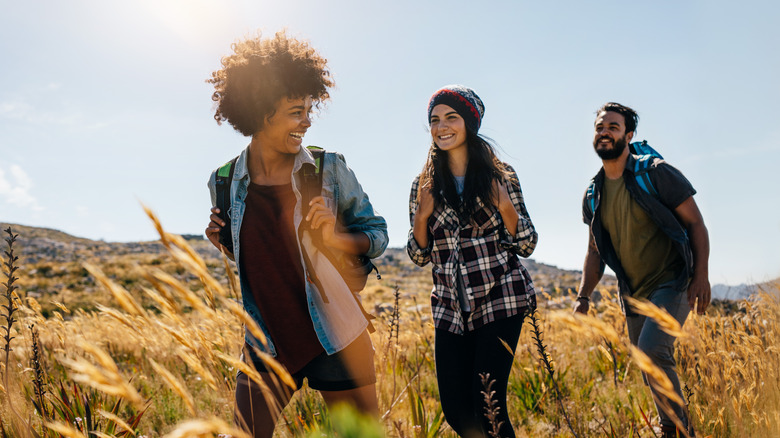 Jacob Lund/Shutterstock
If your road trip is long or you're driving through beautiful terrain, chances are you will want to stop for a look around. The AllTrails app was rated the all-time best hiking app by More Than Just Parks. The app is completely free and helps you find hiking trails by region, complete with photos, reviews, maps, trail guides, and more. The map even has a GPS feature, so you can track where you are and make sure you're keeping to the trail. 
If you're not interested in hiking but itching to get out of the car, you can still utilize the app and search for short walks — AllTrails includes everything from epic remote hiking adventures to short strolls in the park. The trail search features can be sorted by length, elevation gain, and difficulty. The app will also tell you if it's dog-friendly, family-friendly, or has accessibility issues, as well as how busy you can expect the trail to be. You can also get tips for potential attractions along the trail, like wildflowers, waterfalls, hot springs, caves, and more. 
Yelp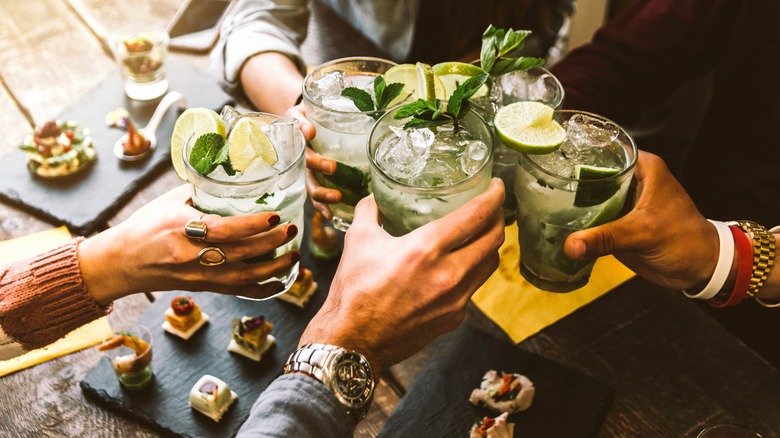 DavideAngelini/Shutterstock
When you're hangry, the last thing you want to do is struggle to find a good place to eat in an area you are unfamiliar with. Sure, you can grab fast food, but resorting to drive-throughs for your entire road trip can be monotonous. Yelp is the most popular foodie app for finding restaurant and bar recommendations by region, with over 178 million visitors per month (via Techjury). You can search for whatever you are craving and instantly get a list or map view of your options. 
One of the most valuable features of the Yelp app is the user reviews, which can help with your decision-making process. Stats show that a majority of people look at Google reviews before choosing a place to eat, but about 45% check out Yelp reviews before making up their minds. Yelp provides the location, contact information, operating hours, and additional information about each business. Plus, the Yelp search engine offers many filters, like price, distance, and more.
Airbnb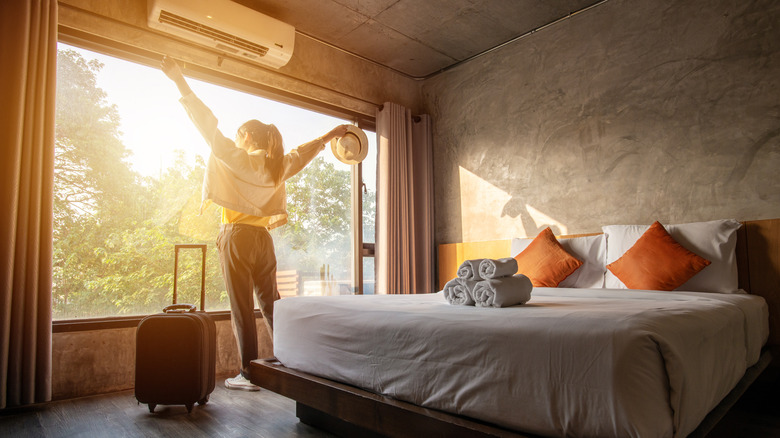 Boyloso/Shutterstock
When you need a place to crash along your route, why not stay in a cute home instead of a roadway hotel? Vacation rentals are becoming more and more popular — according to a survey by Goldman Sachs, once someone stays in an Airbnb, they often don't want to return to renting hotel rooms in the future (via Vafion). Plus, sometimes an Airbnb can be cheaper than renting a hotel room, depending on the area. 
Airbnb is an online vacation rental marketplace that helps connect users that have places available for rent to people looking for lodging. The name Airbnb is short for "Air Bed and Breakfast," a nod to how the founders started off the company by offering people to rent air mattresses in their homes (via Investopedia). Airbnb has grown to offer a huge selection of accommodation options, from rooms in shared spaces to apartments, condos, luxury houses, cabins, houseboats, tree houses, tiny homes, and more. You can personalize your search based on your wants and needs. Plus, the company provides financial protection for all users, in case anything goes awry. 
The Dyrt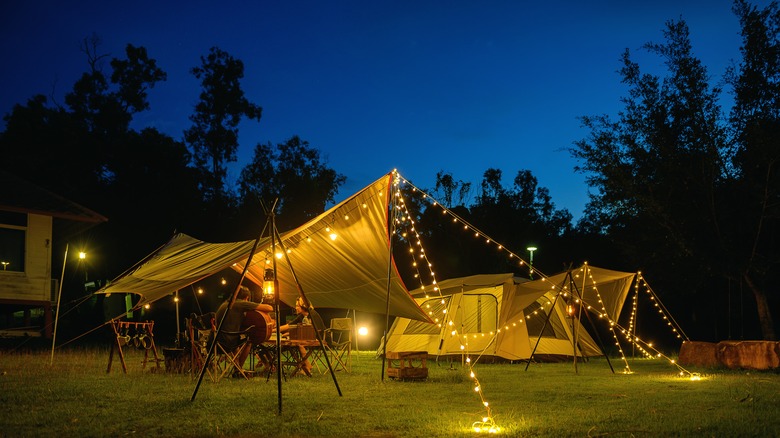 Sorn340 Studio Images/Shutterstock
If your road trip is a camping adventure, then The Dyrt app should be your go-to resource. This website and the free app has the largest camping database out there — with over 50,000 campgrounds across the U.S. — and can help you find great camping spots along your route (via Exsplore). There are countless camping options, from tent and dispersed camping to RVs, vans, trailers, cabins, yurts, and more. You can view options on a map to see what's closest to you, or see an ordered list by which ones come highly recommended. 
The Dyrt claim they are the "Yelp of campground reviews," and they're not wrong. With over 1 million reviews by users, you can gather helpful information about campgrounds to find the best one to suit your needs. Plus, the app also provides useful information like site access, cell reception, what types of sites are available, and whether or not it's dog friendly.
FreeRoam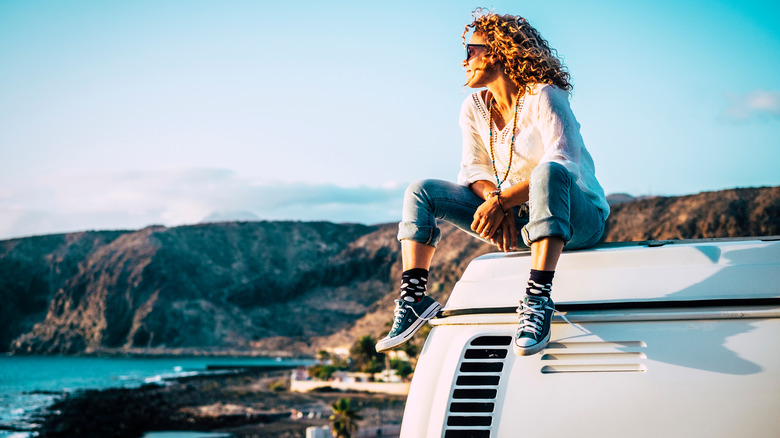 simona pilolla 2/Shutterstock
If you're looking to save some money by not staying in a hotel, Airbnb, or paid campground, then you'll want to check out the FreeRoam app. This free app provides "boondocking and camping resources." Boondocking means free camping spots located on public land, often referred to as the "boonies" (via Getaway Couple). Many people don't know that you can camp for free on national forest land, federal land, and Bureau of Land Management (BLM) areas. These places typically have no resources or amenities, so most people who opt for boondocking don't sleep in a tent and have some sort of RV, camper van, or airstream set up. 
FreeRoam also provides recommendations for designated campgrounds, but these might require a reservation or site fee. The app usually specifies details of a site such as directions, fees, weather, cell service, road difficulty, and more. Users can also leave helpful reviews with tips and advice for others.
The Weather Channel app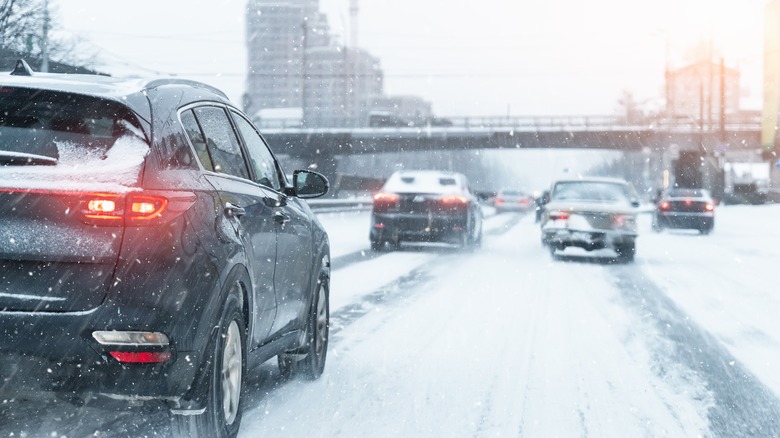 Gorloff-KV/Shutterstock
Bad weather can make or break a road trip. No matter what time of year, you should know what kind of weather you can expect along your travels, especially if it's going to affect road conditions. Severe weather can hit at any moment and it's important to be knowledgeable and prepared. Icy roads, blizzards, monsoons, and high winds can all cause unsafe driving conditions that can be deadly. Plus, you never know when you might come across a natural disaster, like a hurricane or wildfire. 
The Weather Channel app comes highly rated with over 100 million downloads. As a weather forecasting app, it features live radar updates, hourly rain information, and weather forecasts that can warn you of upcoming severe weather patterns. You might find that this app is not only useful for planning road trips but daily life as well (per More Than Just Parks).
Roadside America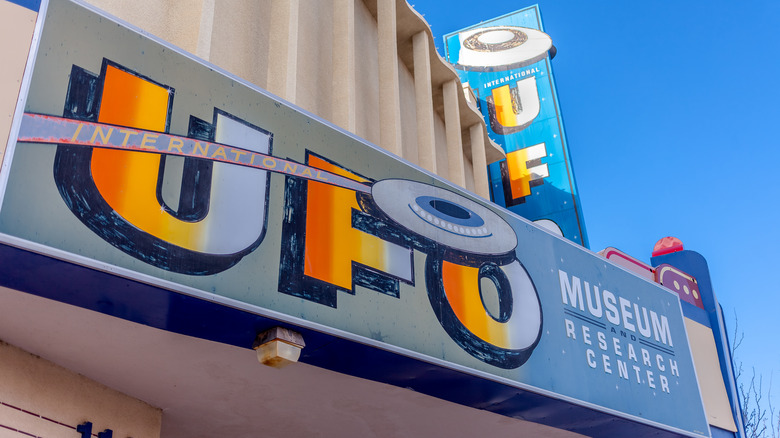 turtix/Shutterstock
If you're the type of person that gets a kick out of all the quirky, weird, tourist attractions along the road, then the Roadside America app was made for you. Roadside America boasts over 15,000 eccentric points of interest that are sure to brighten up any road trip with amusement. Plus, the user tips and reviews have proven to be just as entertaining. 
The app costs $2.99 to unlock one region out of seven available, and with it, you'll get hundreds of attractions organized by region or category, complete with detailed descriptions and visitor critiques. It's a small price to pay to ensure you don't miss out on seeing the Muffler Man, the Roswell alien attraction autopsy exhibit, the world's largest bobblehead, unusual museums, famous gravestones, and more. The Roadside America website offers free travel tips and a blog that features recommended attractions across the U.S.
Splitwise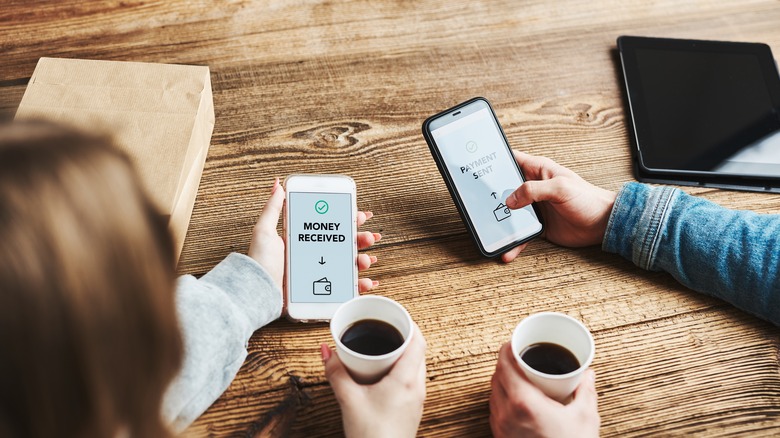 Przemek Klos/Shutterstock
If you're going on a road trip with friends, you no longer have to worry about fighting over the fairness of finances. You don't have to try to keep track of who paid for what and how much and then attempt to do the math at the end of your trip. The Splitwise app does all the dirty work for you. It's free and easy to use: simply create a group, invite your friends, and enter in expenses as they come up. You can even have multiple groups going at one time. 
In your group, you specify the expense, who paid for it, and if it's split equally or just between specific people in the group. Then when it's time to settle up, the app calculates everything and determines how much is owed to each person. You can pay people back through linking your bank account, Venmo, or PayPal, and there's even an option to record a cash repayment.  
Travel blogs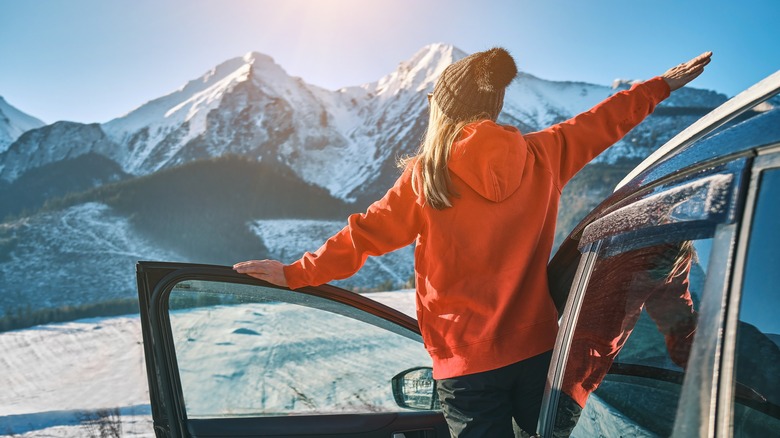 Andrey Yurlov/Shutterstock
Beyond using apps, travel blogs can be a great resource of information for road trip planning. For one, they're usually free to utilize, and they often have great first-hand information from travelers just like you. Travel bloggers are professional travelers, so their advice is usually pretty helpful and informative, and it can include anything from suggested itineraries, road trip routes, and tips you may not be able to get from a guide book or app. Plus, the blogs are usually full of stunning photos that will help get you amped for your upcoming travels. 
So how do you find the best travel blogs? A quick Google search for recommendations of things to do or see at your destination or a specific location along your route should pop up some interesting blog articles you can start with. You can also find travel bloggers through YouTube, so you're able to see and experience exactly what it was like for them when travelling on a similar route.
Instagram hashtags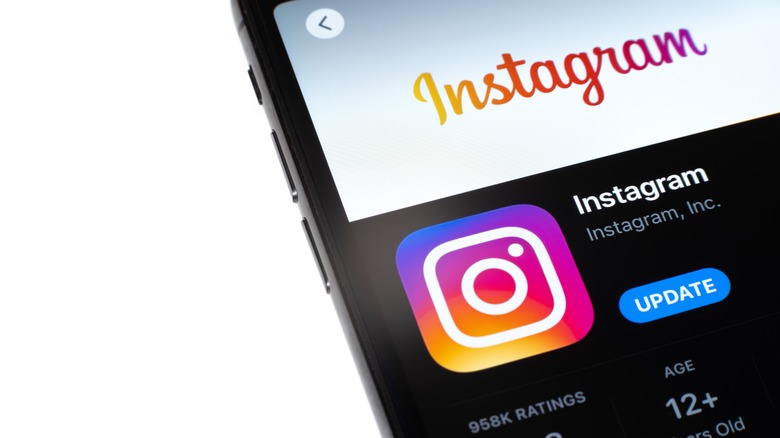 DVKi/Shutterstock
One of the best life hacks for planning road trips is utilizing Instagram hashtags. Sure, some dreamy photos of a place posted on Instagram don't always accurately portray a destination, but they can give you some ideas. And oftentimes, Instagram has more recent photos compared to Google Maps, which can be helpful when making plans. For example, if you're planning on visiting a specific destination, but Google Maps says it's closed, or maybe a somewhat recent review says the roads are closed, a quick search through the Instagram hashtags might suggest otherwise. 
To try it out, go to the search bar in the app by clicking the magnifying glass symbol. Enter the name of your desired destination and click "tags," then you can explore all of the photos with that tag (per Travel Channel). Clicking on individual pictures will provide you with more information, like the date the photo was posted, caption text, comments, and more. 
Spotify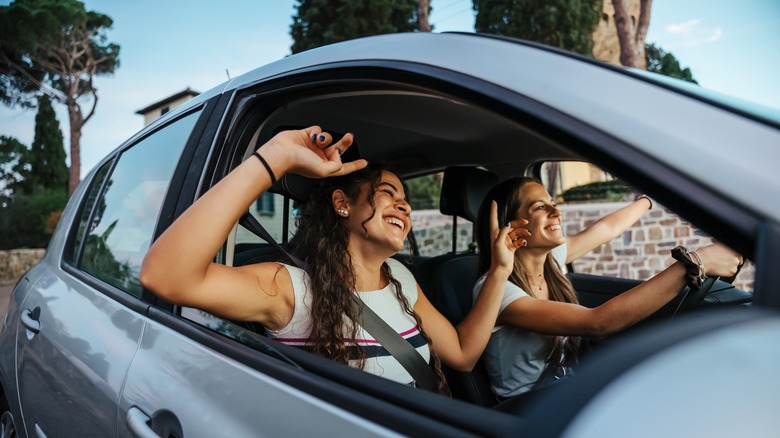 loreanto/Shutterstock
No road trip is complete without music. Why listen to the radio when you can put on any musician or song you want with just the touch of a button? The Spotify music app allows you to have more control over what you listen to without having to download hundreds of albums — you simply download the app. And if you don't know what you want to listen to, Spotify will create playlists for you based on your interests and previous activity. You can also browse playlists based on genre or theme, like R&B and indie or workout music. You can even curate your own playlists and share them with friends. 
In addition, Spotify provides access to many different podcasts and audiobooks, so you can switch things up on your drive if you need a break from music. The free version of the app has ads, but you can upgrade to a premium subscription to avoid them, and there is even a family plan option.