Never Forget Your Must-Have Toiletries With This Packing Hack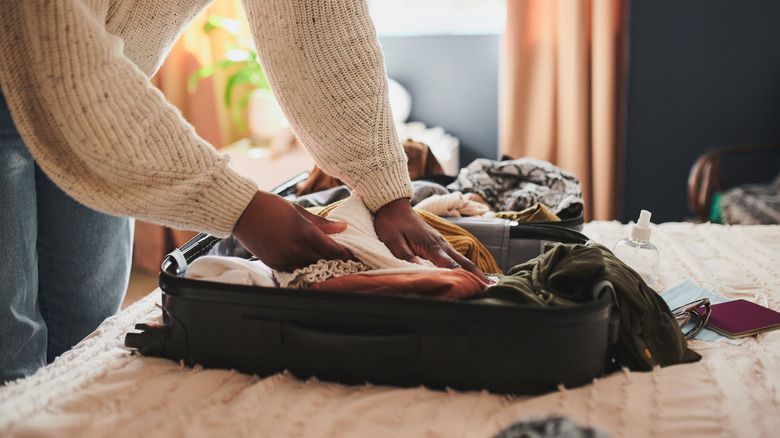 Adene Sanchez/Getty Images
Seasoned travelers will know by now that preparation is key when it comes to packing. Whether you're using packing cubes to optimize storage or rolling clothes to save space, there are tons of great packing strategies out there to help ensure your journey is seamless — even before you've left home. But great packing isn't just about fitting as many clothes as you can into a carry-on and calling it a day — it's also about prioritizing the essentials. That's where having a pre-packed toiletry bag can make all the difference.
A simple move that can save you time and the stress of last-minute packing, a travel-ready toiletry bag isn't just about practicality, efficiency, and even saving you a few dollars — it's also about familiarity. Think of it as a little slice of home you can carry with you wherever you go. Whether it's your favorite lip balm or that moisturizer that works wonders even in the driest climates, having these small comforts at hand means you never feel out of place, no matter where you're headed.
The how-to of packing a great travel toiletry kit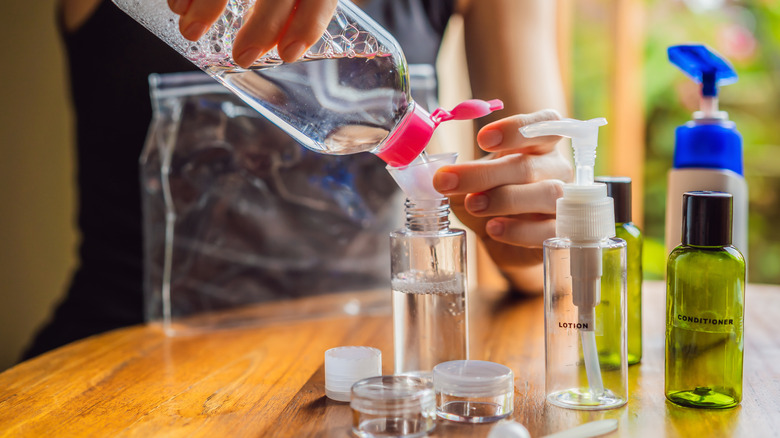 Elizaveta Galitckaia/Shutterstock
The key to a functional toiletry kit is simply the right content. For starters, travel-sized toiletries are crucial. And this isn't just about saving space or avoiding excess bag fees, but also staying in line with TSA regulations. After all, you want a smooth transition through security, right? Having compliant sizes of your essentials ensures just that.
From department stores to pharmacies, a lot of retailers offer a wide variety of travel-sized options that are perfect for on-the-go needs. From travel-sized bottles of your favorite products to clear, unmarked bottles you can refill yourself, these make packing a lot easier. However, when looking for travel-size bottles and toiletries, it's important to note that TSA only allows containers of up to 3.4 ounces each and that all of these must fit into one quart-size bag — aka the 3-1-1 rule. Plus, it's also worth noting that aerosol sprays are often subject to additional regulations, especially if they're flammable. Make sure you keep this in mind when packing your toiletries.
But this hack doesn't stop at shampoo and deodorant. Makeup, skincare, and perfume samples are also great to bring, especially for the sense of cost-friendly luxury they provide. Brands like Ulta and Sephora usually give away free samples of some of their best-sellers without purchase. So don't be afraid to ask if there's a beauty product you've been looking to add to your on-the-go kit.
Smart packing hacks for toiletries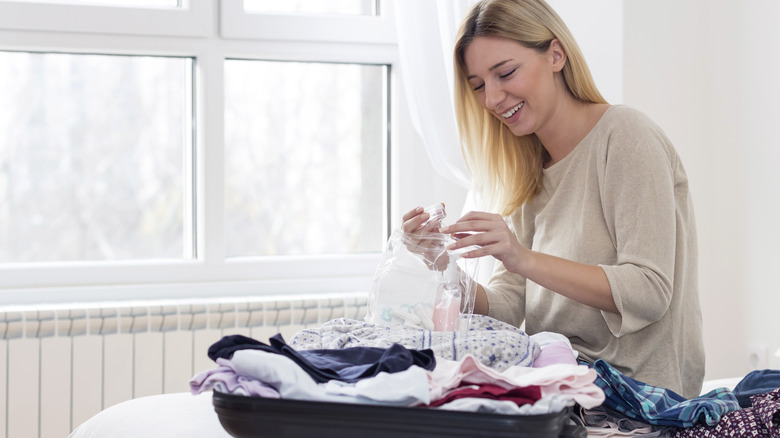 Bakibg/Getty Images
Let's say you've pre-packed your toiletries, and you're ready to throw them in your bag. You might want to think twice before doing that! Spills and leaks can be a traveler's worst nightmare — and without the proper preparation, your toiletry kit can go from neat and tidy to a gooey mess.
When it comes to safely traveling with liquids, make sure you're using spill-proof containers or bottles with secure, tight-fitting lids to prevent any unexpected disasters. Additionally, adding an extra layer of protection by using a zip-lock bag can also prevent spills from making their way onto your clothes.
Lastly, it's worth considering the convenience of solid travel toiletries. Not only do these reduce the risk of spills, but they're also known to last longer and can be more environmentally friendly than their bottled alternatives. Nowadays, lots of eco-conscious brands offer everything from solid shampoos and conditioners to solid sunscreens, perfumes, and lotions — all of which can take the guesswork out of complying with liquid regulations. Now that's a packing win-win.