Avoid Excess Bag Fees With TikTok's Genius Packing Hack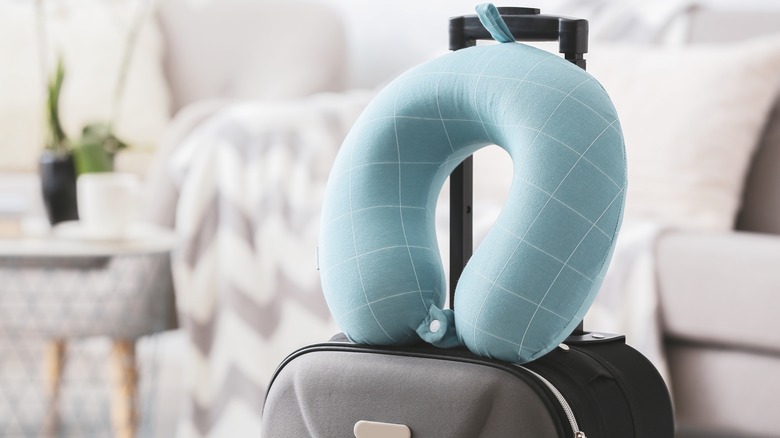 Pixel-Shot/Shutterstock
Imagine you're rushing to get to the airport after sitting in traffic. You finally arrive and immediately save yourself a spot in line. You're sweaty and panting as you wait, silently hoping the line moves faster. Eventually, you get to the check-in desk. Everything is going well until it's time to weigh your luggage. The numbers on the scale increase until they're over the weight limit.
Your heart begins to pound as you shake off your backpack to make room for whatever items you can squeeze into it from your luggage. You open your suitcase and remove jeans and shirts to stuff into the limited space of your carry-on. You finally meet the weight limit and feel some relief. 
But you can actually avoid this whole scenario. Sure, you can pack less to avoid it altogether, but sometimes, we buy souvenirs, have gifts, or want multiple clothing options for when we travel. All of these leave us at odds with the weight limit. However, there's a hack that can help you, and all you need is a pillowcase.
Transforming a neck pillow into extra storage
Millennial TikToker @anayotothe shared a TikTok describing a packing hack that might just give you the extra space you need for your belongings. Before heading to the airport, the content creator purchased a neck pillow for under $10 with a zipper to ensure the process of stuffing it would be easy.
The TikToker then removed all the contents inside the neck pillow and replaced it with tightly rolled clothing. After squeezing in multiple shirts and dresses until the neck pillowcase was full, it looked just like any other neck pillow, blending in with the rest of the luggage as no more than another travel accessory.
In another TikTok, @anayotothe shared how it only took about five minutes to load the pillow with clothes. As for flying, it worked seamlessly when going through security and boarding the flight without any problems. The neck-pillow-turned-carry-on went undetected on both the going and returning flights.
Extra pillow and extra space
Whether you're trying to shed a few pounds in your checked bag, or attempting to avoid the pesky excess carry-on fees (which can be as high as $180 if it's not your first checked bag), this hack provides a simple solution. Plus, it's comfortable. Moreover, if you keep the clothes inside of the pillowcase soft, you can use them as a pillow once again, meaning you have a way to fly comfortably. 
If you're really pressed for space and want to try something a little bit bigger, you can try using a cushion or full-sized pillowcase. TikToker @infloresco shared a TikTok showing this hack once again but with a regular zipper pillowcase, stuffing clothes inside it, zipping up the side, and bringing it through the airport. The video ends with the TikToker sitting on the plane accompanied by the pillowcase. Nobody suspected that the pillow served as an extra bag. In the comment section on both TikTok videos from @anayotothe and @infloresco, people shared how they've utilized the hack successfully multiple times and plan to continue doing so.