Best California National Parks For Your Next Camping Adventure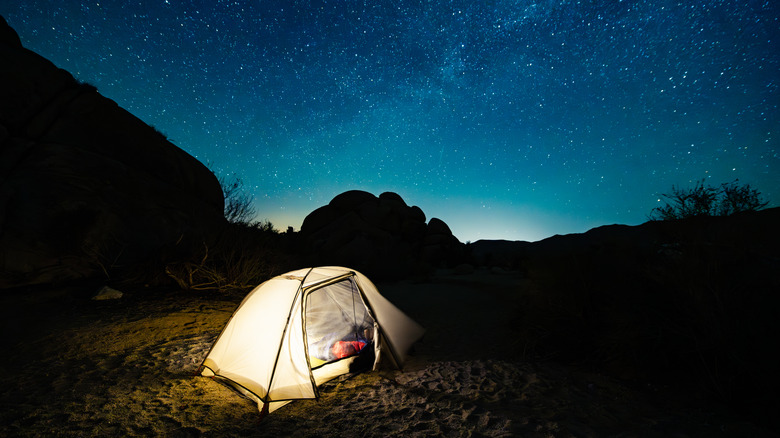 Boogich/Getty Images
California is home to the most national parks in one state, and it's not hard to see why. From gorgeous beaches to one-of-a-kind forests and desert landscapes, the state of California contains a wide range of ecosystems and visual wonders. One of the best ways to see these natural beauties is to spend the night with them and while you won't be able to camp out in all of the Golden State's parks, there are plenty of iconic places that do allow overnight visitors.
Beauty and danger are frequently in each other's company, so it's important to remember that while national parks hold immense appeal, they come with their fair share of hazards — that goes double for travelers overnighting it in the backcountry. Do your research on the park you'll be staying in and pack accordingly, with plenty of water and appropriate clothing for the environment you'll be in. Be sure to check any warnings or closures issued by the National Park Service and remember that California is wildfire country, so read up on wildfire safety tips when camping in one of the state's unique national parks.
Castle Mountains National Monument
Right across Nevada state lines, Castle Mountains National Monument sits on the outskirts of Mojave National Preserve. For travelers who are short on time, Castle Mountains offers diverse landscapes with elements of both the Mojave Desert and Joshua Tree National Park, and with three campgrounds to choose from, it could be a great place within the National Park Service to set up camp for a night.
The area within Castle Mountains National Monument is basically a desert, albeit a lush one, so care should be taken when staying here. Most roads within the park are not what you would find in normal situations, and you will need some kind of all-terrain vehicle to properly traverse the area. The harsh terrain and temperatures here will make getting stranded a very serious situation — bring plenty of water and prepare for a worst-case scenario.
Once you're prepared for a night here, the views of the Joshua Tree forests mingled with the desert landscape and distant mountains create a type of zen that provides a great vibe for the entire trip. Sunset and sunrise are stunners, so be sure to look up what time the sun should make an appearance so you don't sleep through the day's best performance.
Channel Islands National Park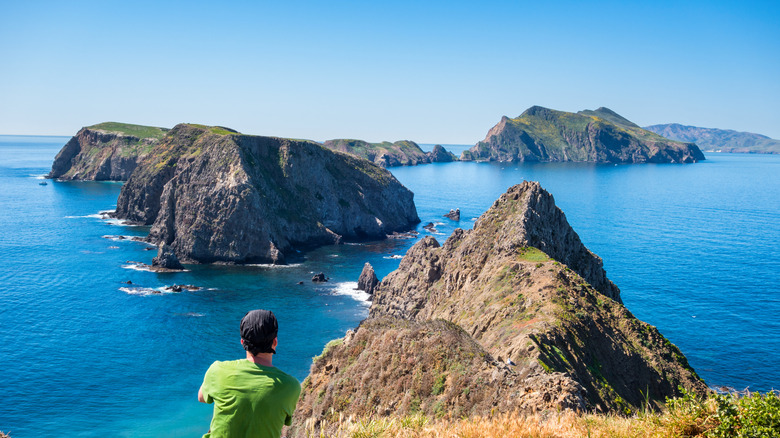 Benedek/Getty Images
Channel Islands National Park is a collection of five islands off the coast of California. You will need some kind of boat to reach each island, whether it be by private boat or kayak. A company that ferries visitors to each island, Island Packers, does transport campers and their gear for an increased fee, but it's not too pricey and is probably the easiest way to organize getting to one of the islands. It may be important to note that once you are on an island, you'll need to go on foot wherever it is you'll be setting up for the night; this could include traversing a good amount of stairs. Make sure you account for this when packing your gear so that you don't bring more weight than you can handle.
The islands are fitted with a single campground each, but only two islands permit backcountry camping. If you plan to crash at one of the campgrounds, you will need to make a reservation. It may take a bit of extra planning to camp out on one of Channel Islands National Park's islands, but it's time well spent. The marine park is gorgeous, with views of water and rocky islands that will make waking up and unzipping your tent your favorite part of the day. At Channel Islands National Park, you can also explore one of the world's largest sea caves.
Death Valley National Park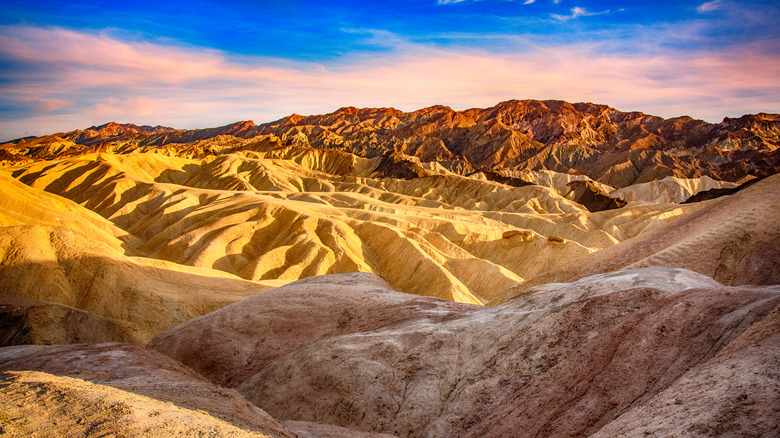 Art Wager/Getty Images
The idea of overnighting it in a place called Death Valley may sound intimidating, but if you can withstand the heat the national park is actually quite a gorgeous place to lay your head and view the Milky Way. There are various types of landscapes within Death Valley, from Badwater Basin's salt flats to the dunes and mountain ranges. While views here can be strikingly stark, there's also a vibrancy to Death Valley, as seen in its Artist's Drive and the wildflowers that can grow throughout.
For the brave souls who choose to camp in Death Valley and experience its beauty at all hours of the day and night, there are public campgrounds available that provide water, toilets, and trash removal as well as private campgrounds that require a reservation. For the even braver, backcountry camping is permitted in some areas of the park — though it is not recommended to attempt this in the hotter months.
No matter where you choose to camp within this park, great care has to be taken with any fires. Keep track of the fire danger level in the park and adhere to the rules surrounding fires here. Also note that no wood can be taken from wildlife to make fire, as it is protected, and you'll either need to bring your own or purchase some from a vendor within the park. As always, leave no trace within the park and respect the land. While there may be a lot of extra concerns when staying in Death Valley, this desert beauty is worth the preparations.
Joshua Tree National Park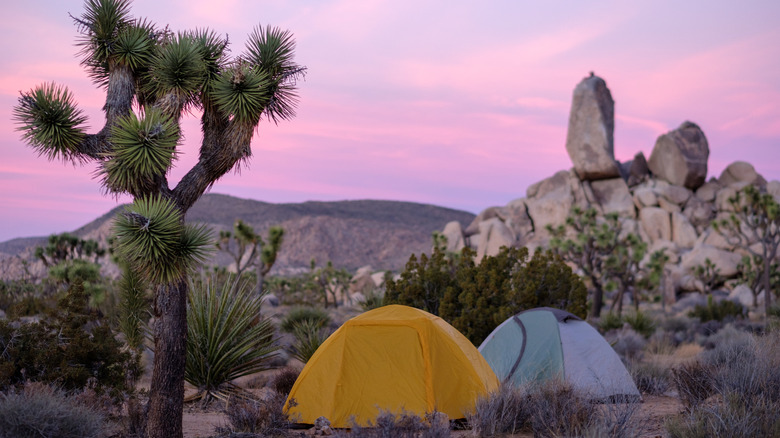 Felicia Lee/Getty Images
Joshua Tree National Park is one of the most popular places those with a love for the outdoors flock to and where campers choose to raise their tents. The park has 500 campsites across eight campgrounds, each with its own special view of nature and the area's namesake trees. You'll recognize the Joshua trees by their funky appearance, as they look like they could be the love child of a cactus and tree with spikes in place of leaves.
This national park is more than just its Joshua trees, though, as there are canyons, flats, and overlooks that provide desert views of a gorgeous place and the wildlife that thrives there. The landscape will look different depending on where you are in the park, so decide which view you'd like to wake up to.
Though Joshua Tree National Park is teeming with various types of life, it's important to remember that it is also a desert. This means you must prepare for survival in the desert — bring plenty of water and don't let the presence of the unique trees pull you into a false sense of security.
Lassen Volcanic National Park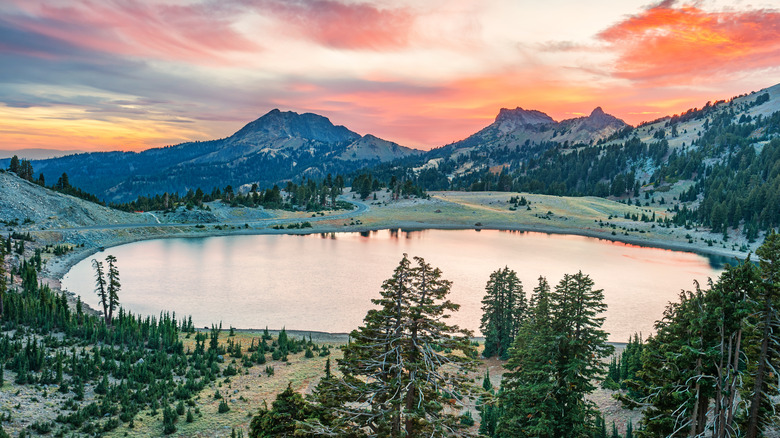 Benedek/Getty Images
As with any camping trip to a national park, it's important to check Lassen Volcanic National Park's campgrounds' schedule and guidelines, as they can differ from park to park and even from each specific campground within the park itself. Keeping an eye out for closures is wise as well, as California especially is known for fires that may force parks to at least partially close. This park in particular is recovering from a wildfire that has left part of its forests burnt, but rest assured that it is just as beautiful.
Snowy mountains in the wintertime and picturesque lakes are what await you on a trip to Lassen Volcanic National Park, and you can luckily reserve a campsite in the park with views of both. There are seven campgrounds throughout the park, but some are closed due to fire damage. So be sure to research where you will be camping, and if you plan to backcountry camp, you will need a wilderness permit.
Almost 75% of the park is designated wilderness, which only adds to its natural beauty and sense of being untouched. While this is perfect for campers who like to be surrounded by Mother Earth and her work, it's important to remember to leave the space you occupy as you found it.
Mojave National Preserve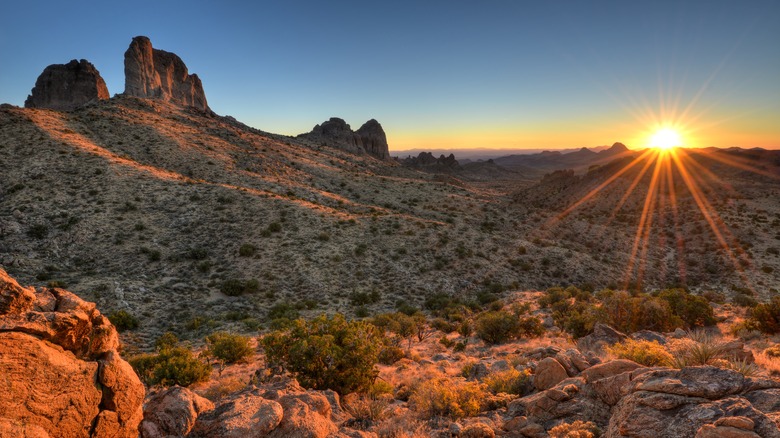 Sierralara/Getty Images
While camping in the desert may not be the first thing that comes to mind when fantasizing about a California getaway, a night under the stars at the Mojave National Preserve just may change your mind about what an ideal trip to the state should entail. As it is such an overpowering environment, it's hard to truly know California without paying the desert a visit.
While you may want to make it a brief visit the first time you brave the Mojave Desert, it's very possible to camp out in the park with either an RV or a tent. This preserve is bone dry, so make sure to bring more than enough water for your stay and you also want to be prepared to be without cell service for your time here. There are some developed campgrounds with water sources and trash pick-up, but come with the intention of being fully self-sufficient to survive.
While some travelers may wonder what the appeal is of a place that could and would absolutely destroy them if given the chance, others will find great beauty in the Mojave Desert's niche habitats and killer views. The desert sunset just may be worth the high temperatures and thirst.
Pinnacles National Park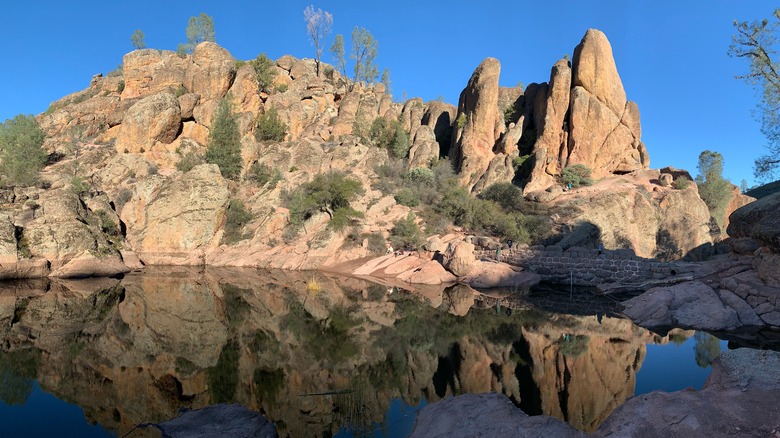 Eric Surprenant/Shutterstock
California is a mecca for campers and those with a penchant for the outdoors, but plenty of the national parks found in the state have some environmental drawbacks that may make potential visitors wary. Pinnacles National Park, on the other hand, is a great place for beginner campers to enjoy all the fun and beauty of California's outdoors without much of the harsh environments or challenging terrains found in a lot of the state's other amazing parks.
Gorgeous rock formations can be found throughout the park, and hikes that range from beginner to strenuous allow visitors to create a trip that fits their own needs and skill levels while also getting great views. Rock climbing is a popular activity here, with climbs that also require a range of skillsets. When the sun hits the rocks, bursts of color can be seen and it's a sight that alone makes the trip worth it.
Whether you have an RV or are roughing it in a tent, the sole campground at Pinnacles National Park can accommodate you so that you may enjoy all the impressive park has to offer. Whether you want to take it easy on your excursions into the park or push your limits, coming back to your campsite will offer a calming haven from your daily adventures.
Point Reyes National Seashore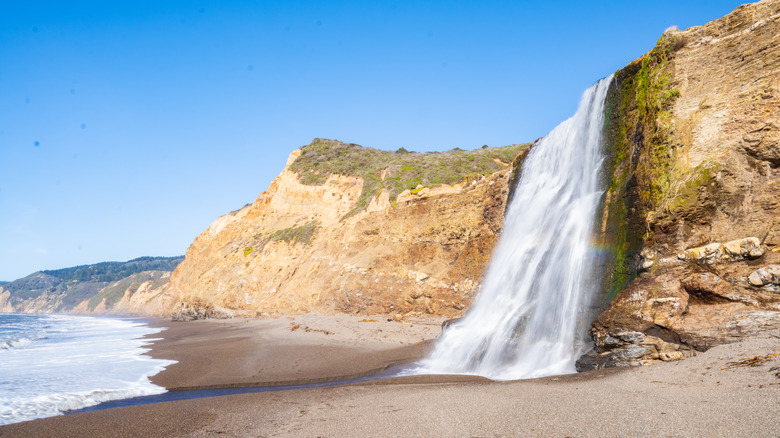 Scott Beardsley/Getty Images
California is known for its beaches and the towns found along the coast, but there is a stretch of coastline just above the Golden Gate Bridge and San Francisco that should not be ignored when it comes to beautiful areas in the state. While there is no Californian beach town within this national seashore, you can find sandy beaches with rocky cliff sides that turn into lush meadows. For travelers wanting to indulge in nature and beach life without the typical crowd of rowdy beachgoers, Point Reyes provides a haven for all that and more.
Other beaches throughout California may be more popular than this seashore, but Point Reyes offers views that are utterly unique. A beach waterfall, for one, is one trait that should make the spot jump up the ranks for best spot on the West Coast, but the 13-mile round-trip hike that is required to reach it may be intimidating for some.
While there are no campgrounds at Point Reyes National Seashore which you can access with a car or RV, backcountry hiking is permitted all throughout the year and campgrounds can be reached by hiking, biking, or even boating in. Since the park is in high demand, you must reserve a permit ahead of time in order to backcountry camp in the park. The serenity that can be found here and the access to the beach are so valuable that the extra effort and planning are well worth it.
Redwood National Park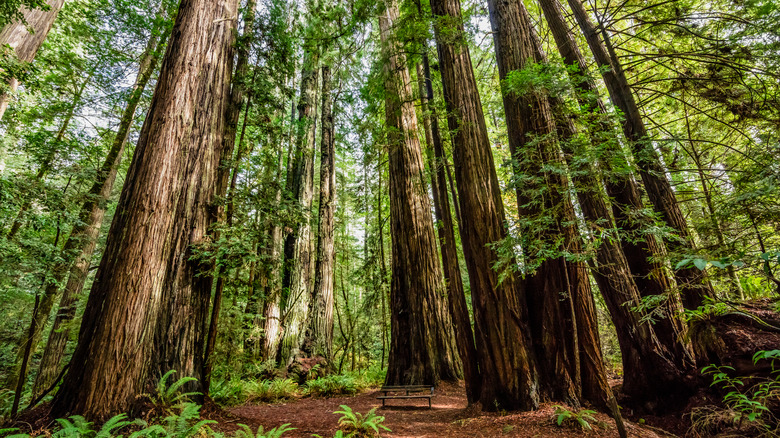 Ovidiu Hrubaru/Shutterstock
Plenty may visit California for its beaches or desert landscapes, but if you're a forest camper then you probably have your sights set on the redwoods. The massive trees stretch up so high that they create a feeling of vertigo when looking up at them closely. The awesomeness of their height is almost rivaled by their circumference, which makes the trees seem too large for this world and gives visitors a sense of walking into a different universe when entering the forest.
In addition to its otherworldly qualities, Redwood National Park is one of the US national parks that are free to visit year round. The park offers a few campgrounds, but you can also hike into the forest and stay at one of the backcountry campsites. Together with Redwood State Park, there are around 200 miles of trails for visitors to explore, and along those trails are seven backcountry campgrounds to set up camp. Additionally, there are four developed campgrounds for overnight guests that don't want to delve into the depths of the forest.
Since the trees here are the focal point and arguably the most protected thing about the park, be careful of anything you may do that affects the health of the trees while staying overnight. Hanging hammocks or anything else to the trees that may come naturally to you while camping is in no way allowed at this park. Basically, treat the redwoods as ancient sacred beings — they actually kind of are.
Sequoia & Kings Canyon National Parks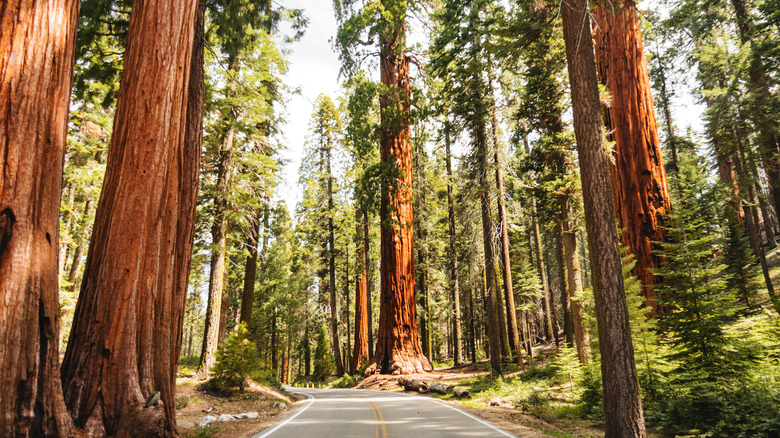 Franckreporter/Getty Images
Redwood National Park isn't the only forest with huge, seemingly ancient trees. Sequoia & Kings Canyon National Parks offer campgrounds to those who wish to stay overnight at the gorgeous, giant-clad national parks. Not only are the sequoias massive, but the cliffs found here are too. Visitors can trade ground views of the iconic trees for those of much higher altitudes with various hikes throughout the park.
If you camp here, whether it be at one of the designated campgrounds or in the wilderness, you'll be staying amongst a whole lot of wildlife. Great attention must be taken when handling food and trash, as bears are common in this area and would love nothing more than to get ahold of some careless campers' dinner. Something not many people think about in terms of attracting bears is nonfood items that may smell like food to a bear, like scented lotions or sunscreens, toothpaste, or air fresheners. Before setting up camp in Sequoia & Kings Canyon National Parks, brush up on your wildlife and bear safety.
Yosemite National Park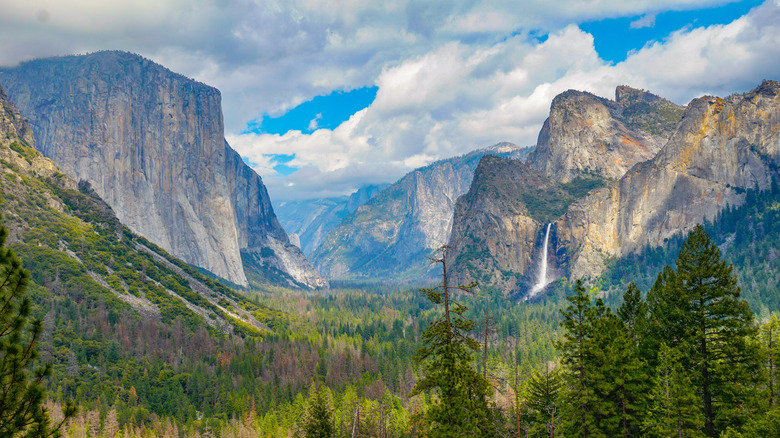 EliteCustomAdventures.com/Shutterstock
One of the most famous and well-known national parks in California and the country as a whole, Yosemite National Park has a beauty that is undeniable. The deep valleys and high cliff sides found within the park are stark contrasts that are both mind-blowing and breathtaking. Plus, Yosemite National Park is surprisingly beginner-hiker friendly.
Besides hiking, another great way to spend time in Yosemite is to camp and if you want to take this path, you're going to have to make a reservation. All of the campgrounds within the park require you to book your spot during parts of the year, and even during the off-season you should plan your visit as far in advance as possible because the park is so heavily desired that campsites get booked quickly. The park has a number of campgrounds, each with its own schedule, rules, and fees, so you'll want to do some research on each before choosing exactly where you will be experiencing your overnight Yosemite National Park adventure.