All Of The US National Parks That Are Free To Visit Year Round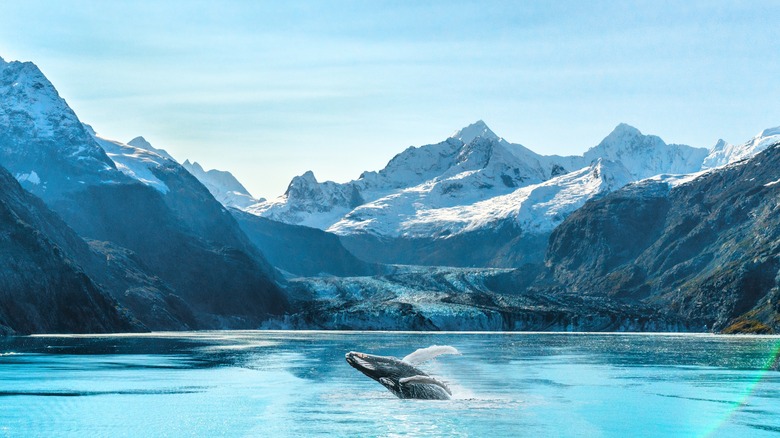 Maridav/Shutterstock
The United States is home to some of the most beautiful and impressive places in the world, many of which fall under the National Park Service. Those with a passion for the outdoors and a penchant for natural beauty flock to the protected areas and, for the most part, a trip to a national park can be quite affordable. Out of the 63 officially designated national parks, many are completely free and you'll be surprised to learn that some major bucket list vacation spots are among them.
Travelers on a budget may want to take advantage of the national parks' free days for those places that put a price tag on admission, but save free parks for every other day of the year. States like California and Alaska have made a good portion of the parks accessible with no admission fee, and other parks are scattered across the states. There's also one in the Virgin Islands and another in Samoa. For those sticking to the 50 states, though, here are national parks you can enter for free.
Biscayne National Park in Florida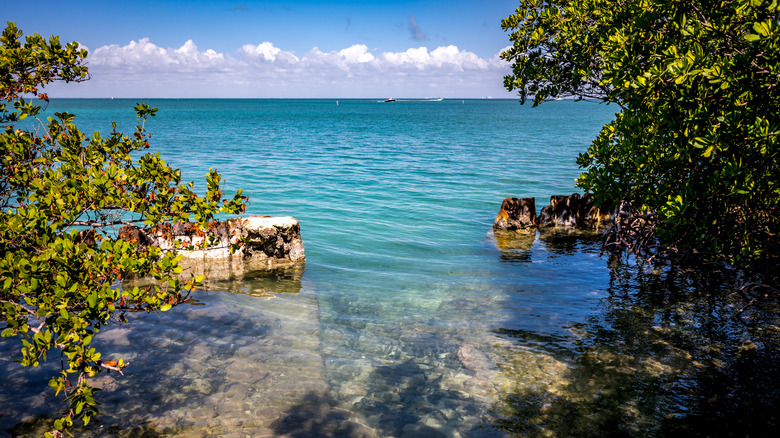 Kelly vanDellen/Shutterstock
While Biscayne National Park is free to enter, you will need to own or rent a boat in order to reach the majority of the spots in the park and if you plan to camp, there is a $25 dollar fee that can be split between up to six people. There may be other costs associated with a trip here, as Biscayne is actually mostly water and unless you already have the gear for the many activities you can enjoy here, you'll either need to rent or buy it.
Scuba diving, fishing, snorkeling, and canoeing or kayaking are all great ways to experience one of the most extensive maritime national parks. No matter how you choose to spend your time here, the waters of Biscayne National Park are both gorgeous and memorable.
Channel Islands National Park in California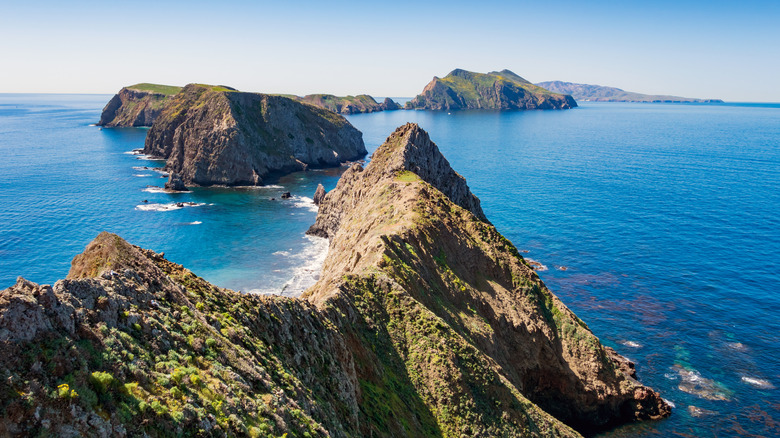 Benedek/Getty Images
The best way to access the collection of five islands that make up Channel Islands National Park is either by kayak or the Island Packers, a boat service that ferries visitors to each island. Prices vary depending on which island you'd like to see and those who wish to camp on an island will see a bigger charge for transportation, but the cost is somewhat offset by the lack of an admission fee. Campers will also be responsible for a $15 per night charge when making a campground reservation, which is needed in order to stay overnight on any of the islands. This is all a small price to pay to get an eyeful of the Channel Islands because they are certainly something wondrous.
Congaree National Park in South Carolina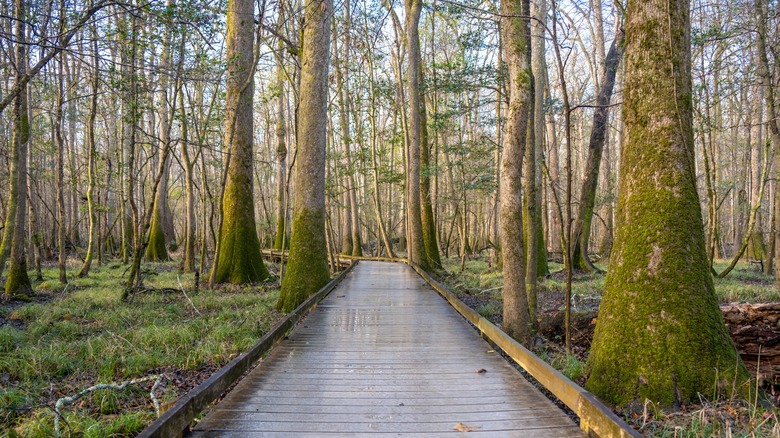 Kelly vanDellen/Shutterstock
Congaree National Park offers one of the highest canopies in the world thanks to its towering hardwood trees, all for the low cost of free. Not only is entrance to the park free, but there are plenty of tours available at no cost. The park prides itself on being a wealth of information for those interested in learning about the wildlife and what it takes to preserve the many habitats found here and the species they support.
Though backcountry camping is free in this park, staying at a campground comes with a small fee. Those who wish to canoe or kayak through the park's Cedar Creek can rent gear for an additional cost. Overall, though, Congaree National Park is incredibly affordable.
Cuyahoga Valley National Park in Ohio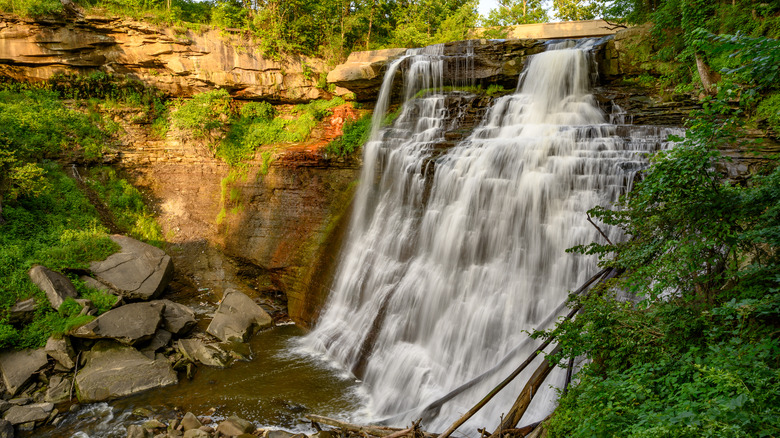 RN Photo Midwest/Shutterstock
Nestled between two major Ohio cities (Cleveland and Akron) is a free escape into nature, otherwise known as Cuyahoga Valley National Park. A scenic railroad, various waterfalls, and meadows full of native wildlife and flowers await travelers here. There are no camping fees because overnight stays are not permitted anywhere within the park.
While there are restaurants and places to pick up a few snacks in and around the park, those looking to spend as close to nothing as possible on their trip can bring a picnic for a meal that just may end up on the top of your "most beautiful places to break bread" list. If this sounds like your kind of plan, take care to follow proper national park protocol and leave no trace of your meal behind.
Gates of the Arctic National Park and Preserve in Alaska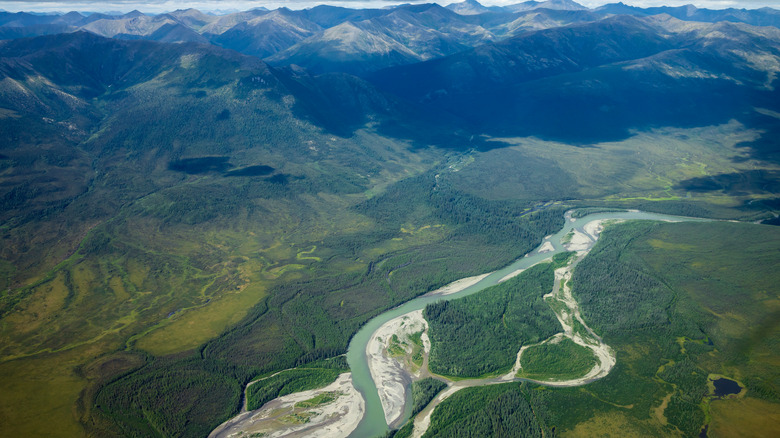 BlueBarronPhoto/Shutterstock
While entrance into Gates of the Arctic National Park and Preserve may have an official price tag of zero, you'll have to weigh the cost of getting there with the benefit of the epic scenery because it is one of the hardest national parks to see. With less than 10,000 visits in 2022, the park is the least visited national park in all 50 states — but that fact has nothing to do with how beautiful it is. There's nothing quite like Gates of the Arctic, as it is one of the last completely wild places left on Earth. There are no roads, so be prepared to take on the millions of acres of wildlife, valleys, and mountains purely as nature would have it.
Gateway Arch National Park in Missouri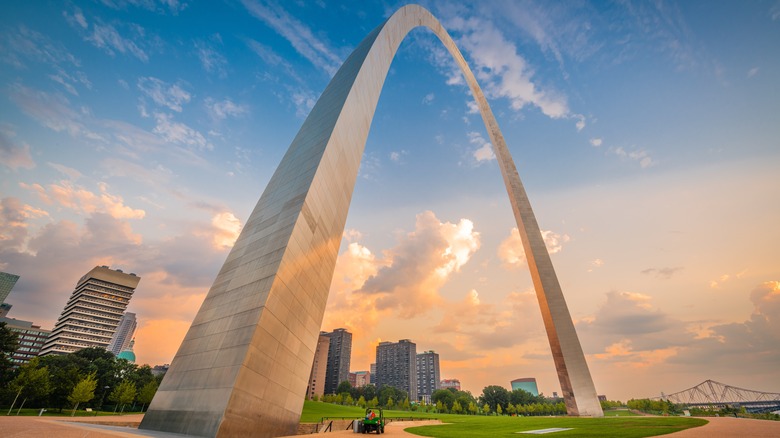 Sean Pavone/Shutterstock
Gateway Arch National Park is by far the smallest national park in the country. While it does have national park status, it is more in line with a national monument, as its main feature is a manmade structure somewhat akin to the Statue of Liberty in New York. While it's free to enter the park, riding the tram to the top of the arch costs a few bucks — still a very affordable national park visit.
The Gateway Arch is significant to St. Louis, the country, and travelers specifically because it symbolizes the expansion of the nation as people started moving westward. Not only would visiting here mean checking off a national park box, but it could also prove meaningful for those with the soul of an explorer.
Glacier Bay National Park and Preserve in Alaska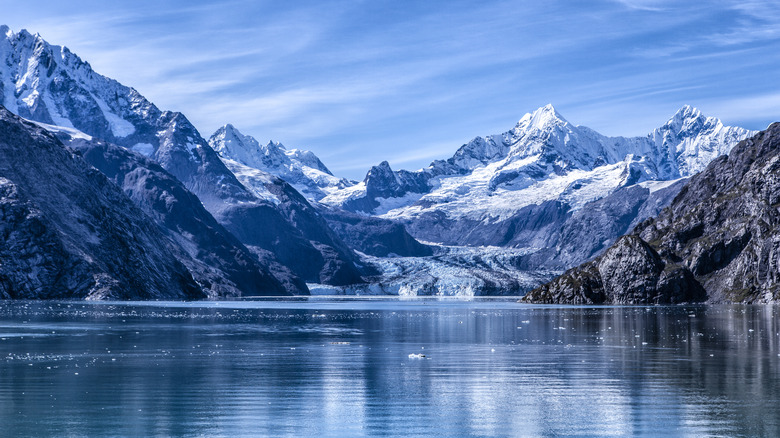 Urbanglimpses/Getty Images
Admission into Glacier Bay National Park and Preserve comes with no cost and, surprisingly, you can camp and boat for the same price — you will need a permit to do so, but the permit is simply a formality and free to acquire. This is good news for nature lovers, because Glacier Bay is seriously extraordinary, from the many stunning glaciers and snow-capped mountains to the flower-filled forests. Like a lot of national parks in Alaska, getting there will be the biggest burden on your wallet, but once you arrive its beauty will push any thoughts of long, expensive plane rides out of your mind.
Great Basin National Park in Nevada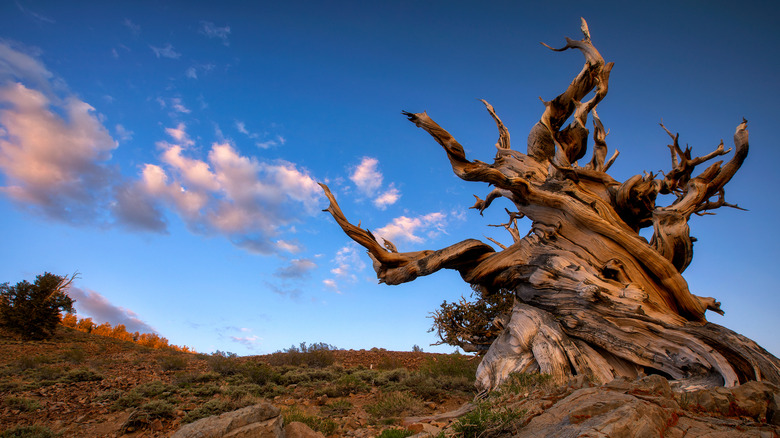 Bill45/Shutterstock
For travelers looking for an affordable as-close-to-free-as-you-can-get vacation, Great Basin National Park is a great option. Not only is admission free, but some of the best things to do there don't cost a thing either. Heading into the backcountry to camp requires a permit, which can be obtained at no cost, and as you sit under a wide sky full of stars, you'll wonder why the National Park Service is just giving away this kind of treasure. As wonderful as the park is, you can also find the stump of one of the world's oldest trees on record within its limits — the Prometheus Tree was nearly 5,000 years old, a marvel in and of itself, and the disheartening story of how it met its end can be found here as well.
Great Smoky Mountains National Park in North Carolina and Tennessee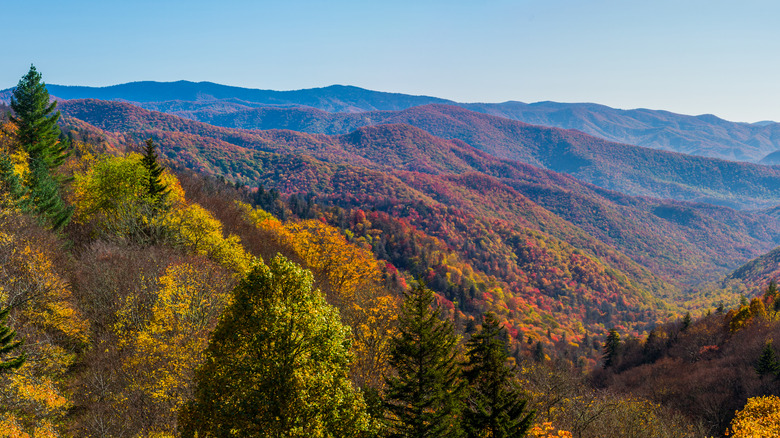 Jerry Whaley/Shutterstock
Great Smoky Mountains National Park is one of the most visited national parks in the country. While every park has something special and awe-inspiring about it, it's still easy to see why people flock here — and admission being free certainly doesn't hurt. The mountains are found on the border of North Carolina and Tennessee, making up just a portion of the Appalachian Mountains. The ancient mountains are packed with wildlife and lush forests, creating a diverse ecosystem that can be explored by curious travelers. Hiking opportunities are ample, but you will incur parking and camping fees while visiting the park.
Hot Springs National Park in Arkansas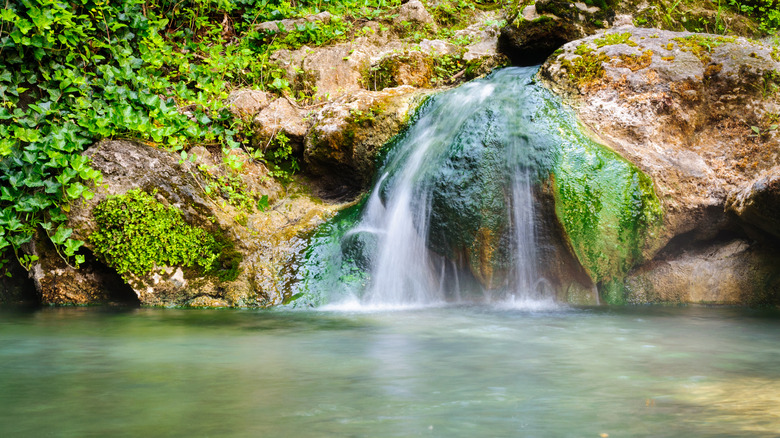 Zrfphoto/Getty Images
Hot Springs National Park isn't technically the first national park in the country; that designation goes to Yellowstone National Park. Still, the protection of Hot Springs National Park predates Yellowstone by a couple of decades, and it's one of the first areas of the United States to be reserved for its natural assets. And unlike Yellowstone, it's free to see. But while the park does not have an admission fee, it will cost you to soak in water from the hot springs.
There are no outdoor spots to take a dip in the hot springs. Instead, two bathhouses on Bathhouse Row use naturally warmed water for their spa purposes. The cheapest way to experience the hot springs is to participate in Quapaw Baths & Spa's public thermal pool experience.
Katmai National Park and Preserve in Alaska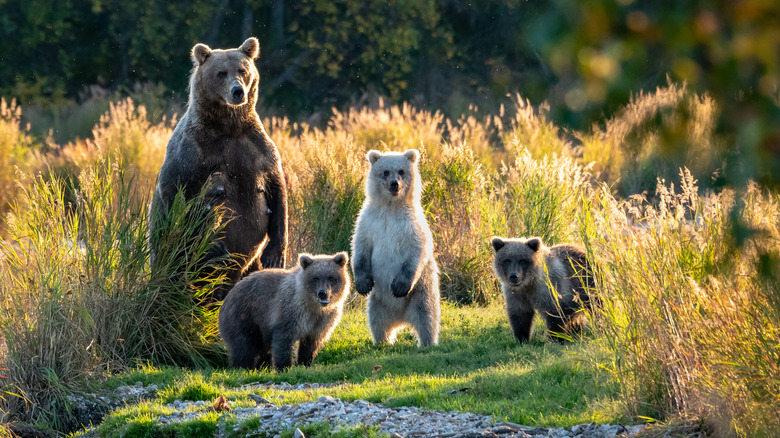 knelson20/Shutterstock
Visiting Katmai National Park and Preserve will result in some pretty unique sights, like huge brown bears and lava flows that remain from volcanic eruptions. Admission is free, but you will pay a small price for using the campgrounds. Like pretty much all of Alaska's national parks, you'll need a good amount of gear in order to stay warm and navigate the wilderness, which will be an additional expense if you are not already equipped for such explorations. Also similar to other parks here, the added cost will be worth having the pleasure of observing some of the most gorgeous areas of the Last Frontier.
Kenai Fjords National Park in Alaska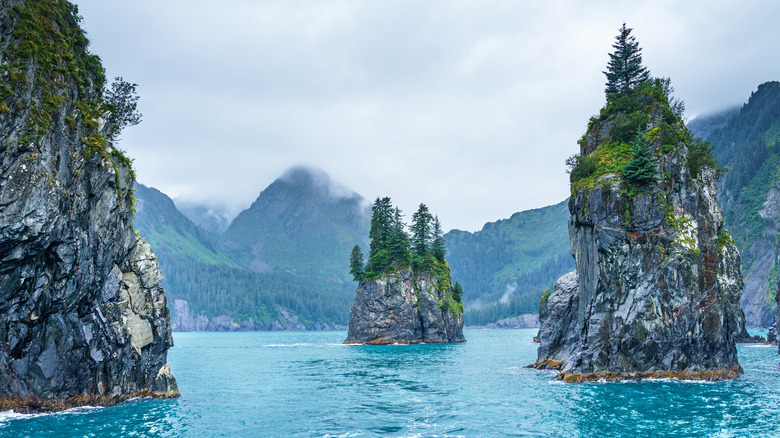 Sekar B/Shutterstock
Across the inlet from Katmai National Park and Preserve is Kenai Fjords National Park, another free national park in Alaska with striking views and flourishing wildlife. Visitors can camp in the park without paying a fee, but if you choose to take advantage of their adorable and convenient public use cabins, there is a small nightly rate. Travelers can see the park by land or sea; hikes are a great way to get up close to some stellar views, and traversing the park by boat or kayak helps visitors appreciate Kenai Fjords from different viewpoints.
Kobuk Valley National Park in Alaska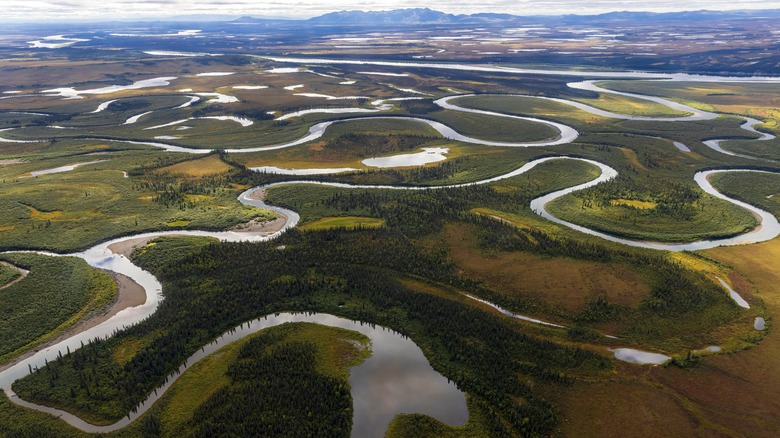 BlueBarronPhoto/Shutterstock
Where most of Alaska's national parks promise great glaciers and icy waters, Kobuk Valley National Park is partially covered by sand dunes. While the park may be a welcomed break from the breathtaking glaciers found in Alaska, Kobuk is still quite the wildlife preserve and offers an ecosystem that supports various types of animals and plants, like caribou and quaking aspen trees that make up a gorgeous white forest. You can enter the park for free, but there is an increased cost to actually getting there, as flights can be expensive and there are no roads in, which only adds to the wild nature of Kobuk.
Lake Clark National Park and Preserve in Alaska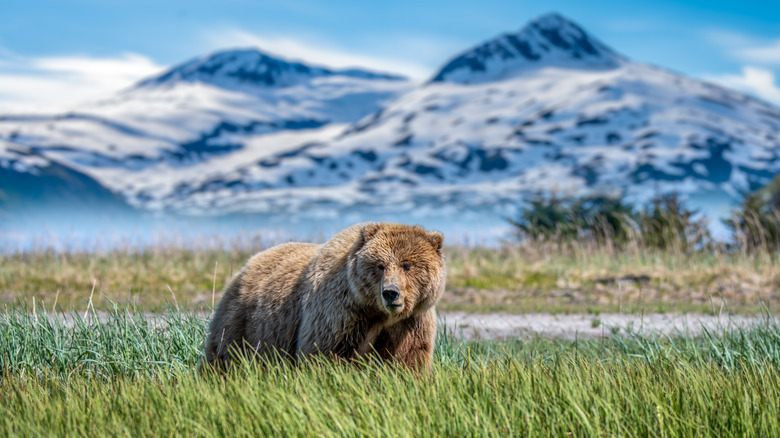 Fotopro_929/Shutterstock
Lake Clark National Park and Preserve has almost everything you'd want from nature, and it offers it all to visitors at no cost. Volcanoes, mountains, coastline, and a lot in between can be found here. Permits are not needed for camping, fishing, or anything else commonly done in the park, but if you want to stay in one of the cabins you will need to pay a fee and make a reservation. There is plenty to learn here, whether it be about the thriving bear and salmon populations or the Dena'ina Athabascan culture that has defined the land for generations.
Mammoth Cave National Park in Kentucky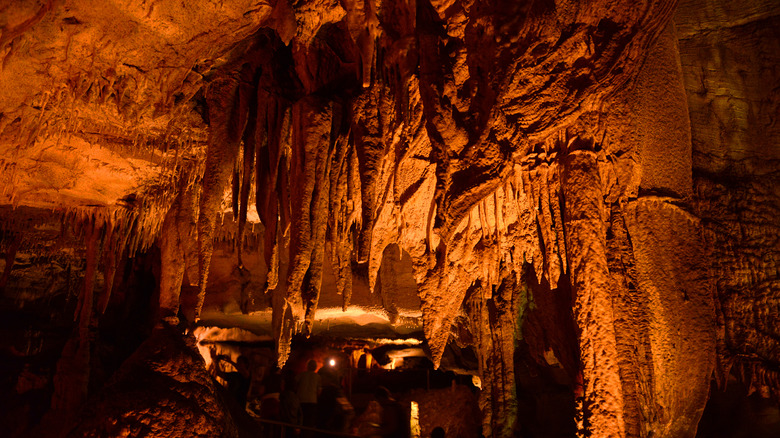 Wangkun Jia/Shutterstock
Despite the name, Mammoth Cave National Park is actually much more than just an underground marvel. There is plenty of beauty and areas of attraction above ground here and while there are costs to touring the cave itself, entrance into the park is free. Hiking, biking, and stargazing are just a few free activities you can do while visiting the diverse park. While here, admire grand rock formations while exploring the depths of the park's namesake cave and take advantage of the 80 miles of lush trails that run into the forest and along the river.
New River Gorge National Park and Preserve in West Virginia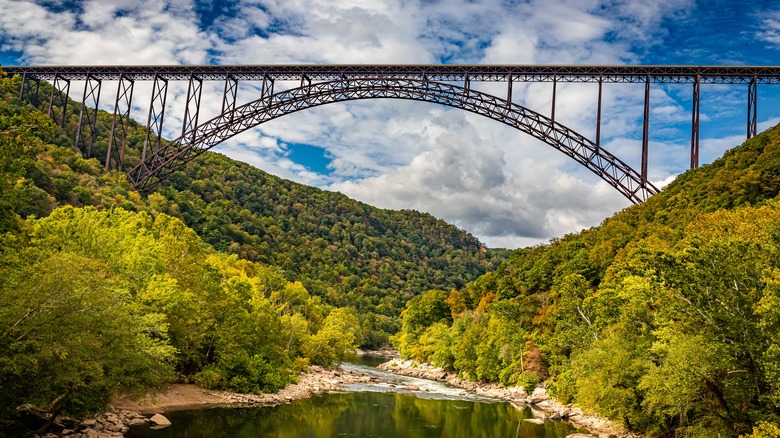 Gestalt Imagery/Shutterstock
New River Gorge National Park and Preserve is a wonderful budget-friendly park to visit for a day, whether you want to be out on the water or see the gorgeous views from land. The park is free, and they also offer many no-cost, low-impact programs and ranger-guided activities. While there are a good number of hiking trails that offer a great view of the river, the biggest draw of the park is the river itself, as rafting, fishing, and even paddle boarding are all fun group activities that are enjoyed here. There are a number of outfitters that help visitors get safely out on the water for fun, though they certainly have a price tag north of free.
North Cascades National Park in Washington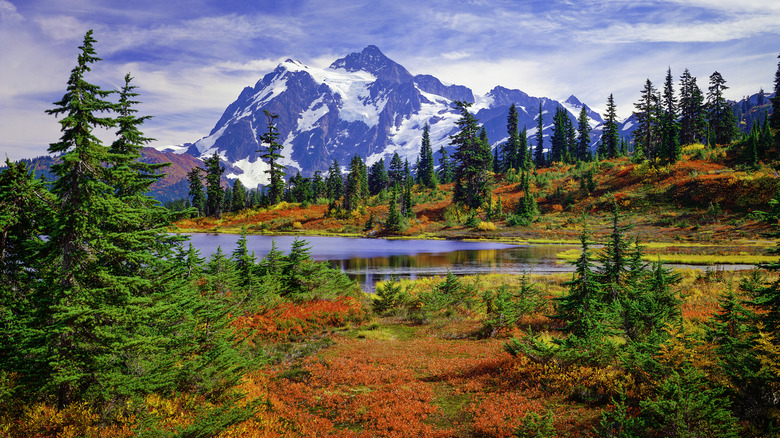 Dszc/Getty Images
Camping at North Cascades National Park will turn the free admission park into one that does cost a small amount, even if you forego the campgrounds and choose the backcountry. If you're here to camp, it's likely you're also here to hike and while trails that begin in the park are completely free to explore, those that begin just off park land and onto National Forest Service land do require a small sacrifice — don't worry, the cost is just a five spot. Though hiking the over 400 miles of trails is a great way to see the park, biking, boating, and horseback riding will all result in some of the same stunning mountain and forest views.
Redwood National Park in California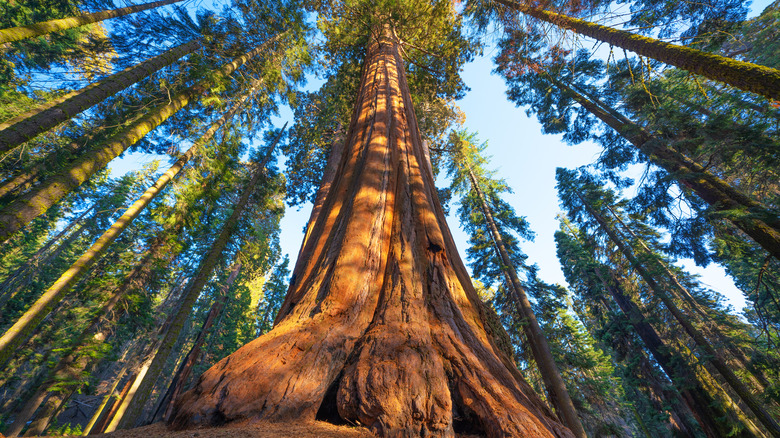 IM_photo/Shutterstock
Redwood National Park is one of the most recognizable, iconic national parks and it also happens to be free for anyone who wishes to see the huge trees. A lot of things come to mind when picturing California, and if it's not the glamor of Hollywood or the attractive beaches, it's the glorious redwoods that have stood in the northern part of the state for thousands of years. Not only is the park full of the tallest trees in the world, but various wildlife can be found and appreciated here. By obtaining a free backcountry camping permit or reserving a paid spot at a campground, you can stay overnight beneath a massive canopy of redwoods surrounded by the sounds of the forest.
Voyageurs National Park in Minnesota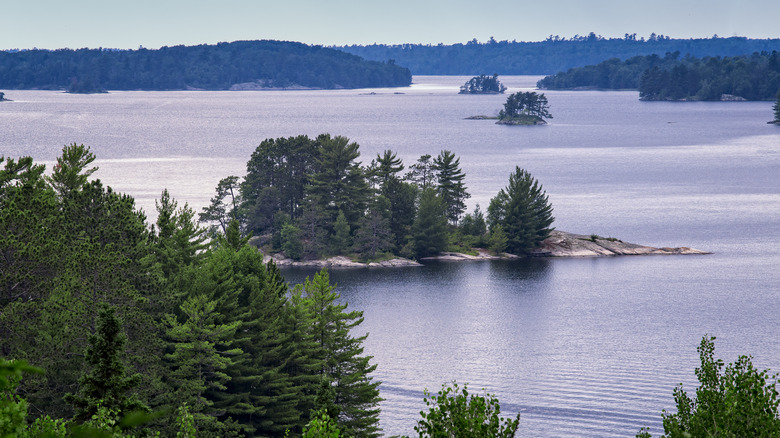 Steven Schremp/Shutterstock
There's plenty to do in Voyageurs National Park that would extend the affordability of its free admission price, like stargazing, but you may find it fun to rent a houseboat or kayak which comes with its own set of fees. One of the best ways to see this particular park is from the water, as almost half of the designated area is water, and islands are scattered all throughout the park, many of which you would not be able to see or notice if traveling via land. Still, the hiking scene at Voyageurs sets some pretty spectacular sights, and the views are always free.
Wind Cave National Park in South Dakota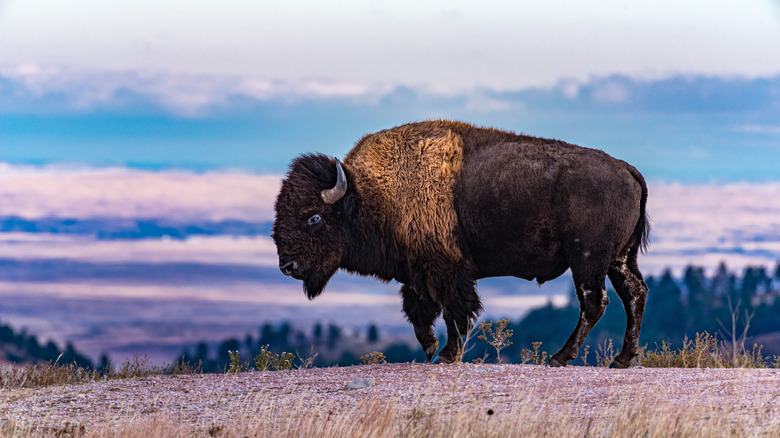 Randy Runtsch/Shutterstock
Entrance into Wind Cave National Park may be free, but you will need to pay in order to camp or to even see the cave in question. Still, these fees are relatively affordable and tours for Wind Cave run less than many other cavern-centric national park tours, with various tour options to choose from to fit your budget. Even if you opt out of exploring the underground with one of the park's namesake cave tours, the part of the park that is above ground is still worth a visit and is rife with bison sightings.
Wrangell-St. Elias National Park and Preserve in Alaska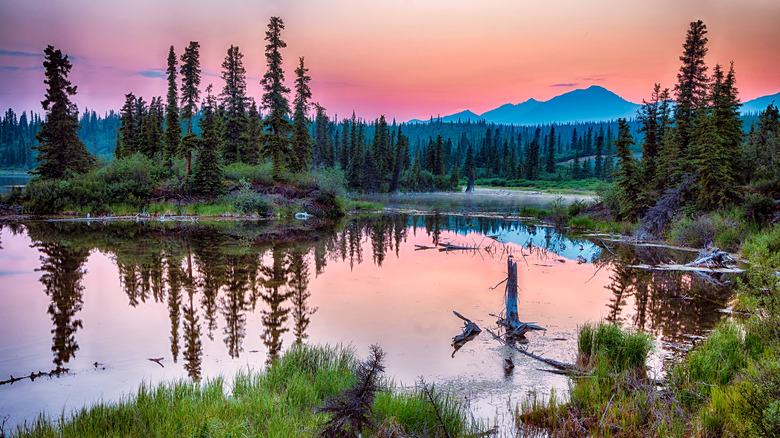 Troutnut/Shutterstock
Yet another one of Alaska's gorgeous national parks is available to the public free of charge, and this one is a behemoth. Wrangell-St. Elias National Park takes the cake for largest U.S. national park with well over 8 million acres of land to itself — meaning you could fit two Death Valleys in it and still have some stretching room.
Tackling the park is no joke, and you should really have some experience trekking across treacherous terrains and in extreme weather — there are also the bears you need to worry about. But hey, it's free if you're up for the challenge!