What Gear Do You Need For A Day At A National Park?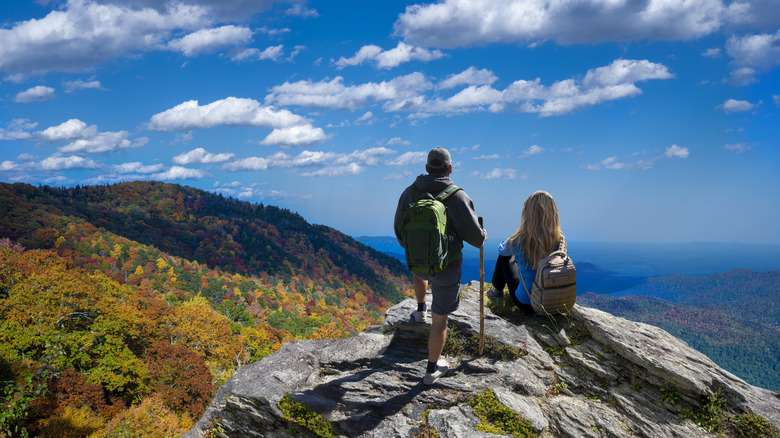 Margaretw/Getty Images
Avid wanderers should always add national parks to their travel itinerary whenever possible. With so much to see and do in the countless wilderness preservation areas of the world, there is undoubtedly something for everyone. From hiking, climbing, camping, and water recreation to wildlife watching, marveling at natural wonders, stargazing, and more, parkgoers will have no trouble staying busy in these great open-air spaces.
Nevertheless, when adventuring in the wild and enjoying all that nature offers, parkgoers should have a few items in tow, including the necessary recreational equipment and the standard outdoor essentials. Whether you are a hiker, a nature lover, or just stopping by for a quick spell, properly preparing for your alfresco outing is crucial and streamlines the entire experience. So to ensure that your next park trip is nothing short of amazing, here is a comprehensive list of what gear you need for a day at a national park.
Navigation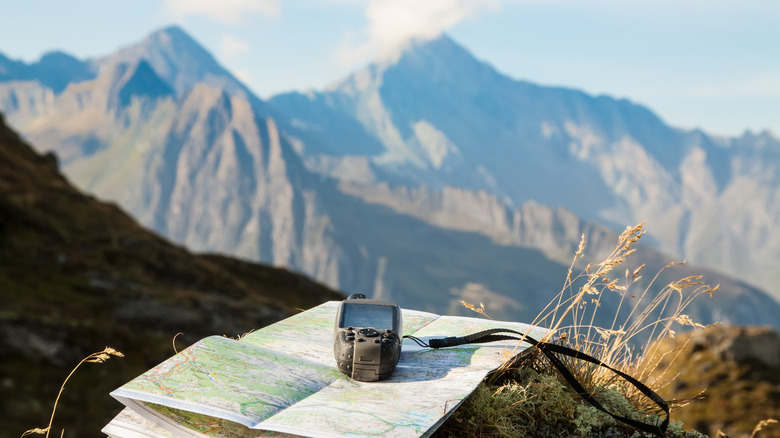 mochilaosabatico/Shutterstock
First and foremost, to avoid unnecessarily putting your keen survival skills to the test, having some form of navigational gear for your park adventure is highly recommended. Items such as a compass, multi-purpose GPS watches, and related phone apps like the AllTrails app and REI's Guide to National Parks) makes exploring lush forested land, picturesque desert-scape, and rugged mountain ranges much easier. Physical maps or offline digital maps like the ones found on AllTrails Pro and AllTrails+ come in handy as well, especially if you do not have the best sense of direction.
Likewise, handheld GPS devices (Garmin GPSMAP 66sr, Garmin InReach Mini, and Gaia GPS) offer parkgoers reliable navigation that not only prevents them from getting lost but also tracks where they have been, allowing them to retrace their steps with ease. Wilderness explorers can actually use handheld GPSs for a whole host of things, including pinpointing exact coordinates and saving previous key locations like where you parked the car. These devices can also be crucial in the event of an emergency by providing Search and Rescue with your exact location. And if you already have similar navigational gear, then here is your sign to add it to your daypack.
Backpack and other must-have bags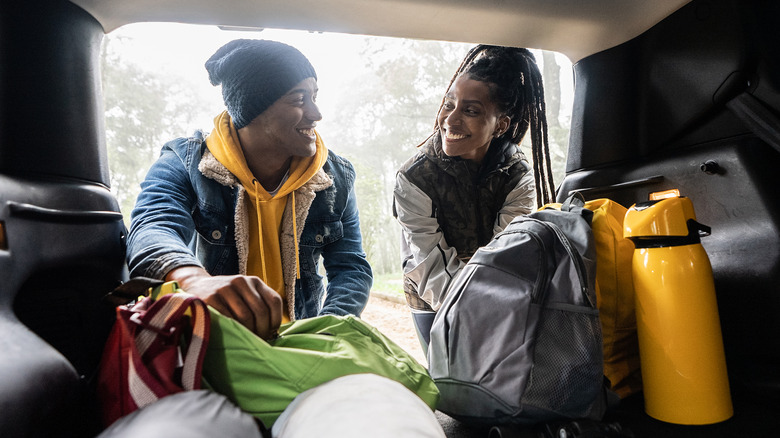 Fg Trade/Getty Images
Speaking of having a daypack, parkgoers should have a lightweight, waterproof (or water-resistant), and durable backpack to carry around all their must-haves. Of course, not all adventure packs are created equal, and if you are only spending a day in the great outdoors, you most likely do not need a full-fledged hiking pack or oversized rucksack. A simple and easy-to-carry sling back, crossbody bag, or hydration-compatible pack should do you just fine.
Typically, a backpack between 6 to 40 liters is all one needs for a single day of outdoor on-land recreation. However, many parkgoers pair a medium-sized daypack with a fanny pack for smaller items or to have extra capacity for additional gear. Alternatively, if you plan to go fishing, swimming, dancing in waterfalls, kayaking, or exploring in the rain, then a comparable-sized dry bag may be the best way to go. Often interchangeable for waterproof backpacks, dry bags come in various sizes and are ideal for protecting important belongings, like your phone and anything you do not want to get wet. That said, if you do opt for the dry bag, then you may want to consider carrying a fanny pack for quick access to smaller items and gear.
Sun protection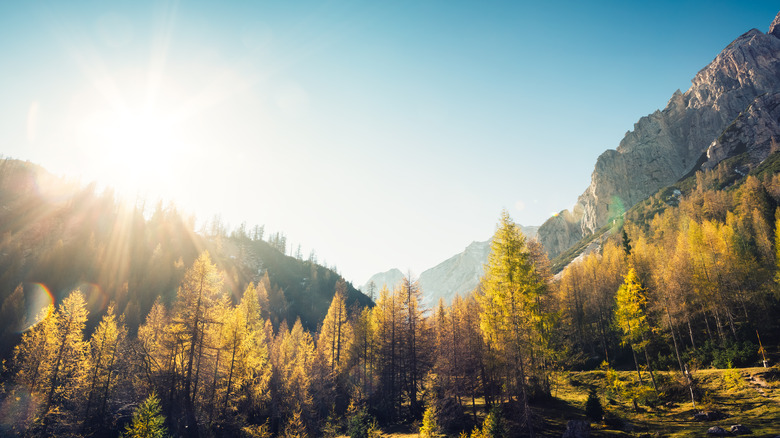 Borchee/Getty Images
As with any outdoor activity, protection from the sun is always recommended when exploring a national park — and putting on sunscreen before you head out to the park is only half the battle. In fact, investing in lightweight shirts and outer layers (hoodies, long-sleeve shirts, and light jackets) that come with built-in SPF is in your best interest. Another outdoorsy must, wearing a sun hat, is crucial for shielding your face and neck while, at the same time, keeping your head nice and cool.
Other ways to block those harmful UV rays include wearing sunglasses, SPF chapstick, and a buff (which can double as a headband). Parkgoers should also remember to bring their sunscreen so they can reapply throughout the day. All this, when combined with staying hydrated and enjoying some time in the shade, will, of course, help protect your skin. But that's not the only benefit here, as you will reduce the likelihood of becoming dehydrated or suffering from possible heatstroke as well. Ensuring that you have ample protection from the sun may initially seem a little overkill, but guarding yourself from the elements when outdoors is very important for your safety and overall well-being.
Hydration essentials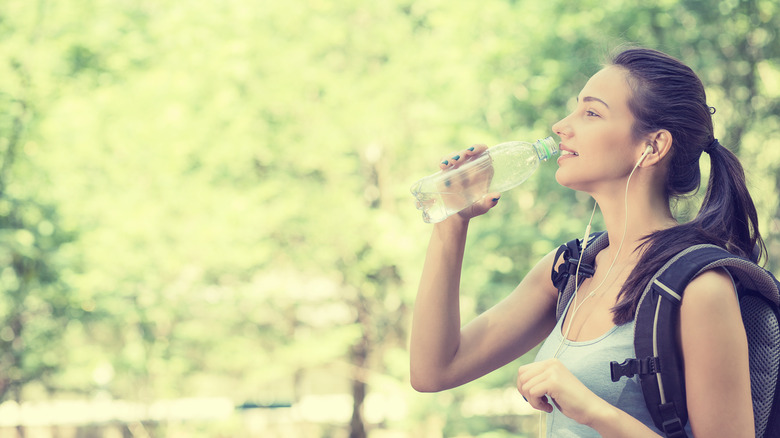 pathdoc/Shutterstock
Yet another must when gearing up for a national park getaway is drinking water. Whether you plan to hike, walk, swim, climb, or just relax in the wild, staying hydrated is paramount. Thankfully, there is an abundance of hydration essentials and gear available to help you avoid any potential unwanted health consequences due to dehydration. With collapsible lightweight bottles, life straws, hydration bladders or backpacks, treatment supplies, and extra water on hand, staying hydrated, especially in high temps, should be a breeze.
For a single day in the park, hydration essentials like a refillable thermos flask water bottle and Osprey brand hydrations packs (Skarab 18, Skimmer 16, Mira 22, and Manta 24) with built-in water reservoirs, for instance, are great. A refillable thermos flask water bottle allows explorers to have almost the recommended amount of water per adult (3 quarts for a half-day outing or 1 to 1.5 liter per hour for moderate activities) on their person — conveniently chilled water to boot. And the Osprey line of hydration packs offers outdoorsy enough hydration ranging from day hikes to multi-day trail excursions. Other useful gear for your national park adventure include a collapsible cooler (perfect for water and no-cook snacks), foldable Platypus SoftBottles, and electrolyte tablets.
Appropriate footwear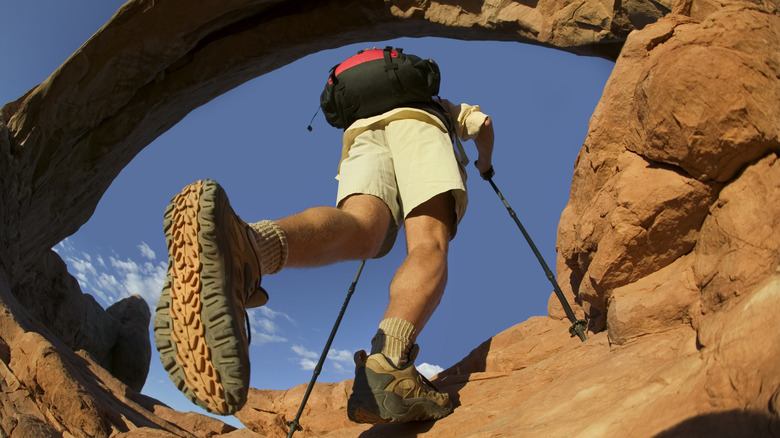 Sportstock/Getty Images
Even if your plans do not include hiking or trailblazing, the appropriate footwear is a must. More often than not, multi-purpose trail shoes or hiking boots (and climbers, if applicable)are best when spending time in a national park. Watersport enthusiasts and beachgoers, on the other hand (or rather foot), will likely need water shoes and beach-friendly sandals (not flip-flops). Chances are, no matter what you get into while in the park, you will instantly regret sporting your favorite pair of flip-flops — as blisters, tripping, injuries, and broken shoes will most likely be the outcome. So, why not sidestep these issues by opting for appropriate footwear?
It is also worth noting that snow shoes or boots are the most sensible option for parkgoers off to areas with cold weather. What's more, in most instances, the socks you choose for your day adventure matter if you are wearing boots or some form of runners (or sneakers). Comfy wool, blister-preventing, and quick dry socks (depending on the weather conditions) will make your national walkabout less taxing. So it is highly recommended that you invest in some quality socks when donning the proper footwear for your outing.
Proper clothing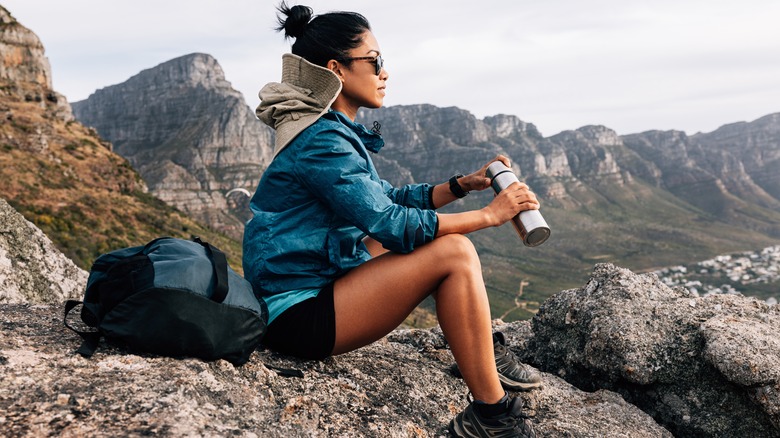 Artem Varnitsin/Shutterstock
In addition to the right footwear, wearing the proper clothing is pivotal for a great day in the park. In order to be appropriately dressed for the occasion, checking the weather should generally be your first step. From there, you will want to decide what will work best for your planned activities. Besides having the SPF shirts and layers, parkgoers should opt for clothing that is comfortable, quick-drying, and moisture-wicking. Hikers or park explorers should also pack a warm coat, windbreaker, or puffy jacket for colder conditions.
In regard to bottoms, if you are heading to a national park to hike or climb, bottoms that allow you to move freely are best. Quick-drying pants, leggings, or shorts are suggested for other kinds of recreation. Likewise, these same fabrics will work for colder weather conditions. However, additional layers for both tops and bottoms will likely be required, along with warmer hats and gloves.
Rain gear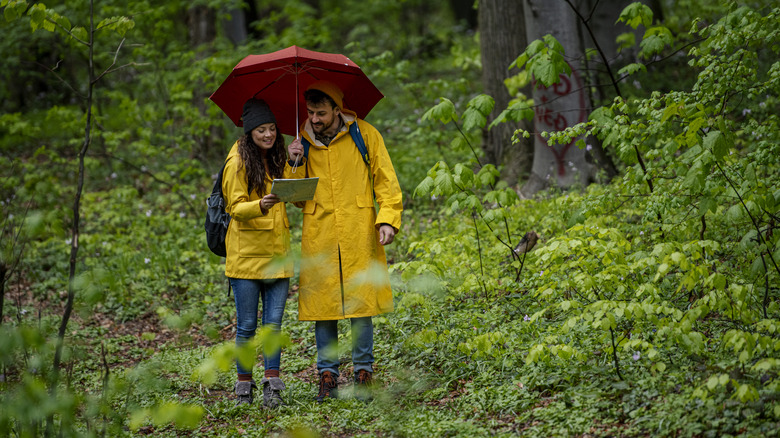 Martinns/Getty Images
If you plan to go hiking in a national park come rain or shine, then rain gear definitely comes in handy. With weather conditions constantly changing, having at least a jacket and umbrella when exploring the great outdoors is essential. When figuring out what additional rain gear to take, you will most likely need to assess which level of protection from the rain suits you best — waterproof (fully resistant), water-resistant (repels for a brief time), or water-repellent gear (repels on contact).
Usually, waterproof gear is the go-to, especially if heavy rain is expected or your outing involves water activities. Often lightweight rain jackets that are waterproof and breathable will offer just the right amount of protection. Still, water-resistant and durable-water repellent items can help with sudden weather changes, but only for so long. So erring on the side of caution and going with fully impermeable gear, like the Gore-Tex rain jacket or something comparable, is advised. Parkgoers can also opt for the affordable tried-and-true option — the packable poncho. But it is worth noting that rain capes are not breathable and often tend to leave you with a mess in their wake. Other gear, such as a travel-sized umbrella, a packable emergency hiking shelter, trail or flash gaiters, and storm hats, can easily fit in most daypacks and may be just what you need in a pinch.
Outdoor recreation accessories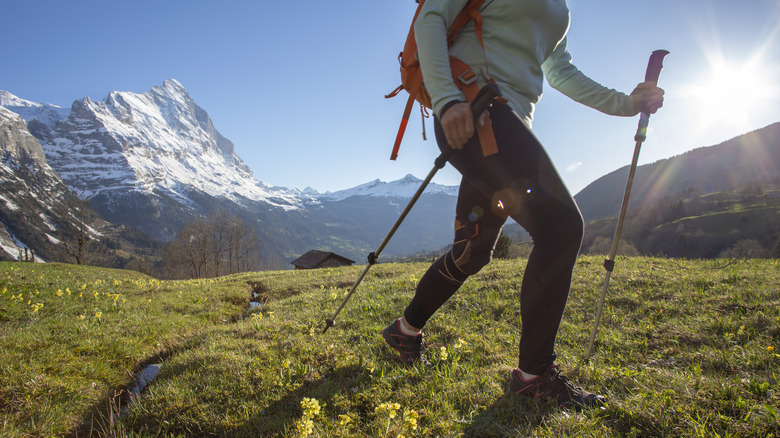 Ascentxmedia/Getty Images
Since most national parks are brimming with outdoorsy fun, parkgoers must also prep for their specific recreational activities in addition to having the related gear mentioned above. With ample hiking trails and routes to explore, trekking poles and quick-dry towels should be on your list if you plan to hike or walkabout a national park. Likewise, climbers will need the basics, including a harness, belay devices, rope, locking carabiners, climbing chalk with a chalk bag, and a helmet.
Other popular activities such as biking, fishing, swimming, and equestrianism also require supplemental gear. So, having helmets and gloves for a biking adventure, bait and fishing poles for fishing, swimwear for swimming, or riding boots for horseback riding are definite add-ons. There is a list of essentials and must-have accessories for mountaineering, all forms of boating, winter weather sports, and hunting as well. Even if your national park itinerary is more relaxed, there are likely still some recreation extras you will need in tow, like binoculars for wildlife watching and stargazing, picnic accessories for alfresco meals, camping must-haves for an overnight stay, and more. So after figuring out what your plans entail, do not forget to pack the relevant stuff for your action-packed itinerary.
Illumination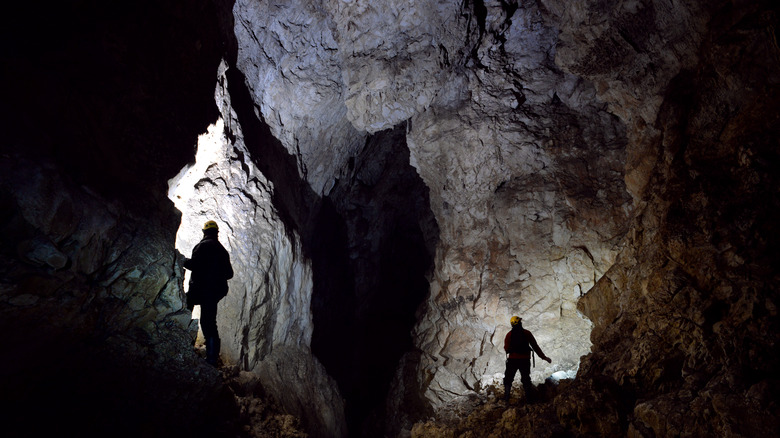 Nobra/Shutterstock
Light is undoubtedly an indispensable resource when enjoying the great outdoors, as having access to light when no other source is available keeps everyone safe. Thus, it is highly recommended that you pack additional light sources — headlamps, flashlights, lanterns, and more. Whether you are roaming about dark forested areas, canyoning, cave exploring, marveling at the night skies, or camping, being able to see where you are going and what's around you is critical.
That said, most active parkgoers opt for headlamps like the affordable Vitchelo V800, rechargeable Petzl Actick Core, or the lightweight and secure Black Diamond Sprinter 500. Of course, having flashlights or lanterns on your person works too. But, many people prefer having a hands-free light source more often than not. Ultimately, no matter what you decide to bring in the way of illumination, make sure you bring extra batteries or other means of recharging. Backcountry explorers should also pack a lighter, matches, and waterproof fire starters for lighting, heating, and cooking purposes. And it also never hurts to have a flare or two handy in case of an emergency.
A first-aid kit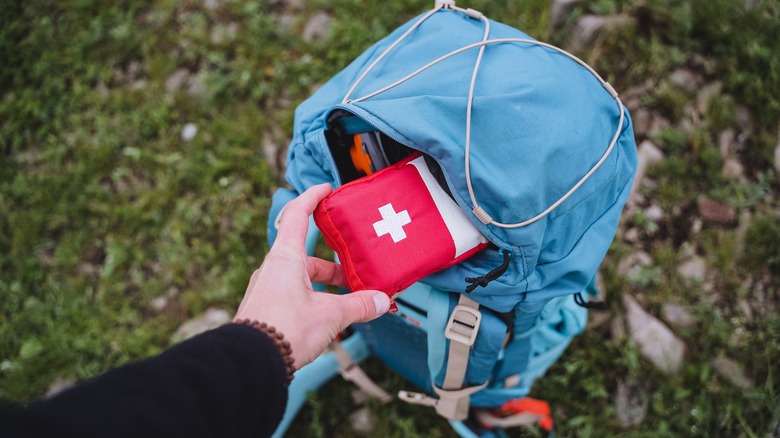 Aleksey Matrenin/Shutterstock
On top of having flares, temporary shelter, and an emergency blanket, parkgoers should be as prepared as possible for any potentially harmful incidents that could arise. One of the easiest ways to do this is by having a first-aid kit, hand sanitizer, and over-the-counter meds with you. A well-stocked outdoor adventuring kit includes gauze dressing, medical tape, band-aids, antiseptic wipes, a CPR mask, and other basic first-aid essentials.
Parkgoers can save themselves some time and money here by purchasing a pre-made kit and then subsequently adding any other items they may need ( an EpiPen, an Inhaler, etc.). MyMedic Solo kit, the Standard Solo kit, or the Pro Solo kit, for instance, are all great options. Alternatively, you can easily assemble your own wilderness first-aid kit, though it will likely cost a little more and require a detailed supply list. If you do opt to DIY your own kit, then remember to add the must-haves like anti-itch creams, antacids, anti-diarrhea medicine, allergy meds, antihistamines, and a triple antibiotic ointment.
A pocketknife and repair kit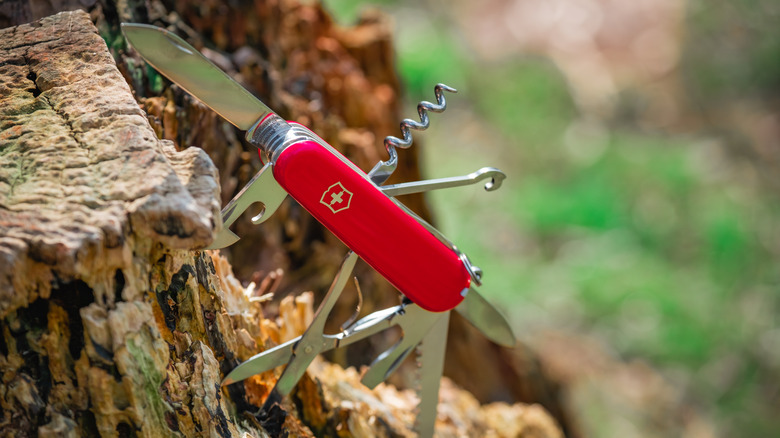 Panwasin seemala/Shutterstock
Along those same lines, a pocketknife and repair kit are just as important to have with you on your park outing. With so much gear possibly in tow, having the necessary items to repair things in a possible pinch matters and has the potential to impact your outdoor experience massively. Plus, an everyday pocketknife or multi-use tool has all sorts of uses, from food prep and tent setup to modifying equipment, so it is always a good idea to pack one.
Similarly, having access to a repair kit might just be the difference between having gear you can use and lugging broken equipment. Therefore, bringing items such as scissors, tweezers, a travel-sized screwdriver, and even duct tape on your national park trip is advisable. Other repair kit essentials like zip ties, a P-Cord or nylon cord, side-release buckles, webbing straps, a sewing kit, seam grip, glue, extra shoelaces, and more can also save the day when unexpected situations arise.
Bear spray and bug repellent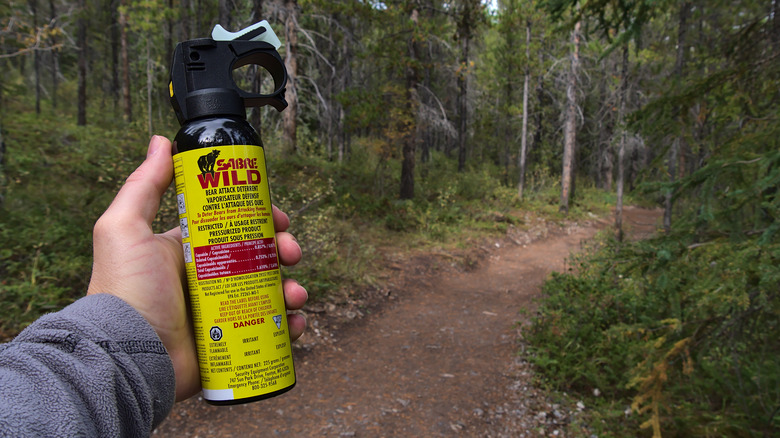 Timon Schneider/Getty Images
There is no denying the fact that national parks are teeming with wildlife and insects. In particular, large animals such as bears can be problematic, specifically in untouched and forested preservation areas. As a result, bear spray should make the list of essentials for a day in the park. Bear spray, in combination with an easy-to-access holster, a bear horn-bell or whistle, and a noise maker, can help you successfully avoid a wild animal attack. However, parkgoers should always attempt to stay at least 100 yards away from wolves and bears or 25 yards from other animals whenever possible.
What's more, parkgoers are also strongly encouraged to wear some form of bug repellent (bracelets, lotions, waxes, and creams) or use bug spray. With mosquitoes, ticks, fleas, gnats, and other dangerous critters out and about, protecting yourself from bites and dangerous diseases is a serious business. So, when enjoying the pristine wilderness, do not forget about the bugs either — especially in warmer climates and during the summer months.
Miscellaneous items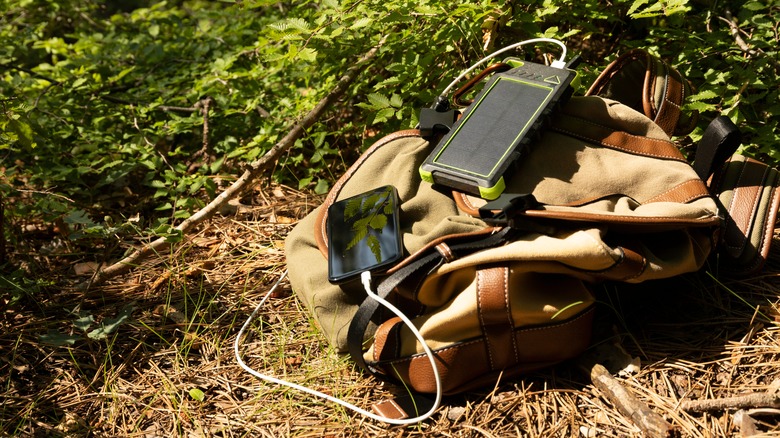 Vadi Fuoco/Shutterstock
Finally, any other gear, random last-minute things, or luxury items you want to bring along on your national park excursion fall under this category. From solar or portable chargers, waterproof cameras, hammocks, and walkie-talkies to park passes, travel documents, hygiene products, and more, there are definitely plenty of additional things to throw into your backpack or daypack. Of course, some items may take precedence over others — so if you run out of space in your bag or fear being weighed down by all your gear — then why not divide and conquer?
By dividing your miscellaneous items into two groups — indispensable and nonessential — you can quickly figure out what other things you actually need on your trip. This way, once you have all your must-haves packed away for your time in the park, then you can easily make room for nonnegotiable extras. Ultimately, after getting all your gear together, including any add-ons, having an enjoyable time in any national park should absolutely be possible.