The Best Airports Across The US To Get Stuck In During A Long Layover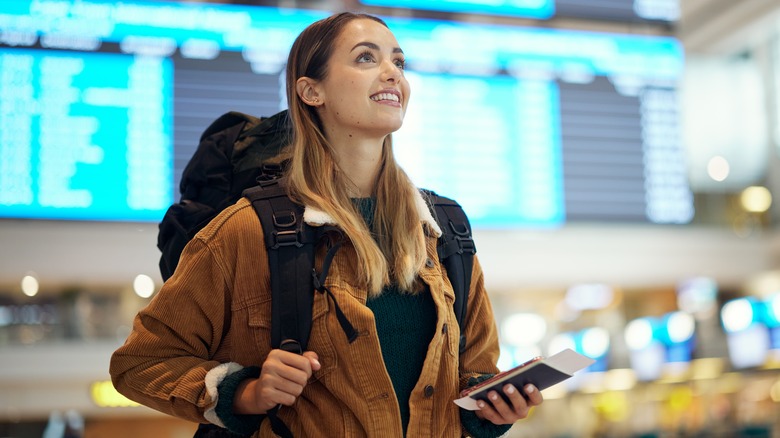 PeopleImages.com - Yuri A/Shutterstock
No one wants to find themselves trapped in an airport for longer than is strictly necessary. Yet, all too often travelers must make do with flight schedules that don't perfectly line up with their idealized rapid transit times. On occasion, you'll zip through an airport on an hour-and-a-half layover and then cruise along to your final destination without issue. But oftentimes travelers will find themselves waiting three, six, or even 10 hours in an airport terminal. Of course, there's sometimes an option to extend your layover and get a full day or more in an exciting new city. Whether you want to explore a destination you'd never otherwise travel to or are simply looking for an airport terminal that will provide some comfort and good food options as you sit and wait for your next flight, there are surprisingly plenty of great travel routes that can provide you with a positive layover experience.
It's worth noting that you won't always have much say in the matter, since any flight itinerary's most important features are the start and end point. However, these airports are among the best in the U.S. to find yourself in during a break between flights if you can swing it!
Norman Y. Mineta San Jose International Airport (SJC)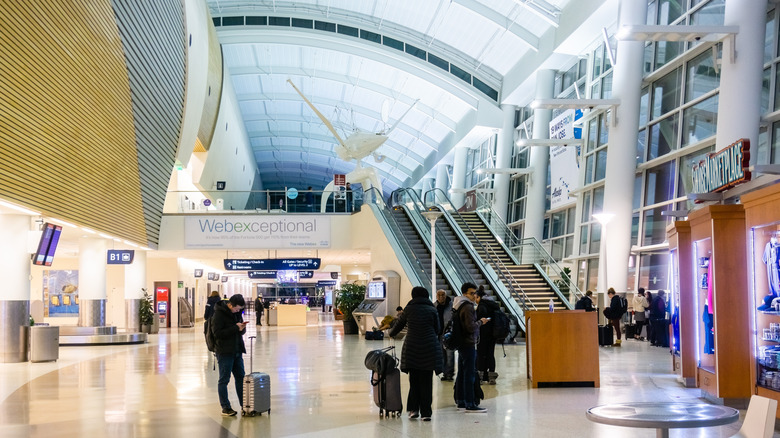 Sundry Photography/Getty Images
A relatively minor airport in the grand scheme of things, the Norman Y. Mineta San Jose International Airport (SJC) is a great place to kick things off. This airport is much smaller than the two other Bay Area transit hubs in Oakland and San Francisco. However, what SJC lacks in size it makes up for in precision. According to FinanceBuzz, the airport sports a tiny 1.42% of flights experiencing 60-minute delays or longer and an even smaller .46% flight cancellation rate. The airport also enjoys a nice ratio of restaurants and shops per gate, meaning you're not likely to experience long lines or extensive wait times while the pressure is on between flights.
Skytrax certifies SJC as a three-star regional airport for, among other things, its speed and level of congestion. Depending on where you're flying, San Jose might be a viable option for a stopover; travelers on their way to Tokyo, Beijing, London, or north to Alaska or Canada from the West Coast should seriously consider taking advantage of this often overlooked gem.
George Bush Intercontinental Airport (IAH)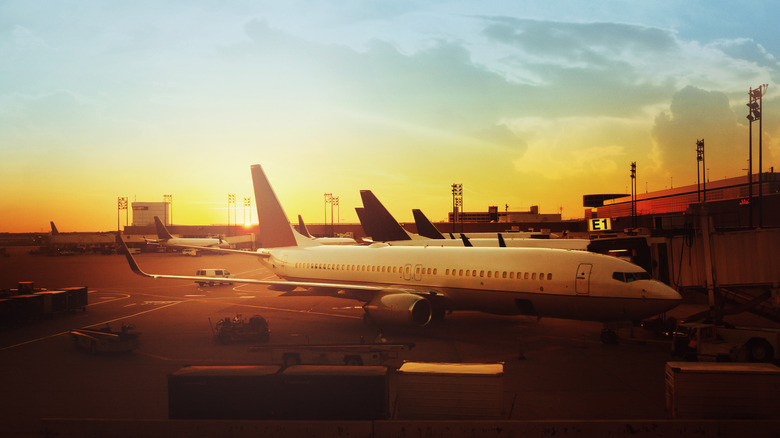 Thepalmer/Getty Images
Taking an alternative tack, one of the largest airports in the United States also deserves high praise as an excellent transit airport for travelers heading to virtually any destination worldwide. George Bush Intercontinental Airport (IAH) is located just outside of Houston making it an excellent geographical option for travelers heading from one side of the country to the other as well as flyers on their way to Central America and South America. The airport also supports flights to Europe, Asia, and the Middle East, making it a truly versatile stopover destination.
IAH has been rated a four-star airport by Skytrax and in 2022, research indicated that the airport was one of the world's most reliable transit hubs, according to the Houston Chronicle. The airport has received accolades in the past in general categories for air travel, as well as specifically for its dining experiences, airport staff, and digital services. Also, no matter where you're going there's a good chance that planning a connection through Houston is possible. This means that a large swath of travelers can take advantage of lounges, restaurants, and services offered during layovers at IAH.
Denver International Airport (DEN)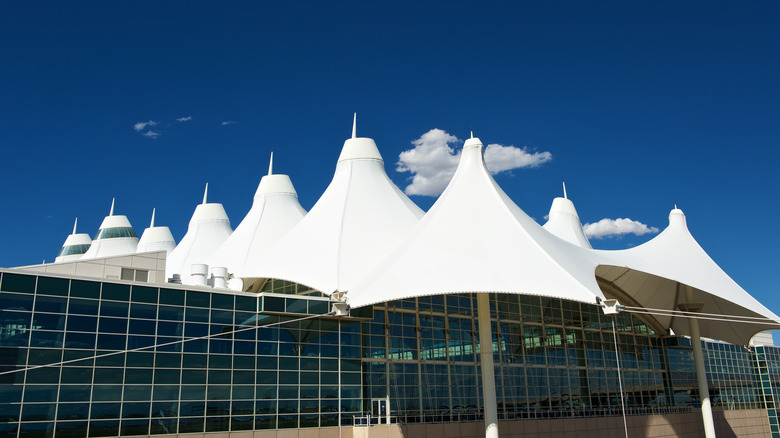 Ra-photos/Getty Images
Denver International Airport (DEN, aka DIA) is likely the strangest inclusion on this list. Denver sports a famously controversial air transit hub that many in the area either love or hate. DEN even has its own set of conspiracy theories surrounding the layout of the facility! Even so, major works have been underway in recent years to improve the airport.
The disconnect seems to be between opinions from local users and out-of-state travelers experiencing layovers in the facility. However, when considering any airport as a layover destination the ease of access from the surrounding community and other facets of the airport experience simply fall away as important considerations. The airport is massive, and numerous art installations can be found scattered across the terminals. There is also relatively easy access from arrival gates to restaurants and other services, making a stay at DEN an enjoyable one on the whole.
Los Angeles International Airport (LAX)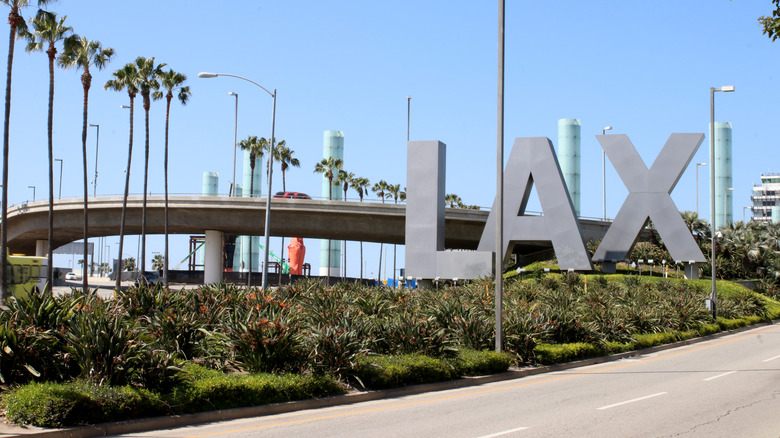 Eric Glenn/Shutterstock
Los Angeles International Airport (LAX) is yet another travel option that might come as a surprise on this list. LAX is frequently criticized for a few key issues in the overall passenger experience. However, these are contained almost exclusively to features influenced by the airport's location near the city itself. This is one of the busiest urban areas in the country and access to the airport from the city and its surrounding suburbs remains a hotly contentious sore spot for passengers starting their journey here. Similarly, the airport isn't particularly known for speediness in the immigration process. As a result, LAX is a much better transit airport for those venturing out from the United States or traveling domestically than travelers coming into America from abroad.
With that being said, the facilities and services at the airport have merited a three-star rating from Skytrax. LAX is overflowing with restaurant and shop options for passengers. Currently, the airport supports 183 direct routes that connect America's West Coast with Europe, Asia, and South America alongside a bevy of domestic routes and flights to nearby airports in Mexico, Canada, and other destinations. The sheer volume of passengers moving through LAX on a yearly basis makes it a likely stop in many journeys you might complete as an air traveler. Depending on your specifics, LAX is likely an excellent option when it comes to intermediate route points.
Phoenix Sky Harbor International Airport (PHX)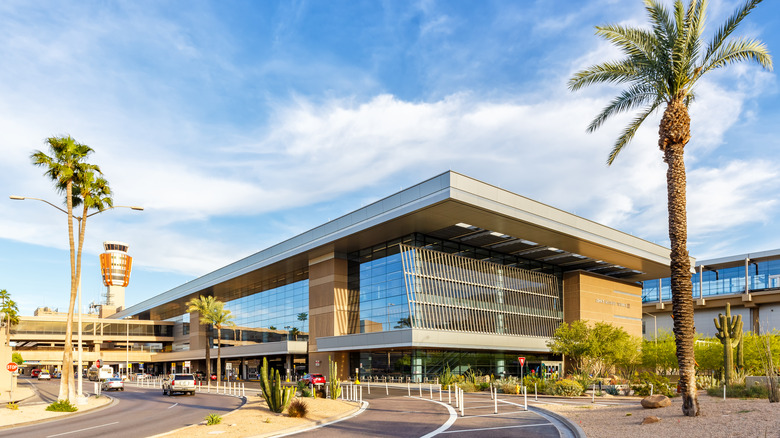 Boarding1now/Getty Images
Phoenix Sky Harbor International Airport (PHX) is routinely listed among the best airports in the United States and the world. This one might not be a common layover spot for many travelers who call the East Coast home, but if you find yourself getting off the plane here, you're surely in for a treat. PHX offers service to numerous international destinations and connects passengers to virtually every major airport and a substantial list of minor destinations in the United States.
The airport is also located directly adjacent to downtown Phoenix, allowing for a day out on the town if you plan for a lengthier stop in the city. Phoenix Sky Harbor has been lauded for its services, timely departures, and comfortable terminal halls that make killing time while waiting for the next flight an enjoyable experience. You may not always have the opportunity to route your travel through Phoenix, but if you do, you'll have to pass on this travel hub at your own peril.
Chicago O'Hare International Airport (ORD)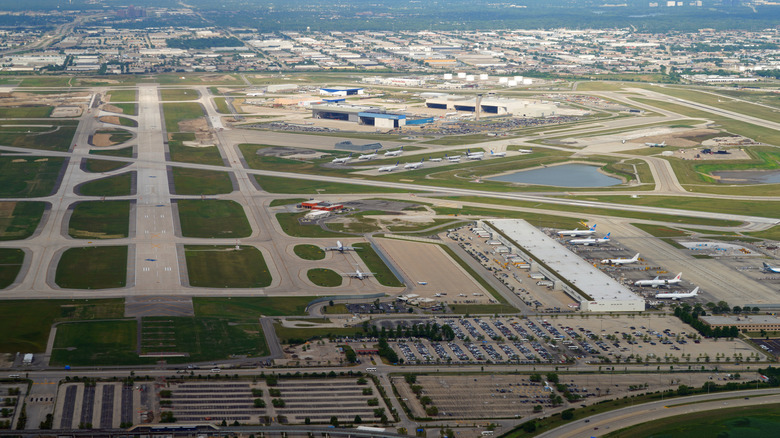 EQRoy/Shutterstock
Chicago O'Hare International Airport (ORD) is a sprawling complex that can be hard to navigate, especially during busy seasons of travel. Competing rankings continuously name ORD among both the best and worst airports in the United States, citing a bevy of faults as well as bright spots in Chicago's terminals.
The crux of this division appears to fall primarily along the lines of domestic and international travel, much like many other airports that exhibit competing data. Yet, Chicago is one of the busiest airports in the entire world, so short layovers become increasingly stressful for travelers rushing to make their connections. Similarly, domestic flights across the country can be facilitated by other airports in the American heartland and its surrounds (like Houston, Dallas, Detroit, or even Atlanta, Phoenix, or Denver). This makes ORD a potentially stress-inducing layover destination when other options exist. But for longer stops and international travel, enjoying the amenities that Chicago has to offer can make your trip all the more enjoyable.
Seattle-Tacoma International Airport (SEA)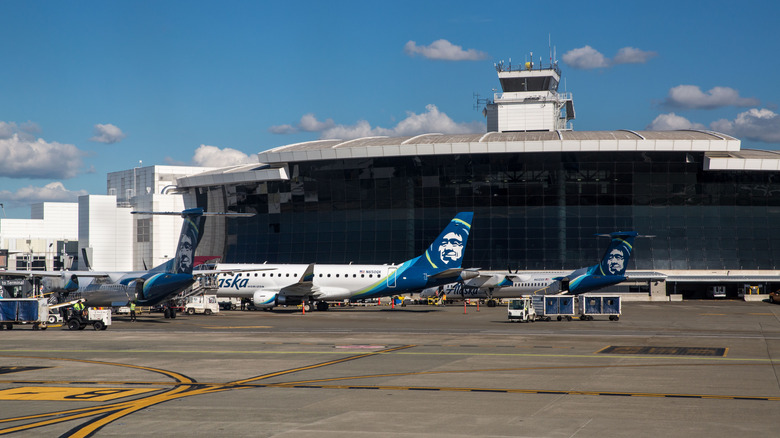 George Rose/Getty Images
Unlike some other airports on this list, Seattle-Tacoma International Airport (SEA) is not a controversial or niche selection. It's been named one of the best airports in the country and in the world on numerous occasions and Skytrax has given it four stars for facilities, services, and other key metrics. It's also been honored for the level of cleanliness onsite. There are a variety of amenities including restaurants, relaxation spaces, and retail services that have recently found their way into Seattle's airport terminals, and yet the airport is already planning another five-year upgrade forecast that will continue to modernize and luxuriate this elegant Pacific transit hub.
Moreover, Seattle might not initially seem like an obvious layover destination, considering its positioning in the far northwestern corner of the contiguous United States. And yet, the airport serves numerous destinations across Asia, Europe, Central America, and the Middle East. Seattle-Tacoma is the height of luxury when it comes to relaxing between flights. It also supports a thriving Seattle area community that should be high on your list of places to visit, even if you've only got time for a daylong city break!
John F. Kennedy International Airport (JFK)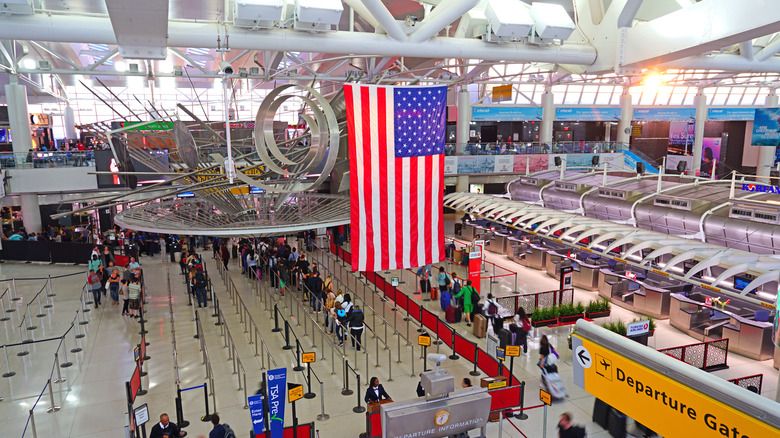 EQRoy/Shutterstock
New York's John F. Kennedy International Airport is a known quantity for many travelers. It served almost 27 million travelers in 2022, and is a classic stopover destination for international fliers headed to virtually anywhere in the world. There are currently 192 destinations serviced directly from this New York air transit facility, covering a truly astounding 79 countries. Travelers can fly to destinations on every continent (except Antarctica) from here.
Yet, even with the high volume and complex network of flights in and out of the six operational terminals, passengers are almost guaranteed to have a better experience than those who choose to stop in LaGuardia or Newark. JFK has a great food selection and is a generally more comfortable place to relax between landing and your next departure.
However, it should be noted that even though it's across the Hudson River in New Jersey, Newark Liberty International Airport (EWR) is a faster transfer on public transit to the city. If you're looking to spend a day or longer in New York on a layover, you'll just have to come to grips with the additional expense of a taxi or Uber ride to make the most of your time from JFK. Still, the connection schedule available here is superior. And combined with the creature comforts that aren't included in Newark's sterile environment that somehow feels more like a waiting room than the one at your doctor's office, JFK comes out ahead.
Detroit Metropolitan Wayne County Airport (DTW)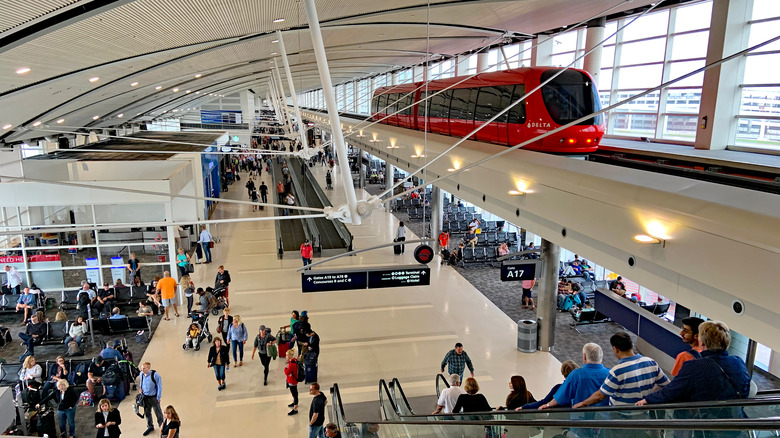 Thomas Barrat/Shutterstock
Detroit Metropolitan Wayne County Airport (DTW) is yet another oddity when considering positive layover experiences. The airport is situated centrally across the continent and significantly far north within the contiguous United States. This makes it an excellent jumping-off point for flights headed to Europe, Asia, and even the Middle East. We have personally flown through DTW on our way back to Shanghai and found the terminal to be exceedingly easy to navigate. 
Generally speaking, airports snake their way through multiple wings that twist and turn creating a maze that increases in complexity alongside your stress level. DTW on the other hand offers itself as one long terminal hall, with people mover strips running along the center to help you get where you're going in a hurry. Per FinanceBuzz, the airport sports a stellar .38% canceled flight rate, meaning you're unlikely to find yourself seeking a backup air travel plan. This is an important feature, since the primary knock against the airport is a lack of nearby airport hotels that can service passengers on an unexpectedly long delay. Skytrax lauds the facility specifically as a transit hub, calling out features such as the shuttle service and the moving walkways that run in a nearly continuous string across the hall. Additionally, J.D. Power ranked Detroit "the best mega airport in North America," according to reporting by Yahoo!, and it's won many other awards.
Orlando International Airport (MCO)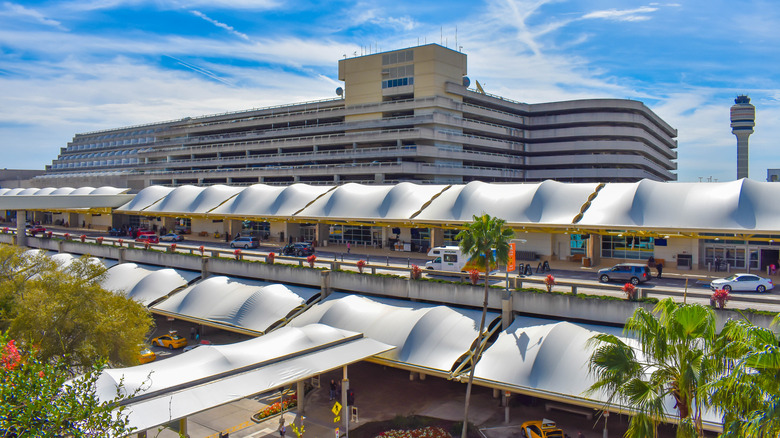 VIAVAL TOURS/Shutterstock
Finally, Orlando International Airport (MCO) breaks into this vaunted group of airline connection destinations. Not only can you depart Orlando for a long-haul voyage to Dubai (from which nearly anywhere else in the world becomes a potentially direct flight away), but a variety of South American and Central American destinations are served by flights from the central Florida hub. You can also travel direct to four different U.K. destinations among a few key European routes. In addition to its utility as a go-between for these exciting endpoints, Orlando International Airport enjoys a truly minuscule canceled flight rate, standing at .54%, according to FinanceBuzz.
The Orlando metropolitan area is dominated by the Walt Disney World landscape as well as competing local theme parks that add a different kind of long layover experience to the town. There are a number of lounges at Orlando International Airport, and the restaurant options are good. Travelers will have a better experience if they choose to make this a long layover destination that allows for a more encompassing Orlando stay outside the terminal itself rather than a short hop. As a result, this is a good airport to find on your travel itinerary, but not always the best one.