The Cheapest (And Best) US Cities To Visit When You're Broke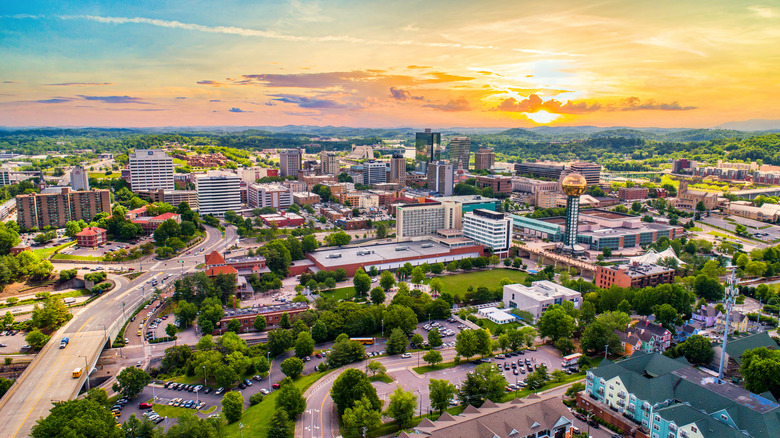 Kruck20/Getty Images
Just because you don't have a big bank account doesn't mean you can't enjoy a vacation every once in a while — it just means you have to be frugal and pick the right locations. There are plenty of inexpensive cities in the U.S. where you can travel on the cheap while still finding interesting things to see and do. Whether you're going solo, on a romantic getaway or taking the family along, every city has a range of affordable activities — many of them free — if you know where to look. Fancy a riverfront light show in Memphis? Or standing under the ginormous St. Louis Gateway Arch? Or how about exploring Petroglyph National Monument in Albuquerque? All totally worthwhile and totally FREE activities that can be just as fun as expensive tours. 
To get deals on hotels, try traveling during the destination's low season, if it has one. And, consider alternatives to expensive restaurant meals, such as sampling the city's food trucks or having a picnic with finds from local markets. Wherever you decide to visit, traveling with limited funds requires some creative thinking, and perhaps an open mind, but little sacrifice.
Memphis, Tennessee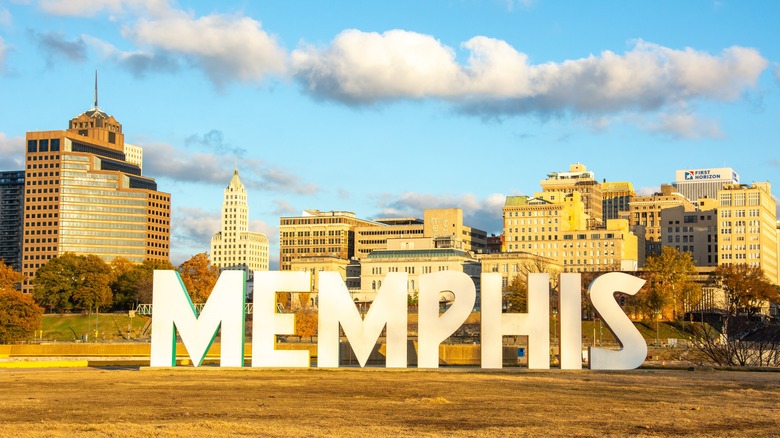 Nina Alizada/Shutterstock
The second-largest city in Tennessee, Memphis is best known for its music and is widely considered the home of blues and the birthplace of rock music, as well as R&B, soul, gospel, and jazz. In fact, nearly 20 percent of the first Rock 'n' Roll Hall of Fame inductees originated from within 100 miles of Memphis. Stroll vibrant Beale Street, a 1.8-mile stretch lined with funky bars, live music venues, galleries, and cafes. Catch a free street show or a happy hour performance, check out some art, and soak up the history of the original hub of blues music. 
You can also catch free concerts at Overton Park Shell on weekends, or free yoga and fitness classes throughout the week. Other attractions not to be missed include the National Civil Rights Museum in the historic Lorraine Motel where Dr. Martin Luther King was assassinated, and the Memphis Zoo, ranked among the top 10 zoos in the U.S. At night, wander the waterfront promenade and stop to catch the nightly Mighty Lights shows that illuminate the Hernando de Soto and Harahan bridges.
Cincinnati, Ohio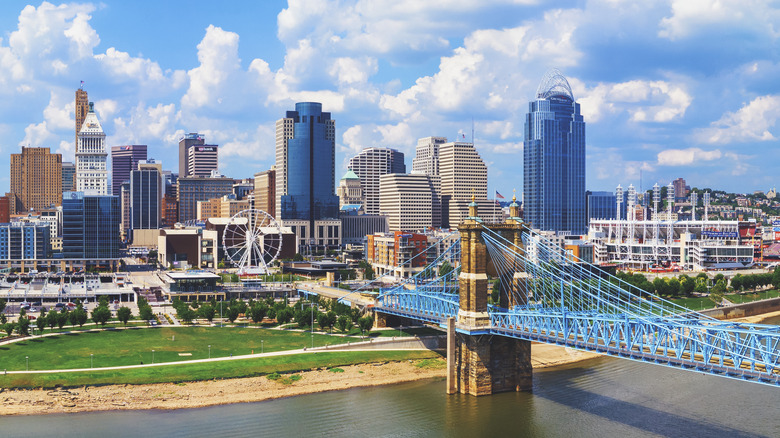 Pawel.gaul/Getty Images
If you're a chili-lover, Cincinnati should be at the top of your list of cheap vacation destinations. Chili is generally inexpensive fare, and Cincy boasts more chili restaurants than any city in the nation. It also has more than 80 breweries to help you wash all that chili down. Findlay Market is home to the annual ChiliFest, where you can sample creative recipes — like kimchi chili — from dozens of vendors for one low price. Even if you don't like chili, the Findlay Market is worth a visit. 
The oldest public market in Ohio, Findlay Market features at least 100 vendor booths offering everything from artisan cheeses and meats to ceramics and fresh flowers. You can take a tour of the market for just $5, or you can catch a free tour on the second and fourth Saturdays of the month. Findlay Market is located in Over-The-Rhine, one of Cincy's 52 historic neighborhoods. It's among the largest districts in the U.S. on the National Registry of Historic Places, its rich history evident in its concentrated collection of 19th-century architecture. Other must-visit historic neighborhoods include the downtown area — where you can find the Taft Museum, Carew Tower, Fountain Square, and the Roebling Bridge — and the West End, which features the oldest home in Cincinnati — the 1804 Betts House.
Richmond, Virginia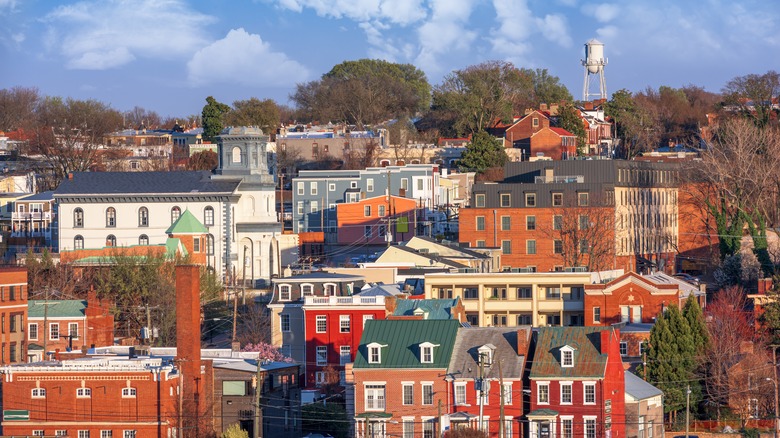 Sean Pavone/Shutterstock
Richmond offers a diverse mix of attractions, from its museums and historic sites to an array of outdoor activities. As one of America's oldest cities, it's also a historic treasure trove. In 1775, Patrick Henry spoke the hallowed words, "Give me liberty or give me death!" in Richmond's St. John's Church. Built in 1771, the church is still active, and visitors can take a tour or catch a public reenactment of the Virginia Ratifying Convention debates. Richmond is also home to the White House of the Confederacy, where President Jefferson Davis lived throughout the Civil War. If museums are your thing, Richmond's has plenty to offer. Its 40 museums include the Virginia Museum of Fine Arts — one of the country's largest art museums — as well as the Science Museum, Virginia Holocaust Museum, and the Black History Museum. 
When the weather is fine, get outdoors with a trip to Belle Isle Park, the city's own "island retreat." Located downtown in the James River, it can be reached by a footbridge from Tredegar Street. There you can hike, bike, rock climb, or simply soak up some sun on riverside expanses of flat rock. For adventure seekers, Richmond boasts the country's only urban class IV rapids. 
Knoxville, Tennessee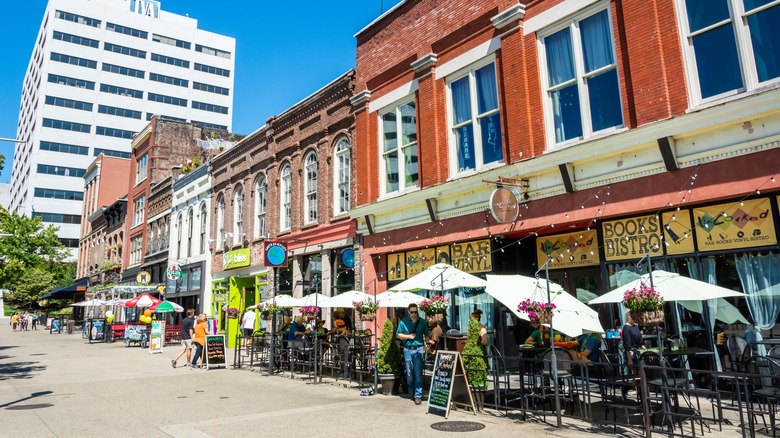 Alizada Studios/Shutterstock
Nashville is the most popular destination city in Tennessee, but it's gotten pricey thanks to the growth of the music and tourism industries. You can avoid the cost and the crowds and still get a taste of Tennessee culture by choosing Knoxville for your getaway instead. There, you'll find plenty of free and low-cost activities and small-town charm. Head to the Knoxville Museum of Art adjacent to the World's Fair Park (the site of the 1982 World's Fair) to see Richard Jolly's steel and glass installation — among the largest in the world. 
Take in some of nature's art at the Knoxville Botanical Gardens, where you can stroll around 47 acres of horticultural delights. After the flora, check out some fauna at Zoo Knoxville. Known as the Red Panda Capital of the World, it has had the greatest number of red panda births among all the zoos in the world. You can also visit the one-of-a-kind Women's Basketball Hall of Fame to learn all about the history of women's basketball and shoot some hoops on the lower-level court. When you get hungry, seek out Yassin's Falafel House for some affordable Mediterranean eats. Burn off your meal with a hike at the can't-miss Ijams (pronounce eye-mms) with 10 miles of trails, including a boardwalk trail that wraps around rock formations and overhangs the river. 
Salt Lake City, Utah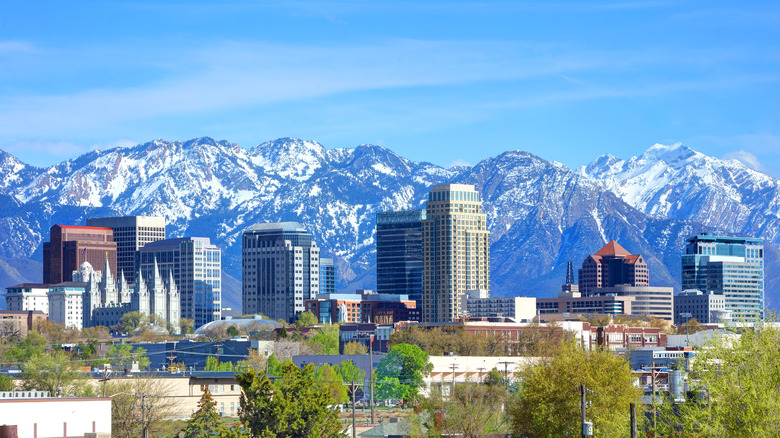 Denistangneyjr/Getty Images
Salt Lake City sits in a valley with a dramatic landscape of mountains rising all around it. With its prime location, it's a hub for outdoor sports like mountain biking and skiing. It's also a jumping-off point for touring some of the nation's most beautiful national parks, including Arches and Great Basin. For a less strenuous — and less expensive — outdoor activity, you can find some easy but beautiful hikes just a short drive outside of town at Big Cottonwood Canyon and Brighton Ski Resort. Or, you can take scenic drives around Mirror Lake and Provo Canyon. 
In town, head to Temple Square where you'll find the architecturally stunning headquarters of the Church of Jesus Christ of Latter-day Saints. Take a tour of the grounds or watch a rehearsal of the Tabernacle Choir — both free activities. Or, visit the FamilySearch Library, the largest genealogical library in the world, where you can research your family tree. When you're hungry, make a visit to one of the city's many food trucks, which offer delicious food for less money than a sit-down restaurant. Some favorites are Tacos Don Rafa and Suzy Thai.
San Antonio, Texas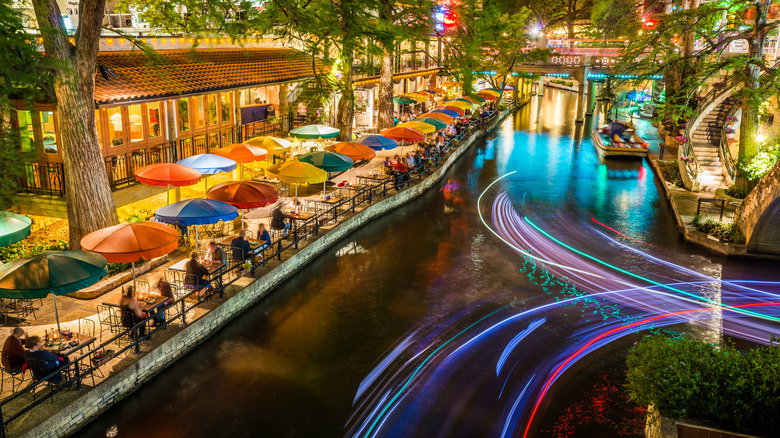 Dszc/Getty Images
One of the top attractions in San Antonio — and the state of Texas — is undoubtedly the River Walk. A network of winding pathways and footbridges on either side of the river running through downtown, it's like a little bit of Venice in the Southwest. Cafes, shops, and galleries line the riverfront, and there are often free events such as artisan markets and parades. Next, visit the San Fernando Cathedral founded in 1731. It's Texas' oldest church and sits in the main plaza of San Antonio's historic district. It's worth a visit during the day to admire its mixture of colonial Spanish and French Gothic architecture, but you should also plan to come back after dark to see the free sound and light show projected onto the church's facade. 
While you're in the historic district, wander over to the El Mercado — literally, "the market" in Spanish. Stretching three city blocks, it's the biggest Mexican market in the country. Window shop the stalls filled with Mexican crafts, and catch a free performance of Mexican music or traditional dance. When you get hungry, there are plenty of food carts offering a variety of Mexican favorites at affordable prices. 
Albuquerque, New Mexico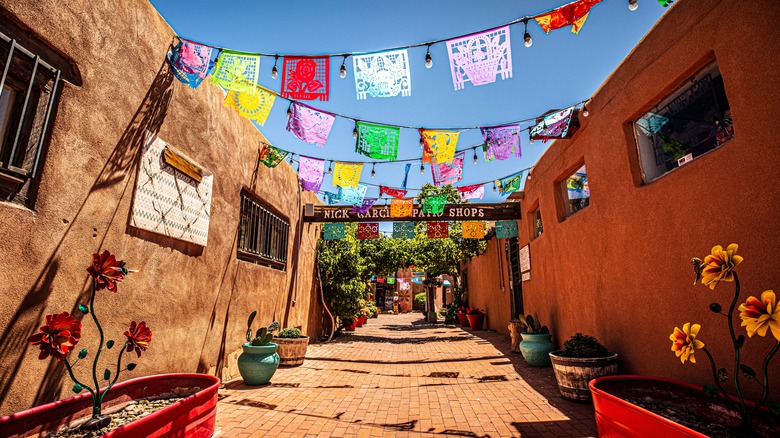 Earth Trotter Photography/Shutterstock
For something exotic without having to leave the country, head to Albuquerque, New Mexico. One of the most culturally diverse cities in the nation, it's a tapestry of Native American, Latino, and Hispanic heritage. As a result, you'll find a wide variety of art, architecture, and cuisine to explore. Start the journey at the Albuquerque Museum of Art and History, which showcases art and antiquities exclusively from the American Southwest. Just across Tiguex Park, you'll find the New Mexico Museum of Natural History and Science, where you can learn all about the history of the region, and view the museum's collection of dinosaur fossils. On the first Friday of the month, you can take part in the ABQ Art Walk, featuring local artists, vendors, and live music. You can also follow the Mural Mosey, a self-guided tour of the city's array of inspired street art. 
Albuquerque is also surrounded by beautiful landscapes and plenty of opportunities for outdoor enjoyment. Head to Petroglyph National Monument to view thousands of images etched into rock as early as 2000 BC. You can also explore the 100+ miles of hiking trails in the rugged Sandia mountain range east of Albuquerque. Lastly, if you happen to visit during October, you can see the splendor of the annual balloon festival, in which hundreds of colorful hot air balloons are launched into the sky. Ticket prices are steep, but you can snag views of the spectacle for free from several spots around town, including Vista Del Norte Park. 
Louisville, Kentucky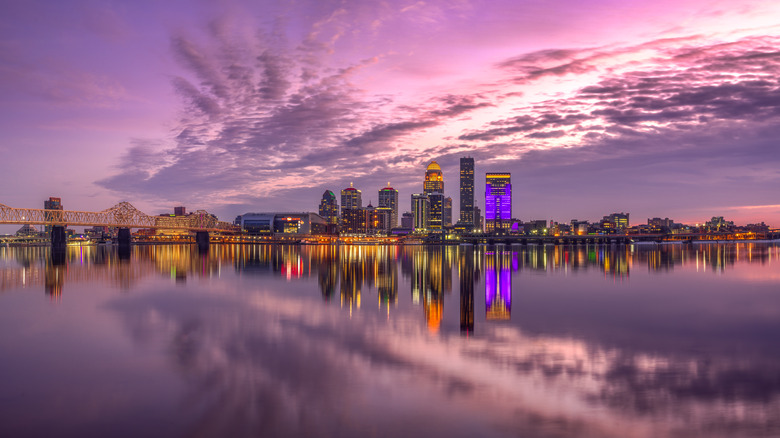 Wirestock/Getty Images
Louisville is home to the Kentucky Derby and some of the world's finest bourbon distilleries. It's also an affordable city that offers plenty of history, culture, and cuisine. No visit to Louisville would be complete without a visit to the horse-racing mecca, Churchill Downs, where for only $12, you can get a ringside seat for a taste of what has been dubbed "the most exciting two minutes in sports." On Twilight Thursdays, you can see live Thoroughbred races while you sip $2 domestic beers, listen to live music and chow down on food truck fare. Recover from all that excitement with a stroll through Old Louisville and its quiet streets lined with historic mansions in a variety of architectural styles. 
For something more modern, pay a free visit to the 21c Museum Hotel, which houses a 9,000-square-foot gallery space filled with modern art. And, while going to a cemetery is probably not high on your list of fun things to do on vacation, you should definitely visit Cave Hill Cemetery. This sprawling 296-acre burial ground dating back to 1848 is the resting place of several celebrities, including Colonel Sanders and Muhammed Ali. Cave Hill is also known for its gardens, arboretum, and collection of trees and tree species — 7,000 and almost 600, respectively. 
St. Petersburg, Florida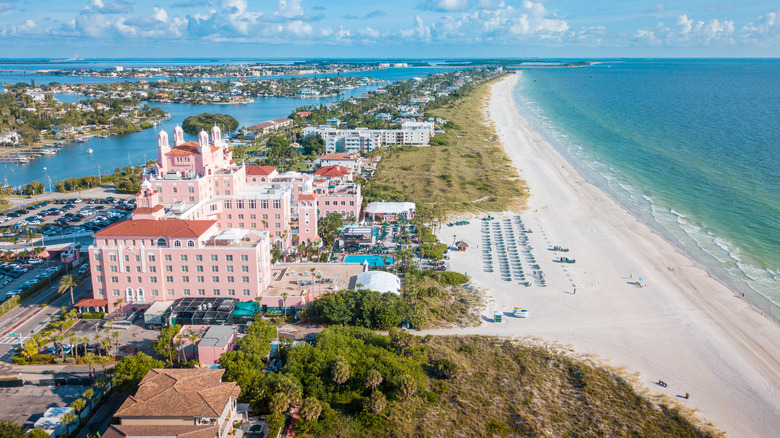 Artiom Photo/Shutterstock
Even with its prime waterfront location, St. Petersburg on the Gulf Coast of Florida is still a fairly affordable city with tons of low-cost and free activities. Playing on the sand and swimming in the sea is free at any number of public beaches, such as the highly rated Upham Beach Park. Bask on its wide-open white sand beach backed by sand dunes and, if you're lucky, get a free dolphin show. When you're done having fun in the sun, get cleaned up and head into town for a little culture. 
Oddly enough, St. Pete is home to the internationally acclaimed Salvador Dali Museum, featuring more than 2,000 works from the famous Spanish surrealist artist. It's not free, but if you go on Thursday after 5 p.m., tickets are half-price — and well worth it. Other museums offering discounted admission after 5 p.m. on Thursdays include the Imagine Museum and the Museum of Fine Arts. On Tuesdays, The James Museum offers discounted admission all day. Don't want to shell out the bucks? Take in St. Pete's totally free works of art by taking a self-guided walking tour to see some of the city's finest murals. Feeling thirsty after all that walking? Head on over to the Tarpon Springs distillery for a free tour and tasting of small-batch artisanal spirits. 
Kansas City, Missouri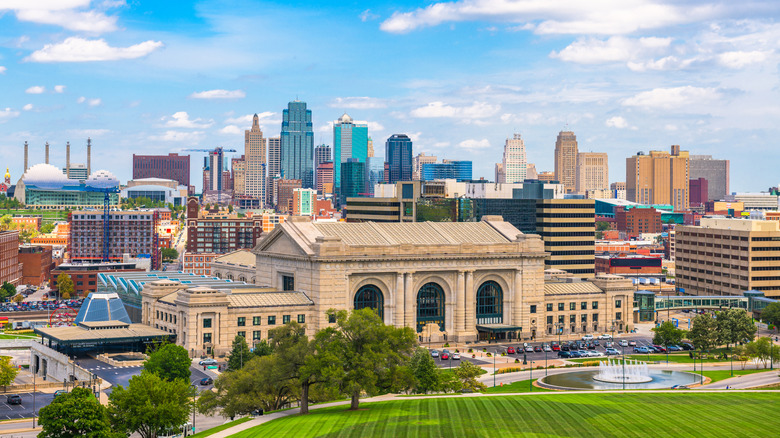 Sean Pavone/Shutterstock
Nicknamed the City of Fountains for its hundreds of water features, Kansas City is a hidden gem that many people overlook. But whether or not you're short of cash, it's worth a visit. If you come from April through October, you'll be able to see all of the fountains flowing. Rack up your step count by taking a self-guided walking tour of the city's spouts, which will also give you the opportunity to get to know several neighborhoods, including trendy Brookside and the historic River Market District, the latter of which is home to the City Market — a 150-year-old market selling everything from fruit and vegetables to vintage finds. 
From there, hop on the free street car, which will take you down Main St. to the Power & Light District — a bustling eight-block commercial hub with a variety of bars, restaurants, shops, live music, and other events. Hop back on the streetcar, and ride it all the way to the terminus at Union Station. Opened in 1914, it was the third-largest train station in the world at the time. Admiring the architecture is free, as are the Money Museum, the Hallmark Visitors Center, and the Model Train exhibit housed inside the station.
St. Louis, Missouri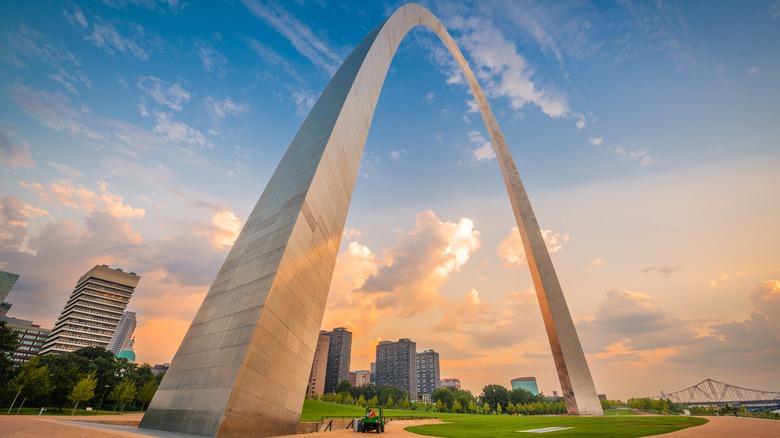 Sean Pavone/Shutterstock
St. Louis is best known for its iconic Gateway Arch, a massive steel structure 630 feet high and 630 feet from leg to leg. Completed in 1965, it represents St. Louis' historic position as a Gateway to the West. You can ride the tram to the top for a cost of $13 to $19, or you can admire the arch from the ground while exploring the 91 acres comprising Gateway Arch National Park. Delve deeper into the history of the city and state at the Missouri History Museum. Admission is free and offers access to a variety of permanent and short-term exhibits. 
The St. Louis Zoo also offers free admission. Repeatedly ranked as one of the top zoos in the country, it's home to more than 16,000 creatures, many of which are endangered. Snag more freebies with a visit to the St. Louis Science Center, a combination of science museum and planetarium that also features an OMNIMAX theater, where, for a moderate fee, you can watch science and nature films displayed on a massive five-story domed screen with surround sound. When you've had enough of being cooped up inside, explore one of the city's many outdoor attractions, including the Laumeier Sculpture Park and Creve Coeur Lake Memorial Park.
Detroit, Michigan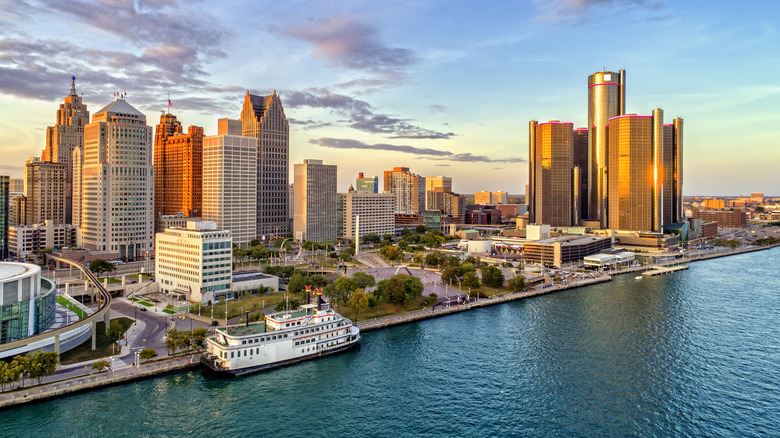 Pawel.gaul/Getty Images
It may be one of the poorest cities in America, but Detroit's not short on fun ways to spend a few days of vacation. In fact, it's experiencing a renaissance of late, transforming from a rough-around-the-edges industrial hub into a hot spot for those in the know — the same savvy travelers who reap the benefits with low prices on food, lodging, and activities compared to many of the country's other big cities. The Detroit Riverfront has gotten a facelift in the last decade, and it's now one of the favorite gathering places in the city. Stroll the 3.5-mile waterfront promenade offering expansive city and water views. 
Start at the West Riverfront Park and make your way to Horace E. Dodge Fountain, where you'll also find the International Memorial to the Underground Railroad. The 14-acre Hart Plaza is home to the annual Jazz Festival, so if you time your visit just right, you may get a musical treat. Grab some bites at a local market and make your way to William G. Milliken State Park and Harbor, where you can visit the lighthouse and have a picnic when the weather is fine. If you've still got some energy, hop over the river to Belle Isle, a 982-acre island park with a museum, a nature center, and an aquarium. Stretch out on the river beach or splash in the water, then zip down the giant slide for $1 a ride. 
Madison, Wisconsin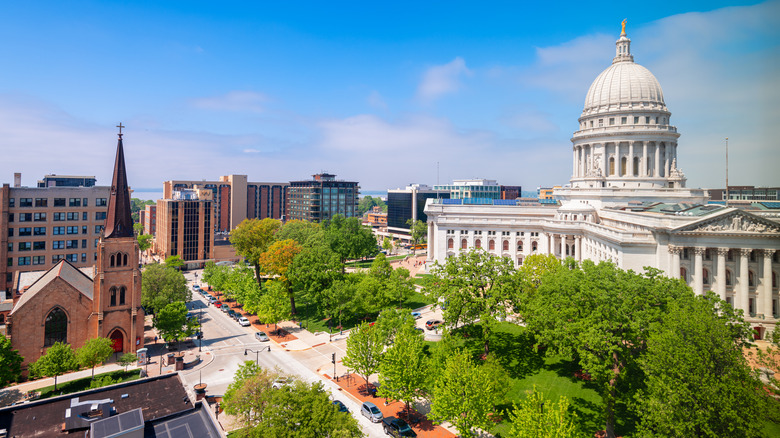 Sean Pavone/Shutterstock
Madison is where beer and cheese lovers go on vacation. If it's your first time in the state, trying Wisconsin's fave snack, the small, springy, and squeaky cheese curds, is a must-do. Wash down those curds with a couple of beers from some of Madison's craft beverage makers. Download the Madison on Tap app and get discounts at all 30+ watering holes on the list. We don't recommend drinking and biking, but at some point during your stay, you should plan to grab a cheap rental bike and see why Madison ranks as one of the top five cycling cities in the U.S. 
If you prefer your own two feet as transportation, take a stroll through any one of Madison's 260+ parks and 6,000 acres of parkland. Olbrich and Vilas (Henry) parks are highly rated and perfect places to take your cheese curds for a picnic. Olbrich is also home to 16 acres of botanical gardens that are free to enter. The University of Wisconsin-Madison Arboretum is also free and quite a bit bigger at 1,200 acres of gardens, savannas, wetlands, prairies, woodlands, and 20 miles of hiking, biking, and snowshoeing trails. In the summer, wind down your days with free concerts and great views atop the Monona Terrace Community and Convention Center.