The 50 Best Beaches In The World In 2023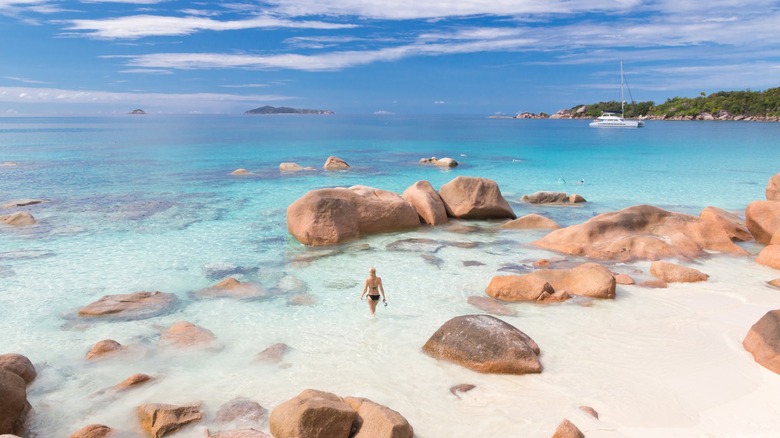 iStock.com/kasto80
Mountains are certainly pretty, reaching toward the heavens, and cities are exciting, assaulting our senses through their variety of experiences, but can any setting touch us as deeply as the beach? The feeling of the sand between our toes, the gentle whispering of the water as it advances and retreats, and the salty breeze pushing past, almost as a constant, all combine to have a hypnotic effect. Beyond the simple pleasures of feeling refreshed and rejuvenated after a trip to the beach (as well as pleasantly fatigued from all that swimming!), science backs up the assertion that for the human race, being near the coast is good for general well-being.
In a 2013 study, conducted by scientists in the United Kingdom, people living within a few miles of the coast were found to be in better health, both in terms of their physical energy and mental wellness, than those living further away from the shore. While a visit to any beach is time well spent, some beaches truly stand out from the pack. Browse the list below, it will be sure to ramp up your wanderlust.
1. Grace Bay Beach (Providenciales, Turks and Caicos)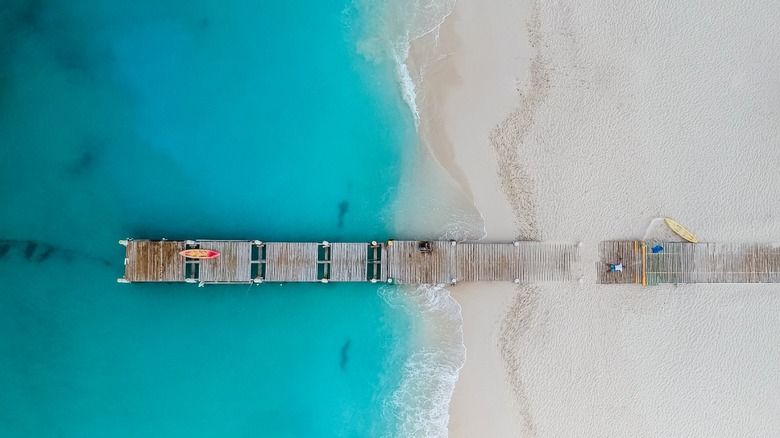 iStock.com/JoaoBarcelos
Located on the island of Providenciales in Turks and Caicos, Grace Bay Beach is as pristine as it gets, with a barrier reef about a mile out keeping its stark, turquoise blue waters and white sands free of any seaweed, rocks, or pollution. Many of Providenciales' resorts are situated along this stretch of gorgeous coastline, which is just three miles long.
2. Whitehaven Beach (Whitsunday Island, Australia)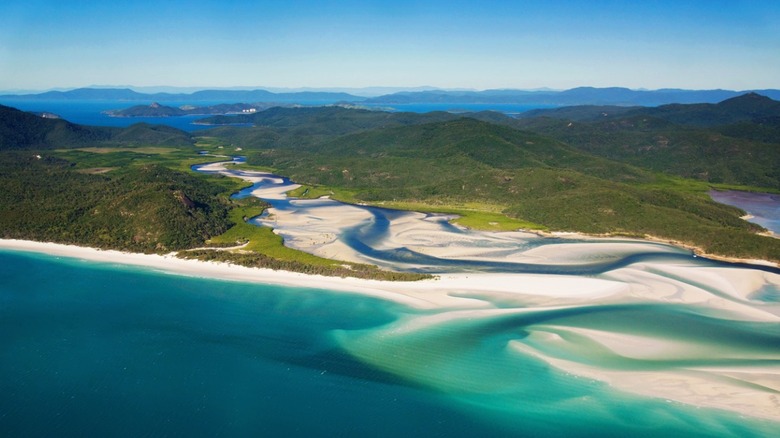 iStock.com/kokkai
The sand of Whitehaven Beach in Australia is made up of 98% silica, which means it's both very soft and cool, making it perfect for walking through barefoot. A popular spot for yachts, ferries, and motorboats, the beach stretches a little over four miles. While it doesn't have a reef, and therefore much in the way of snorkeling or scuba diving opportunities, its water is so clear that you can still see fish swimming by without any gear.
3. Cala Jondal (Ibiza, Balearic Islands)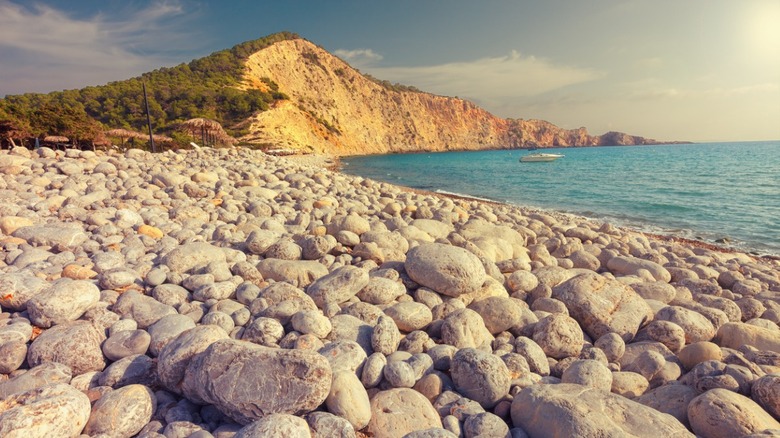 iStock.com/jarcosa
Private boats, beach clubs, and oceanfront dining are all quite popular at Cala Jondal, located in Ibiza, one of Spain's Balearic Islands, which is known for its nightlife.
4. Boulders Beach (Cape Town, South Africa)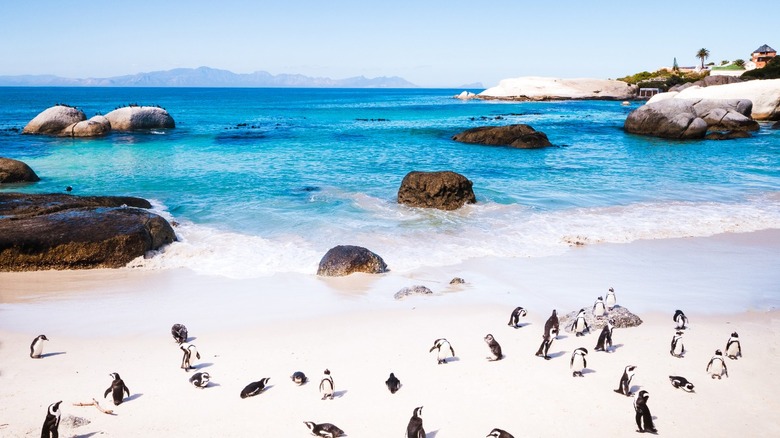 iStock.com/DanielHarwardt
This beach's signature feature is its residents — African penguins. Boulders Beach in Cape Town, South Africa, has picturesque granite boulders that frame its boardwalks and serene rock pools.
5. Elafonissi Beach (Crete, Greece)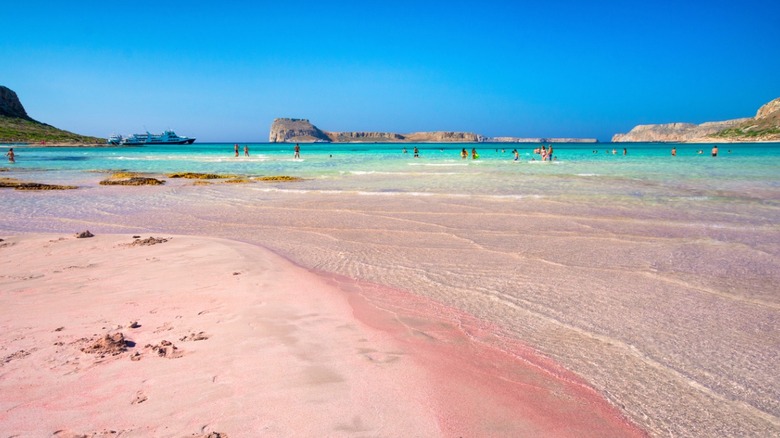 iStock.com/Gatsi
Situated on the southwestern coast of the Greek island of Crete, Elafonisi Beach has pink-tinged sand that makes for a mesmerizing contrast against the greenish waters and clear, bright blue sky.
6. Anakena Beach (Rapa Nui, Chile)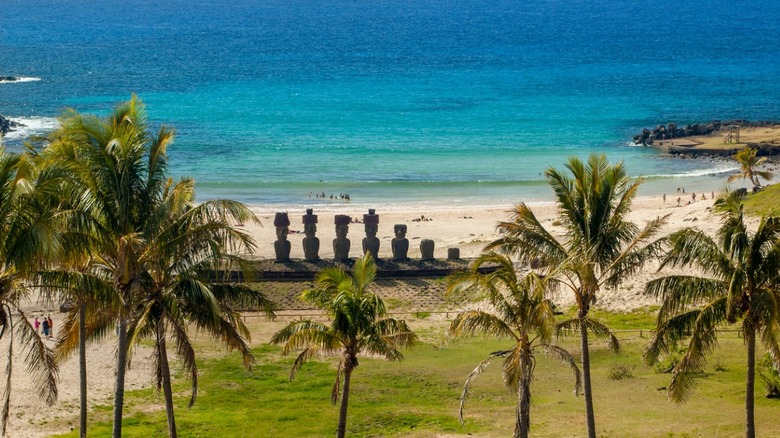 iStock.com/Christhilf
Rapa Nui (popularly known as Easter Island) is most famous for its moai, the iconic large-headed stone figures with mysterious origins. But it's also home to spectacular beaches. One of two beaches on the island, Anakena Beach has a dark, rocky coastline characterized by coconut palm trees, white sand, and six of the moai.
7. El Nido (Palawan, Philippines)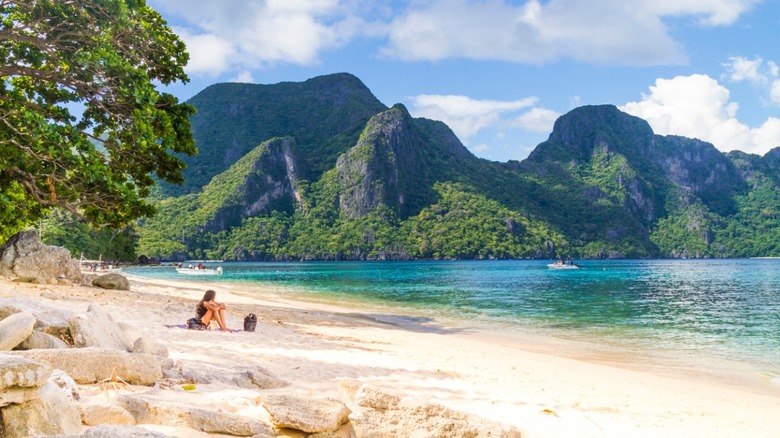 iStock.com/ampueroleonardo
Located in the Filipino province of Palawan, El Nido is a destination known for its gorgeous beaches with a backdrop of impressive limestone cliffs and green forests. The coral reefs in its waters have a diverse array of marine creatures, making it as picturesque underwater as it is on the shore.
8. Playa Delfines (Cancún, Mexico)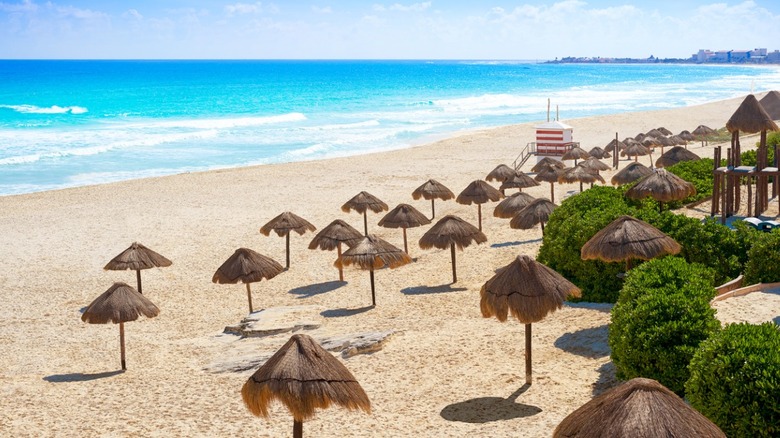 iStock.com/LUNAMARINA
Cancún's Playa Delfines features clear water that stays warm even at night, white sand that's comfortable to walk on, and waves that are perfect for surfing.
9. Flamenco Beach (Culebra, Puerto Rico)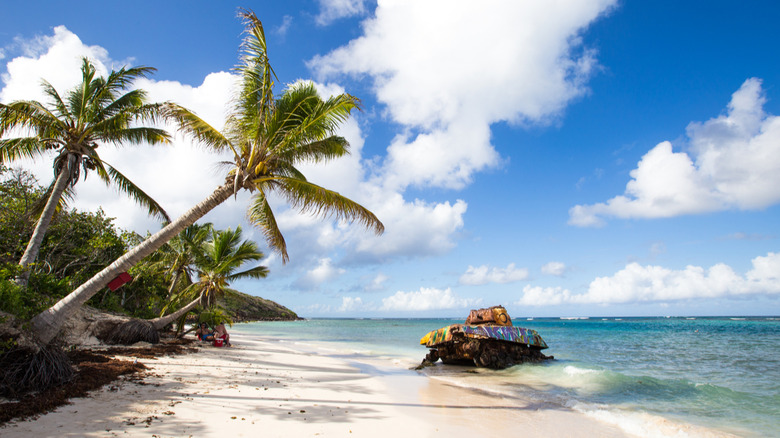 Tinapat Kotumrongsak/Shutterstock
The super-calm waters of Flamenco Beach make it an ideal spot for swimming, snorkeling, and sandcastle-building.
10. La Côte des Basques (Biarritz, France)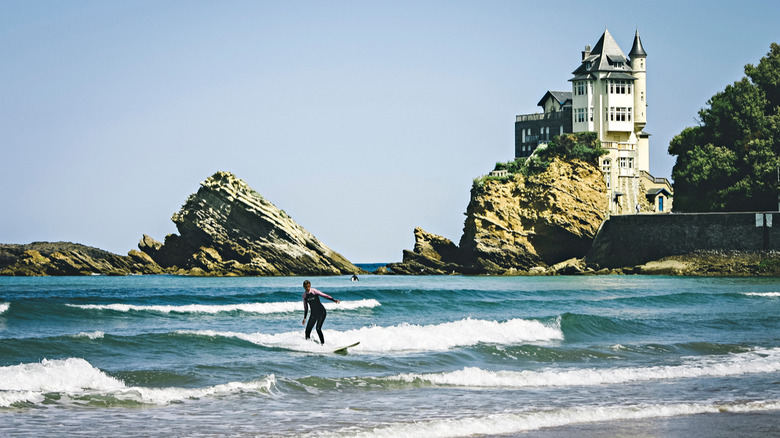 Gregory Guivarch/Shutterstock
Best known as the birthplace of French surfing, La Côte des Basques remains a premier destination for surfers from around the world.
11. Trunk Bay Beach (St. John's, U.S. Virgin Islands)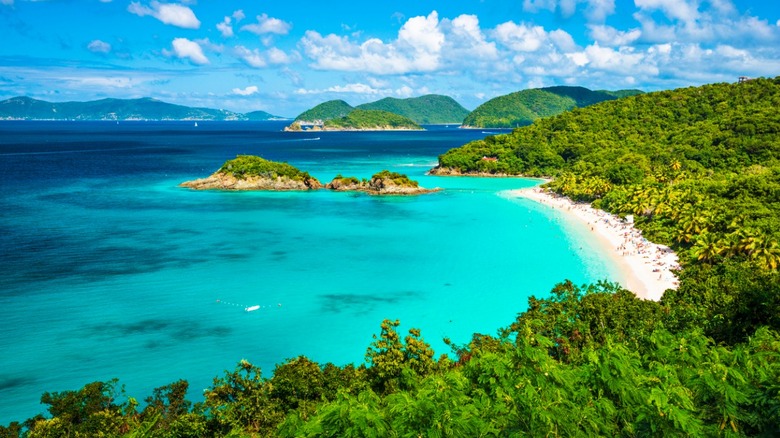 iStock.com/SeanPavonePhoto
Trunk Bay Beach is a snorkeler's paradise, with an underwater snorkeling trail that stretches 225 yards. On land, there is about a third of a mile to stroll past rental and beach shops and more.
12. Varadero Beach (Varadero, Cuba)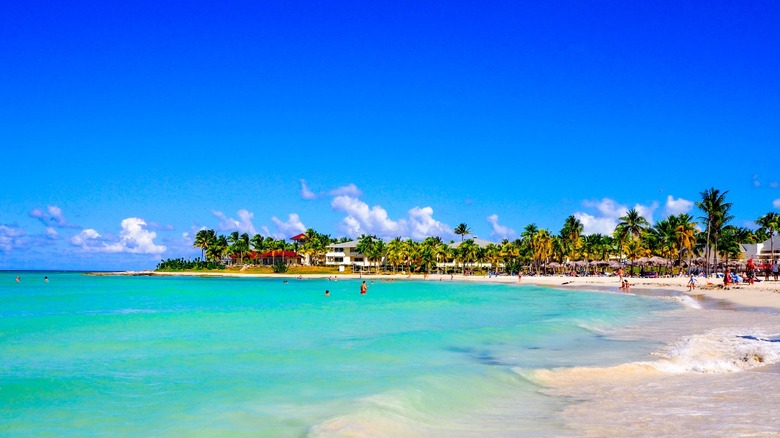 iStock.com/Aurore Kervoern
A 13-mile beach, Varadero Beach in Cuba is just 24 yards wide on average but has plenty of beauty in its aquamarine waters and fine, white sands.
13. Driftwood Beach (Jekyll Island, Georgia)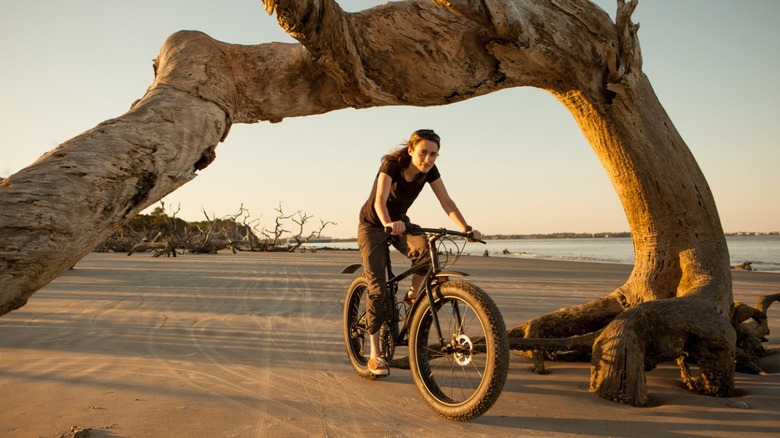 iStock.com/Silvrshootr
Jekyll Island has 10 miles of eerily beautiful shoreline, most notably the iconic Driftwood Beach. Driftwood Beach is characterized by ancient driftwood that is especially photogenic at sunset.
14. Natadola Beach (Viti Levu, Fiji)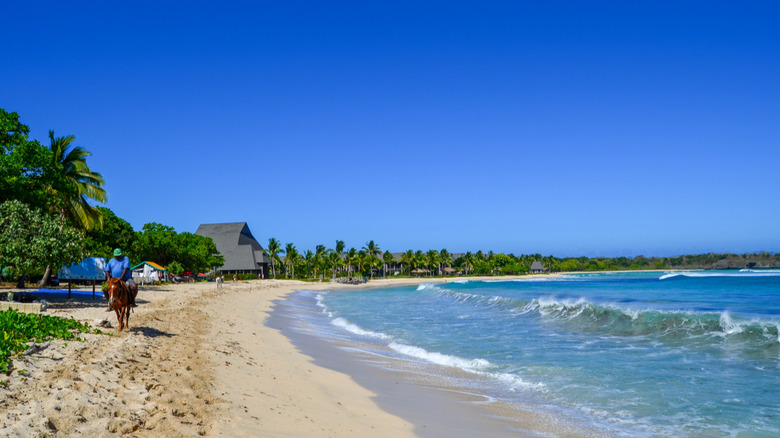 Nina Janesikova/Shutterstock
Natadola Beach generally has gentle waves, although it's best to visit during mid-high tide for safety. Clean sand and clear waters make this the perfect spot for exploring the wonders of the bay's reef.
15. Pink Beach (Komodo Island, Indonesia)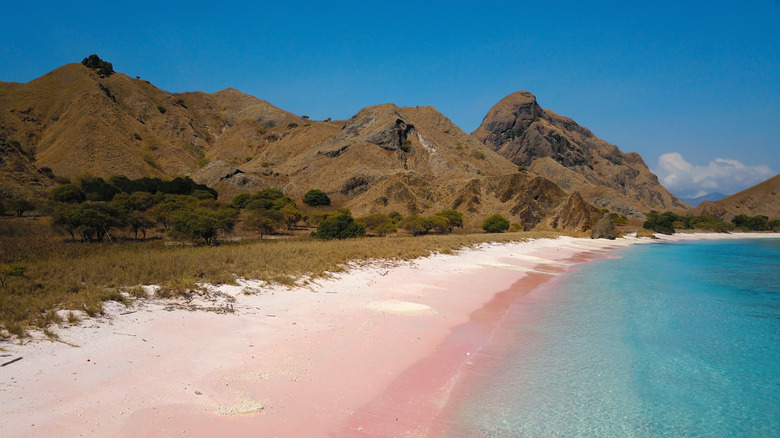 Gatot Adri/Shutterstock
There are pink beaches across the world, but this one is really special. Accessible only by boat, and located on the uninhabited island where the fearsome Komodo dragons are a major tourist draw, this expanse of rosy sand looks like it was lifted from a fairy tale, contrasting gloriously with the glimmering blue water. The snorkeling is also amazing, with coral and fish in abundance.
16. Ka'anapali Beach (Lahaina, Hawaii)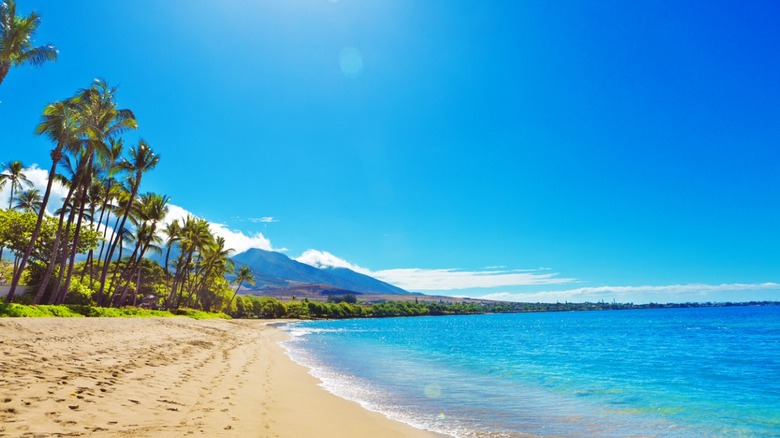 iStock.com/YinYang
Taking up three miles of Maui's western shore, Ka'anapali Beach was the first planned resort area in Hawaii and is today marked by five hotels and six condominium villages facing the shore. Every evening at sunset, a cliff-diving ceremony is held at the Puu Kekaa (Black Rock) cliffs, where a diver lights torches alongside the cliffs before diving off of them in a reenactment of a dive by a Hawaiian king.
17. Seven Mile Beach (Grand Cayman, Cayman Islands)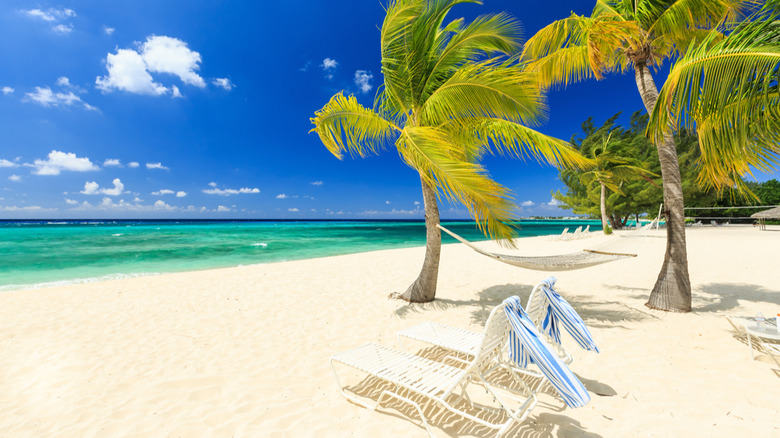 emperoroscar/Shutterstock
One of the most renowned spots on Grand Cayman in the Cayman Islands, Seven Mile Beach is home to plenty of resorts, restaurants, and beach bars as well as snorkeling, scuba diving, parasailing, and plenty of sunbathing.
18. Baía do Sancho (Fernando de Noronha, Brazil)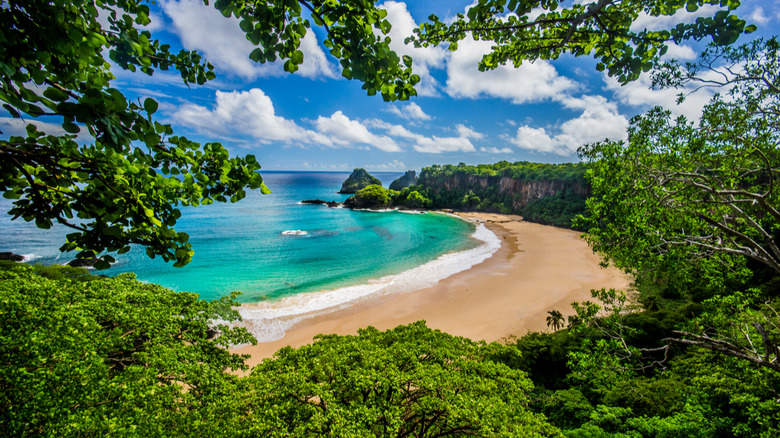 Andre Maceira/Shutterstock
Located on Fernando de Noronha, a Brazilian archipelago that limits visitors for the sake of preservation, Baía do Sancho (Sancho Bay) can only be reached via boat or by climbing 230 feet down three sets of stairs. The climb may get a bit dizzying — but so are the views once you're onshore or under the water.
19. Eagle Beach (Oranjestad, Aruba)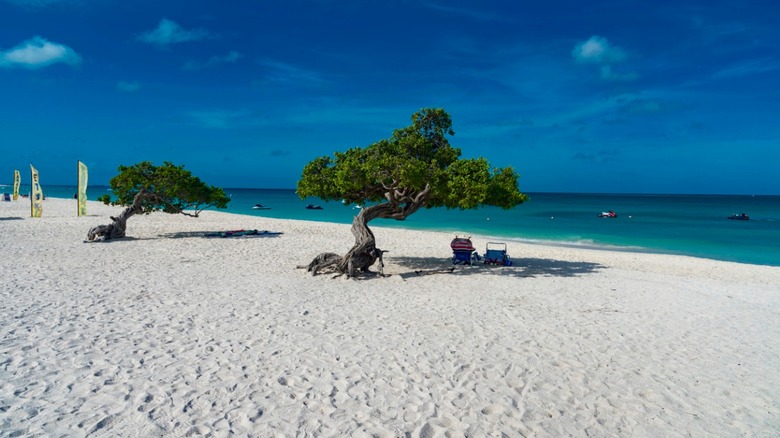 iStock.com/Diego Mariottini
At Eagle Beach in Oranjestad, Aruba, visitors can relax in a beach hut, catch some shade from a majestic divi tree, go jet skiing or sailing over the intensely clear turquoise waters, and marvel at the island's pristine white sand.
20. Jumeirah Open Beach (Dubai, United Arab Emirates)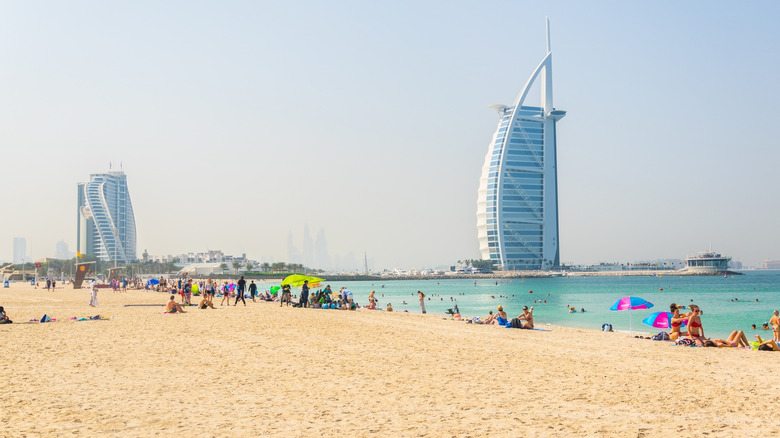 iStock.com/trabantos
Locals and visitors alike enjoy cooling off at Dubai's Jumeirah Open Beach, a public beach complete with lifeguards and bathroom facilities with showers. Beachgoers seeking drier recreation can check out the nearby running track or spend their time basking in the sun on the sand.
21. Fakarava (Tuamotu, French Polynesia)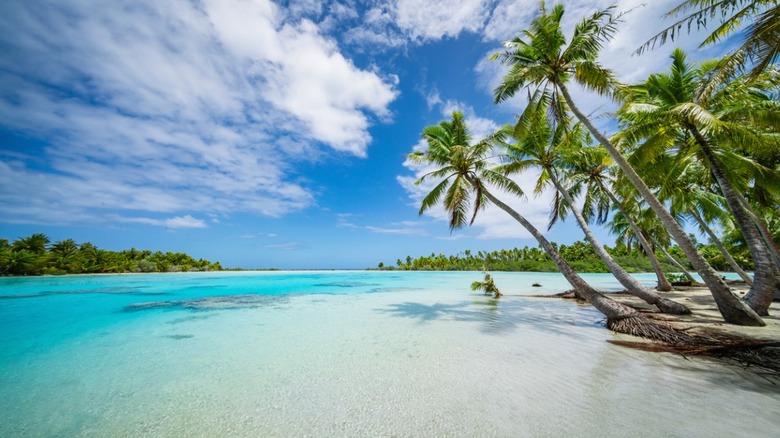 iStock.com/Mlenny
The second-largest atoll in French Polynesia, Fakarava looks like something out of a postcard. Its waters are so blue, it rivals the sky, making for a gorgeous picture next to the white sands.
22. Woolacombe Beach (Woolacombe, England)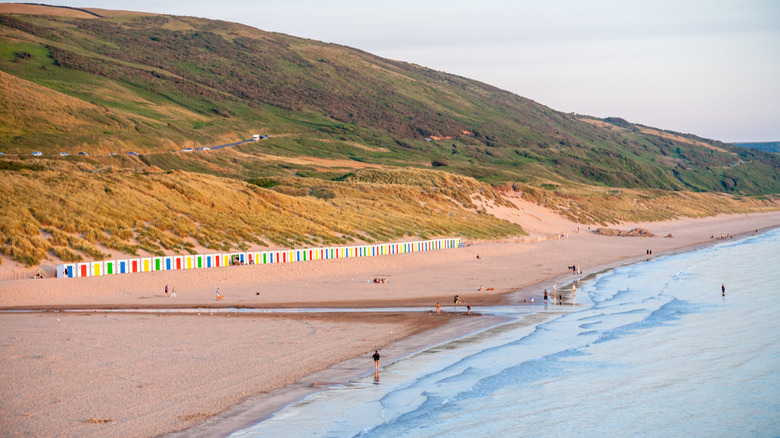 Hugh O'Connor/Shutterstock
Located in the southwestern English region known as the West Country, Woolacombe Beach is a three-mile-long getaway that welcomes families and surfers to its shores.
23. Long Beach (Perhentian Kecil, Malaysia)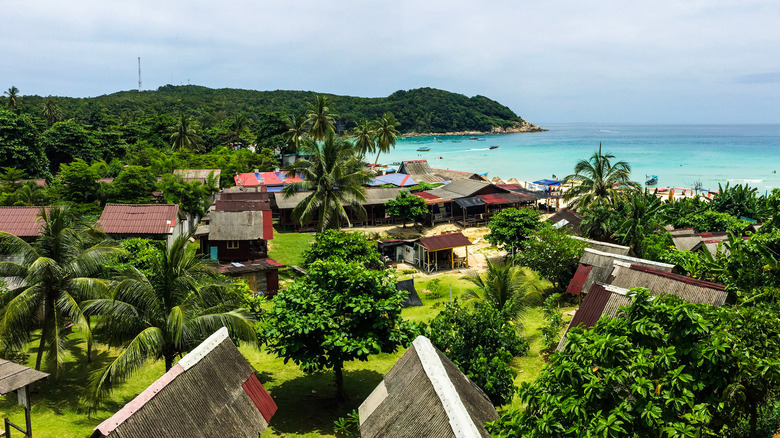 airellizwan/Shutterstock
Set on one of the Perhentian islands in peninsular Malaysia's northeast, this is a beautiful tropical stretch of sand that just screams for travelers to leap into the clear turquoise water. But it's also a lively spot, with plenty of restaurants and cafes, fire dances, and weekend festivities guaranteeing there is something to do round the clock.
24. Clearwater Beach (Clearwater, Florida)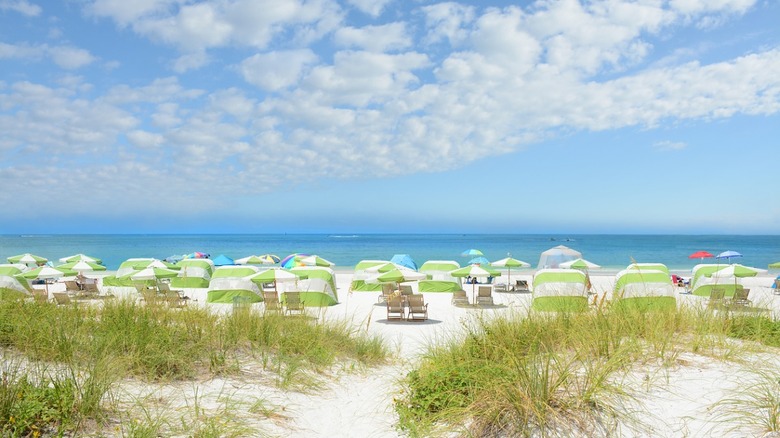 iStock.com/MargaretW
Once recognized as the best beach in America, Clearwater Beach is a paradise where beachgoers can take in beautiful sites of the shore or enjoy plenty of great live music and beachside restaurants. 
25. Reduit Beach (St. Lucia)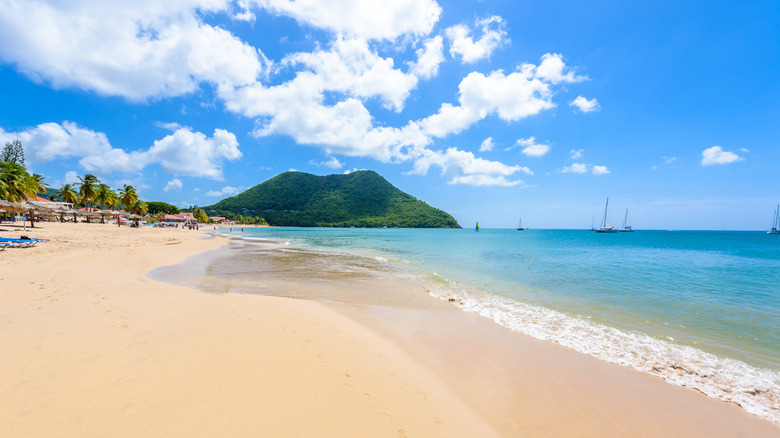 Simon Dannhauer/Shutterstock
Northeast of the capital Castries, this stretch of waterfront is long and wide, a rarity among beaches on this Caribbean island. That combination has made it a popular spot for resorts, and there is even a water park located at its northern end. For visitors who like long strolls on the beach and destinations with gorgeous sunset views, this place is hard to beat.
26. Radhanagar Beach (Havelock Island, Andaman and Nicobar Islands)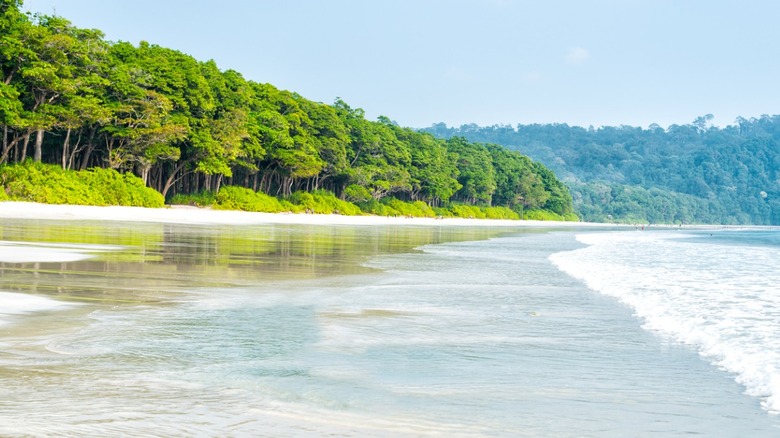 iStock.com/helovi
Radhanagar Beach in the territory of Andaman and Nicobar Islands has fine, white sand that sits against a striking backdrop of lush, bright green rainforest.
27. Manuel Antonio Beach (Quepos, Costa Rica)
Stefan Neumann/Shutterstock
Located within the Manuel Antonio National Park, this beach is one of many that draw visitors to the park. The sand is soft and seductive, the water calm and clear, and the scenery spectacular, with dense trees thriving behind the strip of sand, and the lack of facilities makes the destination feel very natural. Beachgoers might also spot capuchins wandering around — they look cute, but put away your belongings securely, as these monkeys have become expert pickpockets.
28. West Bay Beach (Roatan, Honduras)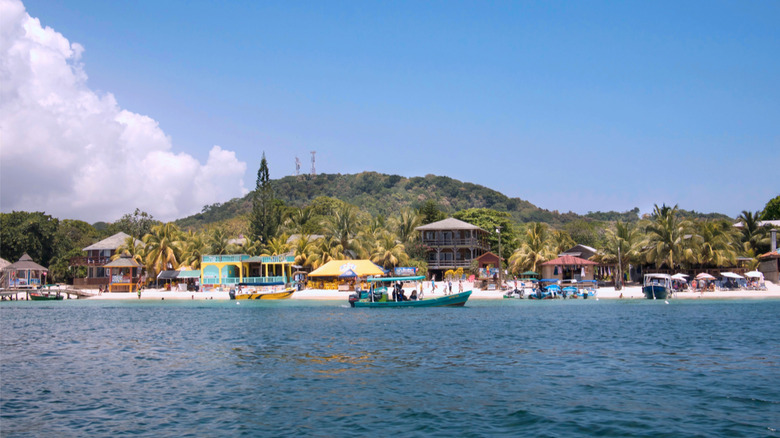 Ania Kulbinska/Shutterstock
Like many other beaches on this list, West Bay Beach in Honduras has fine, white sand, palm trees and bright, blue-green waters.
29. Doctor's Cave Beach (Montego Bay, Jamaica)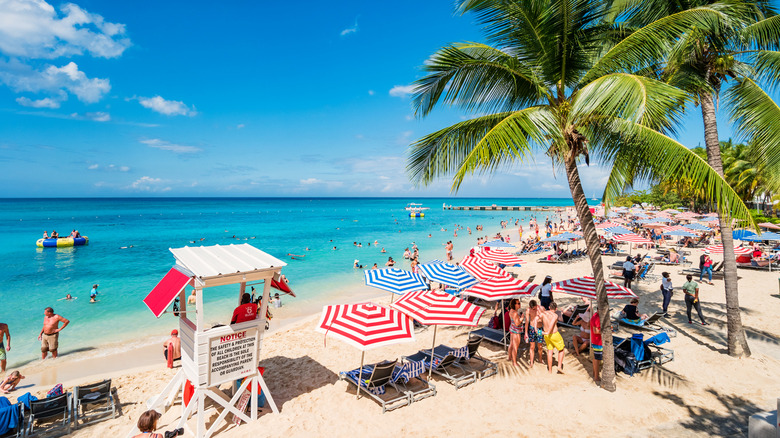 iStock.com/benedek
Warm waters and well-kept facilities continue to make Doctor's Cave Beach in Jamaica a tourist favorite. Part of the Montego Bay Marine Park, marine life lovers will also find quite a bit to discover among the beach's coral reef.
30. El Pilón de Azúcar (Cabo de la Vela, Colombia)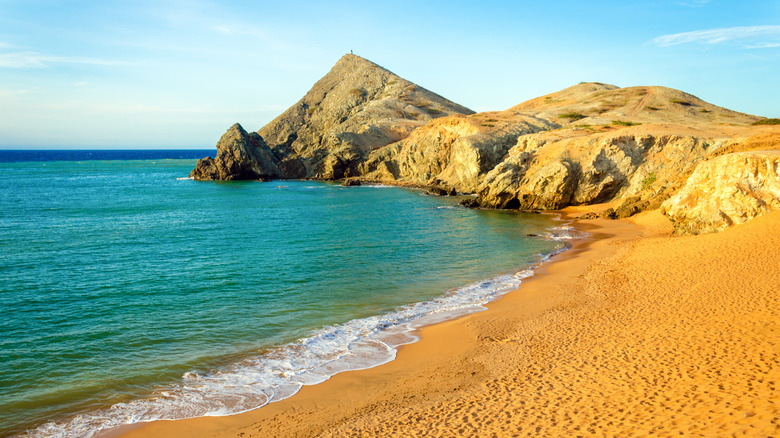 Jess Kraft/Shutterstock
Set on a headland in the north of the country, the name of this beach translates to "Sugar Pylon," on account of the conical hill that rises at the end of the sand. It's an easy hill to climb, and from the top, the views take in the expanses of the clear Caribbean Sea and the inviting, honey-colored sand.
31. Anse Source d'Argent (La Digue, Seychelles)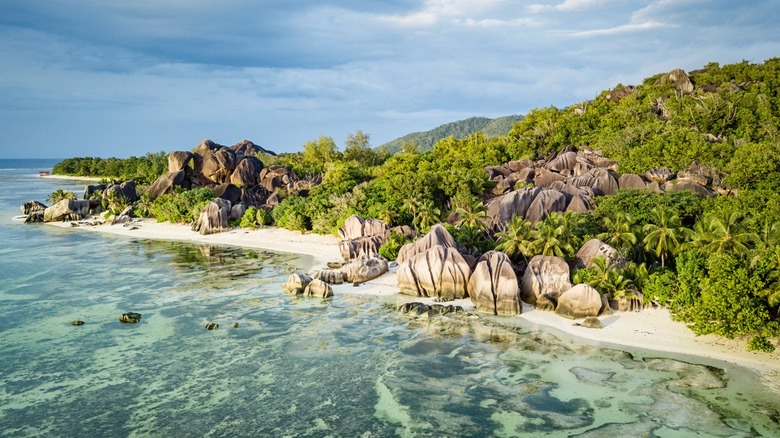 iStock.com/Mlenny
Anse Source d'Argent is the pride of the Seychelles. Large granite boulders softened by time, water and wind make the landscape of this beach look otherworldly, especially when juxtaposed with tropical greenery behind it and the aquamarine waters and pristine white sand that stretches out before it.
32. Pink Sand Beach (Harbour Island, Bahamas)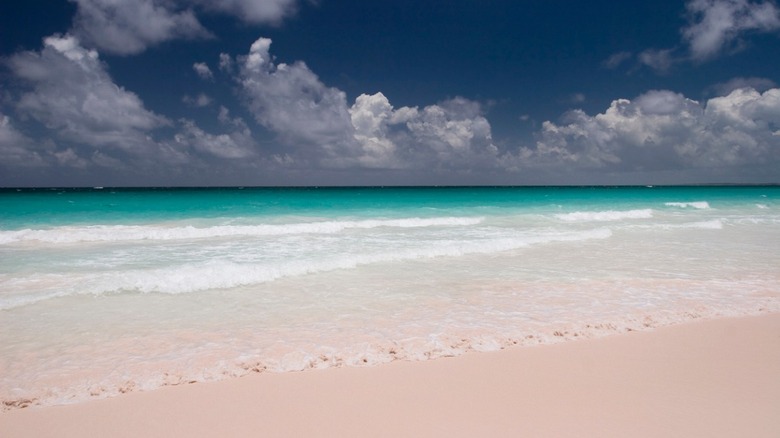 iStock.com/zxvisual
A colorful beach you have to see to believe, Pink Sand Beach gets its pretty pale color from foraminifera, microscopic insects with bright pink or red shells. Their bodies are crushed and washed ashore by the ocean's waves after they die, mixing them in with sand and bits of coral. The sand is smooth and cool here, making it a popular place to explore barefoot and on horseback.
33. Agiba Beach (Mersa Matruh, Egypt)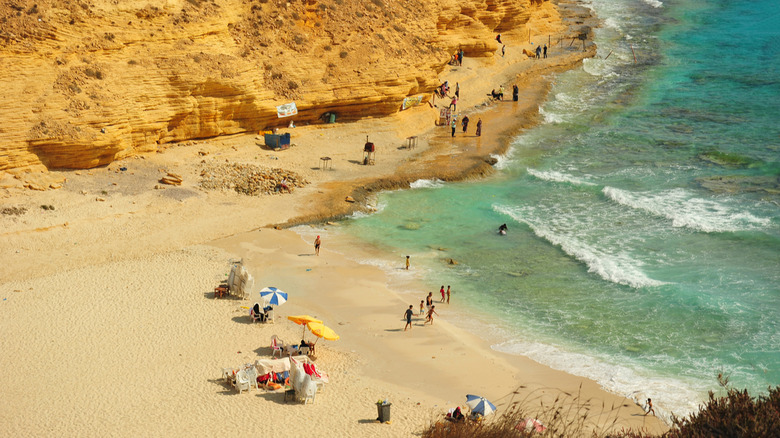 Shahir Kor/Shutterstock
Against a backdrop of sand-colored cliffs, beachgoers can enjoy the Mediterranean weather and aqua waves that turn a deeper blue as they go farther out at this Egyptian beach. The light, clean shores of Agiba Beach stretch about 44 yards.
34. Tortuga Bay (Santa Cruz Island, Ecuador)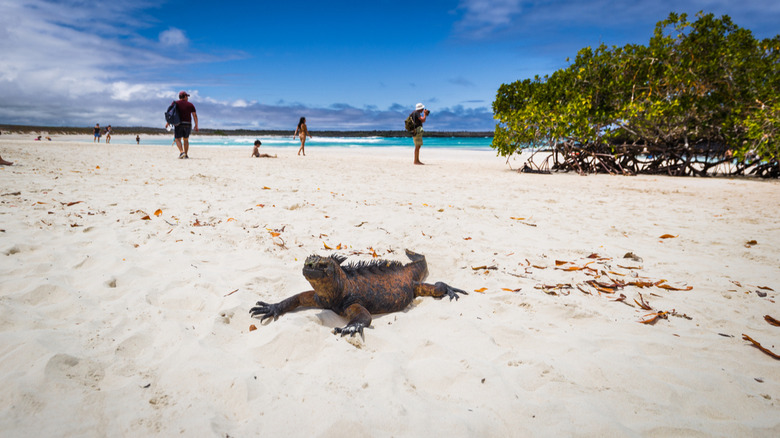 RPBaiao/Shutterstock
Named for the sea turtles that are known to lay their eggs there, Tortuga Bay is an excellent place to experience the biodiversity of the Galápagos Islands. Relax in the light blue waters and wait to come across species such as marine iguanas, white-tip sharks and, of course, Galápagos turtles. Tortuga Bay is also known to be a bird-watching destination, home to pelicans, ground finches, and flamingos.
35. Phra Nang Cave Beach (Railay, Thailand)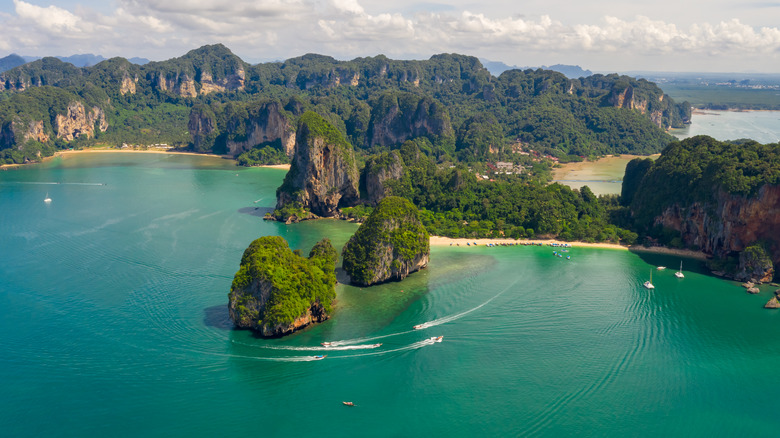 Dinphotogallery/Getty Images
Getting to this peninsula requires travel by boat, so Railay, while part of the Thai mainland, feels like an island. The beaches here are a visual wonder, with forested karst cliffs behind and to each side (this is a popular spot for rock climbing). Phra Nang Cave Beach promises visitors the added bonus of a cave, with a shrine frequented by local seafarers.
36. Keem Bay (Achill Island, Ireland)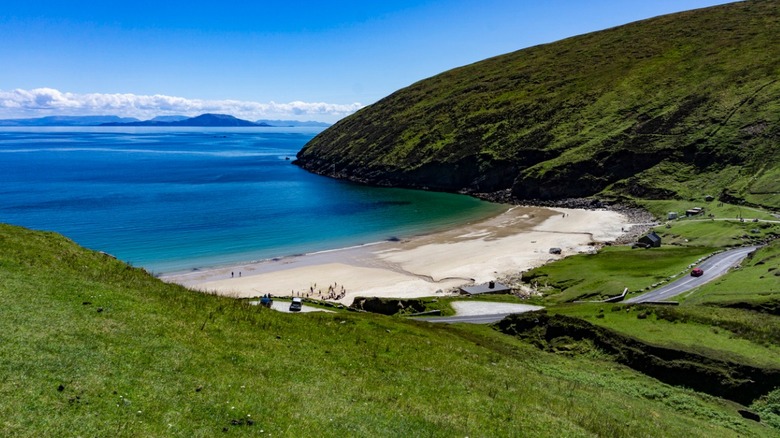 iStock.com/daniele consorti
Located on Achill Island in Ireland, Keem Bay is a remote beach surrounded by sweeping cliffs and mountains.
37. Scala dei Turchi (Sicily, Italy)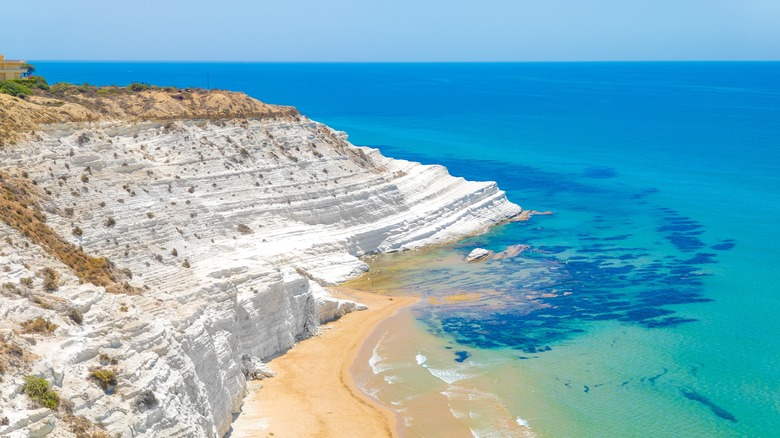 ValerioMei/Shutterstock
Another study in contrasts is what sets this beach apart. Translating to "staircase of the Turks," this part of Sicily's coast features blinding white cliffs, made from a rock called marl, that have been contoured and shaped by wind and water over millennia, that are a counterpoint to the blue sea. The beach's name refers to a time when Turkish seafarers used the bay to escape foul weather, and pirates!
38. One Foot Island (Aitutaki Lagoon, Cook Islands)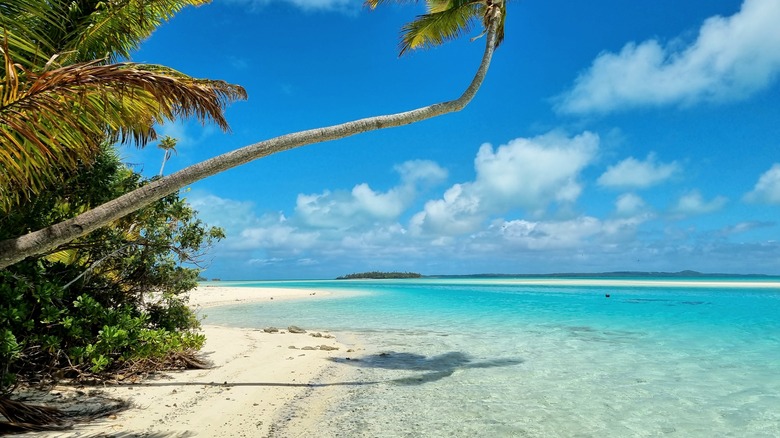 false/Shutterstock
Known in the local language as Tapuaetai, this is one of a number of small islands that sits in a large, crystal clear lagoon in the South Pacific. One Foot is tiny, easy to walk around, and is usually visited as part of a cruise tour, with travelers drawn by the archetypal South Pacific swaying palms and impossibly clear water.
39. Sao Beach (Phú Quôc, Vietnam)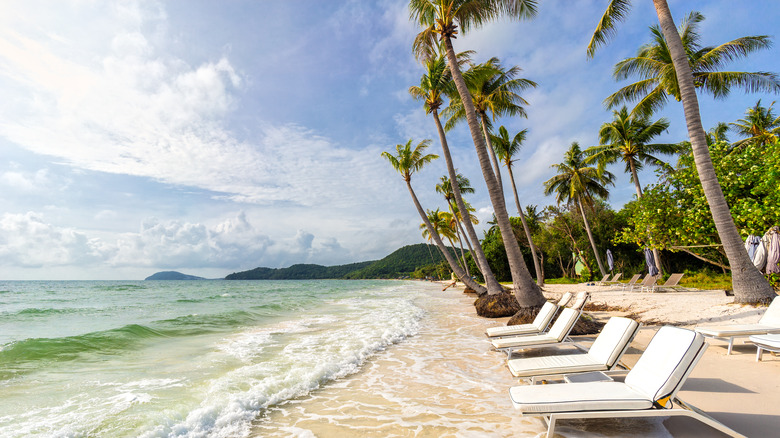 Evgeny Drablenkov/Shutterstock
Located on an island that sits due south of a Cambodian national park, this beach epitomizes the idea of a blissful tropical idyll. Stroll along the waterfront to see lazy palms leaning overhead, sugary white sand, and clear blue-emerald waters gently lapping at the shore. The months from November through March are peak season, meaning the driest and calmest.
40. Benguerra Island (Bazaruto Archipelago, Mozambique)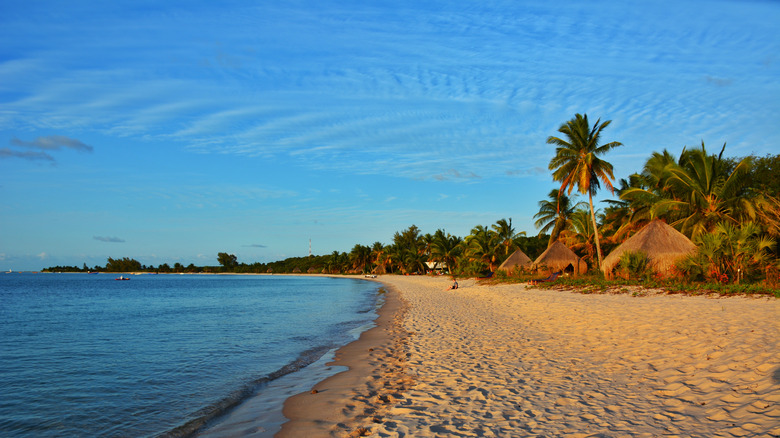 Keith 316/Shutterstock
This small island located off the coast of this southern African nation has many fine beaches all around its coast. What's remarkable about such an attractive destination is that it has managed to stay relatively undeveloped, with only a few places to stay. This has ensured that the strips of sand, fronted by the astounding waters of the Indian Ocean, are pristine.
41. Praia do Camilo (Lagos, Portugal)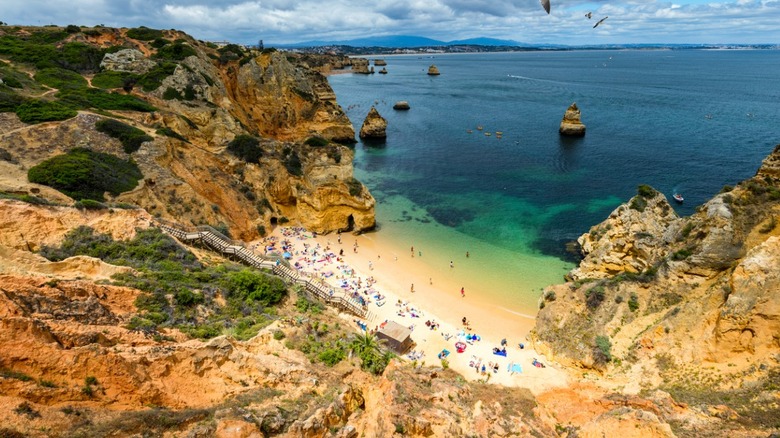 iStock.com/DaLiu
Situated on the western end of Portugal's Algarve coast, Praia do Camilo (Camilo Beach) lies at the bottom of a set of beautiful cliffs that beachgoers can reach by climbing down about 200 steps. The impressive rock formations along the shore divide it up into smaller beaches and have some lovely small caves hidden in them as well.
42. Diani Beach (Diani Beach, Kenya)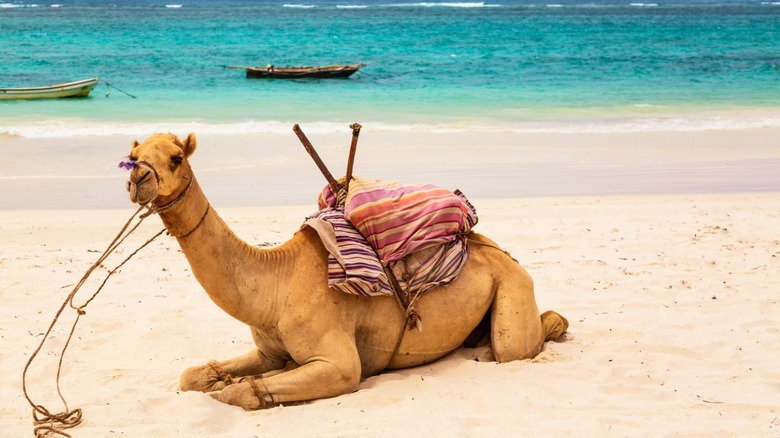 iStock.com/nantonov
Soft, bright white sand is sandwiched between bright green trees and clear, turquoise-tinted waters at Diani Beach in Kenya. Beachgoers can swim with dolphins and sea turtles as well as take to the land with guided forest hikes to explore the monkey sanctuary or visit the nearby coastal national park.
43. Playa Rincón (Las Galeras, Dominican Republic)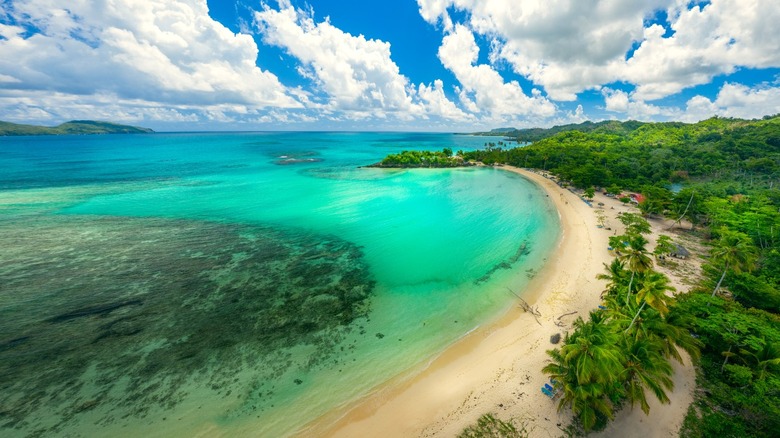 iStock.com/Robertobinetti70
The three miles of undeveloped beach at Playa Rincón are lined with leaning coconut trees with water calm enough for swimming and snorkeling on one side and enough waves for bodysurfing and more activities on the other.
44. Cathedral Cove (Coromandel Peninsula, New Zealand)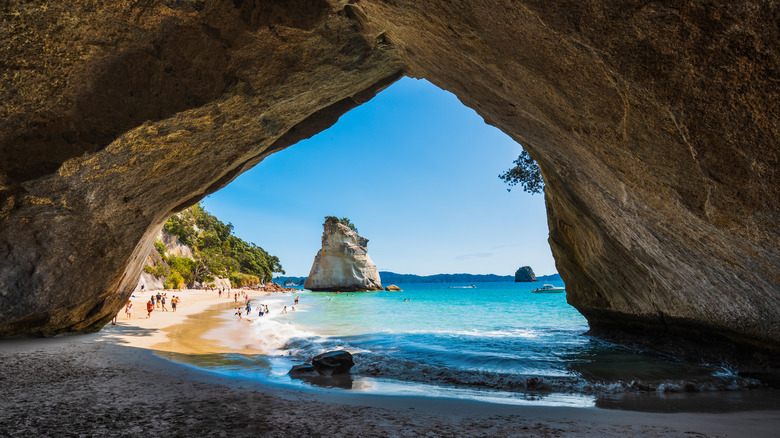 Nazar_ab/Getty Images
The most picturesque way to get to this beach is by walking from Hahei Beach. A track runs along the top of a cliff before descending down to sea level, where you'll find the geological wonder that is Cathedral Cove. The arch opens up to an intimate cove with a small sandy area to put down your stuff in preparation for a swim. Be sure to take photos of the rock formation offshore, locally known as Te Hoho.
45. Pinney's Beach (Nevis, Saint Kitts and Nevis)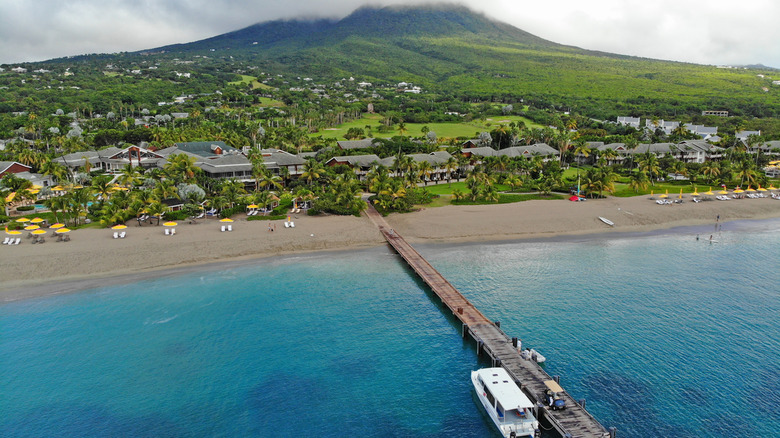 EQRoy/Shutterstock
Nevis has appeal to American history buffs as the birthplace of founding father Alexander Hamilton, but it's also a wonderful Caribbean spot with unspoiled landscapes. One of the most famous beaches on the island, Pinney's Beach is located just outside the capital. It stretches for three miles and features vivid clean shores that meet bright blue seas.
46. Nungwi Beach (Zanzibar, Tanzania)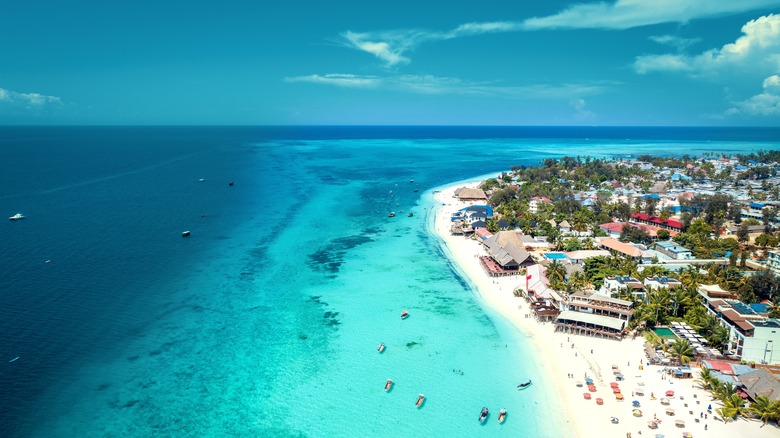 false/Shutterstock
The island of Zanzibar is home to Stone Town, a UNESCO World Heritage Site with a dizzying combination of cultural influences. It's also where to find this stunning beach, one with breathtaking sunsets, warm water year-round, and plenty to do nearby after the sun drops behind the horizon.
47. Champagne Beach (Espiritu Santo, Vanuatu)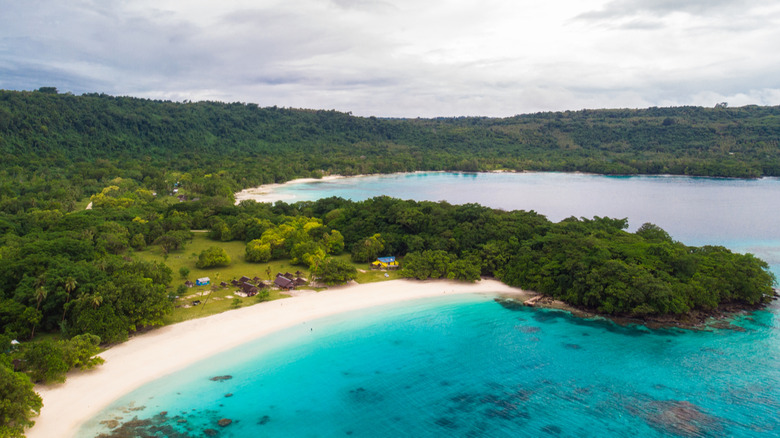 Martin Valigursky/Shutterstock
A trip to Champagne Beach on the island of Vanuatu is as relaxing as a sip of the drink with which it shares its name. There is also plenty to do, such as swimming and snorkeling or relaxing under massive tamanu trees.
48. Reynisfjara Beach (Vik í Myrdal, Iceland)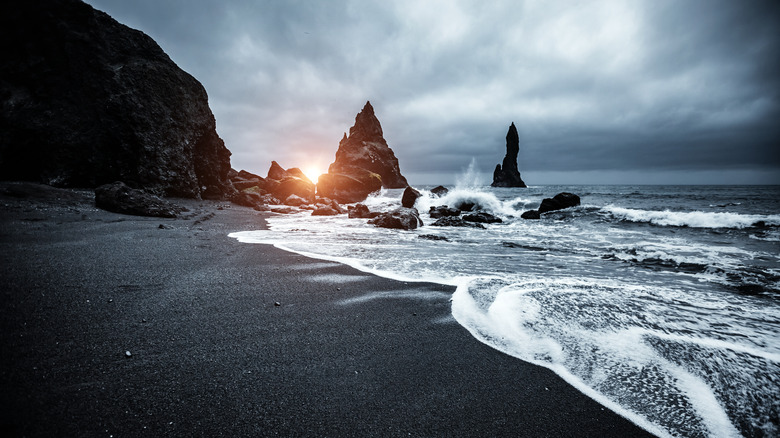 Creative Travel Projects/Shutterstock
Unlike many of the beaches on this list, Reynisfjara isn't one that is suitable for swimming. The water here is powerful and capricious, and there are giant basalt towers rising in the water just offshore (and occasionally on the beach). But the black-sand beach is worth seeking out for the sheer magnificence of the scenery here.
49. Horseshoe Bay Beach (Southampton, Bermuda)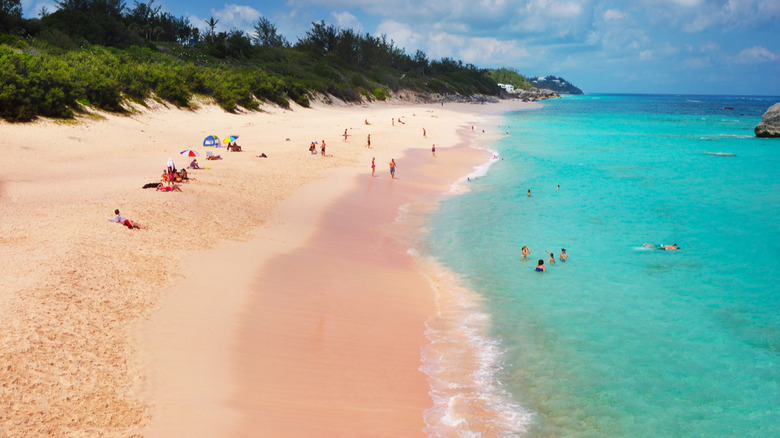 orangecrush/Shutterstock
Another beach where the red foraminifera shells, along with crushed coral, turn the sand pink, Bermuda's Horseshoe Bay Beach has a blush-like color that makes the turquoise waters really pop. Located on Bermuda's South Shore, hidden caves and coves also surround the bay among picturesque rock formations.
50. Grand Anse Beach (St. George, Grenada)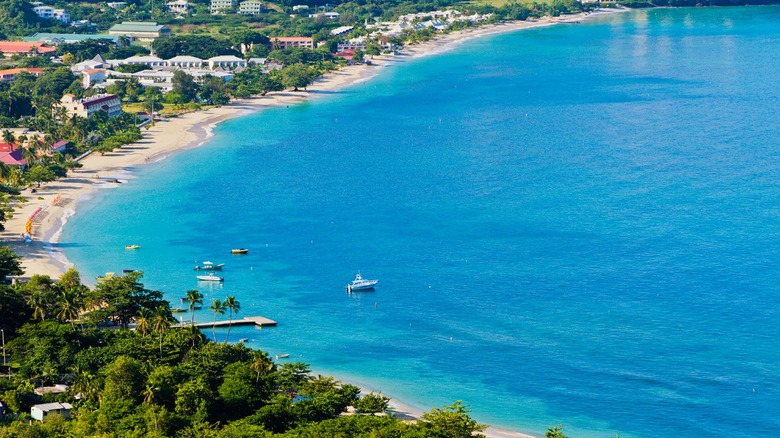 iStock.com/oriredmouse
Stretching for about two miles along the southwestern coast of Grenada, Grand Anse Beach's soft white sand juts out of a lush green landscape, which is home to some of the best resorts in the Caribbean.