The Most Romantic Place In Every State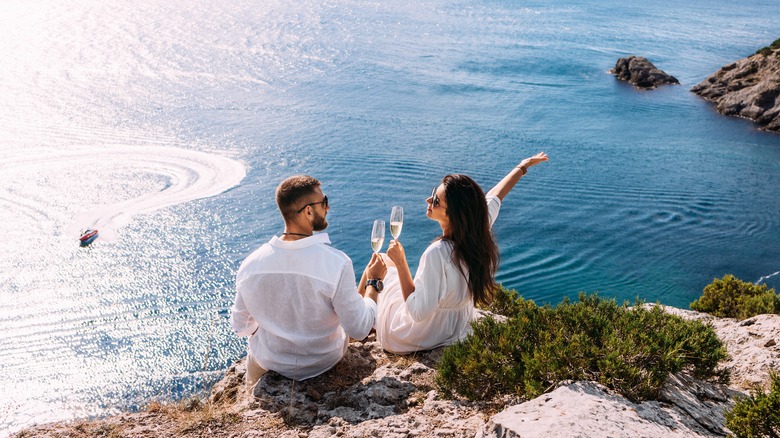 Sotnikov Misha/Shutterstock
Looking to show your loved one how much they mean to you but not sure what location and activity will make their heart flutter? Romance looks different to everyone, and while some people would prefer gifts like flowers or sweets from the best chocolate shops in the country, if you're looking to spend quality time with your special someone, there are tried-and-true romantic settings in every state to choose from.
Whether you're looking for the best place for a serene picnic in the park or something more extreme like hiking up a majestic mountain or exploring dramatic dreamscapes together, these are places perfect for a memorable trip for two.
Alabama: Lookout Mountain (Little River Canyon National Preserve)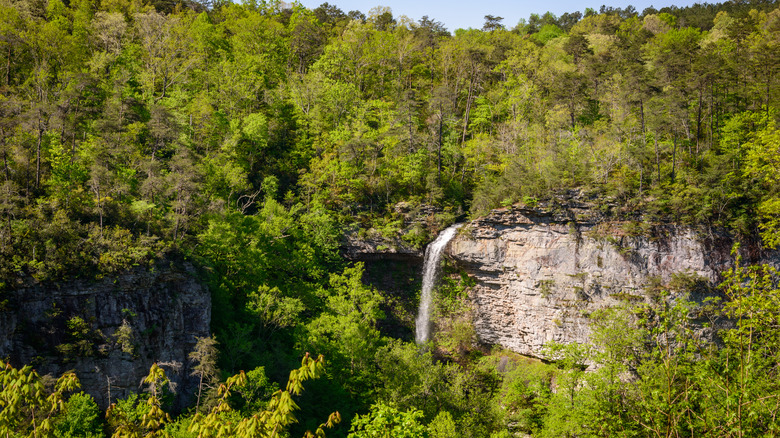 Zack Frank/Shutterstock
Alabama is brimming with natural beauty, and one of the best places to take it all in with your loved one is Little River Canyon's Lookout Mountain. Little River actually flows atop Lookout Mountain before plummeting into the canyon below with a 45-foot waterfall. Go hiking or simply settle in for a picnic or enjoy the view from the gazebo near the waterfall.
Alaska: Mendenhall Glacier (Juneau)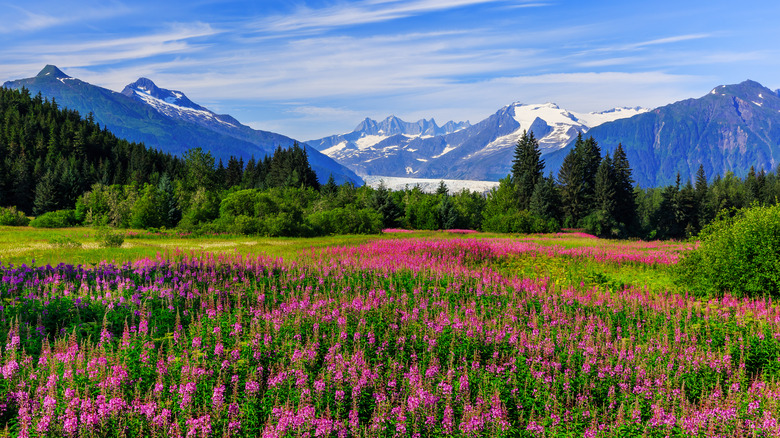 SCStock/Shutterstock
If you're looking for a once-in-a-lifetime experience with your special someone, consider taking a day trip out to Mendenhall Glacier. Located just 13 miles from downtown Juneau, this popular Alaska destination is one of the few chances many people get to get up close and personal with a glacier. Take a hike around Mendenhall Lake, passing waterfalls on the way to view the icy formation. While the glacier is accessible all year, summer is the best time to visit.
Arizona: Camelback Mountain (Phoenix)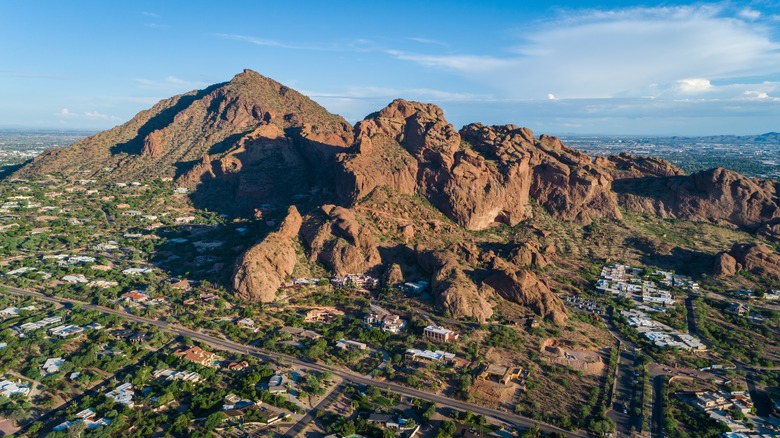 Noah Densmore/Shutterstock
If you're looking for the perfect place for a grand gesture, declaration of love or to practice your photography hobby, head to Camelback Mountain outside of Phoenix. A landmark looming over this southwestern metropolis, the mountain can be traversed on two different hiking trails from sunrise to sunset. Each are challenging hikes, but climbers are rewarded with amazing 360-degree views of the surrounding landscape.
Arkansas: Hawksbill Crag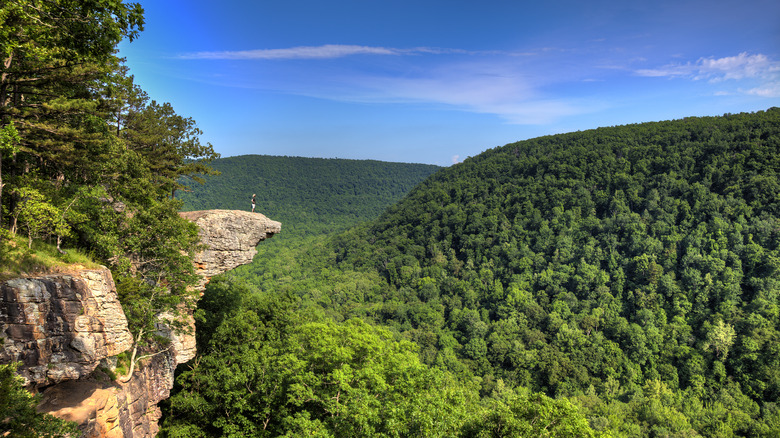 Brandon Alms/Shutterstock
Arkansas earned the state nickname "the Natural State" because of its beauty, and the best place to take it all in with someone you love is Hawksbill Crag. This dramatic outcropping over Buffalo National River can be found at the end of Whitaker Point Trail, a 3-mile round-trip hike that passes by wildflowers and waterfalls
California: McWay Falls (Julia Pfeiffer Burns State Park)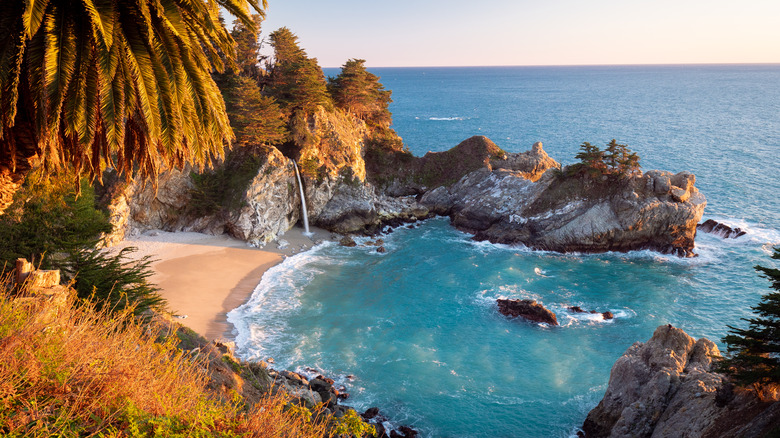 Dan Sedran/Shutterstock
Big Sur, California, is one of the most beautiful coastlines in the world. Intrepid explorers willing to depart Highway 1 and venture along a short hiking trail located in Julia Pfeiffer Burns State Park will be rewarded with a dreamy site fit for a postcard. Follow the signs for the McWay Falls Overlook Trail to see an 80-foot waterfall that drops directly onto a serene, hidden beach.
Colorado: Hanging Lake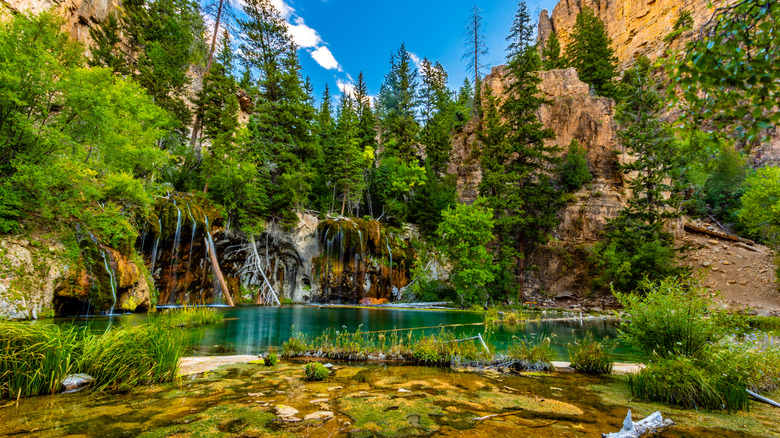 Steven Weinell/Shutterstock
Located outside the city of Glenwood Springs, Colorado, Hanging Lake is a gorgeous natural gem that feels like stepping back in time. Surrounded by rugged cliffs and lush greenery, Hanging Lake has wispy waterfalls that trickle into its blue-green waters. In order to help preserve this peaceful treasure, visitors need to make a reservation for a permit to hike here, guaranteeing you and your loved one will have a serene experience.
Connecticut: Lover's Leap State Park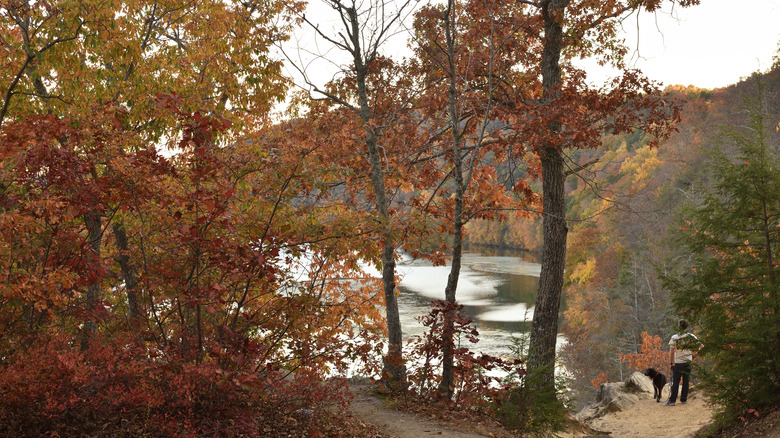 tmphoto98/Shutterstock
Don't be turned off by its name — Lover's Leap State Park's hiking trails don't require a leap of faith to access. In fact, the trails are mild and won't leave you breathless, unlike other eerie abandoned places. The park gets its name from a precipice that is easily accessible from the trail. It became the subject of local folklore, as did many similar outcroppings across the country. Though its name might not be that unique, its views certainly are.
Delaware: Rehoboth Beach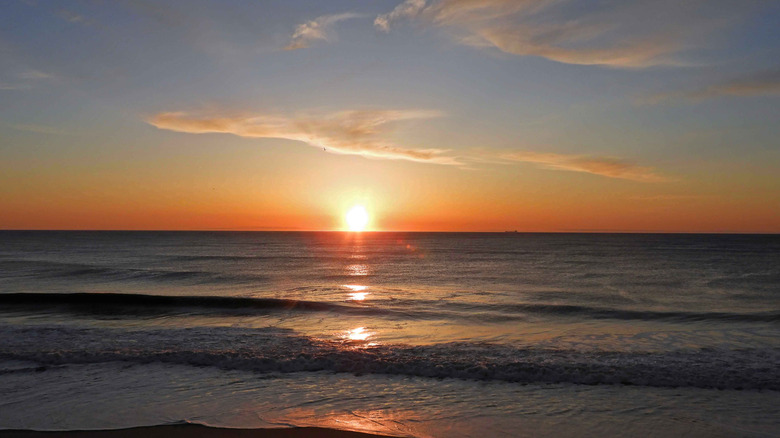 Nina B/Shutterstock
Rehoboth Beach is a family-friendly beach destination with a charming boardwalk that will take you back in time. But it's also a lovely destination for lovers. While this town has multiple beaches, its namesake Rehoboth Beach is the perfect place to take a seaside stroll as it's free and only closed between 1 a.m. and 5 a.m. If you and your loved ones are early birds, you can watch the sunrise.
Florida: Honeymoon Island State Park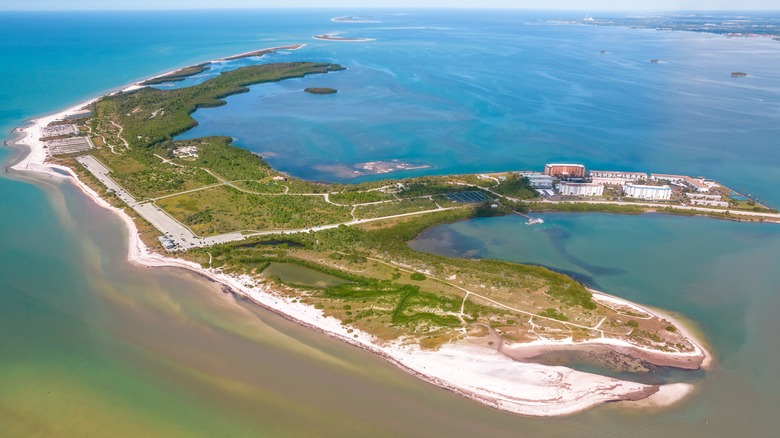 Artiom Photo/Shutterstock
Based on the name alone, Honeymoon Island State Park might seem like just the Florida spot for romance. But what really makes this state park magical is its crystal clear waters, 4 miles of pristine beaches, forest hiking trails and more. The park is open 365 days a year from 8 a.m. until sundown.
Georgia: Amicalola Falls State Park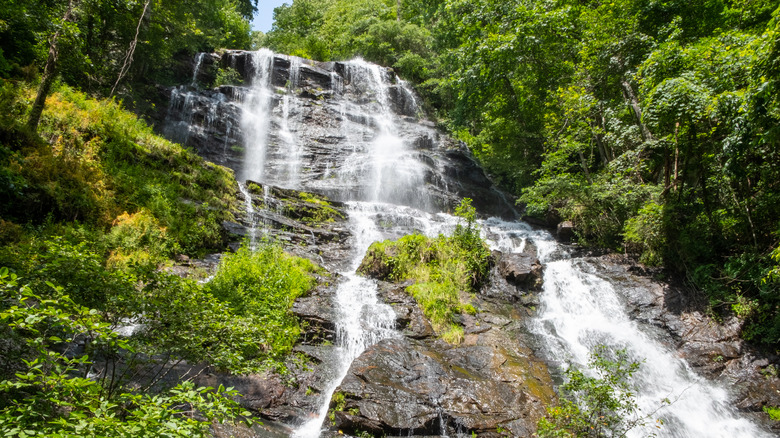 Ryan Huckaby/Shutterstock
Named after the Cherokee language word meaning "tumbling waters," Amicalola Falls is the crown jewel of the underrated Amicalola Falls State Park in Georgia. The 729-foot waterfall is the third-highest cascading waterfall east of the Mississippi River, and the area can be explored on 12 miles of trails.
Hawaii: Halona Beach Cove (Oahu)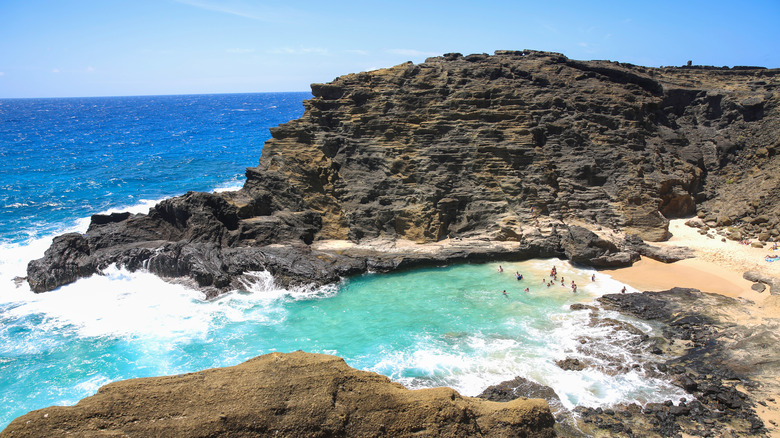 youli zhao/Shutterstock
Hawaii is known for its many stunning, rainbow beaches, but Halona Beach Cove has an extra special magic for movie lovers. One of the most famous beach movie moments of all time takes place on this beach in the 1953 film "From Here to Eternity." You and your loved one can share a cinematic kiss in the surf just like Burt Lancaster and Deborah Kerr.
Idaho: Craters of the Moon National Monument & Preserve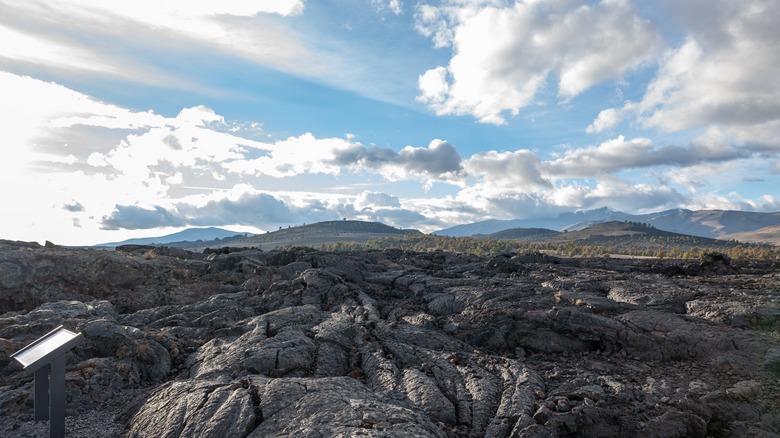 Michael Gordon/Shutterstock
At Craters of the Moon National Monument & Preserve, you can walk along the sites of volcanic activity and a surreal otherworldly landscape. Hiking here among cinder cones, lava tubes and lava rivers will take your outdoor date from ordinary to extraordinary.
Illinois: Navy Pier Ferris Wheel (Chicago)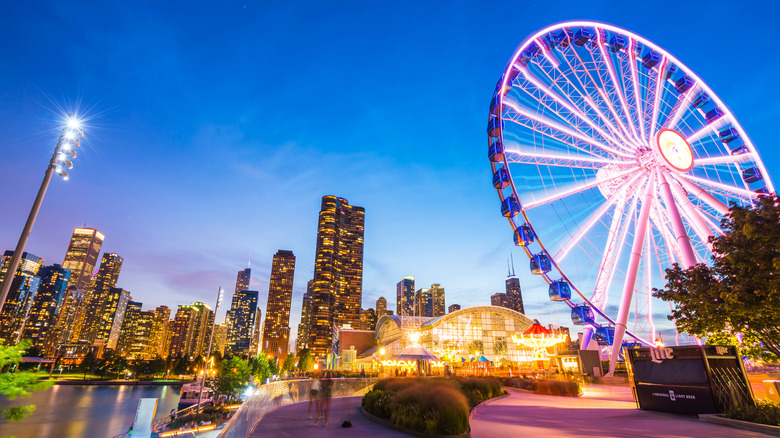 Checubus/Shutterstock
Ferris wheels already have an iconic place in romance as a sweet and innocent carnival ride for two, but this attraction takes it to new heights. Literally. What better way to appreciate the romantic city of Chicago than with 360-degree views of the city from 200 feet high? Take the ride on a summer night and not only will you see illuminated skyscrapers pierce the sky at eye level, but you'll also get an expansive view of Lake Michigan.
Indiana: Central Canal (Indianapolis)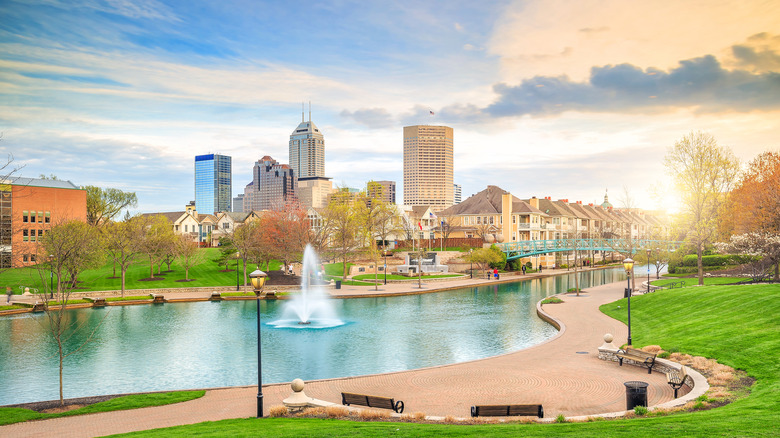 f11photo/Shutterstock
The Central Canal runs through downtown Indianapolis. Stroll down walkways along the water lined with greenery, old-time street lamps and fountains. Enjoy sights of the skyline as well as art and a 17-foot waterfall. For a special romantic experience on the water, take an Italian-style private gondola ride with a singing gondolier.
Iowa: Bridges of Madison County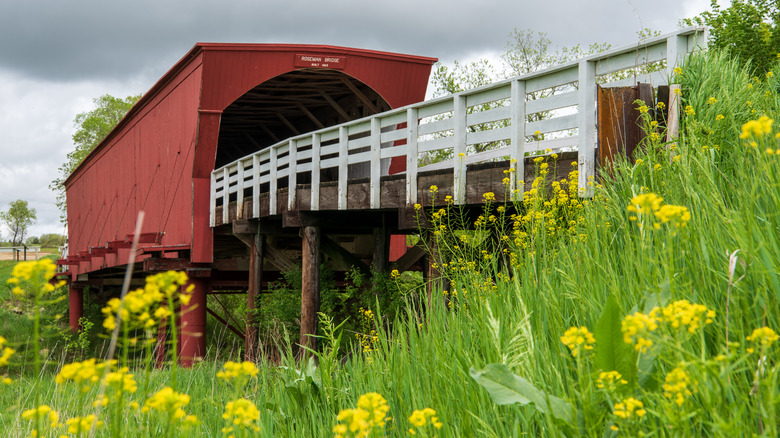 Ralf Broskvar/Shutterstock
The bridges of Madison County in Iowa were romantic enough to spawn a best-selling romance novel, film and musical. Not only are they famous in the entertainment world, but they're historic pieces of architecture that have withstood the test of time, surrounded by romantic, idyllic scenery.
Kansas: Ted Ensley Gardens (Topeka)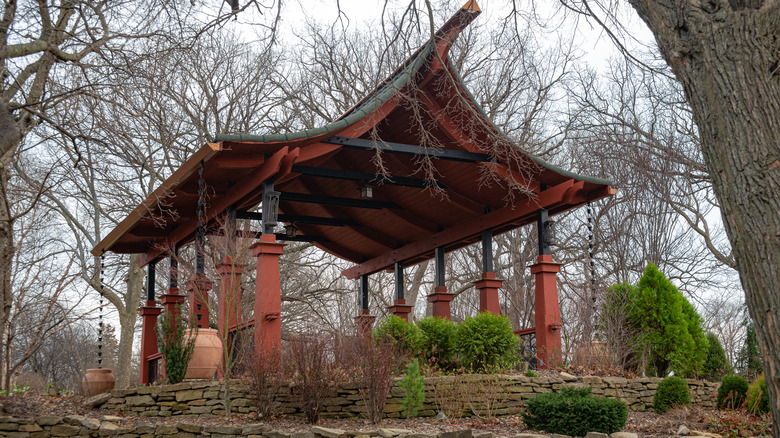 APN Photography/Shutterstock
There is an entire garden's worth of perfect picnic spots at your disposal at Ted Ensley Gardens in Topeka, Kansas. Whether you're looking for rose gardens, meditation gardens, ponds, waterfalls or streams, this place has something for every couple in need of a romantic backdrop.
Kentucky: Cumberland Falls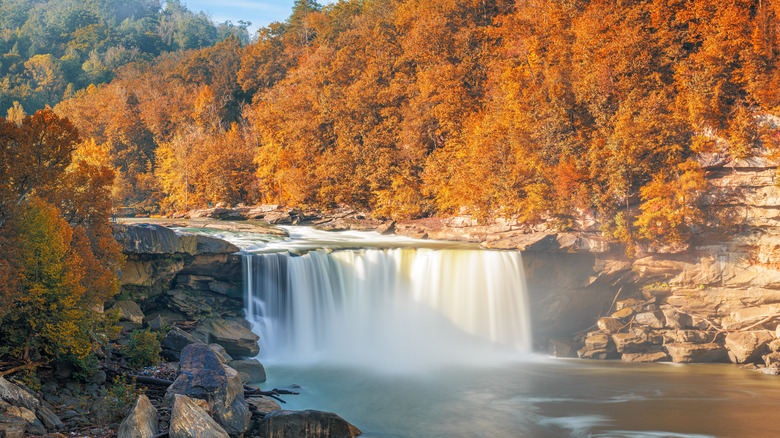 Sean Pavone/Shutterstock
Nicknamed the Niagara of the South, Cumberland Falls is one of the world's strangest natural wonders. Located near Corbin, Kentucky, this 125-foot-wide curtain of water is an epic sight to behold during the daytime. But at night, you and your loved one could see an amazing phenomenon that cannot be found anywhere else in the Western Hemisphere. Once a month during the full moon, the moonlight hitting the falls creates a rainbow at nighttime. This prism of color is known as a "moonbow."
Louisiana: The Gardens of the American Rose Center (Shreveport)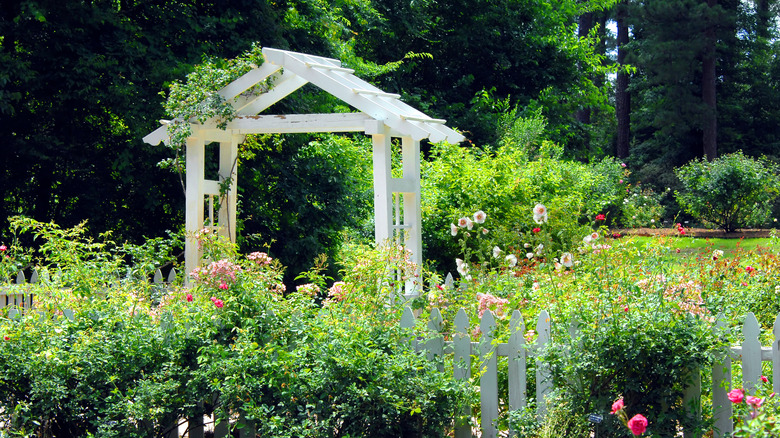 Bonita R. Cheshier/Shutterstock
If roses are the image that represents romance to your partner, plan a visit to the American Rose Center in Shreveport, Louisiana. The nation's largest park dedicated to roses, it has gardens full of 20,000 rosebushes as well as sculptures, fountains, a playground and a picnic area.
Maine: Cadillac Mountain (Acadia National Park)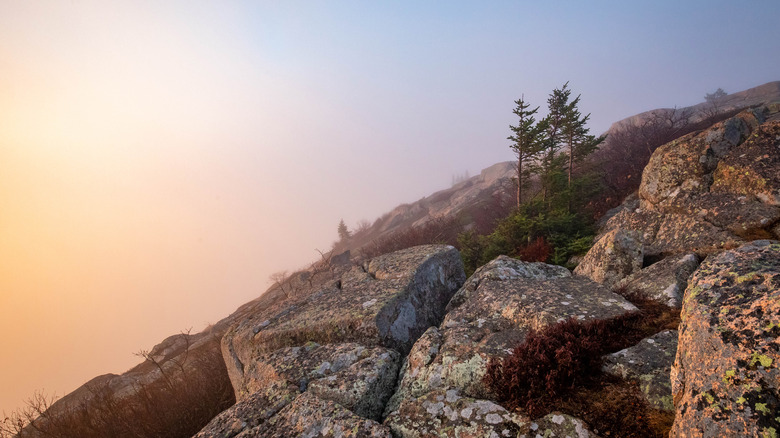 Photo Spirit/Shutterstock
One of the mountains you should absolutely see in your lifetime, Cadillac Mountain is located in Maine's Acadia National Park. It's the first place that sees the sunrise in the United States. Even if you're not a morning person, it's the highest point along the North Atlantic seaboard and offers incredible views.
Maryland: Woodend Nature Sanctuary (Chevy Chase)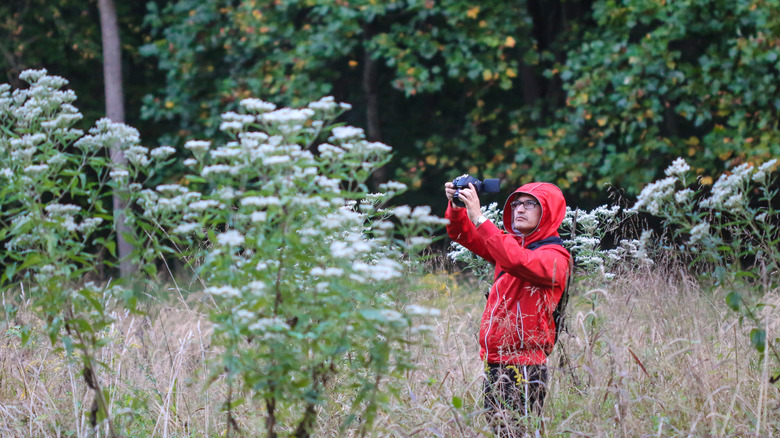 Nicole Glass Photography/Shutterstock
Tucked nearby one of the oddest named towns in America, Woodend Nature Sanctuary in Chevy Chase, Maryland, is the headquarters of the Audubon Naturalist Society. Explore this preserve and historic mansion for free from dawn to dusk on trails meandering past ponds, meadows and more. It's also adjacent to Rock Creek Park, which has hiking trails open year-round.
Massachusetts: Hammond Castle Museum (Gloucester)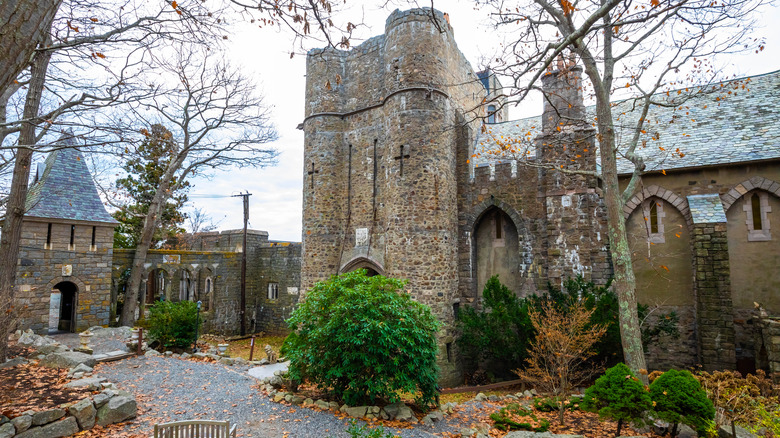 Photo Spirit/Shutterstock
You might not know that America is home to a handful of enchanting castles, including the Hammond Castle Museum in Gloucester, Massachusetts. This historic 1920s stone estate overlooks the Atlantic Ocean and is filled to the brim with antiques and relics. The castle was actually built as a wedding present, and it still plays hosts to many wedding celebrations today.
Michigan: Pictured Rocks National Lakeshore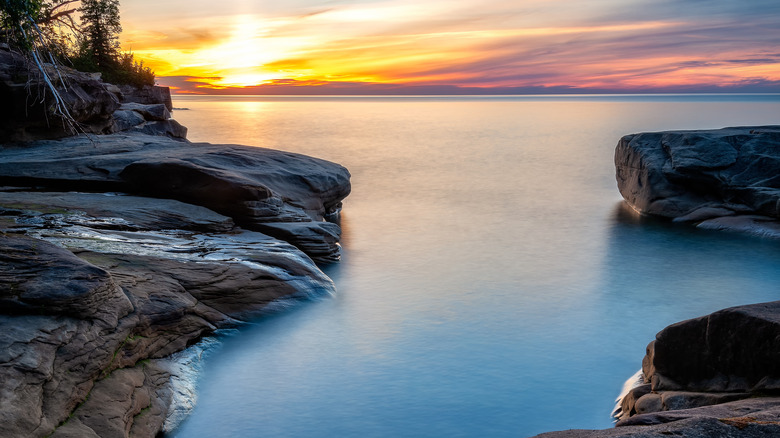 John McCormick/Shutterstock
One of the most romantic spots in America for outdoor lovers is the remote, peaceful Pictured Rocks National Lakeshore. This protected area is located along the south shore of Lake Superior in Michigan's Upper Peninsula. Couples can kayak along dramatic multicolored cliffs and caves or relax on a narrated boat cruise.
Minnesota: Como Park Zoo and Conservatory (St. Paul)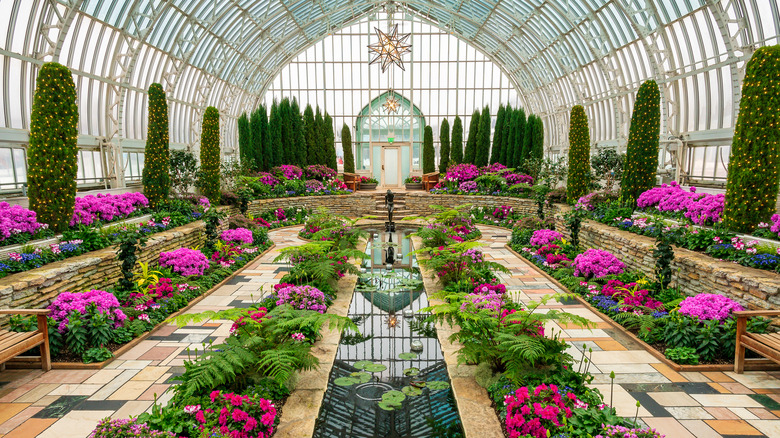 TammiMild/Shutterstock
Como Park Zoo and Conservatory in Minnesota is open 365 days a year and is always free. But this cheap date idea won't make you look like a cheap date because of its lively atmosphere. Whether your sweetheart is an animal-lover, plant-lover or both, they'll enjoy the gorgeous gardens and more than 60 species of animals from around the world. Because of its charming aura, Como Park is also a popular spot to propose.
Mississippi: Natchez Trace Parkway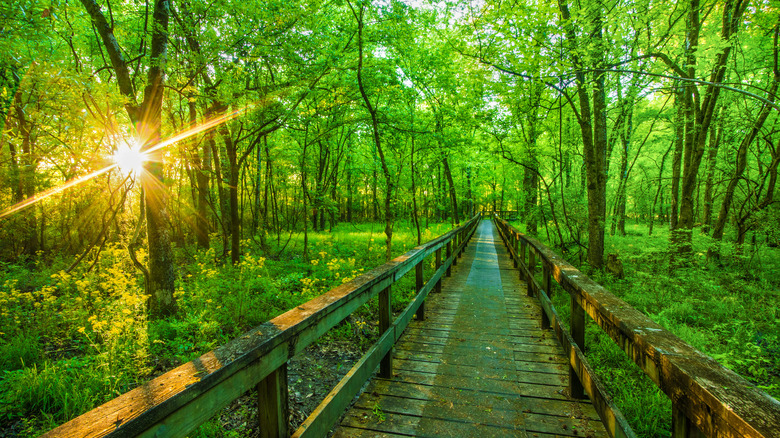 Jordan Hill Photography/Shutterstock
Is there anything that makes for a more relaxing, romantic excursion than simply driving around together in beautiful weather? One of the best places in the country for a scenic drive is along the Natchez Trace Parkway, a 444-mile road that spans from Mississippi to Tennessee with lush views of nature. It is lovely year-round but is an especially great place to see amazing fall foliage.
Missouri: Lake of the Ozarks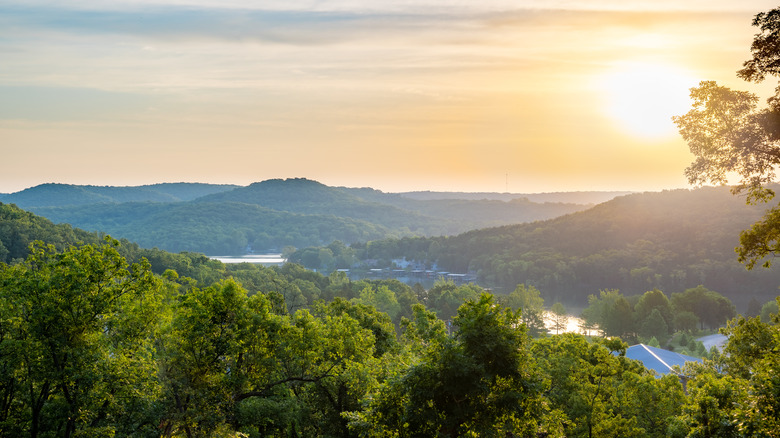 RN Photo Midwest/Shutterstock
The Lake of the Ozarks is Missouri's most popular lake destination and offers opportunities for both adventure and relaxation. Enjoy watersports, lounge on the beach, go horseback riding or visit a nearby winery. Spend the night in a yurt for the ultimate glamping experience.
Montana: Going-to-the-Sun Road (Glacier National Park)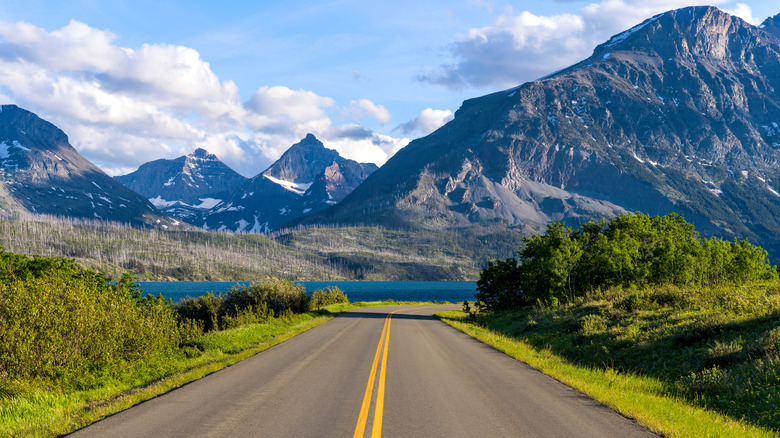 Sean Xu/Shutterstock
Take a drive with your sweetheart down one of the most amazing roadways in the United States besides the famous Route 66. Glacier National Park is an outdoor wonderland that can be explored so many ways, including by driving up the 50-mile Going-to-the-Sun Road. This paved two-lane highway is open year-round and crosses the Continental Divide at its highest point, the 6,646-foot-high Logan Pass.
Nebraska: Smith Falls State Park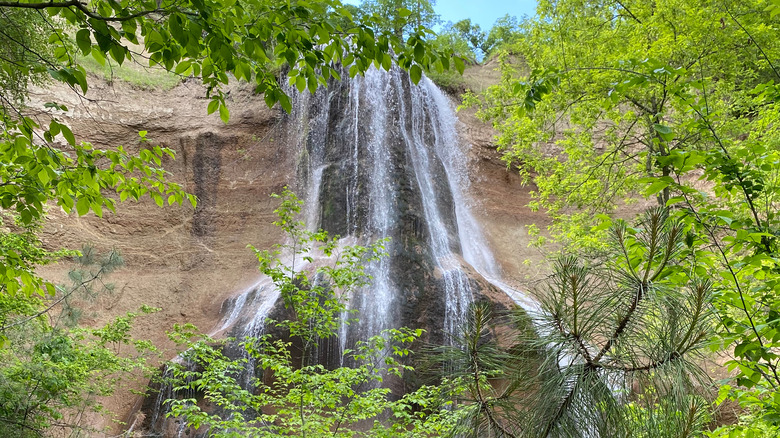 Jeff Scholtz/Shutterstock
Looking for the largest waterfall you can find? Smith Falls State Park is home to Nebraska's highest waterfall, which is 70 feet tall, making it one of the most beautiful sights in the state. You and your loved one can also go canoeing, tubing and kayaking along the surrounding river.
Nevada: Eiffel Tower Experience (Las Vegas)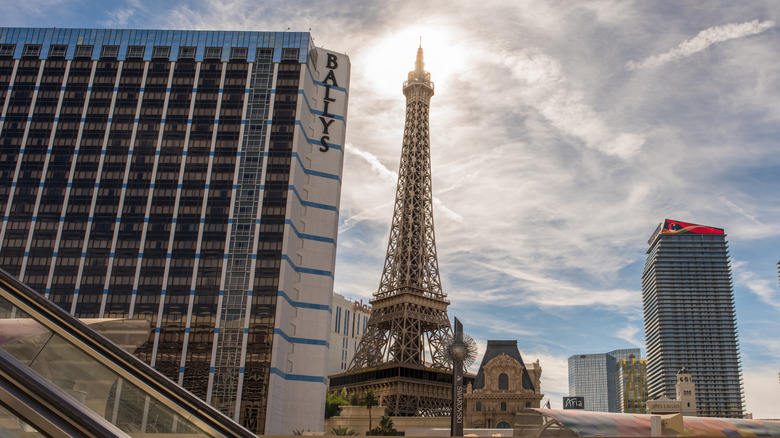 Page Light Studios/Shutterstock
Las Vegas is certainly the place to go to show your partner some glitz and glamour at a luxury hotel or world-famous restaurant. But you can experience the romance of Europe while staying stateside by visiting the replica Eiffel Tower atop Paris Las Vegas. Ride a glass elevator 46 stories up to enjoy one of the best views in town of the sparking Vegas Strip below.
New Hampshire: Star Island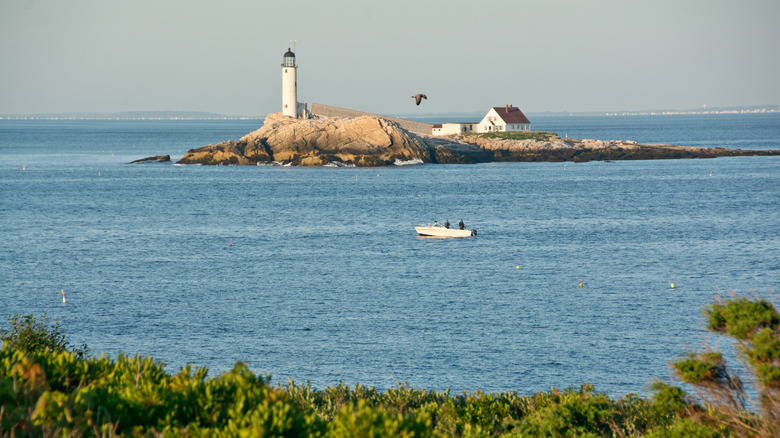 Erika J Mitchell/Shutterstock
Step back in time with a day trip to Star Island, part of the Isles of Shoals, which straddle the border between New Hampshire and Maine. The elite used to vacation here in the 19th century. Visit the Oceanic Hotel, one of the last remaining Grand Hotels and one of the oldest hotels in America, and watch the sunset from a rocking chair on the porch.
New Jersey: Long Beach Island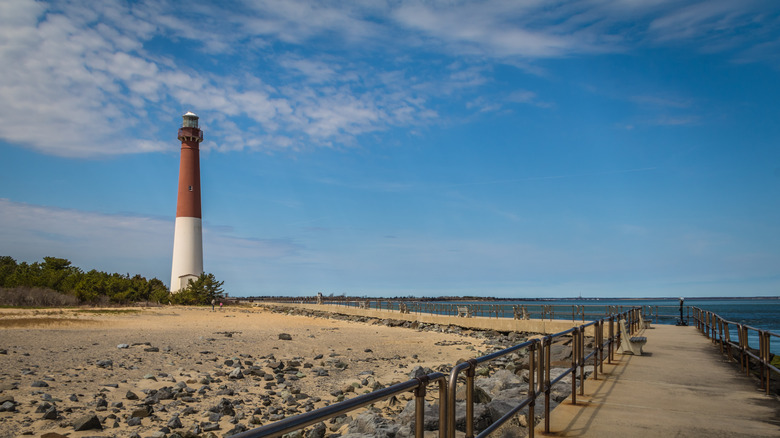 Rabbitti/Shutterstock
For the ultimate long walk on the beach, head to Long Beach Island. This New Jersey barrier island certainly lives up to its name. It's only 18 miles long and less than half a mile wide but is dotted with multiple wide, sandy beaches.
New Mexico: Sandia Peak Tramway (Albuquerque)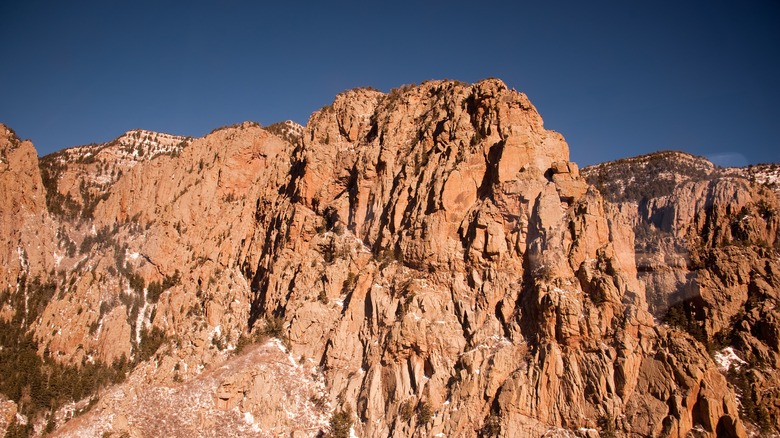 PICTOR PICTURES/Shutterstock
Love can feel like you're walking on air. Get as close as possible to that feeling by riding up 10,000 feet to the top of the Sandia Mountains. Located outside of Albuquerque, New Mexico, the Sandia Peak Tramway takes riders to a mountain crest with an 11,000-square-mile panoramic view of stunning Southwestern scenery. You can also enjoy a romantic meal at the mountaintop restaurant.
New York: Empire State Building (New York City)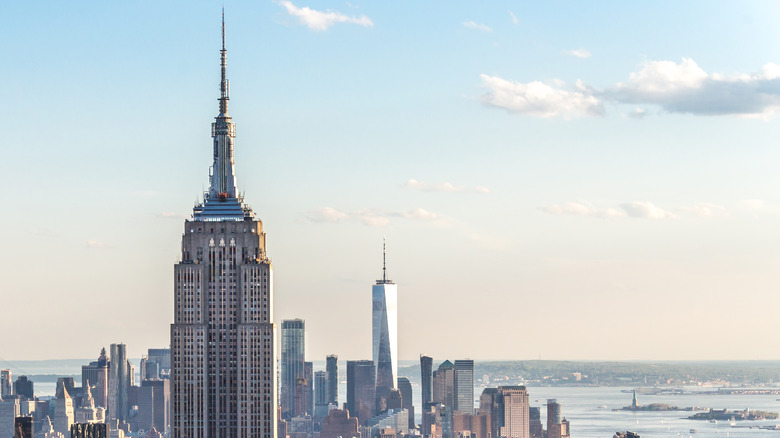 mariakray/Shutterstock
If you're loved one is a film fan, the Empire State Building is a romantic Hollywood movie location you can actually visit together. "Sleepless in Seattle" and "An Affair to Remember" both have key scenes on the Empire State Building's observation deck. Even if you don't have a grand cinematic gesture planned, the sights of the city below will still take their breath away.
North Carolina: Mile High Swinging Bridge (Linville)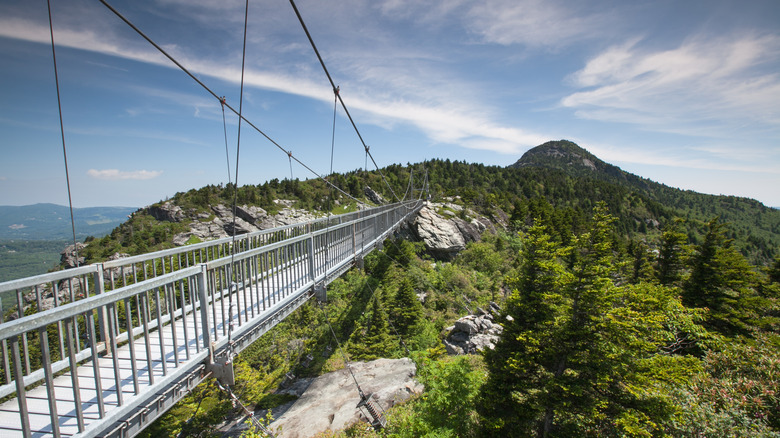 Cvandyke/Shutterstock
The Mile High Swinging Bridge on Grandfather Mountain is America's highest suspension footbridge. This man-made marvel lives up to its name, standing more than a mile high in elevation and spanning an 80-foot chasm. It allows visitors to admire 360-degree panoramic views of the surrounding Blue Ridge Mountains.
North Dakota: Valley City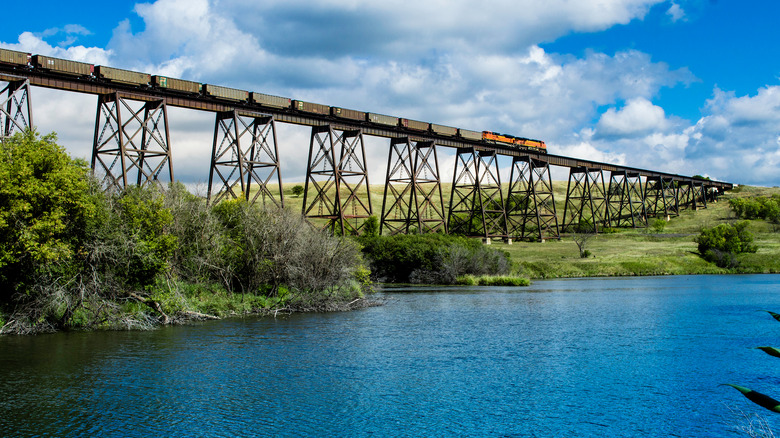 CJ Cagney/Shutterstock
Valley City is known affectionately as the "City of Bridges." It has 11, in fact, including the 162-foot-high Highline Bridge, one of the highest and longest single-track railroad bridges in the country. Each bridge offers a unique and charming view, making it great for the couple who wants to take a stroll, hold hands and look out at the expanse of the river and the rest of the city.
Ohio: Old Man's Cave (Hocking Hills State Park)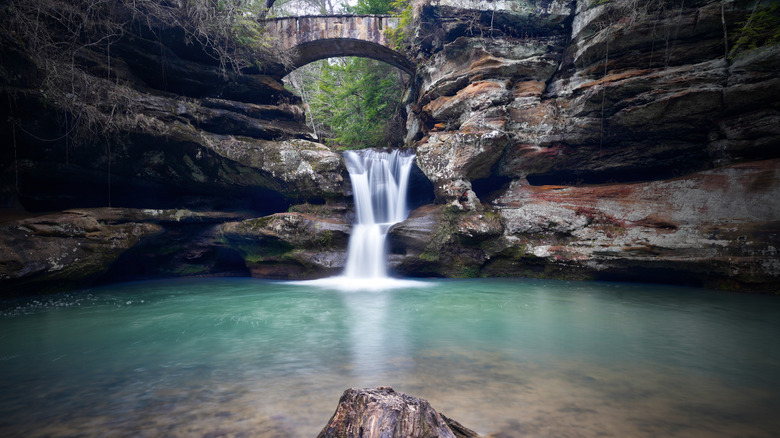 Randall Vermillion/Shutterstock
Old Man's Cave is the most popular spot in Ohio's serene Hocking Hills State Park. The cave is located in a black hand sandstone gorge and the trail to see it passes by bridges, rock formations and waterfalls, including the Devil's Bathtub, a mesmerizing whirlpool that empties into a large pool below.
Oklahoma: Myriad Botanical Gardens (Oklahoma City)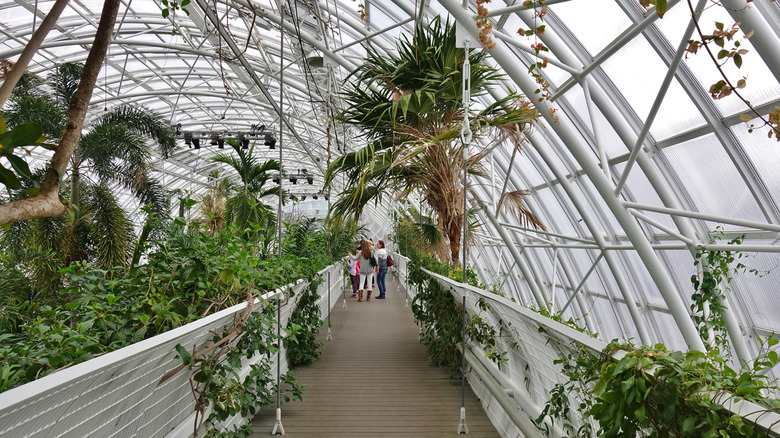 EQRoy/Shutterstock
One of the best date spots in the country, Myriad Botanical Gardens is a green oasis hidden in the heart of downtown Oklahoma City. The gardens span 15 acres, including the indoor Crystal Bridge Conservatory so you can stroll among beautiful tropical plants no matter the weather.
Oregon: Cobble Beach (Newport)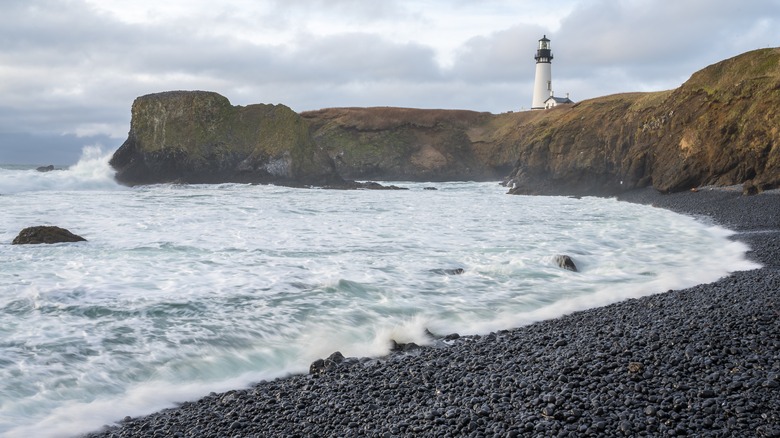 Evan Sloyka/Shutterstock
Multnomah Falls is one of the most-visited tourist attractions in every state because no matter your age or relationship status, it will make your heart go pitter-patter thanks to its jaw-dropping beauty. This two-tiered waterfall is located just a 30-minute drive outside of Portland and, at more than 600 feet tall, towers over a bridge that gets you incredibly close to its rushing waters.
Pennsylvania: Cherry Springs State Park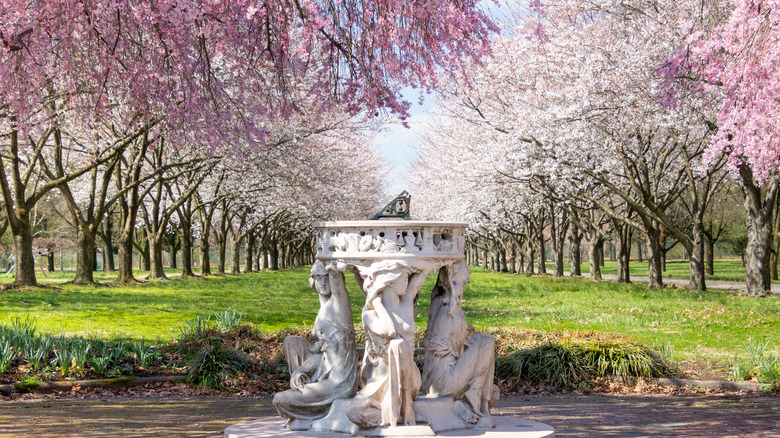 Eric Dale/Shutterstock
Cherry Springs State Park is named for its large black cherry trees but the best time to come here with your loved one is at night. This remote, 82-acre park is one of the only "dark sky" areas on the East Coast. This means outdoor lighting is restricted so conditions are optimal for stargazing. Constellations, the Milky Way and more amazing astronomical sights are visible to the naked eye here.
Rhode Island: Newport Cliff Walk (Newport)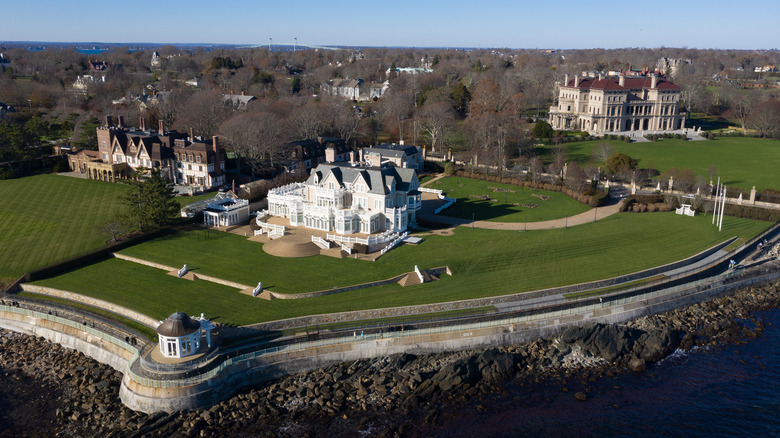 Felix Lipov/Shutterstock
Newport, Rhode Island, is home to some of the biggest, most beautiful mansions in America. After spending a day learning about the area's historic homes, take a stroll on the Newport Cliff Walk. This 3.5-mile scenic path along the Atlantic coast is a picturesque place to enjoy the presence of the one you love.
South Carolina: Edisto River Refuge (Edisto Beach)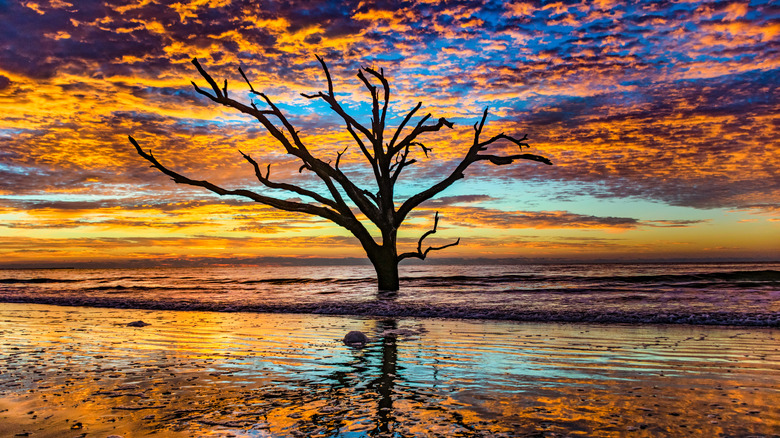 Kevin Ruck/Shutterstock
Charleston, South Carolina, might be one of the most romantic cities in the world, but for a romantic outdoor retreat, explore nature together along the Edisto River. One of the longest free-flowing blackwater rivers in North America, the Edisto River crosses many counties and has many peaceful portions for floating on a tube or paddling in a kayak or canoe. You can even spend the night in a charming treehouse with hammocks and a fire pit where romance is sure to be sparked.
South Dakota: Badlands National Park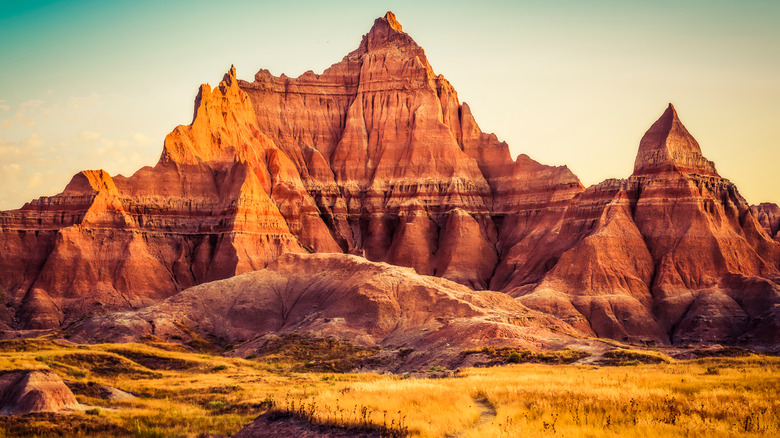 Checubus/Shutterstock
One of America's most underrated national parks, the expansive Badlands National Park will make you and your loved one feel like you have the rugged park to yourself. Take in the canyons, ridgelines and peaks, and spot rare wildlife while hiking or taking a scenic drive. 
Tennessee: Cheekwood Estate & Gardens (Nashville)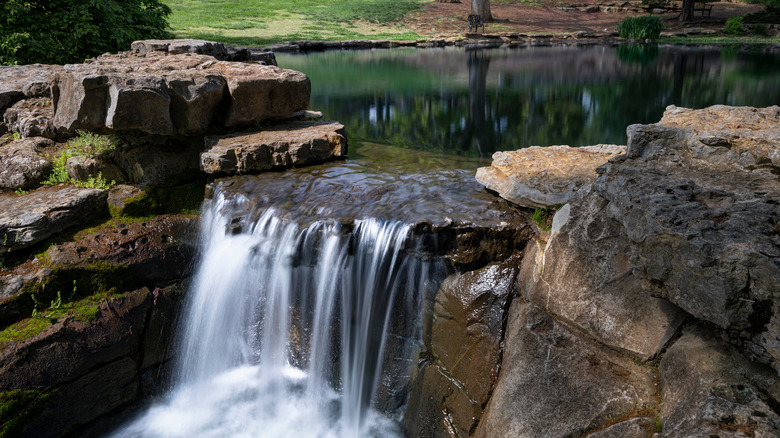 Serge Yatunin/Shutterstock
Cheekwood Estate is an American mansion in Nashville built with the Maxwell House Coffee fortune. Today, the historic home is an art museum surrounded by a 55-acre botanical garden that comes to life with more than 100,000 tulips in the spring. Stroll the grounds hand in hand while enjoying art and beautiful blossoms.
Texas: Hamilton Pool Preserve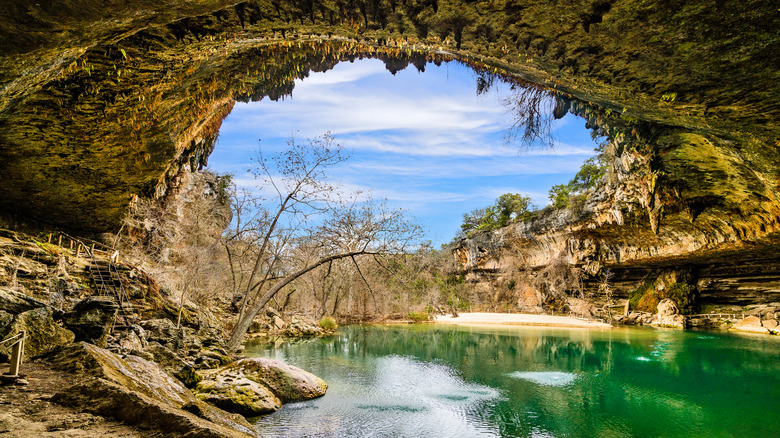 Jason Stitt/Shutterstock
For a dreamy place to beat the Texas heat with the one you love, head to Hamilton Pool Preserve outside of Austin. This amazing swimming hole is fed by Hamilton Creek, which creates a 50-foot waterfall as it spills over dramatic limestone outcroppings. Visitors need to make reservations to visit the pool during peak summer months from May to September.
Utah: Arches National Park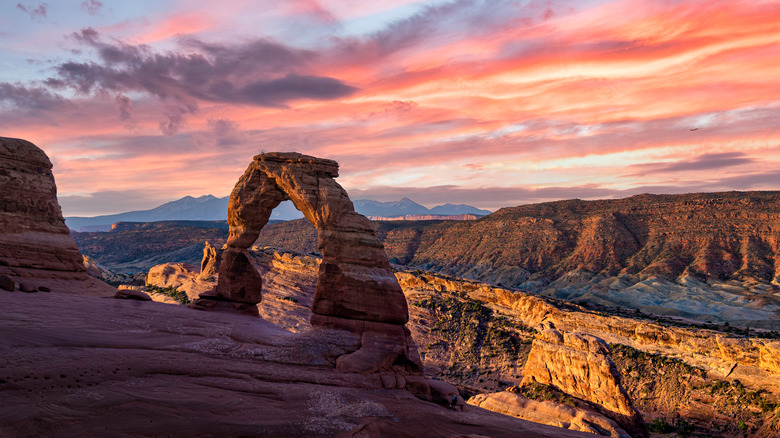 Larry Gibson/Shutterstock
There's nothing quite like the natural wonders throughout Arches National Park, which is why it's one of the most popular American tourist destinations. This must-visit national park is home to the famous Delicate Arch, a geological marvel that will take your breath away. Taking the 3-mile round-trip hike to see Delicate Arch is an experience you and your partner won't soon forget.
Vermont: Quechee Gorge (Quechee)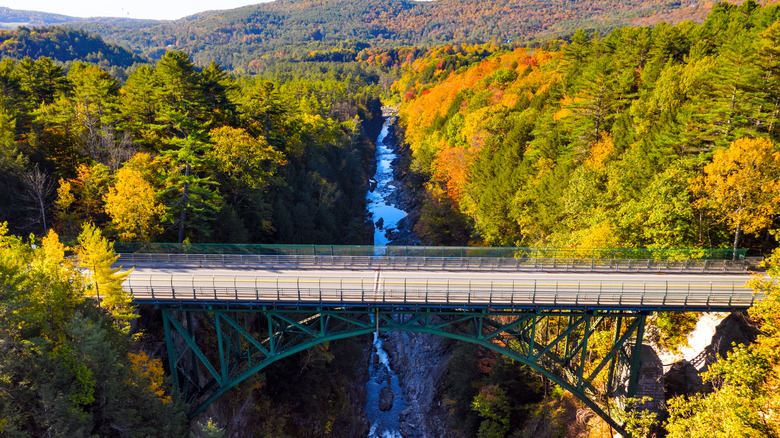 Gabe Shakour/Shutterstock
Located outside the charming autumn destination of Woodstock, Quechee Gorge is known as "Vermont's Little Grand Canyon." Carved by the Ottauquechee River, Quechee Gorge is a gorgeous place to have a picnic while overlooking the waterfalls, take a leisurely walk or hike on its moderately difficult trails with amazing views or camp together under the stars.
Virginia: Skyline Drive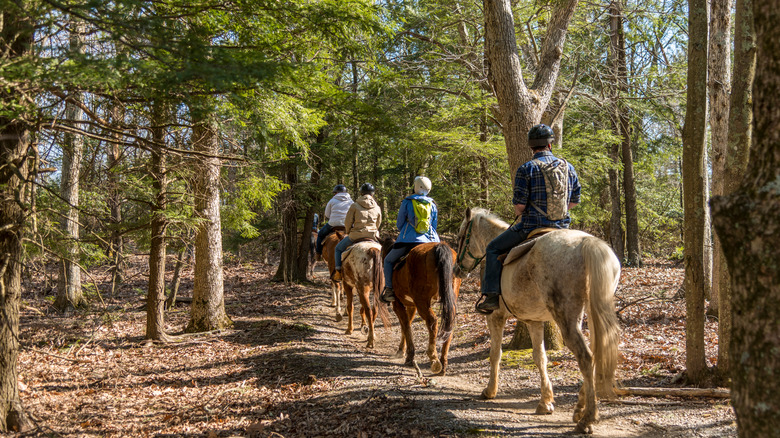 Daniel Reiner/Shutterstock
Since "Virginia is for lovers," there are plenty of places for you to wine and dine your partner, including some of the most romantic restaurants in America. But for some true one-on-one time, consider taking a scenic road trip along Skyline Drive. Located along the crest of the Blue Ridge Mountains in Shenandoah National Park, this 100-mile road has a speed limit of 35 mph, meaning you can cruise with your windows down and take in the stunning surrounding landscape.
Washington: Mount Rainier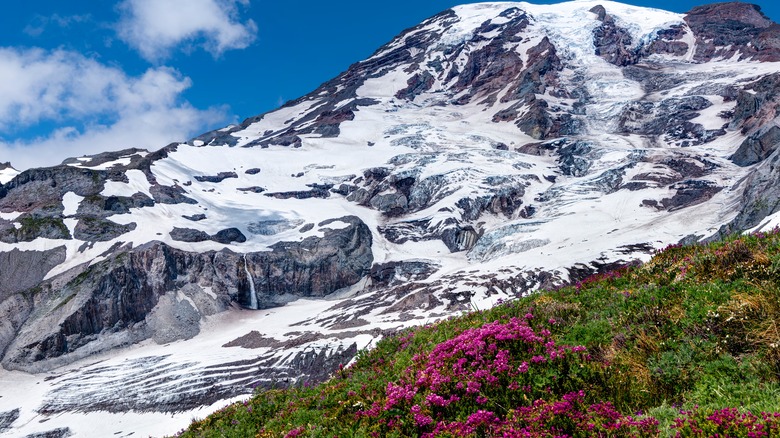 Serge Yatunin/Shutterstock
The gem of the Cascades and the highest mountain in the state of Washington, snow-capped Mount Rainier provides a dramatic backdrop for a romantic adventure any time of year. Slopes are open for skiing in the winter and hiking in the summer. For truly stunning views of Mount Rainier, take a gondola ride to the summit of nearby Crystal Mountain for a sight that will make you swoon.
Washington, DC: Tidal Basin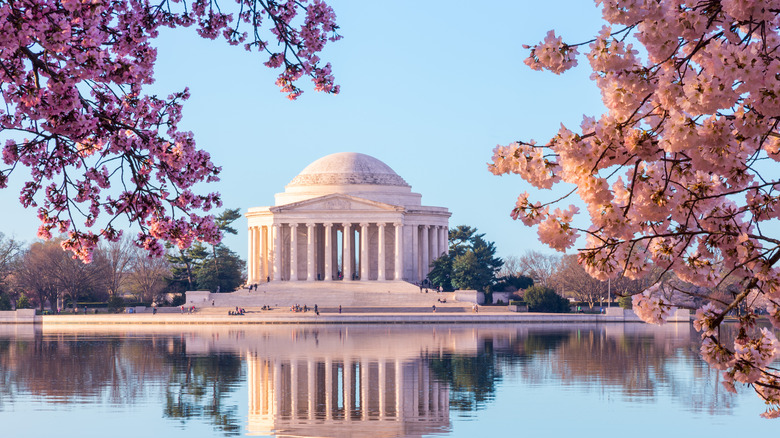 Steve Heap/Shutterstock
The most gorgeous place to take a springtime stroll in Washington, D.C. is the Tidal Basin. Part of West Potomac Park, the basin's trail is a loop that will take you past some of D.C.'s most popular landmarks, including the Jefferson Memorial and the National Mall. If you time your visit right, the area will be dripping with cherry blossoms. You can also rent paddleboats for a different view from the water.
West Virginia: New River Gorge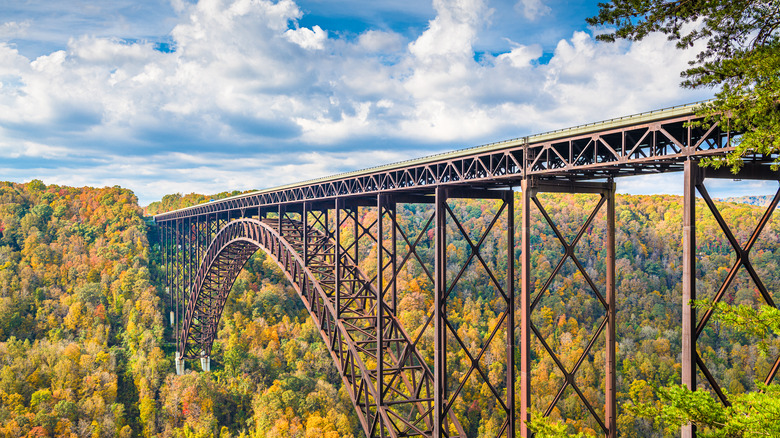 Sean Pavone/Shutterstock
West Virginia's New River is not only one of the oldest rivers in the Americas but also one of the most breathtaking. The preserved New River Gorge National River area includes numerous hiking trails past multiple waterfalls, sheer cliff faces and scenic overlooks. To really get your heart racing, you can go rock climbing or whitewater rafting. The beautiful New River Gorge Bridge is one of the most photogenic spots in the country.
Wisconsin: Olbrich Botanical Gardens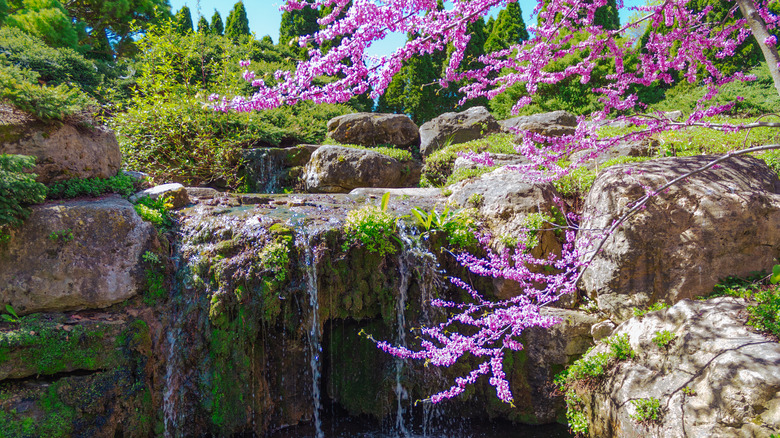 Pulchra.Imago/Shutterstock
Visitors might know Madison, Wisconsin, best for being home to one of the most beautiful college campuses in the country, but it's much more than a college town. Madison is also home to the romantic Olbrich Botanical Gardens, which includes a dreamy rose garden and the only Thai pavilion and garden in the continental U.S. The free gardens span 16 acres and a wide variety of plants, including flowers you didn't know are actually edible.
Wyoming: Jackson Lake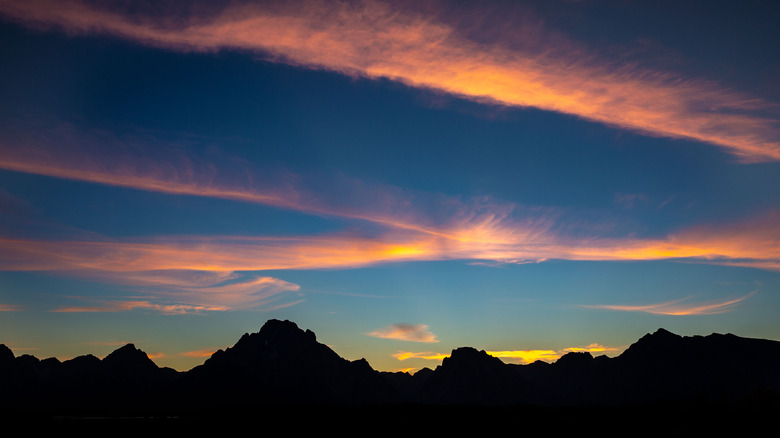 George Rose/Getty Images
You can actually go for a romantic stroll on the beach in Wyoming. While not a coastal state, Wyoming is home to multiple beaches along lakes, rivers and reservoirs. One of the best and most romantic is Jackson Lake in Grand Teton National Park. Enjoy an active day of hiking around the lake, or relax on a sunset boat ride while enjoying majestic views of the Teton Mountains. If you and your loved one enjoy Alpine views, consider planning a getaway to these amazing mountain towns around the world.