The 18 Best Places To Stargaze In Tennessee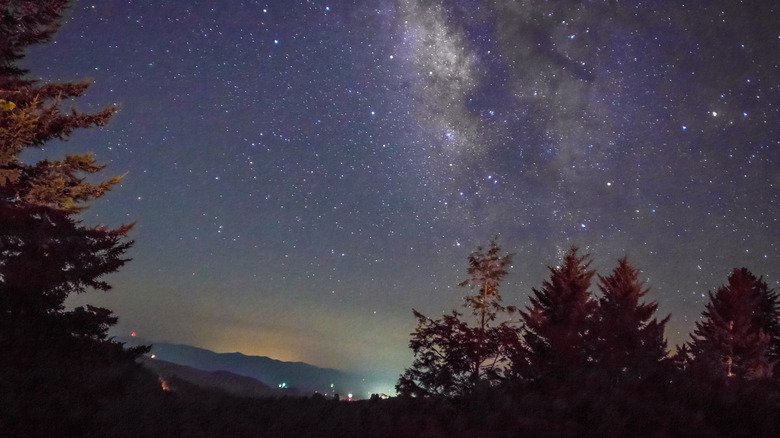 Orchidpoet/Getty Images
Tennessee is one of the best places in the U.S. to enjoy unfettered views of the night sky. With countless state and national parks, international sky parks, planetariums, farms, coves, sweeping landscapes, and then some, the Volunteer State is a stargazer's paradise. In fact, with such prime locations, marveling at the heavens above in Tennessee will likely ignite a passion for all things astronomy or set it ablaze before your trip's end.
So, whether you want to see the Milky Way, delight in all the glittering stars, catch a meteor shower, or simply enjoy a night basking in the moonlight, you can do all this and more in one of the prettiest states in the nation. Of course, with so many spectacular spots for gazing, it can be difficult to know which ones offer the most optimal views. Thus, to ensure that your vantage point of this scenic destination's night sky is beyond supreme, here are the 18 best places in Tennessee to accomplish your starry-night goals.
Need-to-knows before you gaze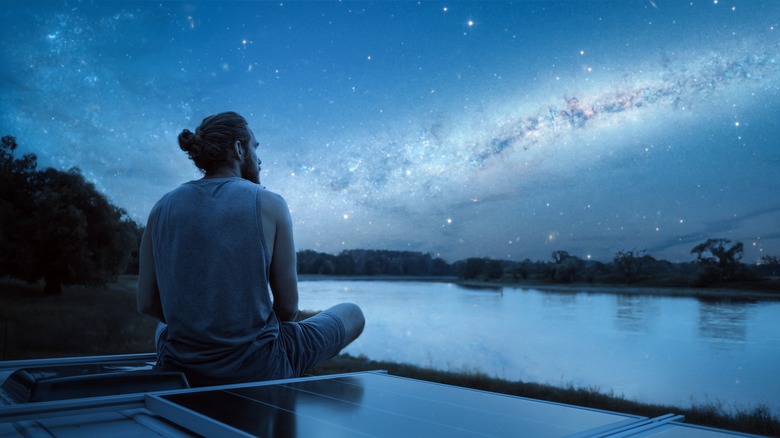 photoschmidt/Shutterstock
There are more than a few things you need to know before heading out to any of these phenomenal places. For starters, thoroughly planning out your star-filled adventure is important, especially if this is your first time stargazing. From checking the overall site conditions, the weather, sky clarity, and light pollution, to dressing properly and having the right accessories, there is no denying that marveling at the stars requires some forethought.
After figuring out these crucial tidbits, it is important to embark on your gazing early in the night rather than later. Stargazers should also ensure they have a telescope or binoculars, camera, star map app, and blanket in tow. Once at your desired location, remember to give your eyes time to adjust to the surrounding darkness and keep added light to a minimum (flash, flashlight, headlights, or campfires). To avoid fumbling around in the dark, you can opt for a red-filtered headlamp or a similar light source — iPhone users have a red-filtered setting for this on their phone, so they can take advantage of it when accessing their star map app, if applicable. And for gazers that prefer a more guided approach, signing up for an astronomy group, tour, event, or star party is recommended — most viewing sites have something in the way of these options.
The Great Smoky Mountains National Park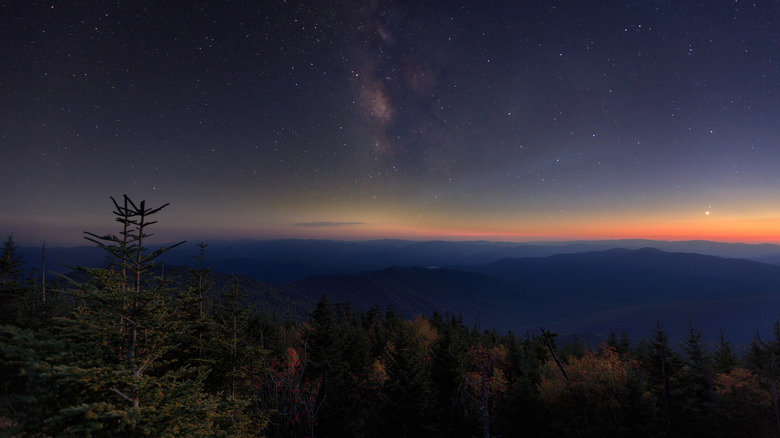 ZakZeinert/Shutterstock
Avid star lovers who enjoy stunning mountain views in an almost magical landscape should definitely make their way over to the Great Smoky Mountains National Park. With practically no light pollution here, gazers have over 261,000 acres of prime views of the Tennessee night sky. That said, the most popular spots for stargazing in the Smoky Mountains are along the Newfound Gap Trailhead, at Clingsmans Dome (the highest point in the Great Smoky Mountains National Park), Watterrock Knob, Fontana Dam, Max Patch, the Foothills Parkway, and Fontana Lake. Also situated in the park, Greenbrier Campground is another stellar vantage point for checking out the constellations and also an ideal location for camping out beneath the twinkling stars.
Fall Creek Falls State Park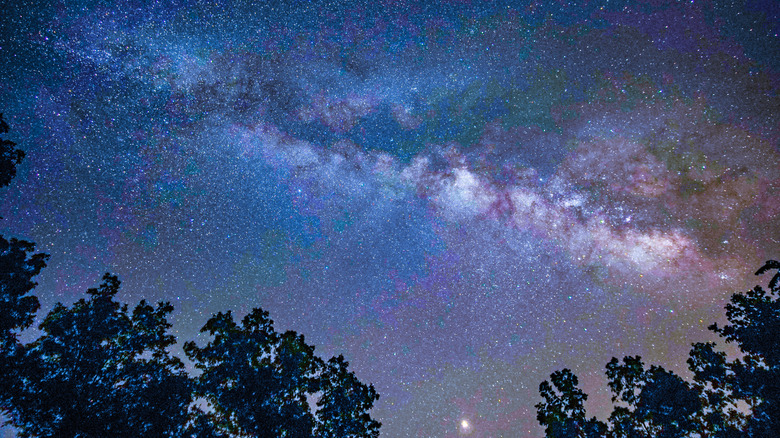 Ferline/Shutterstock
Located in Middle Tennessee, Fall Creek Falls State Park is known for its stunning, free-falling waterfalls, unique rock formations, and absolutely gorgeous pristine scenery. Spanning over 20,000 acres in total, Fall Creek Falls State Park is just one more impressive area of the Volunteer State that is brimming with recreational activities. At night, this grand park transforms into the quintessential setting for otherworldly stargazing that you simply should not miss. What's more, with ongoing astronomical events, available tours, exceptional sky quality, exploding stars overhead, and the chance to see distant galaxies with the proper equipment, of course, spending some quality time in Fall Creek Falls State Park should be on everyone's to-do list.
Edgar Evins State Park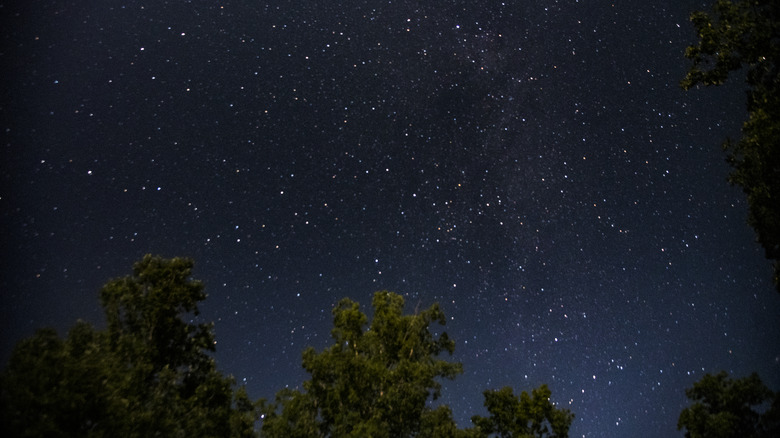 Alisha Bube/Getty Images
Edgar Evins State Park is an untouched Tennessee wilderness at its finest. Located off the banks of Center Hill Lake, in Silver Point, under 70 miles east of the Nashville area, Edgar Evins State Park has little to no light pollution and offers prime night sky viewing across its 6,000 acres. Here, stargazers can enjoy astronomy events, star parties, photography workshops, guided trips, and a host of recreational activities. This is undoubtedly an excellent choice for nighttime photographers and avid stargazers. And if you want to spend a few nights in a row marveling at the heavens above, Edgar Evins State Park has cabin rentals, campsites with full amenities, an onsite marina, a general store, and a restaurant.
Pickett CCC Memorial State Park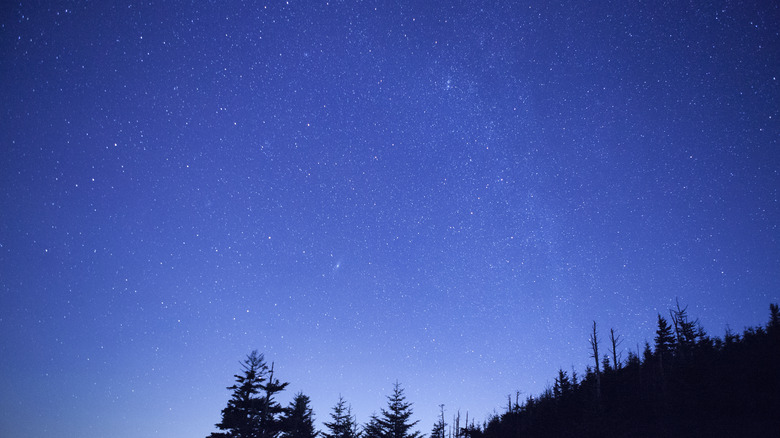 Rumin Gong/Getty Images
Classified as a Silver-tier International Dark Sky Park, Pickett CCC Memorial State Park is absolutely one of the best spots in The Volunteer State for stargazing. With its many daytime activities and gorgeous sunsets, you can easily spend all your time in this state park. Of course, the real magic happens here at nightfall when the entire area becomes a work of art underneath a blanket of stars. That said, for optimum visibility of the starlit sky, it is best to plan a trip to this legendary Tennessee gem during the new moon cycle. But with incredible views of planets, constellations, and circling stars almost all year round, plus dedicated astronomy weekends and star parties, gazers really cannot go wrong with a Pickett CCC Memorial State Park outing.
Big Hill Pond State Park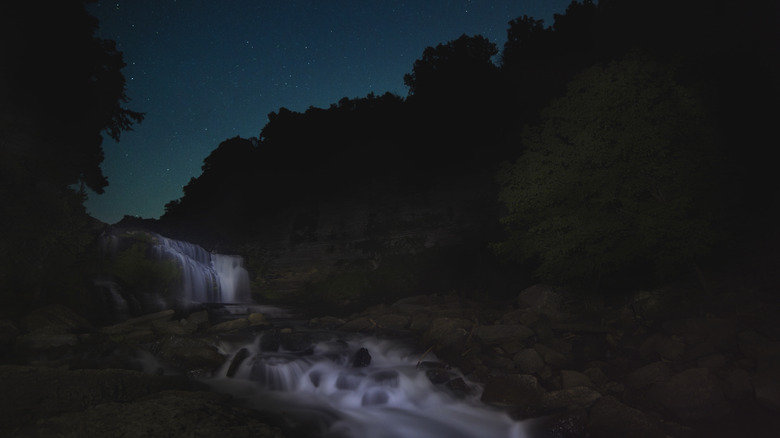 Anthonysp/Getty Images
Located in the west of Tennessee, in Pocahontas, Big Hill Pond State Park is one more spot with little to no light pollution, making a night under the stars here feel surreal. In fact, Big Hill Pond State Park is a popular destination for anyone who wants to camp out on a starry night. With more than a few campsites that make checking out the night sky a breeze, beautiful landscape backdrops, and a 70-foot observation tower for stunning panoramic views, this particular state park is a stargazer must.
Stillwaters Farm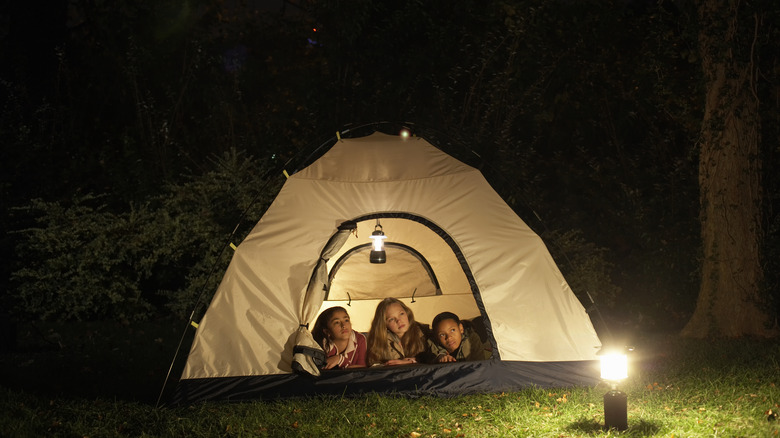 Christopher Robbins/Getty Images
In Henderson, Tennessee, eager stargazers can make their way to Stillwaters Farm. A family-friendly glamping spot, Stillwaters Farm has diverse accommodations available for outdoorsy folks that like to enjoy nature in style. In addition to being a great camping destination, this 150-acre farm is also home to quite the nature preserve. And at night, this farmland setting shines bright with its unique vistas and mythical sky views that practically rival any dark park in the area — making it the perfect place to de-stress, unplug, and appreciate nature in all its glory. So head to Stillwaters Farm for peaceful stargazing solely, or to learn more about galaxies, gaze at the moon, go glamping or pitch a tent with the constellations above, or simply enjoy a photography workshop.
Henry Horton State Park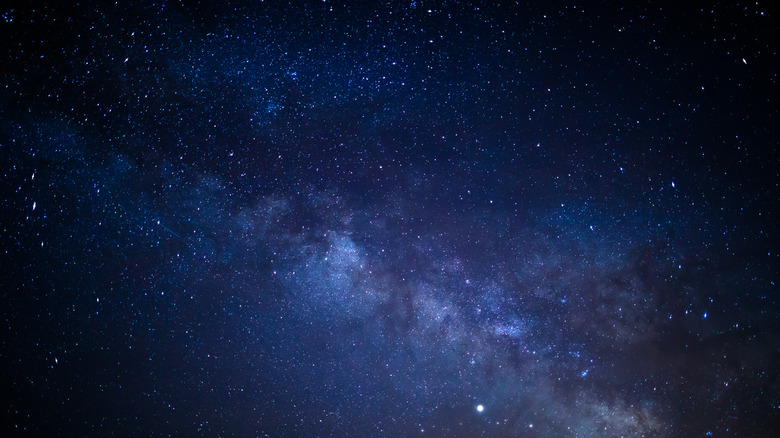 00one/Getty Images
Situated on the shores of Duck River in Chapel Hill, Tennessee, Henry Horton State Park is the ideal outdoorsy destination in the northeastern part of the state. Brimming with diverse terrain, wildlife, hiking trails, recreational fun, and camping sites (primitive, backcountry, and RV), Tennessee visitors are in for a splendid getaway here. After spending their days hiking, swimming, paddling, or even just relaxing, campers can treat themselves to excellent views of the starlit sky. Far away from the big city lights, Henry Horton State Park has all the makings of a breathtaking night under the stars and then some. So if you happen to be a night sky enthusiast and all for enjoying the great outdoors, Henry Horton State Park is definitely for you.
Harrison Bay State Park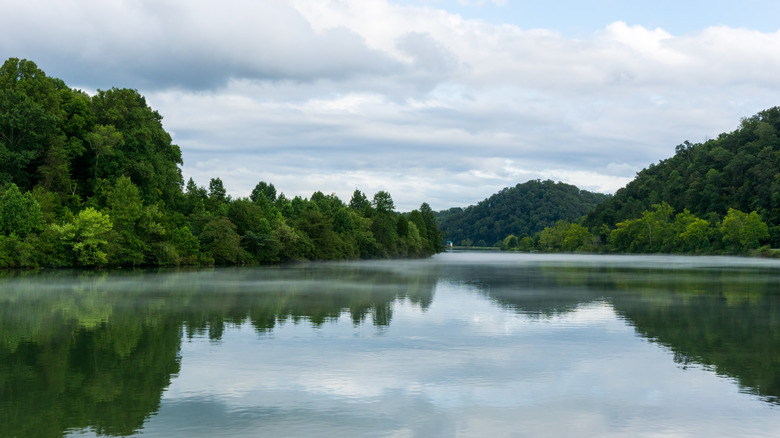 Kpegg/Getty Images
For Tennessee visitors closer to Chattanooga, the place to soak up all the twinkling stars in the sky is Harrison Bay State Park. This is another lovely expansive state park offering ample recreational activities, 1,000 acres of wilderness to explore, and divine shoreline vistas at Chickamauga Lake. Not only can parkgoers marvel at the heavens above, but they can also enjoy a leisurely Star Walk — a relatively easy trail to complete. This starry walkabout is a quick and fun way to get in some star time without setting up camp, though more than a few spots are available for tent-only, primitive, and RV camping. Plus, Harrison Bay State Park is a great spot to catch a glimpse of the awe-inspiring Milky Way, so gazers definitely will not be disappointed here.
Meeman-Shelby Forest State Park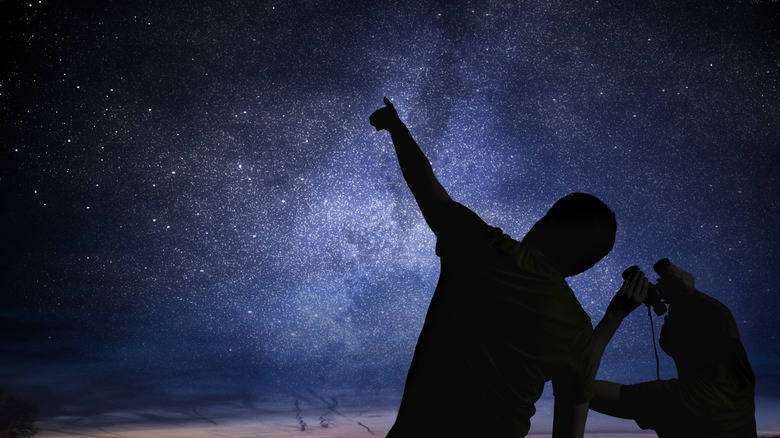 vchal/Shutterstock
Travelers headed to Memphis can visit Meeman-Shelby Forest State Park for delightful vistas of the surrounding forested area, the Mississippi River, and the night sky. Located several miles north of downtown Memphis, in Millington, Tennessee, Meeman-Shelby Forest State Park is largely devoid of light pollution — making it an excellent destination for gazing. Plus, with ample camping opportunities and cabin rentals available here, starry vacation nights are just a reservation away. And even though there is technically no designated stargazing spot within the park, that does not stop numerous tourists from making the most out of this location and getting into some serious stargazing.
Pogue Creek Canyon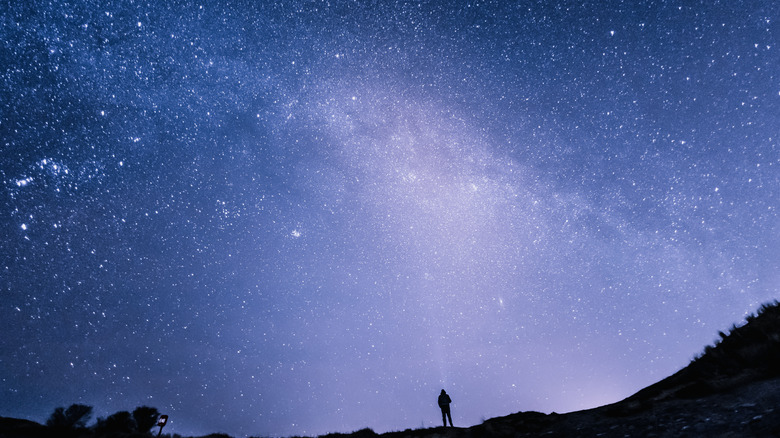 Tirc83/Getty Images
One of the Volunteer State's other official destinations for basking in the moon and starlight is none other than Pogue Creek Canyon. Located in Jamestown, Tennessee, this magical outdoor space has also garnered the title of Silver-tier International Dark Sky Park. Open for year-round gazing, Pogue Creek Canyon has an impressive astronomy field for telescope viewing, scheduled star parties, photography workshops, all kinds of events, and more. With over 3,000 acres of mixed terrain, most of which have little to no light pollution, Pogue Creek Canyon is actually the perfect setting for stargazing and nighttime photography, so don't delay booking an outing at Tennessee's second Dark Sky Park either.
Obed Wild and Scenic River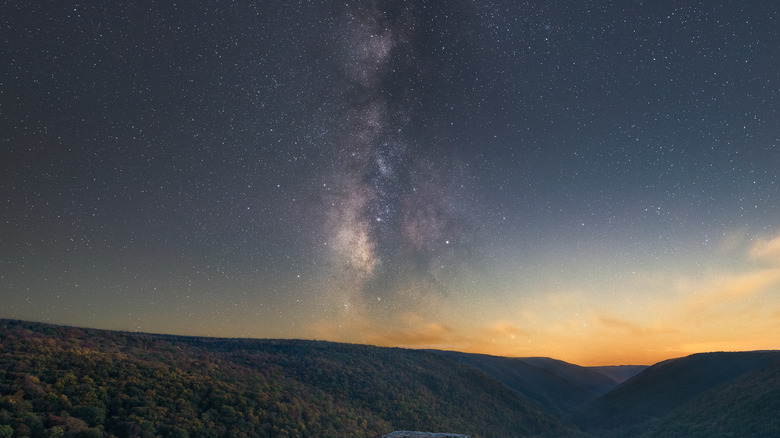 Michael Ver Sprill/Getty Images
A truly otherworldly experience is what awaits visitors at Obed Wild and Scenic River in Wartburg, Tennessee. With gorgeous waterfalls, surging waterways, lush scenery, 500-feet deep gorges, an abundance of wildlife, outdoorsy fun, and the sky ablaze with shooting stars and constellations, almost every night, this national park and designated International Dark Sky Park is absolutely next-level. Yet, for most parkgoers, the undeniably spectacular views of the Milky Way are what make this destination a rare treasure and a must-visit. Here, stargazers can also choose to sign up for astronomy and dark sky interpretive programs, guided tours, astronomical society events, camp out, or just appreciate the view.
Bledsoe Creek State Park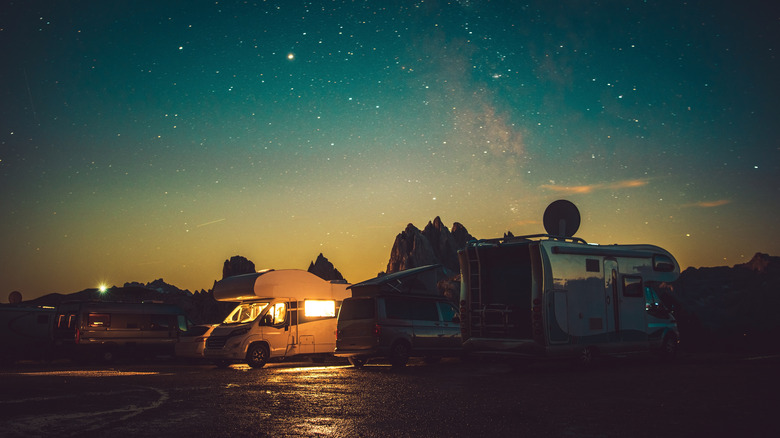 Imaginarious/Shutterstock
Within driving distance from Nashville, travelers will find Bledsoe Creek State Park. This is a great add-on for stargazers to consider. Though slightly smaller in acreage than most state parks, Bledsoe Creek State Park still has plenty to offer, including starlit Old Hickory Reservoir views, diverse recreational activities, astronomy happenings, and so much more. Here, parkgoers can take advantage of the many campsites with full amenities and RV hookups if they so choose while enjoying a getaway under the stars. What's more, this park's various camping sites are all great spots for getting a better look at the famous Milky Way, which is highly visible at night in Bledsoe Creek State Park, particularly from early July to late August.
Cades Cove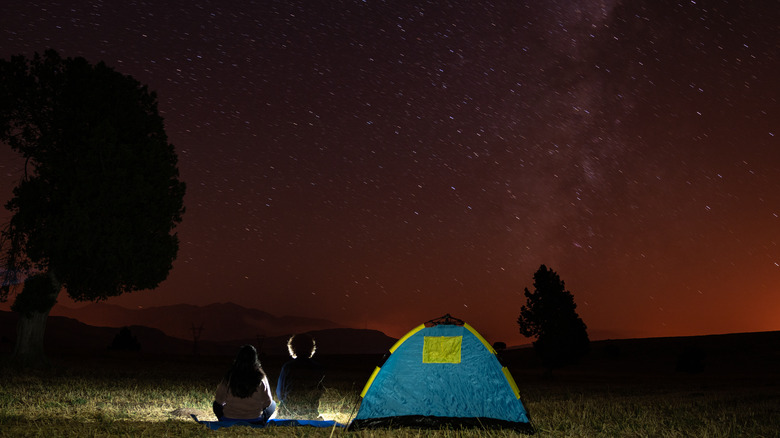 Selimaksan/Getty Images
Speaking of getting a peak at the Milky Way, Cades Cove offers quite the vantage point. Here, stargazers can enjoy the night sky and all its accompaniments from a wide open valley. That said, many people come to this specific area of the Smokies with a blanket, binoculars, and an astronomy buddy to just kick back and relax as they appreciate the fantastic unobstructed sights overhead. Alternatively, if you are more of an active gazer and prefer to marvel on the go, skip the late-night chill session under the stars and consider a guided star-filled adventure with the Smoky Mountains Astronomical Society leading the way then instead. No matter how you decide to view the celestial bodies above here, you will quickly see that Cades Cove in Pigeon Forge is a wonderful spot for all types of stargazing.
Big South Fork National River and Recreation Area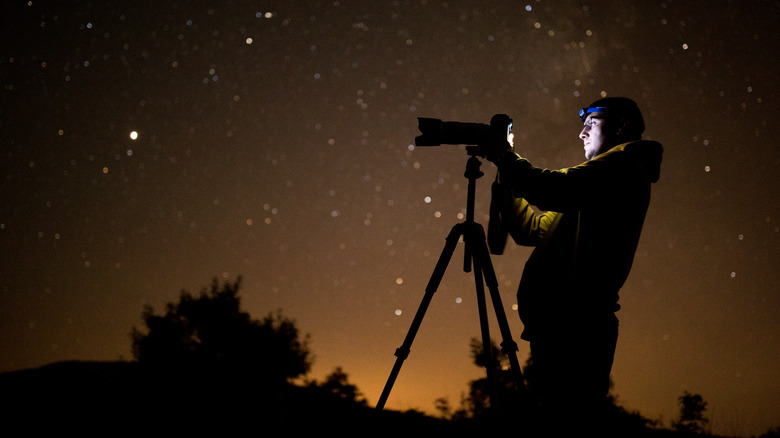 Bojanstory/Getty Images
This Tennessee recreational area promises stargazers a top-tier experience. Committed to doing their part to reduce light pollution, protect the surrounding ecosystem, and provide educational programs for the public (via the Knoxville Astronomy Club) since the early 1990s, Big South Fork National River and Recreation Area is one of the best places to go for all things astronomy. Here, rangers, amateur astronomers, and university professors are all on hand with telescopes, pertinent information about the stars, and more, so you definitely want to make it out to Big South Fork, especially if you are new to the wonderful world of astronomy and would like some stargazing or nighttime photography pointers.
Norris Dam State Park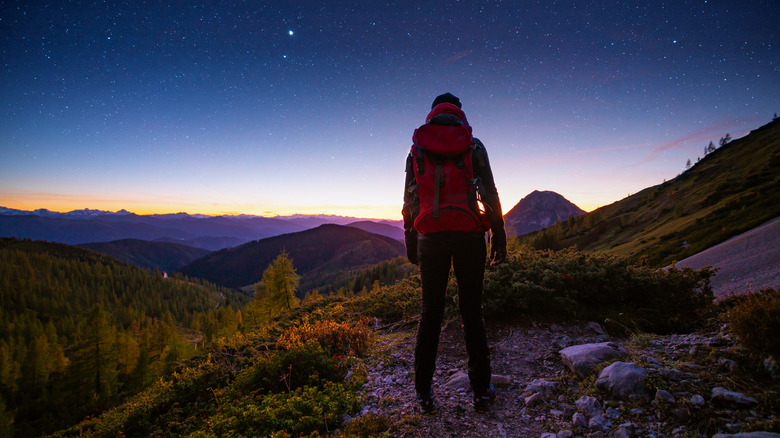 Amriphoto/Getty Images
Situated near East Tennessee, in the city of Rocky Top, Norris Dam State Park is a premier locale for stargazers. Deemed one of the best places to stargaze in all of Tennessee by Dr. Paul Lewis of UT's Astronomy Dept. (as quoted in City View Magazine), Norris Dam State Park is practically a must. Here, Dr. Lewis recommends heading to the park's pool for optimal viewing. Besides taking in the night sky here, parkgoers can partake in a variety of watersports, including boating, fishing, kayaking, canoeing, and more, thanks to the fully equipped marina located within the park. This state park has great recreational land activities like hiking, skiing, and horseback riding as well. Plus, there are several camping sites and cabin rentals available that easily allow you to make stargazing at Norris Dam State Park a multi-night experience.
Sudekum Planetarium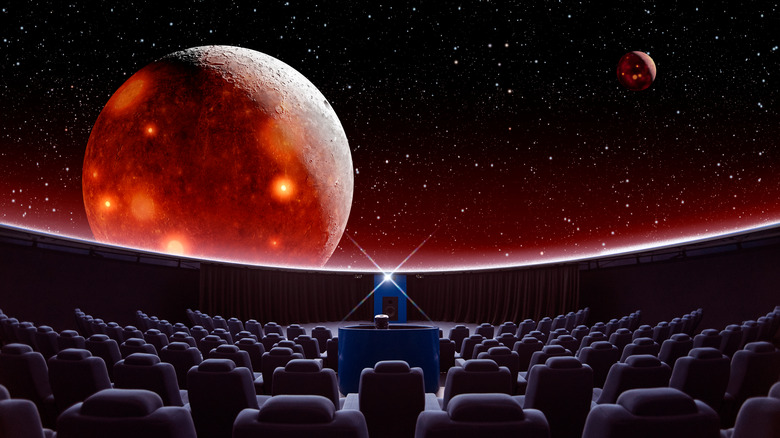 Pavel Gabzdyl/Shutterstock
A delightful and convenient way to marvel at the night sky when weather conditions are not at their best is by paying a visit to the Sudekum Planetarium in Nashville. With a 63-foot dome theater and phenomenal projection system that immerses planetarium-goers in the night sky with shows like "Night Watch," exhibitions, activities, camping, programs, and ongoing events, Sudekum Planetarium definitely makes the list of the best places to stargaze in Tennessee. But that's not all — this stunning planetarium is also a great place for wedding proposals with several options available, such as Celestial Soulmates and Lightyears of Love — for the perfect night of stars, love, and making plans for the future.
Peeler Park Greenway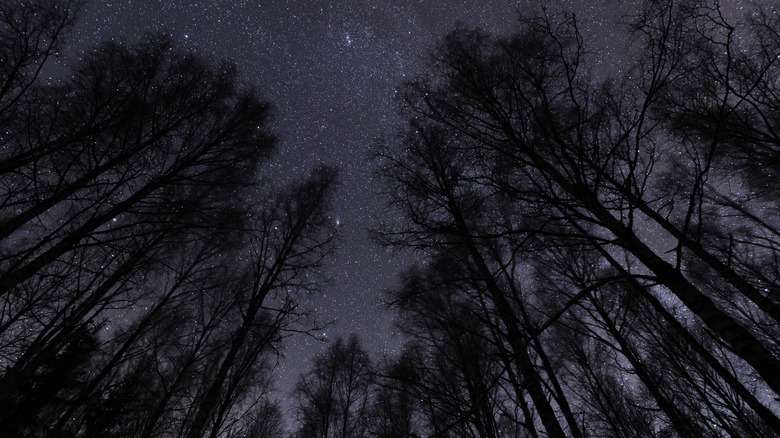 Eerik/Getty Images
Yet another phenomenal option in Nashville for gazing at the stars is Peeler Park Greenway. The actual definition of a hidden gem — there are even locals that don't know about this pristine outdoor recreational space and trailhead. Peeler Park Greenway is, however, a haven for adventurers with a handful of paths, forested land, open fields, easy access to the Cumberland River, ample wildlife, and countless sparkling lakes. And, of course, there are so many opportunities for admiring the night sky, visible celestial bodies, the occasional meteor shower, and the striking surrounding scenery. In particular, along the Peeler Park Greenway multi-use trail, stargazers can bike, roll, horseback ride, hike, or walkabout this 1.9-mile-long paved pathway at night for great views of it all.
Land Between the Lakes National Recreation Area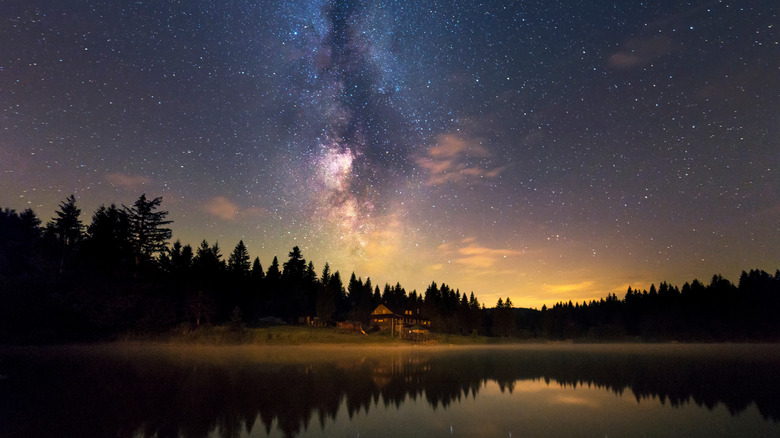 Filip Majercik/Shutterstock
Last but not least, the Land Between the Lakes National Recreation Area is an additional spot for astronomers and stargazers to watch more than a dozen plus meteor showers that are visible each year in the Volunteer State. Spanning across Tennessee and Kentucky, The Land Between the Lakes National Recreation Area is full of outdoor fun no matter the season. In Tennessee, visitors can access this heavenly area via the city of Dove. And it is here that stargazers can enjoy free star parties, a planetarium, an observatory, breathtakingly beautiful scenery, and incredible night sky views — all of which are stellar reasons alone to head to the Land Between the Lakes National Recreation Area. That said, whether you opt for this starlit recreational retreat or any of the other equally fantastic starry destinations in the Volunteer State, one thing is for sure, you are in for a glitteringly good time.