12 Best Sunscreens To Use When Visiting A Tropical Destination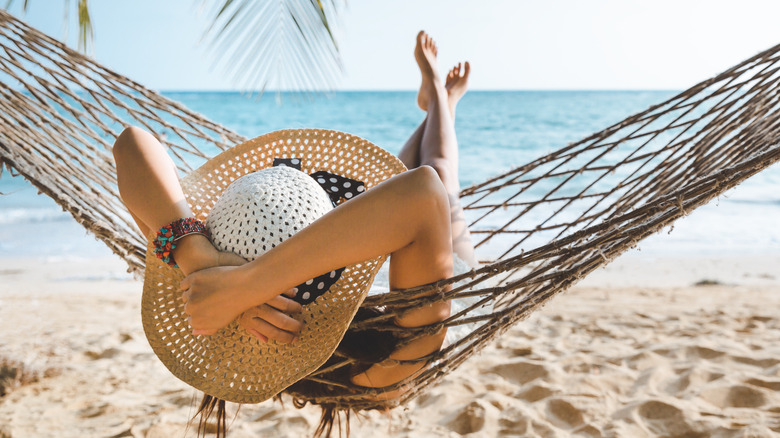 Peera_stockfoto/Shutterstock
We may receive a commission on purchases made from links.
We have never been more aware of how important it is to protect our skin from damaging UVA and UVB rays, but these days more and more people are also learning how important it is that we choose sunscreen and sun-blocking products that are also environmentally friendly and that will not damage coral reefs and endanger ocean life. 
As Everyday California points out, 1 in 5 Americans develops skin cancer before they turn 70. That means sunscreen is super important ... but some states and territories have begun banning sunscreen because it's too damaging to the world we live in. The banned sunscreens typically contain two chemicals, oxybenzone and octinoxate, that are known for being incredibly harmful to the environment.
The site goes on to explain that the real issue is that sunscreen ends up staying where people go, namely near coral reefs that so many of us like to dive and see. The chemicals in a lot of sunscreen cause coral bleaching. Luckily, there are plenty of reef-safe sunscreens out there. Here is a list of reef-safe sunscreen for your next tropical vacation.
How we selected the sunscreen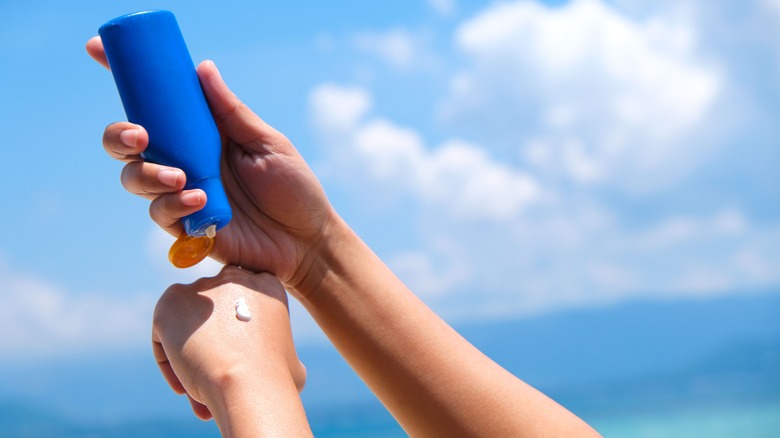 Me dia/Shutterstock
When it comes to choosing sunscreen and sunblock, we know that there are a few things that really matter. First and foremost, most of us are looking for lotions and creams that really do the job they claim to: protect our skin from getting burned!
But these days there's more to think about before slathering our skin with an ointment or balm and hopping into the sea. We all are increasingly aware that we share this planet with all kinds of creatures and beings, including those that call our lakes, rivers, and oceans home. As startling as it might be to learn that the very products we use to protect ourselves can wreak havoc on the water life around us, it's important to understand that we have a responsibility to help keep our coral and watery habitats safe. 
Ultimately, we considered price point (there are sunscreens that cover a wide range),eco- and water-friendliness, eco-friendly packaging, and user reviews. Happily, there are plenty of eco-friendly and water-safe sunscreens and sun blocks out there. 
Best sun serum
When it comes to sun protection, a lot of us want something that will get the job done without weighing down our skin (and overall vibe). Enter sun serums, especially the Unrivaled Sun Serum by Eleven by Venus Williams. This particular serum is designed for your face, and can be worn over your regular moisturizer and under any make-up you want to put on before heading out.
The Unrivaled Sun Serum combines coconut fruit extract — which is packed with antioxidants, amino acids, and electrolytes — allantoin, which calms the skin, and shea butter esters to offer unparalleled moisture. On top of that, the serum is completely reef-safe and uses 25% zinc oxide to combat the sun's rays and keep your skin from burning (no chemical SPFs here).
Figuring out what SPF to use can be confusing, but luckily there are experts out there who know their stuff. Men's Health asked Dr. Mariana Atanasovski to explain the numbers game as it relates to SPF. As she put it, "SPF 30 blocks 97% of UVB rays, whereas SPF 50 blocks 98% and SPF 100 blocks 99%." 
Best moisturizing sun lotion
Packing on the SPF is never a bad idea when you're trying to protect your skin in a tropical location, and Biotherm's Waterlover Moisturizing Sun Lotion will definitely help you achieve that goal with its SPF 50+ content. The sun lotion has been eco-tested for both skin and ocean safety, and the brand specifically notes that the product is safe for all the plankton and aquatic life you might knowingly (or unknowingly) encounter. On top of that, the lotion itself is encased in cardboard, and the brand claims its using 43% less plastic in its packaging this way.
Plankton is very important to both lakes and coastal waters, and the impact of sunscreen and sun lotion on plankton life cannot be understated. In November 2021, a team of students from LMU Munich found that very small crustaceans such as plankton experienced delayed growth as a result of exposure to high levels of sunscreen in their home waters (via Bate-Papo com Netuno). Using a sunscreen or sun lotion such as this option from Biotherm can help minimize that impact in a major way.
Best sun cream for sensitive skin
La Roche-Posay is consistently recommended by dermatologists around the world because the brand offers some of the best mild treatments for skin conditions such as acne (per Healthline). La Roche-Posay also boats its own line of sunscreen, and its Anthelios line is especially designed for sensitive skin.
If you are looking for sunscreen that is both super protective and environmentally on point, the Anthelios Sun Cream Moisturizing Tube offers both. The sun cream is part of the brand's first generation of product tubes made from cardboard, which uses up to 75% less plastic than traditional tubing. On top of that, the cream offers SPF 50+ protection from the sun's rays — both UVA and UVB (via La Roche-Posay).
This sun cream also offers the added benefit of moisturizing your skin while you wear it, which means you won't finish the day feeling depleted and dried out. The product has been fully eco tested, and is described as "more respectful of the marine environment." As one reviewer wrote, " I used the milk all over my body before sun exposure, no white marks or greasy finish compared to other products already tested, this milk is quickly absorbed by my skin. Coming out of the water my skin remained hydrated and even the sand didn't stick to me" (via La Roche-Posay).
Best sun stick
Not everyone is comfortable with creamy sunscreens. The reason why can vary, but luckily there are plenty of alternatives out there for those who want a different sun-blocking experience. Suntribe offers a sun stick that is specifically designed for those who will be active while avoiding the sun. As the brand notes, the sun stick was created for those who enjoy sailing, surfing, and more (via Suntribe).
The Suntribe Sports Zinc Sun Stick has an SPF of 30 and is a mineral sunscreen, which has become increasingly popular in recent years. Dermatologist Dr. Vivian Bucay spoke about the effectiveness of mineral sunscreens at the 2019 Cosmetic Surgery Forum, where she explained that mineral sunscreen is "a big buzzword right now with sunscreens and they're extremely well tolerated" (per Dermatology Times). The sun stick from Suntribe is made from organic ingredients and is also safe for both coral reefs and aquatic life.
Best sunscreen for Black skin
Shontay Lundy created Black Girl Sunscreen in 2016 after years of frustration with sunscreens that left a white residue on her skin. The lotion boasts an 30 SPF and is designed for darker skin. Lundy has also made it a personal goal of hers to use the brand to educate Black women and girls about skin care and sun protection, and detailed her journey from graduating with an MBA to packing up and moving to Miami, Florida, following her ambition and creating Black Girl Sunscreen along the way (via Black On Shelf). 
Lundy told Business Insider that she was driven to create the brand because nothing else existed for her. As she put it, "I knew that there had to be a solution to the lack of options. The journey began to find a solution for eliminating white residue and making women of color feel great and look great in the sun."
Per Ulta, the sunscreen helps protect skin from UV rays, which can cause signs of premature aging, hyperpigmentation, and dark spots. Reviewers overwhelmingly love the sunscreen, with one writing, "I have very sensitive, oily-combo, hormonal acne, hyperpigmentation skin and this doesn't irritate my skin at all. Goes on like a moisturizer and leaves no white, cast, or anything behind."
Best wrinkle-defense sunscreen
Many dermatologists recommend wearing sunscreen on our faces each day no matter what our activity level might be, but it's not always easy to find a sunscreen that will protect our skin without making us breakout. Enter: Dr. Dennis Gross All-Physical Wrinkle Defense Sunscreen. The oil-free, fragrance-free, 100% mineral formula offers protection against UVA and UVB rays as well as against blue light, pollution, and photoaging.
As Shape pointed out in its review of the sunscreen from August 2022, our faces take on a lot of sun damage — probably more than most of us suspect. As Joshua Zeichner, the Director of Cosmetic and Clinical Research in Dermatology at Mount Sinai Hospital in New York City, told the magazine, "Most of the sun exposure people get is unintentional and incidental. People don't realize that it's during short moments spent outdoors — their commute to work, running errands — that the sun is damaging their skin." Luckily, this facial sunscreen from Dr. Dennis Gross is designed to combat all of that and more. 
Best mineral sunscreen
Thinksport offers a mineral sunscreen that can be used by even the most active of us and that won't break the bank. Thinksport also boasts being the first sunscreen to pass the Whole Foods Premium Care requirements, and the skin-safe formula is free of "PABA, parabens, phthalates, BPA, oxybenzone, avobenzone, petroleum, gluten, dairy, and toxic chemicals" (via Amazon).
On top of that, the Thinksport sunscreen is very reef-friendly, making it an easy choice to bring along on your tropical vacation (or to snag once you make it to your destination). As described by the brand, its formula is both "highly biodegradable" and non-toxic, and "does not contain any known chemicals harmful to coral reefs."
If you are looking for tips on how to apply sunscreen in the most effective way, Dr. Julia Carroll told LaSpa that the best way to do so is when you aren't wearing any clothes at all. She said, "The best time to put sunscreen on is first thing in the morning before you get dressed. If you're applying your sunscreen once you have your clothing on, you might miss a spot. Don't forget the tops of the ears and the tops of the feet."
Best skin-protecting balm
Eir NYC has come up with a pretty novel sunscreen: its Surf Mud Pro sun balm is wrapped in plastic-free tubing and can be rubbed on like it's a lip balm for your skin. The balm has a chocolate-scented finish that glides easily onto skin and lasts, even if you have a day filled with sunshine and sun rays planned. One reviewer named Katharine wrote that the sun balm was ideal for her Cabo vacation. She explained, "Just had the chance to use when we arrived in Cabo yesterday. Works very well. Love that it is not sticky. You can't feel it on your face."
The sun balm is also safe for your skin, which is something that many of us are newly realizing really, really matters. As University of California San Francisco dermatologist Kanade Shinkai told NPR, "I think there was an assumption that these are things that we apply to our skin — they don't really get into our bloodstream." These days we're learning that what we put on our skin can definitely enter our bodies in unexpected ways, making a skin-safe product such as Surf Mud Pro all the more important.
Best sun paste
MANDA offers a light sun paste that is easy to pack and super safe for reefs and oceans. The MANDA Sun Paste is also designed for people who plan to be active, which means the formula can handle all the kayaking, swimming, and snorkeling you plan to do. The chief ingredient in the paste is Thanaka, which has been "used for over 2000 years by Burmese people to protect and beautify the skin."
MANDA's formula also doesn't contain oxybenzone or octinoxate, both of which cause significant damage to oceans and coral reefs. The paste arrives packaged in bamboo and a recyclable tin, which you can also choose to clean and reuse for storage.
Reviewers are happy with the sunscreen as well. As one user named Jamie wrote in November 2018, the only thing to keep in mind is that the sun paste has to be warmed up (body heat works) to be useable. Other than that, it's good to go. Jamie wrote, "The paste smells great, not at all toxic and oily like the Coppertone spray wife loves around the pool. It goes on fairly thick and rubs into my skin well. I'm still getting the hang of application, but so far, my face has not gotten burned in 3+ hour surf sessions" (via Amazon).
Best bundled sun protection
Plenty of us are interested in finding a reef-safe, skin-safe sunscreen that can be worn under makeup, which isn't always an easy combination to find. Skin brand Kinfield offers a bundle that will get you two incredible products for $50 — the company's Daily Dew SPF 35 and its Sunglow SPF 30. The former is meant to be used all over your body ahead of sun exposure, and the Sunglow can be worn daily on your face under makeup. 
Reviewers are super happy with both products, with several noting that their skin doesn't break out when they wear the mineral Sunglow on their faces. One woman named Katie explained, "Both my boyfriend and I love the Daily Dew SPF! Living in Colorado, the sun is so strong and this became our favorite sunscreen for daily use and summer activities" (via Kinfield).
Sunglow also offers what the brand refers to as a "lightly 'glow'" tint that is flattering for all skin types and shades, making it something you could possibly wear without any makeup at all.
Best sunblock
Another budget-friendly option that provides mega sun protection and is environmentally-friendly is Bare Republic's Clearscreen Sunscreen & Sunblock, which you can snag for $9.99 on Amazon. The brand notes that its sunscreen and sunblock is vegan and fully compliant with Hawaii's Reef Compliant Act 104, which means you can enjoy all your water-based tropical activities without worrying that you're causing harm to the ocean and environment.
The sunscreen and sunblock is described as non-greasy, which means it will be easy to wear on nearly every skin type. This is echoed by reviewers, such as one by the username of Buzy_reading who explained in their review, "This is by far the best sunscreen on the market. This goes on like lotion. It's not greasy. It doesn't smother my skin. No sticky residue when applied. No white chalky appearance once applied" (via Amazon). 
Cruel Free Beauty Reviews also celebrated the sunscreen and sunblock in their review of the product. As the author of the site said, "I honestly feel like I've yet to find a body sunscreen I truly love, the best I have come is any mineral-based formula."
Best organic sunscreen for kids
While kids can wear most sunscreens out there, there are several brands that design their products specifically for children. Of these, Alba Botanica's is one of the best in terms of cost-effectiveness, product formula, environmental-friendliness, and providing products that are easy to use. The brand's Very Emollient Active Kids Clear Sunscreen Spray has an SPF of 60, which means your kids will be super protected from the sun's rays, and is recommended by the Skin Cancer Foundation. The sunscreen is also free of oxybenzone, octinoxate, or gluten, which means both the ocean and reefs and children with gluten allergies or sensitivities will be okay.
Multiple reviewers on Target's website have stated that they never burn while using the spray, and one noted that it definitely works for all members of the family (even adults). Hillary explained, "We went on a cruise a couple years ago, and for the safety of marine life, there were certain sunscreens you could use, alba being one of them. I figure if it's safe for the ocean then it should be safe for us. This sunblock has a great smell, sprays well, and seems to work great" (via Target).