Solo Travel: Your Guide To Exploring London Alone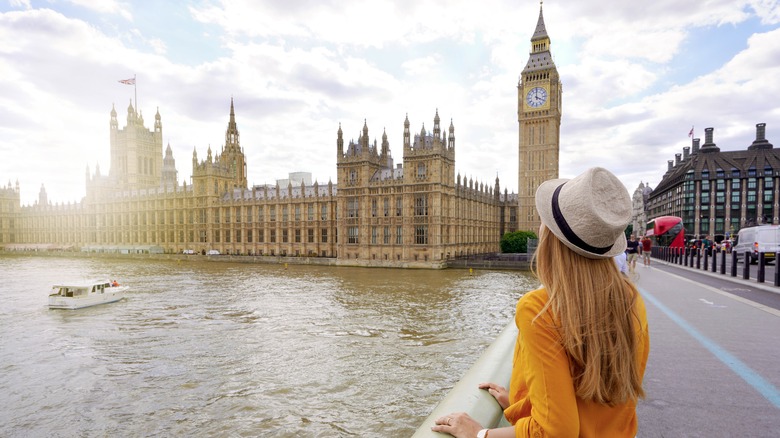 Zigres/Shutterstock
London is one of the world's best cities to enjoy solo. In fact, the U.K.'s capital city is not only the perfect place for going beyond your comfort zone as a party of one, but London is also a solo wanderer's paradise with no shortage of things to do, experiences to have, or attractions to check out. Of course, if you are still getting used to traveling by yourself, then London is also a wonderful city for delving deeper and building up your confidence as a lone traveler.
With lively neighborhoods, solo traveler-friendly accommodations, no language barrier, and several ways to get around this city, a getaway here can truly be whatever you decide to make it. And thanks to this one-of-a-kind city's vast history, incredible shopping, numerous markets, abundant sightseeing tours, countless museums, pubs galore, and more, travelers can expect a full schedule here. So if you crave an action-packed adventure abroad, the Big Smoke is definitely a great option for your next solo getaway. That said, here is your complete guide for exploring London alone.
Where to stay while exploring the Big Smoke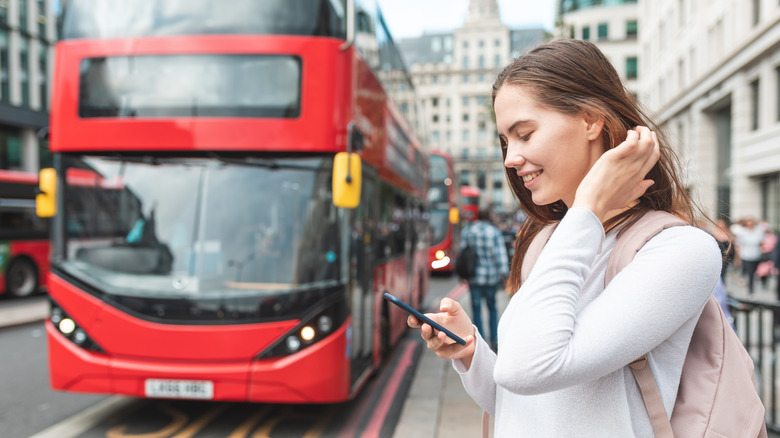 William87/Getty Images
Lone wanderers gearing up to explore the Big Smoke have a lot of ground to cover. But the good news is that the U.K.'s capital city is very walkable, and staying in a convenient area will make your city exploration go much more smoothly. Here, visitors can opt for the solo travel tried-and-true hostel, feel at home with an apartment rental, or kick it up a notch with a boutique hotel stay. But, regardless of your solo lodging preference, it is the location that matters most, and checking all the sights and experiences off your itinerary is much easier when you stay in the center of it all.
Neighborhoods like Marylebone, Bloomsbury, Kensington, and Covent Garden then should be atop the list when figuring out your vacation stay. Here, solo visitors will find diverse accommodations within walking distance of many of this city's major attractions. So, hostel enthusiasts can opt for YHA London Central, YHA London Oxford Street, or YHA London St. Paul's. While solo explorers on a budget who prefer a hotel stay can consider The Z Hotels, with several prime London locations. Alternatively, The Marylebone Hotel or any of the boutique Residents Hotels (in Covent Garden, Kensington, or Soho) are excellent high-end stays recommended for parties of one. And reasonably-priced apartment rentals are also available in Greenwich, not too far away from the action, via apps or sites like VRBO and Staycity Aparthotels.
Mind the gap on the Tube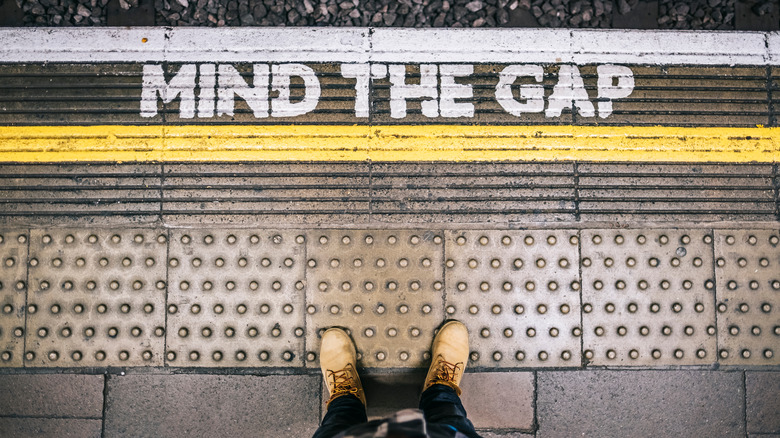 DanielGonzalezPhoto/Shutterstock
Once you have figured out where to book your preferred lodgings, the next step is to ensure you make the most of your time in London. As briefly suggested, the U.K.'s capital city is fairly easy to navigate once you get your bearings. In addition to being pedestrian-friendly, London has a wide range of great public transportation, including bike rentals, black taxis, trains, double-decker buses, and more.
However, the London Tube (the city's underground transit system) is likely what you will frequently use to get from point A to point B. For first-time visitors, the Tube may seem a little intimidating initially. But, with a handy map in tow (which you can download on your smartphone), you can quickly get the hang of it and stay on budget — all while making the most of your solo adventure. Of course, to familiarize yourself with the city above ground, do not forget to book a guided walking tour at the start of your trip. Then, after your tour of the city on foot, you can take advantage of the Tube — just remember to mind the gap and plan out your journey ahead of time so you get off at the right stop.
Book a tour to see the major sights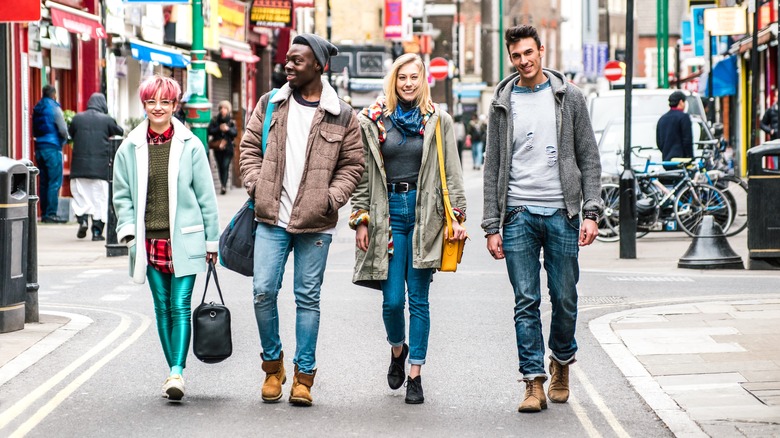 View Apart/Shutterstock
Speaking of city excursions, there are countless tours available in London. From historical, paranormal, and royal to "Harry Potter," Shakespeare, and Jack the Ripper, solo explorers can enjoy this metropolis from all types of different perspectives. You can also book many incredible sightseeing tours in the Big Smoke. And, if you do opt for more than just a London walkabout, you can learn some interesting tidbits about your favorite topics.
Besides a good old-fashioned walking tour, this city also offers bus, taxi, bike, and even boat tours. So solo travelers can delight in all that London has to offer in more than a few ways. With a small group, private, and standard guided tours, immersing yourself in this fantastic destination is just a scheduled meeting point away. Even if you prefer self-guided excursions, it is recommended that you take at least one guided tour. Doing so will ensure that if you have any questions or would like any recommendations along the way, you have a local who can assist you with all of that and then some.
Enjoy a spot of afternoon tea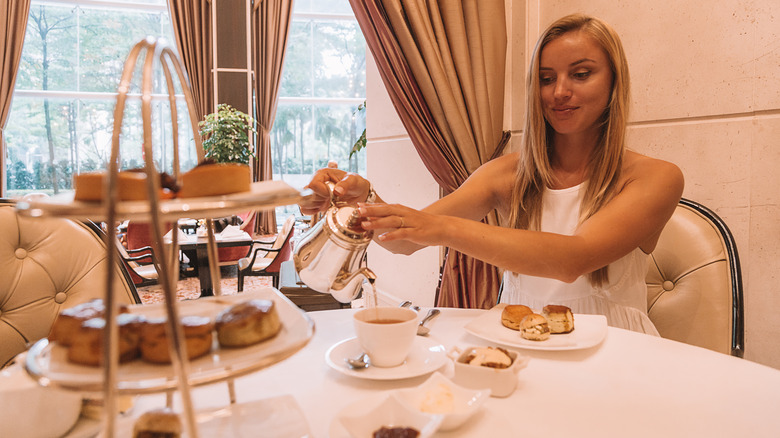 Ingus Kruklitis/Shutterstock
While marveling at all the attractions, solo explorers should also take the time to enjoy a quintessential British pastime — the afternoon cuppa. There is no denying the fact that Londoners love a nice afternoon cup of tea. Even though booking a lovely and lavish afternoon multi-tea experience with all the trimmings is more of an activity for tourists or special occasions, that does not mean you cannot partake in this delicious affair, as this is definitely a must when in town for any traveler.
With "Alice in Wonderland," holiday motifs, and birthday-themed bookings — just to name a few options — parties of one are in for a real treat with this experience. So if you are looking for a laidback activity while exploring the Big Smoke, then consider trying one or maybe indulge in a few afternoon tea experiences. Either way you decide to go, this is a great activity with tasty eats, your choice of herbal refreshments, and even a glass of champagne.
Have a museum day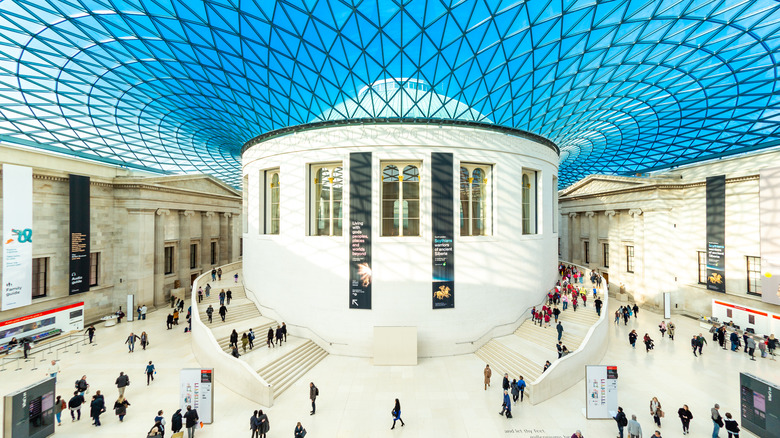 Alex Segre/Shutterstock
Yet another entertaining way to explore London is by embarking on a museum day. London is home to a diverse selection of museums with over 17 options to choose from. So, if you are an avid lover of the arts or a history buff, expect to have a grand old time in this culture-rich city. Here, solo wanderers can delight in as many museums as possible simply because they are in town or in the event of less-than-pleasant London weather.
As a party of one, perusing your destination's many museums is always a great way to get a better sense of the place. Many of the popular museums in the city, like the British and the Natural History Museums, are quite large and full of fascinating finds. Don't let anyone tell you otherwise — t is perfectly okay to spend an entire day in either of these most-visited spots! Other notable museums to check out in London include the Design Museum, The V&A, the Museum of London, Tate Modern, and Sir John Soane's Museum. Of course, visiting them all in a single day is virtually impossible. But you can start at the British and The National History Museums before eventually making your way to smaller and more eclectic points of interest if you have the time.
Hit the shops on Oxford Street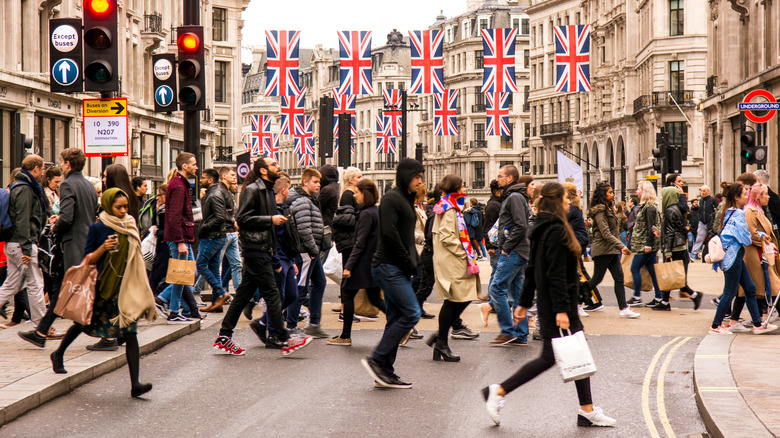 William Barton/Shutterstock
For fashionistas and die-hard shoppers, there is no better place in London than Oxford Street. Home to some of the most amazing shops in the city, Oxford Street is great for people-watching, treating yourself, and grabbing a spot of afternoon tea. Thus, solo wanderers should definitely take the opportunity to explore this fantastic area of London, even if they are not crazy about shopping.
Approximately 1.2 miles long, Oxford Street dates back to the Romans (though it was called Via Trinobantina then) and continues to be a spot in the city that attracts millions. Not only is Oxford Street full of high-end stores, bargain boutiques, a few souvenir shops, and more, but it is also an enchanting boulevard pretty much all year round. Adorned with flags (British and other celebratory ones), seasonal Christmas lights, artistic window displays, and musicians, this road is always teaming with excitement. So even if you are not in the mood to shop, you can still marvel at all the sights and sounds as you stroll down one of the busiest streets in all of London.
Schedule downtime in the SkyGarden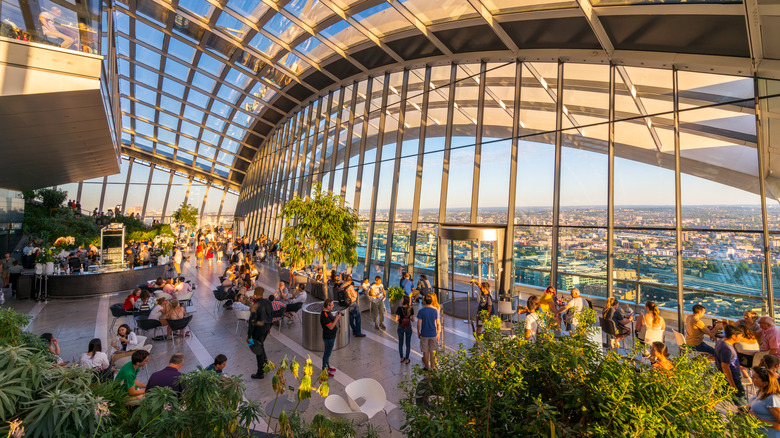 Pajor Pawel/Shutterstock
Solo explorers looking to take a load off in the Big Smoke can do so in the lush oasis that is the Sky Garden. Here, visitors can enjoy amazing views of the city's breathtaking skyline, the River Thames, St. Paul's, Tower Bridge, and the Tower of London in this vibrant and flourishing garden in the sky. But that's not all — the Sky Garden also has two incredible restaurants, live music, three cocktail lounges, and offers garden-goers a touch of greenery in an otherwise urban space, no matter the season.
So, unsurprisingly, this is the perfect little spot in the city for solo visitors to kick back and relax. This is especially true for anyone who wants to join in on yoga mornings also held at the Sky Garden. Solo explorers should make it a point to schedule some downtime here, and maybe even grab a light bite to eat with a glass of wine. If you do plan to have dinner or a drink here, however, it is highly recommended that you make reservations in advance.
See the city from atop the London Eye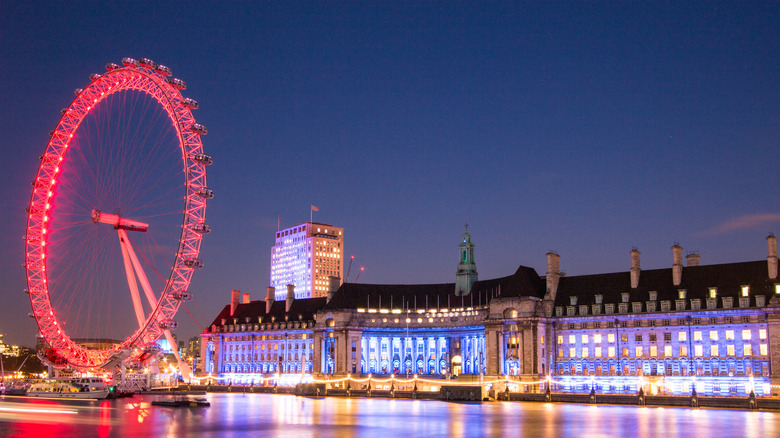 Lorenza Marzocchi/Getty Images
While exploring London and marveling at its picturesque skyline, you may have noticed the iconic London Eye. Visitors can hop on this Ferris wheel almost any time of the day, seven days a week, depending on the season (summer hours are from 10 a.m. to 8:30 p.m., and winter hours are 11 a.m. to 6 p.m.). That said, there is no denying the fact that there is just something magical about a ride on the London Eye as the sun sets or at night.
So, explorers who want to see London's cityscape like never before should buy tickets for an evening or nighttime ride. Of course, solo travelers with other evening plans or those in town during colder months do not have to pass on this legendary 30-minute ride. Thankfully, the second best time to ride the eye is in the morning, come rain, snow, or shine. Here, Ferris wheel riders can add a warm cup of coffee or cocoa to this experience and be dazzled by the view all the same.
Grab a pint in a pub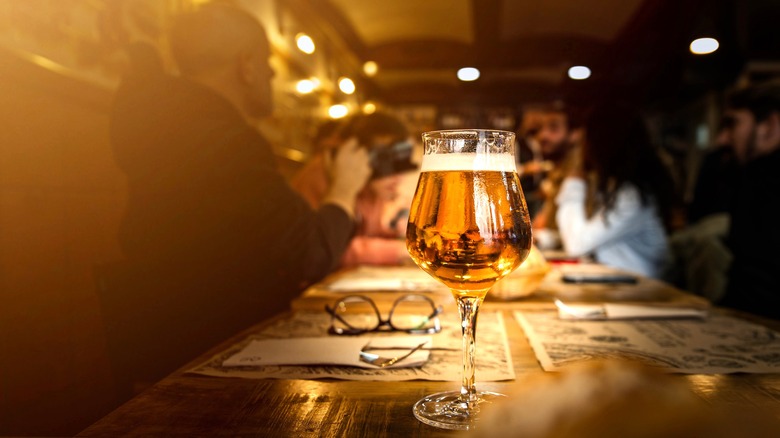 DavideAngelini/Shutterstock
First-time solo visitors may have heard that pub culture is alive and well in the Big Smoke — and it definitely is. In fact, there is a pub practically on every corner in this great city. So, if all that walking around you have got planned starts to wear you out, then take a break and stop in for a pint in any one of London's many pubs.
Even if you are not a big beer drinker, London pubs have a variety of strong ciders on tap, the famous pitchers of Pimms, and then some. What's more, many of the pubs in the Big Smoke date back to the 1800s (some even further back) and have played an important role in more than a few notorious London characters' stories. Intrigued solo wanderers can book a guided pub crawl or be pleasantly surprised on other legendary London tours. That said, whether you decide to stop for a while on your own or via a tour — don't be shy, grab a drink, mingle with others, appreciate the establishment's history, and enjoy.
Go on a solo date with dinner and a show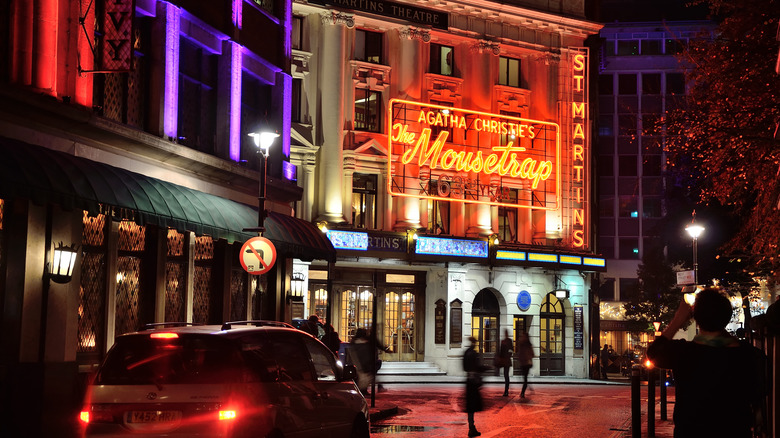 Nadezda Stoyanova/Shutterstock
Parties of one vacationing in the Big Smoke should also add a solo date with dinner and a show to their itinerary — if nothing more than for the experience of it all. Not only is the London Theater scene and district nothing short of amazing, but it is also a wonderful way to enjoy a cultured night out on the town. Here, solo explorers can delight in a plethora of performances, shows, and more.
Plus, if you have never spent a night at the theater (with a quick dinner beforehand), then this experience definitely qualifies as you stepping outside your comfort zone. So why not try something new, get a little dressed up, grab a fancy dinner, and catch a phenomenal show while in town? With world-renown theater productions like "Les Miserables," "Wicked," "Phantom of the Opera," "Mamma Mia!," "Mousetrap," and multiple dinner-and-a-show packages available, this is a splendid time just waiting to happen in this lovely city.
Plan a day trip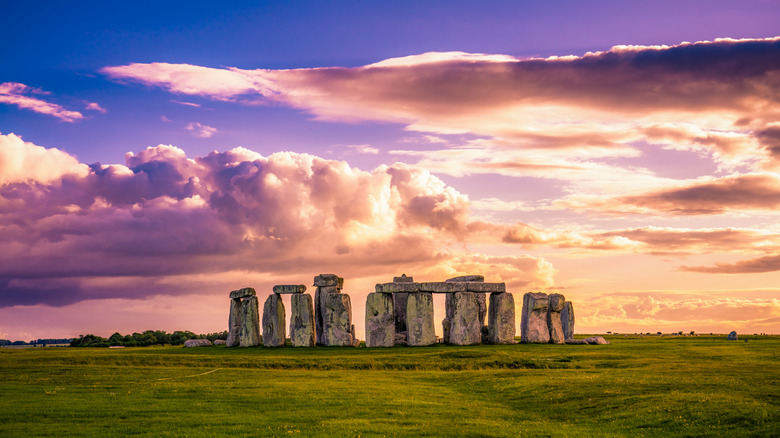 Pajor Pawel/Shutterstock
After spending as much time in the city as you desire, solo wanderers should not let the fun stop there. One of the best things about visiting London is its proximity to other fantastic points of interest. And although you will likely have ample activities and experiences you can book while in the Big Smoke, you should definitely not miss this opportunity to see more of the U.K. or its neighboring destinations. 
Of course, travelers do not have to plan something as extravagant as a few days in Paris or a weekend in the Scottish Highlands if they happen to run out of things to do in London. Instead, consider something small if there is room in your schedule. There are numerous day and half-day trips that are only a few hours out that will take you to renowned castles, ancient ruins, gorgeous beaches, must-see attractions such as Stonehedge, and so much more just beyond the city.
Treat yourself to a spa day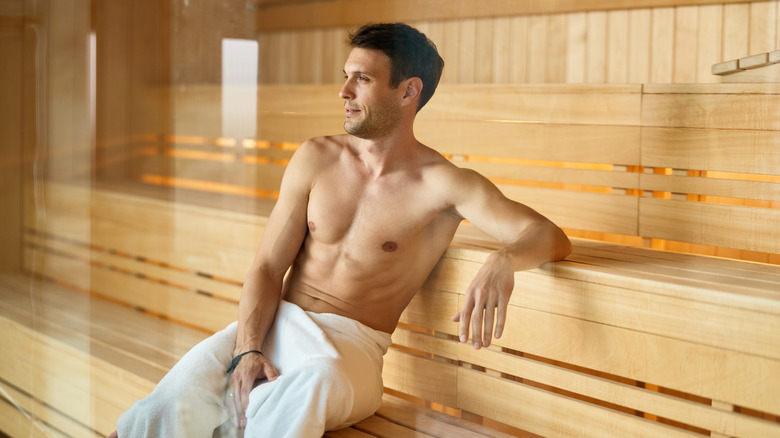 Drazen Zigic/Shutterstock
Once you return from your day or half-day trip, splurge a little and treat yourself to a spa day in the Big Smoke. Not only is the London spa scene rave-worthy, but it is also another amazing rainy day activity that you can enjoy as a party of one. Even if you decide only to book a massage and spend some time in the sauna, solo wanderers need to de-stress, too!
Therefore, it is highly recommended that you follow up a day trip to parts unknown, an extensive city excursion, or a long day of perusing all the museums in this city with a little "me time" and some first-rate pampering. With bathhouses, luxury spa packages, peaceful urban retreats, serene day spas, afternoon tea and spa packages, and then some, travelers have more than a few options. So, try to make room in your busy schedule for a little spa time here — you definitely will not regret it.
Roam the streets of London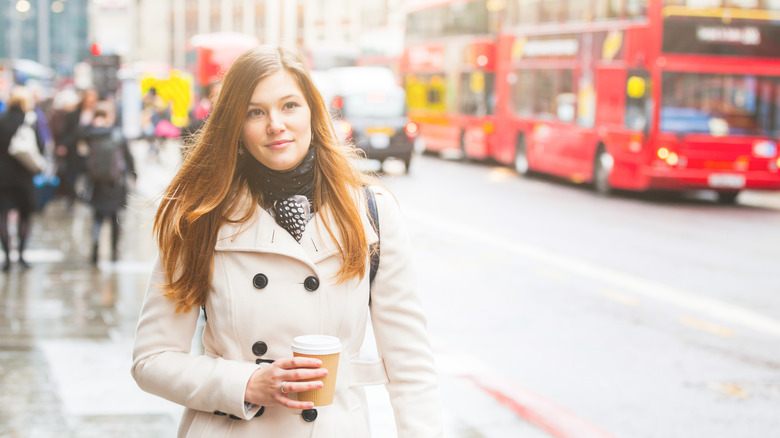 William Perugini/Shutterstock
Last but not least, solo explorers who are not exactly keen on being overly booked can opt to play a few, if not several, things by ear. Remember, this is your London getaway, and you can book day trips, see theater performances, join in on the fun of a pub crawl, or chill in a one-of-a-kind garden in the sky if you so desire or not. Some lone wanderers are perfectly content to roam the city streets and simply see where the day takes them — and that is perfectly fine. 
London is filled with happenings, incredible districts, stunning city parks, lively pubs, markets, hidden gems, quaint shops, and more. And, if you are the type of traveler who enjoys a little spontaneity versus a well-thought-out or action-packed vacation schedule, then you should definitely carve out more time on your solo adventure for the unknown so you can get out there and wander or roam this great destination every chance you get.