London: How To Choose Which Neighborhood Is Right For Your Next Trip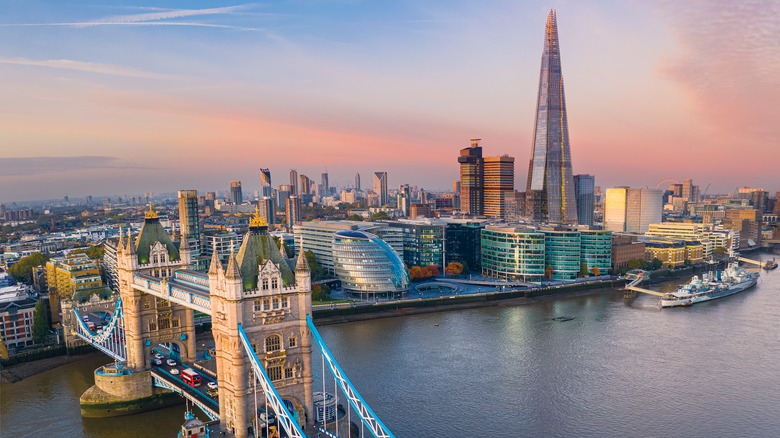 Marek Masik/Shutterstock
London is one of the most popular travel destinations worldwide, and since it attracts well over 35 million tourists each year, there is definitely a wealth of great places to stay. With more than a few amazing neighborhoods in the Big Smoke (32 boroughs, to be exact), visitors have their pick of budget-friendly lodgings, lavish hotels, plus a diverse selection of solo traveler-approved and family-friendly stays. Still, if this is your first time planning an overseas trip to London, then perusing all these boroughs and their many neighborhoods is a rather tall order.
The good news, however, is you do not have to search the entire city. Instead, travelers should first determine what type of holiday they would like to have and how much they would like to spend while on vacation. Then and only then should you start looking in specific parts of the Big Smoke for lodgings that can accommodate your needs. That said, to help you narrow down your options even further, here are some of the best districts in the London area that offer a variety of pleasant stays for all visitors.
Covent Garden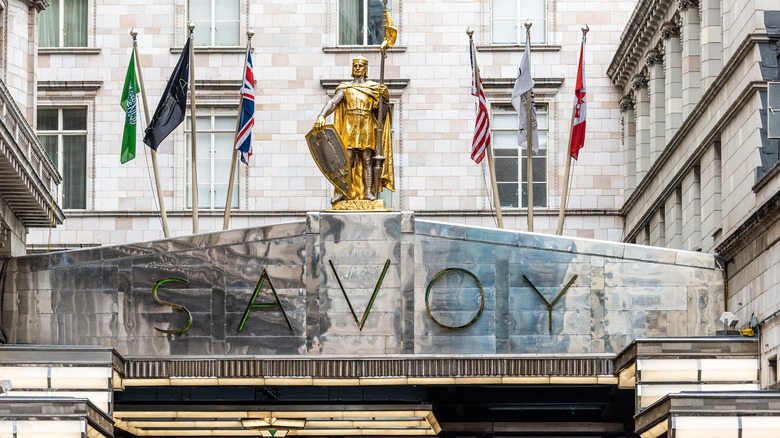 Kristi Blokhin/Shutterstock
Covent Garden is a vibrant section of the city, and this London neighborhood is situated in the heart of it all. Not only is this an ideal spot for first-time visitors, but it is also an excellent choice for families and solo travelers. Here, you will find just about everything you could ever need, from shopping, markets, and lively cultural events to ample restaurants, tourist activities, and more.
A hotel stay in Covent Garden is relatively affordable and starts at around $140 a night. However, it is worth noting that prices in this thrilling London neighborhood vary depending on the time of year you visit. Hostel enthusiasts will also have several options in this neighborhood, like the YHA London Oxford Street Hostel, Assembly Covent Garden, Generator London, and the London Waterloo Hostel, with rooms starting at $42 a night. Popular budget-friendly hotels to choose from here include The Resident Covent Garden, the Travelodge London Covent Garden and The Waldorf Hilton, London. Accommodations such as the Covent Garden Hotel, NoMad London, One Aldwych, Chateau Denmark, and the Savoy Hotel are absolutely the way to go if you crave a more luxurious stay.
The West End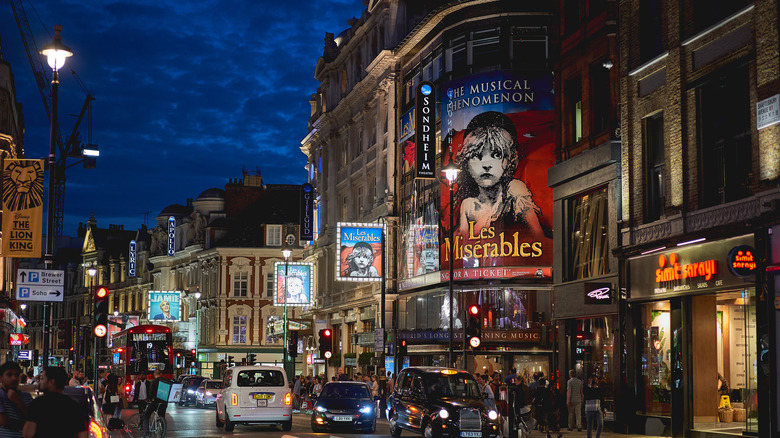 Paolo Paradiso/Shutterstock
Not too far away, visitors will find the West End. This modern area of London is known for its world-renowned theater district and high-spirited atmosphere. Another great option for first-timers, the West End offers travelers a wide range of things to see and do — day or night. Here, visitors can enjoy a true London experience, catch a variety of theatrical productions, indulge in highly-ranked eateries, and check out many nearby attractions, such as Piccadilly Circus and The British Museum.
In terms of accommodations, there are a handful of 4-star boutique hotels on this side of town, many of which start at $110 a night and go up from there. If you are planning to spend more time out and about and not necessarily in your hotel room, then Zedwell Piccadilly Circus, St Giles Hotel – London, and The Cavendish London are nice, affordable options. Alternatively, Phoenix Hostel and YHA London St Paul's are worth considering if you prefer even more modest accommodations. For more posh stays in the West End, the Middle Eight, St. Martins Lane London, and The Mayfair Townhouse are also popular among travelers.
Soho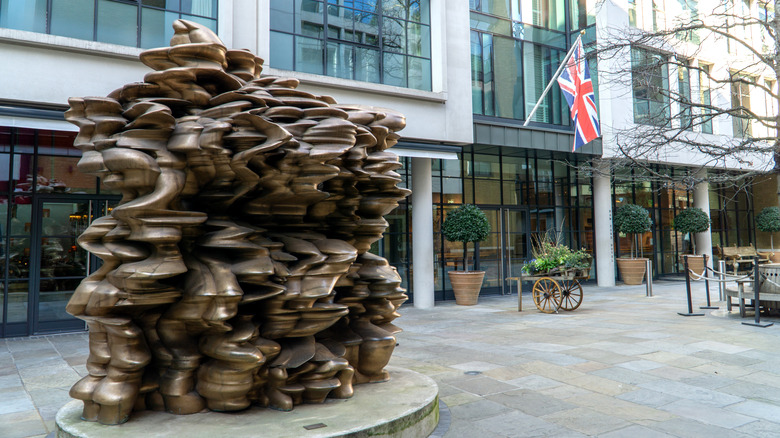 cktravels.com/Shutterstock
If a hip and trendy section of the city is more your speed, then Soho is a wonderful place to book your upcoming London stay. Known for its multicultural vibe, fashion, delicious dining scene, exciting nightlife, and for being LGBTQ-friendly, Soho is a great option for couples, friends, and solo wanderers. Of course, families can enjoy this area of London as well. However, if you are on a strict budget, you may want to skip Soho for the family getaway, as this district is a tad bit on the pricey side. That said, visitors can still find more than a few other lodgings that won't break the bank.
Travelers on a budget can opt for nice 3-star hotel stays in this chic neighborhood, like the Mimi's Hotel in Soho and the Astor Museum Hotel. Unfortunately, at the moment, there are no hostels located in Soho that are currently open. But you can rest assured that this district has no shortage of 5-star hotels. So travelers looking for plush accommodations can choose between The Soho Hotel, Kimpton Fitzroy London Hotel, Sanderson London, The Mandrake, The London Edition, the Ham Yard Hotel, and W London — just to name a few.
Westminster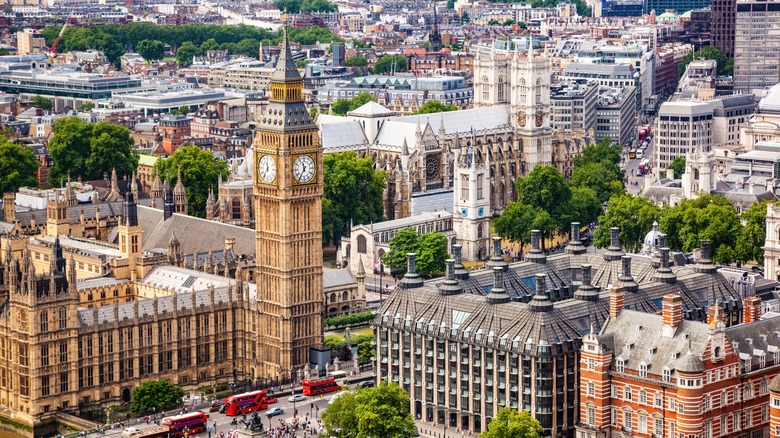 PHOTOCREO Michal Bednarek/Shutterstock
For London visitors who prefer views of the River Thames and the chance to marvel at Westminster Abbey, National Galleries, Trafalgar Square, and more from their hotel room, then a Westminster stay is definitely for you. In addition to having front-row seats to Big Ben and Buckingham Palace, Westminster is brimming with parks, top sights, and touristy fun. Yet, despite all of this, Westminster is surprisingly a quiet area — making it a pleasant neighborhood for families, couples, and solo travelers alike.
With all the incredible shops, theaters, restaurants, and bars just around the corner, this district offers visitors the best of both worlds. Here, you will find reasonably priced hotel stays for just under $200 a night. A few notable places to rest after a long day of sightseeing and adventuring include The Westminster London, Park Plaza London Riverbank, the Premier Inn London Westminster, and the DoubleTree by Hilton London. The Kensington Gardens Hotel, Astro Victoria Hostel, and the YHA London Central Hostel range from $56 to $140 a night and are ideal for less expensive stays. More high-end options, on the other hand, include The Stafford London, Great Scotland Yard Hotel, Conrad London St. James, The Trafalgar St. James, and the Dukes London.
South Bank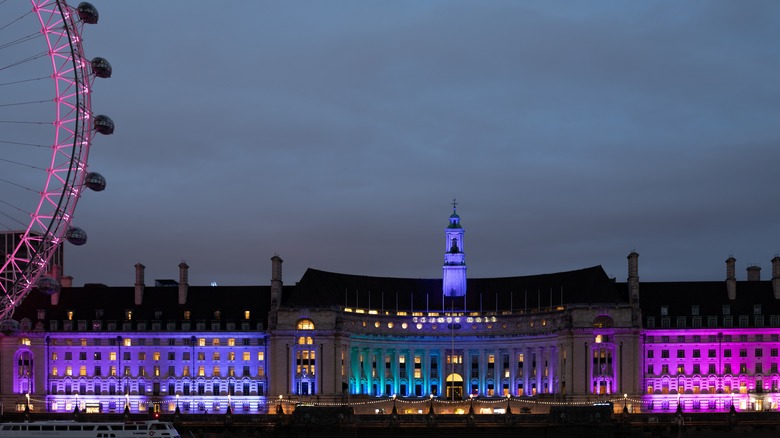 Lorraine Mitchell/Shutterstock
Located right between Westminster and the London bridges, South Bank is a waterfront neighborhood that offers its own set of spectacular sights and sounds. With the London Eye, Tate Modern art museum, the Southbank Centre Food Market, lush outdoor spaces, and more, this is yet another great district to consider for your upcoming getaway. South Bank is also regarded as one of the many cultural hubs in the city, with limitless entertainment options, great dining, and a wealth of shopping.
Here, visitors can choose mainly from medium-range to high-end stays — all of which are worth the extra vacation funds. Though there are a few hostels in this area as well, including The Walrus Bar & Hostel, the Wombat's City Hostel London, and The Stream Engine, if you are a party of two or more, why not splurge a little on your stay? For roughly $200 or more a night, you can stay at the Park Plaza County Hall London Hotel and the Hilton London Tower Bridge. And if you want to fancy things up even more, Sea Containers London, the Shangri-La The Shard, the Hoxton, and the Bankside Hotel are also excellent 5-star stays just waiting to be experienced.
Kensington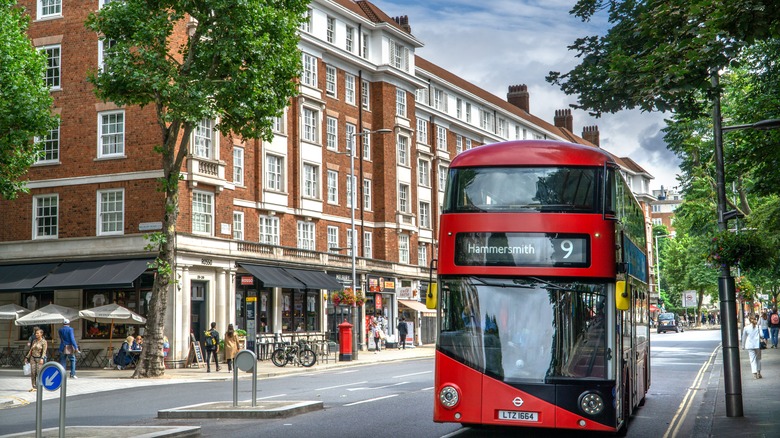 cktravels.com/Shutterstock
For London visitors looking for more of a residential-like neighborhood to stay in, Kensington is the place to be. This family-friendly area is downright peaceful and sheltered from all the hustle and bustle of the city center. With stunning British architecture, easy access to the Victoria & Albert and Natural History museums, quaint cafes, fine dining, colorful streets filled with history, and Hyde Park around the corner, this district is the perfect spot to book a leisurely stay.
Besides being a lovely place in the city, Kensington is also home to some rather affordable accommodations. Littered with posh boutique stays like The Gore, Number Sixteen, The Rockwell, Blake's Hotel London, The Pelham Hotel, and The Amperson Hotel, visitors are definitely in for a real treat when opting to stay in this neighborhood. Of course, there are a few hostels in this area as well to consider — Astro Hyde Park and Safestay London Kensington. Other notable Kensington stays include the Kensington Hotel, The Exhibitionist, the Milestone Hotel, Baglioni, The Resident Kensington, and the Sydney House Chelsea.
Camden Town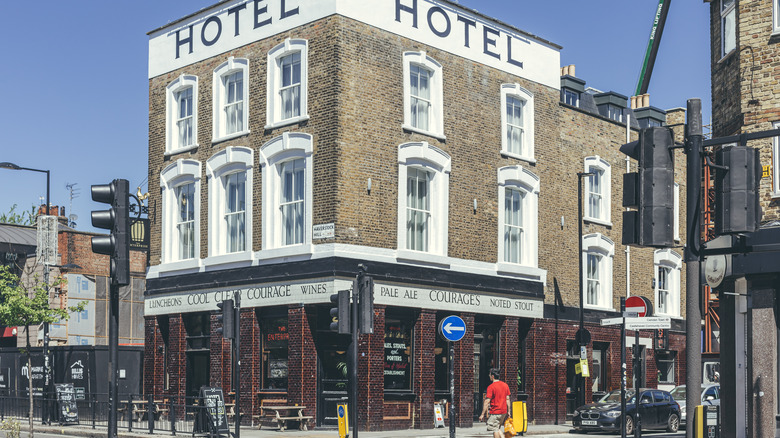 phaustov/Shutterstock
Travelers on a Big Smoke getaway can also opt to stay in Camden Town. This inner London neighborhood is a great location for large groups and friends. With a young, artistic, quirky, and buzzy vibe, Camden is one of the most energetic areas in London. Full of markets, eccentric shops, a plethora of pubs and clubs, street food, several universities, and an abundance of touristy activities, a great time definitely awaits all travelers that venture here. This district also has three of London's major railway stations — St Pancras International, Euston, and King's Cross — making it easy to check out the rest of the U.K. or Europe during your trip.
Visitors can book affordable stays at nice hotels like STAY Camden, The Camden Enterprise Hotel, Sakkson House, The Standard, and the Selina Camden. Solo travelers leaning towards Camden as their home base can also spend their nights at the Clink261 Hostel, St Christopher's Inn Camden, and Smart Russell Square Hostel. But that's not all — Palmers Lodge Swiss Cottage London and Tottenham Flats are two additional options that are great for visitors searching for an even more budget-friendly stay.
Knightsbridge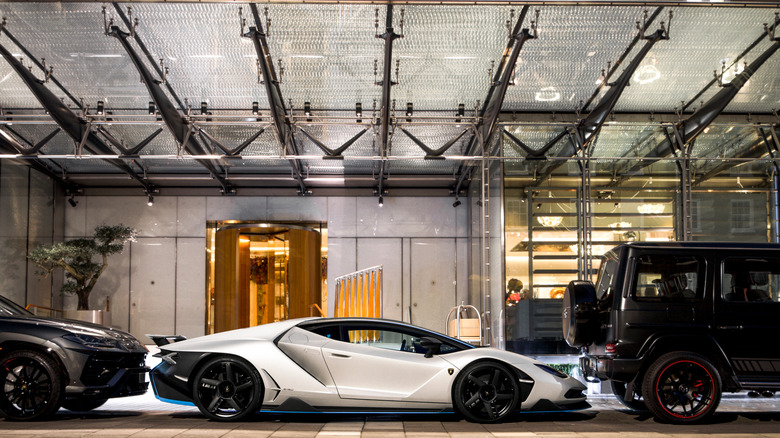 dimcars/Shutterstock
The neighborhood of Knightsbridge is known for exclusivity and lavishness, which extends to just about everything — from hotels and museums to shops and fine dining. So for travelers who normally enjoy upscale getaways and want their London trip to be top-tier, Knightsbridge is absolutely the place to be. With luxurious 5-star stays, celebrity sightings, and the best of the best, you will not be disappointed if you opt to stay in this up-market district.
Visitors on a budget or those who plan to backpack through London and the rest of Europe will likely want to skip this section of the city when looking for accommodations because things tend to get a little pricey here, fast. Still, this district is a wonderful option for families, friends, couples, and even solo explorers who do not mind splurging. So if this sounds like your cup of tea, then a few notable premier hotels in Knightsbridge to consider include the Berkeley, the Mandarin Oriental, COMO The Halkin, The Hari, and The Franklin. The Beaufort, 11 Cadogan Gardens, and the Knightsbridge Hotel are also popular lodgings in this opulent burrough.
Mayfair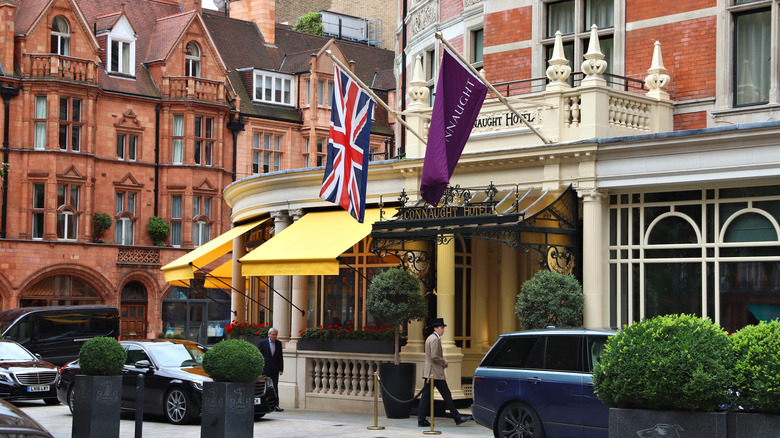 Tupungato/Shutterstock
Yet another high-end neighborhood that promises visitors an incredible stay during their vacation is Mayfair. Known as London's wealthiest burrough, travelers looking to indulge in the finer things, at least for a few nights, should definitely check out this district. Situated between Soho and Hyde Park, with a wealth of local conveniences, incredible city views, and hidden city gems around every corner, out-of-towners checking into this particularly posh neighborhood could not ask for more.
Not only does Mayfair have exclusive designer shopping, more than a dozen Michelin-starred dining establishments, and fanciful accommodations, but this district also has an upscale nightlife, cocktail bars, and fine art museums galore. So if you are looking for a less touristy spot in the city with first-class everything, then Mayfair is an excellent choice. Here, you can book a stay in some of the finest boutique hotels like The Beaumont Hotel, The Connaught Hotel, 45 Park Lane, Flemings, The May Fair, Brown's Hotel, The Claridge's, COMO Metropolitan London, and The Athenaeum Hotel — just to name a few.
Shoreditch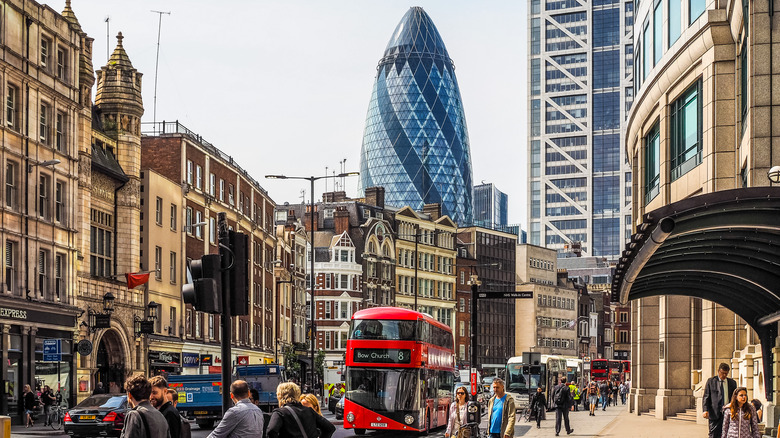 Claudio Divizia/Shutterstock
Of course, if you prefer to book your vacation stay in the trendy side of town, then Shoreditch should be on your shortlist. Much more budget-friendly than other areas in London, Shoreditch is overflowing with cheap eats of diverse cuisine, markets, antique shops, street art, pub culture, coffee shops, and more. So, it is not hard to see why this district is the ideal neighborhood for solo travelers, couples, friends, or anyone looking to immerse themselves in the more eclectic side of this lively metropolis.
When it comes to lodgings in this renowned hippies' haven, there is a wide range of options, from modest to luxury. Spots like Z Hotel Shoreditch, Montcalm Royal London House, Cuckooz Hoxton, and Hotel nhow London are lovely neighborhood lodgings that are brimming with art and whimsy. Alternatively, visitors can opt for Mondrian London Shoreditch, Courthouse Hotel Shoreditch, Boundary London, or citizenM London Shoreditch Hotel if the goal is more traditional and medium-range accommodations. Other possible stays here include Batty Langley's, Nobu Shoreditch, Redchurch Townhouse, and Hart Shoreditch Hotel London. Though these other hotels are on the pricier side, they are well worth it, thanks to all their onsite amenities.
Paddington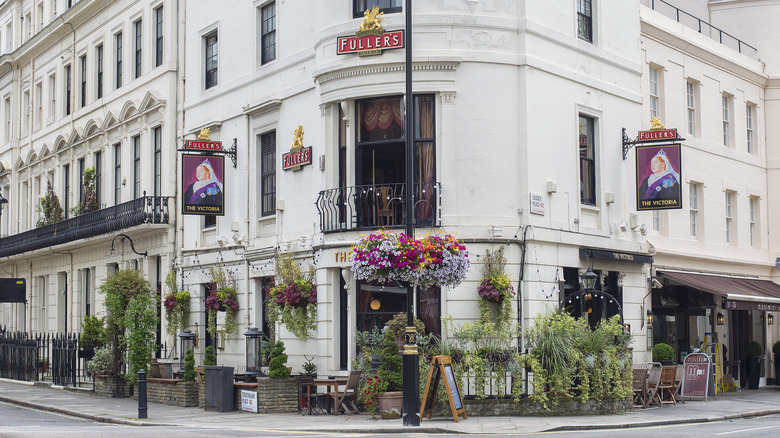 Lisa Charbonneau/Shutterstock
For travelers looking for convenience above all else, Paddington is a stellar place to call home for a few days. This neighborhood is also located near the city center and thus offers visitors the ability to be near all the action without breaking the bank. Moreover, the Paddington area has ample train stations, is near several royal parks, is close to the city's grand theaters, and offers quick access to Paddington Waterside and Little Venice. So, this is just one more wonderful district for visitors to consider.
A truly family- and frugal traveler-friendly area of London, Paddington offers accommodations for almost any budget. There are several options in Paddington that are just under $50 a night, like The Green Paddington, easyHotel London Paddington, and The Phoenix Hostel. In addition to these low-cost stays, there is a handful of 4-star hotels, such as the Hilton London Paddington, Mercury London Paddington Hotel, and the Park Grand Paddington Court London — all of which will cost you less than $200 a night. And visitors do not have to go far for more posh stays, as the Chilworth Court Hotel and the Roseate House London are only minutes away from Paddington Station.
Islington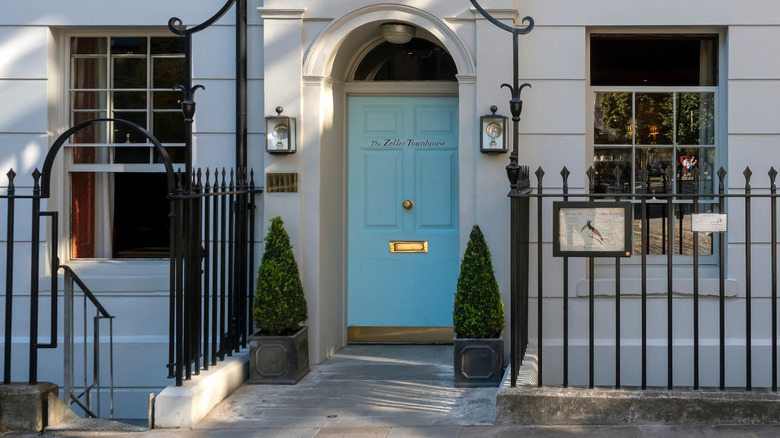 Chris Lawrence Travel/Shutterstock
Known as one of London's most coveted suburbs, the neighborhood of Islington is truly picturesque and serene. So, if you are searching for a quieter section of the city with a lot to offer, then Islington is definitely an attractive option. With a diverse community, delicious eateries, a weekly farmers' market, a lovely cultural scene, one-of-a-kind shopping, a relaxed nightlife, and more, this district is perfect for non-touristy tourists.
Here, London goers have a nice selection of boutique stays, modest to luxurious inns, posh hotels, and a few nearby hostels. As a result, this particular neighborhood is great for all travelers. Several noteworthy and affordable accommodations here include Prime Backpackers, Clink261, James Lighthill House, and the Hilton London Angel Islington. Likewise, the Angel Townhouse – Boutique Hotel, the Premier Inn London Angel Islington, and the Islington Inn all offer quite the stay. Still, if it is luxury you crave, then The Bloomsbury Hotel, Kimpton – Fitzroy London, and L'oscar London are simply delightful lodgings worth considering as well.
Greenwich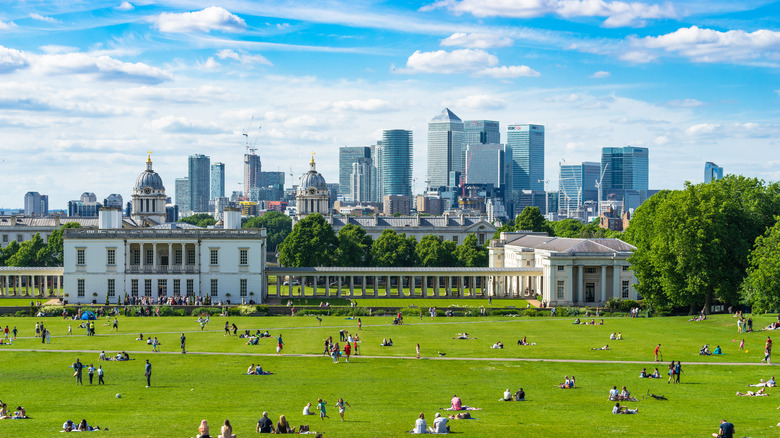 Pajor Pawel/Shutterstock
Lastly, Greenwich is a charming, quaint, and historical section of the city — making it a good choice for all London visitors. But, with its abundance of kid-friendly happenings and attractions, this district is most suited for families and visitors who want to kick back and relax for a spell. So if you want to paint the town red, are a first-time visitor, or would like to enjoy the hustle and bustle of the city center, you might want to give Greenwich a pass.
However, if you do not mind a vacation full of leisure, lush parks, markets, smaller museums, and riverside walks, then this is definitely a nice district. Here, travelers will find unique bargain stays such as the De Vere Devonport House and the Innkeeper's Lodge. There are also a handful of inexpensive options like the St Christoper's Greenwich Hostel, the DoubleTree London Greenwich Hotel, and Staycity Aparthotels. All in all, Greenwich, along with London's many other top neighborhoods, each offers something different. But at least now you have an idea of what is in store for you when staying in some of this city's best districts.