The Best Budget-Friendly Tourist Destinations To Visit In The Mediterranean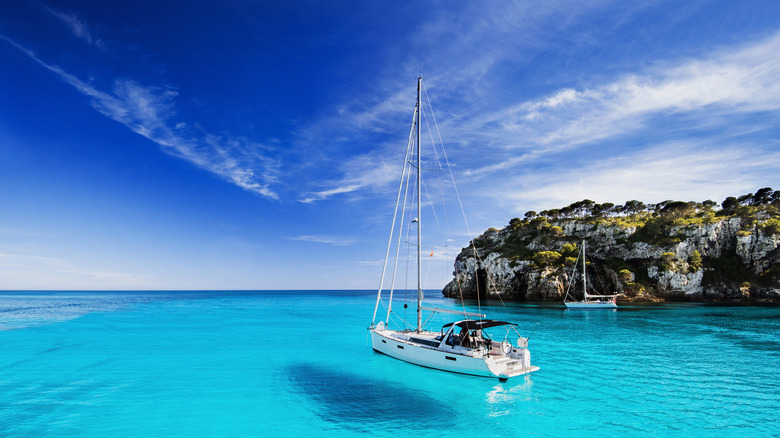 Kite_rin/Shutterstock
The Mediterranean is an absolute dream to visit, but it can be difficult to find budget-friendly destinations along the popular sea. The small, charming towns alongside some of the most world's most vibrant water are understandably in high demand. And with popularity comes increased prices, which is why we've rounded up 14 of the best cities and towns to visit in the Mediterranean that won't break the bank. 
We've also provided suggestions beyond location to save you a few bucks. From free museums and activities to cheap eats and transportation methods, rest assured you'll have a great trip while also not spending an entire year's salary. (One note: As several seas are a part of the Med, such as the Aegean, Adriatic, and Ionian, we've interpreted smaller bodies of water such as these as being part of the Mediterranean. So you'll see a mix of towns along those smaller bodies included in this list.)
Ksamil, Albania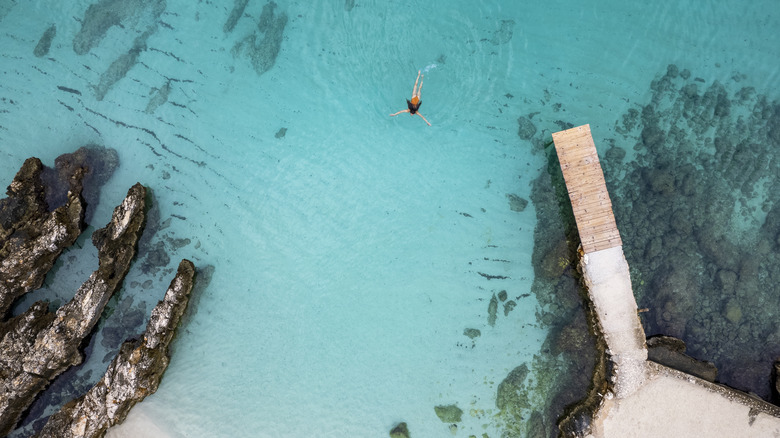 Stockstudiox/Getty Images
Part of the "Albanian Riviera" (along with Vlore, Dhermi, Saranda, Himara, and Saranda), Ksamil's water and beaches are some of the best in Europe. And the area is certainly growing in popularity, which is both beneficial and potentially annoying for visitors. The positive aspect is with increased tourism comes better infrastructure, which Albania has improved on from even just a few years ago. However, thanks to bloggers, Instagram, and the desire to go somewhere "undiscovered," it's soon to be a hidden gem no longer. So, go now!
One thing to keep in mind about Ksamil is beyond the beach, there isn't much to do and see in the immediate area, so if you just want to relax, it's perfect; if you're looking for a diverse trip, not so much. The benefit of sticking to the shore is you can save on transportation costs because you won't need to go elsewhere. Regular buses run between Tirana and Ksamil, so a rental car won't be necessary to reach the beach either. If you do decide to check out different locations, taxis are usually reasonably priced (just agree on a rate beforehand), or you can take the local bus. While Albania is certainly affordable, in popular locations along the coast, ocean-view restaurants and bars can have surprising prices. So avoid those if you're looking to save. Additionally, while the euro is almost always accepted, always try and pay in the local currency, lek, for the best price.
Budva, Montenegro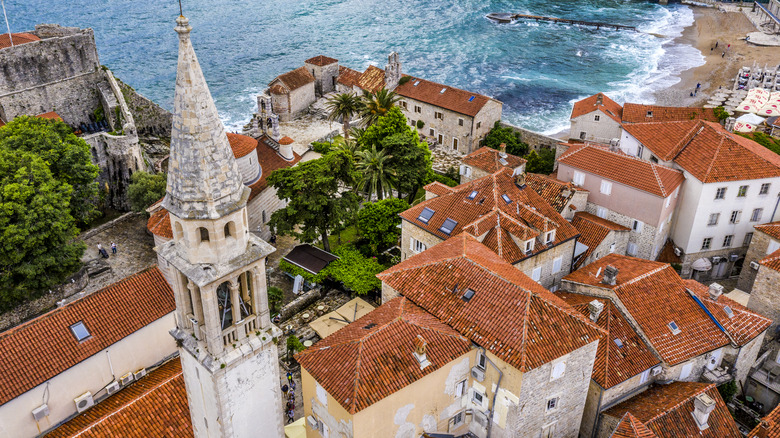 Extreme-photographer/Getty Images
Between coastal heavy-hitters Croatia and Albania lies Montenegro, a country better known for its mountains. The town of Budva is more affordable than most coastal towns on the Med, as well as neighboring Kotor. Outside the Old Town, it's a bit of a party destination and parts can be reminiscent of college spring break. Meanwhile, the historical center itself is lovely and peaceful and there is plenty to do besides dance and drink.
You can wander the Old Town and climb the walls for cheap, according to Hotels.com. Other sites include the Podmaine Monastery, Church of Holy Trinity, and Saint Ivan Church. For a unique afternoon, stroll through the underground tunnel between Budva and nearby Becici. Once in Becici, visit St. Thomas Church. And of course, the beach never costs anything, unless you're renting a sun bed or ordering from the bar. Montenegro uses the euro and due to this, some things like accommodation can be similar to Croatian prices. However, if you stick to street eats like pizza and kebabs you should be pleasantly surprised by the affordability.
Tunis, Tunisia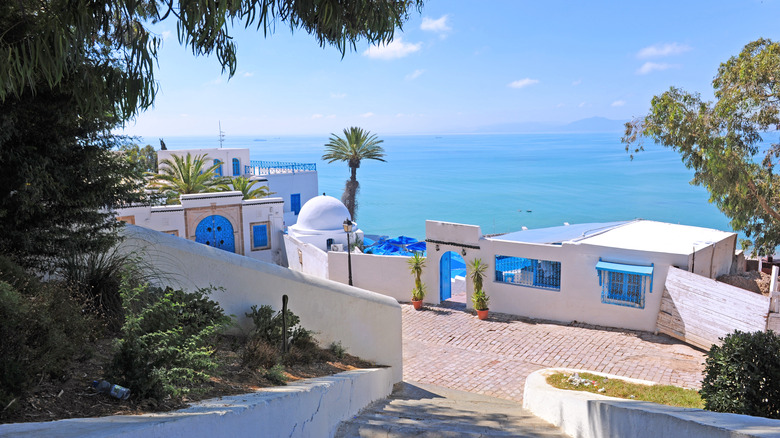 Majaiva/Getty Images
Tunisia is another up-and-coming destination along the Mediterranean that hasn't quite risen in popularity amongst travelers — yet. For those in the know, it makes for a wonderful beach destination, without the crowds of Croatia or Morocco. With its rich history and varied architecture, the capital city of Tunis will blow you away. And while the local currency, the dinar, is a great return for American dollars, if you're still looking to save a bit of cash, you're in luck. Many of the sites around Tunis are free. From wandering the medina and markets to enjoying the beautiful doors and gates of the city, you won't pay for any of it. Visits to the main religious sites, Zitouna Mosque and the Cathedral of Saint Vincent de Paul, are also gratis.
All public beaches in the country are free to visit, so if all you're looking for on vacation is an affordable strip of sand, you're in luck. If however, you want to see a bit more than just the lovely Mediterranean water, that is quite easy to do for a fair price in Tunis. The lovely Ennejma Ezzahra Palace costs just 5 dinars or about $1.60 to enter. Additionally, the National Bardo Museum has a non-resident admission fee of 13 dinars or about $4.20 for the day.
Zadar, Croatia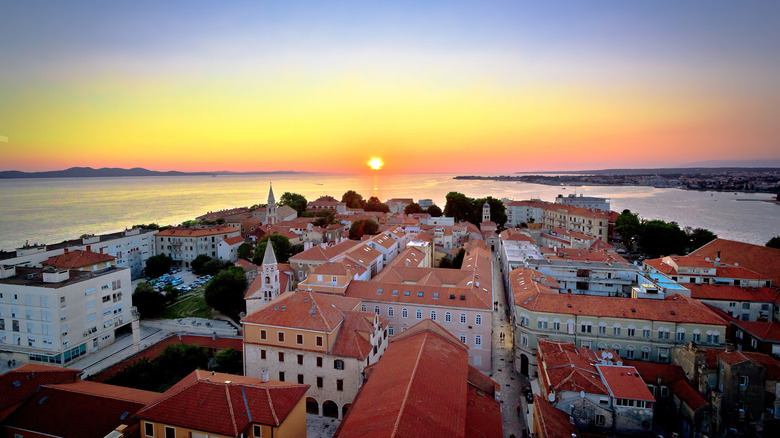 xbrchx/Shutterstock
Zadar is full of ruins and history that will impress even the most jaded traveler. In fact, its defense walls are a newly designated UNESCO World Heritage Site. The Forum, central to life in Ancient Rome, also still exists today in the town center and is the largest remaining one in all of Croatia. Additionally, the foundations of shops are still visible as are the remains of the Capitolium temple.
According to the Hotel Mediteran, Hitchcock once said, "Zadar has the most beautiful sunset in the world, more beautiful than the one in Key West in Florida, applauded at every evening." Anyone who visits will be hard-pressed not to make a ritual of wandering down to the waterfront as dusk descends on the city. The pink and orange blend in striking contrast with the blue water of the ocean and the dark outlines of the islands across from Zadar, a sight that truly never gets old. And if that isn't reason enough to head down to the sea, architect Nikola Bašić's installations like the Sea Organ (underwater pipes played by sea waves) and Greeting to the Sun (a cyclical light show timed with the sun) will draw you in.
Vlore, Albania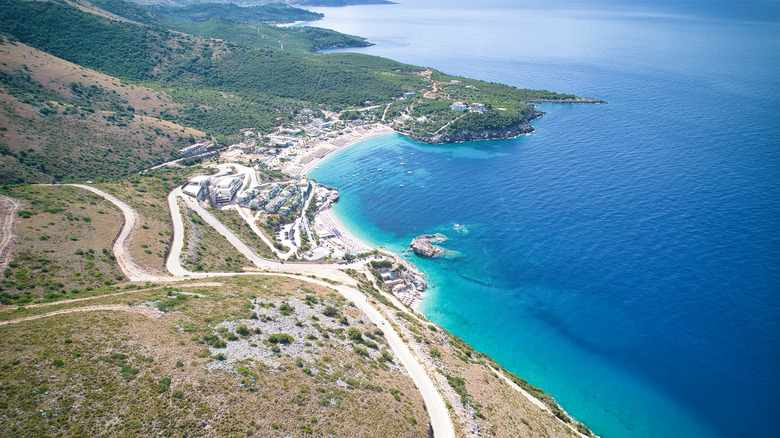 Bardhok Ndoji/Getty Images
Up the coast from Ksamil is Vlore, a much more underdeveloped and chilled-out Albanian beach town. The main activity is simply relaxing on the shore and the sight of the bright blue water set against the rugged Ceraunia Mountains will delight you for the entirety of your trip. The best thing to do if you want to be just a bit active on your trip is to walk along the waterfront promenade that extends right from town along the ocean all the way to the tunnel that takes you to additional beaches on the coast. It's the perfect way to start or end the day, along with the region's epic sunrise and sunsets. Vlore has a few small sites worth visiting: the Independence Monument and Muradie Mosque are both free to view. Additionally, there is a small Museum of National Independence, with an admission fee of 300 lek or about $3.15, and an Ethnographic Museum, with an admission fee of 100 lek or about $1.05. They both make for a nice afternoon if you have time.
In summer, beach clubs charge prices that aren't quite what you see in Greece or Spain, but are definitely climbing as Albania rises in popularity. So, if you want to save money, just bring your own beach towel, drinks, and snacks to make your own oasis on the empty patches of sand. For food, you'll find the best prices for eats in town, as the restaurants along the promenade definitely charge for the ocean view.
Cagliari, Italy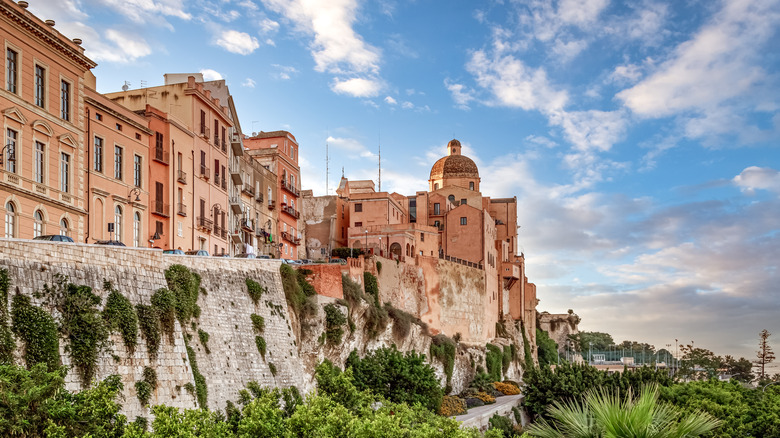 Telly/Shutterstock
Sardinia has some of the bluest water in all of Europe, but it's also a wonderful destination for history buffs! Cagliari in particular is nice to visit year-round because there is more to see and do beyond the beach. You can stroll the historical center — don't miss the cathedral and two watchtowers, all free to enter. Additionally, the Palazzo Civico is free to visit, although if you want a guided tour, you'll need to pay for it. The town is also home to an amazing archeology museum and archeological sites like the ancient Roman amphitheater, which both charge admission fees. You may also want to splurge on a tour of Cagliari's underground city.
If you plan to stay a while it's worth it to consider the Cagliari City Pass, which costs 9.99 euros and allows entrance to most sites; just check that they're not closed for maintenance. The beaches of course are the main pull, and most beaches on the island are open and free to the public. So if you just want to sun and swim on your Sardinian vacation, it's very possible to do so on a budget. Additionally, public transportation is extensive, albeit slow, and as long as you avoid any restaurant with a "tourist menu," you should be able to eat for affordable prices.
Izmir, Turkey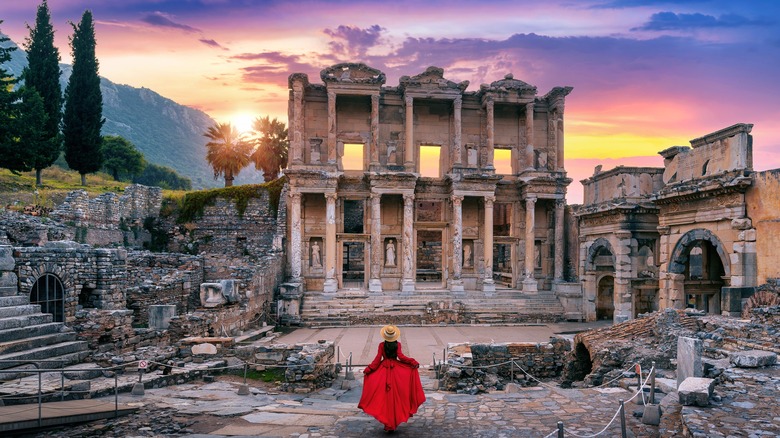 Guitar photographer/Shutterstock
Once known as the Greek city of Smyrna, Izmir is Turkey's third-largest city and among the most historical cities in all of the Mediterranean, according to Britannica. Today, it is known as an affordable seaside escape. Turkey in general has much friendlier prices for tourists, and Izmir is no exception. The public transportation is quite good, with numerous buses, including a direct airport line; and a metro, which also serves the airport. 
The food is your best bet at small restaurants and cafes near Kemeralti Bazaar. Where the city shines however is in its numerous free attractions. The Kordon beachfront promenade features beautiful views of the Mediterranean, and the Kemeralti Culture Center will give you insight into Izmir's history. You can also pay a visit to Konak Square and its impressive clock tower. With all of these attractions and more, you could easily wander an entire day without spending any lira in Izmir.
Alexandria, Egypt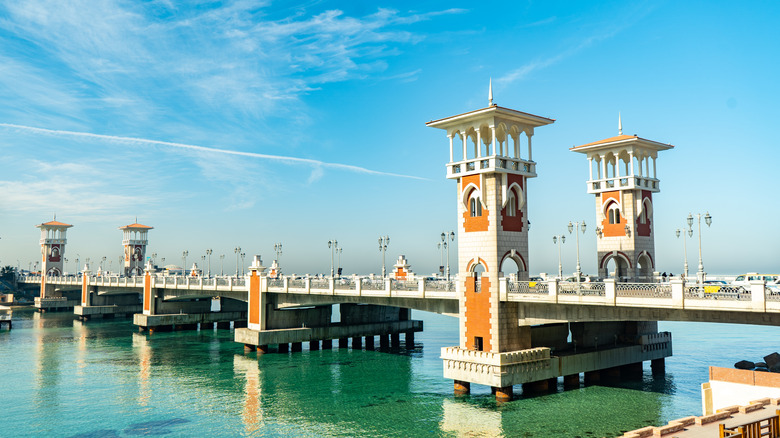 Justina Atlasito/Shutterstock
History is the main draw for most visitors to Egypt, but Alexandria is special in that it has ancient ruins alongside the beautiful Mediterranean. And its shores aren't as crowded (or expensive) as those on the Red Sea or elsewhere along the Med. There are many free beaches in and around the city or clubs that offer access (and usually food and drink) for a reasonable price. The Corniche, a waterfront promenade, is also open to the public as are the souks, and neither cost anything to wander. The Stanley Bridge is also free to cross and provides amazing views of the city and sea. The cheapest meals in town will be found, as is most often the case in Egypt, at the markets and from street vendors.
If you're okay with spending just a bit, consider visiting the Bibliotheca of Alexandria, which costs just 70 Egyptian pounds or about $2.30 to enter. (It's a modern rendition of the library, of course, as the original has been famously lost to history.) The library is also home to the Antiquities Museum, with an admission fee of 50 Egyptian pounds or $1.60.
Neum, Bosnia and Herzegovina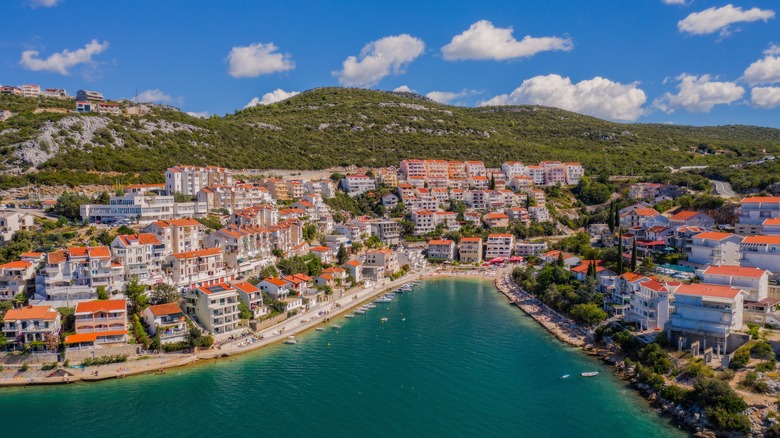 Sergiy Vovk/Shutterstock
Bosnia and Herzegovina's tiny 12-mile sliver of the coast between Split and Dubrovnik is seriously underrated. It's the exact same coastline, with lower prices than its neighbor on both sides. You can swim, take a boat tour, or just enjoy the sun on the shore. The infrastructure isn't always great (especially compared to Croatia) but if you're looking for an affordable holiday somewhere warm, you can't get much better value elsewhere.
If you're into water sports, this might be one of the best places for you on the Med, as there is plenty on offer. From jet skiing to parasailing to scuba diving, Neum has it all for a much more affordable price than other coastal towns in the area. Eating out in Bosnia and Herzegovina is generally not going to drain your wallet, but if you want to be extremely budget-conscious, stick to street food. It's often not that different from what you'll find at restaurants. And if you want to drink, try local wines, particularly from the Herzegovina region; you'll save and still enjoy high-quality grapes.
Paphos, Cyprus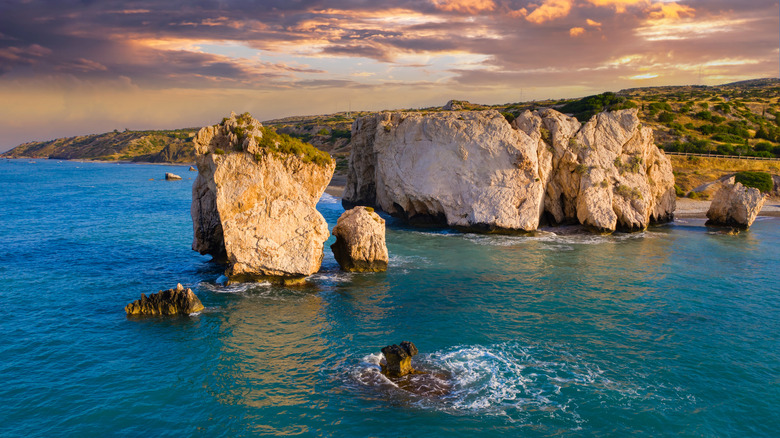 FOTOGRIN/Shutterstock
Cyprus is rich in history and unique as a split Turkish and Greek island. It is also a great budget-friendly alternative for a Mediterranean vacation where you'll still have access to amazing beaches and food. The town of Paphos is especially ideal for travelers who want to save on their vacation thanks to numerous affordable accommodation options, free activities, and cheap eats. The village is well-located, situated close to both Lara Beach and Antasia Beach, both of which are free to access, unless you want to splurge on a sun bed. Additionally, Akamas National Park is nearby, a great destination for hiking and enjoying clear blue waters, including that of the country's very own Blue Lagoon.
Paphos is also home to the Tomb of the Kings, which is part of the UNESCO World Heritage Archaeological Park of Kato Pafos (Paphos). Admission will only set you back 8.50 euros for a one-day pass. If you want to save on food, order pita and souvlaki or visit a bakery for cheap pies. As for the amazing seafood, try squid or white fish instead of lobster or other pricier options.
Sibenik, Croatia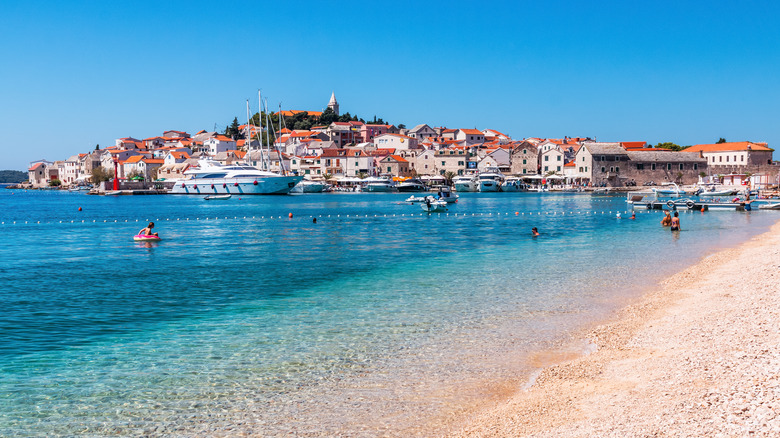 Izabela23/Shutterstock
A little-known Croatian destination (a rarity these days), Sibenik is the perfect getaway for those looking for a chill vacation. The town is a smaller, cheaper base to explore the Dalmatian coast and is full of cobblestone alleys, rocky steps, and cliffside views. There are few locations in Croatia that rival its beauty and Sibenik comes with the bonus of being relatively affordable. Costs for accommodation here will be much lower than nearby hotspots Split and Dubrovnik.
Additionally, there are numerous archeological and architectural wonders that you can visit without paying anything. Check out City Hall for a step back into the 1500s, then visit one of the four fortresses in town: St. Michael's Fortress, St. John's Fortress, St. Nicholas' Fortress, and the Fortress Subicevac. If you're short on time, prioritize St. Michael's as it has arguably the best views in all of Sibenik. As with most of Croatia, prices have risen steeply in recent years, so to save on food, consider renting an apartment and cooking some meals.
Valencia, Spain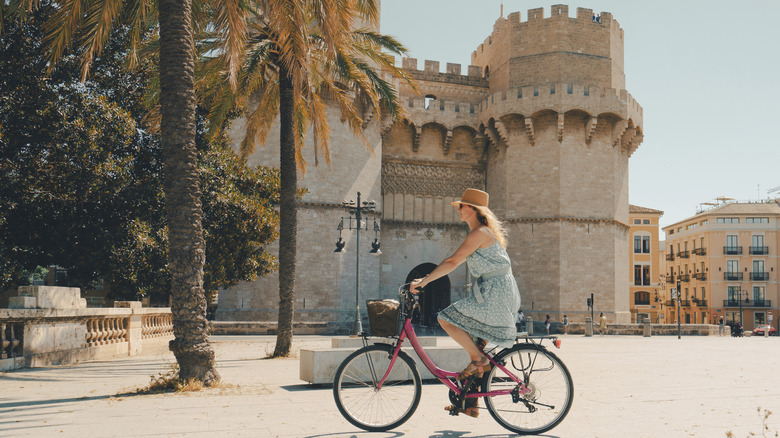 Pawel.gaul/Getty Images
Spain, particularly along the coast, isn't exactly known to be affordable. However, if you're open to different places, Valencia is a great all-around destination. Some of Spain's best sandy shores are nearby and if you're keen to hike, the Sierra de Espadan Mountains aren't far either. In fact, the mountains house the famous Fuente de Los Baños, hot springs that are just 3 euros to enter. If you're more of a city person than a nature-lover, don't worry — you can do plenty on the cheap in Valencia. First, wandering the special city is a must for any visitor. The buildings are a lovely mix of brightly colored Gothic, Art Nouveau, and Roman architecture.
Valencia may be known for its proximity to the ocean and mountain peaks, but you can get your green space fix right in the city as well. Both the Turia River Gardens and Royal Gardens are wonderful respites from the urban hustle and bustle and don't cost a thing to enter. Additionally, Valencia has many free museums including the Fine Arts Museum San Pio V, Bombas Gens Art Center, Carme Contemporary Culture Centre, and the House of Las Rocas. It's also worth looking into Valencia's tourist card to save even more. The card gets you entrance to most museums and monuments including the Cathedral (where you can get some of the best views in the city) and rides on all public transportation. Additionally, you will receive discounts at numerous establishments around the city.
Istanbul, Turkey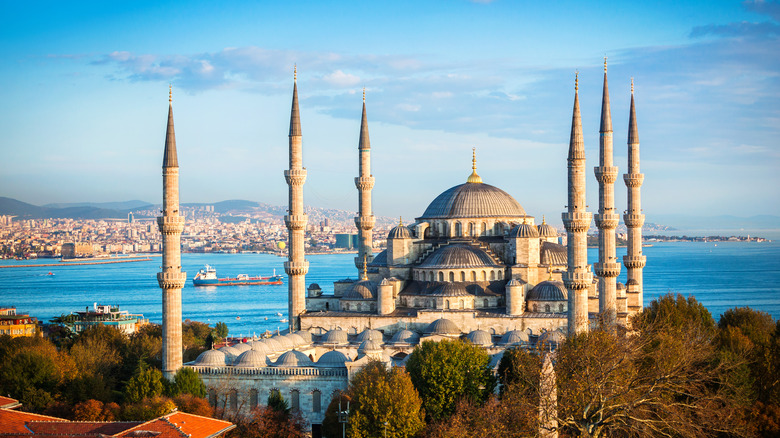 Nikada/Getty Images
Where Europe and Asia meet, Istanbul is a world-class city that is known for bazaars, winding streets, and amazing food. However, a little-known fact about the city is there are numerous places to swim along its shores. Some of the best beaches in Turkey are just a short bus ride away from the center of Istanbul. Although many will require a fee to enter, most range between 30 and 60 Turkish lira or between $1 and just over $2, so still a great price. If you want to cross continents via the ocean, head to beaches along the Bosphorus where you can see some of the city's most impressive architecture from the water.
There are also many free sites throughout Istanbul, including some of its most famous landmarks like the Blue Mosque, the outside of the Hagia Sophia (you'll need to pay to enter), the Grand Bazaar, and Taksim Square. As for meals, you're in luck: Turkey has some of the best value food. Stick to the markets and street food and your wallet will thank you.
Montpellier, France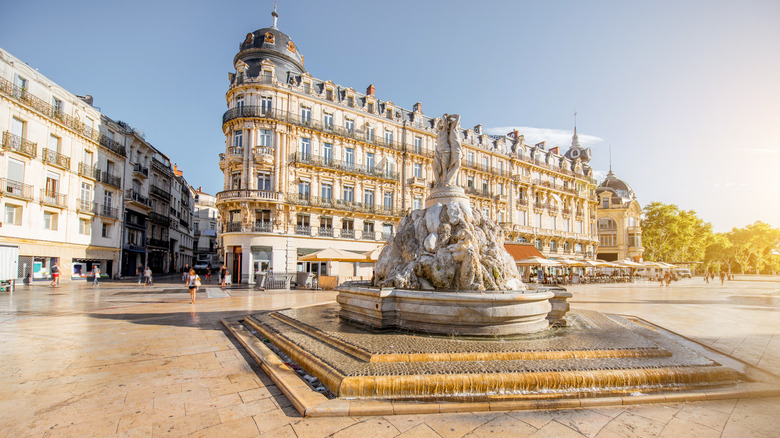 RossHelen/Shutterstock
Visitors are often pleasantly surprised by the affordability of Montpellier, a city not directly located on the beach, but a quick jaunt away. It's a student city full of young people and truly lived in, unique for beachside towns! It's also full of free activities and places to spend the day. Start your visit in the beautiful Old Town where you could spend all day admiring the building details. Then, head to the Esplanade Charles de Gaulle, a leafy green respite in this sunny city open to the public. If you still haven't had your garden fix after that, walk a bit further to the university's plant garden and enjoy flora from around France and the globe.
The Museum of Photography and La Panacee, a contemporary art museum, both have free admission and are located close to the main train station. And the beaches of course are always a budget-friendly location. Most are a quick tram or bike ride away. For food, there are many markets throughout the week in Montpellier and you'll find some of the cheapest meals in the city here, so make sure to prioritize them on your visit! And of course, as in much of France, the bakery will be your budget's best friend with affordable sandwiches, sweets, and meal deals.