Best US Cities For Beer Lovers To Visit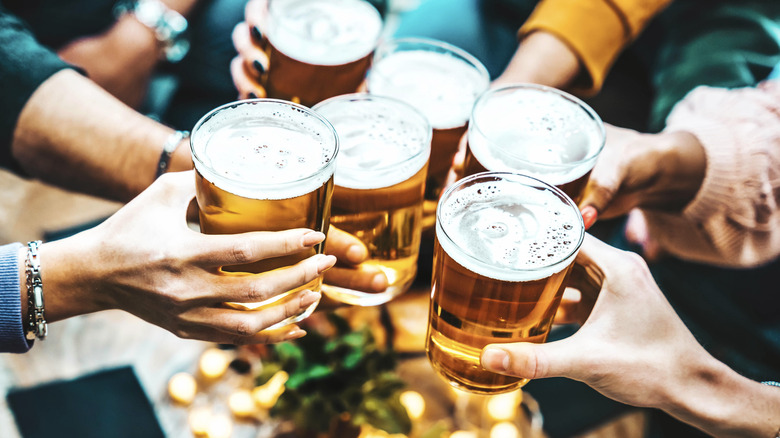 Kar-tr/Getty Images
The United States takes its alcohol very seriously, and beer ranks very high on the list of priorities when it comes to beverages in general — even worldwide. In the U.S. alone, there are over nine thousand craft breweries in operation, which doesn't even touch the surface of how many breweries have come and gone over the long history of beer-making in this country.
There are some cities in the United States that were built on beer, their economies flourishing because of it, and a lot are still hot spots for breweries and alcohol production today despite likely struggling through prohibition. Of course, the beer game has come a long way since backyard and underground operations, and numerous cities have stepped up to become desirable destinations for beer drinkers.
The United States is becoming a hub for beer lovers, whether it be for the faithful favorite brands that have been enjoyed for decades or new hopefuls that are strongly breaking into the scene. From beer capitals that have the beverage ingrained into their foundation to cities that are emerging as bustling beer destinations, our list of beer-centric U.S. cities is a great guide for beer lovers to choose where to visit next.
Cincinnati, OH
Cincinnati has a long history with beer, and before prohibition reared its ugly head, the city was known as the beer capital of the world. Cincinnati hasn't quite caught up to where they once were in the world of beer compared to all the other cities that have become hotspots for beer drinkers, but beer will always be a huge part of the city and its culture. Today, with its history combined with local breweries resurfacing stronger than ever, the large midwest city is a great option for beer drinkers who love a bit of history with their pint.
There are over 80 breweries in the Cincinnati area, but some certainly stand out more than others. MadTree Brewing Company, Rhinegeist, and Dead Low Brewing are local favorites, but other breweries in the area are quite popular, too.
For travelers who are as eco-conscious as they are excited to dive into Cincinnati's beer scene, supporting MadTree would be the way to go. Not only is their mission deeply rooted in conservation, but they ethically craft their beer and give back to the community as well as conversation efforts – not to mention, their taphouse is located in a renovated airplane hangar. Where Dead Low Brewing is a more low-key, dog- and child-friendly brewery, Rhinegeist is pretty huge. Patrons are welcome to enjoy a beer in the taproom or up on the rooftop, where they have a view of the Over-the-Rhine neighborhood, which is where the city's beer culture is thick.
Portland, OR
You could throw a stone on any given street in Portland and hit a brewery, or at least that seems to be the case. In fact, it wasn't long ago that the large city wore a metaphorical championship belt for being one of the top 10 cities with the most breweries per capita. The people of Portland love their beer and if they aren't at a brewery, they're often at a bar that carries a number of local beers on tap. Breakside Brewery and Great Notion Brewing are both front runners when it comes to breweries in the city that put out great beers, and Belmont Station along with Apex are great beer bars to patronize.
In 2022, Breakside Brewery and Great Notion alone held half of the top 10 most popular beers in Portland. Both breweries have multiple locations throughout the city, so no matter where you're staying, chances are you'll have easy access to one. If you're looking for artfully illustrated brews with a fruity hop taste, Great Notion is for you. Breakside Brewery wins awards every year and is one of the only employee-owned breweries in the country, which in itself is worth supporting.
Belmont Station offers well over a thousand bottle and can beer options, a good portion of which are local to Oregon. Apex has 50 rotating beers on tap and even though few are local, you can take them to go in a mason jar or bring your own food to enjoy a beer on their patio.
Richmond, VA
Though a state capital, Richmond is one of the more minor cities on this list — but don't tell that to their beer selection! The city is home to over 30 local breweries whose beers are just as creative as they are tasty. The Scott's Addition neighborhood has plenty of beer-centric businesses all within walking distance of each other, with breweries like The Veil, Väsen, Ardent, and Strangeways are all found here. In addition to the local breweries, entertainment venues that double as beer joints are fun additions to the area, like Bingo Beer Company and the arcade bar Circuit.
It's not just local beer that has Richmonders excited, though, as the beer-heavy city has a love for Pabst Blue Ribbon — so much so that they call PBR the "People's Beer of Richmond." Hole-in-the-wall bars and local hangouts typically have the beer and a shot special that's served with a PBR, which is free if you can guess the card on the cap.
If being on their beer game themselves wasn't enough, Richmond is relatively close to another city that knows their beer. Only an hour away is Charlottesville, another college town with its own Ale Trail. Nestled in the mountains are a number of great breweries like Champion and South Street, and taking a day to hike the trails and hit the Ale Trail on the way back makes for a great day trip.
Denver, CO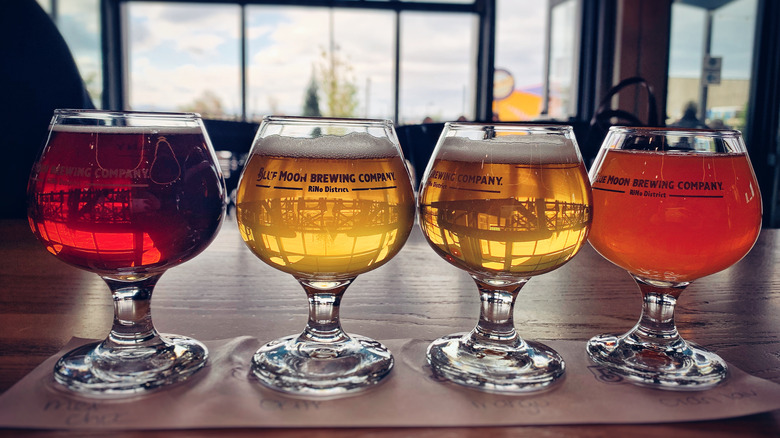 Barbara babala/Shutterstock
Denver has been doing the craft beer scene for quite some time, and their first official brewpub is still very much around today. The brewers behind Wynkoop Brewing Company have been making beer for almost 40 years and their various types of brews incorporate flavors you would never expect to find in beer, and they regularly craft new recipes for their long-time fans to enjoy.
If you've never heard of Wynkoop that's okay because Denver is home to one of the most recognizable domestic craft breweries. Blue Moon Brewing Company is known for its Belgian White Ale served with an orange slice and they have been going strong in Denver since the '90s. Though Blue Moon is brewed in various locations now, there still is a brewery in Denver you can visit, tour, and indulge in brews that are exclusive only to the OG location.
There are certainly enough breweries and a strong enough beer culture in Denver to keep you busy, but Boulder is only a half-hour drive away and has its own stellar beer scene. If you're interested in seeing what Boulder has to offer while visiting Denver, check out Twisted Pine and VisionQuest – they are vastly different experiences, but both ones worth having.
Asheville, NC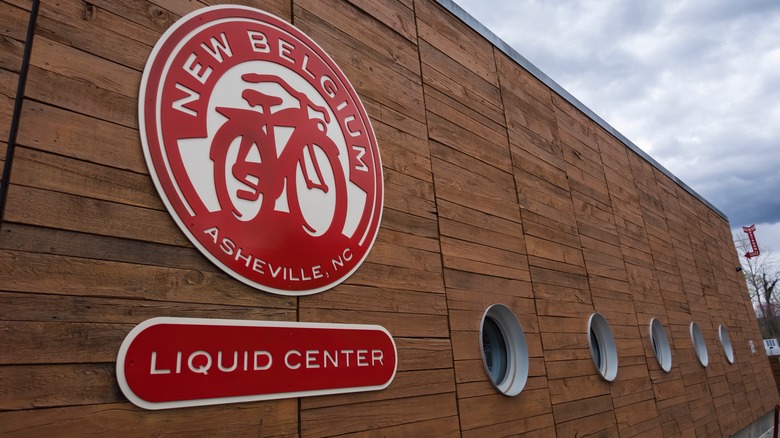 University of College/Shutterstock
If you're looking for a unique spot to enjoy a pint that isn't that big of a city, you've got to head to Asheville. The destination seemingly has it all, as both its mountain views and cityscapes are glorious with the Blue Ridge Mountains in its backyard and the small city fitting snugly among the lush surrounding forest. Even if it wasn't such a killer place atmosphere-wise, the beer alone is worth the visit.
New Belgium Brewing Company and Highland Brewing are necessary stops, as a trip to Asheville without them wouldn't be a true experience in terms of the city's beer scene. New Belgium is a huge craft beer brand with their Fat Tire brew being the first-ever carbon-neutral beer. Highland Brewing is family owned and was the very first brewery in Asheville after prohibition, and they've been cranking out award-winning beers ever since.
Burial Beer Co. and DSSOLVR should be on your beer-centric itinerary as well. Burial Beer Co. provides a completely unique experience as the macabre brewery inserts just the right amount of horror into its unique brews, and DSSOLVR just likes to get plain weird with both their brand and their beers — it totally works for both breweries though, and they both make for fun visits.
Milwaukee, WI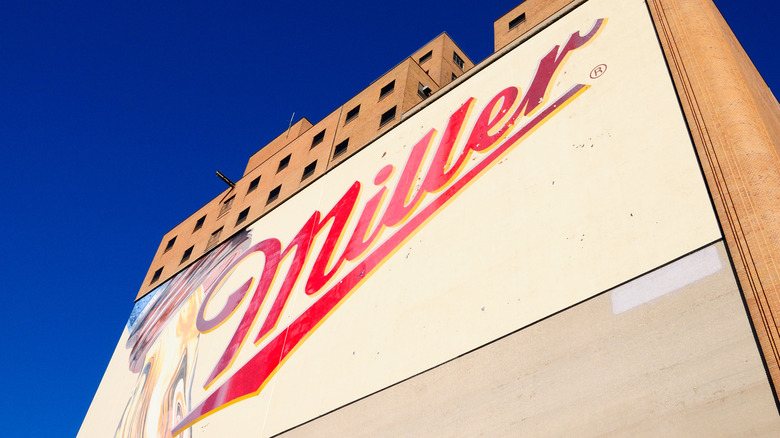 Nina Alizada/Shutterstock
If there is one city that deserves credit for being the beer capital of the U.S., it's Milwaukee. Besides quite literally having a relatively popular beer by PBR named after it, the city has produced a pretty significant amount of the most popular domestic beers in the United States. Pabst Blue Ribbon and Miller High Life originated here, as well as all the beers under their umbrellas.
It isn't just the classics that make Milwaukee a desirable destination for a beer-filled vacation, though, as the city has seen its craft beer scene grow in recent years in what they have referred to as the "Brewery Boom." If you're interested in experiencing some of the smaller local breweries that don't have such a huge following as Miller, Good City Brewing is a great place to start. Their beer pairs well with the great food they offer, and their dedication to service and building up their community is honorable. Eagle Park Brewing Company provided a unique experience with a rotation of numerous brews continuously crafted with interesting tastes in mind that range from dessert beers to hard seltzers and everything in between.
San Diego, CA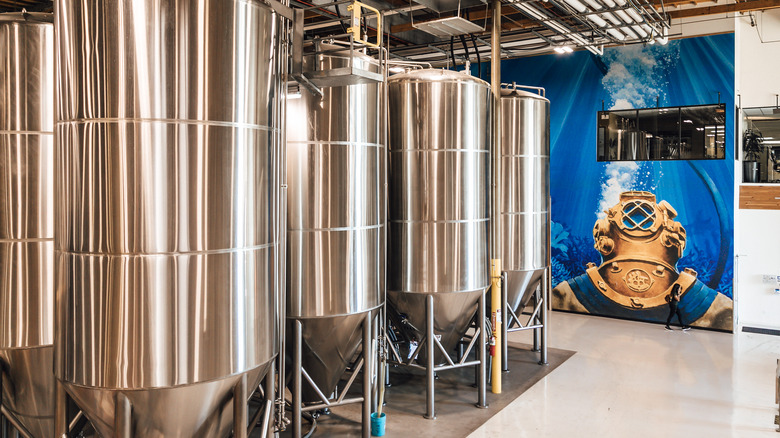 Lando Aviles/Shutterstock
California is typically and quite literally thought to be prime wine country, and various cities in the large state are popular for their wineries and being wine-drinkers' dream destination. However, the coastal state knows its beer as well. We could practically fill up this list with Californian cities that contribute a whole lot to the beer scene in the U.S., especially considering that California is the largest producer of beer out of all the states. Instead, we're focusing our efforts on San Diego, where an impressive 150+ breweries are making some incredible beer.
Modern Times Beer always hits and has a lot of shine for everyone, from the great-tasting beer itself to the company's brand voice and vibrant, attractive packaging. Stone Brewing and Ballast Point are both nationally recognized breweries that have come out of San Diego. Ballast Point has taprooms all over San Diego and the rest of California, while Stone has another location on the opposite side of the country in Richmond. Wherever you are, take advantage of the many stellar IPAs from Stone and Ballast Point's wide range of winning beers.
Saint Lewis, MO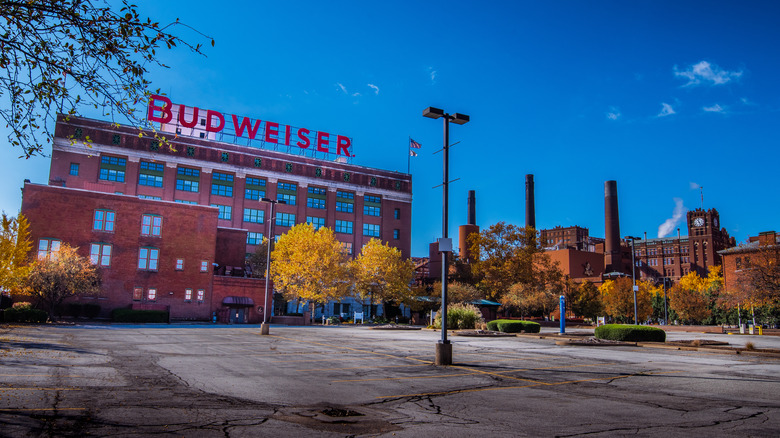 RozenskiP/Shutterstock
As the home of Anheuser-Busch Brewery, Saint Louis absolutely had to make this list. You'd be hard-pressed to visit any bar in America without seeing the mark of the city's contribution to the beer industry. Forget making it through a Super Bowl without at least one commercial showcasing one of their world-renowned beers. Visiting the brewery is a treat, as you're able to see the iconic Clydesdale stables from said Super Bowl commercials and a number of other interesting elements of the facility.
While one of the most popular beer brands in the world finds a home in the city, a number of craft beers do as well. 4 Hands Brewing Company is a must-visit for fans of craft beer. Their tasting room features a wide range of beers on tap as well as access to food and cocktails while also being kid-friendly and employing old arcade games for entertainment. A big selling point for the brewery is that it is right down the road from Busch Stadium, the ballpark where the Cardinals play.
Chicago, IL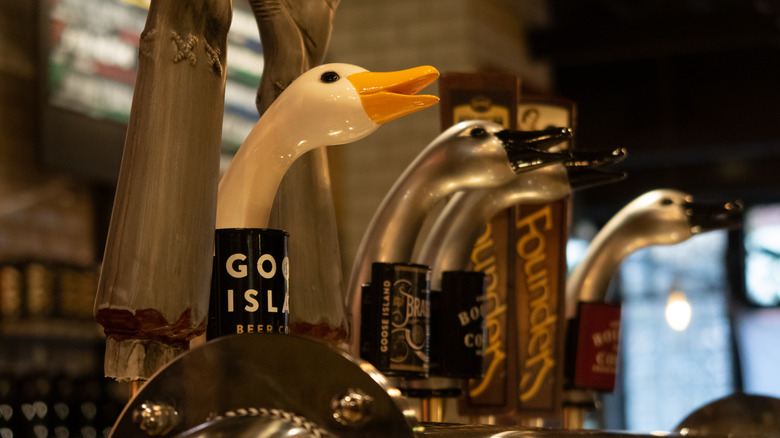 Saejun Ahn/Shutterstock
Chicago is the third largest city in the U.S. and there is so much to do there, but you can certainly skip some of the popular Chicago attractions in favor of a more chill, beer-centric visit. While Chicago hasn't been big in the beer scene for as long as a lot of the other cities on this list, they're catching on pretty quickly and frequently make the lists as one of the cities with the most breweries in America. You won't find any of the most popular national beers in Chicago, but there are plenty of great local brews in its growing industry that could be one of your next favorites.
Goose Island is one of the oldest breweries in Chicago and, although they were bought by Anheuser-Busch over a decade ago, the brewery still produces new brews in the Windy City and strives to bring a classic taste to its patrons. Forbidden Root Brewery, on the other hand, is nothing like a classic beer. The innovative brewery uses ingredients from nature that typically aren't found in beers, like herbs, flowers, and spices – they call themselves Chicago's first "botanical brewery."
Boston, MA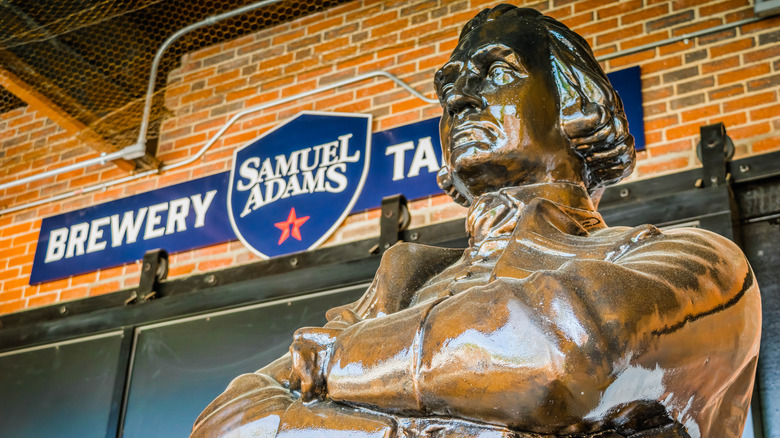 Brett Welcher/Shutterstock
Boston is a great city to visit for travelers who want to both enjoy the classics and try out some newer breweries. Sam Adams is Boston's claim to fame when it comes to beer, which was the first beer that the Boston Beer Company sold back in 1985. Since then, though, popular brands like Angry Orchard and Truly have been major successes that have come from the company. Travelers who are interested in seeing the behind-the-scenes of how the company makes its beer today in Boston can visit and tour the Sam Adams Boston Brewery — don't worry, plenty of tastes are included.
As for Boston's craft beer scene, Harpoon Brewery is almost as old as the Boston Beer Company and well worth a visit. Their IPA claims to be the first in New England, and it is still around today as a successful member of their core brews. Night Shift Brewing is a more recent development in Boston, though it's been around for over a decade and has numerous locations. The brewery that was birthed from late-night, after-work brewing experiments is a great stop on a beer tour of Boston not only for its creative brews but its prime location next to TD Garden and its patio that enjoys an absolutely killer view of Boston Harbor and the surrounding area.
Philadelphia, PA
Philadelphia is littered with breweries, bars, and beer gardens that are all unique and ready to be explored. Travelers will have plenty to choose from in terms of quality establishments, but the must-visit breweries include Victory Brewing and Love City Brewing.
Victory Brewing's Philly location is a testament to the company's success, and they have pulled out all the stops with a first-class brewing system, three bars, a from-scratch kitchen, and a rooftop hangout where you can enjoy one of their many award-winning beers. Love City may be lesser known, but its vibe is immaculate. They're all about love for their city and their beer, which makes enjoying both while in their beer garden that much more of a great time.
Less than two hours to the northwest of Philly is Pottsville, where the oldest remaining beer in America originated. Yuengling is a family-owned and operated brewery that is still brewing beer in Pottsville after over 150 years and six generations, which makes the large brewery well worth the trip from Philadelphia.
Bend, OR
Oregon is huge on beer, especially of the craft variety, and Bend has some of the best breweries in the state. This means quite a lot, considering it is competing with Portland and is a fraction of its size. The Ale Apothecary and Boneyard Beer are both worth checking out, as they are unique in their atmosphere as well as their beers' taste.
Boneyard Beer is for those who know the struggle and can appreciate a hard-working brew. The brewery started in an auto shop and was pieced together over the years by the acquisition of old, second-hand equipment. Now the brewery is in full swing, thriving, and always dedicated to crafting creative and quality beer. Alternatively, the Ale Apothecary started in the middle of the woods and is a sour brewery that sources ingredients from its own or other local farms. The brewery itself is closed to the public, but the in-town tasting room welcomes patrons.
Meadville, PA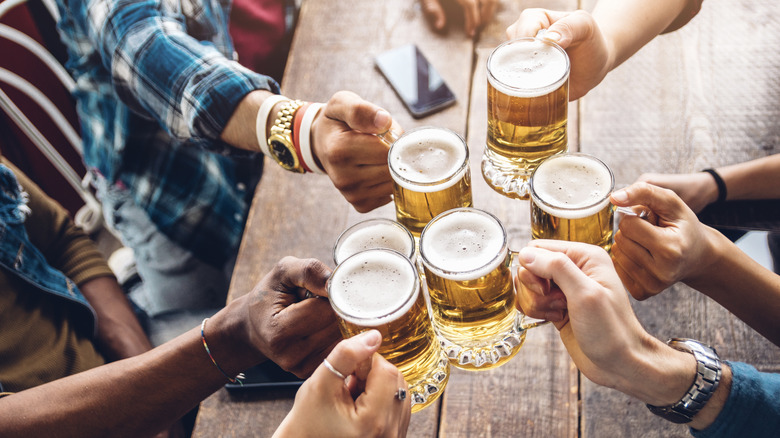 Kar-tr/Getty Images
As fitting as it is to have a town named similarly to a beer-adjacent alcoholic beverage, Meadville was actually named after its founder. Despite that, though, the mid-sized town that lies on the opposite side of Pennsylvania from Philadelphia has a decent amount of local breweries — especially when you consider the population is only around 13 thousand.
Voodoo Brewery is a stand-out in the town, even hosting its own annual "Good Vibes" beer festival. Erie Ale Works is a fun brewery that started in a garage and is now in full swing, basically, the result of two friends messing around with beer recipes, and it hasn't changed much other than becoming more successful. On the opposite spectrum of brewery atmospheres is TimberCreek, a family-owned brewery that prides itself on being both family-friendly and elegant. The taproom and restaurant offer a cozy and sleek drinking and dining experience for all involved.