25 Best Long-Distance Hiking Trails Around The World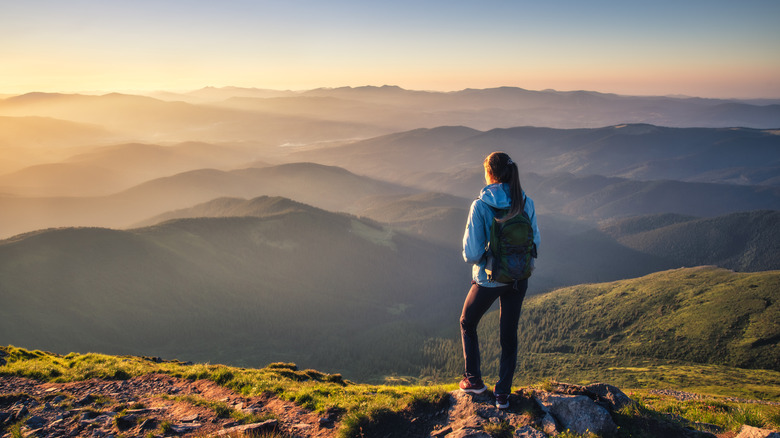 Denis Belitsky/Shutterstock
The world is full of wonderful areas to hike, so much so that it can be overwhelming where to choose for your next long-distance trek. From the volcanic terrain around the Ring of Fire to the peaks of Central Asia and the alpine trails of Europe and North America — how do you know what you should select? There are numerous hiking trails to choose from, so we're helping you narrow down the list. Get ready to pack your bags and lace up your hiking shoes — here are our picks for the top 25 long-distance hikes around the world. 
Kepler Track, New Zealand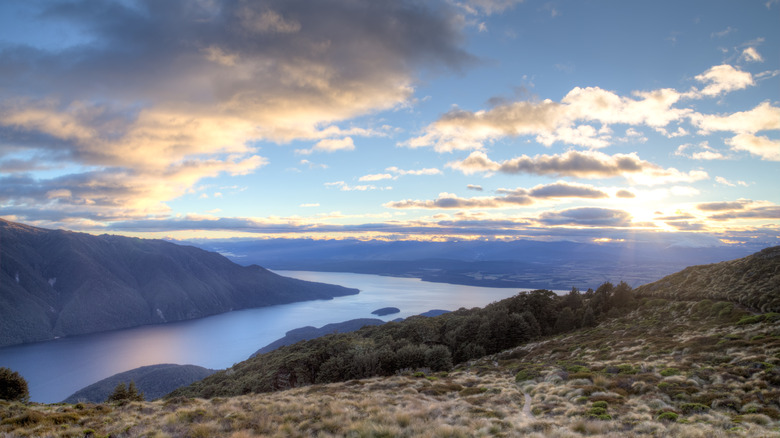 Olli0815/Getty Images
One of New Zealand's "Great Walks," this loop trail is just over 32 miles in total and typically takes three to four days to complete, depending on your pace. The Kepler Track is located in Fiordland National Park on the South Island and takes you through thickly forested trails with views of Lake Te Anau and Lake Manapouri. 
Keep in mind the "Great Walks season" lasts from October and April and requires booking huts or campsites in advance. This is considered the most ideal period for trekking conditions, however, it is possible to complete the path in the off-season. Just be prepared for snow, limited sunlight, and potential ice. It's recommended that only experienced hikers attempt this trek outside of the season.
Pacific Crest Trail, U.S.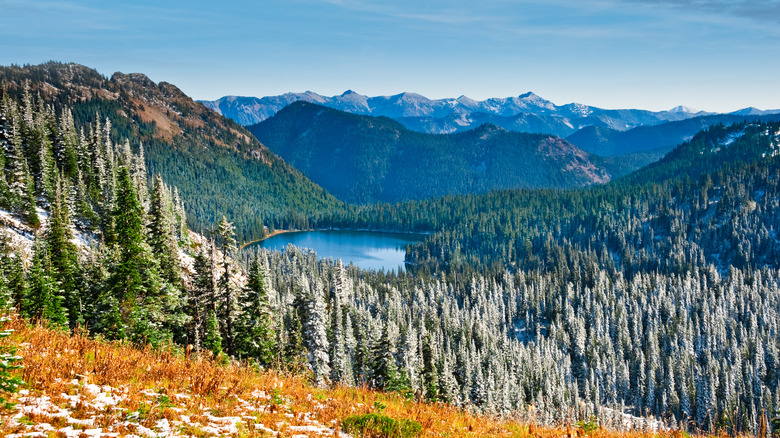 Jeffgoulden/Getty Images
Made famous by Cheryl Strayed's book and movie starring Reese Witherspoon, the 2,600-mile trek from the Canadian to Mexican border along the U.S. West Coast is not for the faint of heart. Hiking through seven national parks, from SoCal deserts to the peaks of the Pacific Northwest, makes every day an adventure on the PCT!
As the trail traverses high mountains, deserts, and everything in between there isn't an ideal time of the year that's applicable to the entire route. However, in general, the summer and early fall are considered the best, as snow, which often covers the trail in winter, will have mostly melted. Remember to bring plenty of water on the arid stretches. It's recommended to allow about five months to complete the full route and don't be surprised if you meet a few four-legged friends as the trail is equestrian friendly.
El Camino de Santiago, Spain (and France and Portugal)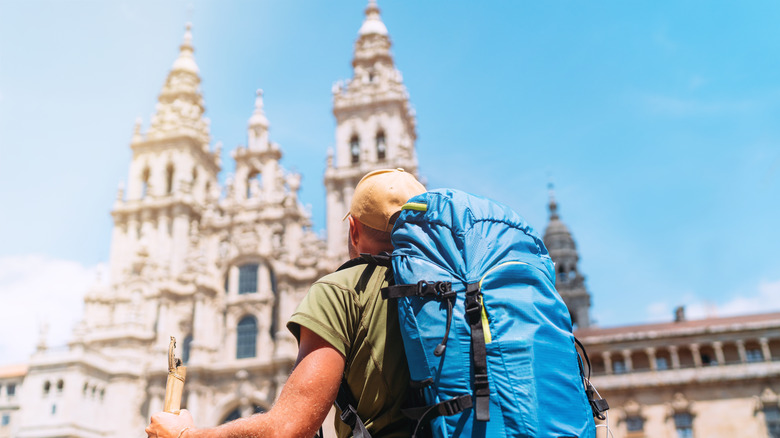 Soloviova Liudmyla/Shutterstock
The Camino is the most famous long-distance walk in Europe with hundreds of thousands descending on it each year. The walk dates back to medieval times when it was a pilgrimage route to the Cathedral of Santiago de Compostela. Contrary to popular belief, the trail is actually a series of paths that stretch as far as France and Portugal, with numerous starting points and lengths. Many of the routes are also considered UNESCO heritage sites in their own right. The most popular is the 480-mile Camino Frances (also called the French Way), but you can choose shorter or longer options.
Walkers who walk at least 60 miles of a route will receive a Pilgrim Passport. You'll receive stamps along the way to go toward earning a Compostela Credential certificate at the end of your journey. The best times of year to hike the Camino are in the spring from April to June and in early fall from September to October. The weather in southern Europe during these months will be pleasant, but not too hot. Due to the popularity, it's best to plan and book accommodation at least a few months before you depart.
Kungsleden, Sweden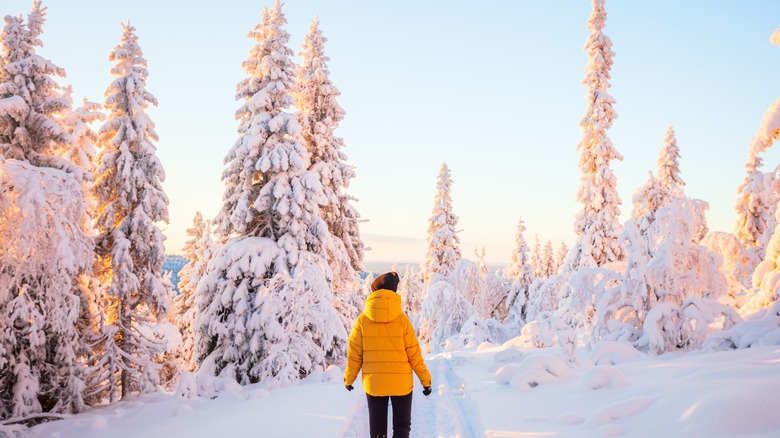 BlueOrange Studio/Shutterstock
In the far north of Swedish Lapland is a 240-mile route from Lake Tärnasjön to Hemavan. The hike's name translates to "The King's Way" as it starts at what was once the king's favorite fishing lake, and it's now one of the most popular trails in the country.
Cobbled together from various ski and footpaths through Sweden's most breathtaking mountain landscapes, you'll feel like you're on another planet (or perhaps on a visit to Narnia!). Summer is the best season for hikers. From June to mid-September conditions are mostly friendly and cabins along the way are open for weary travelers, with supplies available to buy.
Grand Italia Trail (Sentioro Italia)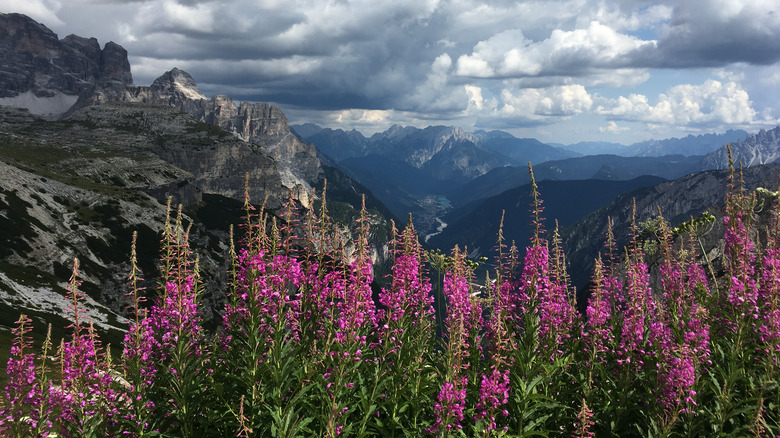 Roberto Vecchio/Getty Images
Italy is always a favorite destination among travelers, but most opt for train journeys, road trips, or ferry crossings. However, one of the best ways to see the country is by foot. In 1983, the Sentiero Italia Association came up with the idea to put together the ultimate Italian hiking trail, from the islands and boot all the way to the mountainous northern regions. It took a few decades, but now hikers can follow the Sentioro Italia from the Slovenian border and end in Sicily. 
At just under 4,900 miles in length, most hikers choose a section and cover a single region or two. Optimal weather depends on the chosen region. The north and central sections are best hiked in the summer once the snow has melted, while southern portions are most comfortable in spring and autumn.
Continental Divide Trail, U.S.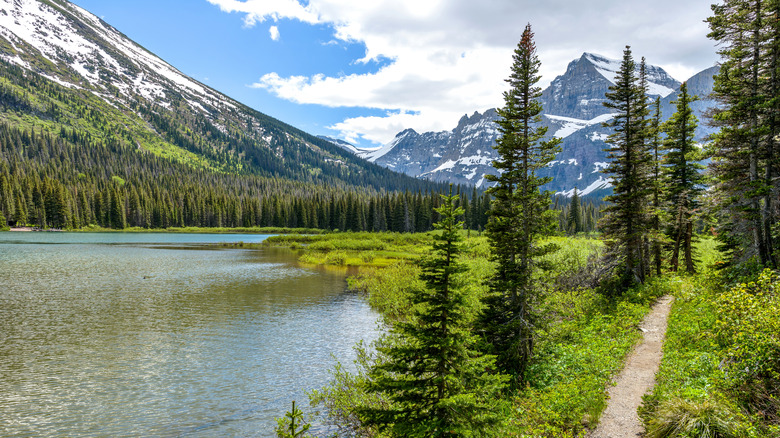 Seanxu/Getty Images
Another border-to-border trail in the U.S., the Continental Divide starts in Montana and follows the Rocky Mountains all the way to Mexico. The 3,100-mile route takes hikers from the border with Alberta to Idaho's mountains and the deserts of New Mexico. Unlike other long-distance thru-hikes in the U.S., the Continental Divide has a few variations and route options along the way. 
The official trail is the Continental Divide Scenic National Trail — put together by the National Forest Service and follows the actual continental divide. However, on AllTrails and other maps, you'll find alternative routes and detours to follow if you want to cover a certain area or landmark not on the official trail. No matter which option you opt for, allow five to six months complete.
Drakensberg Grand Traverse, South Africa & Lesotho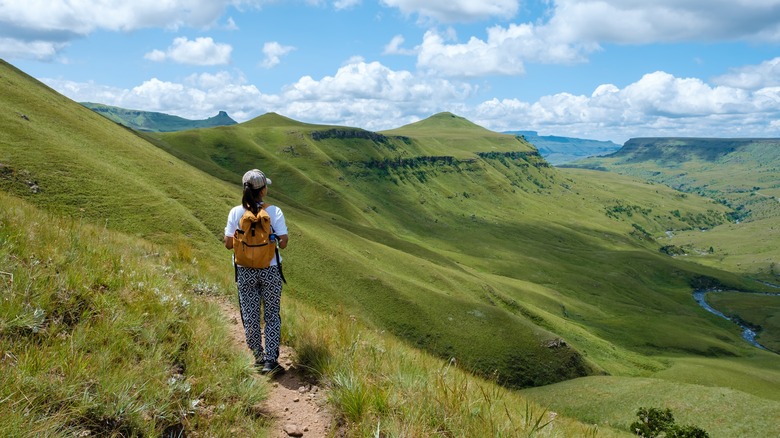 fokke baarssen/Shutterstock
Covering 150 miles throughout southern Africa, the Drakensberg is one of the more brief, but difficult hikes on this list. You'll start at the Sentinel Car Park in Royal Natal National Park in South Africa, not far from Lesotho, and ends at Bushman's Neck Border Post across the border. Throughout the trek, you'll summit six mountains; Mont Aux Sources (10,768 feet), Cleft Peak (3,100 feet), Champagne Castle (11,080 feet), Mafadi (11,306 feet), Giant's Castle (10,875 feet) and Thabana Ntlenyana (11,420 feet), which is why it's considered a brutal hike despite the shorter length. 
This hike is not very well signposted, often taking you through sheep fields that will require careful navigation. The spring and fall are when most hikers choose to tackle the path, due to longer daylight hours and friendlier weather conditions. Just remember seasons are reversed in this hemisphere!
Via Alpina (multiple alpine countries)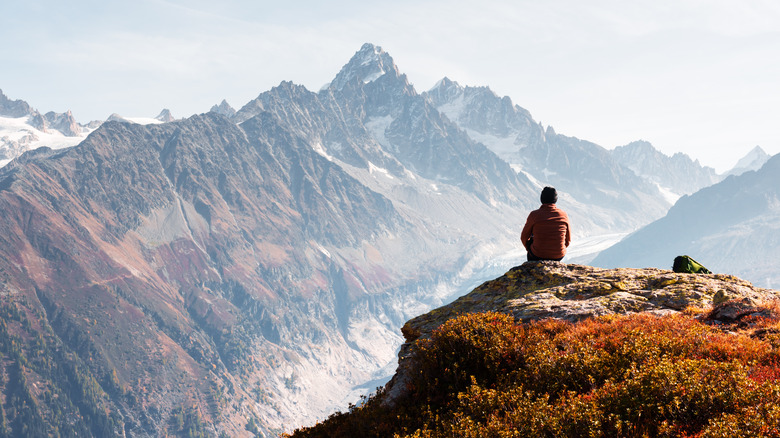 Smit/Shutterstock
Eight countries make up this 3,100-mile trek; France, Monaco, Italy, Switzerland, Liechtenstein, Germany, Austria, and Slovenia. You'll climb from sea level to 9,850 feet above, all in Europe's iconic Alps. Along the very well-marked path, look for the Via Alpina logo, to lead you to places to stay the night or purchase some food. The trails aren't considered too technical and can easily be completed without a guide by experienced hikers. 
The Via Alpina is best hiked between June and September. However, as this is peak hiking season in Europe, it's recommended to book huts or other accommodations far in advance.
Jordan Trail, Jordan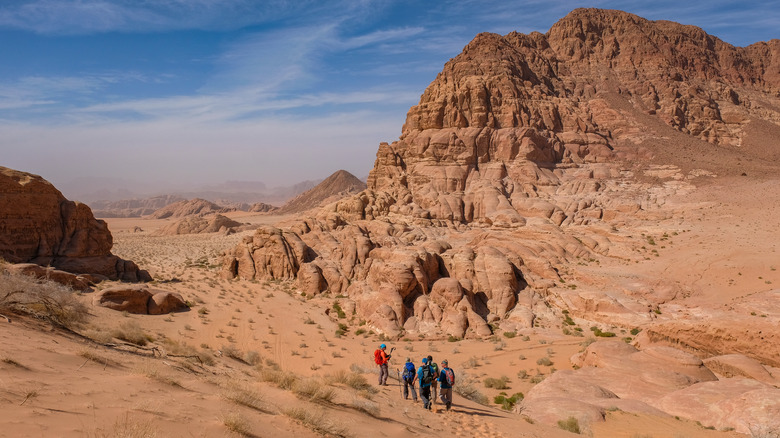 A.Pushkin/Shutterstock
Opened a few years ago, this is the first long-distance trail in Jordan and a wonderful adventure for hikers! The 420-mile trail takes you from the town of Um Qais in the north to Aqaba in the south along the Dead Sea. Along the way, you'll cross through Jordan's mountains, deserts, and small towns. Additionally, you'll cover the country's highlights by foot, including Petra, the Dana Biosphere Reserve, and the Kerak Castle.
The best time of year depends on the region, as despite its' small size, Jordan's climate and landscape are incredibly diverse. The north is most comfortable during March and April while the south is better tackled in late winter. Most trekkers will need about a month and a half to complete the trail. You can hike the Jordan Trail independently, but many knowledgeable local guides are available to make it a stress-free experience as well.
Transcaucasian Trail, Georgia and Armenia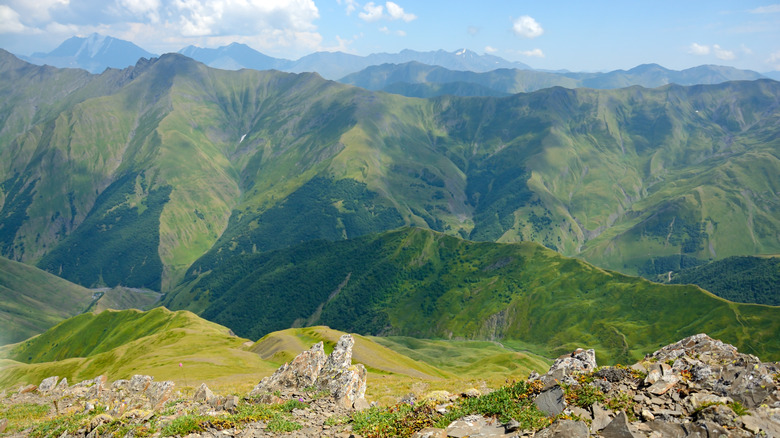 Madzia71/Getty Images
One of the newer long-distance hiking routes, the Transcaucasian has been cobbled together over the years between Armenia and Georgia. With the trail currently at just under 960 miles long, hikers will pass through amazing alpine vistas, desert canyons, sweeping valleys, and volcanic remains. The first test-hikers hit the trail in 2022 and provided recommendations to improve the experience for those to come.
The Transcaucasian Trail, also called the TCT, made a few improvements and is now inviting the next batch to try out the latest iteration. There's a thru-hiker support program available that can help plan your trip and facilitate shipping supplies to various points along the trail. As this is still a newer trail, it's recommended only for experienced thru-hikers and is best tackled in July and August.
The Enchantments, U.S.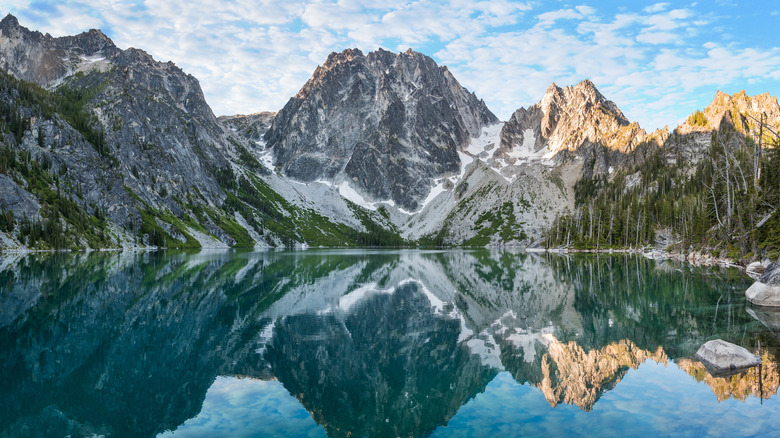 Tobin Akehurst/Shutterstock
The 18-mile thru-hike in the Washington Cascades might not sound bad at first. That's until you realize that at a minimum, you'll gain over 2,000 feet of elevation. Still, the crystal clear lakes, smooth granite slabs, and towering Evergreen trees make for a setting unlike anywhere else in the state. Please note that overnight camping permits in the Enchantments are a lottery system and if you don't have one you cannot complete the hike over multiple days.
However, there are a few day-hike routes. The shortest option is a 7-mile route to the first lake in the Upper Enchantments, although this requires an elevation gain of 4,400 feet in that short distance. Don't attempt if you aren't a regular hiker, it's not a casual jaunt through the woods. Summer is the best season, although it's also beautiful during the fall larch season. And keep your eyes peeled for the mountain goats that like to frequent this area!
Inca Trail, Peru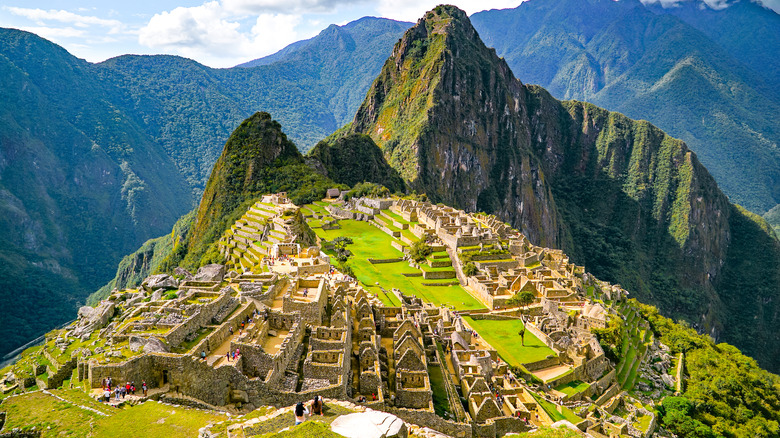 Seumas Christie-Johnston/Shutterstock
This four to five-day hike is on many a trekker's bucket list. You'll start in the mountain city of Cusco before heading into the Andes, where you'll hike 26 miles and gain 2,000 feet of elevation en route to the Lost City of Machu Picchu. Dramatic cliff drop-offs and ancient ruins as well as local alpacas dot this trail. The jungles, cloud forests, and looming peaks await you on this trail.
This trail is only possible to complete with a certified guide, and you'll want to secure one far ahead of time as this is one of the most popular and famous routes in South America, thus they book out quickly because the Peruvian government limits the number of visitors each day to preserve the ancient site. Expect heavy crowds, especially in the peak season from May through September, where you can also expect pleasant temperatures and not too heavy rain.
Appalachian Trail, U.S.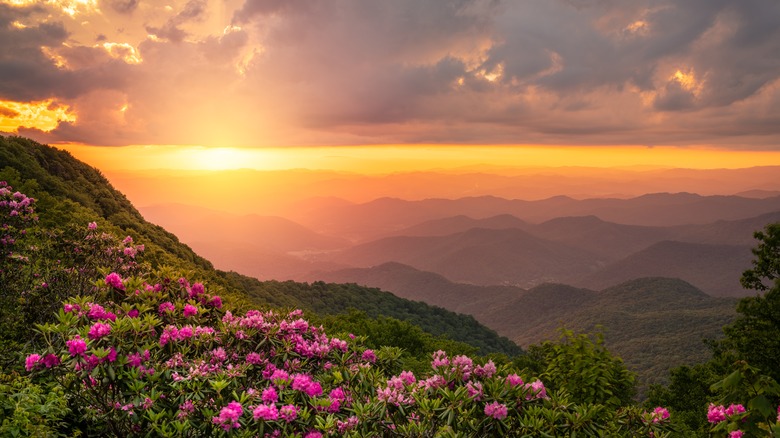 Sean Pavone/Shutterstock
This 2,200-mile trail through the eastern U.S. takes you through some epic scenery. From the mountains of Maine (the most difficult portion of the hike) through New England to the Appalachian mountains and finally ending in the northern part of Georgia. 
You'll pass through 15 states while hiking this trail; Maine, New Hampshire, Vermont, Massachusetts, Connecticut, New York, New Jersey, Pennsylvania, Maryland, Virginia, West Virginia, Tennessee, North Carolina, and Georgia. It's recommended to start in spring and to allow five to seven months to hike the full route.
Torres del Paine W Track, Chile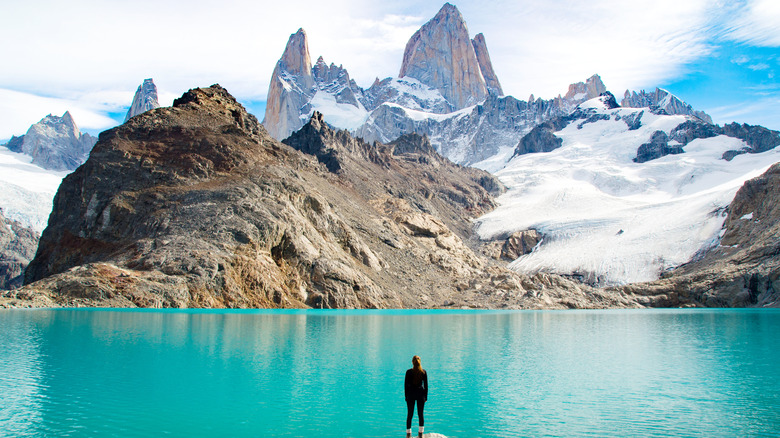 Sophie Dover/Getty Images
The quintessential Patagonian route, this 45-mile circuit where you'll gain nearly 9,000 feet of elevation typically takes about five days to complete. The W Track is located in Torres Del Paine National Park in Chile. Thus, the seasons are reversed making November through April the best months, as well as the only period where independent treks are allowed. 
Along the way, you'll enjoy views of Gatorade-colored alpine lakes, mountains teeming with glaciers, and sweeping valleys. If you want to hike in winter, you'll need to go with an official guide. Huts are available each night with food provided (for a fee), making it much simpler for hikers coming from abroad.
Ausangate Trek and Rainbow Mountain, Peru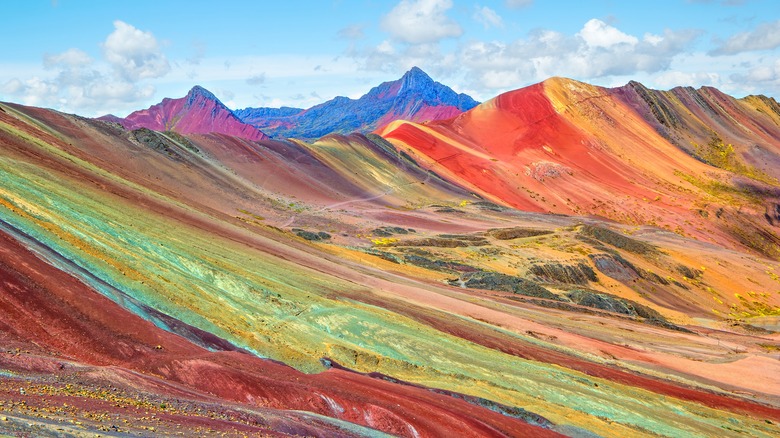 Perekotypole/Shutterstock
This 44-mile hike in the high Peruvian Andes will take your breath away — sometimes literally due to the high altitude in this part of the world. You'll begin at the bottom of the Vilcanota mountain range and complete a loop, usually lasting between four and six days. 
You'll pass through epic vistas, and breathtaking glaciers, and hopefully spot some wildlife. The pinnacle of course is Rainbow Mountain, a mountain comprised of different colored minerals that give it a colorful appearance. Head to Peru from May through September for the most ideal conditions.
The Long Trail, U.S.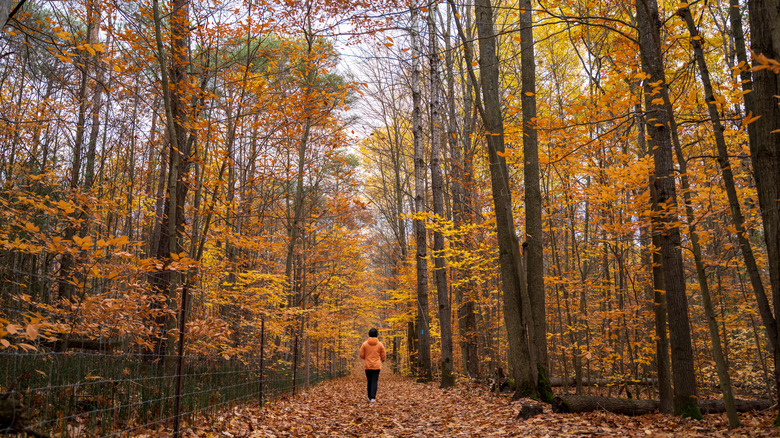 Redtea/Getty Images
Vermont is known as an outdoor lover's paradise and The Long Trail is the ultimate challenge for hikers in the state. The route is considered the oldest continuous footpath in the U.S. and follows the local peaks for 272 miles from Massachusetts to the Canadian border. The last southern 100 miles are actually a part of the larger Appalachian Trail, which was supposedly inspired by the Vermont path. 
You'll wander through the aptly named Green Mountains along serene streams and ponds and through mud, even in summer. The trail typically takes between two and three weeks to complete, although it has been done in under one. It's best tackled in late summer or early fall (when New England's foliage begins to show) to avoid extreme heat and the worst of the crowds.
Mount Toubkal, Atlas Mountains, Morocco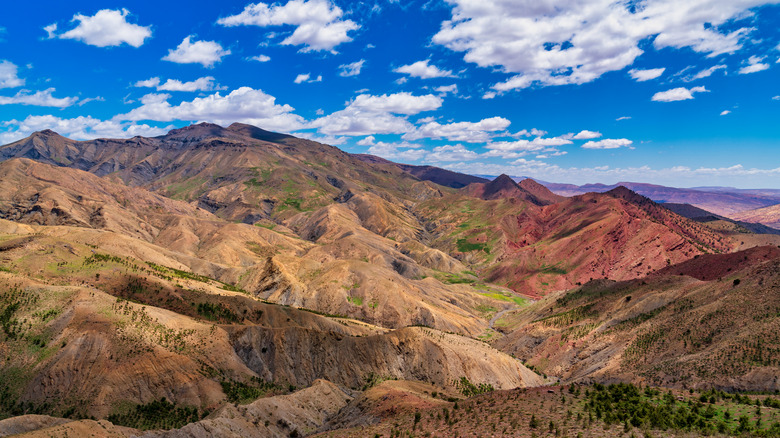 Starcevic/Getty Images
This just over 37-mile trek in North Africa's highest mountain is open to hikers (as are the huts to sleep in) year-round and is possible to do independently. Even for experienced hikers, it is considered quite the challenge with 12,320 feet of elevation gain. The hike can take you anywhere from two to seven days, with most of the climbing in the first couple. You'll start in the village of Imlil and pass through a few more small villages before getting into the heart of the trek. Then, you're rewarded with views of the rugged landscape and sometimes snowy peaks. 
While you can hike throughout all seasons, April, May, September, and October are considered the best months to tackle it. Guides are available for hire in both Casablanca and Marrakech (two popular ports of entry to Morocco) should you not want to organize logistics on your own.
Great Himalayan Trail, Nepal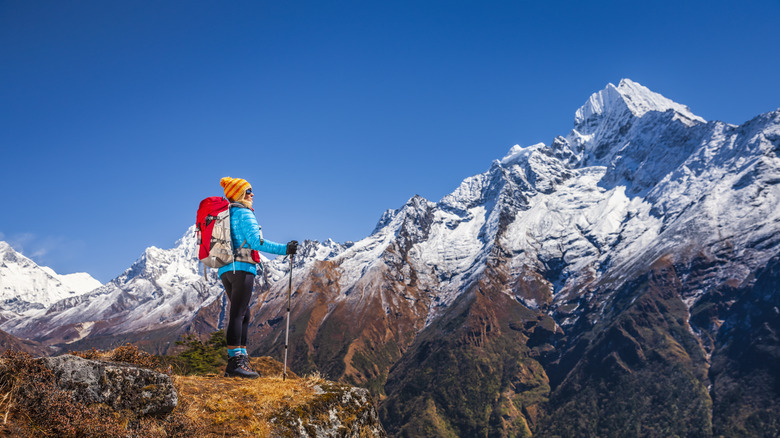 Hadynyah/Getty Images
The Great Himalayan Trail, or GHT as it's known, is 2,800 miles long and is considered the highest hiking path in the world. The path will take you through eight 26,000-feet-plus peaks, with 3,000 to 5,000 feet of elevation gained on most days. From the east to the west of Nepal, you'll walk amongst the epic Himalayas, through alpine forests, snow-covered passes, and small villages. 
The GHT is also considered one of the most difficult thru-hikes in the world, as it's very remote and many mountain passes can be fraught. This hike requires about five to six months to complete, although most hikers opt to tackle a single section.
The Greater Patagonian Trail, Chile & Argentina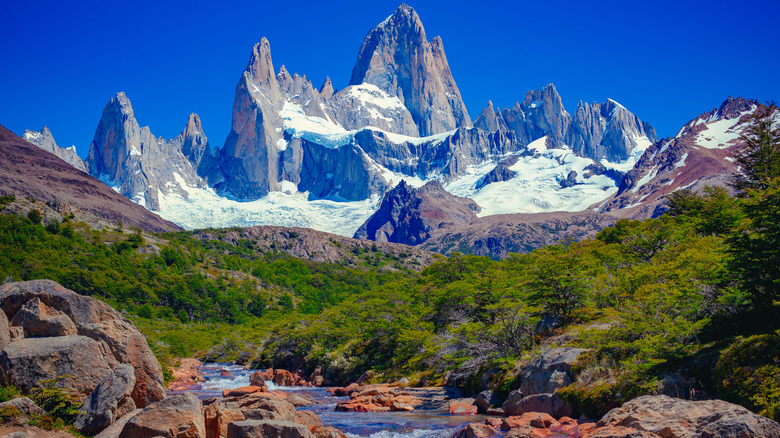 Samuel Ericksen/Shutterstock
Patagonia is a haven for hikers and the crown jewel of the area is, of course, the Greater Patagonian Trail, which starts just outside Santiago and continues south to the southernmost point on the continent. It's not an official trail, but rather a bunch of path networks put together to create this 1,900-mile route. Due to this, large sections aren't marked or officially established as paths, and you'll often be wandering in the wilderness between designated trails. Because of this, research and a GPS are absolutely necessary ahead of time. 
Even then, you'll likely end up in cow fields or off-limits property at some point and will need to proceed with caution. Allow around four months to complete. Like most hikes in the region, the months between November and March are considered the most optimal.
Ak-Suu Transverse, Kyrgyzstan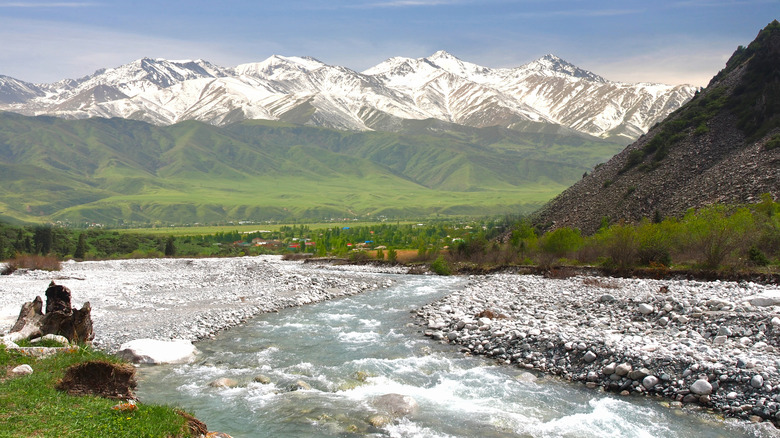 Jaturunp/Getty Images
This 67-mile hike starts in the small village of Jyrgalan and ends at an old Soviet-era resort in Jeti-Oguz. At over 20,000 feet in elevation gain, it's definitely one of the most challenging hikes in Asia and on this list. You'll pass through expansive green valleys, snow-covered passes, and rocky climbs and be rewarded with views of the surrounding countryside. 
The route consists of seemingly endless vertical climbs and steep ascents, so make sure to prepare in your pre-trek training. The best time of the year to hike Ak-Suu is mid-summer, usually July and August. You'll need around one week to hike this route.
Fansipan Trek, Vietnam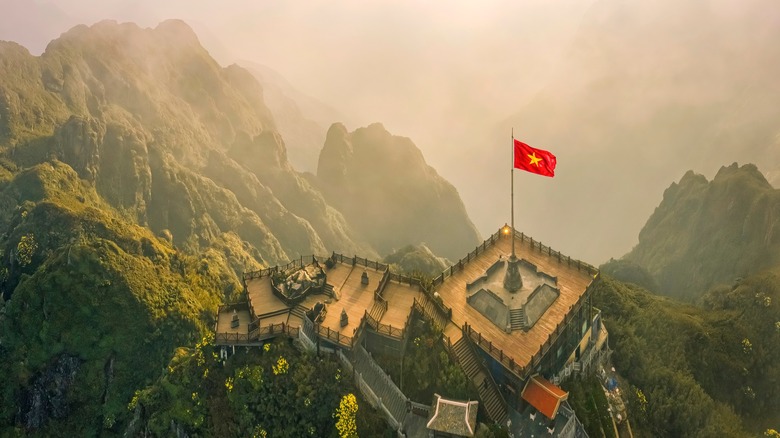 Nguyen Quang Ngoc Tonkin/Shutterstock
In the hills above Sapa (known for beautiful landscapes and bustling markets) in northern Vietnam, lies this 14-mile hike which takes you up Fansipan, the region's highest peak, and through bamboo forests and lush valleys. You'll begin at the bottom of the mountain and ascend it in the first day or two, depending on your pace. Keep in mind the climb consists of over 10,000 feet of elevation gain, with the most intense section in the second half of the ascent. 
After enjoying an epic view from the top, you'll descend into the verdant valley below. The hike usually takes trekkers between one to three days to complete, and you can do so independently or with a guide.
Lost City, Colombia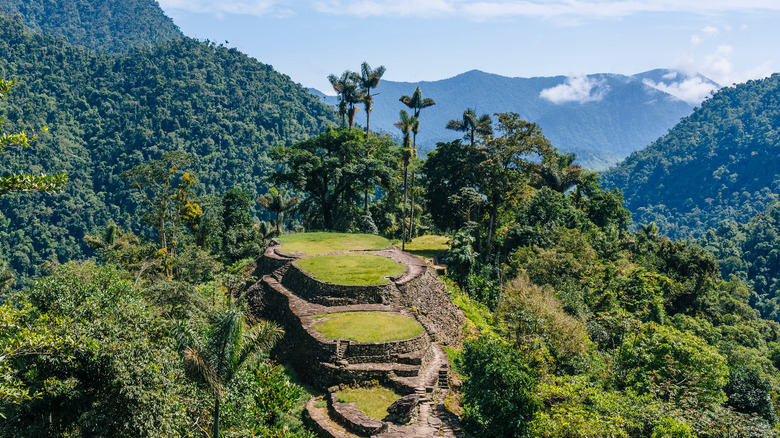 Joerg Steber/Shutterstock
South America's other lost city can be found in the Sierra Nevada de Santa Maria in the north of Colombia. The 28-mile route through the jungle will pass by swimming holes and local farms, with campsites to sleep in along the way. Take care, as the forest can be damp, making sections a bit slippery, especially where you'll need to climb quite a few steps. In fact, to reach the end you'll need to climb about 1,200 steps in Colombian heat and humidity. It can also become quite muddy or dusty, depending on the season. In general, though, you can hike year-round, although if you arrive between May and September, be prepared for frequent downpours. Mosquitoes are common trail companions, so bring along bug spray.
You'll end in Ciudad Perdida, formerly called Teyuna or the "lost city," which is actually older than Machu Picchu, although much less remains. The path typically requires four to six days to complete and you must do so through a guided tour as you're passing through villages and ancestral land of the Kogi tribes. They've given permission for groups to hike through, but only with operators, so no tourists should be hiking on their own.
Annapurna Circuit, Nepal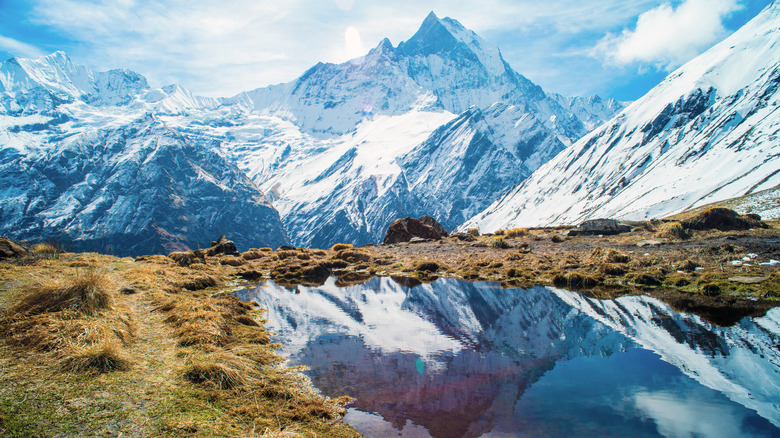 Prawat Thananithaporn/Shutterstock
One of Nepal's shortest "teahouse" treks (as accommodation along the way is in mountain teahouses) you can hike between 100 and 160 miles (depending on your start point). However, with just over 8,800 feet in elevation gain, it's still a strenuous route no matter the course you take. 
You'll tackle subtropic forests to some of the highest mountains in the world. The hike takes between 10 to 21 days to complete and is best hiked in fall or spring. As with all treks in Nepal as of 2023, you must hire a guide. Additionally, road construction has reportedly degraded the path a bit, but most trekkers still enjoy the route.
Milford Track, New Zealand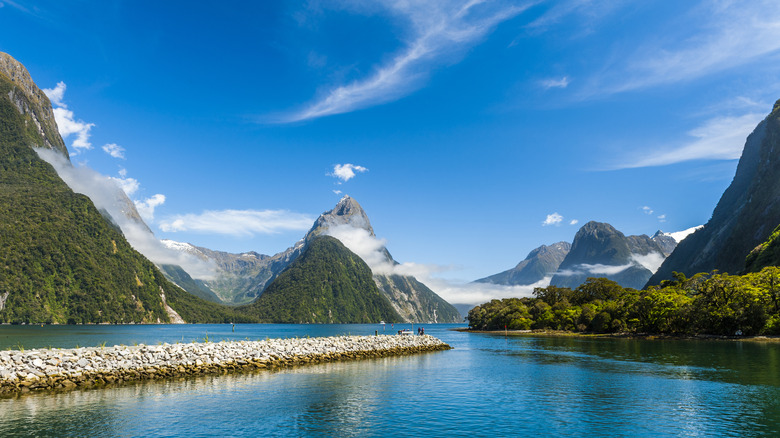 Filip Fuxa/Shutterstock
Another famous "Great Walk" in New Zealand, the Milford Track is a 33-mile hike in Fiordland National Park on the South Island. You'll hike through the rainforest, enjoy views of gushing waterfalls, pristine lakes, glacier-filled mountains, and across suspension bridges. Just like its neighbor the Kepler Track, Milford is best hiked during the "Great Walks season," between October and April, however experienced trekkers can do so outside this period. 
If you're visiting during the season you'll want to book huts and campsites as soon as possible, at least a few months. No matter when you choose to hike, allow at least four days to hike and go between October and April for the best conditions.
The Great Trail, Canada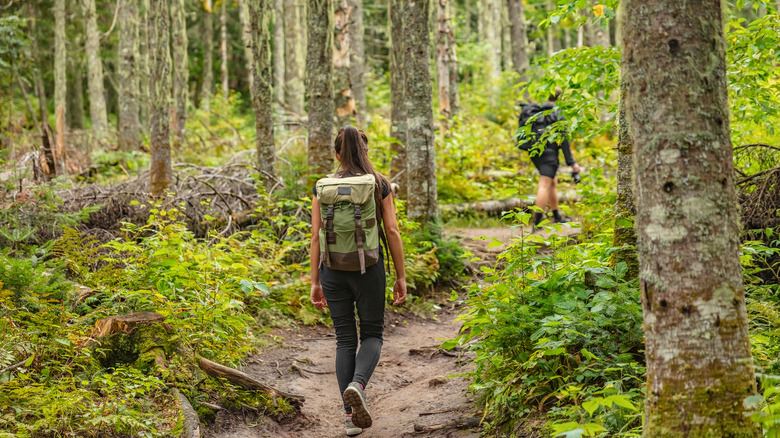 Maridav/Shutterstock
Canada is known as a fantastic place for hiking and The Great Trail, or Trans-Canada Trail, is the ultimate long-distance trek for those looking to see the country on foot. Starting in St. John's, Newfoundland, you'll wander the coast and forests of the Atlantic provinces, before heading into Quebec and the flats of the prairies. From there, you'll head into the Rockies, before turning north to the Arctic where you'll truly experience Canadian wilderness. Then, return south into the forests and mountains of British Columbia where you'll end on Vancouver Island. 
At 17,400 miles long, of course, it would be quite difficult to complete in one go, most people complete sections at a time. And since Canada is known for brutal winters, it's best to do so in the summer months or early autumn.