The Best Times Of Year To Soak In The Hot Springs At Canada's Banff National Park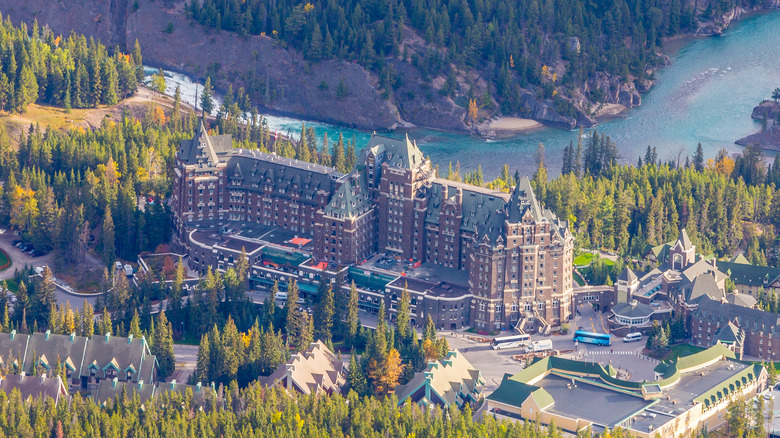 doratoy/Shutterstock
One of Canada's most popular natural treasures, Banff National Park is also Canada's first national park. Per Banff National Park, the park was first founded in 1885 as a small hot springs reserve covering 26 square kilometers (16 square miles). Now, the expansive national park encompasses 6,641 square kilometers (4,127 square miles) of snow-capped peaks, emerald lakes, ancient glaciers, flower-laded meadows, and untamed wildlife.
If the discovery of the area's hot springs helped establish Banff National Park, then fittingly, over 130 years later, the Banff Upper Hot Springs remains one of the park's most popular natural wonders. Located 129 kilometers (80 miles) west of Calgary, per Visit Calgary, the Banff Upper Hot Springs are just a few miles outside of the town of Banff. The Banff Blog estimates roughly 300,000 people visit the hot springs annually.
If you're planning a trip to Banff National Park, the park's sheer natural splendor makes anytime a fantastic time to go, and the Banff Upper Hot Springs are open year-round. However, to take advantage of the park's recreational activities and fully experience the unique natural wonder of the hot springs, we recommend visiting the park when its natural highlights are fully displayed.
Summer soak for mind and body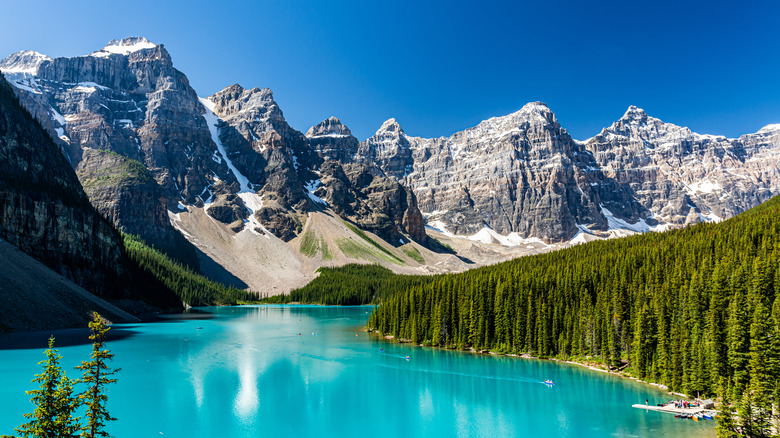 Kabindra shrestha/Shutterstock
In summer, between the months of June and August, Banff National Park offers the warmest and most welcoming weather, with daily average temperatures ranging between 40 to 70 degrees Fahrenheit, per U.S. News & World Report. During this time, you can spend your day white-water rafting, kayaking, golfing, hiking, mountaineering, rock climbing, and mountain biking.
For photographers and wildlife enthusiasts, you'll also have the chance to spot grizzly and black bears, bighorn sheep, wolves, caribou, elk, and other wildlife typically more active in the warmer months. The park offers various guided wildlife and wilderness tours.
While you may not associate soaking in hot springs with summertime, the Banff Upper Hot Springs are at an elevation of 1,585 meters (5,200 feet), per Visit Calgary, and the national park is still pretty cold during the summer months. After (or before) a day of outdoor adventure, a soothing soak in mineral-rich waters surrounded by clear mountain views can be a revitalizing experience for mind and body.
Winter recreation and hot spring therapy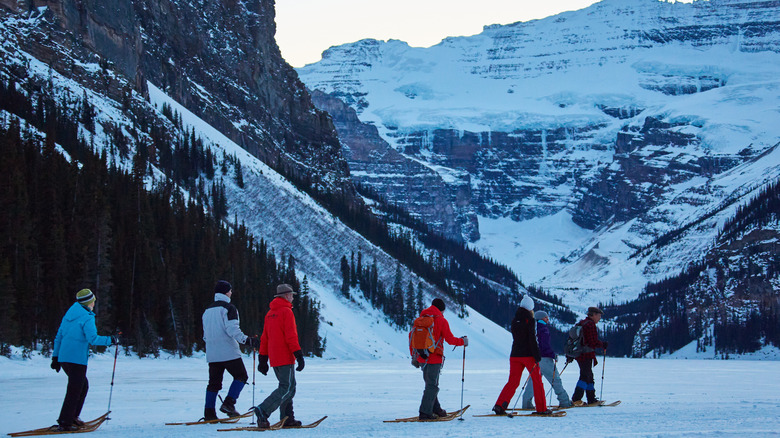 Eyeswideopen/Getty Images
In the winter, Banff National Park transforms into a winter wonderland with exceptional scenery and plenty of winter recreation options. According to National Geographic, the national park is home to three major ski resorts: Mount Norquay, Lake Louise Ski Resort, and Sunshine Village. Combined, the resorts offer plenty of diverse terrain for skiing and snowboarding enthusiasts. The park is also popular for its backcountry and cross-country ski trails, as well as its dog-sledding tours and glacier ice walks.
While winters are cold in the national park, the Banff Upper Hot Springs provide an indulgent reprieve from the winter chill. Per Parks Canada, the naturally-fed hot springs range in temperature between 37 and 40 Celsius (98 and 104 Fahrenheit). Parks Canada also points out that Indigenous communities were the first to ascribe healing benefits to the mineral-rich, sacred springs. When you're floating in the hot, natural geothermal springs, surrounded by morning snow and mountain views, you'll understand their popularity.