Tips And Tricks For Navigating Chicago's O'Hare Airport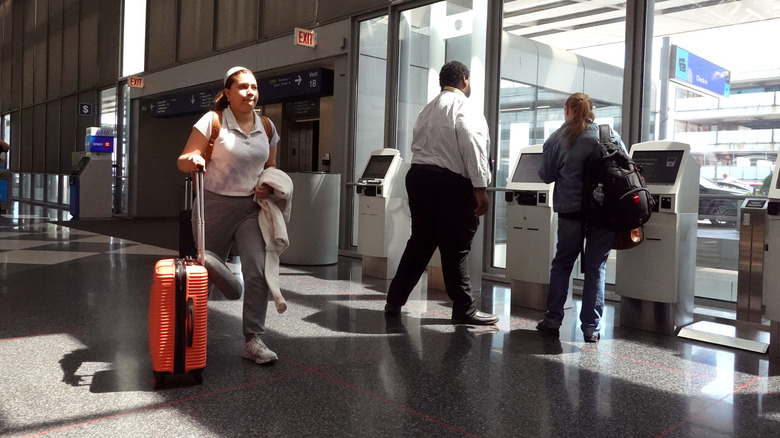 Scott Olson/Getty Images
As a Chicagoan who travels a lot through Chicago O'Hare International Airport, this writer hears a lot of flack about the status of the airport. O'Hare, or ORD, is the fourth busiest airport in the world and the fourth busiest in the United States. Despite being so busy, ORD is actually a great airport if you stop yourself from being overwhelmed by its size. It's well organized, has plenty of places to grab a bite or some souvenirs, and has a variety of seating areas to choose from.
There are four terminals housing over 190 gates across ORD – the majority of which are for American Airlines and United. For reference, United Airlines is based in Chicago so your best flight prices will probably be with United if you aren't flying with a budget airline. Throughout these four terminals, you'll find over 140 food and beverage spots, 80 retail shops, and nearly 140 automated stands or vending machines, not to mention the public art, airport spa locations, and even a play area for kiddos. O'Hare is a beast of an airport, but with a little pre-planning, getting to your flight is a piece of cake.
How early do you need to be at the airport?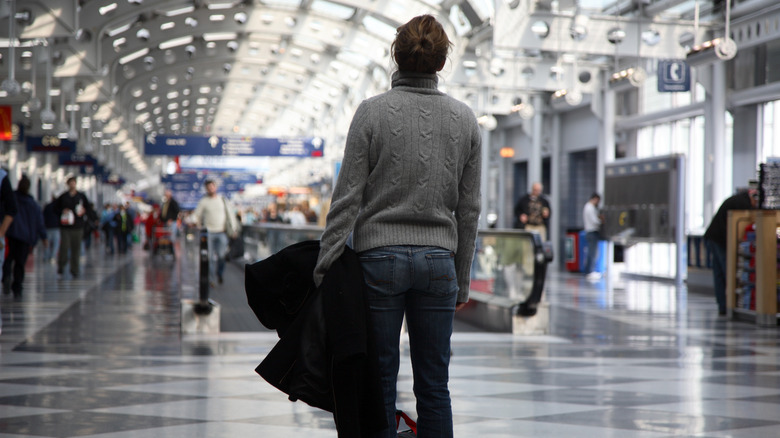 Blowbackphoto/Getty Images
Honestly, it really depends on when your flight is taking place. A safe rule of thumb is to get to the airport at least 90 minutes before boarding (not departure). Especially if you aren't familiar with the layout of the airport or you want to have time to grab some food and trinkets, that buffer might come in handy.
Generally, the security lines at ORD aren't that bad. You may wait for 15-20 minutes or you could get through security in less than five. It really depends on the staffing situation for the day and whether or not other passengers are being cooperative.
One trick that may come in handy is if you notice that security at Terminal 1 is taking a lot less time than Terminal 2, it might be a good idea to just go to Terminal 1 instead. You can easily walk to Terminal 2 in a matter of minutes and if security is really backed up, you may even be able to get through security and walk to the correct terminal in less time than doing security at the other terminal.
Customs and security information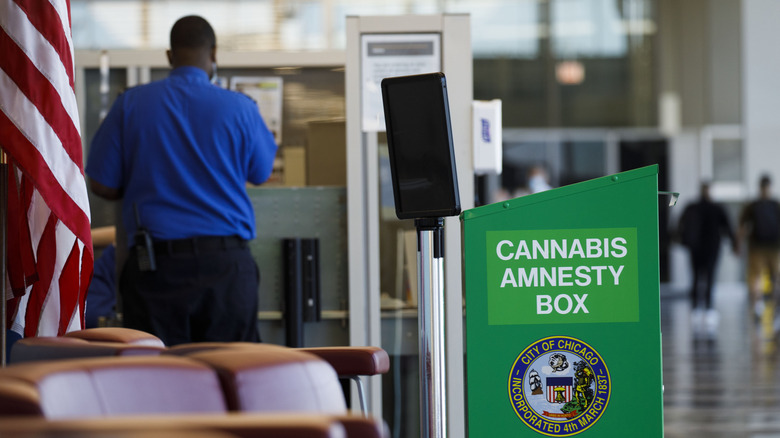 Bloomberg/Getty Images
Listen up early birds, getting to ORD hours before your 5 a.m. flight might not do you any good. Why? Because even security isn't necessarily open that early. It depends on your terminal, but for the most part, the security checkpoints open sometime between 3:15 a.m. and 4 a.m. The exception to this rule is terminal 5, which has a 24-hour security area.
If you get there too early though, do yourself a favor and get in line. People are not shy about making a massive line for the not-yet-open security areas and if you wait too long, you may find yourself at the end of that line. Especially if you have less than an hour between security opening and your flight boarding, get in line as soon as you can. But check out the other checkpoints too because the central one is always the busiest, especially in Terminal 2.
And TSA Pre-Check folks, you're in this boat too. Pre-Check areas are also not 24 hours at Terminals 1-3, so if you arrive too early, you'll have to go through security like everyone else. PreCheck opens either at 4 a.m. or 4:15 a.m., depending on the checkpoint and terminal.
Understand the terminal connections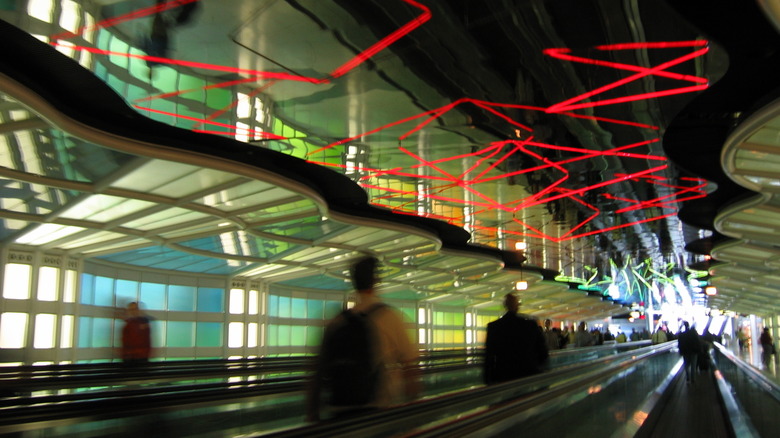 Sarah Scott/Shutterstock
Somewhat confusingly, although there are four terminals at ORD, they are numbered 1, 2, 3, and 5. Generally, the first three terminals are considered domestic terminals and are easily traversed. All three of these terminals are connected by pedestrian walkways, making them so much easier to cross than having to wait for transportation to take you to them.
You can walk from Terminal 1 into the post-security area of Terminal 2 in just a few minutes, depending on how quickly you walk. A lot of people don't utilize the pedestrian walkways so they're far less busy than the terminals themselves. If you need a quick break away from the crowds, the walkways are a good option for a moment of quiet.
Unlike the domestic terminals, you cannot walk to Terminal 5. While there are international flights that depart from Terminals 1, 2, and 3, the majority of international travel takes place in Terminal 5. However, international flights that come into the United States all land in Terminal 5. You can get to Terminal 5 from the other terminals via airport shuttles and the Airport Transit System.
ORD's Airport Transit System (ATS)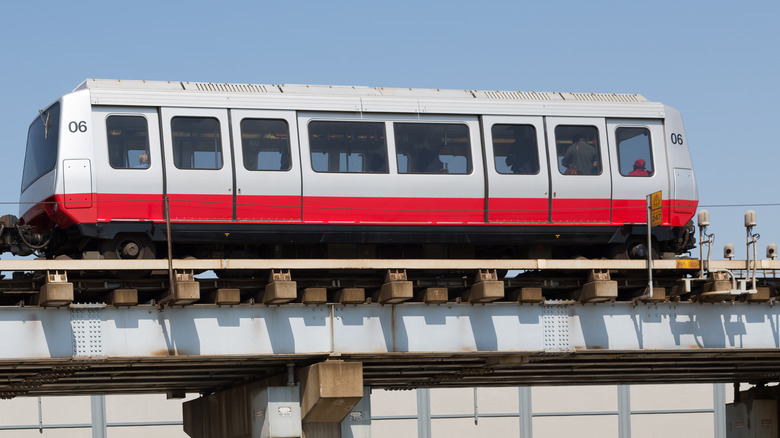 Darryl Brooks/Shutterstock
While you can walk to the domestic terminals, you can also take the Airport Transit System (ATS) instead. The very reliable light rail takes about ten minutes to do its entire circuit. ATS is available 24/7, making it perfect for maneuvering the airport even in the wee hours of the morning. It's also a more child-friendly option rather than lugging suitcases and pushing strollers through the terminals and walkways. Plus, kiddos love the people mover train, and it's an excellent distraction from waiting around.
The ATS has gotten significant updates in the last several years so it is smoother and more reliable than ever. Generally, you can expect the train to arrive every three to five minutes. It takes you across the terminals as well as to the Multi-Modal Facility (MMF). From MMF, you can access rental cars, the economy parking Lot F, the Kiss 'n' Fly area, as well as Chicago public transportation like the Pace busses and the Metra train.
Take the L from the airport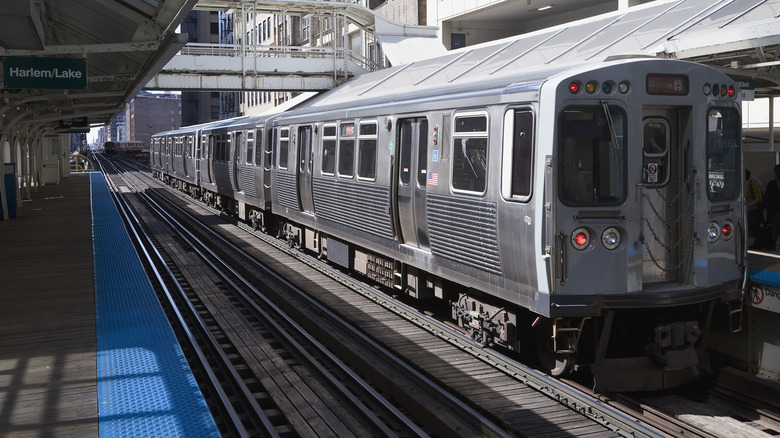 Stevegeer/Getty Images
Without a doubt, the most cost-effective way to get into the city from ORD is to hop onto the Blue Line. The L will only take about 40 minutes to whisk you downtown for just a few dollars rather than the much higher cost of taking an Uber or hailing a cab. There are signs throughout the airport to get you to the boarding area for the train — just look for signs that say "Trains to City."
You can purchase a pass at one of the automated machines, or you can just scan your phone at the train terminal entry. The Ventra app will allow you to purchase transit fares for the buses or trains, or you can simply use the touch-to-pay function with Apple Pay or Google Pay.
If you're nervous about taking public transit in a major metropolitan area, there are plenty of ways to keep yourself safe. Go to one of the front cars closer to the conductor, don't go to an empty train car when you're alone, and be sure to hold onto your belongings. Public transit in Chicago is fairly safe, however, there is always more possibility for problems in large cities.
Skip the rideshare, take a cab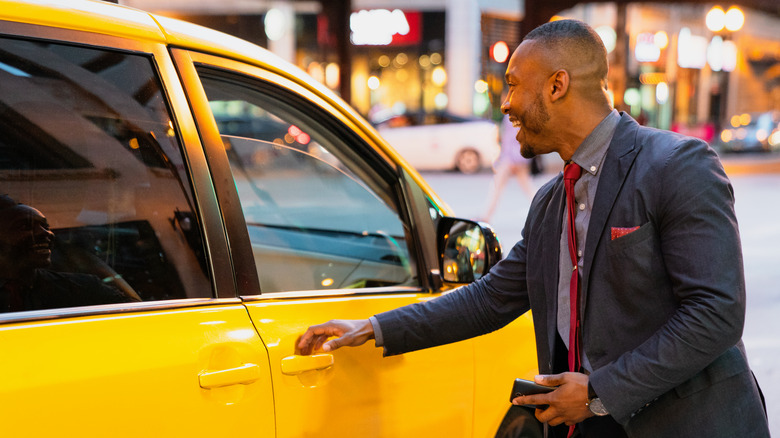 Mlenny/Getty Images
Especially now that rideshare services like Lyft and Uber can only pick up passengers at Terminal 2, it's not worth the hassle. Traditional cabs have been cheaper than rideshares from ORD for quite some time. Although you can't hail a rideshare from the other three terminals, you can pick up a cab at any of them.
All you have to do is find the taxi stand outside of the terminals, wait in line, let the person know where you're headed and you're off! The cabs will take cash, card, and sometimes they're connected to taxi apps like Curb. Be warned though, some cabbies will be wary of the apps. They say it's because they don't always get paid fairly or on time by the app.
Be warned that if you have a very large party you may have to wait for the appropriately sized taxi to show up. The majority of cabs waiting in line will be able to accommodate a few people at most. If you don't want to wait, consider splitting your party up to separate taxis. Let the cab attendant know if that's your plan or they will assume you are waiting for a very large vehicle.
Baby and pet facilities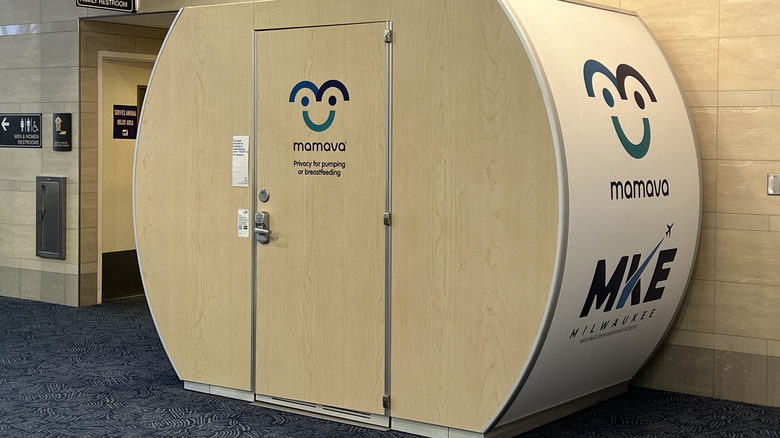 Ontherunphoto/Getty Images
There is only Family Lounge at ORD, near gate F1 in terminal 2, that offers a place for young kids to play. However, there are a ton of mother's rooms and baby-friendly areas across all of the terminals. From the terminal to the Multi-Modal Facility (MMF), there are nine mother's rooms for nursing or quiet time and ten lactation pods for nursing or pumping. The mother's rooms are equipped with a sink and wash area, whereas the lactation pods are not.
For all those traveling with their furry pals, there are several pet relief areas for them to use the restroom across the airport. Depending on the terminal, there are outdoor spaces for them to use the bathroom before security or indoor spaces once you get through security. Please keep in mind that dogs must be leashed at all times and please if they have an accident in the airport, clean it up. Dog poop is hard to get out of luggage.
Tips to make your experience better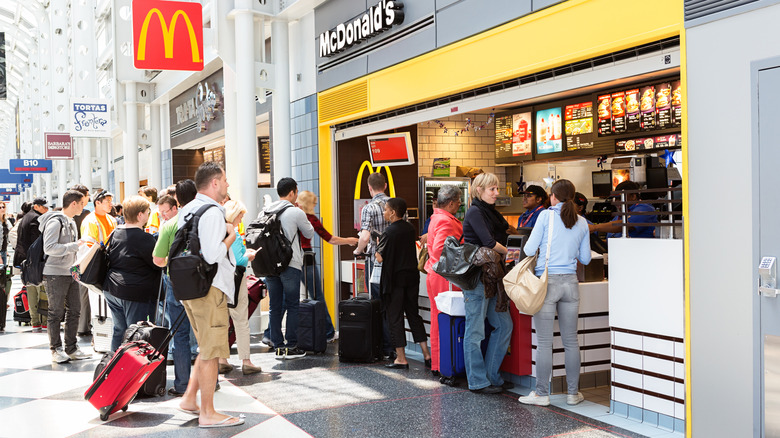 Mivpiv/Getty Images
Even if you can zip through the TSA area, you might end up waiting longer just to get a coffee at Starbucks. The best advice you can get is to always skip food or beverage spots that are located immediately after security. Those are going to be the busiest locations in the airport. Even if you have to wait a little longer to get from the B gates in Terminal 1 to the C gates, you'll probably have your order before you'd even get through the Starbucks line outside of security.
Keep in mind that a lot of locations like Dunkin or Mcdonald's work with their mobile ordering systems. This is a perfect way to avoid waiting forever in line to order and receive your food. If you order ahead of time, you can just grab your order and be on your way. Starbucks, however, does not use this service inside of O'Hare. You can, however, use your app for rewards and payments.