Guide To Disneyland's Pride Nite Event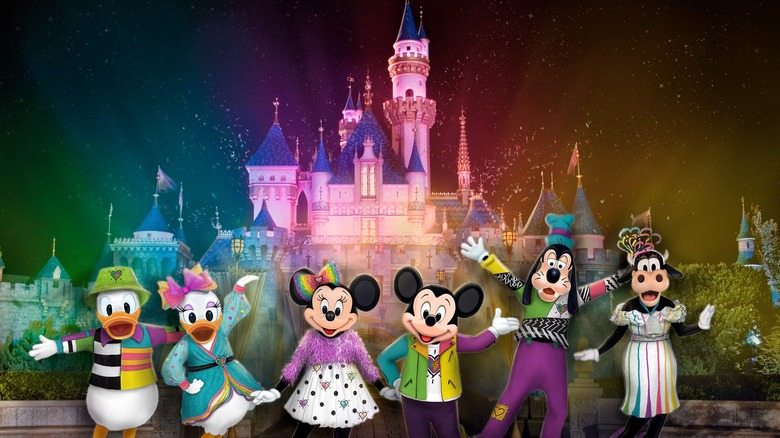 Disneyland
Disneyland, like its Florida sibling Walt Disney World, has had ways to celebrate Pride Month for years. From Pride Month merchandise, special snacks, and photo opportunities, Disneyland becomes a rainbow-filled haven for the LGBTQIA+ community to celebrate June. However, Disneyland is throwing its official Pride-themed party in the parks for the very first time.
Surprisingly, Disney Parks in the U.S. have never had official LGBTQ+ celebrations in the parks. So while guests have had to make their own celebrations up until now, Disneyland is finally joining in on the colorful celebration of love and freedom.
Disneyland After Dark: Pride Nite is a vibrant celebration of Pride Month with its own performances, parades, dance parties, and eats. For four hours after the park closes, guests get the run of Disneyland, which makes the more-than-average ticket price worth it for attendees. Not waiting over an hour for your favorite ride while bedazzled in rainbow everything and sipping on a delicious themed beverage? Yes, please!
What attendees need to know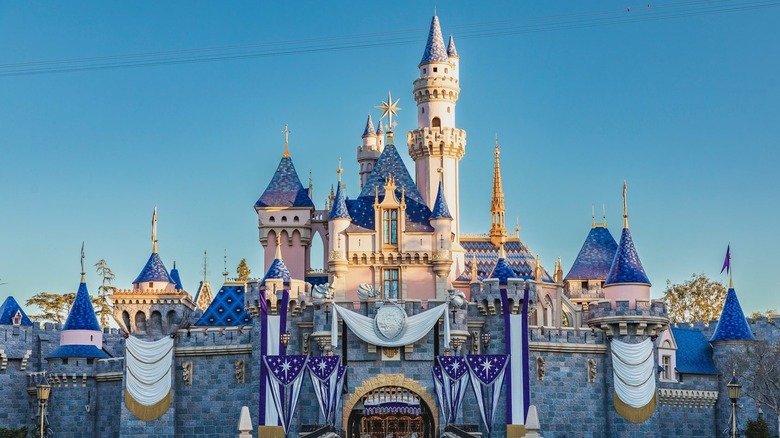 Disney Parks
Like other Disneyland After Hours events, Pride Nite is a specially ticketed program at the park. You do not need a general park ticket for that day or a park reservation to attend unless you plan on being in the park before 6 p.m. the day of the party. Pride Nite attendees can enter the parks with their special event ticket starting at 6 p.m. before the 9 p.m. to 1 a.m. event begins.
So in addition to having Disneyland to themselves for the four-hour event, guests can frolic around the park for that extra three hours (starting at 6 p.m.) if they so wish. Although the ticket price is more than a day ticket to Disneyland, knowing you'll be able to do so much with your time is why so many people buy tickets to after-hours events.
If you plan on taking advantage of the 6 to 9 p.m. park entry, be sure you show up before 6 p.m. – and prepare to wait in line. A lot of other party attendees will have the same idea, so if you show up at 6 p.m., you may have to wait around to get in after everyone else who showed up earlier. You don't have to show up hours ahead but consider maybe 15-30 minutes to be closer to the entry point.
Fans rushed for tickets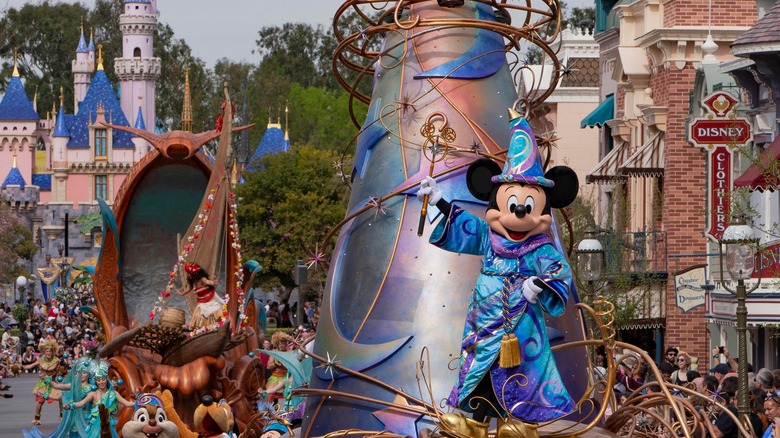 Disney Parks
Disneyland After Dark: Pride Nite on both June 13 and 15 are sold out, though we can hope that means Disneyland will offer more of these events in the future. Keep in mind for these upcoming events that getting tickets can be a bit of a hassle. This writer spent over an hour in a virtual queue when the tickets went on sale to the general public on April 20. Much like getting tickets to other highly anticipated events like Annual Passholder ride previews, virtual queues can be laggy and hard to maintain – particularly on mobile devices.
Magic Key holders (the annual pass for Disneyland) got first dibs on Pride Nite tickets which may have reduced the number of tickets available. Regardless, the quick sell-out made it clear that Pride Nite was a popular idea for park guests.
When Disneyland (hopefully) has these parties in the future, the best way to get tickets is to make sure you are online the moment the tickets go on sale. Even logging in just 15 minutes after the tickets went on sale for the general public, this writer was still in the lagging virtual queue for a long time. Disney folks are serious about their special events, so being on top of it or hiring a travel agent that specializes in Disney will be your best bet to success.
What's included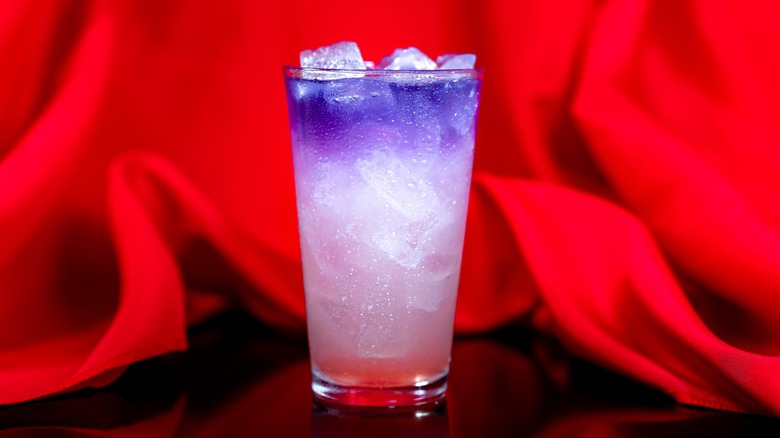 Disney Parks
Nonrefundable tickets for Disneyland After Hours: Pride Nite include the event itself as well as up to three additional hours in Disneyland (not California Adventure) before the party. The tickets do not include parking. You will receive a commemorative keepsake and select snacks and beverages with your ticket. Oftentimes the keepsake is a poster while the snacks/beverages are ice cream bars and popcorn with soda or bottled water.
We can speculate that the keepsake will be a poster unless Disneyland confirms otherwise. However, with it being the first Pride Nite, perhaps there will be another commemorative item in addition to or instead of a poster. But even if it is a poster, usually castmembers will hand these out when you exit the park so you don't have to worry about wrecking it while exploring.
Party guests will also receive unlimited free downloads of PhotoPass pictures they have taken during the party. This makes for an excellent opportunity to take advantage of the numerous PhotoPass magic moments and photo areas being created for the party as well as the ones Disneyland incorporates for all of Pride Month.
Special food items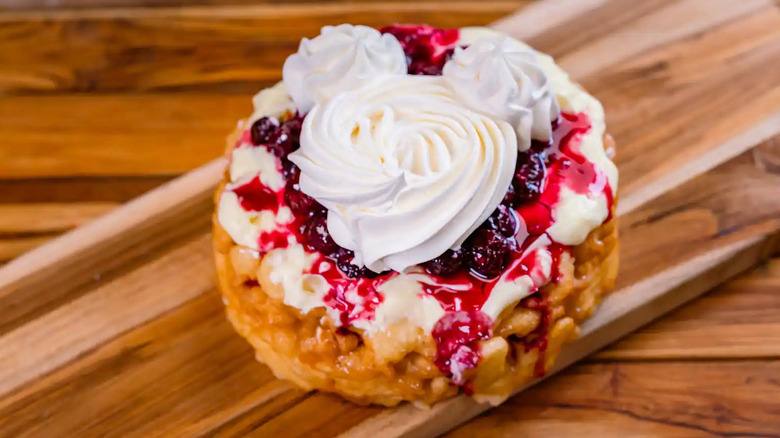 Disney Parks
Disneyland has announced some of the specialty food items that will be for sale during Pride Nite. Guests can expect to see more treats available around the park, but a few of the announcements so far include Spiced Beef Potato Loaded Bites, Grapefruit Lemonade Soda, and Berry Cheesecake Funnel Cake.
If typical Pride Month treats at Disney Parks can be relied upon as evidence of what these Pride Nite delights will be, we can anticipate a lot of color and rainbows. Though the sneak peeks we have already gotten of even the potato bites also tell us that these Pride Nite goodies will be a step up from the usual Pride Month fare.
Disney Parks fanatics know that Disney does not shirk its special event treats. Whatever else they have cooking up is bound to be delicious and, if nothing else, they will be pretty. What better excuse for fabulous eats than a Pride party?
Themed shows
To take part in the magic of Pride Nite, Mickey and pals will be sporting brand-new Pride-themed ensembles. You'll get the chance to see them show off during the Pride Nite Cavalcade down Main Street U.S.A. Mickey Mouse, Minnie Mouse, Clarabelle, Donald, Daisy, and Goofy will all be dressed to the nines in their rainbow outfits to celebrate with attendees.
Besides the star-studded procession, guests can party down with Stitch at the Ohana Dance Party in Tomorrowland or hit up the Pride Nite Dance Club near Rivers of America. A Pride party certainly needs an element of music and dance, no?
Don't think the characters are the only ones in on the costumed fun either. Costumes for the celebration are encouraged by Disneyland, though their costume regulations still remain in place. Remember they don't allow things like full-cover costume face masks, or offensive or obtrusive pieces. Think family-friendly Pride parade outfits.
Disneyland Paris Pride and Gay Days
Disneyland After Hours: Pride Nite is the park's first official Pride Month event. That said, it is not the first Disney Park to officially celebrate LGBTQIA+ Pride. Disneyland Paris Pride was the company's first Pride Month event at a park, which began in 2019. This one-night-only event is a huge Pride celebration in Paris. Much like the upcoming Pride Nite event, Paris Pride is an after-hours program. Unlike Pride Nite, however, it is six hours long rather than four.
Like the massive GayDays event in Orlando which takes place each June, Gay Days Anaheim is also a celebration of LGBTQIA+ Pride. Unlike its Orlando partner, this event takes place in September rather than during Pride Month. So if you weren't able to get tickets to Pride Nite, don't fret! Gay Days is still awaiting your Anaheim arrival for more Pride celebrations with a magical flair.