Tips Every Disneyland Visitor Should Know Before Their Trip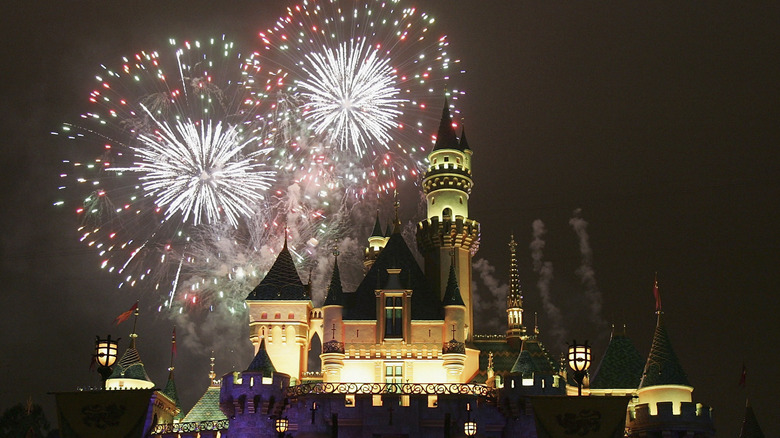 Frazer Harrison/Getty Images
There's no end to the fantastic theme parks you can find anywhere in the U.S., from Six Flags' multiple locations to the Southern fun of Dollywood in Tennessee. As great as those parks are, though, few are as universally iconic as Disneyland, the original crown jewel of Disney's worldwide theme park properties.
Since opening its gates in 1955, Disneyland has become one of the nation's premiere destinations for families of all ages. A fantastic vacation option for adults and the little ones, it's a park that caters to the inner child in all of us, giving us the opportunity to interact with our childhood heroes like Mickey Mouse and Cinderella and to live out our fantasies of battling Stormtroopers or flying through London with Peter Pan. No matter the time of year you go, you're guaranteed to have a wonderful time at Disneyland, creating memories that will last a lifetime.
As fun as going to Disneyland can be, there are some very critical things people forget about when planning a Disney vacation. Along with what to pack and what things to bring with you inside the park, many people have a tendency to make certain mistakes when it comes to their Disney trip — mistakes that can be avoided with ample research and preparation ahead of time. From food hacks that can save you a bundle to advice on how to board as many rides as possible, here are some of the most important tips for anyone planning to visit Disneyland in the near future.
Research the right time of year to go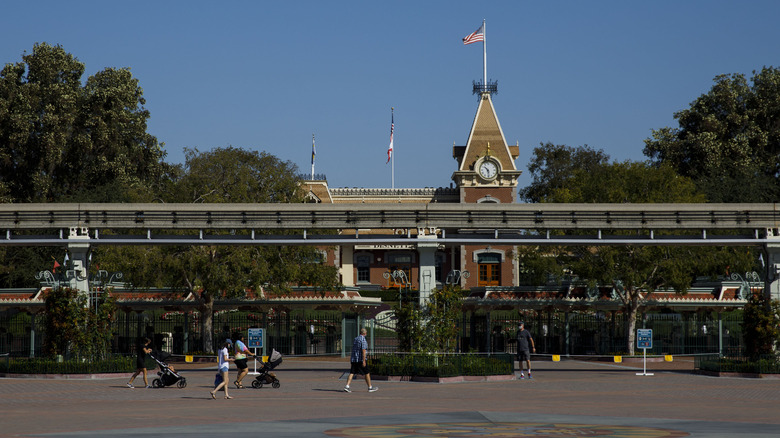 Bloomberg/Getty Images
There is a subtle science in determining the right time of year to go to any well-known theme park, especially when said park receives as much foot traffic as Disneyland. If you go at the wrong time, you'll be waiting in lines for upwards of two hours, ending your day having gone on only a handful of rides. However, if you happen to go during a time of year when the park is quieter, you'll be able to hop off one ride and almost immediately walk right on to the next, facing minimal wait times for attractions in between.
Typically, Disneyland is the most crowded around holidays, when parents and children are both off from work or school. Because of this, we recommend avoiding booking your Disney vacation at any point during the summer, Thanksgiving weekend, late December into early January, and late March/early April (spring break). Instead, try planning your trip during the park's off-season. In particular, most of the winter season sees relatively light crowds, as does mid-April into late May and September (after Labor Day) into early October.
Visiting Disneyland during the park's off-season can be tricky, especially if you plan on bringing any children or young adults still enrolled in school. But if you truly want a quieter park experience that allows you to jump on plenty of rides, we highly recommend going when the parks are at their least crowded.
Purchase your tickets ahead of time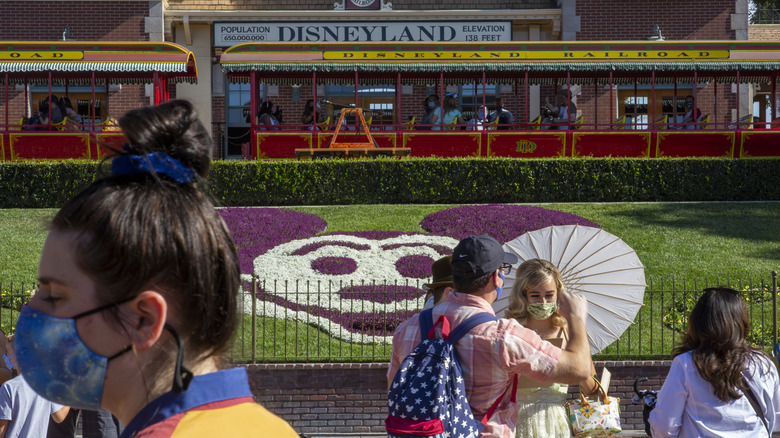 David Mcnew/Getty Images
The first hour you step into a Disney park is crucial. If you arrive when the park is just beginning to open, you can knock out some of the day's biggest rides within that first hour, long before the park gets crowded. That being said, it's important to maximize your time at Disneyland by actually being inside the park, rather than waiting in line to purchase your tickets. To remedy this, it's vital that you purchase your day passes online ahead of time, both to better manage your time and park-going experience, and also to avoid any hiccups for actually getting into Disneyland.
Most recently, Disney has introduced a new method to track and limit park attendance rates, using a reservation system known as the Magic Key Pass. With Disney limiting the number of guests within each park, the Magic Key Pass is a way to determine which days have space available for park visitors. All you need to do is look at Disneyland's Theme Park Reservation Availability Calendar to see whether the park has reached its maximum capacity. If it has, you're unable to visit Disneyland on that particular day.
Keep in mind that, to gain entry into Disneyland, visitors must have both a valid ticket and a Magic Key Pass reservation. Of course, you can arrive at the front gates and buy a ticket there, but if the park's reservation system is entirely filled up, that means you'll be unable to enter Disneyland on that specific day.
Bring a snack or lunch if you want to save some money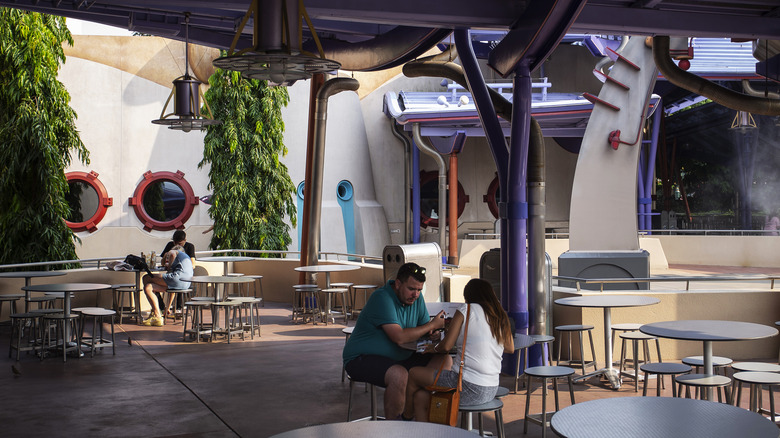 Bloomberg/Getty Images
Disneyland has a vast variety of available food options for you to choose from, whether it's sit-down dining locations like the atmospheric Blue Bayou Restaurant or walk-up food stands like the Red Rose Taverne. As delicious as those places can be, they might prove somewhat costly for travelers on a tighter budget, as well as potentially time-consuming having to sit and eat an entire meal in the middle of the day.
Fortunately, Disneyland has a fairly lax policy regarding outside food and drinks brought into their park. Any beverages brought onto Disney's property must be non-alcoholic, with Disney allowing anything from a bag of chips to a full bagged lunch for families to snack on while they're inside Disneyland. However, this policy does come with a few caveats you might want to keep in mind prior to preparing your meals. For starters, all food and beverages must be transported in non-glass containers. Any food ushered into the park should also not require being heated or refrigerated, nor should it have any extremely strong odors that other guests might find offensive.
If you do plan on eating at a restaurant inside Disneyland, we still recommend that you bring a beverage and some sort of snack, even if it's a bag of potato chips to munch on while you're waiting in line. Food and water are something you always want to keep on hand, especially in a climate as seasonably warm as southern California.
If you want to eat in a Disneyland restaurant, plan accordingly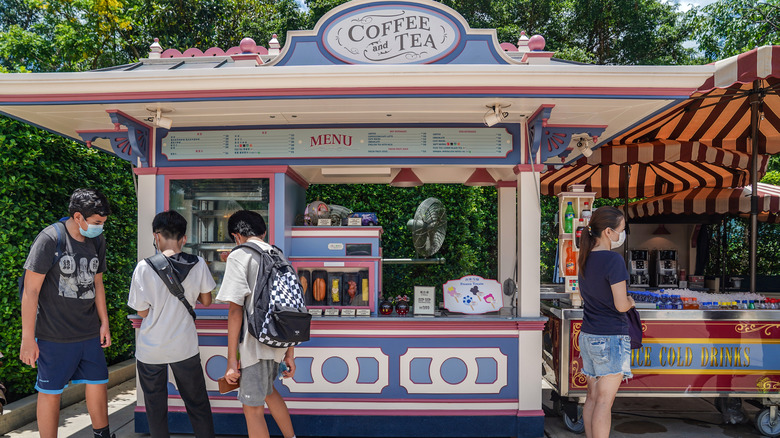 Bloomberg/Getty Images
Of course, you're always free to enjoy a delectable meal at any one of Disneyland's numerous restaurants and dining venues. If you opt for one of these options, though, it's extremely important that you think about where you want to eat ahead of time in order to plan accordingly. For many sit-down restaurants within Disneyland, you're likely to need a reservation ahead of time to eat at that location, as most places tend to quickly fill up with other park attendees. In most cases, you can stop at the restaurant ahead of time — say when you first enter the park — and make a reservation then. But to make it even easier for yourself, you can simply book your reservation online with the Disneyland app.
If you're unable to secure a reservation at a sit-down location of your choice, you can also visit any one of the park's massive number of walk-up restaurants that are practically around every corner in Disneyland. For several reasons, this option may in fact be preferable to more formal dining options. After all, walk-up food stands are comparatively less expensive than sit-down restaurants. They're also far faster in delivering your food to you, helping you order, eat, and get back to the rides in a timely manner. You can also plan your meals to coincide with special events inside the park, eating while you watch a parade or enjoying your meal on the go as you walk to your next attraction.
Plan to be there for the park's opening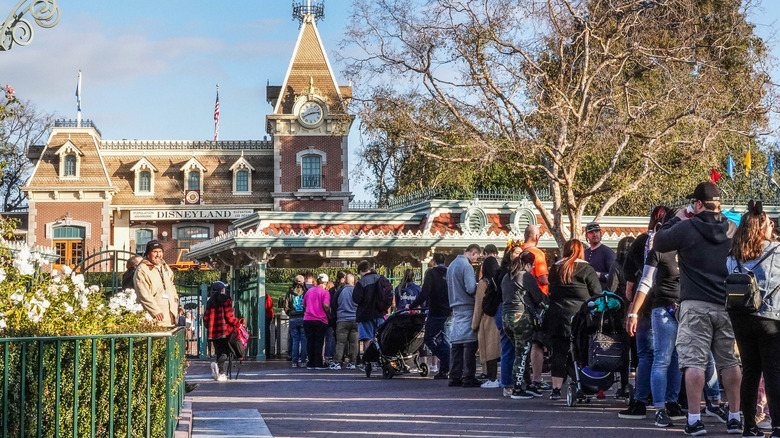 Paul Rovere/Getty Images
We've said it before and we'll say it again: the first few hours you're inside Disneyland can either make or break your day. If you are there early enough to beat the crowds, you'll be able to enjoy some of the main attractions that see extended wait times for most of the day. If not, you'll be stuck in line for the better part of your vacation, having rounded out your day by only hopping on a few major rides here and there.
To accomplish the most on your Disney vacation and to have an improved chance of getting on all the rides on your to-do list, we strongly suggest arriving at Disneyland's gates at least half an hour before the park opens. On most days, Disneyland officially opens to the public at 8 a.m., wherein the ropes blocking off each land are lifted and visitors are allowed to funnel through. It's this rope drop event that you want to be there for, giving you the opportunity to be among the first guests to journey into the park.
If you're going on the weekend or near a holiday when the park is at its busiest, you might want to be there an hour before the 8 a.m. rope drop. Once you're in the park, try and navigate to some of the furthest rides on your itinerary that will likely accrue long wait times as the day goes on (attractions like Space Mountain, Haunted Mansion, and Star Wars: Rise of the Resistance).
Stay as close to the Disney property as you can
It's become a common joke that the traffic in Los Angeles is always backed up. But there is some truth to that statement, the traffic in Anaheim especially being susceptible to jams and blocks. When thinking about your Disneyland trip, the last thing you want is to be stuck in a never-ending line of cars that prevents you from reaching the park as early as possible. To avoid this very annoying issue, you should think about staying at a hotel as close to Disneyland as possible (preferably at a hotel within walking or a short driving distance).
In fact, if you have the budget for it, it's not at all a bad idea to stay in a nearby Disney resort. Disney offers three hotels on their property — the Grand Californian, the Paradise Pier, and the Disneyland Hotel — each of which boast amenities and unique features to enrich your stay. The Grand Californian comes equipped with an opulent spa area, the Paradise Pier boasts a rooftop pool, and the Disneyland Hotel is adorned with monorail-themed waterslides.
As commendable as these amenities are, the biggest reason to stay at a neighboring Disney hotel is the early entry policy that allows resort guests first access to Disneyland in the morning. At no additional costs, guests with day passes and reservations to Disneyland are ushered inside the park 30 minutes prior to opening, giving them the chance to visit a select list of attractions, restaurants, and shopping areas.
Download the Disneyland app on your phone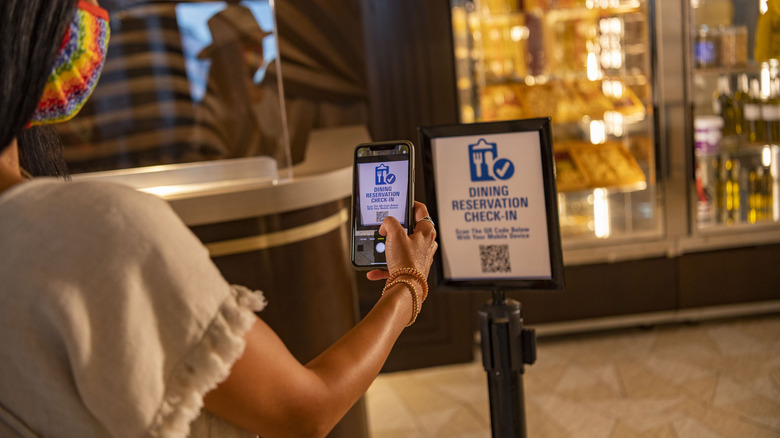 Handout/Getty Images
If there's one all-important tool you want to have with you at all times in Disneyland, it's the Disneyland app, available for free download on all mobile devices. The Disneyland app is your one-stop destination for every Disney-related activity you'll encounter on your trip. At once, it supplies you with an accessible park map with regularly-updated information regarding wait times for each attraction; it also provides you an itinerary for daily events within each Disney park, as well as a convenient way to book and cancel reservations at any Disneyland restaurants you wish to eat at during your visit.
Journeying through Disneyland without the app is possible, but for convenience's sake, you're better off simply downloading the app on your phone beforehand. If nothing else, it's a great way to check the wait times for certain rides throughout the day, rather than walking the length of the park and being blindsided by lines well over two hours in length. It's also incredibly handy when it comes to either making or canceling any meal reservations if you happen to be standing in line for a ride as your reservation time slowly nears.
Amazingly, the app also comes equipped with all kinds of additional features, such as AI-generated recommendations for park events based on your individual interests. It also allows you to pre-order food for pick-up at select Disney restaurants and gives you access to the Disney Genie+ service (more on that later).
Look on the app to find out each day's itinerary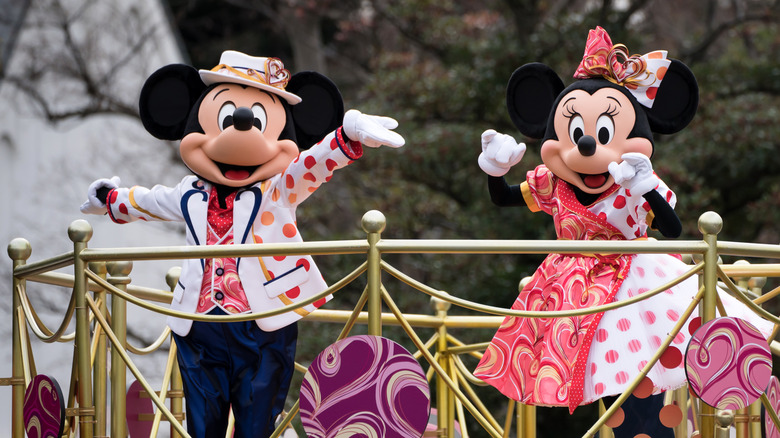 Tomohiro Ohsumi/Getty Images
As mentioned before, the Disneyland app boasts convenient features you can rely on throughout your trip. As handy as the device is for determining wait times or making reservations for sit-down meals, the app is also worth downloading to check the itinerary planned for each day at the park.
As you might expect, Disneyland is filled with plenty of things to see and do, from photo opportunities with some of Disney's most famous characters to certain events like parades and the nightly fireworks show. For visitors interested in attending any of these events, download the app and scroll through the list of events planned for the day you reserved your park tickets. The app's itinerary is updated regularly, helping you find out when and where certain things like parades and character meet-and-greets occur. Doing so will greatly aid you in mapping out your day, allowing you to build your specific itinerary based entirely on your interests and preferred schedule of events.
Even if you're not planning on attending any events inside Disneyland, knowing when special events are can come to your advantage. As an example, many people regularly gather to see the fireworks show in front of Sleeping Beauty's Castle shortly before the park closes, which in turn means that most attractions will see a dramatically decreased number of visitors waiting in line. While everyone's occupied enjoying the fireworks, you're able to slip through certain attractions with little to no wait times.
Hold off on the sit-down attractions until the middle of the afternoon
As mentioned previously, the first few hours you're inside Disneyland will be the most important part of your day, especially if you arrive just when the park is beginning to open. You should plan to be the most active in the morning before the crowds get too heavy and later on at night when park attendance starts to thin out (most people, notably families with young children, aren't likely to spend a full day at Disney and will probably leave by late afternoon).
If you follow those steps, you'll have a large portion of your day open from the late morning into the early evening, which also happens to be the hottest time of the day if you're there during the summer season. It's in this time frame that you'll want to head for any sit-down shows or in-door rides with air-conditioning, helping you rest, recharge, and take a load off to avoid that brutal Californian heat.
As tempting as it might be to head for more popular attractions like Star Wars: Rise of the Resistance in the afternoon, it's during this window of time that the park is at its busiest, meaning that ride times at practically every attraction will be at their longest. With that in mind, take it easy as noon approaches, enjoy a leisurely lunch and take in shows like the Enchanted Tiki Room as you wait for the lines to die down.
Make a definitive list of all the attractions you want to go on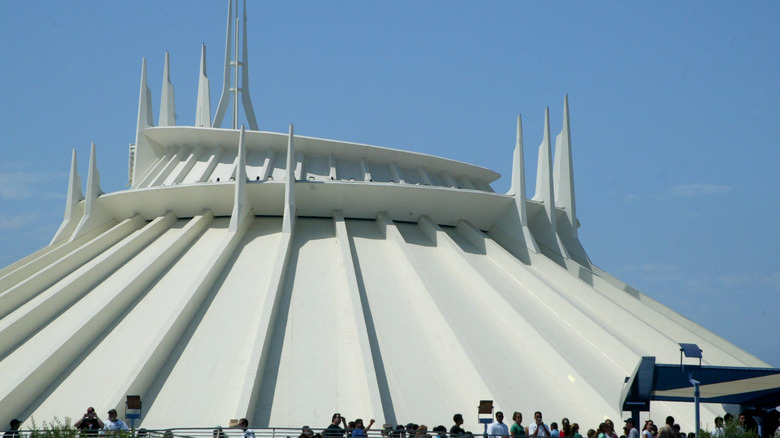 Matthew Simmons/Getty Images
Disneyland is chock full of some of the most universally iconic theme park attractions in the world. From original Disneyland staples like the Pirates of the Caribbean to more recent additions like Star Wars: Rise of the Resistance, there is no shortage of attractions to experience during your visit to the park. Sadly, with the sheer number of fantastic rides there are within Disneyland, there is a distinct possibility that you'll be unable to go on all of them within the span of a single day. For this very reason, it's advisable to create a personalized itinerary prior to your visit to the park.
To make this itinerary, try finding a map of Disneyland and going through the park one area at a time (Frontierland, Adventureland, and so on). Looking at each land, determine which rides you definitely want to go on and which rides you can do without. If you have the Disneyland app, it might also be helpful to research ahead of time to see which attractions gain the longest lines early on in the day. That way, when you arrive at the park, you can head to these high-traffic attractions first, jumping on them when the wait times are still low. If you're there for the rope drop, there's a strong possibility you'll be able to get most of your itinerary items knocked out by the afternoon, hopping on any loose stragglers after most people leave.
Be sure to pack all of the essential items for a day at the park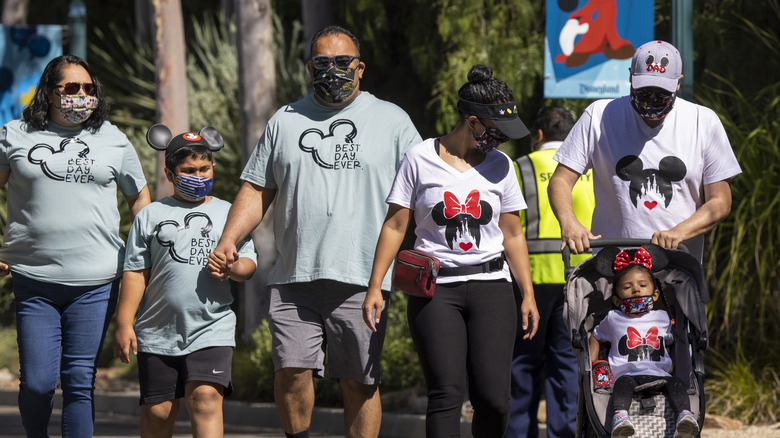 David Mcnew/Getty Images
A day at Disneyland can be physically exhausting, with most people walking an average of 10 to 12 miles while wandering around the park. In short, it can be beneficial to think of your time at Disneyland as equivalent to a long hike. To reflect that large amount of physical activity, you should be sure to pack all the essentials you'll want to have on hand, just as you would an actual hike.
First and foremost, be sure to bring a reusable water bottle with you. Along with the various water fountains that can be found around Disneyland, almost every restaurant and walk-up service stand will happily give you free water whenever you ask (a major financial lifesaver if you're on a budget). You'll also want to pack plenty of sunscreen, sunglasses, a hat, mobile chargers, Band-Aids, and either ponchos or an umbrella on the off chance it rains. As mentioned previously, you should also bring a snack or food of some kind, whether or not you choose to eat at a Disney restaurant.
As the Disneyland app can quickly drain your phone battery whenever you open it, it's also not a bad idea to pick up a hard-copy map of Disneyland when you first enter the park. To preserve battery life, use the app to calculate attractions' wait times, make food reservations, and check Disney's daily itineraries; use the map whenever you need to navigate the park.
Don't be afraid to use single-rider only lines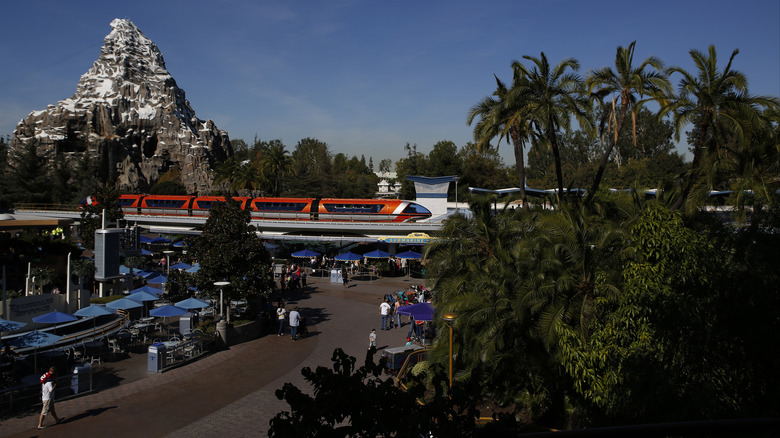 Bloomberg/Getty Images
Depending on the time of year you plan to visit Disneyland, there's a good chance you'll be facing some potentially hefty lines for most attractions. These lines can greatly hinder the progress of your day, preventing you from experiencing as many rides as possible. Luckily, there is an easy way to get around those agonizingly long wait times. If you and every one of your party is willing, all you have to do is split your group up and join the single-rider lines in lieu of the main lines reserved for park attendees.
With the volume of visitors they see on a daily basis, Disney tries their best to efficiently guide park guests through attractions as smoothly and quickly as they can. In order to do so and guarantee that every available space on their attractions is filled to its maximum capacity, most rides have an exclusive line that solitary riders can join. These lines are usually substantially shorter than a ride's main waiting queue, allowing you to jump as close to the front of the line as possible.
There are a few drawbacks to using this single-rider strategy on your visit to Disney. Naturally, you'll be experiencing each ride with a group of strangers rather than the group you came to the park with. Still, the number of rides you're able to cover by using only single-rider lines guarantees a chance to cover a ton of ground within a short amount of time.
Use Genie+ to your advantage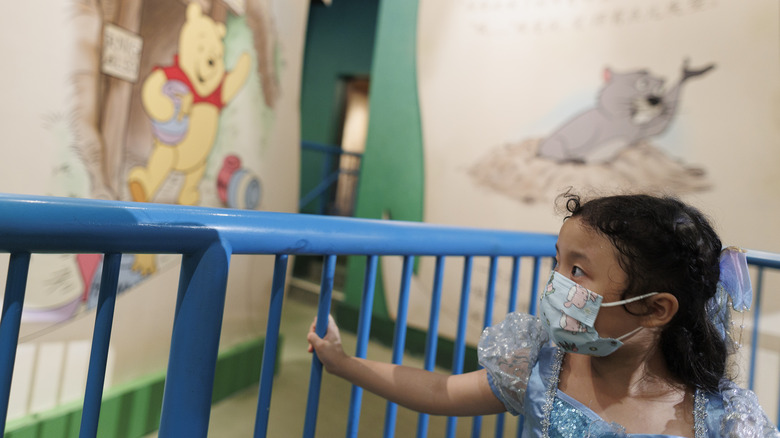 Hu Chengwei/Getty Images
If you've been to Disneyland before, odds are you're at least partially familiar with Disney's FastPass system or its successor, the Disney Genie+ service. Put simply, the Genie+ service operates very much in the same manner as FastPass had previously, letting you join an online waiting room for certain rides rather than standing in person at physical queues. All you have to do is select a time you'd be available to board an attraction, giving you the opportunity to enjoy other rides while you wait for your reservation time.
While FastPass was free, using the Genie+ service does come at a price, costing you $25 per day, although the prices and availability of the Genie+ service vary depending on the date you're visiting the park. Certain limitations do also apply to the Genie+ service. For example, Only a select number of Disney attractions are equipped with a Genie+ Lightning Lane. Whereas FastPass could be used multiple times in a given day, Genie+ only allows you to reserve a Lightning Lane reservation on a single attraction per day (additional reservations come at an additional cost).
The Genie+ service might be a little costly for some, but if you truly want to make the most out of your day in Disneyland, Genie+ is arguably worth its price tag. To use the app and save yourself some money, it's recommended that only one member of your group purchase Genie+, permitting your party to access it without spending a fortune on the service.
If you're bringing a lot of stuff with you, rent a locker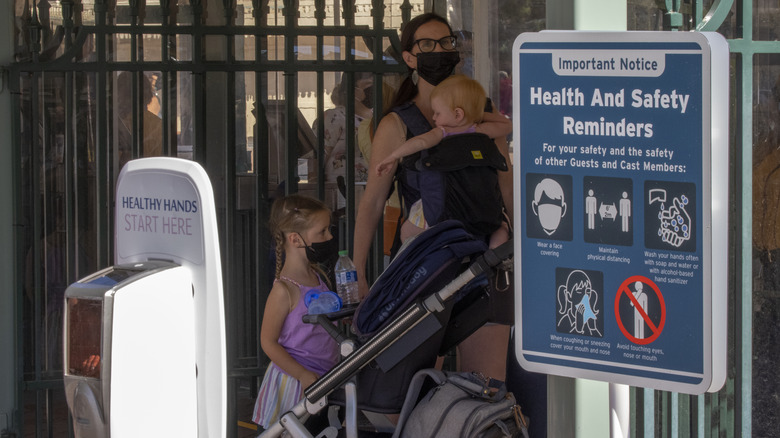 David Mcnew/Getty Images
As previously discussed, you should bring a variety of essential items on your trip to Disneyland, from reusable water bottles to basic UV protection (sunblock, baseball caps, etc.). If you happen to bring more than the bare necessities on your reserved park day, you might want to think about reserving a locker. Conveniently, Disneyland has several areas where you can rent a locker both inside and outside the park, all of which are available at fairly decent prices.
You can find lockers immediately upon entrance to Main Street, U.S.A., as well as outside the park gates to the immediate left of the Disneyland entrance. The price to rent one of these lockers depends on the size and location of the locker. Smaller lockers inside the park cost around $7 for the entire day, with larger lockers costing no more than $10. Lockers rented outside the park can be slightly more expensive, costing as much as $15 for the whole day.
If you plan on bringing a bigger assortment of items with you, you should definitely think about grabbing a locker as soon as you can to avoid the literal backache that comes with lugging baggage from ride to ride. In terms of cost and convenience, your best bet for locker rentals is Main Street. Not only is it less expensive, but it also means that the first and last thing you do inside Disneyland is drop off and pick up your bags.
Take advantage of the Rider Switch Service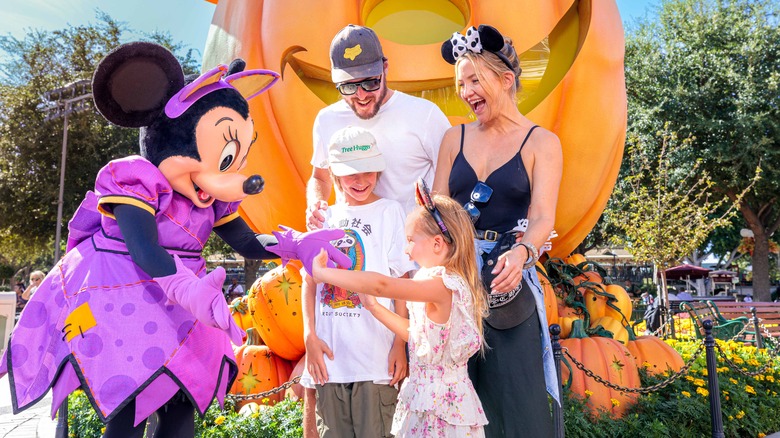 Handout/Getty Images
As joyful as it is to see their faces light up whenever they see Mickey, going to Disneyland with younger children isn't always easy. One particular problem to deal with is the balance between ensuring your kids are enjoying themselves while also making sure that YOU are having fun. Thankfully, Disney acknowledges how many busy parents venture onto their property, accommodating them through its Rider Switch Service.
As with any theme park, not every Disneyland ride is suitable for all guests, with younger visitors unable to meet basic criteria like height requirements in order to board certain attractions. Because of this, some older members of a party might have to stay behind and watch over their little ones while the rest of their group boards said attractions. Rather than missing out on the attraction entirely, the Rider Switch Service lets guests take turns experiencing the ride for themselves.
When first approaching a ride that one of your group is unable or unwilling to ride, ask a park attendant supervising the line and let them know you're interested in the Rider Switch Service for the attraction. The attendant will then divide your group into two parties. As the first party waits in line and boards the attraction, the second party will have their ticket scanned and wait outside. After the first party disembarks the ride, the second party will return to the queue, have their ticket rescanned, and hop to the front of the line without having to wait again.