Guide To Celebrating Pride Month At Disney World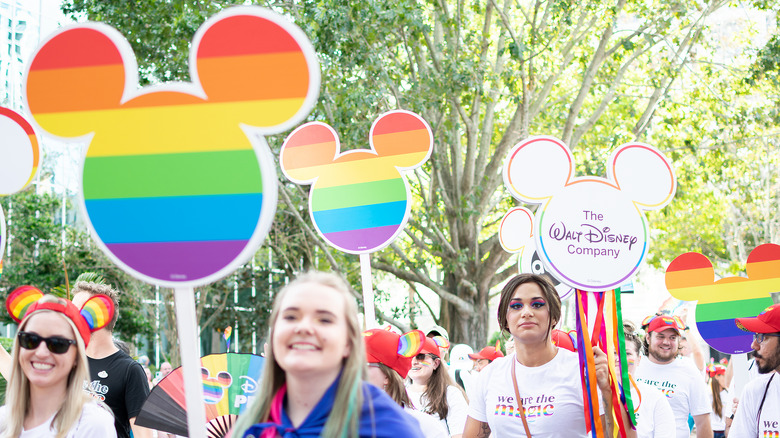 Brigith Davila/Getty Images
Although Florida is not really a safe haven for the LGBTQ+ community, Disney World is consistently a place where the community can celebrate. With each passing year, it seems the parks embrace Pride Month — and LGBTQ pride in general — a little tighter. Though the after-hours Pride Nite event is held at Disneyland rather than Disney World, there is no reason you can't celebrate Pride Month in style at Disney World too. And chances are, the cast members you meet will embrace your pride in all its colors.
The community doesn't need an official party to make the most of the magic — for years thousands of LGBTQ folks have made the journey to Orlando to revel in the rainbow goodness. Those joyful celebrations are far from over, and with each year Disney creates more reasons to come back for more Pride Month fun. Here is everything you need to know about how to celebrate Pride with the Big Cheese himself.
Disney's safety policy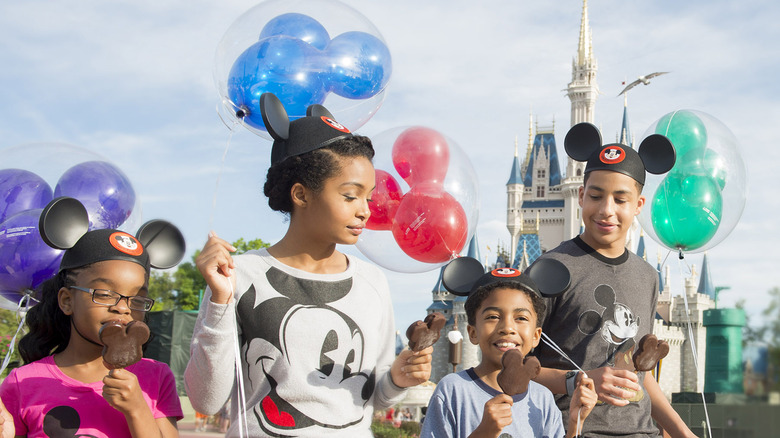 Handout/Getty Images
First and foremost, fellow members of the queer community, you can rest assured that Walt Disney World's incredible cast members have your back. If someone decides to harass you or rain on your Pride parade in a harmful way, immediately tell a cast member. From verbal harassment, hateful clothing, and onward, you should feel empowered to say something to the closest cast member. They truly do care.
Depending on the situation that individual may be removed — even potentially banned — from Disney property. Cast members want to do their best to protect everyone from unwarranted behavior, but they can't help in the best possible way if they're not informed.
In light of disruptive guest behaviors, Disney Parks released a courtesy policy in 2022 that backs you up anywhere on the property. Walt Disney World does not tolerate offensive or harmful behavior, which unfortunately can happen — as this writer can attest. Even the Most Magical Place on Earth is not immune to bigotry and hateful behaviors. Thankfully Disney is here to protect its guests.
Red Shirt Day(s)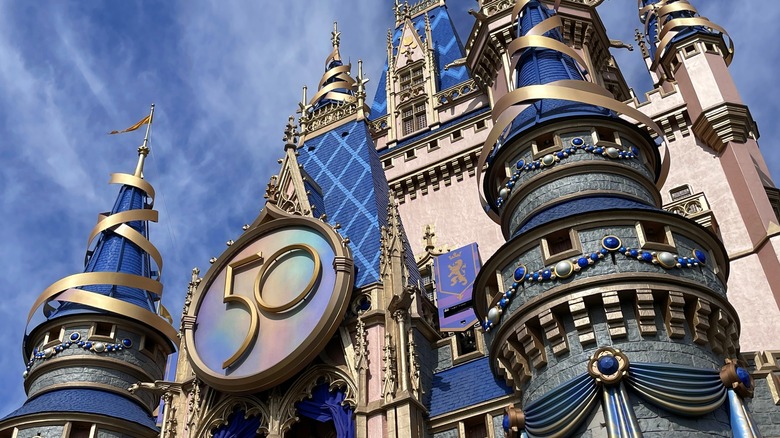 BobbyWjr/Shutterstock
Started in 1991, the KindRED Pride Foundation began as a spark of folks wearing red shirts on the first Saturday of June to celebrate Pride Month. Decades later that tradition remains as one of the pivotal Pride celebrations across the Disney World parks — though the Red Shirt Days are also now split between the parks for several days of that first week. Generally, the unofficial celebration will announce a different park to wear a red shirt each day from the first Thursday through Sunday.
Even if you aren't planning on doing anything else to celebrate Pride during your Disney trip, wearing red is an easy way to display support for the movement. When folks show up en masse it creates unity with the community. Groups of people clad in bright red garments can't be ignored — it's pretty hard to look past a vibrant color.
And that's the point! So long as Disney World doesn't have official Pride Month celebrations, it's important to uplift the unofficial ones. By doing so these events can continue being popular to increase LGBTQ visibility for years to come. Hopefully, someday they'll be accompanied by Disney-sponsored events as well.
GayDays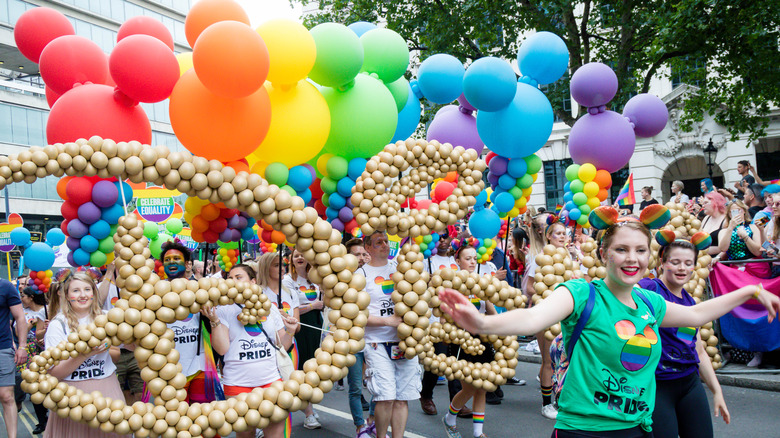 Ben Gingell/Getty Images
Another unofficial Pride Month celebration that takes place in part at Disney World is GayDays. The five-day celebration takes place at different theme parks in Orlando, with a base at an off-property hotel each year. Please note that there are events during the week that are not family-friendly, so keep an eye out for age or content warnings before taking kiddos.
Some of the events include drag performances, pool parties, and even one of the largest gay and lesbian expos in the world. GayDays goes beyond the theme parks in its celebration of Pride Month, though you can easily experience much of the five-day event along with some Disney magic.
GayDays even sells red event T-shirts to collaborate with the Red Shirt Days folks, which is only fair since this event began as Red Shirt Day in 1991. Even with the organizational change, this unofficial Disney Pride event has been a mainstay of June in the Orlando area for years. Tens of thousands of GayDays celebrants show up each year to get in on the fun. Why not be one of them?
Pride Merch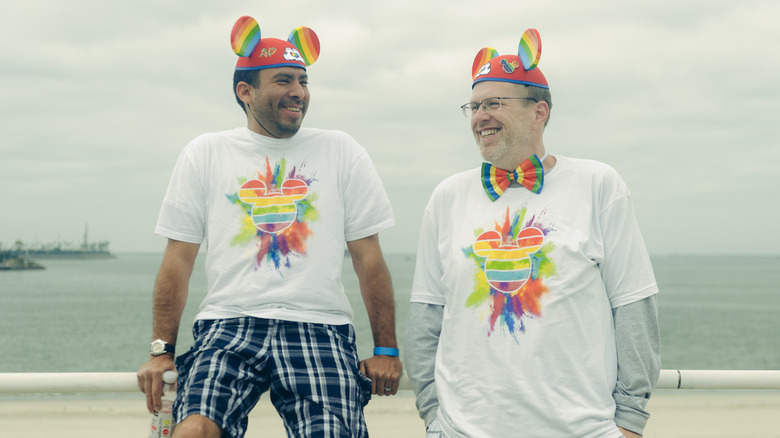 Tommy Wu/Getty Images
Walt Disney World may not have official Pride events, but it does release a lot of merchandise each year for Pride Month. While one could say this could be a form of Rainbow Washing — when a company sells Pride items merely to make a profit — it's heartening to see the swath of items released each year. Last year, for example, there were even individual pride flag pins that included designs like the lesbian, trans, and bisexual flags in addition to the rainbow.
Often the merchandise you can find are Mickey ears in rainbow designs, clothes with Mickey's hands in the shape of a heart with a rainbow fill inside, and even rainbow-themed pieces across other Disney franchises. Even brands like Marvel and Star Wars will have Pride Month merch around the various Disney World parks. Don't let the scalpers get you either — if the merchandise sells out during that first week of June, you may be able to find it on Disney.com later in the month during restocks.
Magic PhotoPass moments and backdrops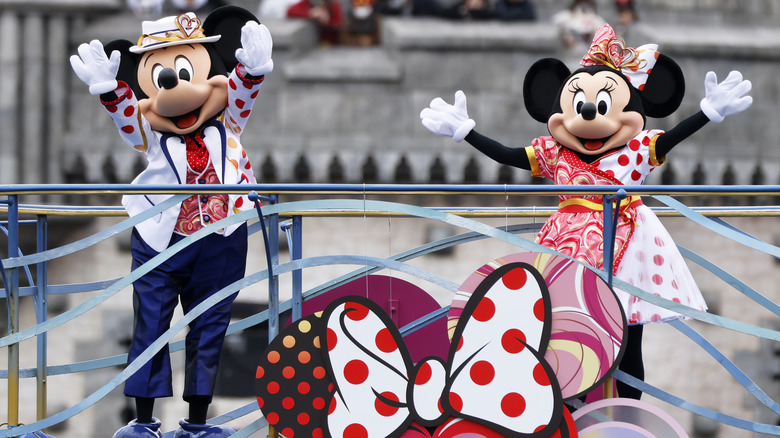 Bloomberg/Getty Images
Special photo backdrops are added in June across the four Disney World parks. In addition to that, the PhotoPass cast members have special Pride lenses or magical moments that they can add to snapshots. Some of these include rainbows, rainbow confetti, and other super cute inclusions.
If you want the PhotoPass cast members to include some Pride Month magic in your images, you can ask them ahead of time when you walk up for your pictures. Or, if you wear Pride-themed outfits, they'll probably use the rainbow photo magic without you having to ask. This writer has even gotten Pride-themed PhotoPass magic far after June has come and gone, so these inclusions aren't necessarily confined to just Pride Month.
That said, the physical backdrops around the parks are only around during the Pride Month celebration. So if you want pictures with those be sure to grab them while you're there.
Special rainbow treats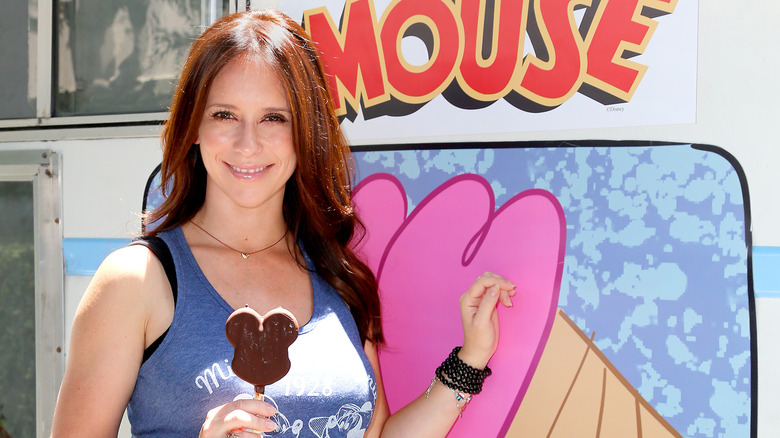 Rachel Murray/Getty Images
Besides the Pride Month merchandise, Disney World offers a variety of special treats and beverages to celebrate the LGBTQ community. The difference between these treats and the merchandise is that you can find some of the merch throughout the parks or Character Warehouse even after June is long gone. That isn't true with the Pride-themed treats, though.
Usually, you can find special treats like Pride-themed cake pops, dome cakes, and other tasty desserts around the parks. These tend to change from year to year, though the variety of them seems to increase every year.
The same is true for the drinks that get a Pride Month makeover. Bars and restaurants around the parks especially love to concoct Pride cocktails to bring a little taste of the rainbow to your Disney bevies. For Joffrey's Coffee fans, you usually get a Pride addition to your drinks during June in the form of a magical image sitting on top of your morning java.