How To Use Uber To Get To And From The Airport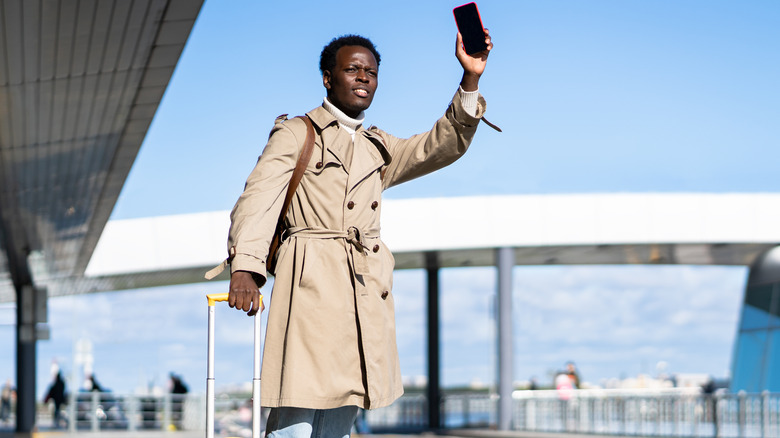 DimaBerlin/Shutterstock
If you normally beg friends for a ride to the airport, pay a premium to park there, or trust your luck to an unreliable public transit system, it's time to try a ride-share service. Uber can seem intimidating if you've never used it before, especially if you're arriving or departing from an airport, but it's a convenient and reasonably priced way to travel, and with our tips, your journey will go smoothly.
But first, why Uber? There are several reasons. Uber tends to be cheaper than taking a taxi, and this is true in many cities across the country (with the exception of New York City, where it's often cheaper to take a taxi). Another huge advantage of Uber is that you can see how much your ride will cost in the app before you take it, so there are no surprises when you arrive at your destination and no haggling with the driver. Meanwhile, in comparison to public transport, Uber wins on both convenience and comfort, as there's no heaving luggage on and off crowded trains or buses.
Using Uber for the first time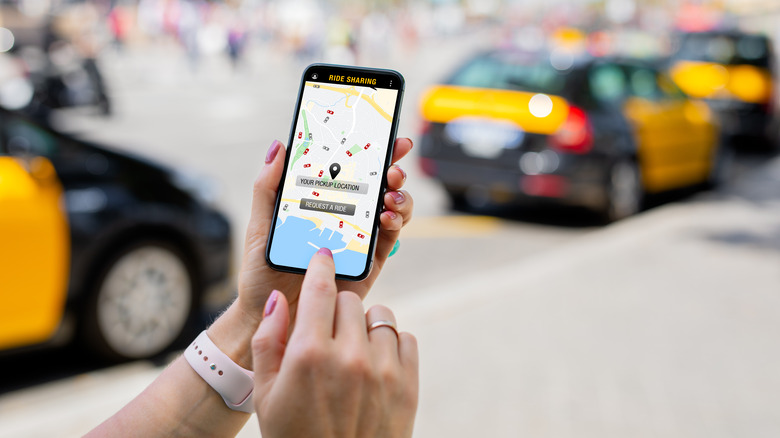 Kaspars Grinvalds/Shutterstock
As with any ride-share service, you'll need to download the Uber app to take a ride. When you're ready to travel, open the app and allow it to find your location, then either drop a pin or type in where you want to go. You'll usually be presented with several options for ride types. The basic option is an UberX, which seats four people; if you're traveling in a group, an UberXL seats six people. You can also choose more luxury options: Uber Comfort, Uber Premier, or Uber Black.
If you really want to save money, choose the UberX Share option; the app will try to match you with another person who wants to travel a similar route so you can split the fare. However, we don't recommend this if you've got a lot of luggage. Other Uber passengers don't want to be squished under your suitcase.
Once you've chosen a car, you confirm your choice, and your driver will be on their way. You can follow their progress in the app and see where they are, so it's easy to identify your ride-share car when it arrives. Often, you can schedule a pickup in advance in the Uber app, so you won't be left waiting if no cars are available. This is great if you've just stepped off a long-haul flight or you're traveling to catch one.
How to use Uber at the airport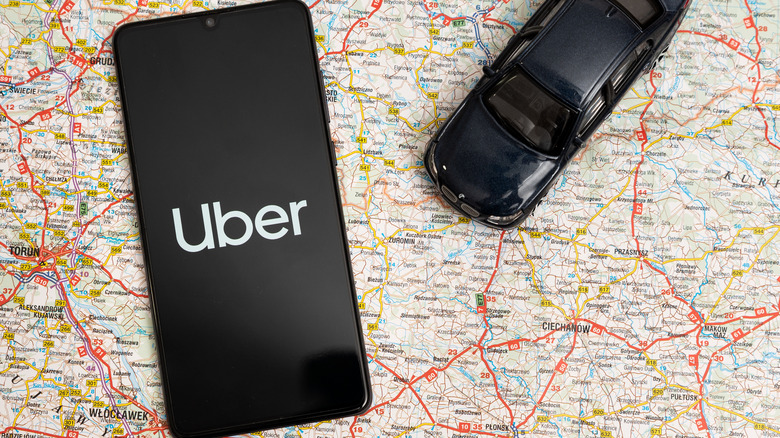 Proxima Studio/Shutterstock
In the past, many airports in the U.S. had banned ride-share services like Uber. However, this is becoming less and less common, and now many U.S. airports allow Uber, including Dallas/Fort Worth International Airport and Chicago O'Hare International Airport. You can find a full list of the over 700 airports worldwide where Uber is allowed on the Uber website.
Of those airports that do permit Uber, most have a dedicated place for ride-share pickups, which may or may not be obvious, especially if you're in a post-vacation fog. We had a look at Los Angeles International Airport, and not only does the website show that Uber is indeed permitted, but it also gives clear instructions on how to find the pickup point. The same is true for many U.S. and international airports served by the ride-share service. The app will also show you where you will be picked up on a map, though this isn't always easy to follow.
If you're traveling internationally, there are many countries where you can use Uber (again, you can check the website). Many countries offer different service providers, like Bolt, which is popular in Europe and Africa, and Grab, which you'll find in Southeast Asia. Check what you can use by searching before you go and then downloading the app once you're in the country.